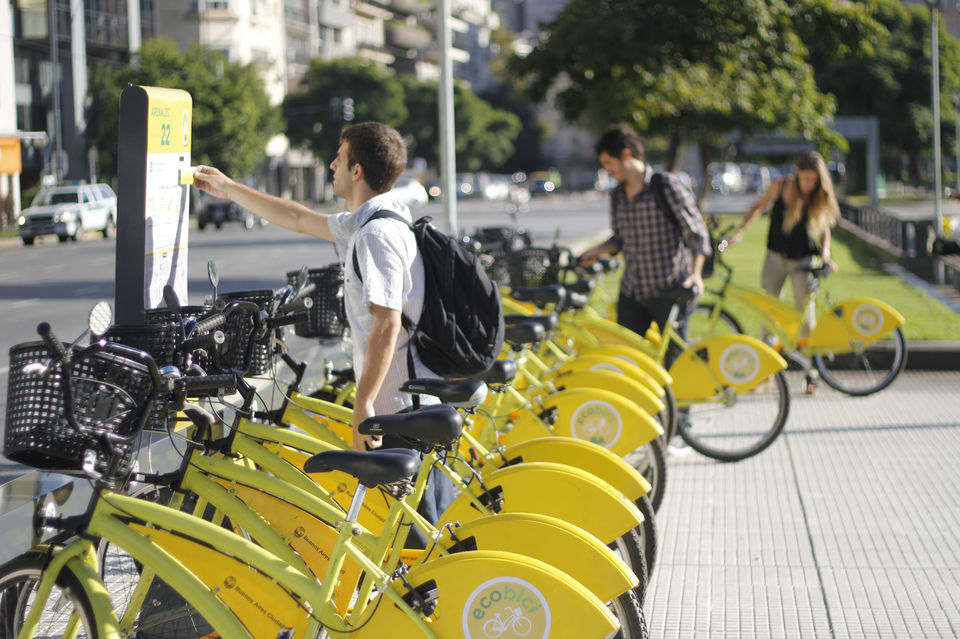 The now defunct Argentine Independent was big on writing about bicycles. Bicycles and cars. Bicycles and tourists. Bicycles and animals. They even did a piece one time on a bicycle with three wheels. Isn't that called a tricycle?
Usually they did a great job of covering everything on a topic. When it came to bikes, they left just a little out. Here's what's been missing for those thousands of tourists who have come to Buenos Aires since the AI shut its doors.
According to a study made by the city government together with the University of Buenos Aires, the use of bicycles has more than doubled in the past year. One factor driving this increase is the city government's cycling scheme, Mejor en Bici (Better by Bike). The plan was introduced in December in a bid to boost the number of cyclists in town by building an extended network of dedicated cycle paths and supplying free bicycle hire for those registered.
There are 20 rental stations around the capital, most of them clustered in the micro centre, which provide 720 bicycles that can be picked up and dropped off at any station. Ten more stations will soon be created in the vicinity of existing ones, increasing the number of bicycles to around 950.
Registering is simple. Those interested have to present at their nearest station a copy of an ID or passport and proof of address, such as a bill under their name. Failing that, for ten pesos a prospective user can ask the closest police station for a stamped proof of residence form. Once registered, bicycles can be used for up to two hours, which can be renewed.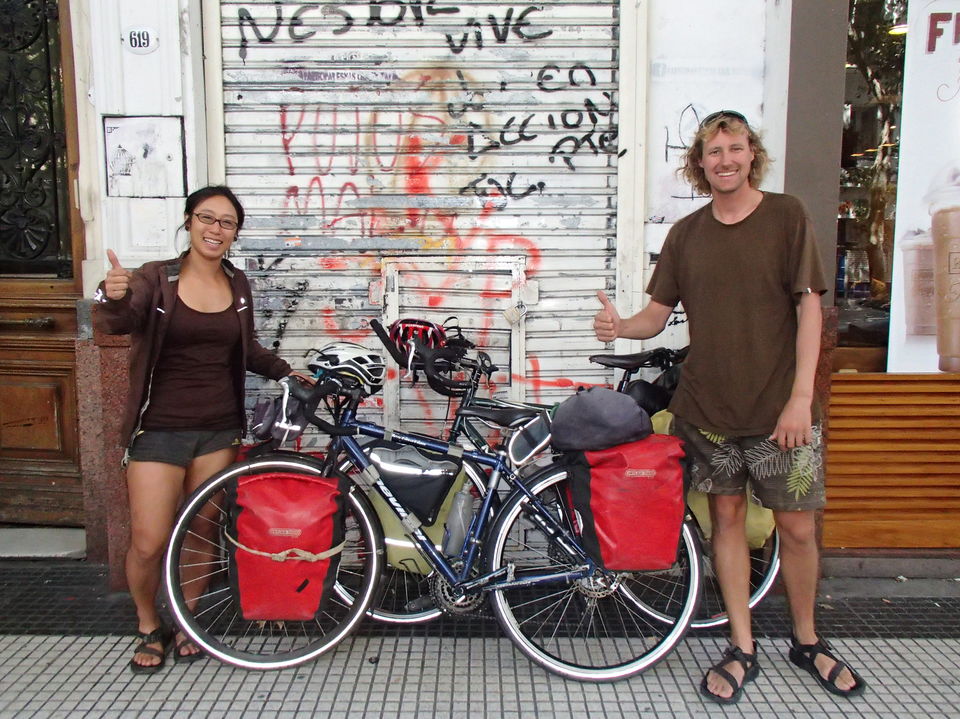 Two-Wheel Commute
The scheme, which already has over 30,500 registered members, has proved popular among porteños. According to the ministry of urban development, the bike rental scheme usage peaks at 2,500 trips a day, most of them made by usual bus passengers who decided to switch for a healthier option.
"In the past week, because of the good weather it actually reached 3,000," says Germán Bussi, director of operations of the transport department. He predicts that this number will double to 6,000 by the end of the year, as the network continues to grow.
Palermo resident, Federico Hoffman, uses this service every day to go to work. "It's practical. I travel to Once and the subte is always crowded so I prefer to travel like this. I don't use it more than once a day because there's no station to return the bike where I go and later in the day the service is already closed."
The city government explains that the scheme is mostly aimed at user like Hoffman; it provides an alternative means of transport for workers and students who commute, thereby relieving pressure on overcrowded buses and subtes. The opening hours of the rental stations—8am to 8pm on weekdays and 9am till 3pm on Saturdays—are aligned to accommodate this target group, and there are plans to reduce the two hour concession to one hour in the near future.
What about those intending to cycle for longer, or for leisure, on weekends? The penalty for a delay in returning a bike is suspension of membership from one week to two months, depending on the number of previous infractions and the delay time. Upon the fourth infraction, the membership is withdrawn altogether.
Teething Problems
Despite its apparent popularity, some have criticised the scheme for its cost effectiveness and haphazard implementation.
During the recent mayoral election campaign, Daniel Filmus, from the president's Frente para La Vitoria party, criticised the project planning in an interview for Radio América. "There is no planning and no previous study on the impacts it will have on the traffic," he stated. "What happened in Congreso street shouldn't happen. They put a bicycle station there and it lasted two days (because) they could not keep the parking spaces."
Along with the bike rental stations, the city government has also so far built 70km of bicycle paths at a cost of US$80,000 per kilometre. Member of the Parliament for Coalición Cívica, Sergio Abrevaya, has been critical of these constructions, advocating that the investment is too large considering the amount of people who use it to commute to work every day. "It's too small a number of people, to take so much space in the streets from public transport. This should be implemented in a different way, a more progressive way," he told La Nación newspaper.
Responding to these accusations, Bussi said: "It's about public safety and how much is too much when we are talking about lives?" He added: "By law we have to provide safety measures to protect cyclists. A lot of people didn't use to cycle because they did not feel safe."
However, 35-year-old Hoffman, who is strongly in favour of the scheme, highlights another potential safety issue, noting that "helmets should be made compulsory."
Asked about why helmets are not an obligation, a worker at Parque de Las Heras station, Gustavo Moses, was apologetic. "When the service was created, there were more bicycles than helmets…" he explained. "So when users come we ask them if they want helmets and they are available at all the stations."
Unbeknown to the user and, most importantly, to the worker of the station, helmets are, in fact, compulsory. The document you sign when registering prompts you to guarantee you will use it, whether you wear your own or ask for it at the station.
When confronted with the information given by the worker about the lack of sufficient helmets, Bussi seemed unaware of the situation. However, he said: "As a government we have the obligation to offer helmets. We should be a little more forceful, but because this is still the beginning of the scheme which is at an experimental phase, we do not want to get into conflict with users." He added: "It's a controversial issue and some people simply don't want to wear it."
For now, it seems, the local government needs to hope that, on a busy day, not all users request helmets.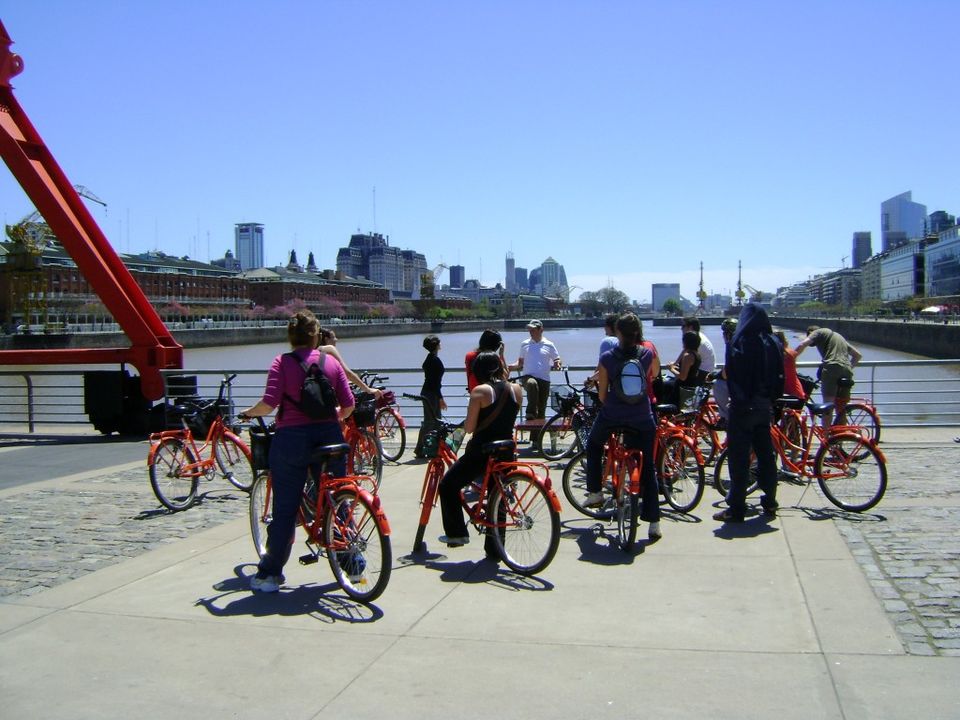 Culture of Cycling
Despite the various criticims and limitations of the city government's bike scheme, NGO La Vida en Bici, which promotes positive changes in mobility through art, has expressed their approval. "I think it's a good start, there is a lot to do but at least the government is doing something," said Matias Kalwill, artist, blogger and director of La Vida en Bici. "For better or for worse, the important is that local governments work at getting people to use bicycles."
Other cycling incentives have also brought people onto the streets to support the use of two wheels to travel in the city. Only in the last month, two different events gathered almost 3,000 people cycling together: the Bicicleteada, which is organised every third Sunday of the month by the local government's Sustainable Mobility Plan; and Moving Planet, organised by Greenpeace in partnership with other NGOs such as La Vida en Bici. Another group which aims to promote cycling and cycle rights is social movement Masa Crítica. They meet every first Sunday of the month for mass cycle outings from Obelisco.
This greater awareness, combined with improved infrastructure for cyclists, is also benefiting some private companies. Celebrating their seven years on 15 October, tourist bike rental Bicicleta Naranja will be opening their third branch in Recoleta, by the Buenos Aires Design shopping centre, to provide their thematic bicycle tours around Buenos Aires.
Owner José Maria is delighted with the creation of infrastructures in the city, which is essential for his business. "It creates a culture of cycling. I like it when locals feel it's safe to advise foreigners to come on a tour with us."
But he warns with a grin: "[the government's scheme] is a good service and I'm happy with it, so long as they don't start catering for tourists, of course."
The Future of Mejor en Bici
For the time being, tourists cannot use the service for lack of one of the documents necessary to register: proof of residential address. However, Bussi said: "We are developing a new system where we might only need a credit card to identify the user, and if that happens, tourists will be able to use their credit card."
Does that mean that the service my charge its users in the future? "It's a possibility we are looking into and in 2012 we will start following that direction," said Guillermo Krantzer, the director general of the transport department at the ministry of urban development. "At the moment the scheme is funded with public money and the objective is to make it financially viable. Most European schemes work in partnership with companies that use the bikes and cycle paths as advertising spots. By law we cannot do this here, but there are prospective sponsors who want to invest on the scheme to convey a more environmentally friendly image, or a healthier image. The charge would be solely symbolic."
Whether you use the mejor en bici scheme or not, it seems a culture of cycling is emerging in Buenos Aires. As temperatures rise, even more people will take advantage of the opportunity to get some exercise and reduce their carbon footprint at the same time. As Mark Twain once wrote: "Get a bicycle. You will not regret it if you live."
Jerry Nelson is an American freelance travel writer now living the expat life in Argentina. At last count, Jerry has traveled to — and worked in — 155 countries. Never far from his coffee and Marlboros, he is always interested in discussing future writing assignments. Email him today and join the million or so who follow him on Twitter.
Your dreams live in his work.
Check out Jerry's latest writing gigs on FiverrPro.