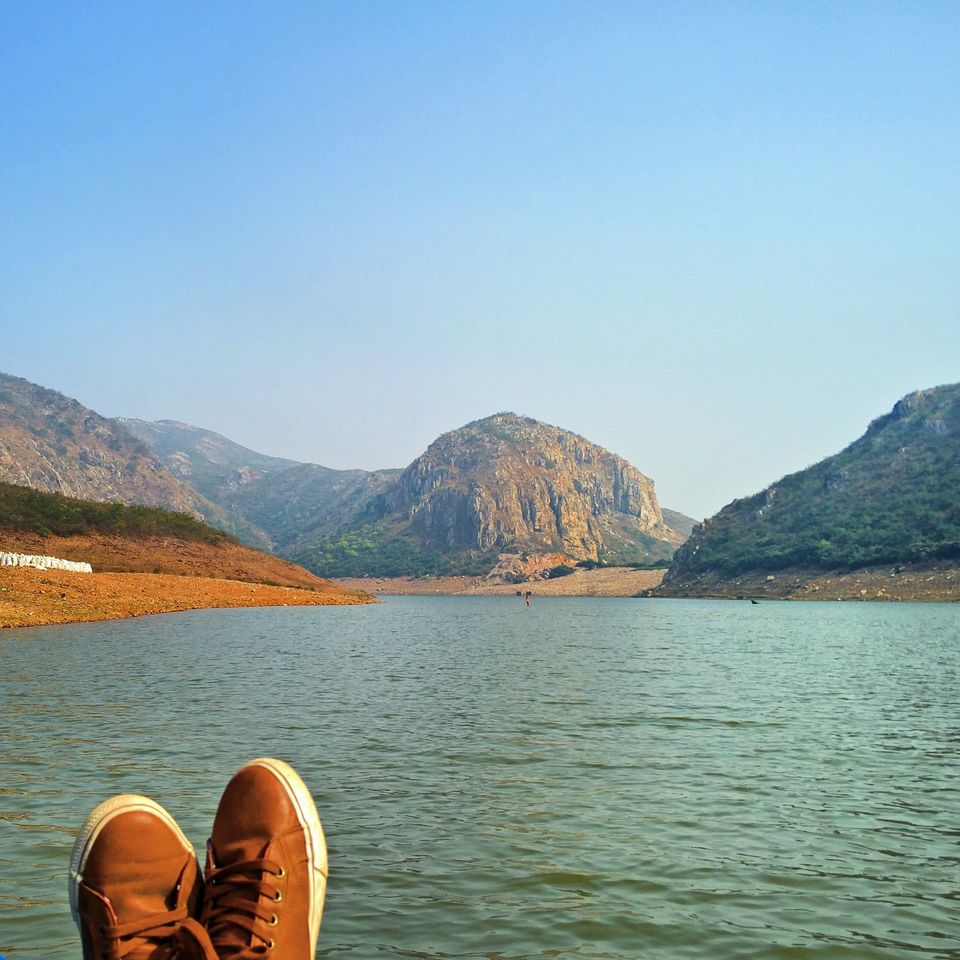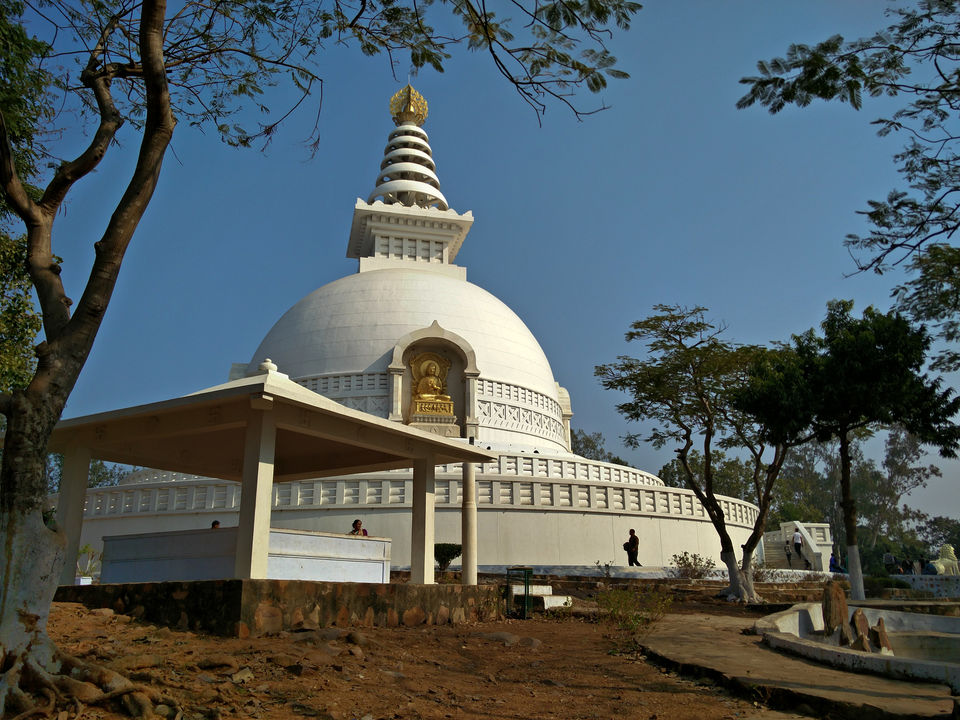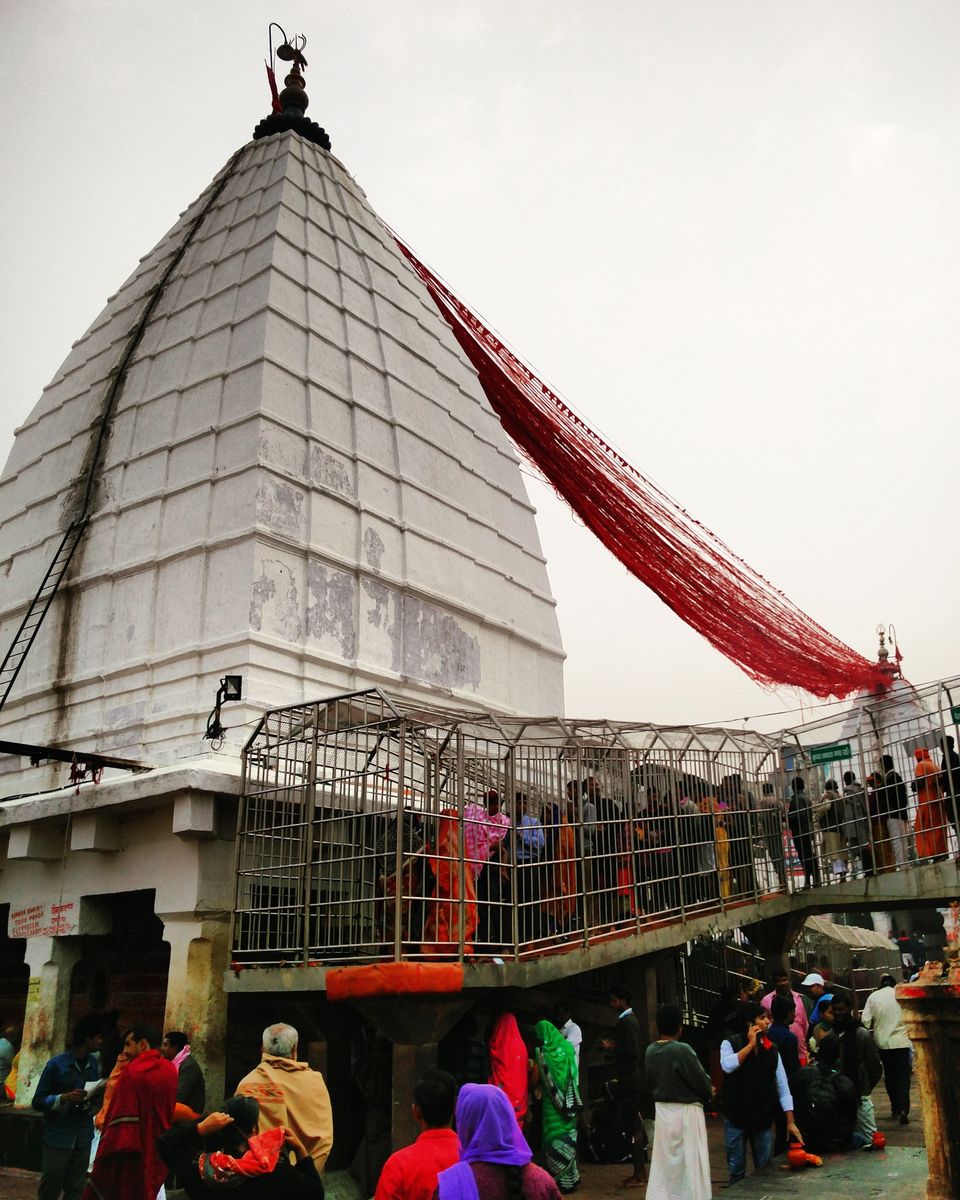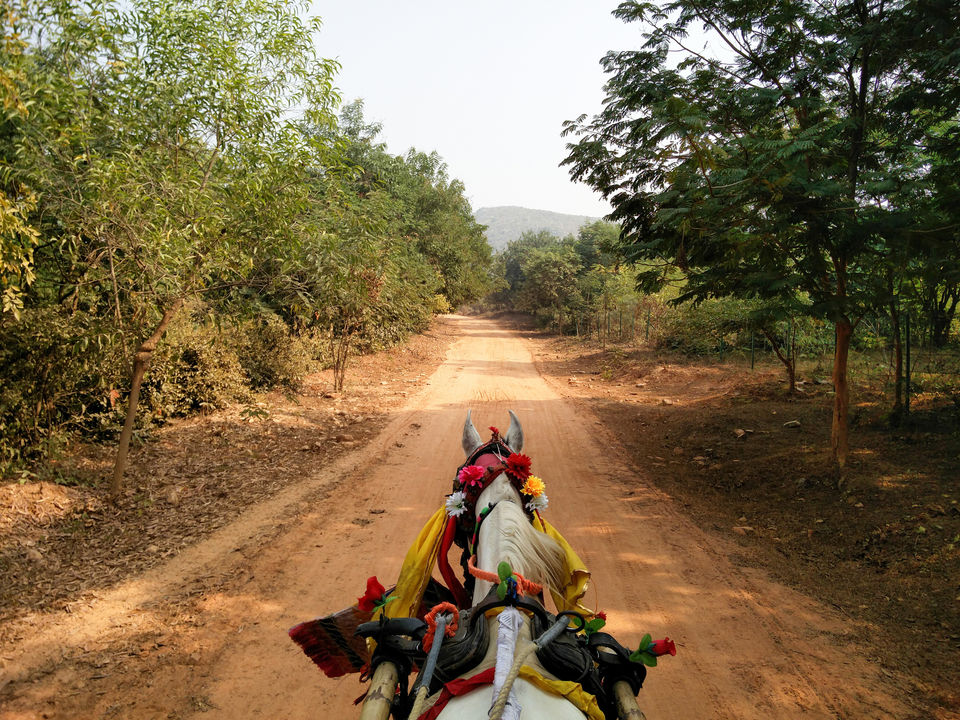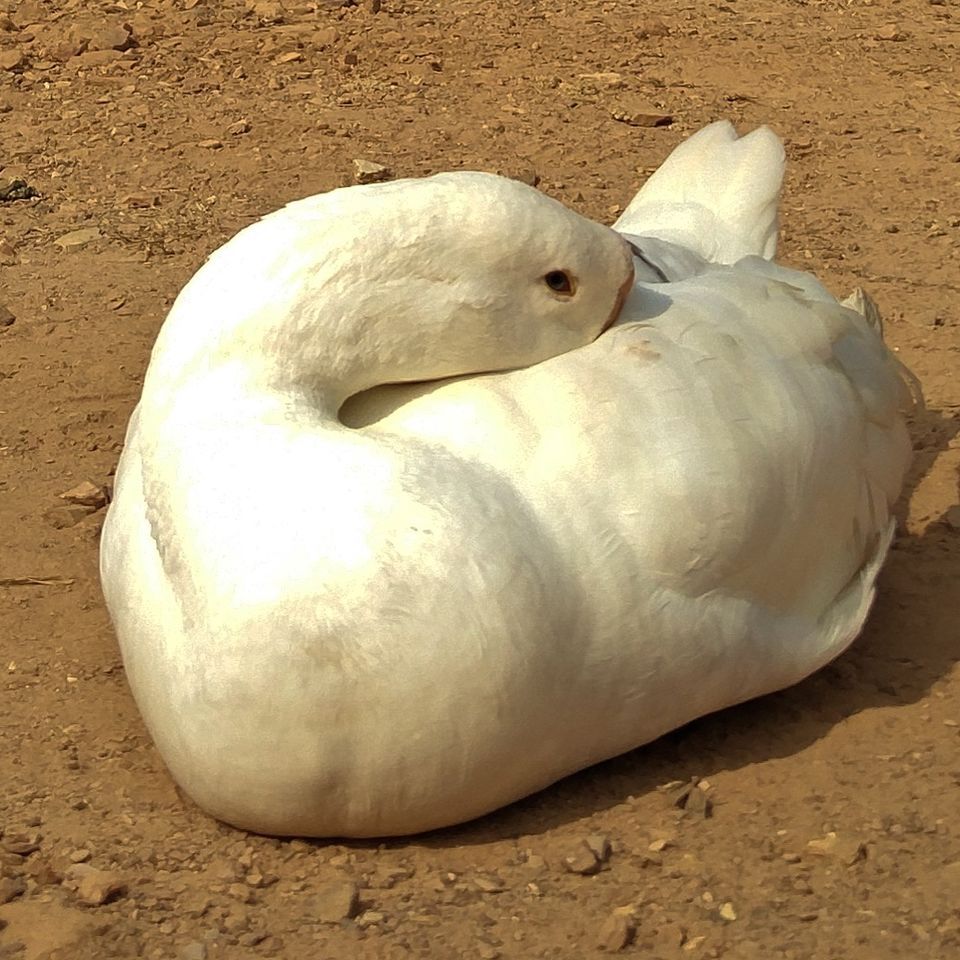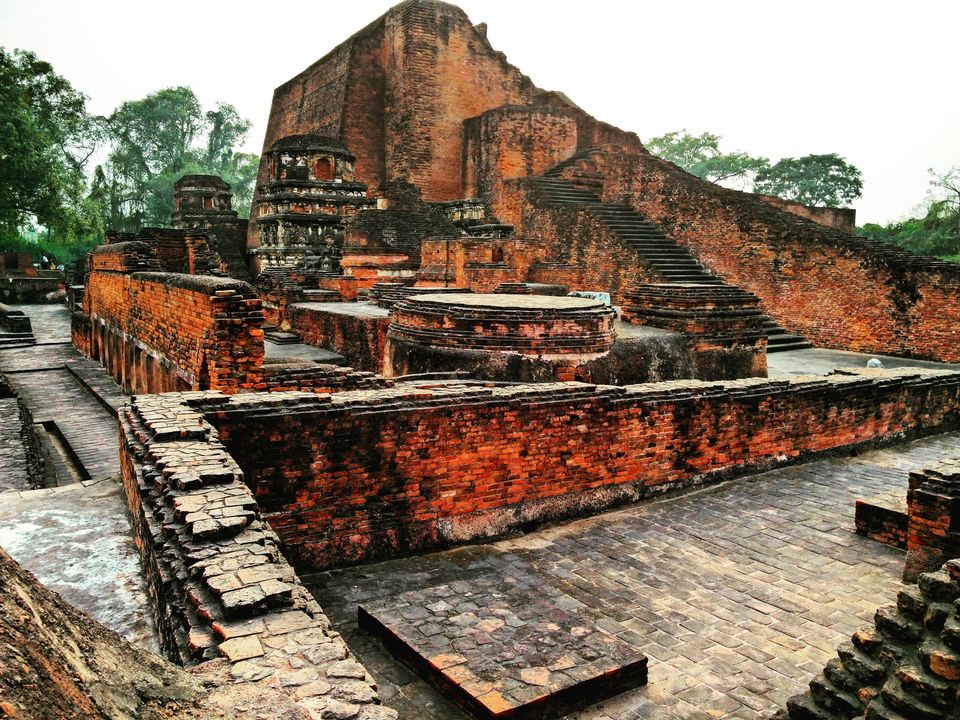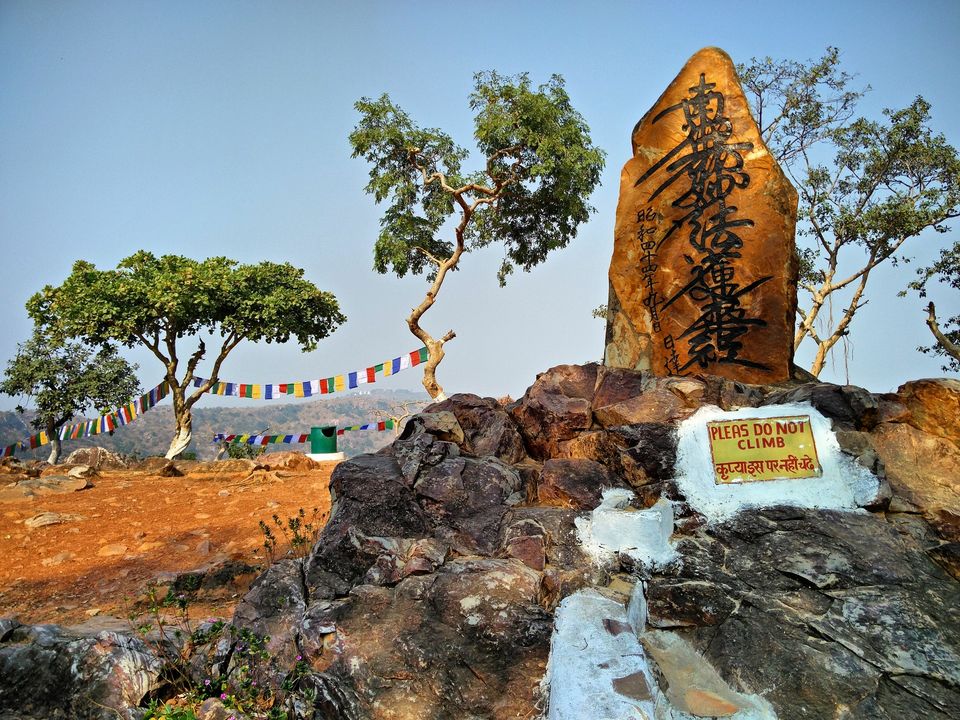 Hello there, dear reader. It's always a joyous feeling to have you reading my pieces. 
I hope this story finds you in the best of health and spirits. 
It's 10 Degrees celsius in Ahmedabad and the clock shows 3:40 AM, how is the weather there?
About the title, Bihar is a beautiful place and I don't see any reason you would not like to explore, write good things about and take pretty pictures. We're easily misled by the negative aspects and traits of a person, place or anything in particular. It's our superpower. On top of it, impressive journalism by our media puts the final nail in the coffin. However, it's not the case. 
Anyhow, everything happens for a reason and if that reason isn't apparent you're not paying attention. There's good masked in every thing that happens to you - be it a misfortune or an occasion of joy. One such instance led me towards a number of beautiful places in Bihar. 
My train from Patna to New Delhi got cancelled due to unavoidable circumstances(for which the IRCTC deeply regrets I am sure) and hence a long overdue family trip birthed. 
First of all, accompany me to a pilgrimage to Deoghar. 
The best way to get in would be via trains. Do a quick research and select whichever option suits you best. Deoghar houses numerable temples one of which is the most revered of all Jyotirlingas, Baidyanath Temple.
An excerpt:
"Baidyanath Temple/Baba Dham - According to Hindu mythology, Ravana went to Mount Kailash and prayed to Lord Shiva, who gave him a Jyotirlinga to take to his land, with the promise not to place the lingam any where else. In case that happened, the lingam would remain fixed on that spot forever. The gods, who were unhappy at the prospect of the divine lingam being established in the enemy kingdom, which would render them powerless against their adversary, worked a trick on Ravana. He mistakenly handed over the lingam to a brahmin, who grounded it at Deoghar. Ravana did his best to uproot it but beyond breaking the tip he was unsuccessful. In deep remorse, he used to come to this place everyday and worship the lingam by offering water from the Ganges."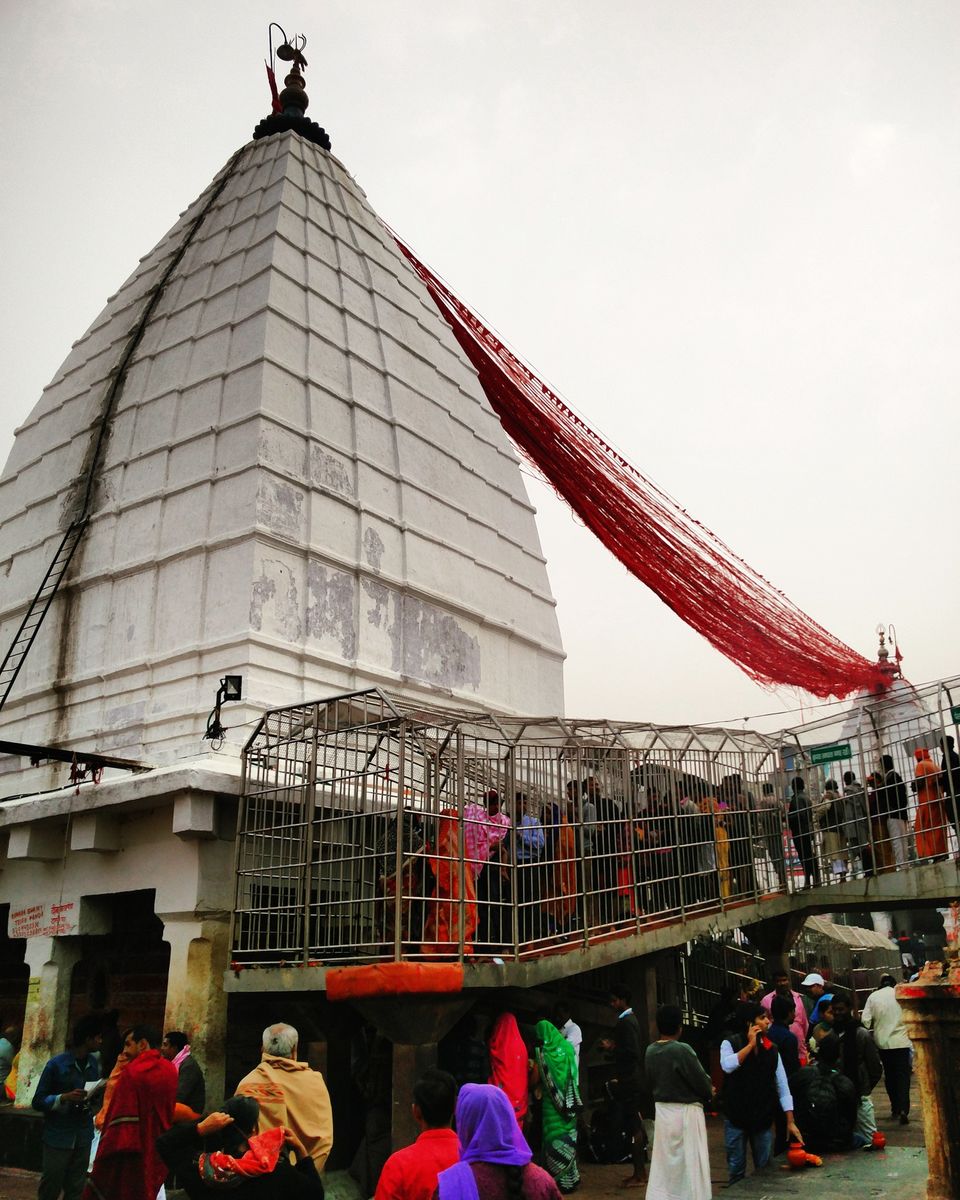 We were staying at a hotel in Deoghar and thought it would be best to pay a visit early morning, little did we know it wouldn't matter. The place was already bustling with people of all ages from different parts of the country. The temple's complex is quite huge as it houses the main temple of Baba Baidyanath and 21 other temples. It was approximately 8-9 Degrees in the morning and walking barefoot on the wet stones was difficult but watching the devotees' selfless faith has a charm of its own.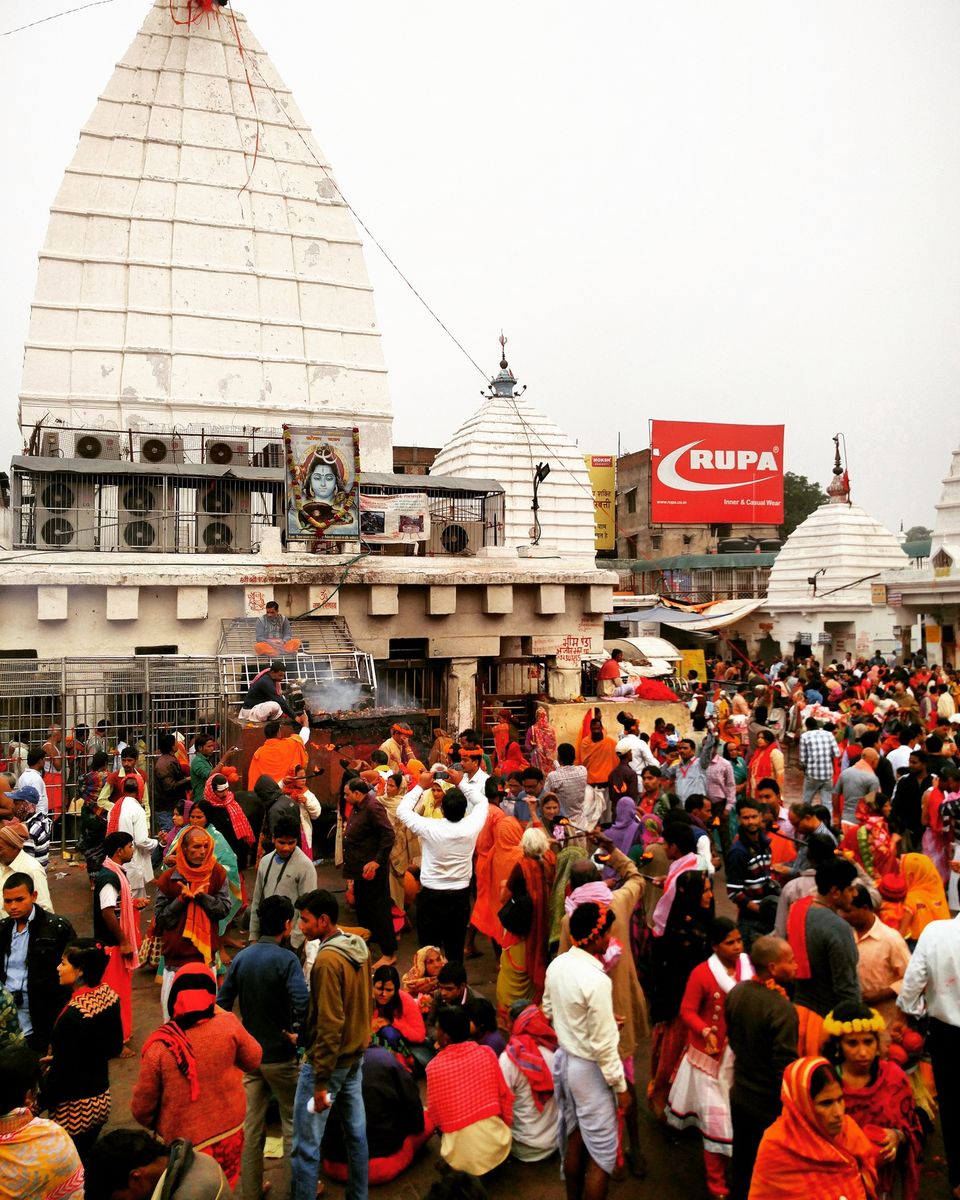 Can you hear the bells ringing? If not, please head towards my Instagram for a short video. 
TIP - This temple witness the largest outcome during the month of Shraavana which falls between July to August. Plan your visit accordingly.   
What enraptured me were the sacred threads which were tied between Maa Parvathi and Shiva's temples displaying their unity. Devotees offer thread and a hefty sum to persons who climb and tie it for them. This ritual is performed to ensure prosperous and a happy married life(is that even possible?). 
I have put a short video on my Instagram, remember to check it out. 
As this temple witnesses a heavy crowd round the year, it has employed a strict enclosed pathway which leads to the main chamber. Everything goes downhill when you enter to pay the respects as the crowd goes berserk in order to get a glimpse of the Jyotirlinga. The place is inches away from a stampede, so take every step very carefully and don't keep your wallets or mobile phones on you. 
While returning, remember to take these famous pedas with you.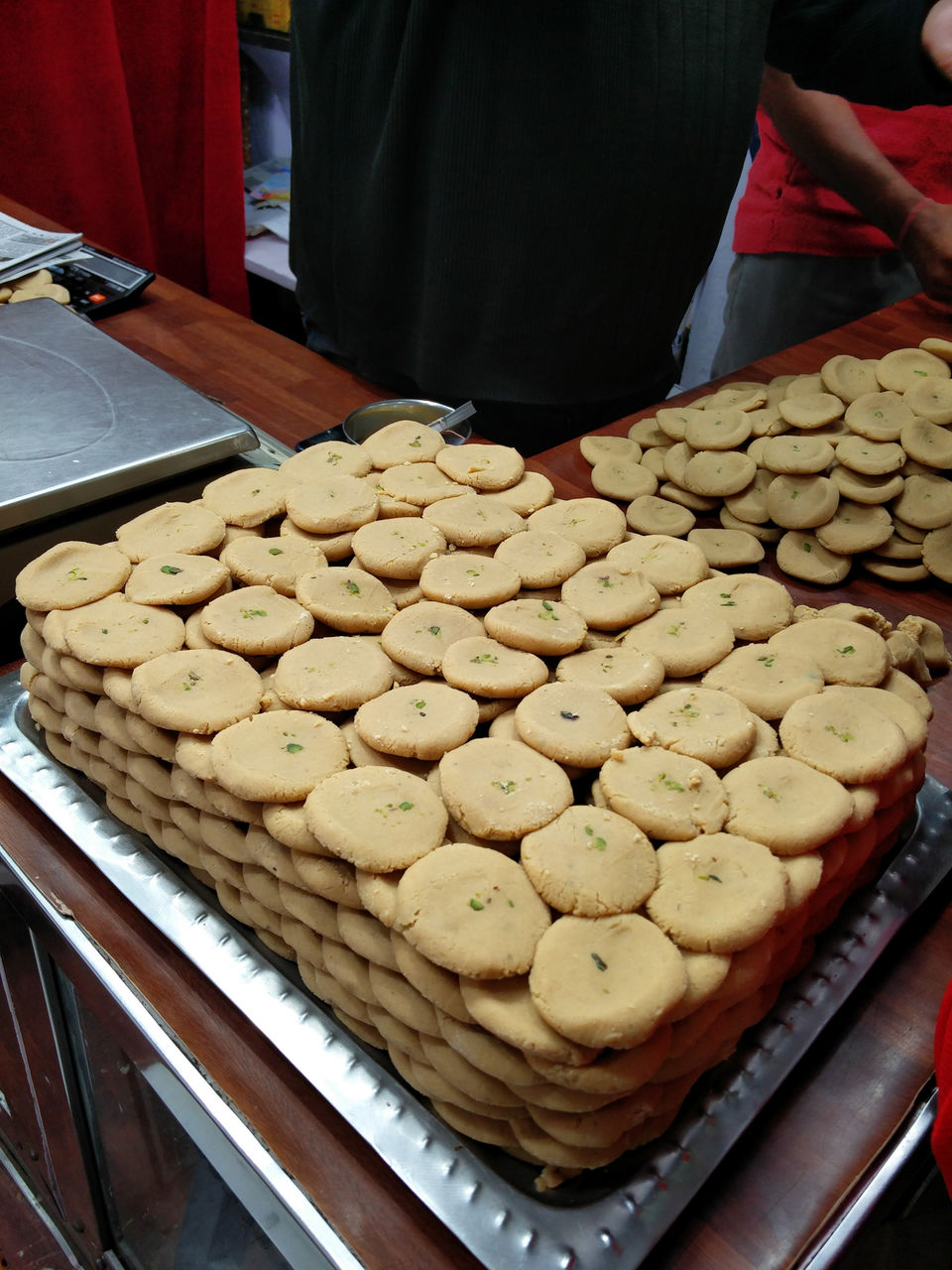 My hometown is on the banks of river Ganga and before you pop the question of being its water clear or not - yes, the water is pretty clean. It wasn't the case few years back but the amount of educated public has heightened. I often find myself sitting by the river lost deep in thought until stray dogs, lambs, sheep come sniffing and sit by my side. Having spent an awful amount of time by the country-side, the pleasant smell of fresh crops bundled with the signature cow-dung fragrance is something that calms the mind and gives a soothing effect physically. 
During evenings, these things are a necessity here.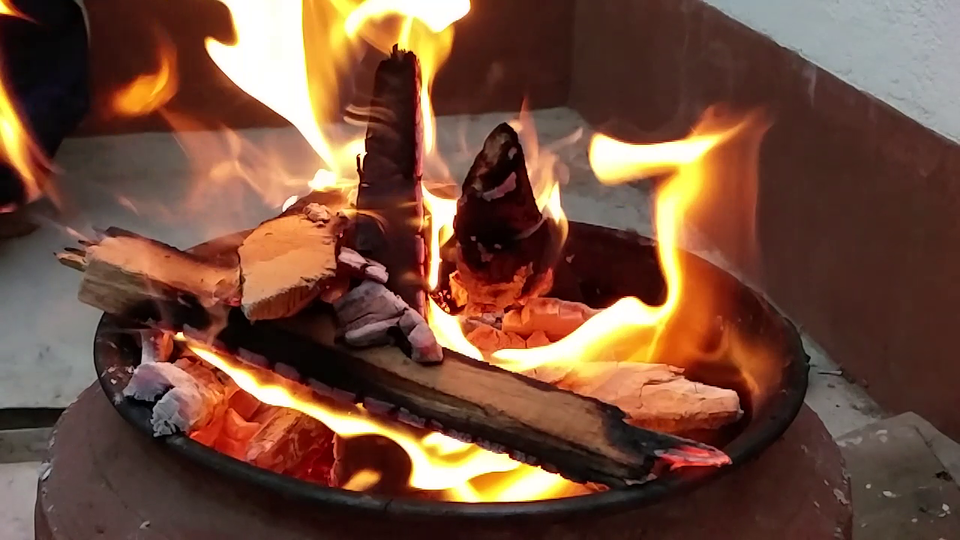 And mornings are even worse. 
You know how our Bollywood actors wake up with a nice yawn looking all fresh and beautiful? Yeah.. no, here we look like a bear just out of hibernation. 
The next morning we made our way towards Rajgir which was around 75 Km from our town.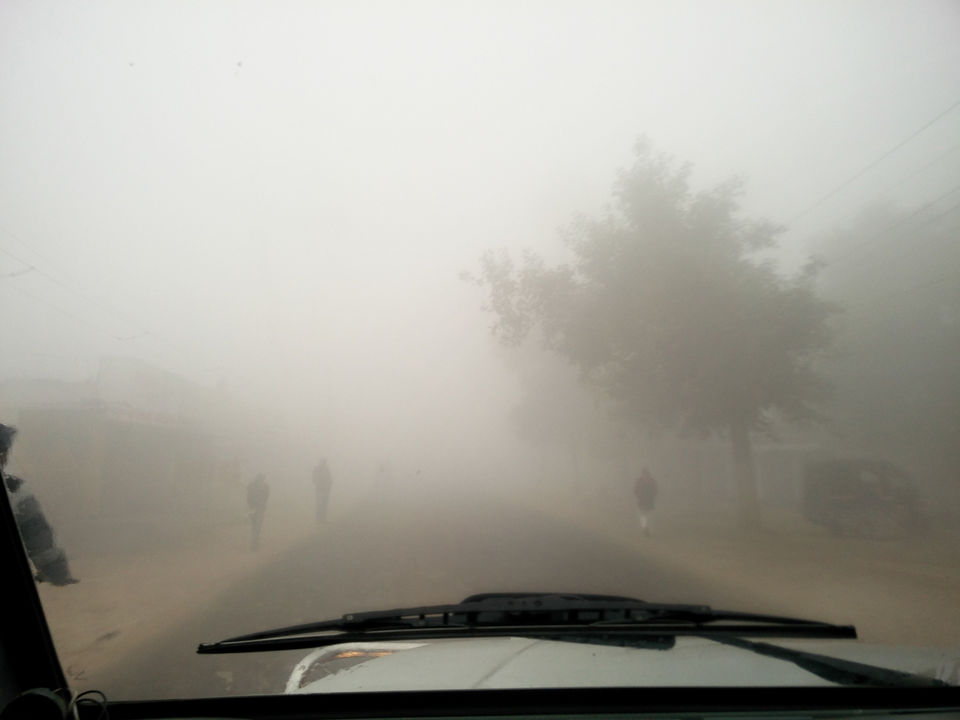 Delhites, I'm sure you can relate. My friends in Punjab, see something familiar?
As soon as we reached Rajgir, it was 7 AM and my parents well bent to submerge me in the holy hot-spring of Brahma Kund. It's said that the water possess healing powers mainly due to sulfur content.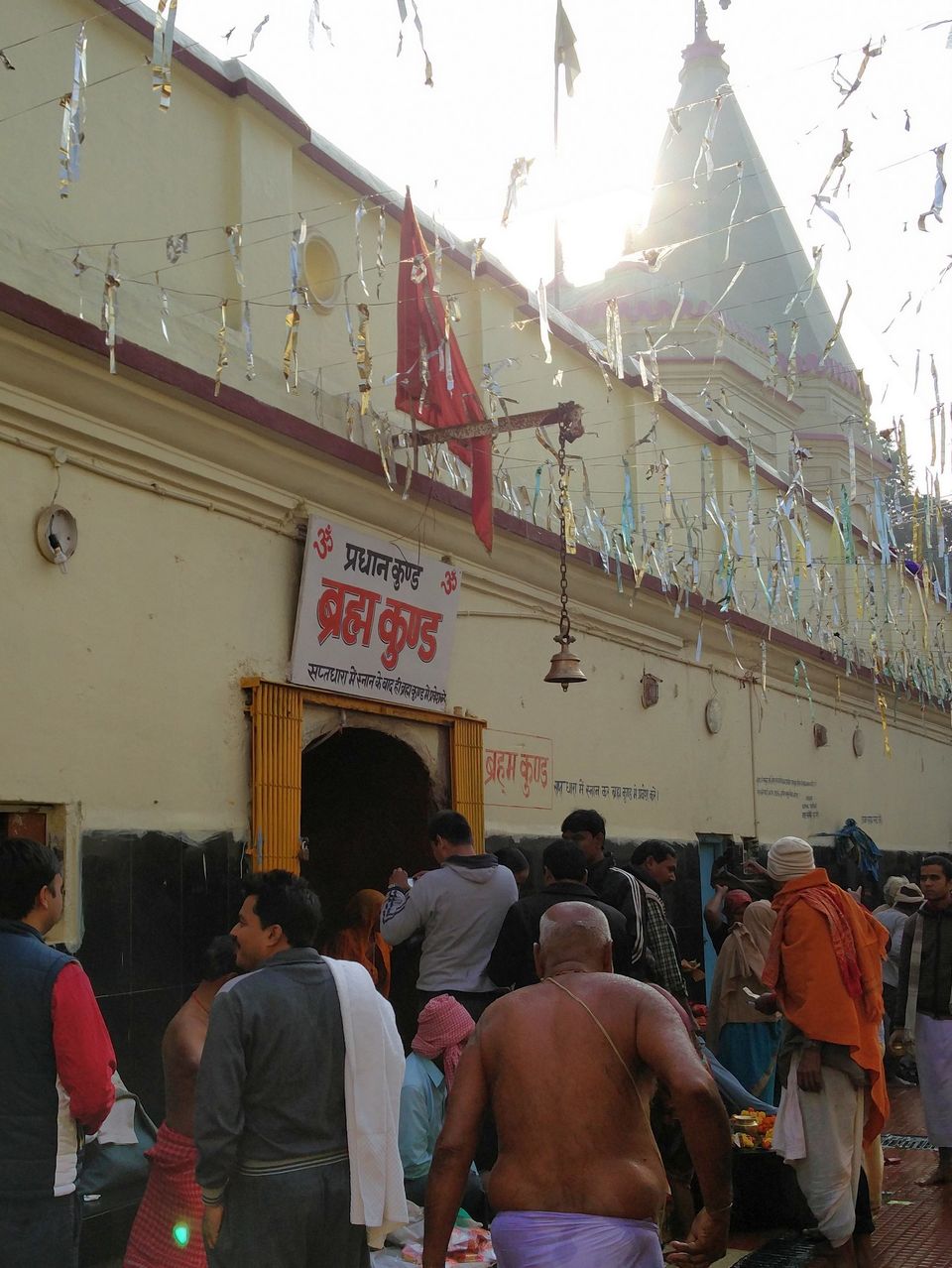 The entrance you are seeing leads to the main kund. It can barely hold 5-10 people at one time but as you must never underestimate the faith of a common man. There were around 40-50 people enjoying themselves in the natural Jacuzzi. 
Dad: "Come on, take a dip. Like this."
Me: "Nah, I'm good with my head out."
Dad: "I wasn't asking."
Me: .. 
Once I got in, I simply wanted to be there for rest of the day. After 2-3 dips, it was time to finally come out half naked, and climb 10 stairs back towards the nearest towel. I will never forget those 30 seconds. Ever. 
After shivering for a couple minutes and wondering what was the procedure to swap families, I took a quick breakfast at the stalls outside the temple. It's safe to stuff yourself with some light refreshment, just make sure you do not stuff yourself with the first delicacy you spot.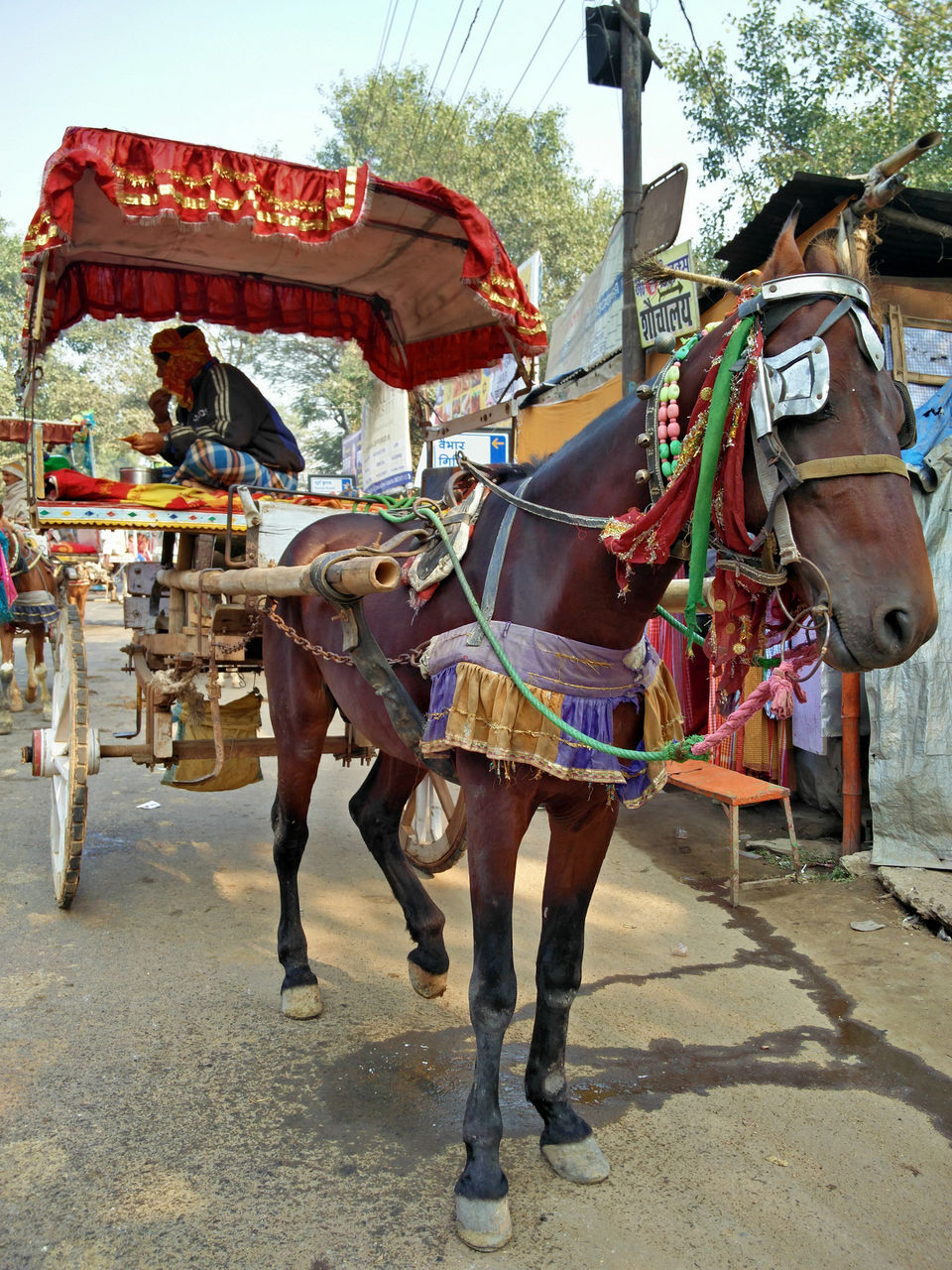 Don't worry we are just about to take a memorable horse-cart ride later in the day.
We made our way towards Vishwa Shanti Stupa. It is one of the 80 peace pagodas in the world. As the name suggests, it has been constructed to spread the message of peace and non-violence. When I researched about this place, I found that the basic architecture is prevalent across all the pagodas. There is one situated in Leh as well. 
Do you like rope-ways? Because to reach this monument you can either trek or take the rope-way.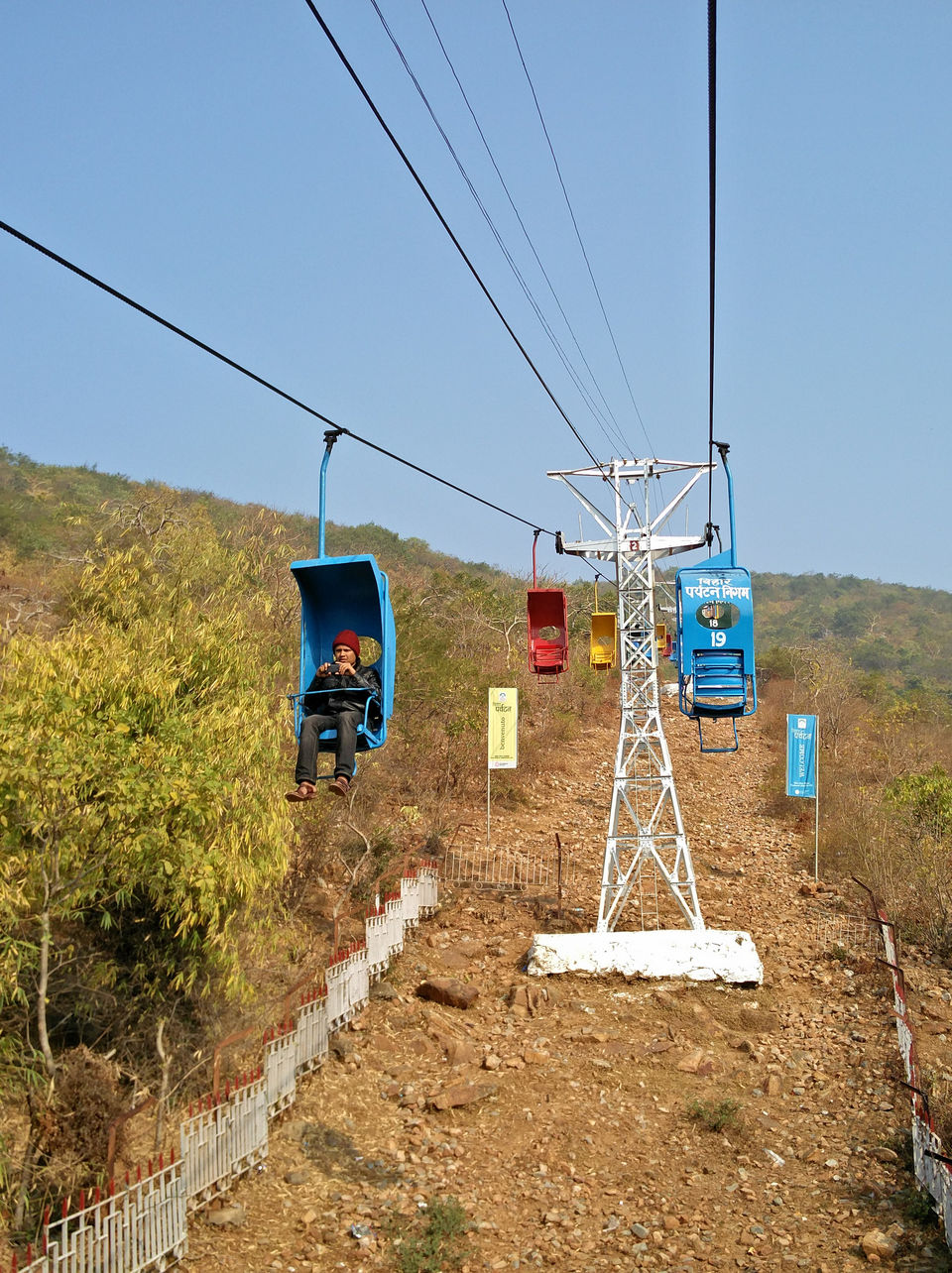 It doesn't stop for you to board like a king or a queen. You'll have to board and alight very carefully the entire system is always in motion. You'll get an astounding view of Rajgir Hills as the rope-way moves slowly towards the top. 
The only flaw was that the journey ended. If I was alone, I'm sure I would have repeated 2-3 times. 
After getting off the rope-way and a couple minutes walk later, I could hear a soft banging of a drum.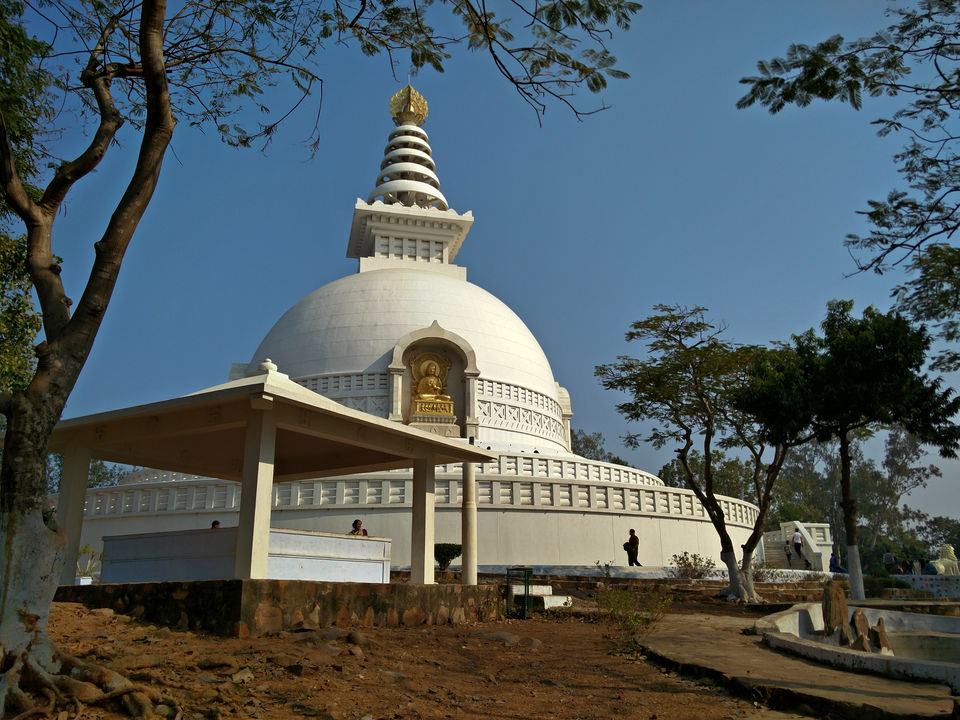 It's constructed using pristine white marble.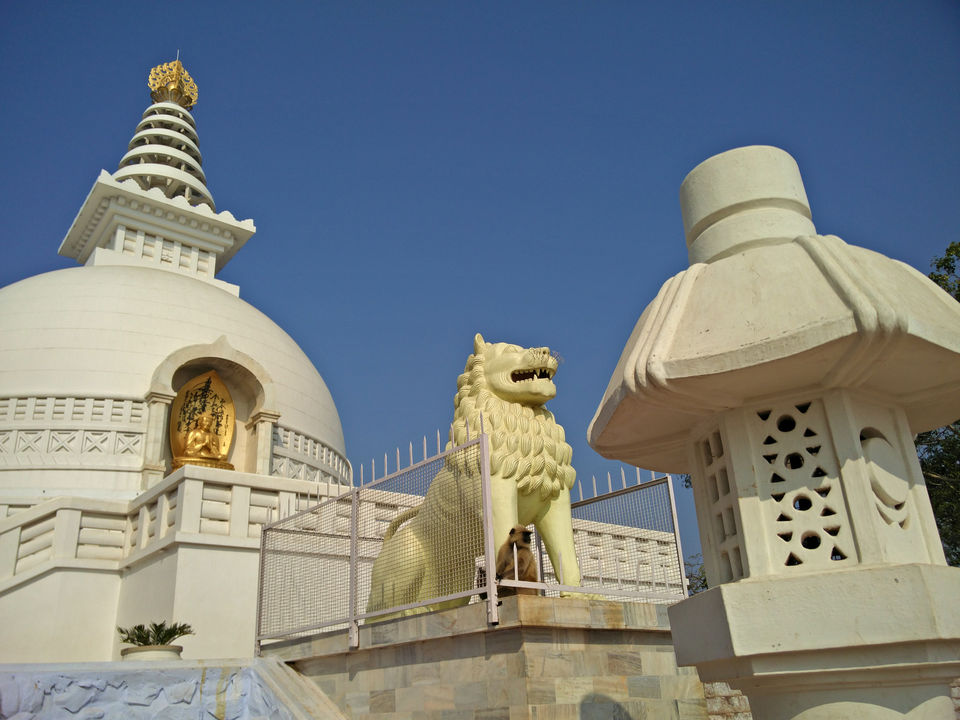 A close-up view of the Buddhist Shrine. Would somebody tell that langur the lion won't come to life for its protection.
A swarm of Buddhists had come to see the monument and were busy clicking pictures. 
Tip: Please do NOT go all NatGeo on the Langurs. Keep a safe distance while photographing them. Why? Keep reading. 
The hill-top gives a picturesque view of the surroundings and it's highly recommended to spend a couple of hours here.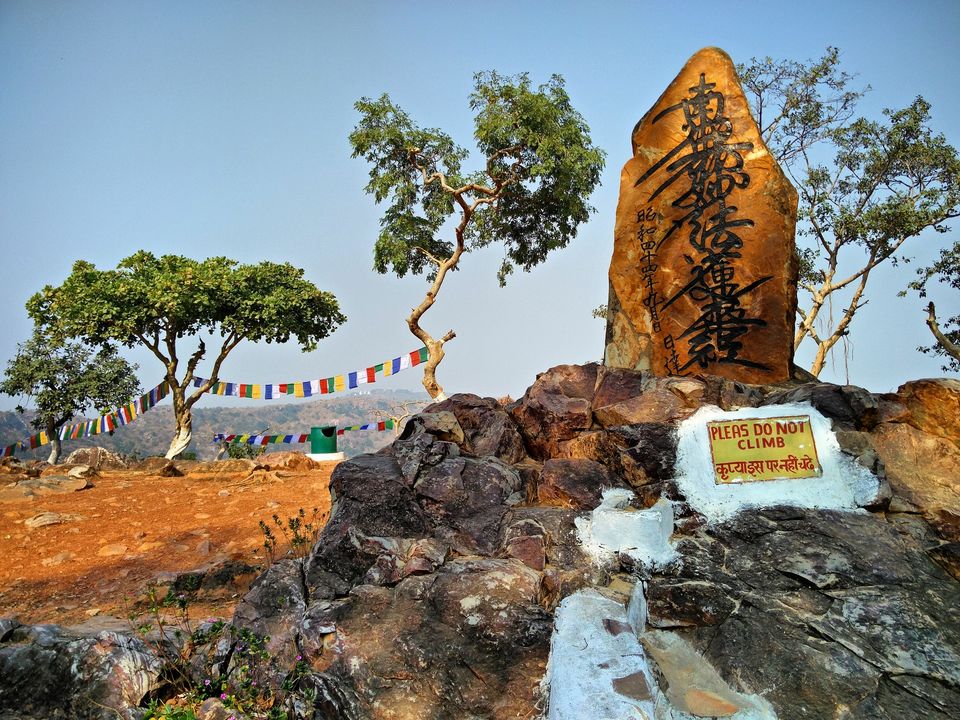 It's India. Nobody knows our people better than we do. They'll always surprise you in ways you can't imagine in the wildest of dreams. 
There is a Japanese Temple beside the monument where a staunch devotee is busy banging a drum in rhythm. 
So that's where the noise was coming from. For a moment there, I was about to ask him to let me try but considering I was with parents, I refrained. 
After strolling around for a few minutes we began our way towards the rope-way again. After reaching the plains, we grabbed lunch and my sister bought a packet of biscuit. As soon as she was about to board the car, she felt a hand tugging her biscuit. She shrieked when she saw a langur snatching it from her hand. Thankfully, it didn't scratch her. Surprisingly, she let it go without a fight. Believe me, sibling fights used to be intense.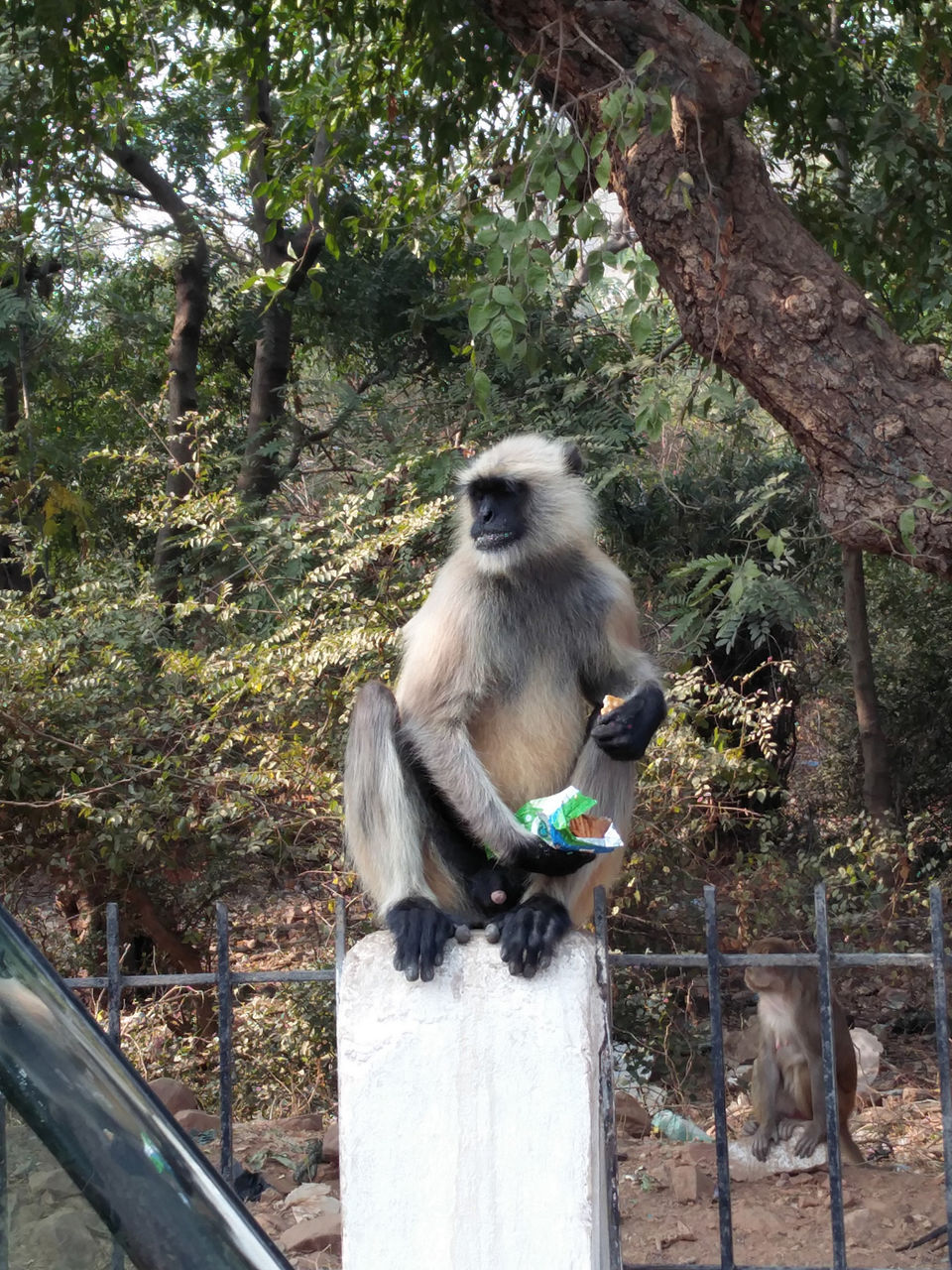 After the glorious act, he shamelessly sat within a stone's throw and started eating. Seriously bruh?
TIP: Now you know why. Don't keep any eatables in your hands while walking around this place. They won't sit and stare from a distance begging for your kindness, they'll demand it. 
After collectively teasing my sister, we made our way towards Ghora Katora Lake. It's reachable only via a 6.5 km of phaeton ride. An open horse cart will take you across lush greenery and dirt roads to finally reach this quaint lake surrounded by mountains, where you'll be welcomed by clear skies and swans are an added bonus.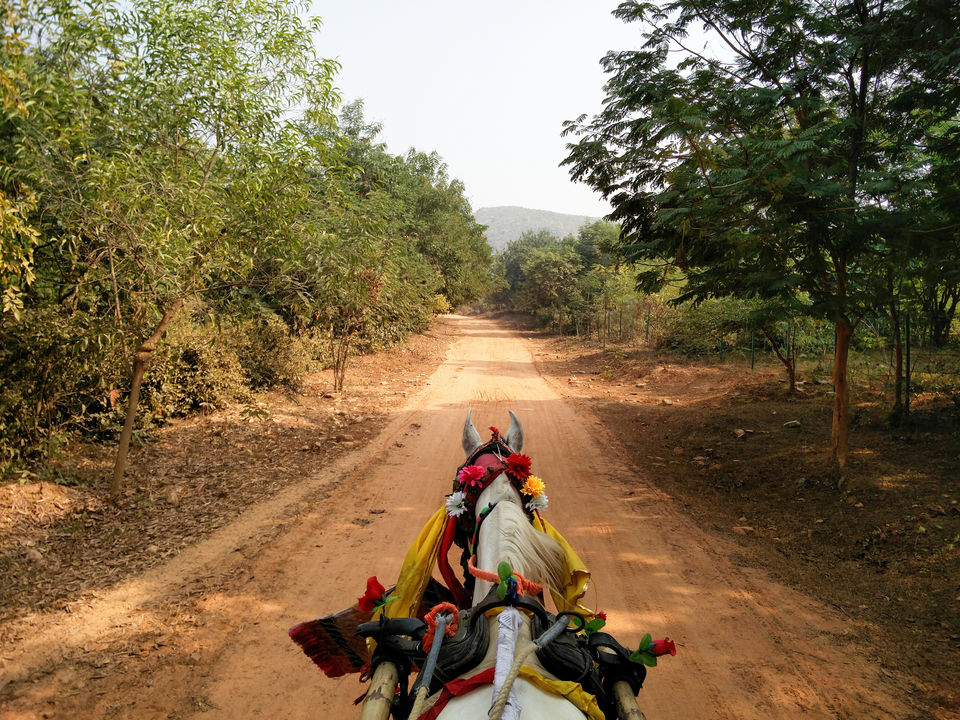 A set of beautiful short videos can be found on my Instagram page.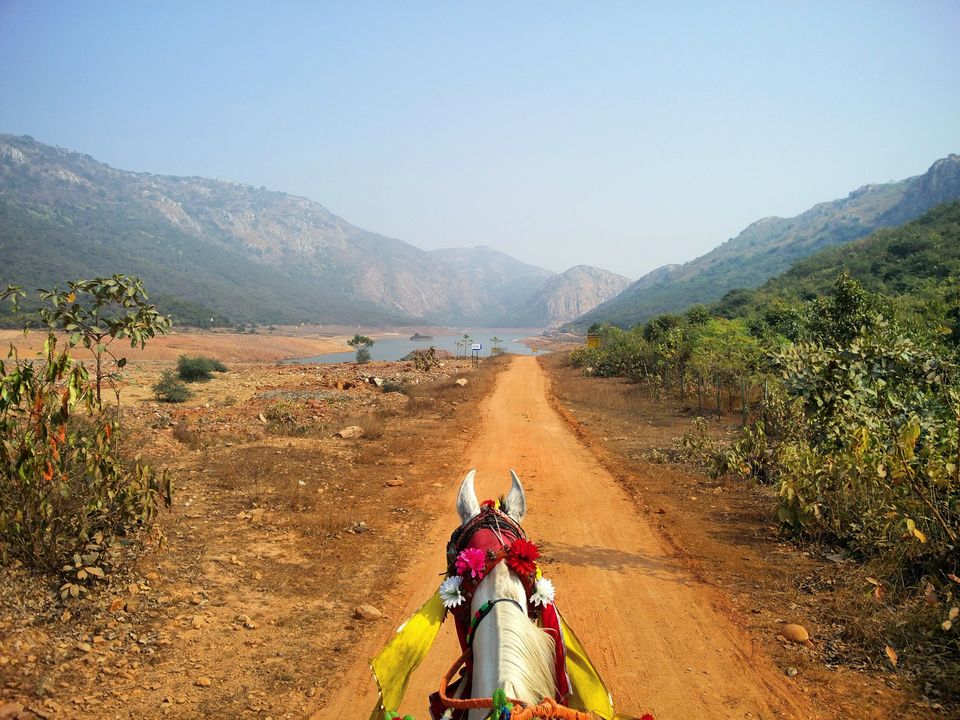 I specifically asked to stop the carriage to take this picture. Isn't the approach magical? Why shouldn't Bihar be next on your list? 

For a better view, please click here - bit.ly/WhyNotBihar
A signpost read 'Please don't disturb the swans', but the swans were not intimidated by our presence. Generally they avoid human contact but the group which we encountered started walking towards us making their loud signatory noise. I felt happy as they were very friendly and we spent a good time feeding Parle-G.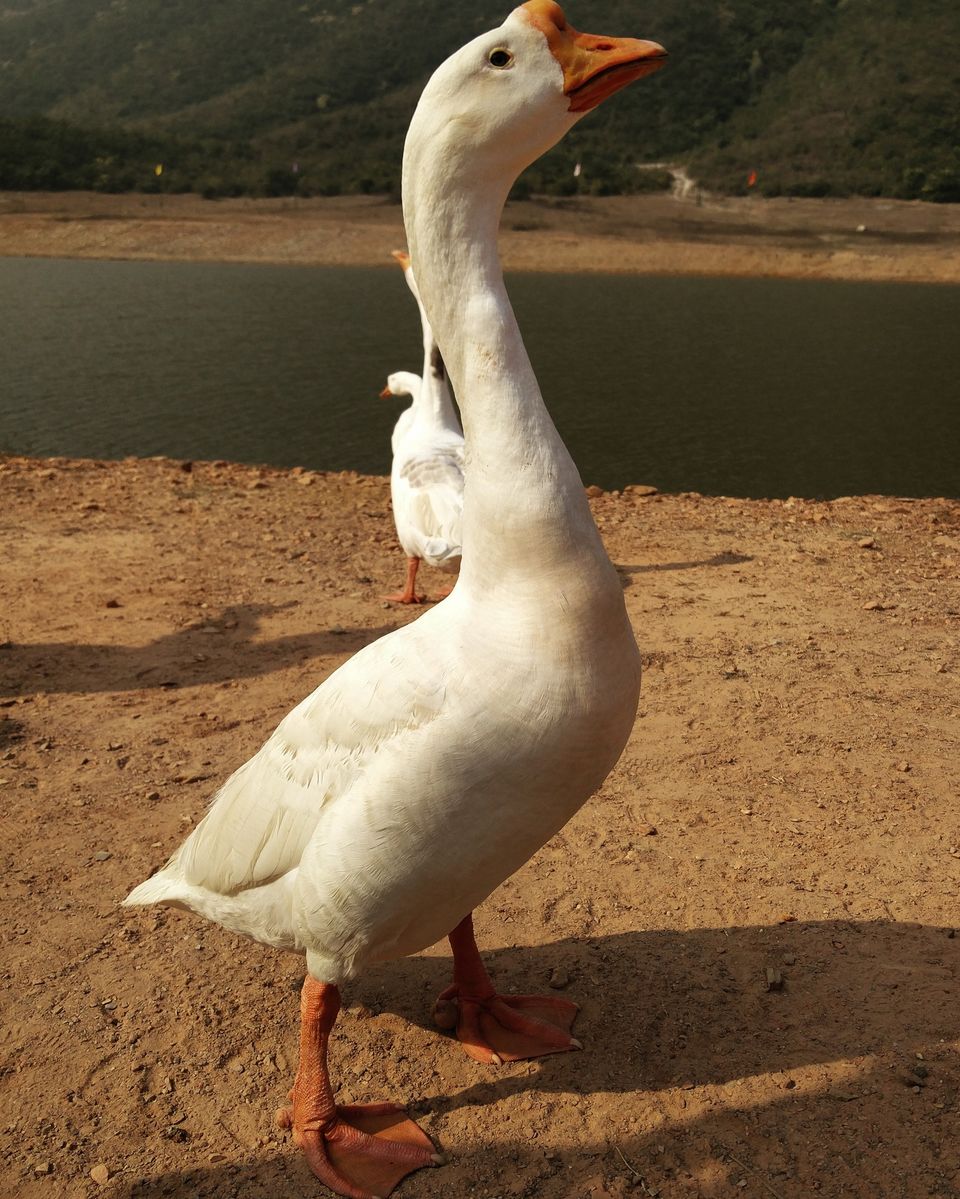 u wot m8?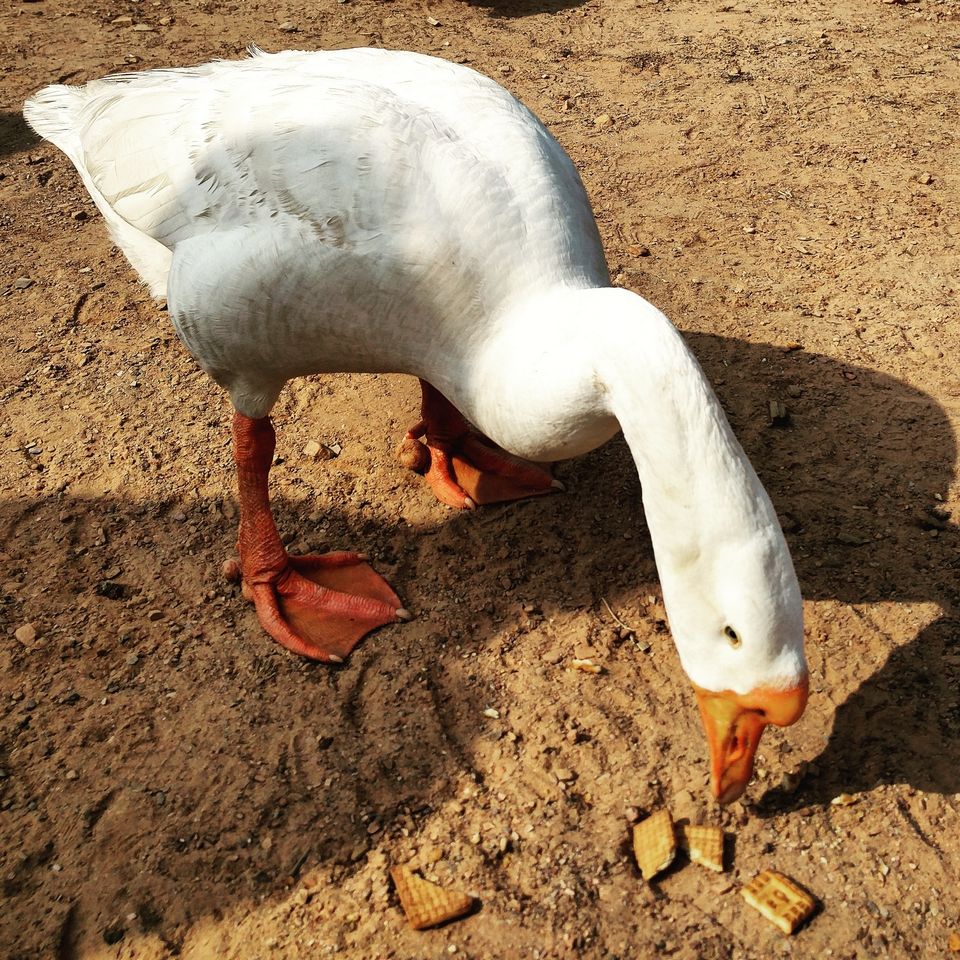 Never mind. 
If there's one thing I've learnt during my travels feeding strays, it's that everybody loves Parle-G.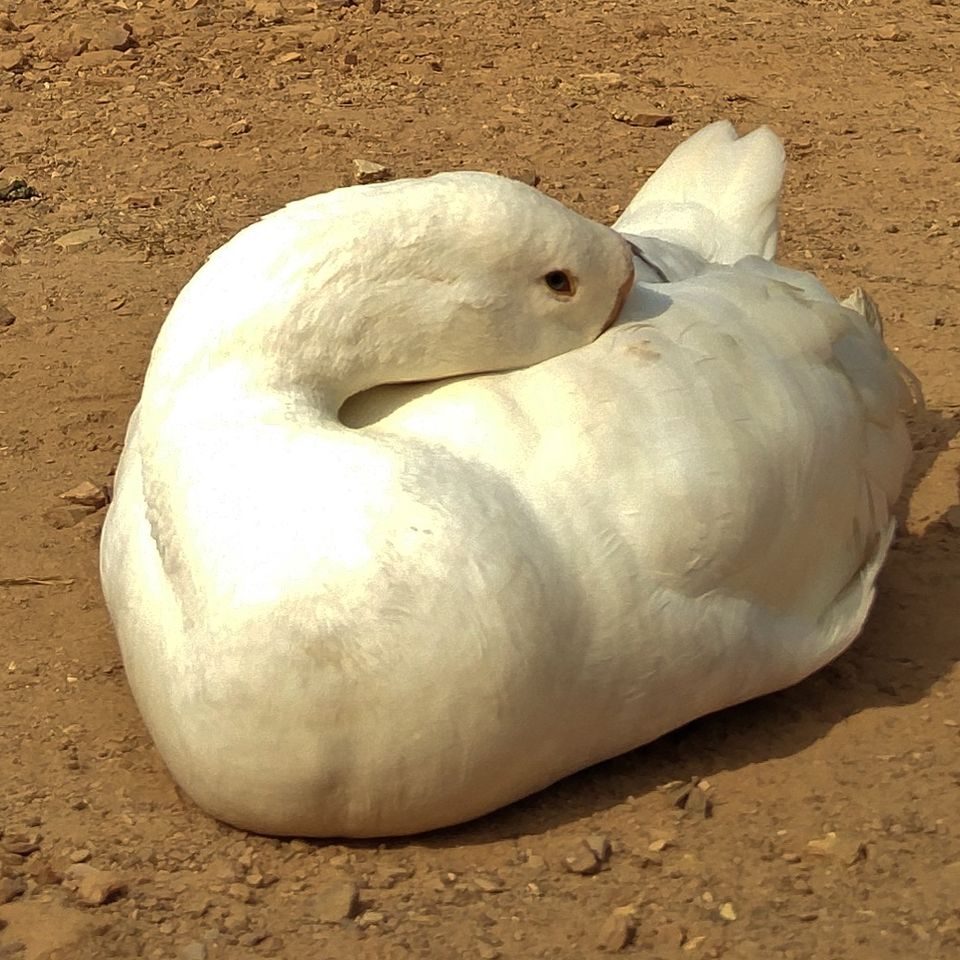 Shortly afterwards a happy tummy, they rushed off to sip water from the lake and snuggled to bask in the warm sun. 
The paddle-boats were Rs 30/- per person without any time-limit! We rented two boats and started towards the far end of the lake. We were the only people in the entire lake which made it even more relaxing.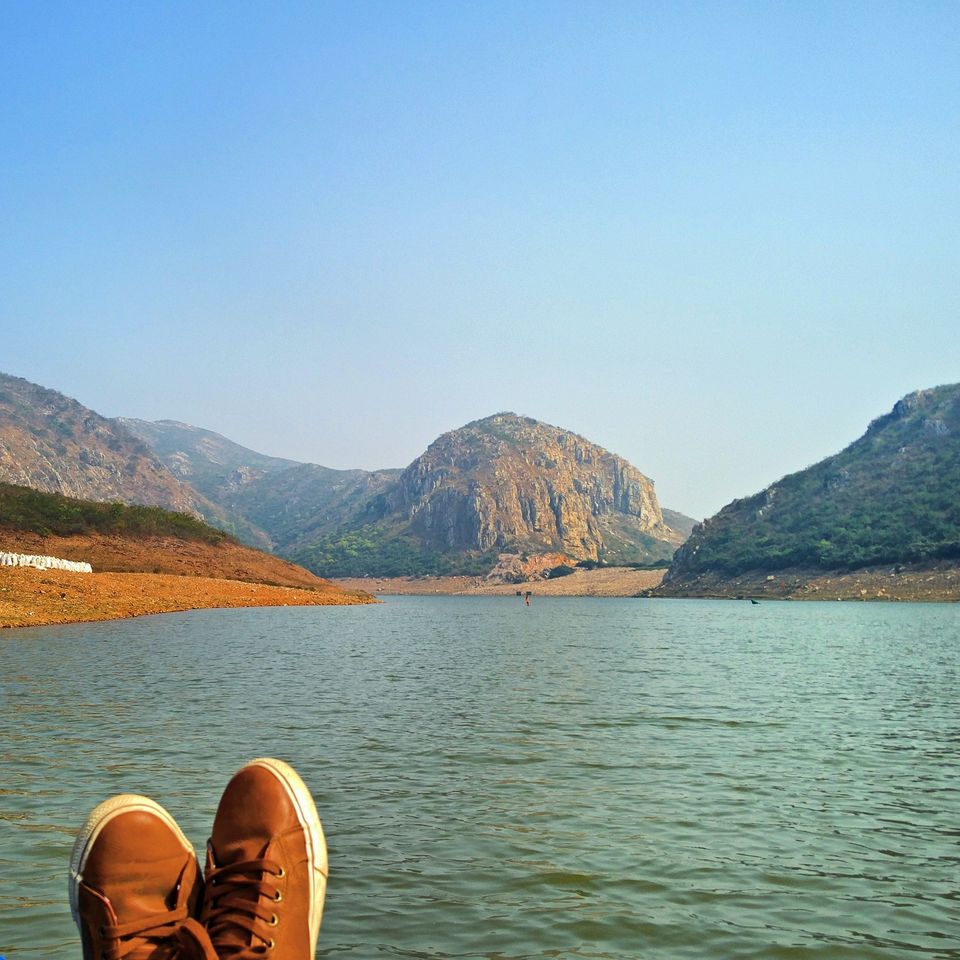 Is it Leh, some lake in Himachal or one of the lakes in Nainital? No. It's in Rajgir, Bihar. 
With both your feet on the paddles and one of your hands in the chilled water of the lake, this particular feeling will stick with you for years to come. 
There is only small shop beside the lake who charges more than the MRP for obvious reasons. Make sure to use the dustbins as the place is remarkably clean and the air shows no signs of apparent pollution. We spent an hour at the lake and made our way back to the car from where we looked up directions for Sona Bhandar which translates to Store of Gold.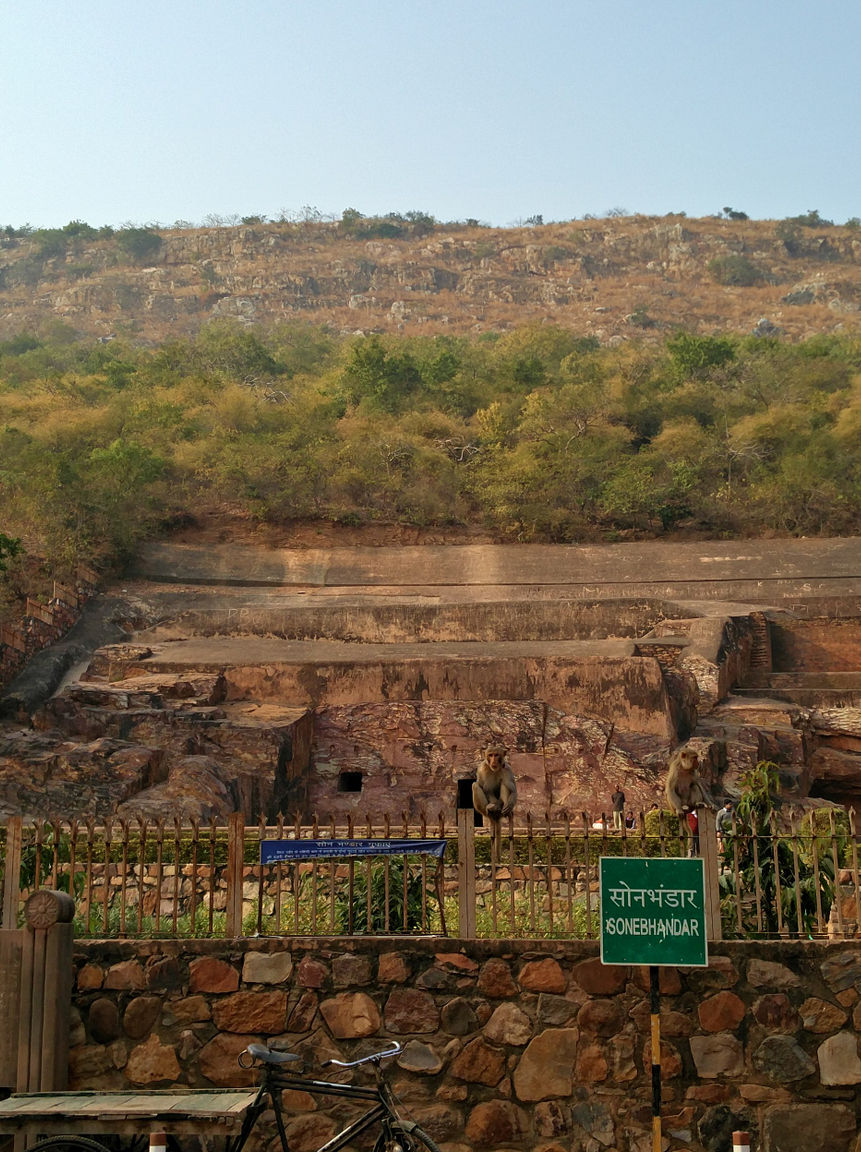 The Security Budget is a questionable matter when it comes to Bihar Tourism.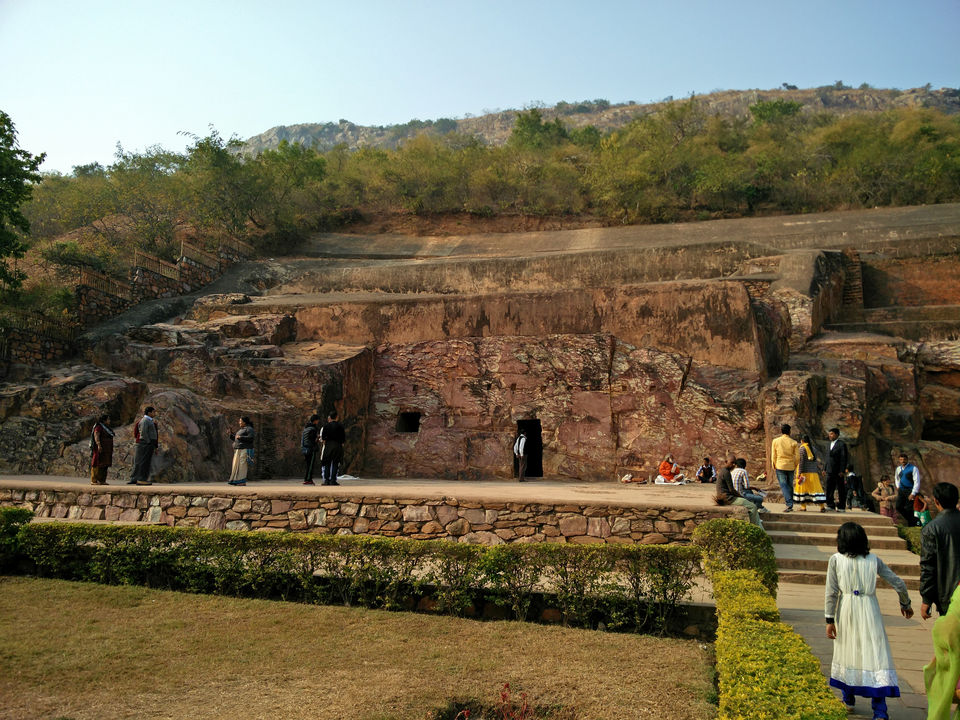 It's believed that this cave holds a massive treasure and whoever can decrypt the inscriptions on the walls, holds the key to that wealth. There are canon ball marks on the walls which indicate British tried to force open the gateway but were unsuccessful.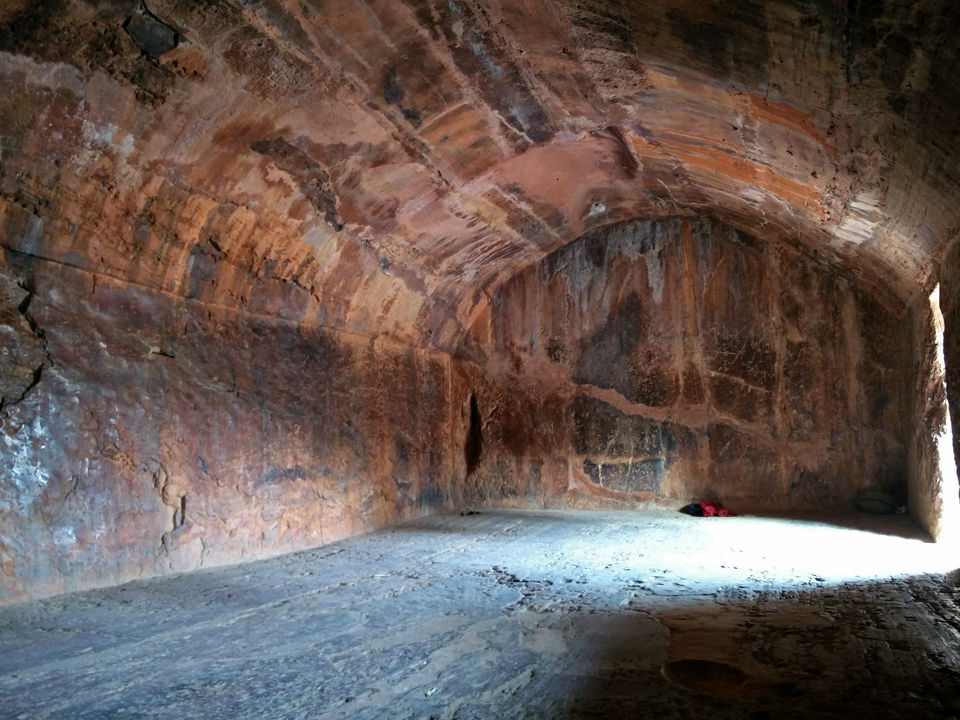 This is a picture taken from one of the corners. The wall on the left supposedly opens door to unlimited beer and travels. 
From Rajgir, we backtraced our steps towards Nalanda District which houses the famous Nalanda University.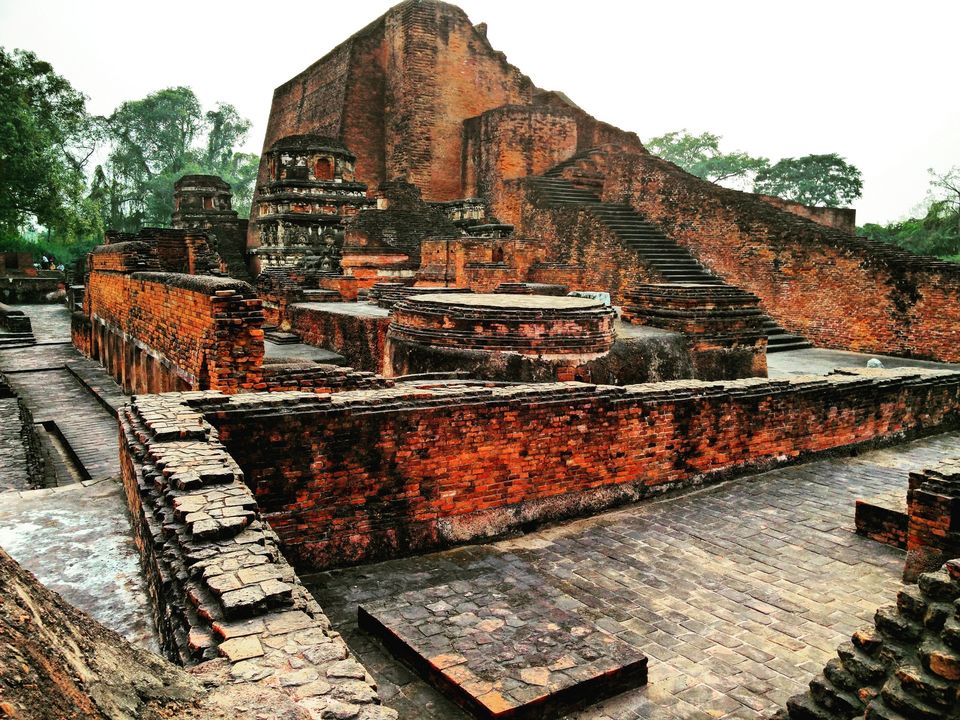 The Stupa of Sariputta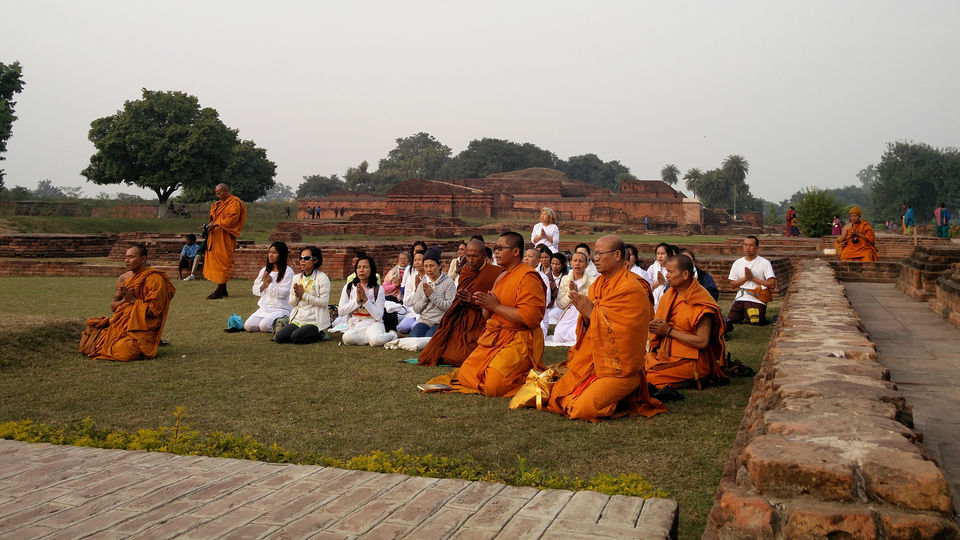 A group of Buddhists chanting verses in their language.
Nalanda University is regarded to be one of the greatest university in recorded history. It was a residential university and we saw the dormitories for students, cooking-places and classrooms. Although we have only managed to excavate a small portion and much of our rich history has been lost, the university is an architectural marvel considering we did not have CorelDraw and AutoCAD in those times. 
The university attracted people from China, Japan, Korea, Tibet and Persia and was considered to be a center for Buddhist Learning. The library was a nine-storied building. At its peak, around 10,000 students from different parts of the world were a part of this university.
As the site is not well-labelled, you will have difficulty in grasping what's what. Stick with a guide for interesting facts and notice the intricate details and ceilings of dormitories. They are amazing. This place has a rich history and a story to tell. I read an article by Shashi Tharoor which dated back to 2006. It talks at length about what a marvel this university was and how we as a society, can help rebuild it. And not just rebuild, but sustain for the coming generations to see as well.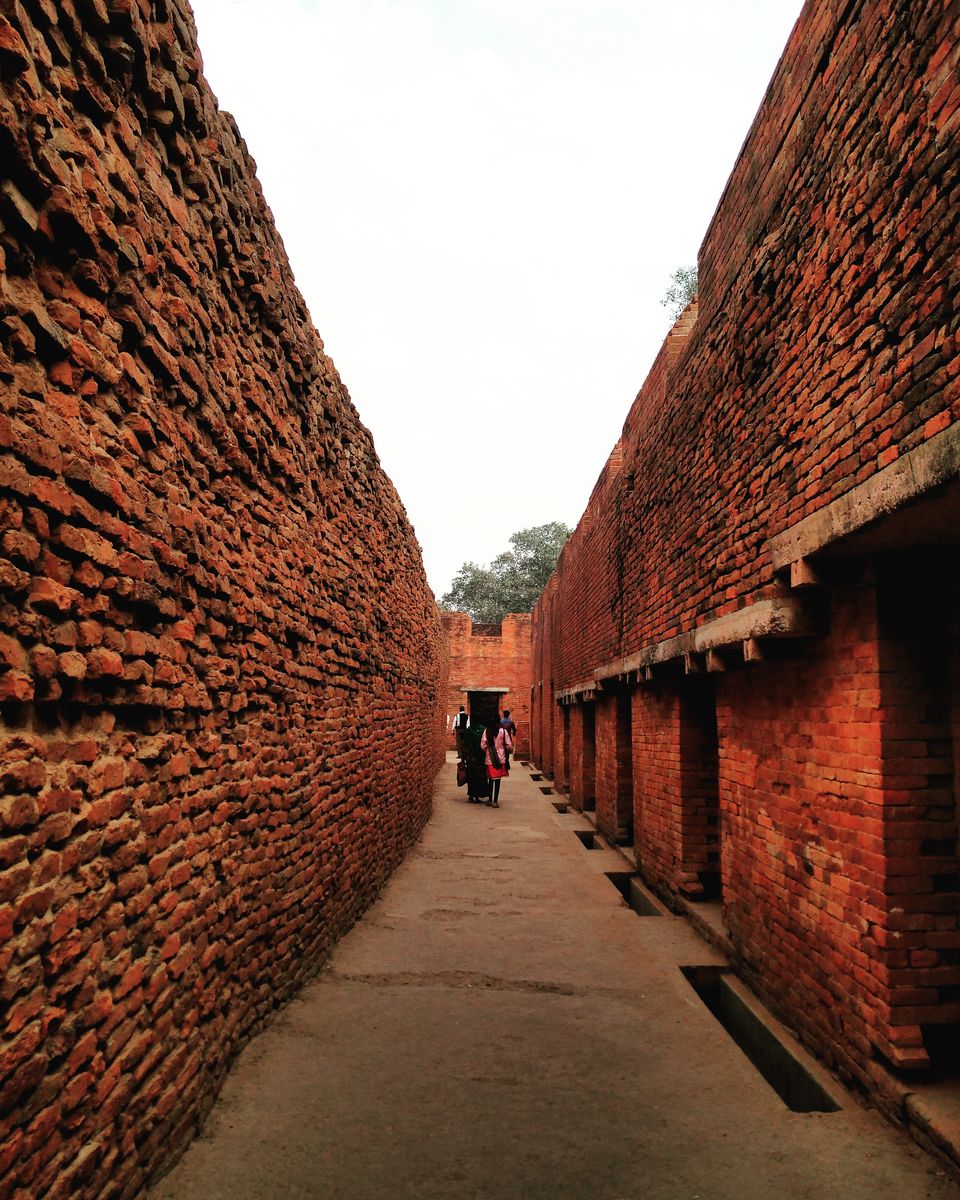 Adorn the walls. On the right, student dormitories are located. There were no signs of Wi-Fi. Massive respect for the students who had to write essays on their own. 
History suggests that in order to gain admission, the pupil had to give satisfactory answers to the gatekeeper's questions which ranged on diverse topics. Oxfords, Stanfords and Harvards are Nalanda of present times and not the other way around. 

For a better view, please click here - bit.ly/WhyNotBihar
I strongly advise you to not scribble or ruin any part of the excavated monument. The damage already has been irreparable.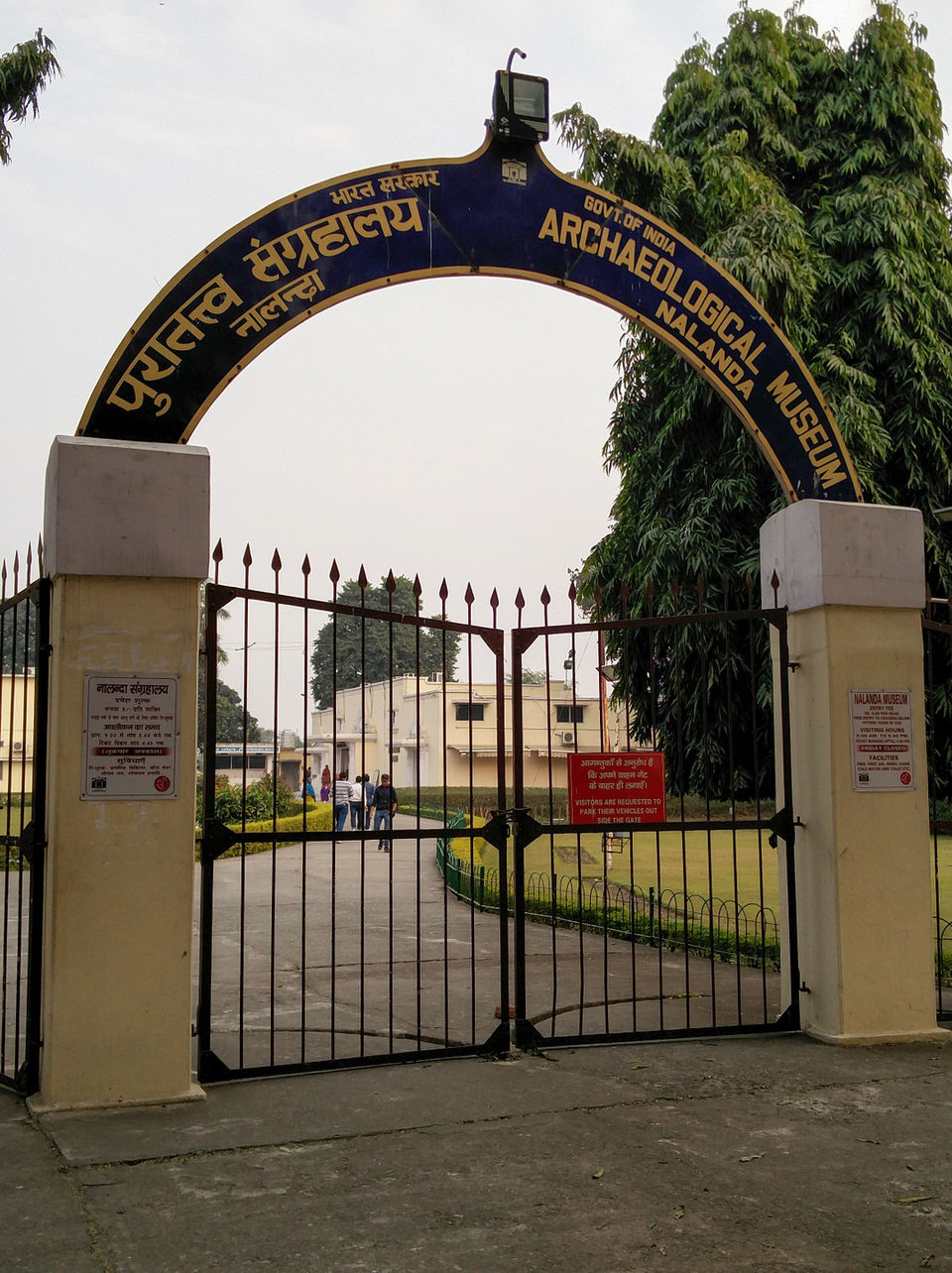 All the excavated remains from the Nalanda University have been well preserved in the Archaeological Museum which is in the complex itself. The sculptures on display are made of stone, terracotta, bronze among other monolithic figures. Notice the two huge jars on display. The team behind the unearthing of these jars deserve an applause.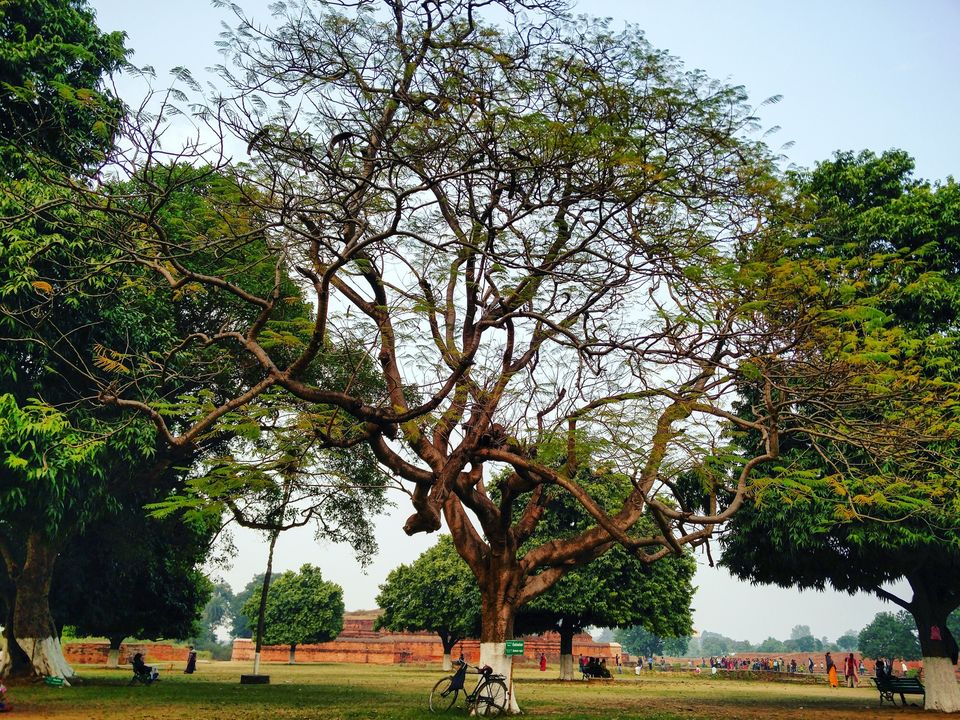 A massive tree in the compound.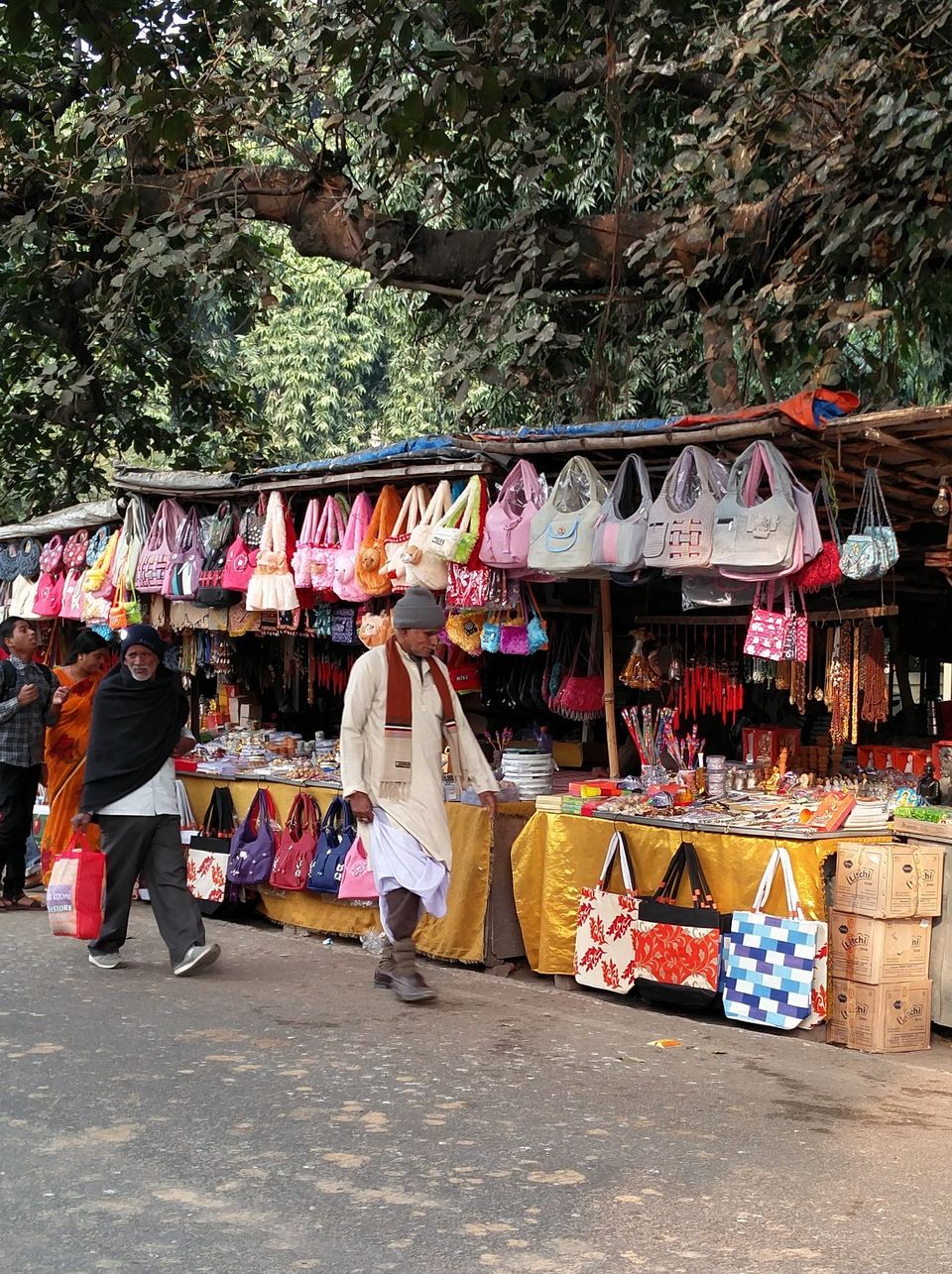 Just outside the University complex, the street is laden with shops on both sides. From souvenirs to cosmetics, this place has quite a collection. Even if you have zero interest in buying anything, the vendors will still welcome you politely and strike up a conversation. I bought a small booklet of postcards. 
If you have a couple of days more, you can explore Bodh Gaya where Gautam Buddha attained enlightenment under the Bodhi Tree. 
Well, that brings us to an end of this short but spiritually awakening trip. 
If you liked the story or have any comments/suggestions, feel free to reach out. 
Until the next time, thank you and may you embark on journeys which enrich your body and soul. May you always have interesting stories to tell.