After doing my latest solo bike trip in april 2016...My next planning was tirthan valley..but monsoon was holding me back every weekend. It was three months back when i was on highways on my bull. I was discussing about my trips with my colleague on 12 aug 2016 when suddenly i asked him if not a long road trip lets plan a day bike ride. My colleague abhineet also owns bull but never did long road trips. But when i suggested him for a day trip he said OK lets plan , next step we asked another friend Arun who is our lunch partner too to join us, he immediately confirmed his presence. Finally we decided that we will do our ride one day before independence day so it was 14 aug 2016 when we decided to do our ride. Destination was easy to choose as we didn't had much options so we decided to visit Garhmukhteshwar that is just 110 kms from delhi. We three decided to start by 0600 in the morning A day before our trip arun told us that our one more colleague sridhar also got ready for this day biking. So now we were four. Arun, me and sridhar decided to meet near bhikaji cama, abhineet decided to join us at akshardham. A night before our trip i was excited as always for my bike trips and had dinner by 2000 hrs and went to bed by 10 pm. I got a sound sleep and was dreaming about our journey when my alarm started shouted at 0500 hr. I quickly stopped the alarm and stepped out of bed..just dropped a message in the group that good morning guys..immediately sridhar replied and messaged one more friend ganesh will join him as pillion so now our group expanded to 5. I quickly got ready and messaged abhineet . My mom offered me tea and i simply said yes .. so after having tea I started my bull and hit the road..by 0615 i reached at IOCL petrol pump in front of bhikaji and filled up the tank of my bull. Was waiting for sridhar and arun when at 0630 arun messaged guys i woke up.. He is always late ..on the other side abhineet was waiting for us at akshardham. soon sridhar called me up and said arun will join us at ina..so i reached INA and with in few minutes sridhar and ganesh joined me. we were waiting for arun and our wait ended by 0720. So we decided to take barapula flyover and reach akshardham where abhineet was already waiting for us from past one hour. As soon our bikes hit the barapula god blessed showers it was great morning with heavy rain as we completely got drenched till we meet abhineet. So finaly our group was together and we decided to ride at a speed of 70 kms. Before starting our journey further we decided to have a group photograph.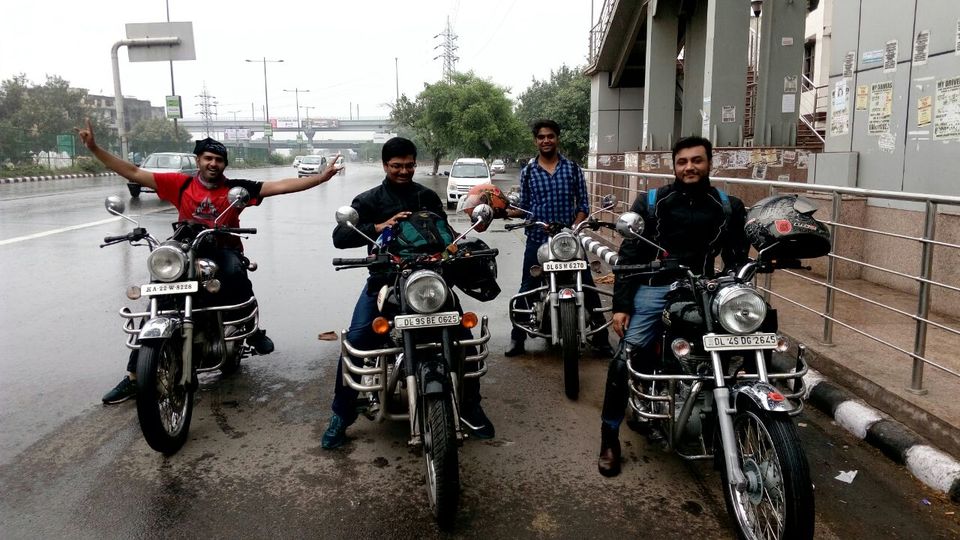 This was our group for garhmukteshwar ride..the one in red tee is arun, next to him is sridhar , one in check shirt is abhineet and I am the one in extreme right..The fifth one is ganesh who was clicking us.
So we started riding our bulls and as we were thundering nature was also thundering and it was raining all the way. It was early morning and being sunday we didnt got any traffic hurdles to cross gazhiabad on NH-24 and leaving NCR. we were enjoying our ride and awesome weather. The clouds were so dark at some patches and continuous rain assured that we remain completely drenched.
Arun was leading us...and I was really enjoying my ride when suddenly I saw that arun was stopping his bike near tea stall somewhere on NH-24.. We all three followed and stopped ..The following pictures were taken at that place.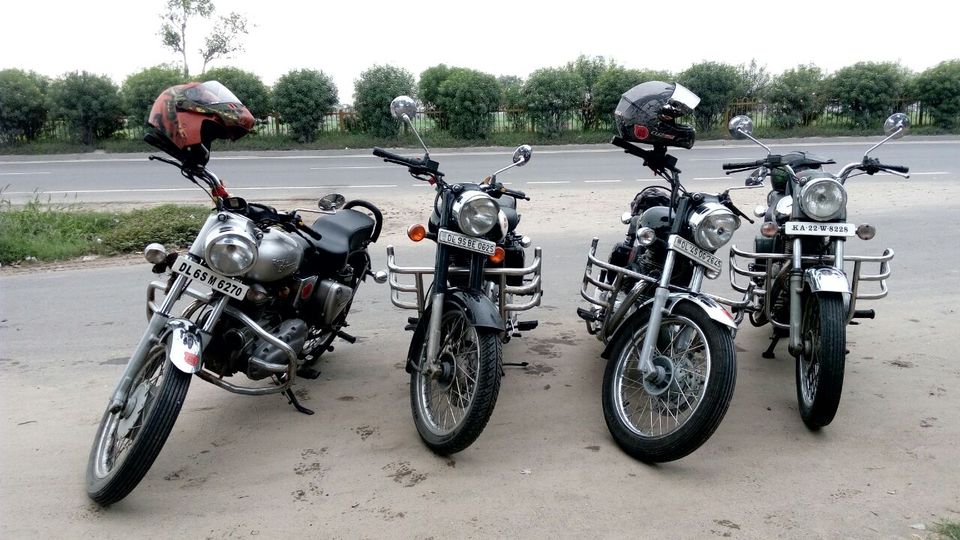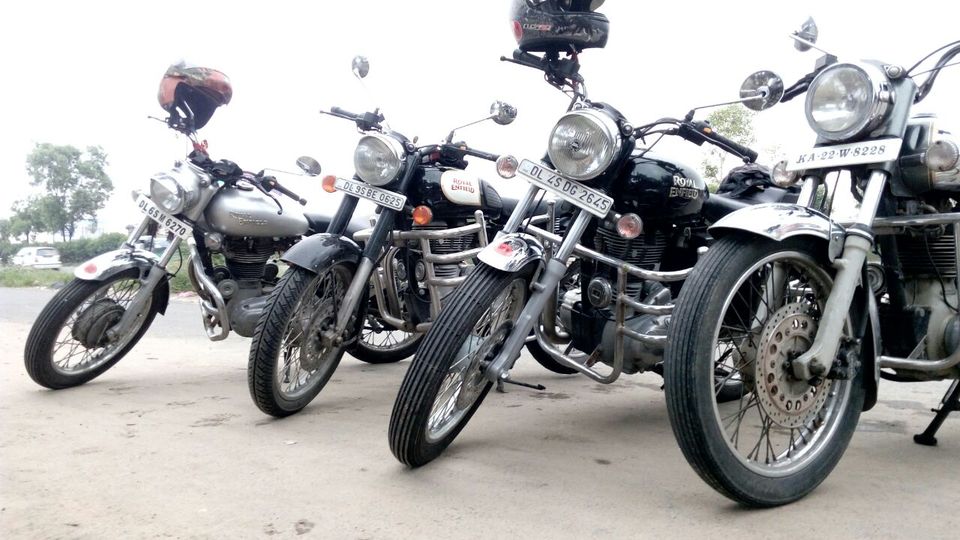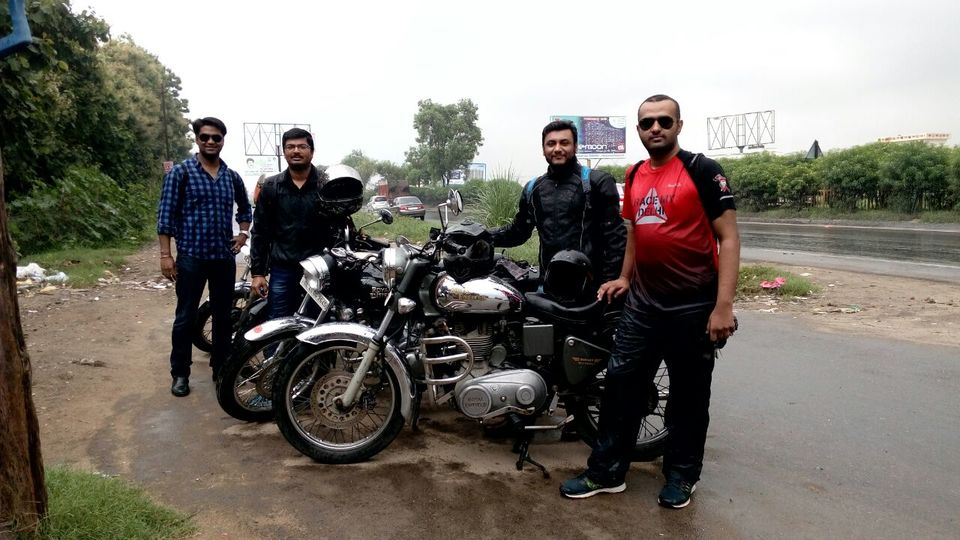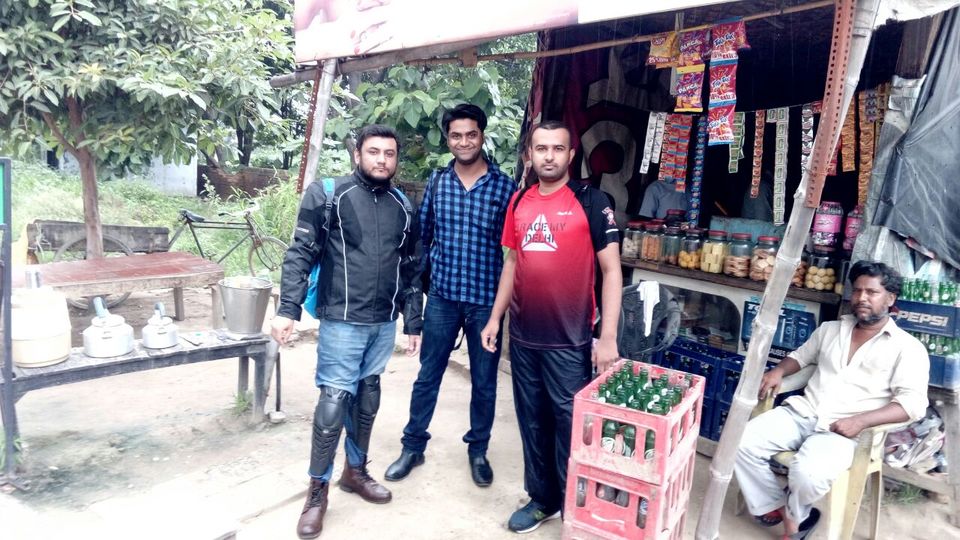 After having a cup of tea we decided to move further we were just 15 kms from Hapur Bypass and we decided that now we will stop at dhaba after crossing hapur by pass for breakfast. We started our bulls and again were riding on NH-24...Speeding at a speed of 70 kmph and enjoying our group ride we crossed hapur by pass and and headed towards garh mukteshwar on NH-24 . Now my stomach was signalling me to have some paranthas on road side dhaba...we exchanged words while riding and decided to stop at shiva tourist dhabha (there were many with the same name) we stopped at shiva dhabha at our side. Parked our bikes and ordered paranthas. It was nice weather and we enjoyed our breakfast while interacting with dhaba staff who inquired about our bikes. The following pics were taken there.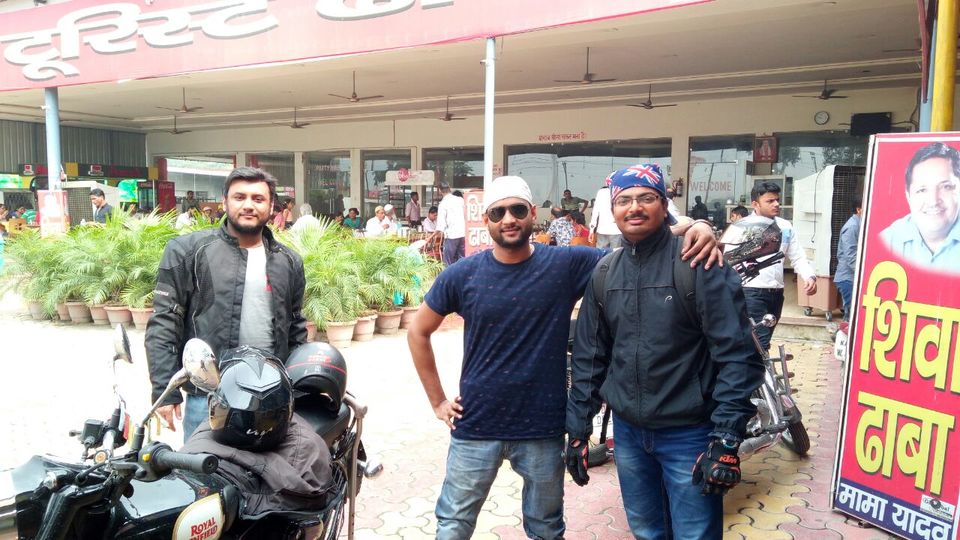 We again started our bulls and decided to stop directly at brijghat as it was just 25-30 kms away...we started riding and soon crossed the toll and on the left side we saw around 4-5 boggies of indian railways laying in toppled fashion along the railway track..that reminded us the news of May 1 2016 that "Eight coaches of Delhi-Faizabad Express derail near Hapur" ..yes the debris were from the accident. After crossing that site we saw a board signalling garhmukteshwar 3 kms on left side..there was a road on left side that was leading to the city we stopped and enquired from some locals who said if u guys wish to take holy dip in river ganga u go three kms straight further on NH-24 and u will reach brijghat there u can take a dip. So we started again and reached brijghat...we parked our bikes and heded towards brijghat.
The scene at brijghat was awesome there were market where indian flags with poles were selling as it was day before 15 aug.. peopel were buying flags for there bikes, cars and homes. we went to the ghat and the scene was amazing on one side there was a clock tower and one side it was river ganga flowing at its full speed..first i was scared to take a dip as there were no chain or ladder system (as it is in haridwar)..But one thing is sure that there is really some super power in river ganga for which it is being worshipped..And that power attracted me to take a dip..Ganesh decided to stay out of river so me ,abhineet,arun and sridhar kept our belongings with him and went to take a dip after changing...Oh my god the water was so cold and refreshing that we went inside and took a dip..we enjoyed in river ganga for about 20 minutes and then came back..We wanted to stay some more time inside but ganesh was waiting for us..so we went back to him got ready..Now we decided lets explore the garhmukhteshwar town before going back to delhi. I bought one indian flag from the market and tied it on my bike.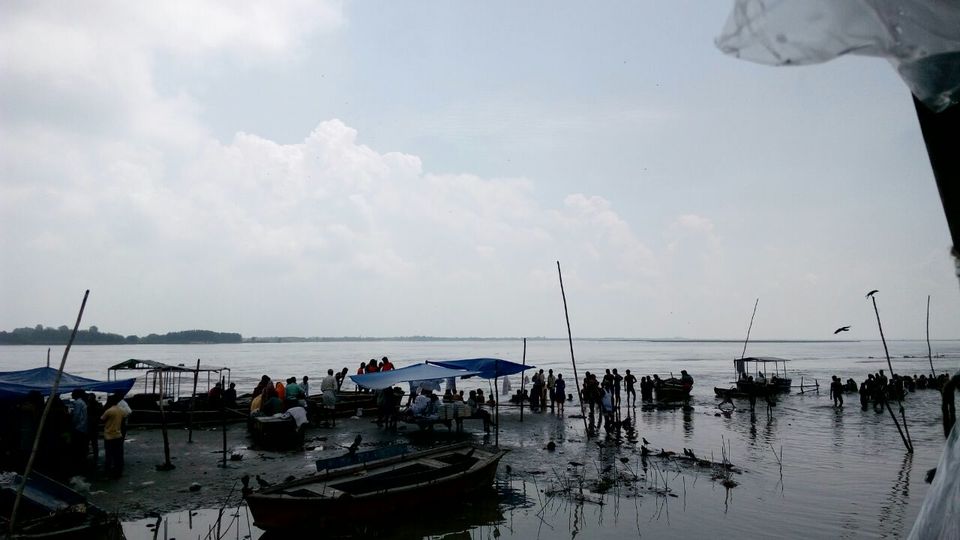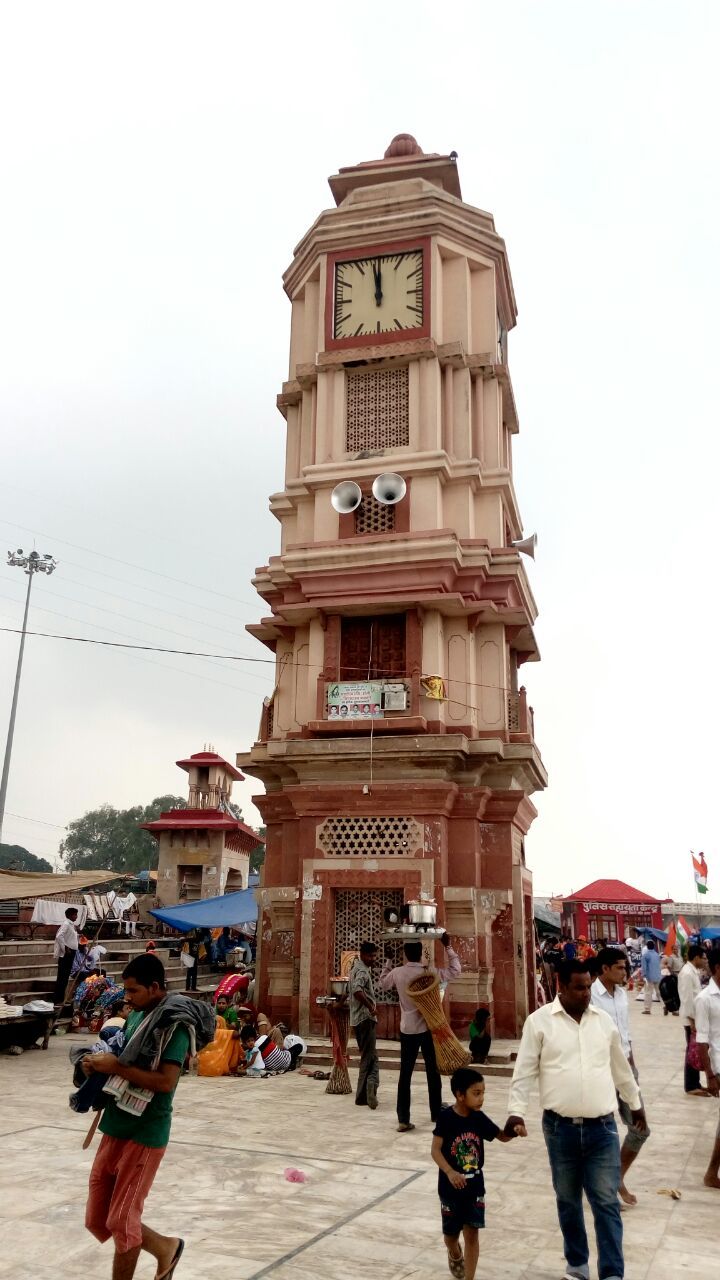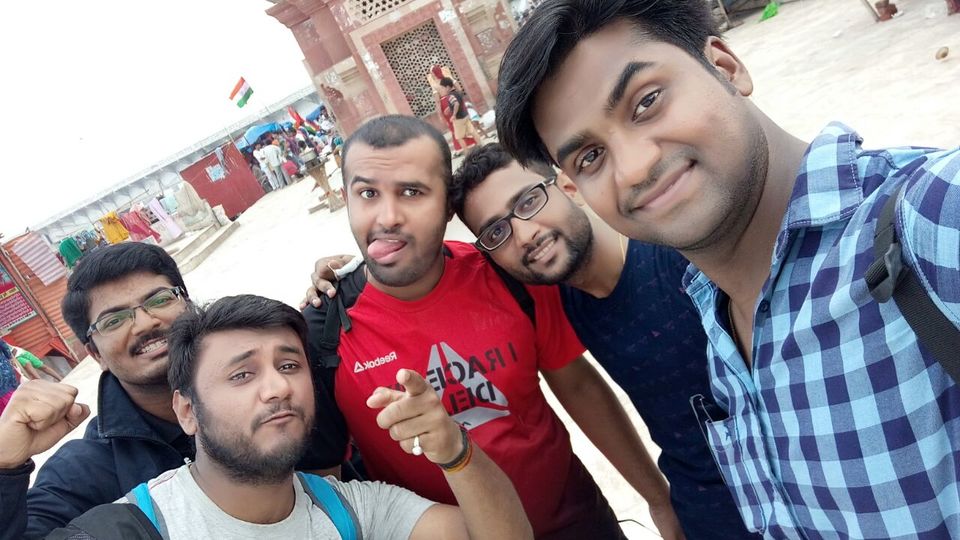 We started our bulls and soon entered the town and again god showered its blessing in form of heavy rain as we reached nakka kuan..we parked our bikes inside a gate and it was raining heavily..Nakka kuan was so peaceful place when we asked some children playing there that whats the importance of this place..they told us that there is a well and it is linked to river ganga once a bulluck cart dropped in this well and it was recovered from river ganga.. I dnt know the truth behind there story but its always nice to listen stories from the locals. we were enjoying the peace at the place when i remember that before entering the gate i have seen a hawker selling something while my friends were roaming around nakka kuan, i went outside and inquired about the hawker he was selling veg biryani..i ordered one and it costed Rs 20 for one plate and believe me it was so awesome nice cooked rice with soya chap and tomato chutney and onions.. it filled my taste bud and i went inside..then we explored nakka kuan it was really a peaceful place with few temples and baba we interacted with baba who told us that they plant there vegetables and fruits inside only and cook them fresh. it was amazing site.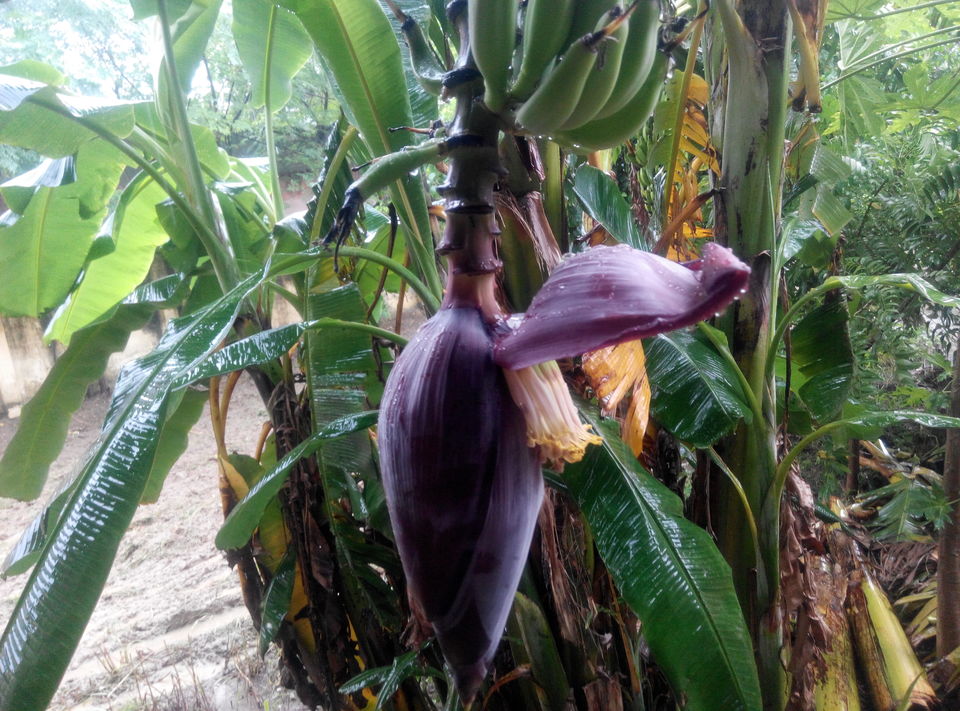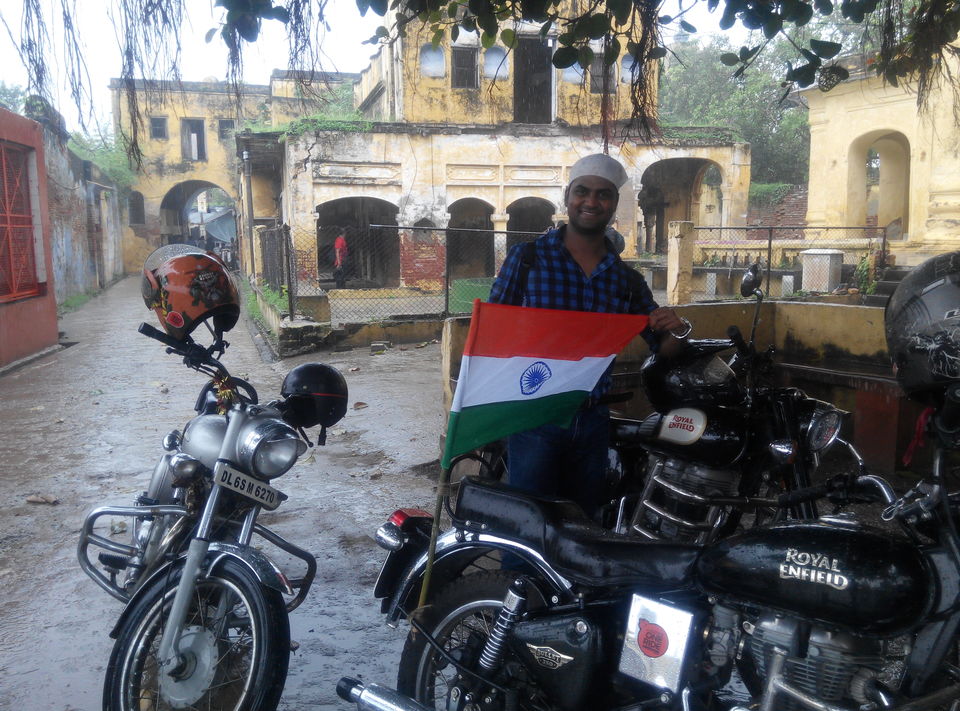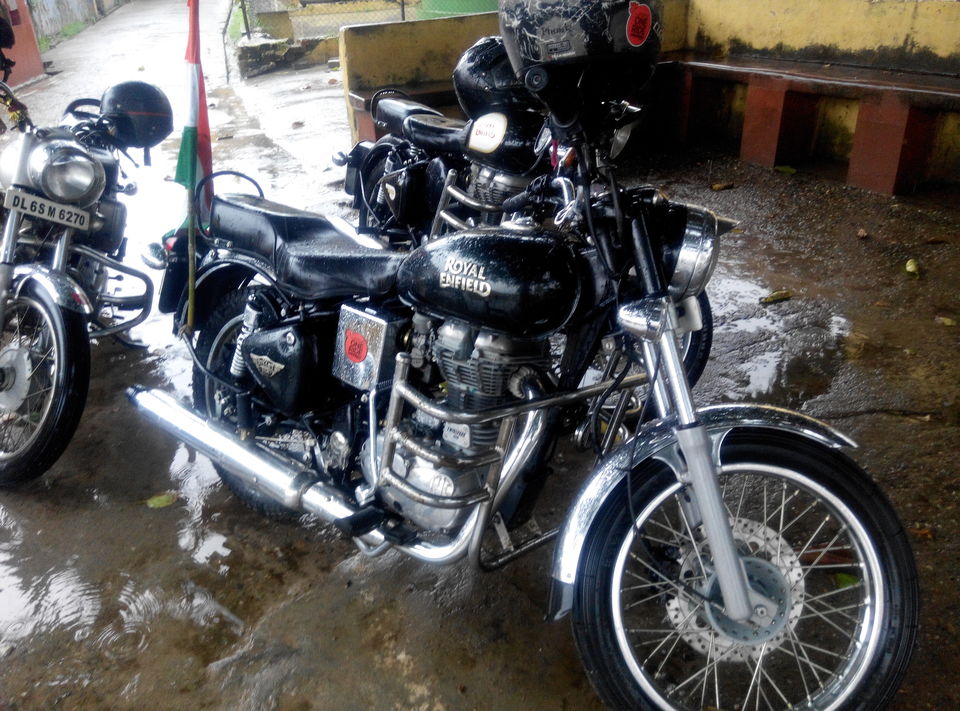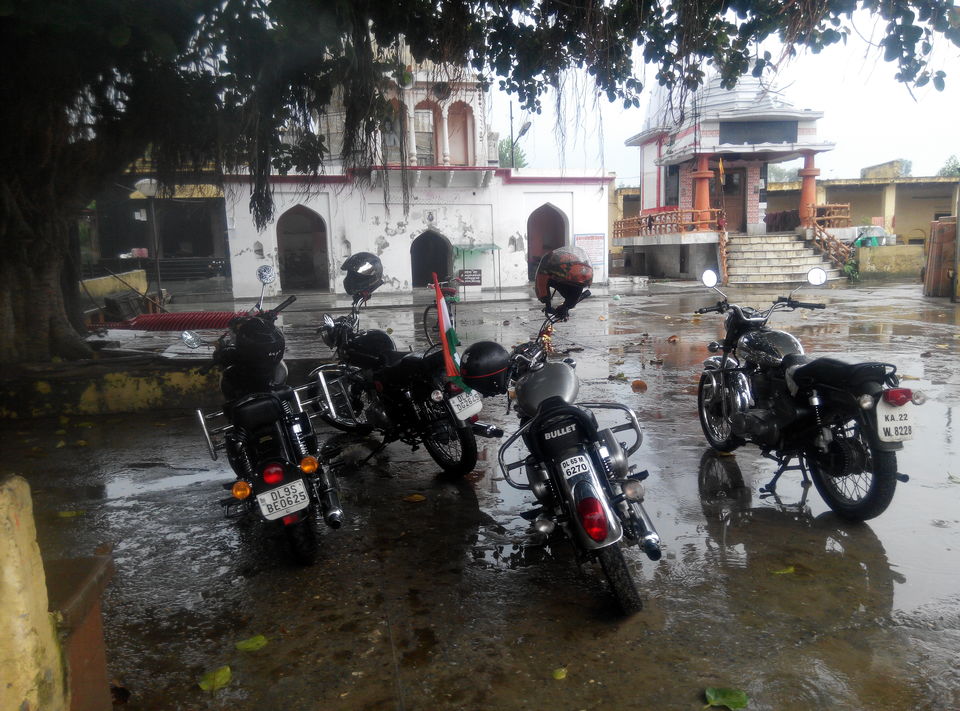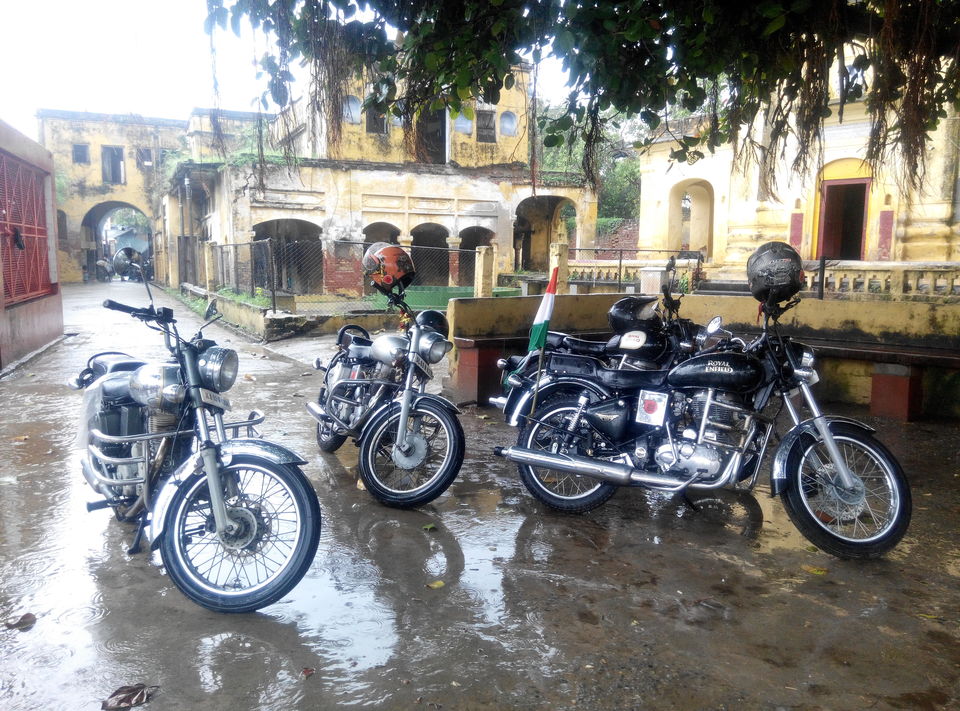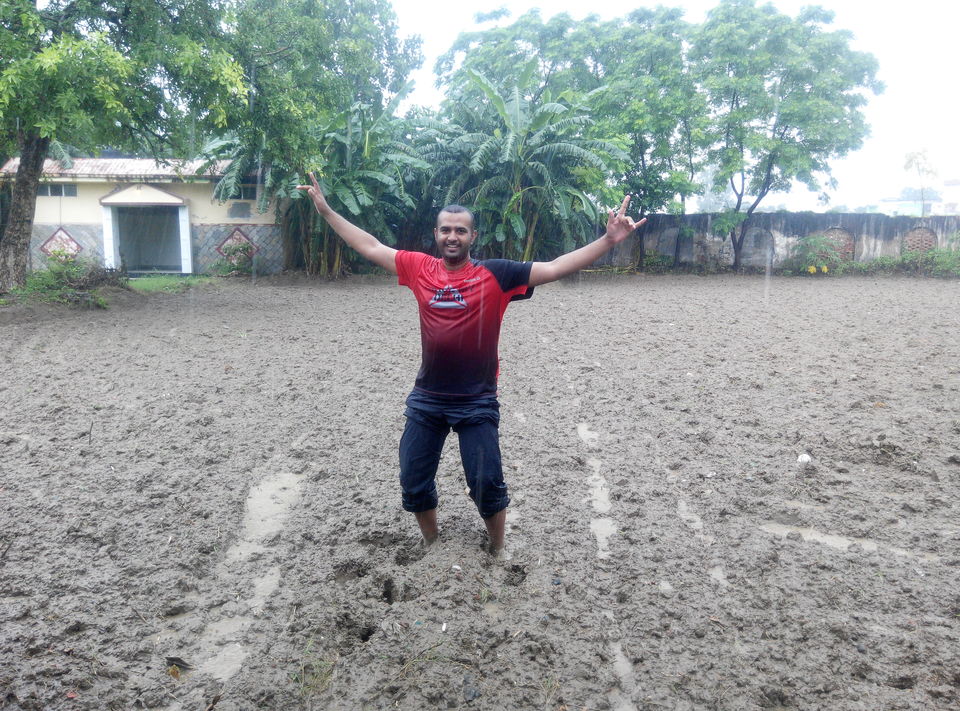 After having great and peaceful time at nakka kuan..we decided to go and visit ganga temple before returning back to delhi.
All my colleagues had the veg biryani from the hawker outside nakka kuan and there review was also the same...awesome. we started and travelled through the narrow village roads , children playing in rain waived us and followed us to ganga temple .
Ganga Temple is one of the famous tourist places. It is an ancient Ganga temple which used to have almost 101 steps leading down to the river. From those 101 steps, 81 steps are still intact at present. There is a white stone idol of Lord Brahma according to locals. We didn't saw the idol as the temple was closed. One more interesting thing about this temple is a special echo..When some one steps up or stemps down fast there is a sound similar to the one as someone throws stones in river.. we witnessed the sound and thought its a special echo.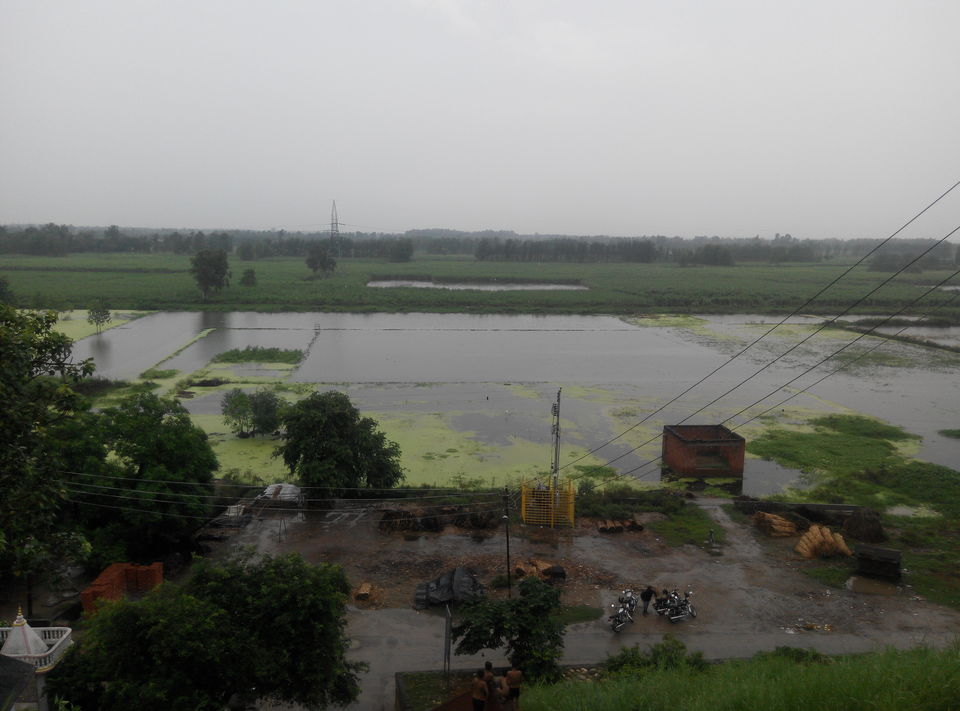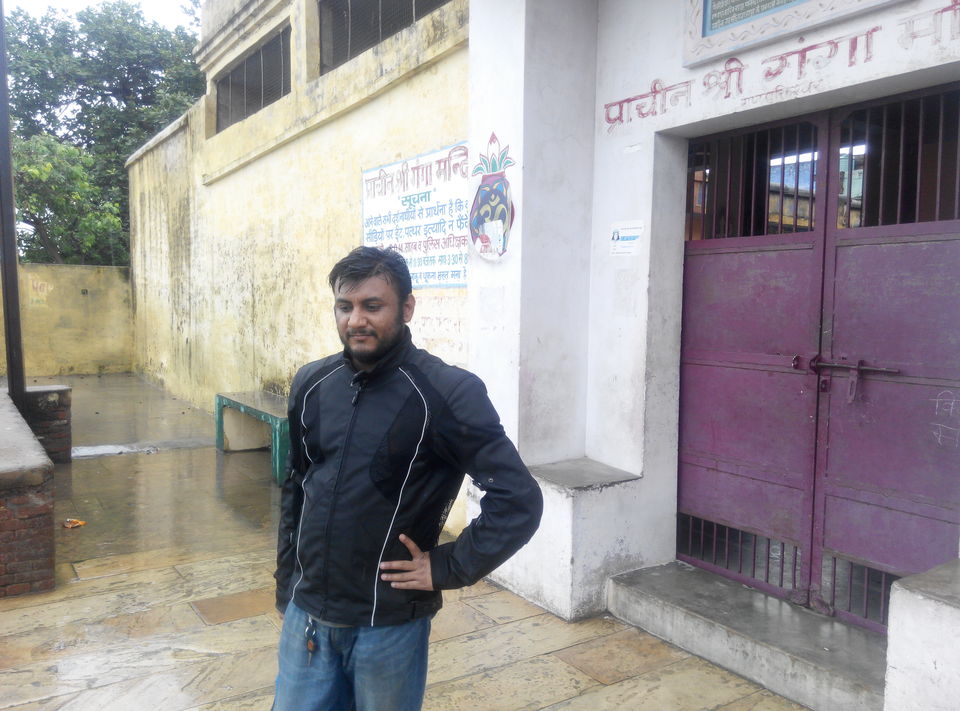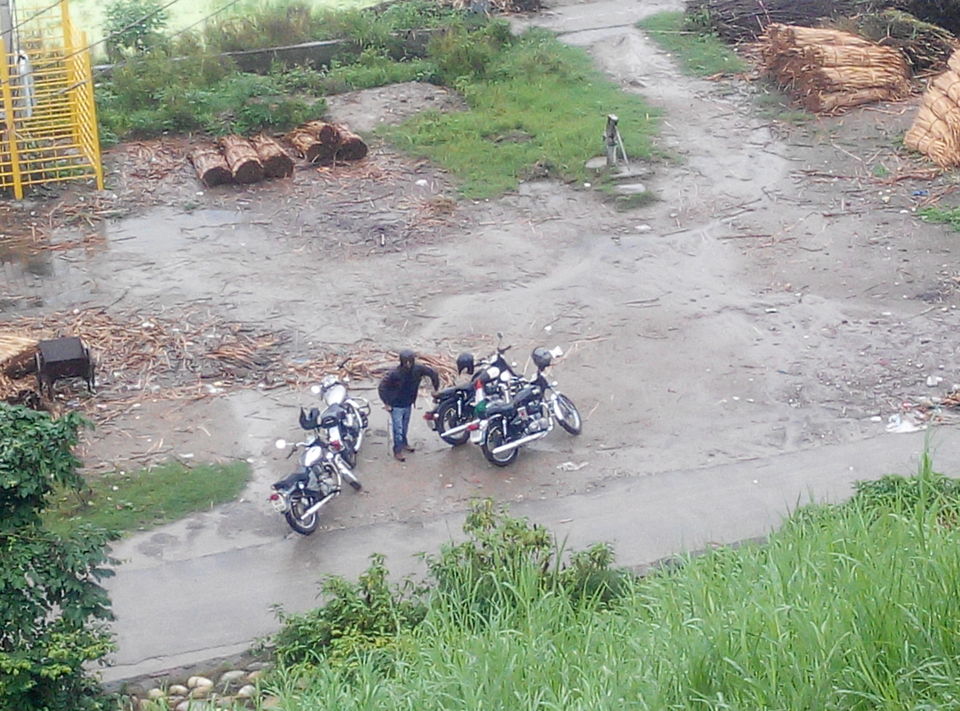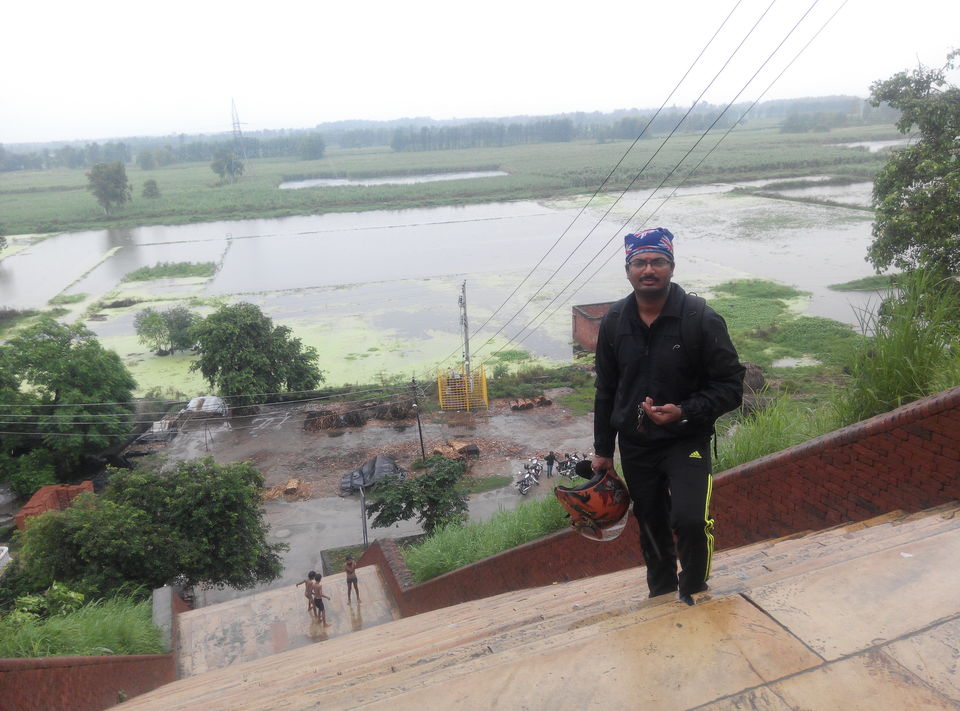 Now was the worst part of our trip...returning back..but as some one quoted " Every Exit is an Entry somewhere Else". We kick started our bulls and started our return journey with few stops inside village and a stop for lunch at the same dhaba where we had breakfast. The food was really awesome so as our day trip. Our bulls made all of us reach safely to our respective Homes by 1900 Hours.
Signing off to write about my next road trip......