My father used to tease me every weekend, "Itni mehngi bike li hai isi par ghar aaja (you bought such an expensive bike, come home on it)". So, this Diwali we decided to go home on bike to fulfill his wish. After riding 3000 km in 7 days, crossing 6 states and 2 Union Territories, we (me and my wife) realized that he was kidding and we ended up being in "Papaji ki udti hui chappal waali situation".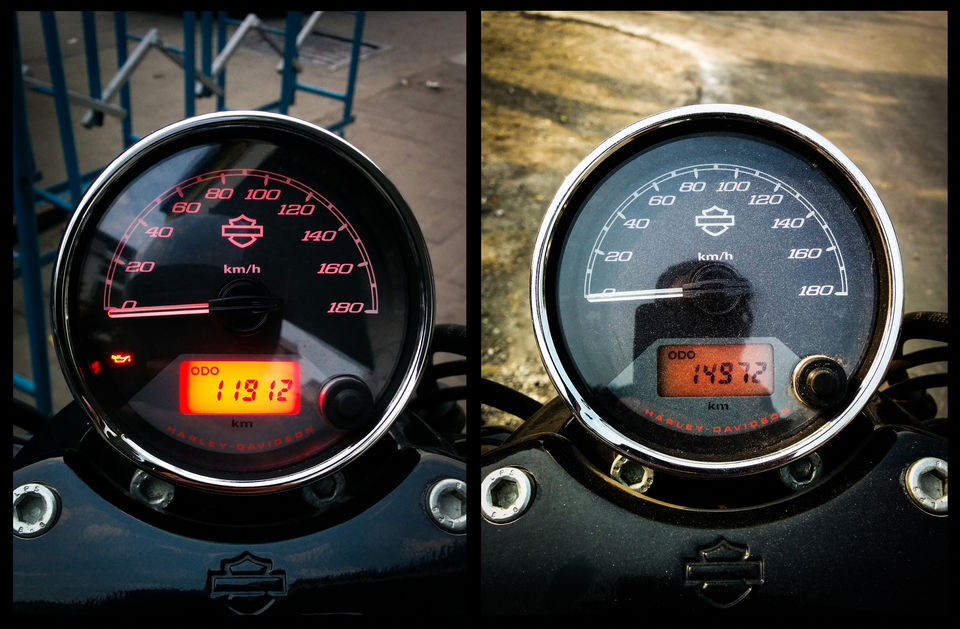 Big Picture
Idea to cover the complete Indian Western Coastal line was another big motivation for this ride. Previous three rides, where we covered complete Kerela and Karnataka coastal line were great and worked as a fuel for planning the next trip. With this ride we conclude the complete coastal line and are able to prove one point, "leaving your job and travel" is not the only way to fulfill your travel dreams. It took total 4 trips and 18 days to cover coastal route from Kanyakumari to Delhi. We have covered Manali to Leh in 2014. So, now only Delhi to Manali route is left to complete the stretch of Kanyakumari to Leh.
Itinerary
Day 1 : Bangalore to Marvanthe
Day 2 : Marvanthe to Aramboal, Goa
Day 3 : Arambol to Ganpati Pule
Day4 : Ganpati Pule to Mumbai
Day 5 : Mumbai to Ahemdabad
Day 6: Ahemdabad to Ajmer
Day7 : Ajmer to Delhi
Route Map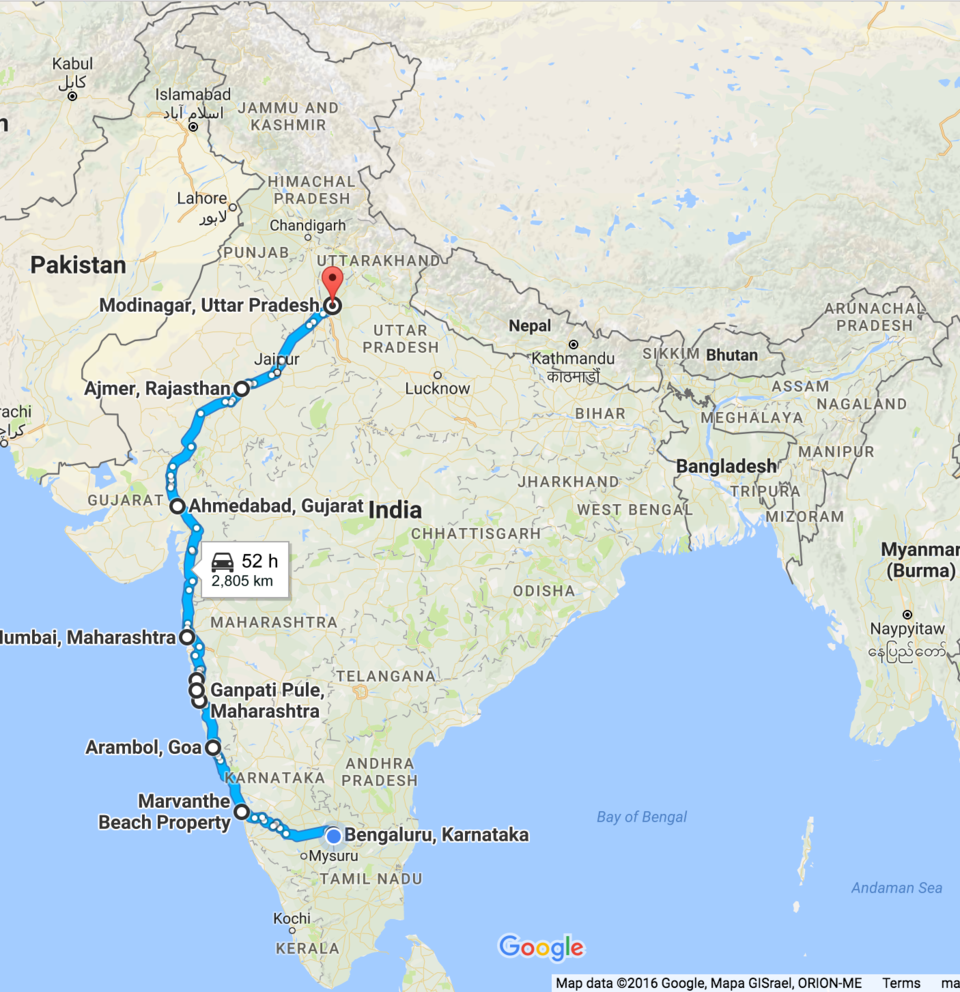 Day1 : Bangalore to Marvanthe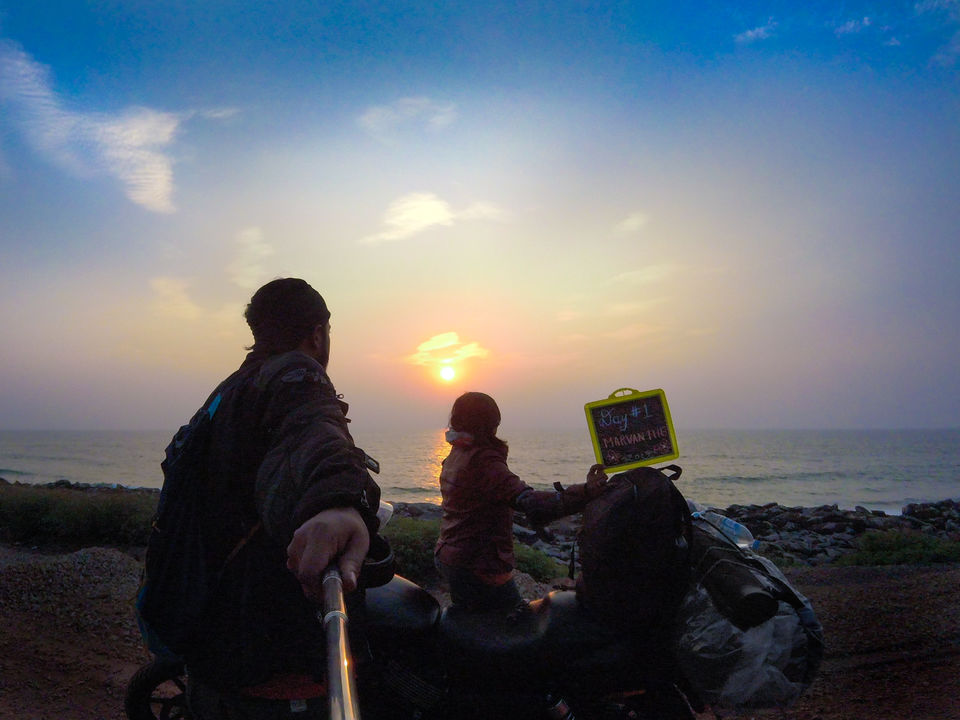 Day 1 starts from Bangalore and ends at one of the most amazing places in Karnataka where you ride with a vast ocean on one side and a river on another. So, a ride of 500 km, great food, amazing sunset and in the end a good coffee concludes our Day1.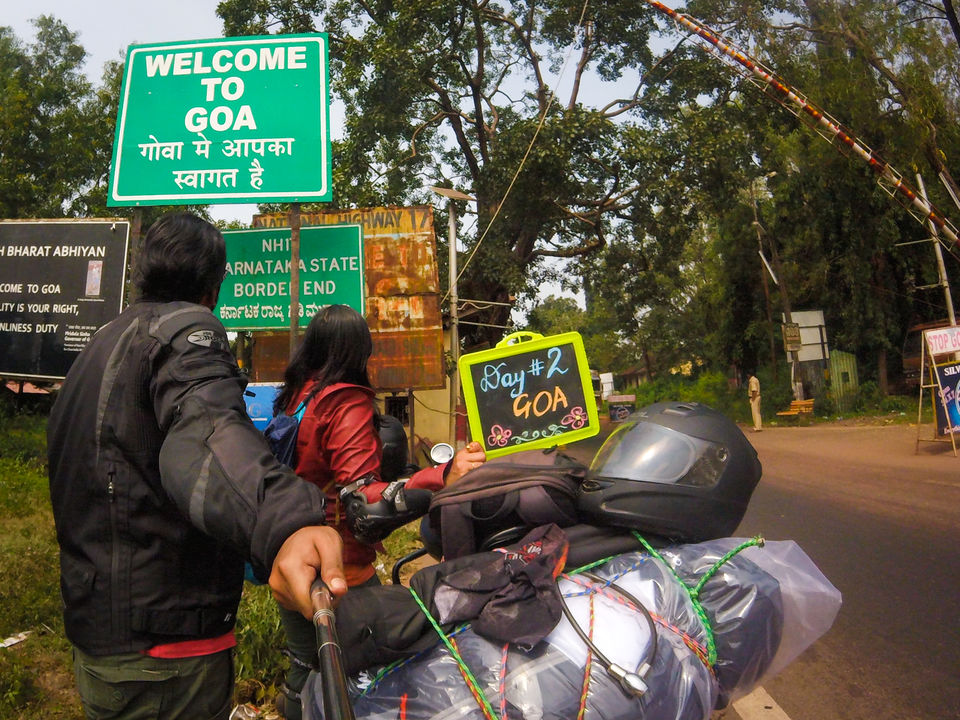 There are two major places to visit enroute to Goa : Muradeshwara, popular for the iconic shiva statue, and everyones favorite Gokarna. As we had already visited Muradeshwara earlier and believe me Gokarna deserves a separate trip, we skipped them and headed directly towards Goa.
"Welcome to Goa" signboard, there couldn't be a better place to click our Day 2 selfie. We parked our bike and while I setup our Gopro, Anu made use of colored chalks on the slate.
300 km of amazing ride, evening stroll on one of the awesome beaches of Goa(Arambol), great sunset and in the end good music with beer concludes our Day 2.
Day 3 : Hidden treasure of the Coastal line, Ganpati Pule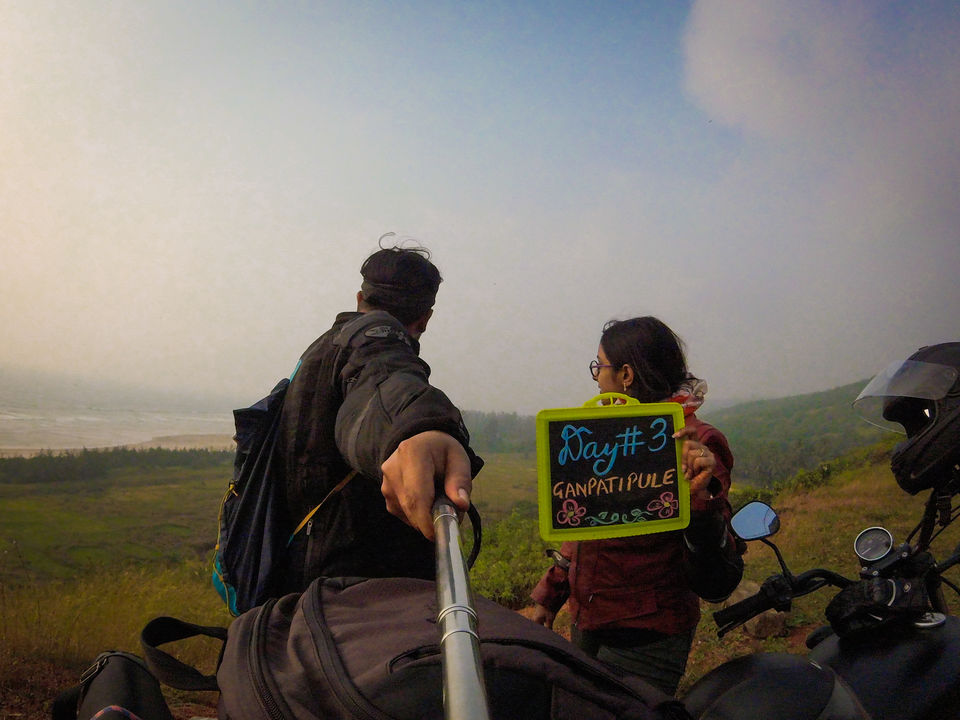 I heard about this place a lot from my friend in Mumbai. This place is a real gem, fun of playing hide and seek with sea when you ride from Ratnagiri to Ganpatipule is simply amazing. The only other place I know where you view the sea from a cliff is Varkala. But both these places are completely different : Ganpatipule is perfect for family trip with very less tourists where Varkala is famous for its hippie culture.
Day 4 : To a city that never sleeps, Mumbai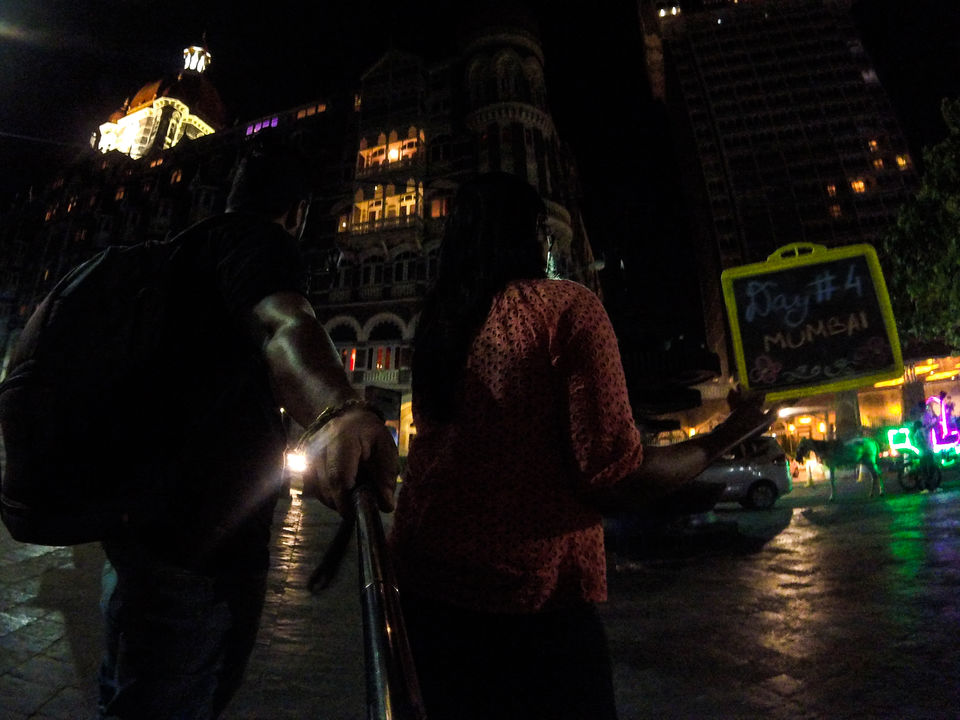 The target for Day4 was to reach a city that never sleeps, Sapno ka Sehar: Mumbai. I was waiting for this part of trip, when we will have to put our bike on ferry to cross the route. There are total 5 sections where you can cross by ferry with alternate road routes. I recommend atleast to cover one, it is fun. Our day ends with great and tiring experience, lavish dinner at Taj and our 4th day selfie in front of iconic Taj.
Day 5 : Mumbai to Ahemdabad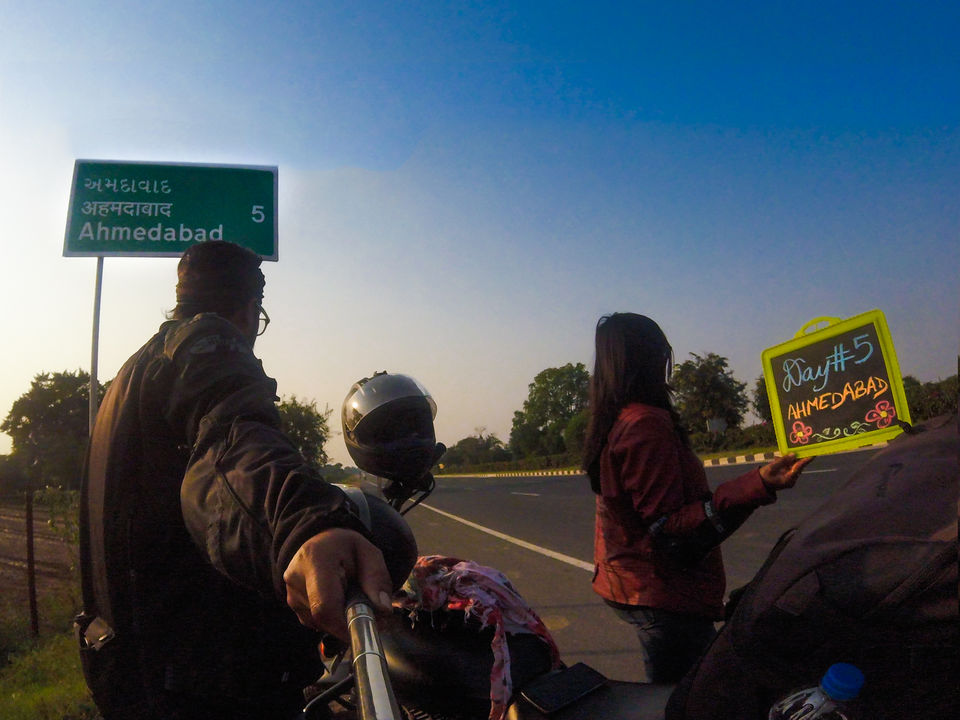 Our day starts with a nice conversation with a guy outside our hotel. When we were tying our bag to bike in the morning, one guy came to us and asked about where are we going and coming from ?. After we explained him about our ride from Bangalore to Delhi, he got excited and called his few other friends, "Hey! see this brother is going to Delhi on bike from Bangalore". One of his friends asked a very innocent question, "Bhaia, but why ?" I simply replied, "Bhai Bakchodi :P".
Its a gem of a ride with awesome highways to test top speed of your bike. When we ride around Bangalore, random CCDs along the highway are the ideal destinations for our halt, in Ahemdabad CCDs get replaced by McDonalds. So, McSquirls are the best option to beat the heat.
Day 6 : Ahemdabad to Ajmer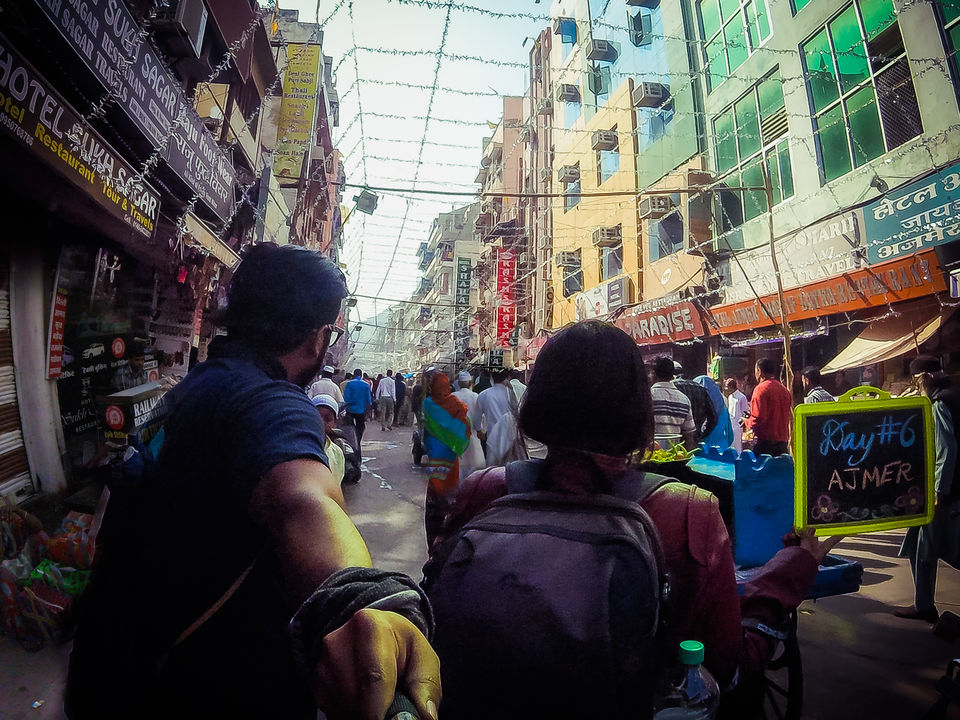 We couldn't cover Ajmer in our last trip to Rajasthan and we really wanted to visit Ajmer Shareef Dargah. "Kun Faya Kun", song from Rockstar was the source of motivation for us. Great experience of riding in super busy roads of Ajmer, Qawwali at Dargah concludes our 6th day.
I remember that I was not comfortable for clicking this selfie in the busy street in front of the Dargah but Anu convinced me somehow. While we were clicking this selfie, a police guy called us and asked, "Yeh kya hai bhai (What is this ?)". Then we explained him our trip and the selfie pattern and he was quite surprised and impressed at the same time.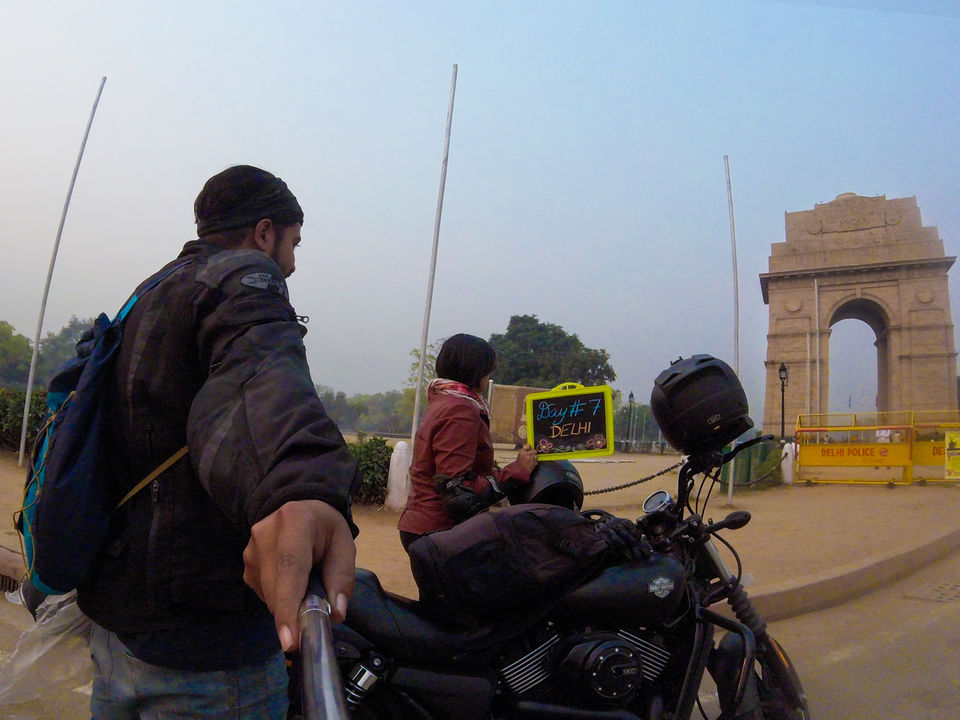 Finally, our dream comes true to take our bike to Delhi and click a picture in front of India Gate.
It was an awesome experience to have a different variation of breakfasts every day. You witness the transition of food from Masala Dosa to Aaloo Parantha, sign boards from Kannada to Hindi.
How much the trips costs ?
Petrol : Rs 9,300
Food : Rs 12,000 (including our lavish dinner at Taj, Mumbai for 4000 rupees)
Accommodation : Rs 4,500 (Ahemdabad was free and Ganpati pule resort costed us 50 rupees (courtesy bank provided accommodation)).
Transport cost for bike : Rs 8,000 (We booked our bike in Rajdhani from Delhi to Bangalore for return journey)
Flight tickets Delhi to Bangalore : Rs 10,000