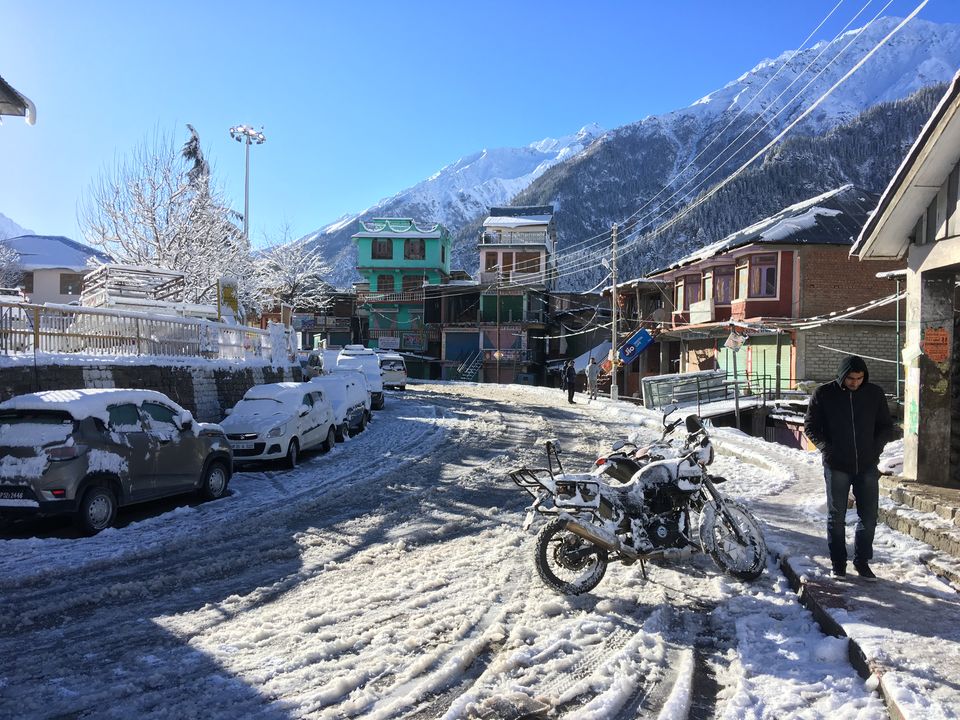 We were four young and not very sound riders who decided to visit the very famous ''Hindustan ka aakhri dhaba' that too in the month of February! We knew the people at Chitkul come down to Sangla valley when there is heavy snowfall. Did our research on 'very reliable' Accuweather for the week's weather and after getting a green flag we decided to ride. Out of four of us, one had a qualified cruiser. So, we made a pact that either everyone begs or borrow (could not steal) a motorbike or we rent them. Nobody gave us their beloved motorcycles so we rented them from some vendor in the infamous Karol Bagh, Delhi.
The journey starts the following day. Enjoy the read.
Day 1:
Delhi to Chail, 350 km – Took us freaking 12 hours
Woke up and loaded our rucksacks on the motorcycles which were a KTM Duke 200 (the rat) with bald tires, RE Himalayan with decent grip and two RE Thunderbirds out of which one was mostly wrecked (we could not figure out), and the other had a jammed throttle cable and funny front brake lever. We did not know about the technicalities then and did not care much.
We left the hotel at 4 AM. After crossing Karnal, we took a small break as sun was rising and things were getting lit. It is recommended to give your eyes a chance to get used to the brightness. After that we ate our breakfast and rode along the highway. Again we made a halt near Chandigarh for lunch. We rode for about 3 hours after which we could finally see the one lane road to the forest retreat camps that we had booked. Man, it was really quite. We could hear the birds chirping. It was 4 in the evening we finally reached the camps. The owner was pretty cool. He showed us around and asked us to roam until he prepared the snacks and dinner afterwards.
Good food in our bellies and great beds under our butts, day 1 ended like that.
Day 2:
Chail to Sangla, 250 km – Took us 10 hours
We had a plan to leave the camps by 4 in the morning, but one of us lost his wallet and we wasted an hour looking for it inside the whole camps. In the end we decided to leave the wallet there and ride. Luckily the wallet was found inside the helmet. Vishwaraj, you dumbass!
It was pretty dark when we left and I was leading on the Himalayan. The problem with Himalayan is that its headlight lags behind when you turn the handlebar. Rode it at a slower pace till the sun rose. We took a time out at 'Mast Rock Adventure' and then continued to ride till Rampur Bushahr. There we had our breakfast and we spoke to our mums!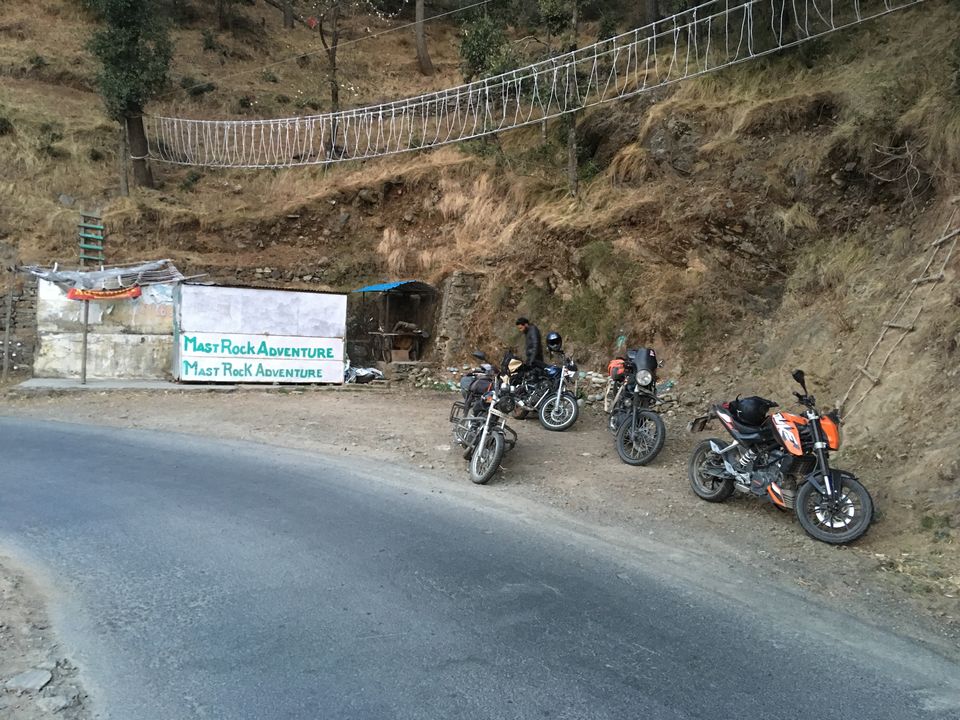 The roads are pretty and even prettier is the feast you get for your eyes. You'd ride along river Sutlej the whole time. Man, it was beautiful. All was good till we took a turn towards Sangla valley from the highway. The weather changed unexpectedly, roads disappeared and rocks started falling on our heads! There were no guardrails and you could literally fall into the abyss if you took any funny decision. I enjoyed the ride as I rode the Himalayan. I can't really say the same for the others.
We reached the guest house by lunch. Out we went to explore what the valley had to offer. But sadly there were nothing much to see as it was an off season time. It got dark and the temperature dropped quickly.
Dinner was prepared. The caretaker came in wearing a grin saying 'Sir, baraf pad raha he'. I never had seen snowfall in my life before. Quickly I ran out and even quicker I ran back into the room. It was freaking -1° C outside! And I had managed to get diarrhea somehow. Caretaker had to stop the water supply as it would freeze in the pipelines and would break them afterwards. I slept in pain as my butt froze by you know what!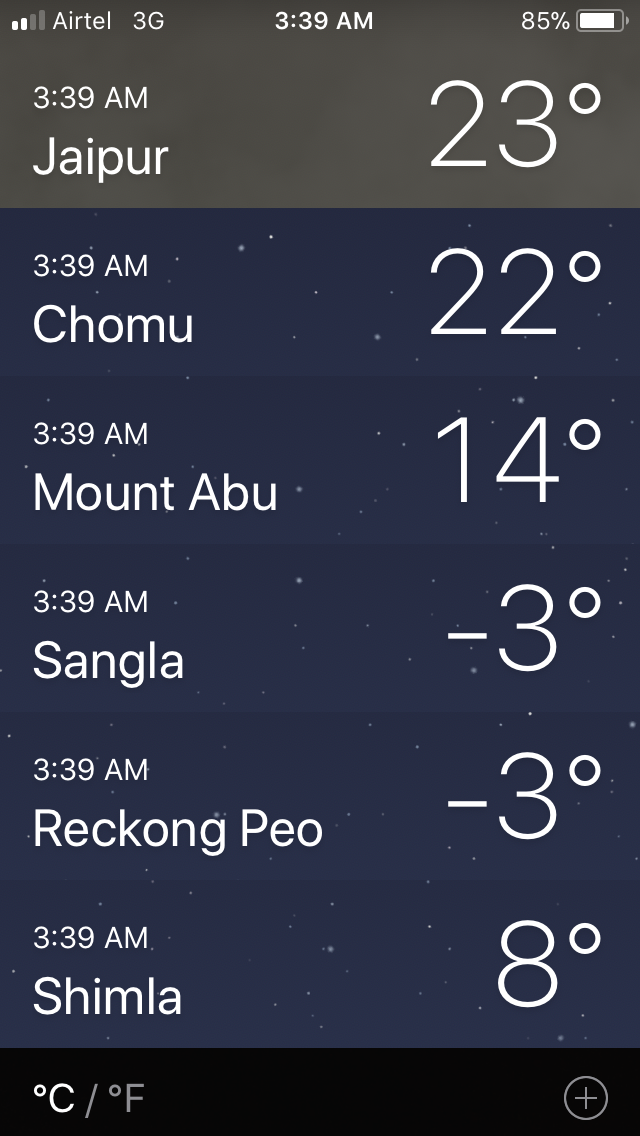 Day 3:
Sangla to Chitkul, never happened!
We had planned to ride to Chitkul first thing in the morning, but due to heavy snowfall the roads were closed. So, we decided to explore Sangla valley instead. There isn't much to see in Sangla to be honest except Kamru fort.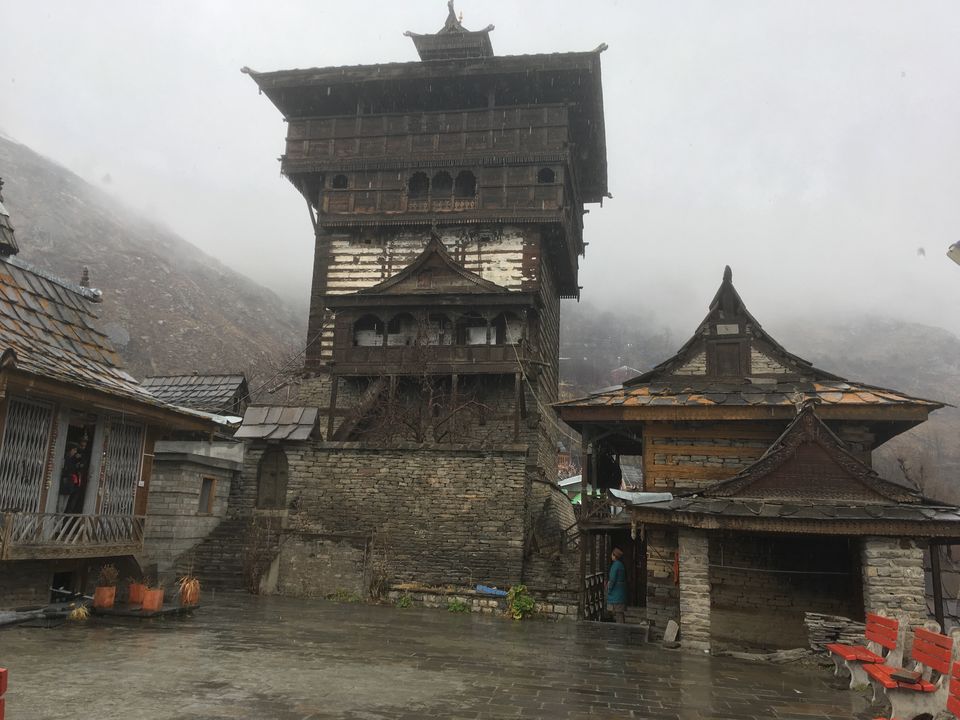 But the valley is itself beautiful. So, we started wandering on our own in the valley. Crossed some bridges, visited some dhabas and some temples. We enjoyed the company of the locals and the snowfall, of course!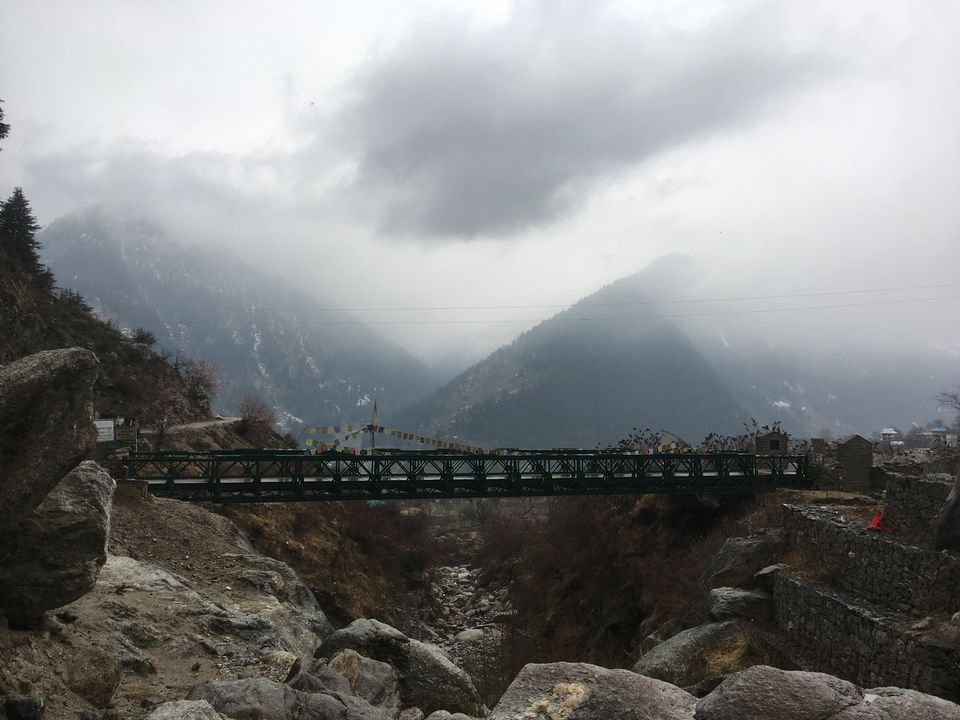 Day 4:
Sangla to Shimla, 230 km – Took us a very long time!
We had planned to leave Sangla earliest possible. But it soon changed as we saw our motorbikes covered in thick snow.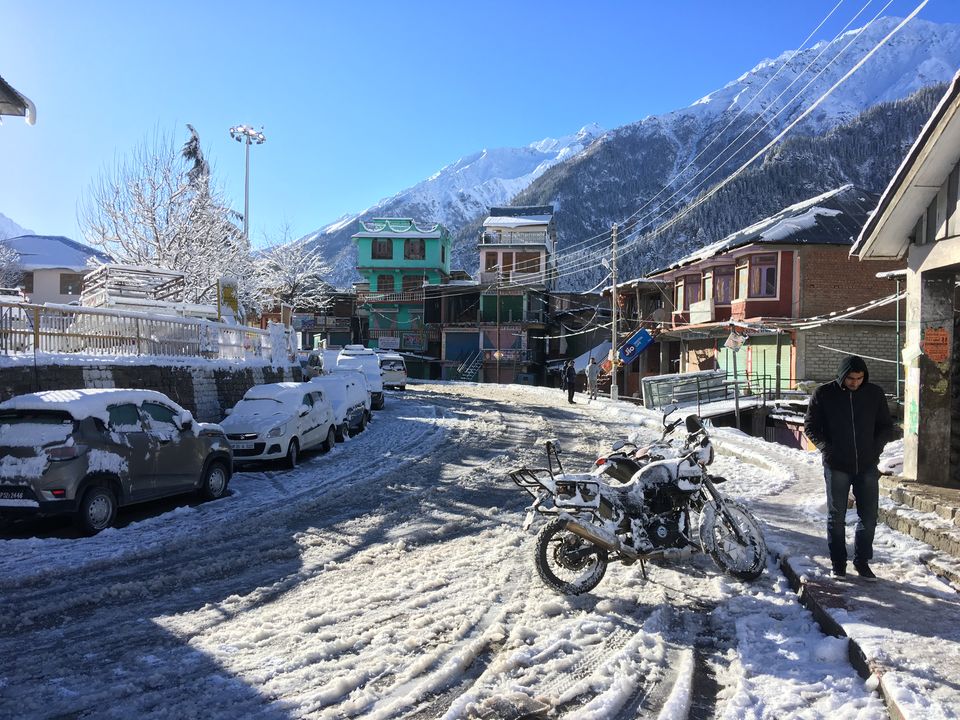 Though they fired up quickly except one Thunderbird. We tried everything from checking fuses to replacing the spark plugs, nothing happened.
There was not a single mechanic in the town. Finally, we gave up and went on a stroll leaving our bikes in the open waiting for the sunshine to warm them up.
Had our breakfast by 9 and went back to the struggle of starting that Thunderbird. After about 100 kicks, miracle happened and it started.
We then rode to Shimla and by the dark we reached Narkanda. Had chai and Maggie the again we mounted our butts on the saddle and rode to the destination. Puzzled with the google maps we missed a few turns here and there. To calm ourselves down we took a time out to figure out where our hotel was located. We could not. Then, some gentleman stopped his car and asked us whether we needed any help. He showed us the way to our hotel. God bless him. Don't take the hotels in the corner of the town just because they are slightly more affordable!
Day 5:
Shimla to Delhi, 360 km – Took us 10 hours
How could anyone leave Shimla without visiting the famous Mall road. So, we went there after having our complimentary breakfast at the hotel. Also, Siddharth never had a chance to have Thukpa before, so we searched a few restaurants there and viola, stuffed him up with that! Though it wasn't as tasty as the one we had in Dharamshala (another story).
The plan was to leave Shimla as late as possible so that we reach Delhi by night avoiding all the traffic jams. We left Shimla by 4 in the evening. It was about 30 kilometres to Delhi when we decided to have some rest and fill up our bellies. And by 9 we left that dhaba and by midnight we reached the bike rental shop where our road trip came to an end.
What I learnt from the trip?
• Don't trust google maps. Ask the locals and carry a reliable hard copy of map.
• Never book hotels at the corner of the town.
• Rent motorcycle in broad daylight so that you can see what's up!
• Stick to eating simplest dishes like dal-chawal and a sabzi. Avoid diarrhea at all cost or you would know the value of restrooms at fuel stations!
• Carry a set of medicines
• Always carry basic tool kit and know how to use them!
• Never overtake from the left, specially in the hilly regions. Vishwaraj learnt it the hard way.
• And wear riding gears, always!
• Do it from Chandigarh instead, cheaper and less traffic.
• And don't go there in the winters
The cost: Delhi to Delhi
• Bike Rental: Himalayan – 1500*5 = 7500/-
• Fuel: Total distance ~ 1200 km, fuel efficiency ~ 26 kmpl, cost of petrol ~ Rs. 72/L. This gives a rough total of Rs. 3300/-
• Stays and food – 7000/-
Total Damage – Rs. 17,800/- and I got diarrhea!