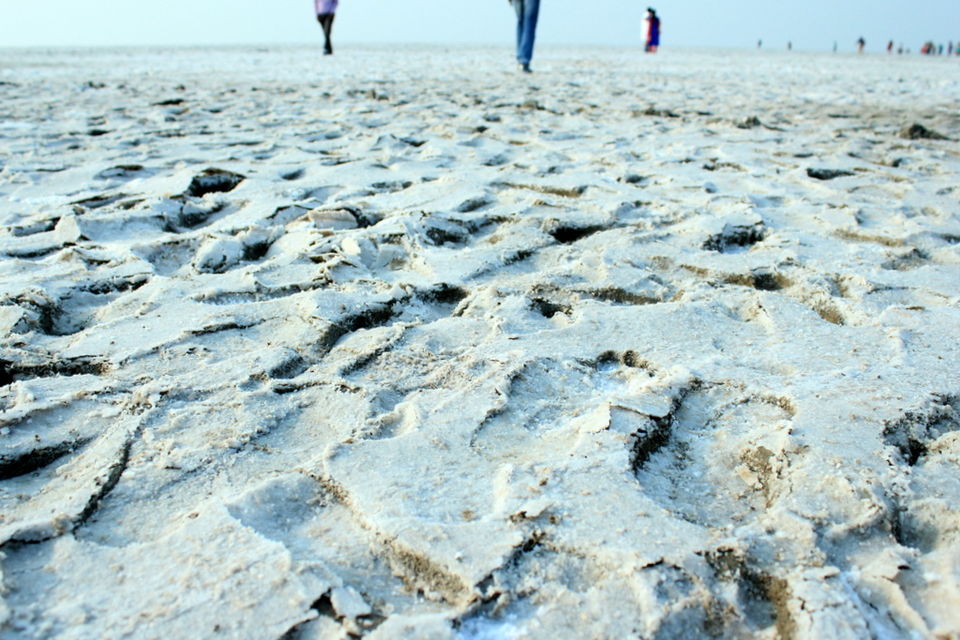 I have been to Kutch many many times in the last 10 years. But apparently it's always been a work trip. Never did I consider exploring this vast district in the north of Gujarat sharing border with Pakistan. So in Diwali of 2013 along with Palak, we decided to do a motorbike trip to the Rann of Kutch. It was close to the best time of the year to visit the Rann of Kutch. Though the best time to visit the salt desert is from November to March with January being the best month since the water completely dries up making the land covered with salt, hard enough to ride into the desert.
Kutch basically means something that alternatively becomes wet and dry. A big portion of the land here is comprised of flat land that becomes shallow wet land as the monsoon progresses. Once the rains go away the water seeps in, dries out and the land gets covered in snow white salt. The Rann of Kutch also called 'The White Desert' had become a major tourist attraction of Gujarat after the very famous promotional ad. campaign of Mr. Amitabh Bachchan for Gujarat tourism. Kutch surprisingly has an extremely diverse land. The Arabian sea on one side and the Rann of Kutch on the other. From marshy lands to totally arid stretches of land. Grassland reserves to wetland reserves where many migratory birds like greater flamingos flock during winter months.
Day 1: We decided to leave for Kutch the next day of New Year. Early morning at around 7.30 am after having chai at our regular hangout place near Shivranjani cross roads, we hit the S.G. highway on our bikes. Palak on his Bajaj Avenger & me on my Bajaj Pulsar. We had already got our machines oiled & serviced before the Diwali holidays had set in. Around 8.00 am we crossed the Sanand circle and headed for Bhuj via Sanand - Viramgam - Dhangadhra - Halvad - Malia & Bhachau driving on NH 947 & NH8A. Bhuj is 334 kms from Ahmedabad.
The roads were almost empty as most of the showrooms, industries, warehouses that line the Sanand highway were closed due to holidays. Weather was just perfectly warm & pleasant for such long distance driving. After crossing Sanand we had well warmed up driving at around 80 km/h which slowly increased to the range of 100 - 110 km/h. Our initial enthusiasm helped us reach Dhangadhra covering a distance of 120 kms at a stretch in about 90 mins. where we had our first break for breakfast.
The next stop was at Halvad after driving for around 35 kms. Yes 2nd stop was in a very short time. A quick chai break and we hit the road once again. The 3rd stop happened to be just outside Samkhiyali. This part of the highway outside Samkhiyali village is lined with hundreds of wind mills and one can see long stretches of salt pans on either side of the road. Some quick pics & we headed for Bhachau. By now the weather had warmed up but luckily no sign of sweat as the cool breeze was still helping. A quick chai break in Bhachau, a stop at the gas station and off to our main destination Bhuj. The final stretch of 80m kms from Bhachau to Bhuj was under expansion from 2 lanes to 4 lanes which slowed us down considerably. Finally after being on the road for around 5 hrs & 30 min. we entered Bhuj and soon checked into 'The City Guest House'
It's the only famous place in Bhuj for backpackers having its mention in lonely planet & trip advisor. A very budget guest house but friendly and clean. Don't look for it on any travel website for booking the rooms. If you are going to Bhuj, straight away go there and check in. Bhuj also has some very cheap guest houses near the main bus station and some not so very cheap hotels - one of them is Shiv Hotel in Chatti ni Bari around half km from the bus station. I often used to stay here during my work trips and found it really good but a bit pricey.
A short nap and we headed out for a late lunch. The most common thing to eat in Bhuj is double roti (popularly known as dabeli) and Pav-bhaji. There is a good South Indian restaurant at a nearby corner from the bus station which also serves a Gujarati Thali but closes by 3.00 pm. Not many options to eat though. We had some few hours of sleep and late evening decided to take a stroll in the market. Before that we visited one of my client in Bhuj to ask about accommodation near the salt desert but it was in vain. They were quiet surprised and just couldn't believe that we had come all the way from Ahmedabad on bikes to explore Kutch.
The old market in Bhuj is called Waniyawad and has all different kinds of shops. The old vegetable market though got completely destroyed in the devastating earthquake of 2001. Lots of buildings are newly constructed after this earthquake and kind of gives a mis-matched feeling about the constructions. The famous Prag Mahal (palace) lost it's grandeur in the earthquake but the Aina Mahal is still worth visiting. It's worth taking a stroll in the market lanes and just getting a nice vibe of the locals and the cultural. Right in the center there is Hamirsar lake but apart from monsoon, it mostly has a dry bed. The native Kutchi people are very friendly, honest and helpful people. Very hospitable and caring. The local language is Kutchi though most of the people can speak Gujarati too. An early dinner and we were off to bed.
Day 2: Next day morning after breakfast at the guest house we took off towards 'Mata-mo-madh' located some 80 kms from Bhuj. It's the temple of Ashapura mata (mother) - the deity of Kutch and the community Goddess of rulers of Jadeja dynasty. Due to diwali there was a huge queue for worship. We had our free lunch there which is sponsored by the temple to all those who go there to worship.
It was noon now and as we still had the whole half day, we decided to visit'Narayan Sarovar - Koteshwar Temple' which is 135 kms from
Mata-no-madh and 215 kms from Bhuj. I must say the entire stretch of the road is really well maintained and one can easily drive around 110 - 120 kms with some caution for the occasional straying of a random dog or cow or goat on the road. It's the last piece of construction on the western side of India and than the Arabian sea starts. We took a chai break, walked around, enjoyed the sea breeze, some pictures and it was time to head back to Bhuj. The evening drive was a wonderful experience with cool breeze, the sight of villagers returning back to their homes after grazing there cattle. We reached Bhuj around 8.30 at night and met this two guys from France & Italy in our guest house who too were traveling in Kutch and the next day like us were visiting The White Desert. A good & long enough convo with them and we called it a day with the excitement to ride next morning to the salt desert.
DAY 3 and 4
We woke up with great enthusiasm to soon leave for the salt desert. At breakfast we met couple of other travelers and I always like to strike up conversations over food. As we wanted to spend a night near to the desert we tried to know from the French & Italian guys about their night stay but that didn't helped much. Anyhow we just took off and left the accommodation thing to be explored later. We hit the highway around 9.00 am to 'Dhordo' - the entry point to 'The White Desert'
Perfect weather, almost no traffic and smooth highway, what else one could expect for a perfect ride to the extreme west of India. Unfortunately a small error in taking the right route made us ride around 30 extra kms but soon we were back on the right route. Soon we were on the road which had absolutely nothing doting the entire highway. Just barren semi-arid land till the horizon. We passed the Tropic of Cancer en-route to Dhordo. Around 11.00 we reached the permit stop.
All those who want to go into the salt desert has to take a permit from this stop. I don't remember how much we paid for the permit but for 2 persons and a motorbike we paid around 200 rupees. One needs to carry a copy of Photo ID, if not be ready to stand in a queue to get it xeroxed. Fill the form and you get the permit. Since it was diwali holidays we had to stand for nearly 2 hours in a totally chaotic queue. There is just one setup for issuing this permit, so be ready to line up in a long queue if you happen to visit there in Diwali. The permit can be taken for 2 places. 'The White Desert' and 'Kalo Dungar' (The Black Hill). Visit The Black Hill first and than proceed to The White Desert. After managing the queue and getting the permit, we straight away headed to Dhordo. From here till Dhordo there were no eateries or even small shacks where we could have a lunch, so we straight away went to Gujarat Tourism's resort looking for some accommodation, but it was packed. Instead we hurriedly went to their restaurant which allowed us after few requests as the last customers for lunch. A bit expensive but a simple and delicious lunch.
Around 3.30 pm we reached the BSF (Border Security Force) outpost where one has to submit the permit and register their names to go inside the desert. It was almost one km drive in the desert and soon we were riding on the land covered with white salt. Our excitement didn't let us stop and we actually drove a bit inside where our bikes started to get stick in the soft land. Unfortunately for us, the entire region had received heavy & unseasonal rains for once in October and hence the land had not completely dried up. We even saw couple of cars getting stuck. And it's such a tricky land that the more forcefully you try to bring out your vehicle it goes deeper and deeper. Luckily for us we just got the rear tyre lifted and we were out of the sludge. There were quite a number of tourists and the excitement was absolutely visible on their face.
The White Desert is a breath taking view. The entire land till the horizon was covered in white salt. The only dark spots visible were the trails of footsteps left by people on the still soft land. We had great fun taking pictures of us with the salt desert in the back ground. The only disappointment was that we couldn't drove our bikes a bit deep in the desert as the land was still soft. But the view was just breath taking. The sun soon was setting down and the twilight indicated we had to return as we still didn't had any accommodation fixed. If we didn't find one we'll have to go all the way back 80 kms to Bhuj.
A quick sign off at the BSF out post and we headed to 'Hudko'. It's a village 15 kms from Dhordo towards Bhuj where we knew there is a small resort. Most of the resorts here are run by the local village people who have grabbed the rising tourist inflow to earn some handsome money. They comprise of 'Bhungas' (traditional mud huts of the region) with electricity & running water. Some even have AC. The rates are quite high around 3500 rupees per night including meals. We asked for a night stay but all rooms were packed. But the owner offered us a stay in his house in the village for around 1000 rupees per night per person plus the food. For us it was even a better option as we really wanted to stay in the village with the locals. We agreed and finally we had our night stay fixed. I remembered what my client had told me the other day. In Kutch you will never get stuck up. People are extremely helpful anywhere in Kutch if you are in a fix. We asked the the family if we can have the same dinner as they cook for themselves and they readily agreed. Soon the dinner was served. A simple dinner having roti made from bajra (millet), potato & onion vegetable, buttermilk and khichdi (steamed rice with lentils) But it was spicy as people from this region love their spicy food. Next we again went to the resort for a light entertainment of folk music. The local musicians narrated the folk stories from the land singing in Kutchi language and explaining it in Gujarati.
What a perfect day it was with a great ride, breath taking view of the salt desert, a delicious local dinner, cold winter night and folk music. It was just amazing and we returned to our Bhunga for a peaceful sleep. Next day we woke up to fresh air of a beautiful morning sleeping through a very quite night. Had chai and roti for breakfast. Took some pictures of the place and finally were heading back to Ahmedabad. We had to cover around 425 kms and had the whole day. A brief stop in Bhuj for breakfast and again hit the highway. We had 4 stops including one long lunch break and some small breaks on the highway for clicking pictures. Finally after covering almost 1200 kms in 4 days we got back to Ahmedabad at 7.30 pm. A truly exhilarating experience.
Though we explored only some portions of this vast & diverse region, the variety in the ecosystem is amazing and to be experienced in person to believe it. I still wish to explore Mandvi - the beach town and Dholavira - The Harappan city, a part of Indus valley civilization and another ride into The White Desert. May be another bike trip? ;)
So truly has Tejinder Singh Randhawa - the IAS officer in his book about this region has quoted as
'Kutch' - The last frontier of a fading way of life.
It's a mystery land, not easy to comprehend.
Its vast length and breadth cannot easily be covered, and it is greater in area than some states of India and even many countries of the world.
It is a land that time has forgotten.
Its diverse ecosystems, dazzling Great Rann of Kutch and quaint harbors are worth visiting and only to be believed when seen through own eyes.
The history, myths and people from this land is something to fall in love with.