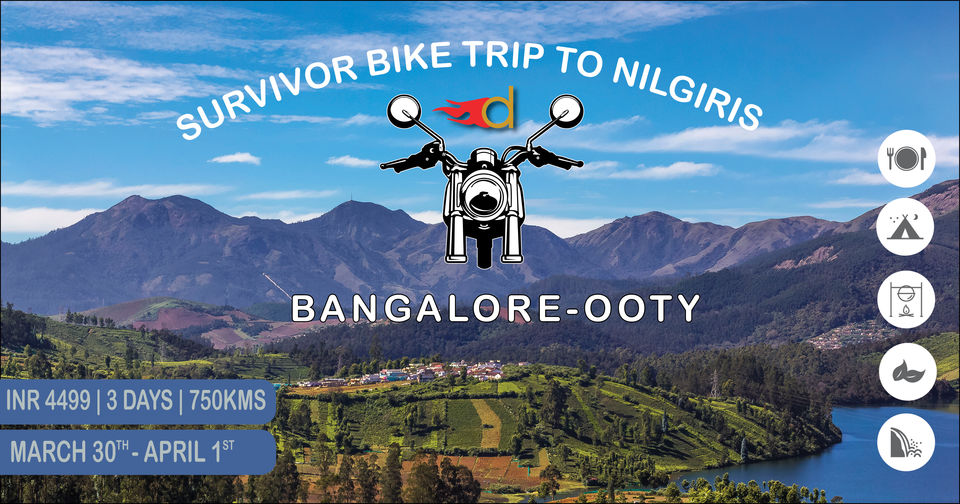 HELLO FREE SOUL! DISCOVER YOURSELF BY RIDING YOUR MACHINE ABOVE 6000FT MSL! CONNECTING BIKERS INTO THE WILD ON COMING GOOD FRIDAY! STAY ADVENTUROUS & KEEP EXPLORING!
AN SURVIVOR RIDE EXPERIENCE TO NILGIRIS!
RIDE START ON : 30/03/2018 | 05:00 AM
RIDE ENDS ON : 01/04/2018 | 06:00 PM
DISTANCE: 300 KM (ONE WAY), 750 KM (ROUND OFF)
DURATION: 3 DAYS | 2 NIGHTS
AVAILABLE SEATS: LIMITED
PRICE PER HEAD: 4499/-
INCLUDED: UNLIMITED FOOD | TENT LIFE | GUIDANCE | EMERGENCY RESCUE | BBQ | FIRE CAMP | SHOOTING | WATER FALL | TREKKING
FOR REGISTRATION CONTACT: +91 9141186300 | +91 80 26580899
The Nilgiri mountains span around 90 km in north-south direction and nearly 80 km from east to west. The area covered is about 3900 km². Clearly distinguished from the surrounding lowlands in the west, south and east, the area is bounded by the Moyar River to the northlying Karnataka plateau and merges into the Wayanad plateau of Kerala at the north west.
Nilgiri Hill, also known as the Blue Mountains in India, is one of the most ravishingly beautiful hilly terrains in India and supposedly one of the best in the world too. High above the sea level, situated at the junction of the two ghat ranges of the Sahayadri Hills, Nilgiri district provides a fascinating view. They begin from the North East Corner of the State of Kerala, another tea growing state, but the main range lies in the State of Tamil Nadu, close to both Coimbatore and Cochin.The height of the hills in the Blue Mountain range varies between 2,280 and 2,290 metres, the highest peak being Doddabetta at a height of 2,623 metres.
Ooty (Ootacamund) the Queen of the Hill Stations, also known as Blue Mountains is one of the most beautiful hill stations in India. This hill station has splendid green downs and lofty hills of extraordinary scenic beauty and is endowed with a salubrious climate similar to the English summer. Located in the Western Ghats at a height of 7,500ft. Apart from coffee and tea plantations, trees like conifers, pine and wattle dot the hillside of Oooty and its environs. While visiting you will also come across many eucalyptus trenches . The fresh smell of eucalyptus trees in a trendy and clement breeze will make you psychedelic for sure. The funnel-shaped blossoms covering the hills in floral profusion and the lavender-blue flowers spread over the mountains will pack you with memories for a lifetime.
REQUIRED CHECKLIST
MAKE SURE YOUR BIKE IS SERVICED AND FUELED
UP TO DATE DOCUMENTS SUCH AS DL, RC, AND EMISSION TEST ETC.
WE RECOMMEND RIDER TO CARRY THEIR OWN TOOL KIT AND FIRST AID KIT
BIKER SHOULD ASSEMBLE AND REPORT BEFORE 30 MINUTES IN PRIOR
MINIMUM RIDING GEARS ARE MANDATE FOR RIDER, AS WELL AS FOR PILLION RIDER
THE BIKE SHOULD BE AT LEAST 150 CC AND COULD BE ANY MODEL AND MAKE
PERSONAL TOILETRIES KIT (SOAP, SHAMPOO ETC) & SUMMER CLOTHING