It has now become a given: that Leh is the most attractive road for bikers. It has to be true. Year after year more and more two wheel tramps set fire on that ascending stretch of asphalt giving them enough reasons to boast in person and on the internet. Despite the high altitude traffic, this ride still remains lucrative. Why?
Earlier this year my neighborhood biker crew, they don't have a name although they did have numerous sessions just to create one. I do remember times when they called themselves the Freewheelers and Royal riders. Public mockery put a stop to that. So as i was saying, earlier this year, they decided to join the party to Leh. They were a group of five, a civil servant, two students, an assistant purchase manager and an engineer. They had been planning this ever since bullet fever caught the attention of Indian youth. Each of them had their own and were used to riding short distances for the thrill but never dared to venture into the sheer vastness of the Indian roads. Since they were going for it now, they decided to go big. K2K: Kochi to Kargil. A rough four thousand kilometers one side. It was not just about the bike or the road, it was a salute to our armed forces at Kargil and what a way to do it, to ride all the way.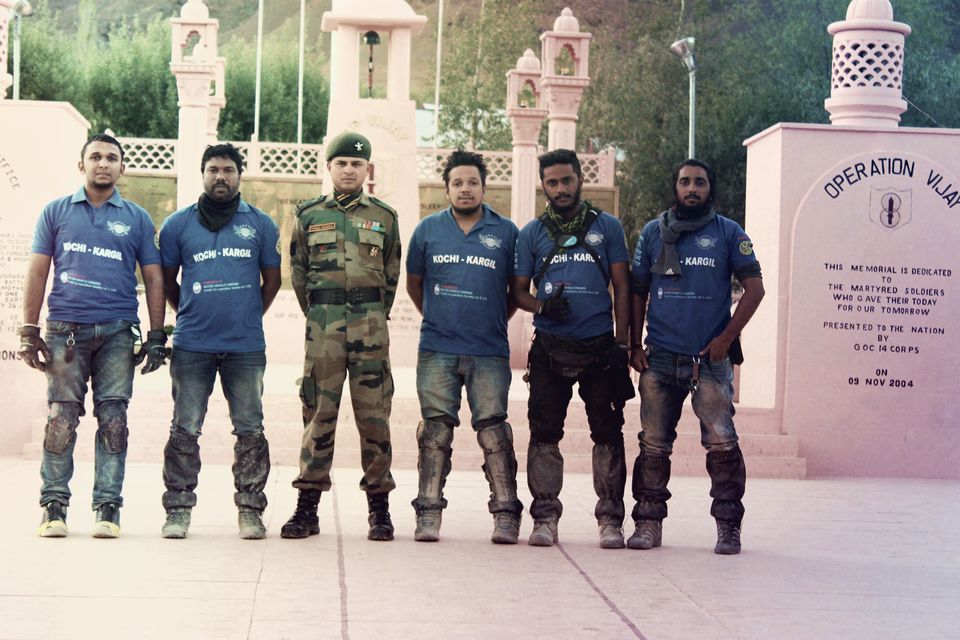 Before they started i had the good fortune to be around them. Their idea was under scorn. People really didn't believe they could do it. They pictured negative reactions like being lost for ever, internal gang war, bandits, accidents, explosions and even death. None of this bothered the crew in fact on the day before the ride, one crew member's mother was in the hospital and he hid the matter in his heart's underground so that none of the other riders feel a crisis of faith. When it came to packing, none of them knew what to do. I told them several times pack light, the whole point of being on the road is being content with the bare necessities. But they didn't listen. Four jeans, eight shirts. What the fuck? You are not going to Spain. I told them. There was no point. Their minds were fixed on what they had to do and whatever was to be learned, they will from the road. Not me. Not anybody. They even printed hundred shirts for friends and family, invited all of to us to an inaugural function greenlit by a renowned Mollywood director.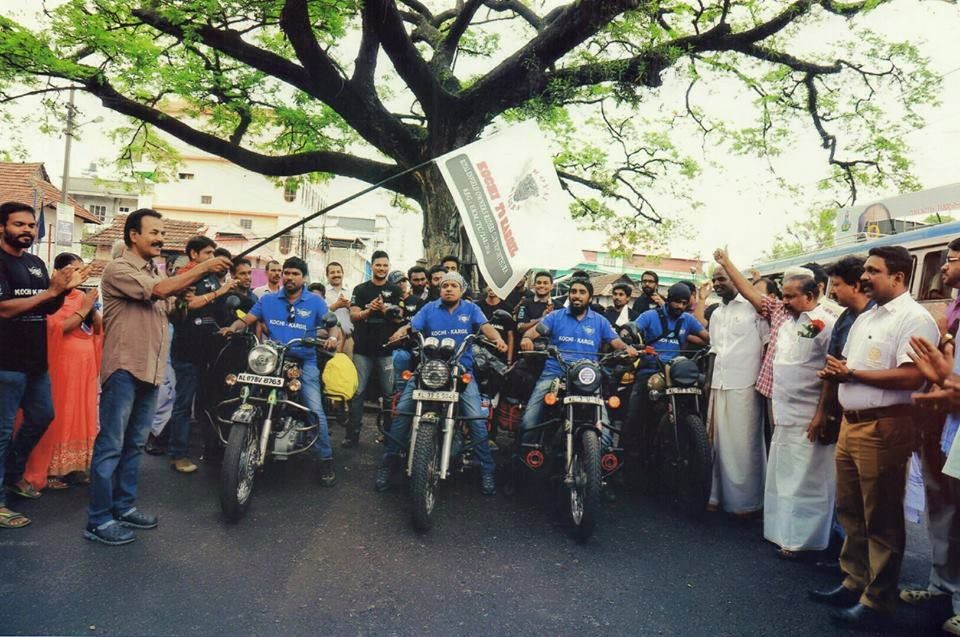 I was leaving to Bangalore the same day and i asked them to drop me as they were travelling in the same route. Reasonable request right? They thought so too.
We left Kochi is the morning at eight and reached Bangalore by eleven. We went to my friend's house, drank beer and slept. In the morning, one of their friends arranged a free bike service for all their bikes and that's how they started day two.
When they returned from the ride, i asked them a few questions.
Tell me a few memorable incidents.
1. We were stuck in Nizammabad at one in the morning. We were really hungry. We were doubtful of the way. We did not know where to crash that night. There came along a man, who took us to nice guest house, secured our bikes, walked us to a nearby biriyani restaurant, we ate without paying. We went back to hotel. He returned next morning to see us off and gave his number if in case we were returning the same way.
2. We stayed in a church in Agra.
3. We were saluted by the Indian Army.
4. In Chandigarh, we stayed with one of our cousins. After several days on the road, we were reminded of home.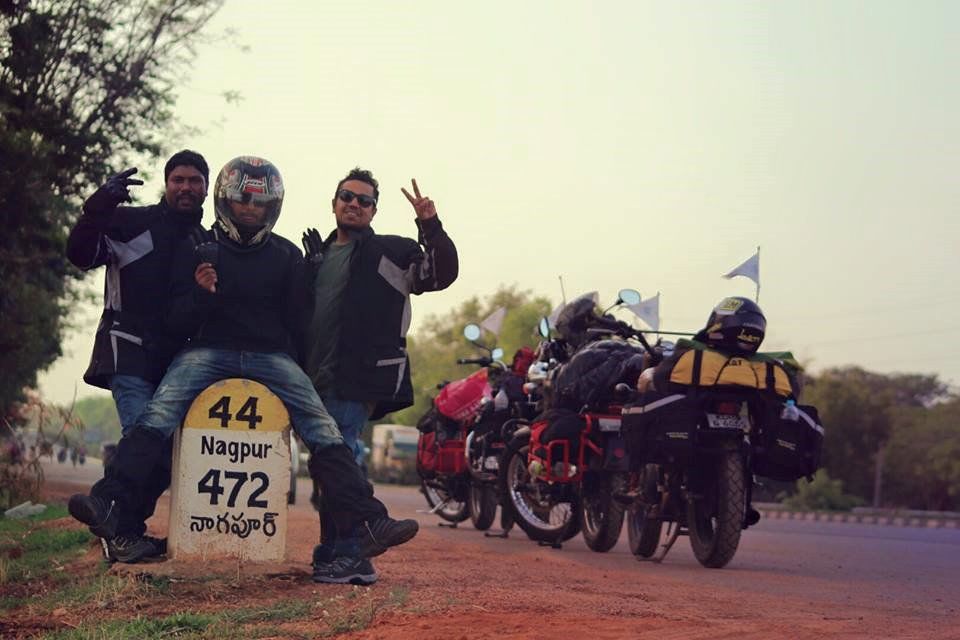 So there are people who do good deeds without expecting anything in return. Isn't that great?
Absolutely. People you meet on the road are kinder than the fuckers you meet daily. We were travelers and whoever we met respected us and we responded with love. Why was that we often thought. It was not our characters they respected, it was the essence of the road.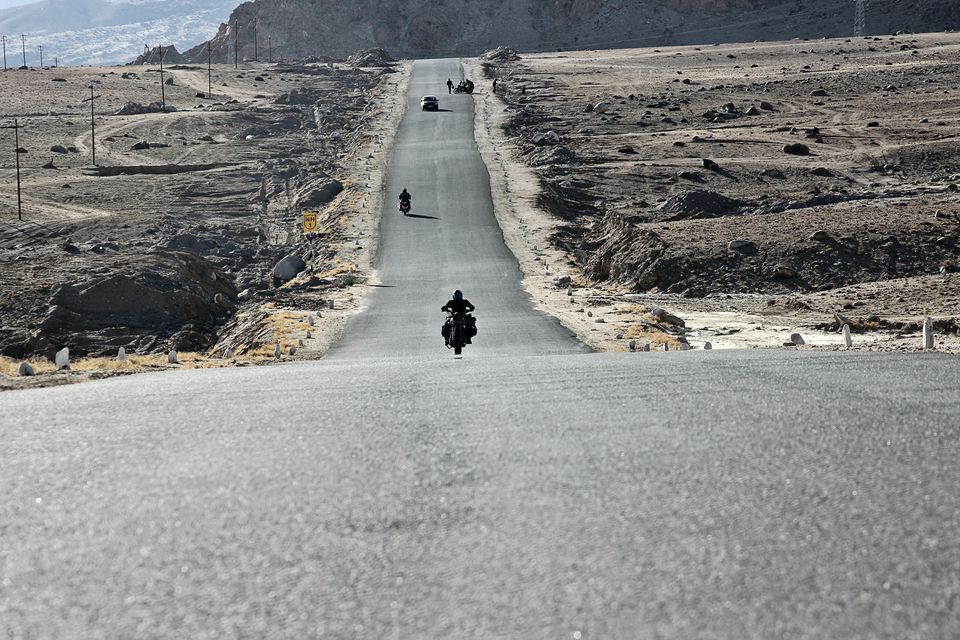 What do you think is the essence of the road?
The essence of the road is the dust. Simple and concrete.
When were you the happiest?
That's a easy one. When we were lost.
How many times did you end up losing your way?
We can't think of it like that. For us it was always as if we could go either way ad no one would care.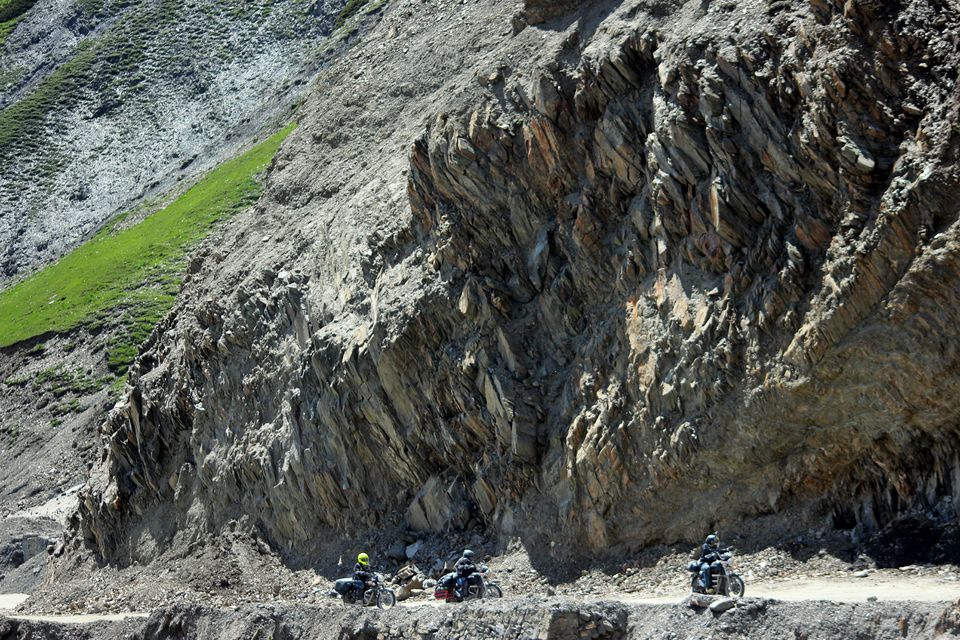 Tell me about the danger, the thrill and the source of adrenaline.
Speeding has never been a big deal but when you are exposed to the road like this, the thrill lies in taking that gap, trusting the instinct and the second, the little stretch in between two trucks, to go for gaps like that on a Wednesday afternoon pumped extra blood. You could possibly recreate a gap like that on Monday mornings in Bangalore if you are interested. Hahaha.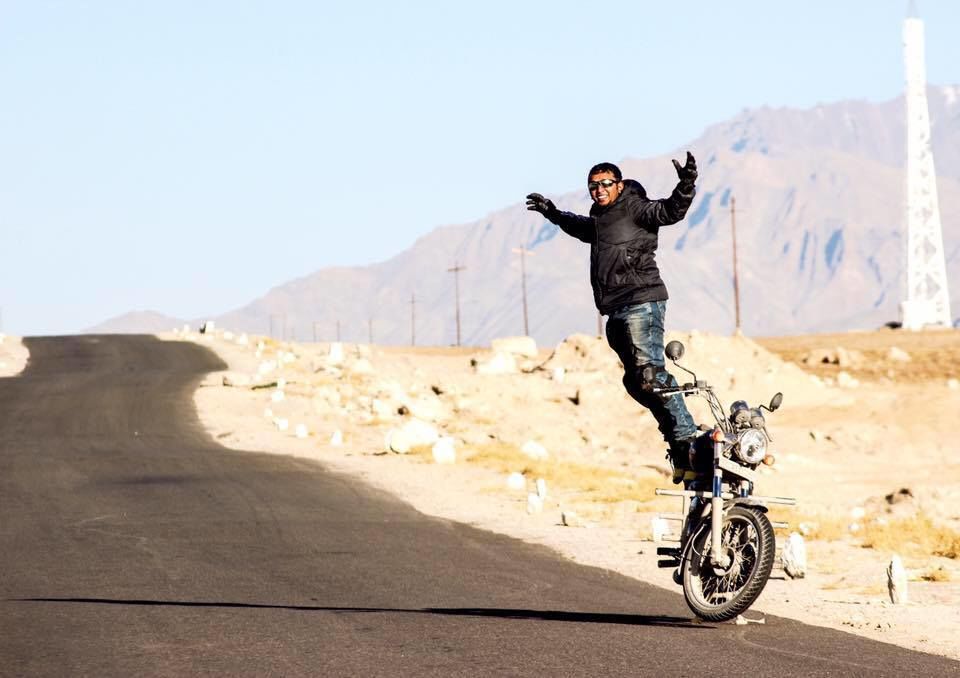 Did you ever feel tired of being on the road?
Indeed. There was time when we thought, the road lay ahead like a serpent waiting to swallow us in whole.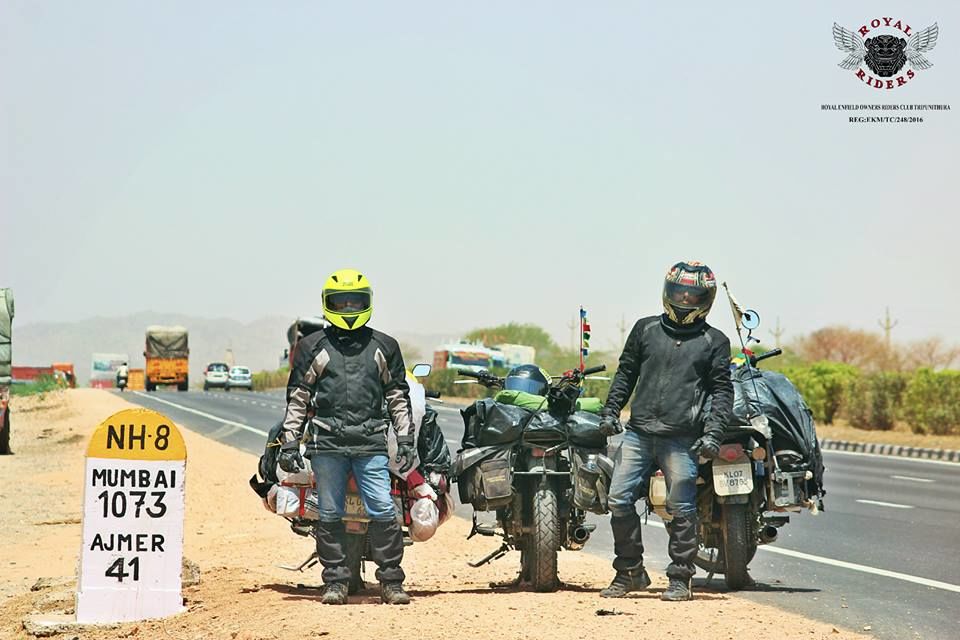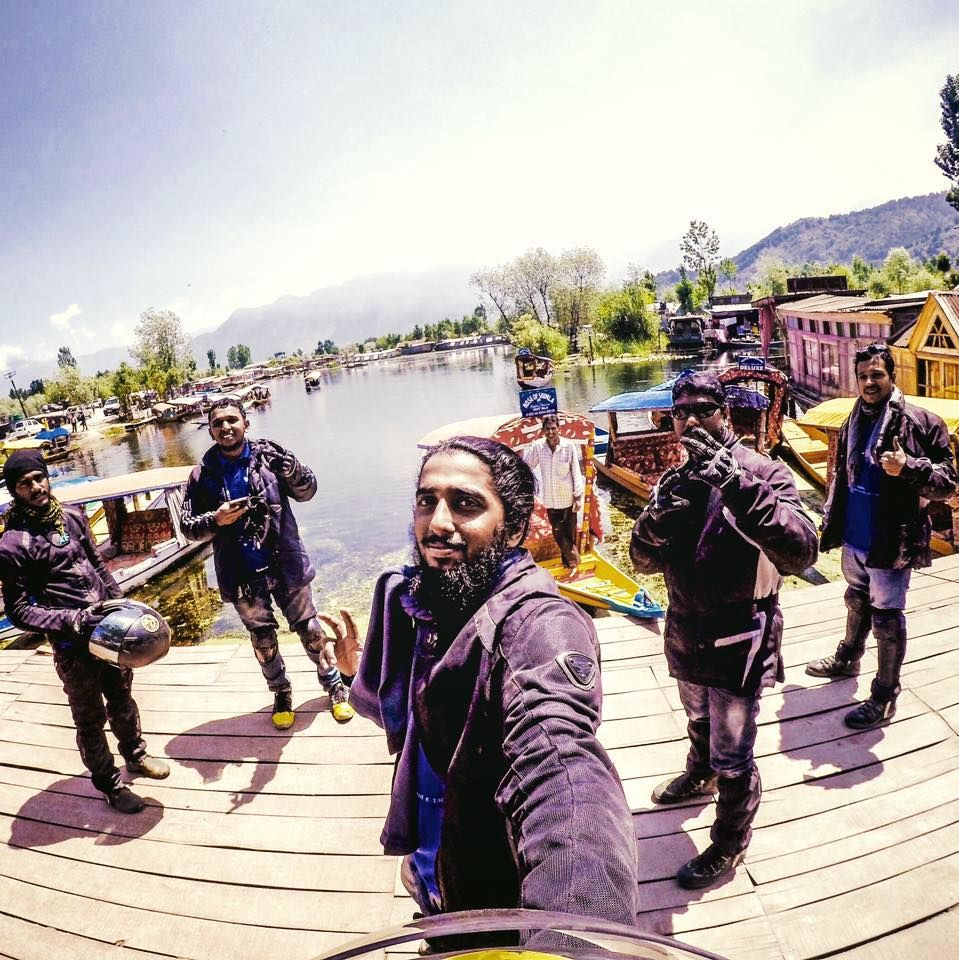 How were the mountains?
Mysterious. The road disappeared behind the mountains and along with it we did too.
How was Kargil?
It was an uplifting experience. We were tired when we got there. We were saluted by soldiers who fight for our country. We were given a medical check up along with first class food and accommodation. We ended up staying awake the whole night to listen to war stories, guns, gun wounds and bullets.
One last question? How many clothes did you use?
Haha we wore the same jeans everyday and changed our shirt couple of times that's it.
When they returned, they were kind enough to donate a portion of their clothes to an orphanage that needed it more. Salute
Their route map.
Kochi- Palakkad- Salem- Bangalore- Hyderabad- Nizammabad- Nagpur-Jhansi- Agra- Chandigarh- Jammu- Srinagar- Sonmarg- Drass- Kargil- Saspol- Leh- Manali- Chandigarh- Delhi- Jaipur- Goa- Mangalore- Kozhikode- Kochi