Birla Temples are constructed in several places of India by Birla Family, Indian industrialist. Birla Mandir Kolkata is one of the epitomes of Rich Indian Culture and Religion.
The architecture of the temple is inspired from Laxmi Narayan Temple and Lingara Temple of Bhubaneswar in Rajasthani Style. The temple is dedicated Lord Krishna and His Beloved Radha which attracts lot of tourists from several parts of India during Janmastami Festival.
The temple also has the deities of Goddess Durga in the left side and in the right Lord Shiva in his meditating posture. Inside it also has the pictorial inscription of Bhagawat Gita which is marvelous and captivating. Outside it has the deities of Lord Ganeshsa in the right side and left Lord Pawan Putra Vir Hanuman.
The temple has also artistically represented few selective 24 avatars of Lord Vishnu. As we all know, Lord Vishnu has several avatars which takes His forms according to the need of the Universe of different era which is also known as Lila of Bhagawan Vishnu ji.
One of his Lila which attracted me the most there was Lord Buddha statute in his Bright yellow attire. There I learnt Lord Buddha is the 23 rd avatar of Lord Vishnu which is the form of the present era. And the 24th avatar of Lord Vishnu known as Kalki is yet to be formed.
Apart from this, the temple has wide and open space in the front where one can sit and meditate because of its serene atmosphere. Personally, I felt the best time to visit the temple is in the evening during the aarti time at around 6pm.
The temple do not have any cloak rooms, so avoid extra belongings. The camera and photography is not allowed inside still one can have a decent click of the Magnificently Mesmerizing Illuminated White Marble Temple from entrance.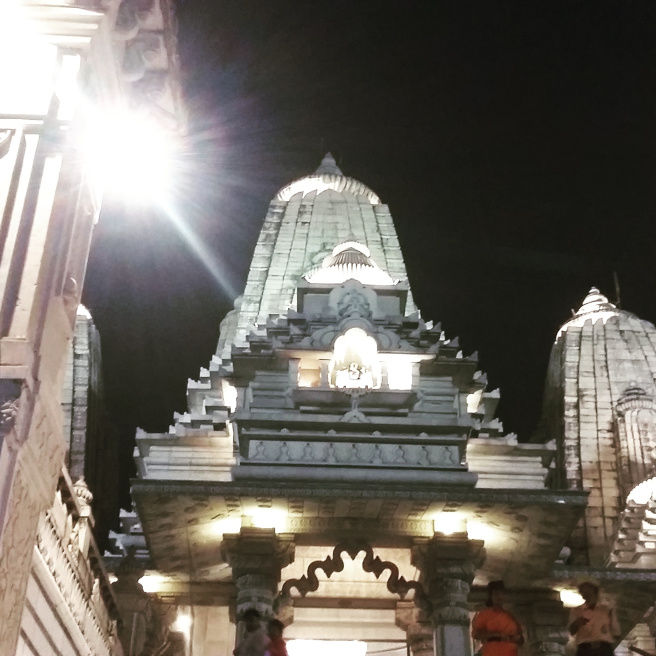 Happy Kolkata! Happy Exploring! Happy Blogging!
https://insightssikhiri.wordpress.com/2016/11/29/birla-mandir-kolkata-epitome-of-rich-indian-culture-and-religion/