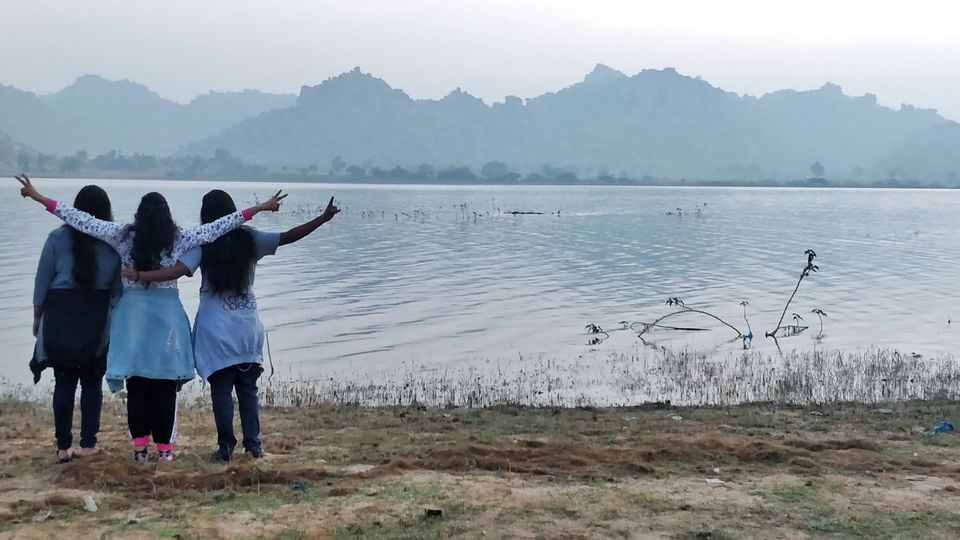 It all happened in a moment that we decided to go to Koil sagar for camping that weekend. And then, began our research for the stuff needed for camping and bonfire. We rented 2 tents from Campaholic.in which were in a good state. We were 4 friends heading to Koil sagar in the evening from hyderabad. We took a bus from MGBS to Koil sagar. It was a 3hr journey in the bus to Mahaboobnagar and then an hour in another bus to Devarakadra. Travelling in the bus, playing 'anthyakshari' with friends was like reliving the good old college days. We had a delicious 'polihora' (a South Indian Dish) made by our Birthday girl Bhagya's mom.
We reached the place by 10pm. Our inquisitive research about that place showed us that we were damn late to Koil sagar in the night. No transport was available. Luckily, Bhagya's hometown was nearby and she had acquaintances here who had arranged us with a vehicle, the driver drove us to camping area in that dark hour of the night.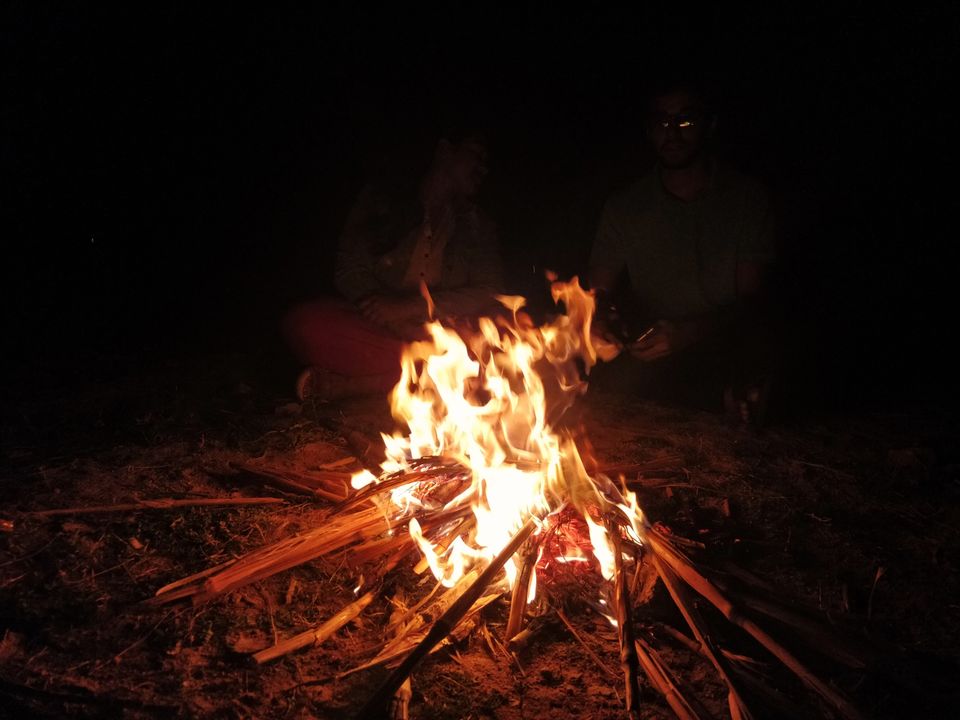 The place was good as it wasn't clearly visible in that darkness. We searched for a good spot to put our tents on. We opened our tents and tried to install them. Nobody knew how to do it, as lazy we were, no one learnt it. Though I have been to trekking many a times, but never gave much attention to putting up the tents. Now, we were confused, tried this way and that way in the faint light of a torch. After struggling for a complete 15 mins, we googled and then successfully put up the tents.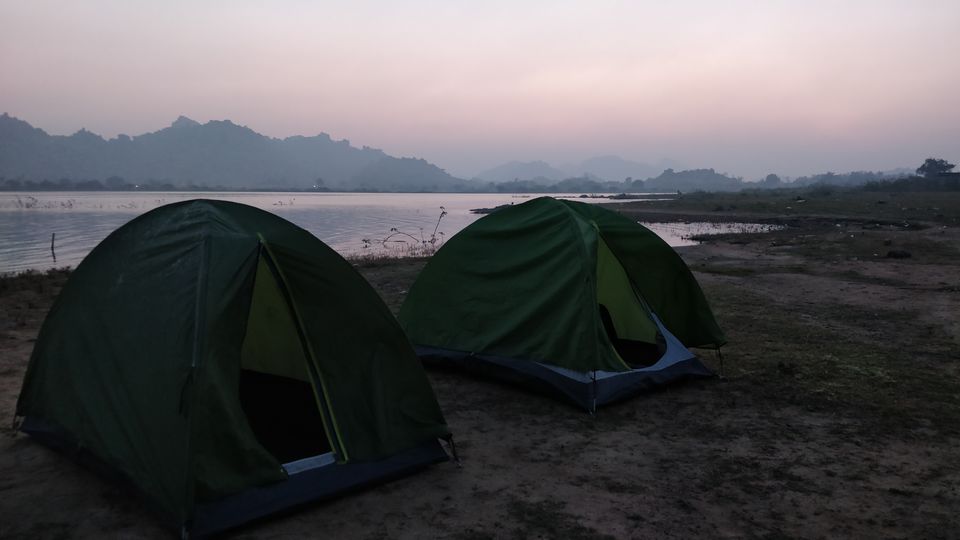 Now was the time to chill and relax. Nah.. the adventure camps are incomplete without bonfire nights. It was the month of January, the cold climate in the night was perfect to set up a bonfire. We divided the tasks of collecting twigs and making fire. It was me and Vineetha collecting the dried grass, twigs, and leaves. Bhagya and Tejas started to make fire in it. We threw a whole lump of dried grass on it, the fire blew like a monster scaring us.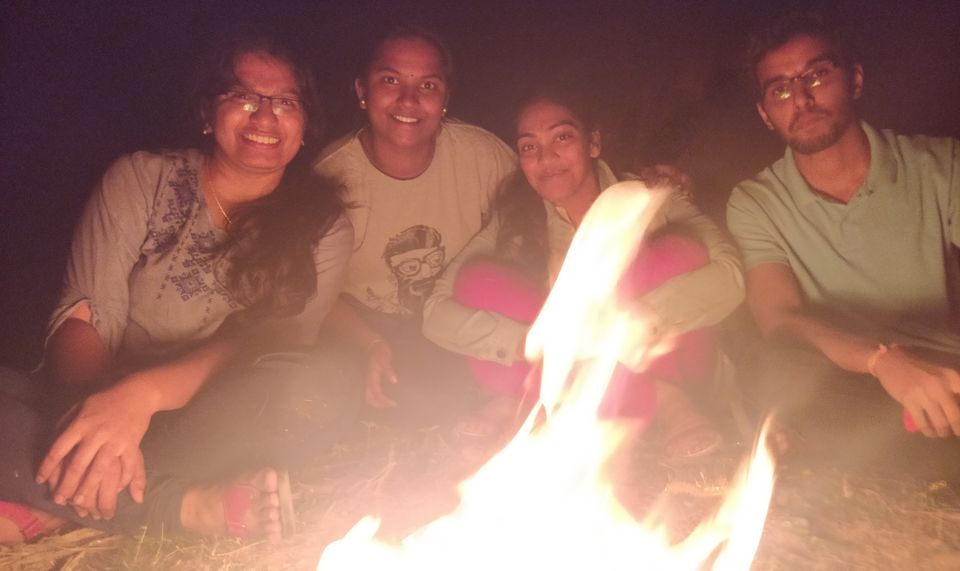 We all sat in front of the bonfire, relaxing ourselves. We also had that local driver with us till we were properly set with our tents and bonfire. We asked him to stay for sometime, had a chat with him regarding the village, the school, the people here. In the middle of all these we heard a loud sound of a wild animal, probably a wild boar. The driver told us that the wild boar, huge and scary lived in jungle beyond, wouldn't come here if there is a crowd. He then told us a story of friends, who came camping here in the night. They were the only people there in the pitch black night, no people around, just 5 of them. While they were dancing in their tunes, they heard a wild boar, screaming. Scared as hell, they threw stones at it, tried to frighten it with the fire. To make things worse, one among the friends saw the sparkling red light in the black bushes, swinging by wind, in that jungle, from where the sounds were heard. They were horrified, were desperate to leave that place, it was like living through some horror movie. The driver had to take them back to his place in the village and offer them place to sleep in the primary school nearby.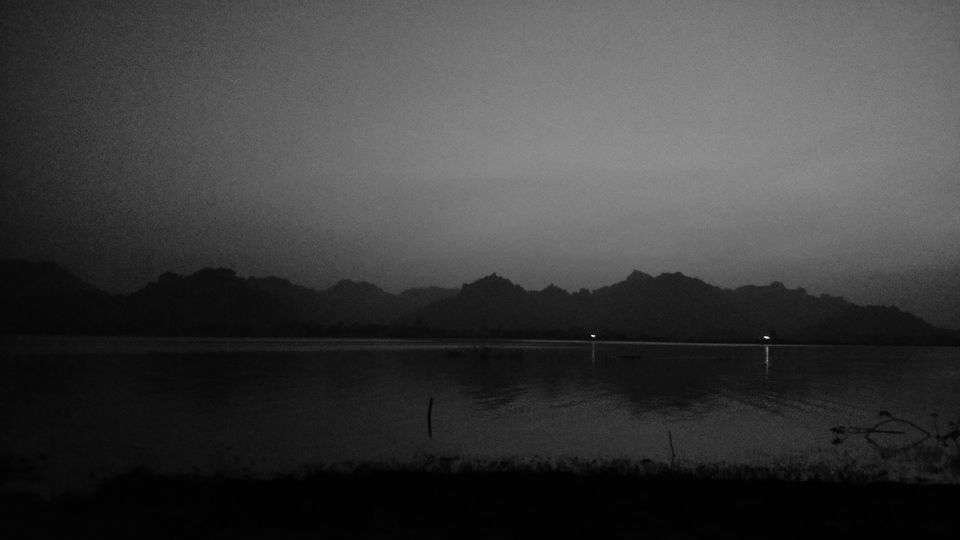 We had to suddenly come out of that horrified trance as it was just 20 mins to midnight, we decorated the tents with all the lovely childlike stuff, plated the cake and celebrated the Bhagya's birthday amidst thousand stars, in front of bonfire. May all her wishes come true. We played games, shared our birthday stories, had fun chitchatting all the night.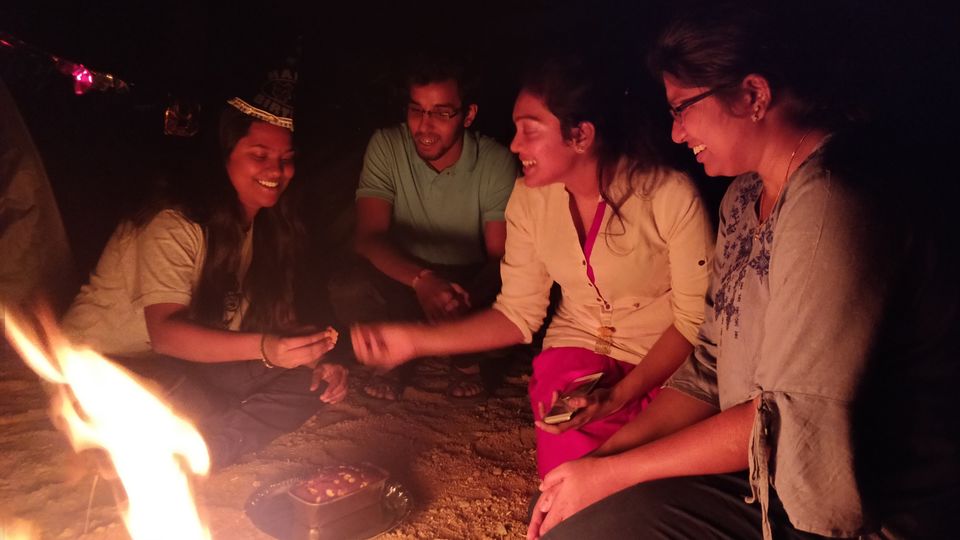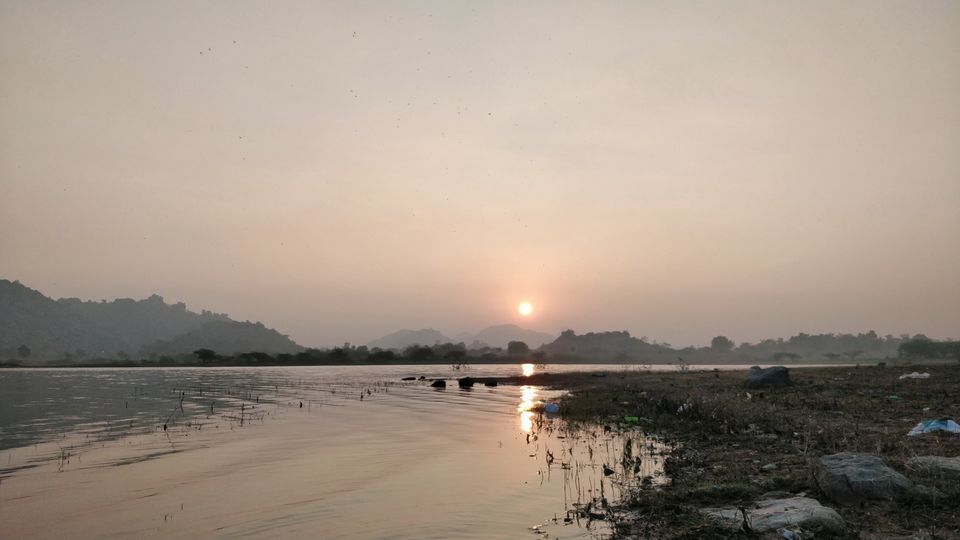 We woke up to beautiful light of dawn. Sitting beside the lake, watching the white ducks crawling in it in the beautiful backdrop of sunrise was so refreshing. Captured all the wonderful colors of the nature deep in our hearts. We clicked many pictures, or rather I would say we had a photoshoot session trying out different poses with different backgrounds. Next, we saw the Koil sagar dam, our new friend, the driver took us there. Had some tea, and some amazing Bandi Dosa and finally headed back to hyderabad and to our normal lives. The trip was pretty cheap just costed around 700 per person.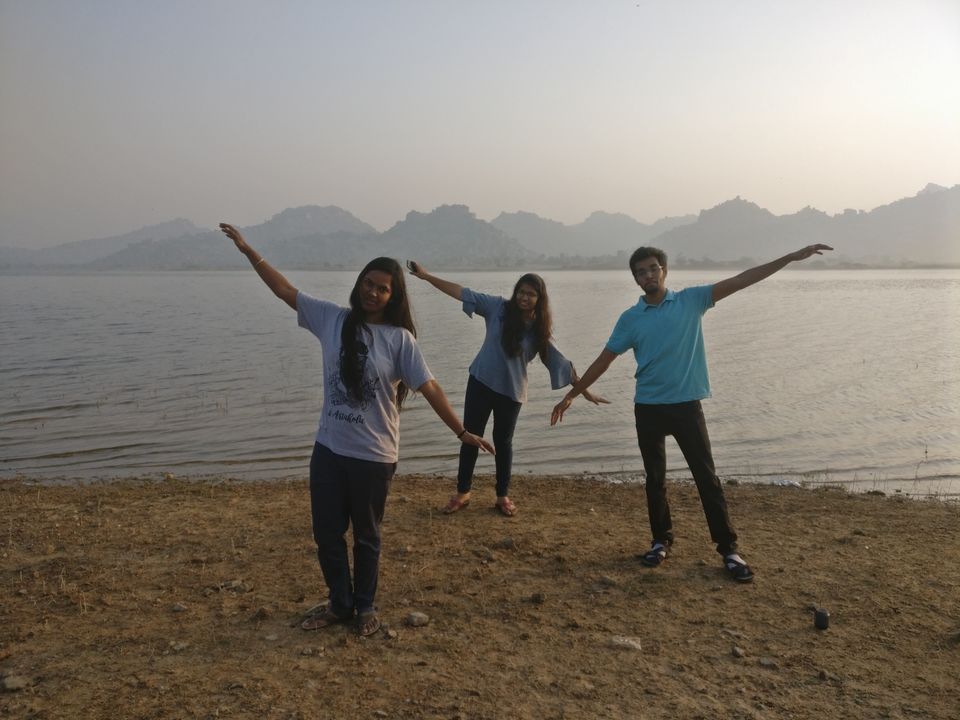 Now, after many days, when I sometimes think of the story told by the driver, it feels as if it really occurred to us, the 5 people being my friends and driver. I wonder did that truly happen to us?