Rishikesh, a small town at the downhill of Himalayas in Uttarakhand, is famous for its temples, Ganga-Ghats and meditation centres. It is also known as the 'Yoga Capital' of India. Very few people know that this place is also a treat for adventure lovers. I too did not know until I agreed to go on a short trip organised by "Baawre Musafir", a trip planner. So, on 10th Nov-16, I arrived to Bhopal from where I had to join my friends. We had an enjoyable journey from Bhopal to Delhi by train and then From Delhi to Rishikesh by bus.
Flowing River Ganga, visible and audible from the road itself was the first and foremost thing which grabbed my attention. It felt lovely to peep out of the bus window with closed eyes, feeling the cold winds on my face and listening to the sound of river-water.
Our camps were arranged little far from the town making them more peaceful. As soon as we reached the camp, I just stood silently with the backpack on my shoulder watching the place where I dream to live. 9-10 Tents were fixed at a proper distance from each other. There was badminton and Volleyball Court for Sport-lovers with enough space for dining. And just in front of the bonfire area, is a giant mountain with its 3-4 peaks sideways whose feet were touched by flowing river Ganga. This was a perfect riverside Camp. I wanted to play; simultaneously I wanted to sit on the rock at the bank of Ganga watching the mountain and the stars, at the same time I wanted to dance to the tunes of Bollywood songs which were being played on speaker.
At night after Dinner, few of us descended to the river. Water was cold as ice but still we played, splashed water on each other and then gazed at the stars while lying on the soft sand. At around 12 AM, all were gathered for the Bonfire. The warmth of fire in such cold nights is always soothing and refreshing and when our group is filled with talented poets, Shayars and singers then definitely refreshment is doubled.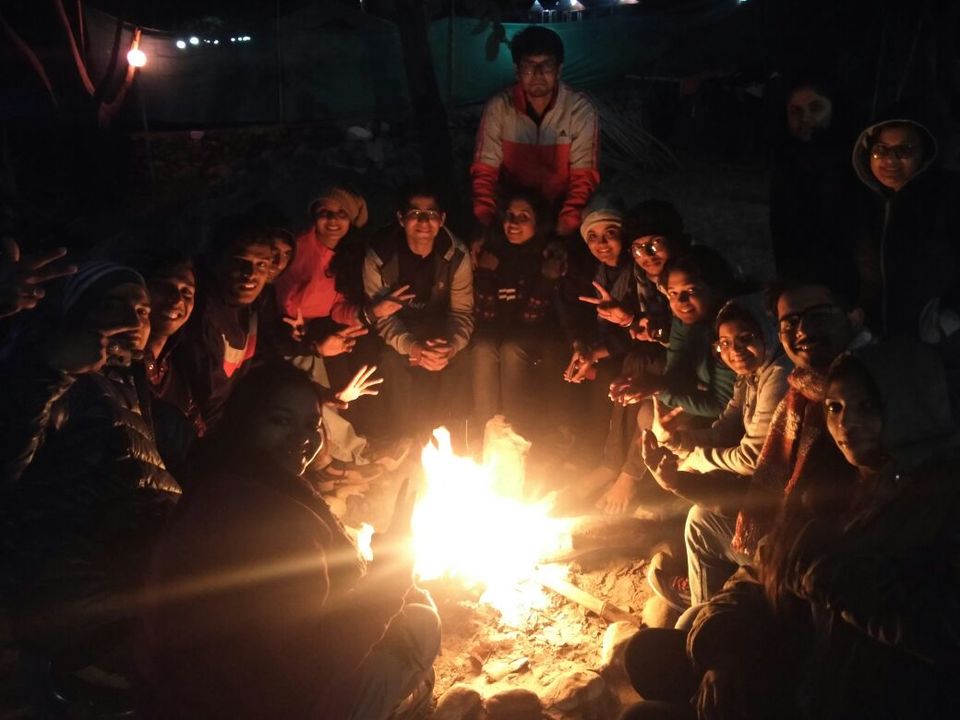 Waking up in front of river Ganga is obviously a different feeling where music of nature takes you to some other world. At 6AM, I was standing in front of my tent with a cup of tea in my hand, watching the flowing water and the mighty mountain, trying to focus on the nature's music.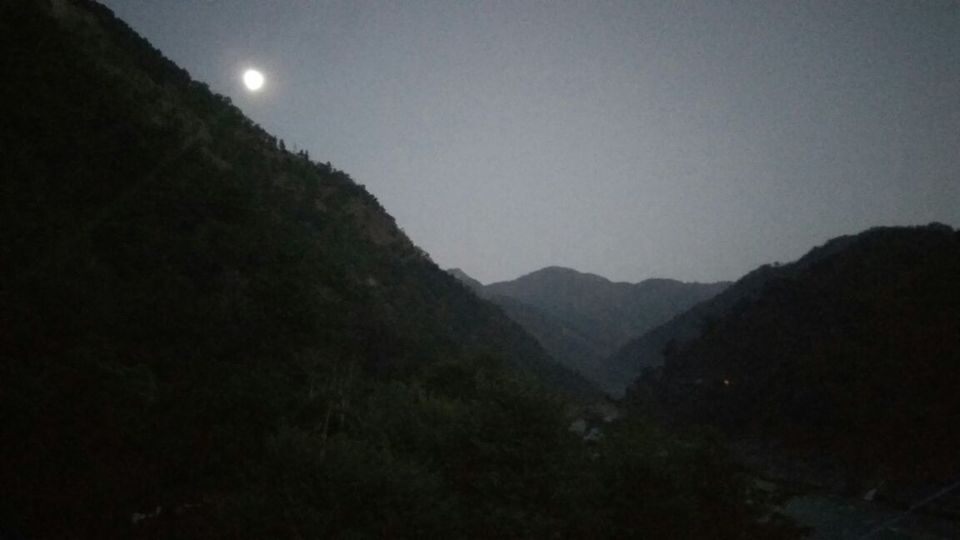 The first Adventure activity I was up to was the River Rafting. Marine Drive is a beach kind of place from where our 26KM river rafting has to start. I was very astonished to see white soft sand at this beach and could not resist myself from collecting this 'Reth'.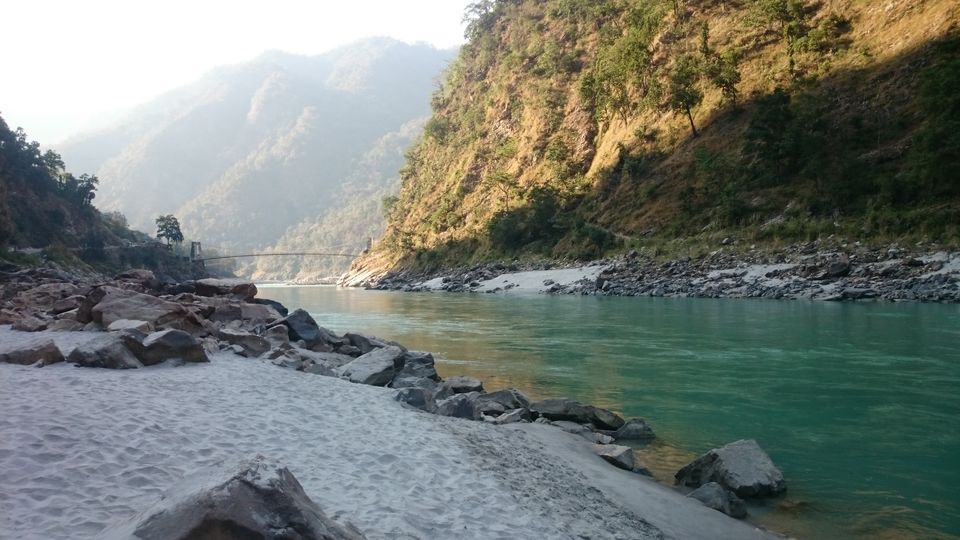 We all took our positions on the raft. I was the third on the right with my paddle. Finally, the raft was pushed in the rapid flow of Ganga. And we surrendered ourselves to mighty river. We all started moving our paddle swiftly and the raft also moved with the flow. After a minute or so, we saw a very high tide and our raft went down and moved up again. We all shouted with extreme joy!
The nature of water changed every minute in the river. After crossing 10-15 Rapids and whirlpools, it was the time for Body-surfing where instructor asked us to jump in the river. And YES!! Because of the life-jacket and helmet, we all were floating on water. Still, my fear of water didn't allow me to leave the rope connected with the raft. I was living one of my dreams. I was floating on Ganga River, feeling the depth of river-water. I wanted to capture those views and feelings in my heart forever and I did it as much as I could. Maggie-point is a place where we took half an hour break and ordered Garam-Garam Maggie with Tea for each of us. This is the very place where much-gutsy ones enjoy Cliff-jump from a big rock which is around 20 feet above water. River rafting came to an end at lakshman Jhula.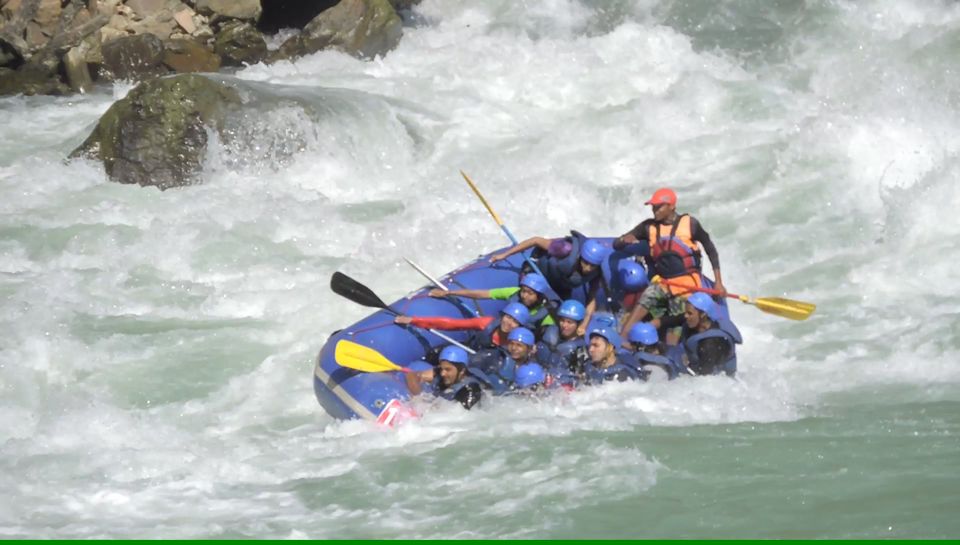 Tranquillity at the river-bank: In the evening, we got ready to witness the famous Ganga Arti but unfortunately we reached the town a bit late. But still, we decided to explore the town. We visited all the temples for which Rishikesh is famous for.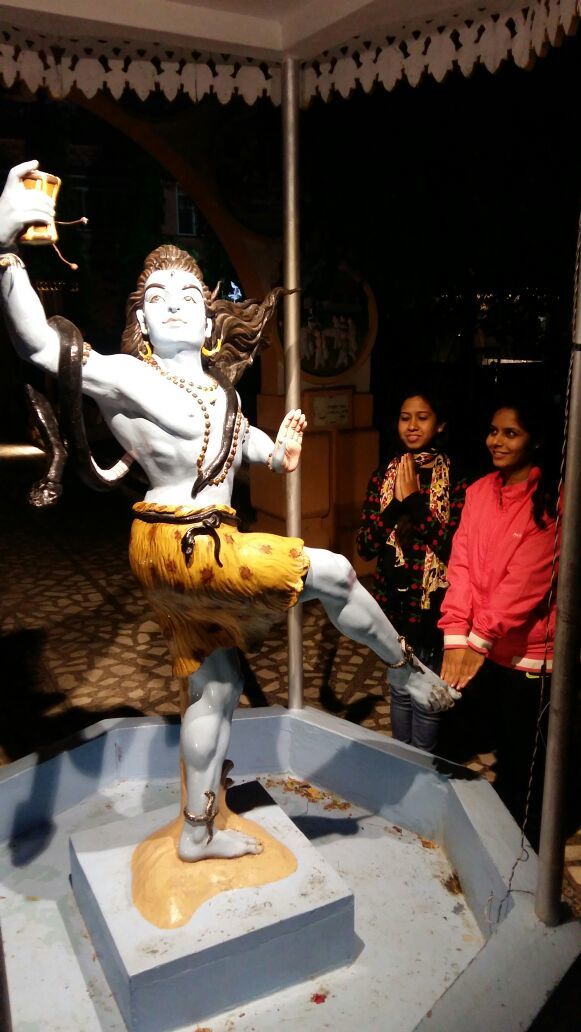 Then, we reached 'Parmarth Ashram', a meditation centre at the river-bank. Founded by Swami Shukdevanandji, Parmarth Niketan is undoubtedly the largest Ashram in Rishikesh. It is located in Swargashram Locality in Rishikesh on the banks of the holy Ganga. Parmarth Niketan has been in existence since the last 70 years being one of the oldest Ashrams in the city. It was around 7 Pm and many people were meditating beside the river, maximum of them were foreigners. There were few women who were singing Devotional songs of Radha-Krishna, clapping with their hands. I sat behind them, watched the glittering stars above and then the Ganga, the holiest River of India. I closed my eyes and here, I felt connected with God. Sometimes, a different kind of energy is generated within you when you allow spirituality to hold you. I badly needed a Spiritual Break and hence here I found a Peaceful "ME".
After few minutes, I found myself sitting with a little girl and her Grand-mother listening to the usual mythological stories which are being taught to almost every Indian kid by his/her Grand-Parent. Sometimes, sharing our experiences with unknown people gives us magical moments to remember. I wish I could sit there for few more hours but it was time to leave.
While returning, we crossed 'Chotiwala', a famous eating joint in Rishikesh. I was in a mood to taste the street food, so I skipped Chotiwala but obviously clicked pictures with him. Though Alcohol is banned in city but bhole baba's Prasad can often be seen to be taken in small quantity by foreigners and sadhus :P
Again at Campsite, Few of us danced, few of us enjoyed horror stories, few of us played. I chose to sit beside the river as it was the last night in the camp.
The Best 3 Minutes of my Life: Have you ever wished to experience a free-fall from a skyscraper or a mountain? I wished and I fulfilled it while doing Bungee Jump. :D Next day, we reached the office of Jumping Heights at Mohan Chatty. Here, we were given formal instructions regarding the Jump and then we were directed to go to the Bungee platform after measuring our weights. The bungee jumping in Mohan Chatty is the highest Bungee point in India. The platform is actually built on a rocky cliff, around 83 meters above the ground and is kind of Cantilever. The word 'cantilever' means that one end of the platform is fixed to a solid base while the other end remains unsupported.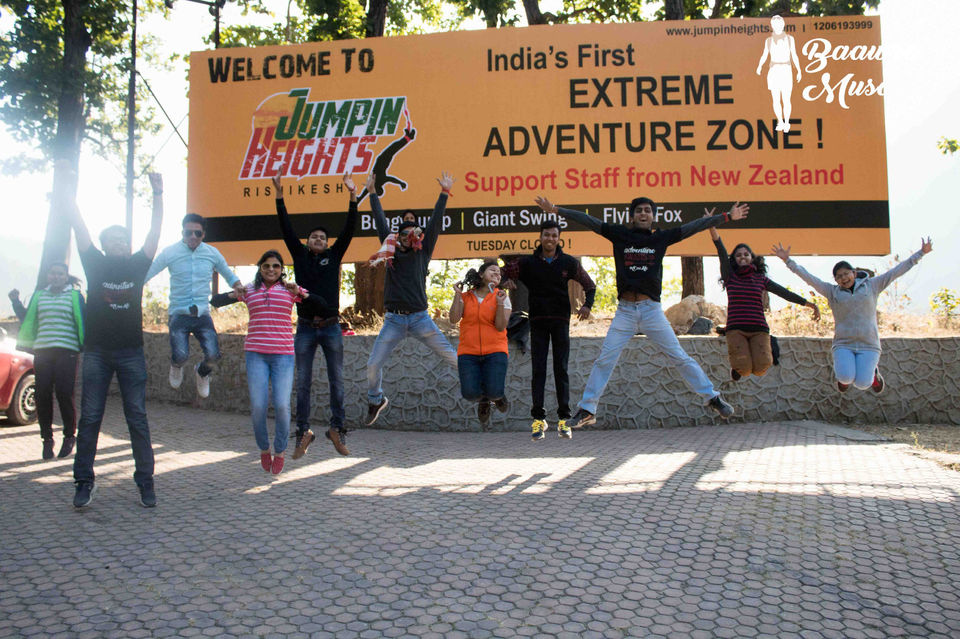 I was the second person in queue to jump. Harness and straps were put over me and the staff tried to make me comfortable. I reached at the corner of the platform and decided not to look down but few seconds later I looked down to face the fear... And just then I heard the countdown. 3, 2…I spread my hands and let myself fall off the platform. I didn't jump; I just let loose my feet and dropped myself. The moment I fell, was the most amazing moment of my whole life. I felt that I am away from the whole world, away from everything and everyone, away from every barrier to freedom. I was enjoying this feeling and suddenly I felt that I am moving upwards. This made a tickling feeling in my stomach and an exciting cry was made by me…. WOW….AWESOME :)  I didn't close my eyes even for a second. I wanted to see an inverted world. Moving in a to and fro motion, gradually, I found myself on the fluffy mattress. I was awestruck, unable to express my feelings, just lying there and wishing if I can jump again.
I realised that Life is like a Bungee-Jump where you can enjoy each and every moment if you dare but if you have a complaining nature, yess, Bungee jump too gives you chances to get scared and complain of the fears and pains and when you finish it, you realise that it could be great fun. Similarly, instead of complaining about our lives and the pains, let us just enjoy it because you never know which day is your last day on Earth. :D
Finally, after taking a final walk at the campsite, capturing the whole serenity of the place, we bid good-bye to Holy River, those mountains and to the city which truly holds the essence of Incredible India.