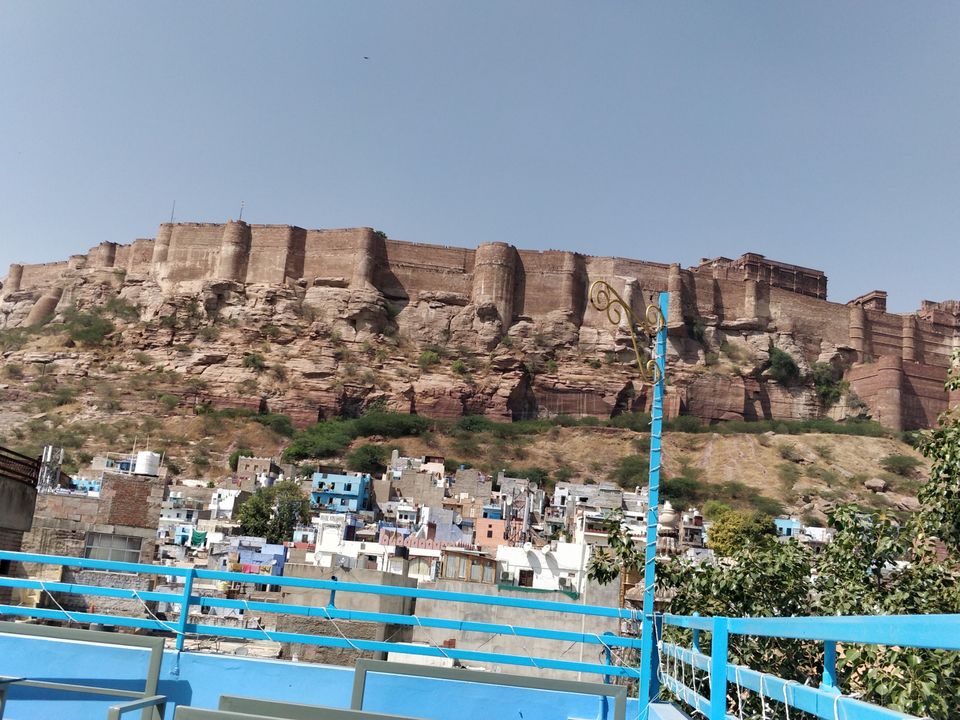 The love for historical places zoom up when the next plan is to explore mehrangarh fort as it is considered as one of the Asia's largest fort. The fort presides over jodhpur as rising to hundred feet.Mehrangarh fort is a gem with beauty of red sandstone is a must watch if u are in blue city of rajasthan - jodhpur.If one wants to explore the whole fort one should vacant the whole day for this beauty.
We headed towards the fort as there are 2 ways - One u can walk/trek & other one is via car. We walk up to the fort & took the audio guide as the purpose was to explore along with proper history & correct series of events.Audio guide is of 31 clips with proper detail explanation.
But guys entering in the fort invites a lot of attractions for shopaholic as all around beautiful Rajasthani jewelry along with chuni, skirt, saree etc...One can stop by to buy these stuff made by local vendors.
As the history says that this fort is related to Rao Jodha of the Rathore Clan. But eventually after one year after his crowning, the Maharaja was advised to move his capital & this result into a new location whi ch brought to the isolated hill looming over Jodhpur.This fort is famous as for cheeria nathji - the lords of birds but he cursed the land on losing this fort for maharja.
We in bits & parts move ahead with proper stops at audio guide place.Apart from the history this fort also have beautiful architecture as its has 117 ft magnificent elevated walls
Some of the major attractions in the fort are -
1) Mehrangarh fort museum - It exhibit royal palanquins,history armory & so many other beautiful stuff.
2) Elephant's Howdahs - It represents 2 compartment wooden seat which is fastened on elephant's back which are mostly covered by gold & silver sheets.
3) Armory - Its a must visit in the fort as it exhibits swords hilts in jade, silver, rhino horn etc . There is also display of personal swords of the leaders.
4) Paintings
5) Turban Gallery - Every community, religion has its own head gear in this gallery.
6) National Geological monument
7) Chamunda Devi Temple - It look very beautiful during dussehra celebration.
One will get here different incarnated carvings all over the fort. My personal opinion is that its a must watch fort in blue city - jodhpur!