First Himalayan winter trek sounds exciting and adventurous right? It was indeed breathtaking and full of adrenaline.
I was planning on going on a trek for a very long time and when i booked the trek with IndiaHikes, was just eagerly waiting for the day.
I must tell how i finally chose the Brahmatal trek, since I was confused between the two most famous winter treks: The Brahmatal and The Kedarkantha. After reading a lot of articles on both these treks, I chose Brahmatal only because, as a trekker I wanted the most. Brahmatal wooed me with its two alpine lakes and an exciting summit climb to the Brahmatal top.
Initially plan was to do the trek solo, but was later joined by my friend Naresh.
Day 1 - First greetings to Lohajung
Me and Naresh had decided to meet in Delhi, so that we can purchase some trekking gears which were missing in our inventory. Packing for the trek was so much fun, it is rightly said that "Happiness is, packing for a much awaited trip."
We left for Kathgodam, our pickup point for the journey to Lohajung, which is the base camp for the Brahmatal trek. It was 10-12 hour drive from Kathgodam. It was definitely tiring and exhausting but the beautiful valleys and first glimpse of snow clad mountains re-energized us.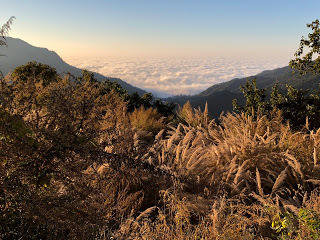 Reached Lohajung in the evening after the sunset. Had dinner, attended the briefing cum introduction session about our trek, other fellow trekkers and of course our trek leader and went to sleep for an exciting day tomorrow.
Day 2 - To Bekaltal Camp Site
Beautiful sunny morning and clear skies, perfect weather to start a trek. Our trek leader (Krupa) and guide (Dhansingh Ji) gave us a few final tips and tricks about tying shoe laces, use of trekking pole and etc. which were quite helpful. Started our hike at 09:30 am on a well laid out man made trail. After climbing for an hour and a half, I could see the beautiful small town of Lohajung and valleys behind me. I could also see the meadow of Ajan top, a short day trek near Lohajung.
On our way, we saw other trekkers returning after their trek, talking to them about their experience was another feeling all together. After another hour or so of trekking, I found myself suddenly traversing through thick forest. It was beautiful even though minimal sunlight reached the ground.
Just before we were about to reach the camp site after a grueling hike, I saw an opening with abundance of snow. I was mesmerized to see everything covered in a white blanket of snow, it was the first unforgettable moment of the trek.
Reached the camp site at around 03:30 pm it was a large clear area surrounded by trees all around its edges. We were briefed about various tents and other activities. As the sun started to hide behind the trees gradually, the breeze got colder. Had evening tea and snacks, played fun games with other trekkers, finished dinner and tucked myself inside the warm and cosy tents and sleeping bag and went to sleep.
Day 3 - To Tilandi Camp site via Bekaltal Lake
Night was definitely cold at Bekaltal, freezing cold!! it was evident from the water in our carry bottles had frozen even though I kept it inside my sleeping bag with me and my winter cap had just a thin layer of snow on it, me and Naresh were laughing looking to each other because we had never experienced anything like that.
Day began with a light trek to reach the pristine Bekaltal lake completely frozen. It was such a wonderful setting, a sight to behold, no words or phrase can describe such a wonderful sight. The entire circumference of the lake was covered by trees. The green and brown trees beautifully mixed with the snow and the clear blue sky. I would even say no camera lens can capture what an human eye can, it was so surreal. It was the second unforgettable moment of the trek.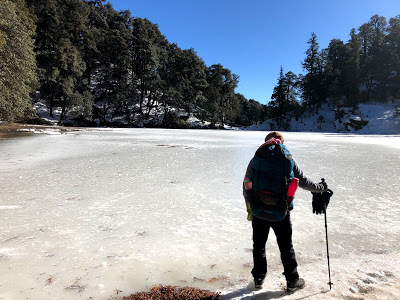 Continued our trek towards the Tilandi camp site, now the entire trail was covered by snow. It was Snow!! Snow!! Snow!! everywhere. I was walking on a narrow trail with knee deep snow on both the side of the trail with stunning views of the valleys.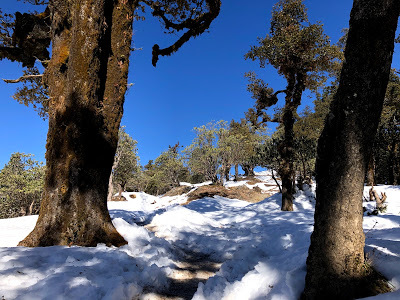 Reached the camp site at around 01:00 pm. It was a clear opening on top of a mountain, no trees surrounding the entire campsite blocking your eye-line thus giving you a 360 degree panoramic view of the mountains and the valleys. It was from here that i could see the first clear glimpse of the Mt. Trishul Peak (7120 m). Spent rest of the day soaking in the views from the campsite and even celebrated Christmas building a snow man at the campsite. Evening at Tilandi was even more beautiful because of the sunset. The best sunset I have seen till now in my life and I bet it will be very difficult to beat. It was the third unforgettable moment of the trek. Krupa had a warning for us, to have our dinner early and run inside our tents since temperatures were expected to reach -09 degree Celsius. I would definitely remember the night at Tilandi because it is the coldest night of my life till now.


Day 4 - To Brahmatal Top
The longest day of the trek, "The Summit Day". Had to trek around 12-13 km starting at 09:30 am in the morning. It was getting colder and windy as we were gaining altitude gradually. After trek of around 2 hours including a steep ascent finally reached our 1st major stop on the long and tiring day "The Jhandi Top" at 12,000 ft. Mt Trishul appeared even more closer to me from here. Whole team relaxed here before pushing towards the summit. Clicked a team picture at Jhandi top as some fellow trekkers were not going to continue towards the summit.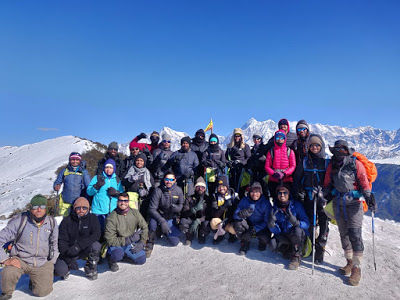 Day 5 - Second greetings to Lohajung
Reached Lohajung at around lunch time. Rest of the day spent at leisure, exploring the local market at Lohajung, interacting with fellow trekkers and enjoying the final few hours amidst the beautiful, picturesque scenery. Had a short debriefing session in the evening exchanging experiences during the whole trek.
It was just an elevation gain of 250 feet but the trail was not at all easy. The trail towards the summit was completely covered by snow, gradually ascending higher. I was walking on a snow ridge all along the trail, it was full of tricks with some steep ascents, sharp turns on the edge of a slope and steep descents.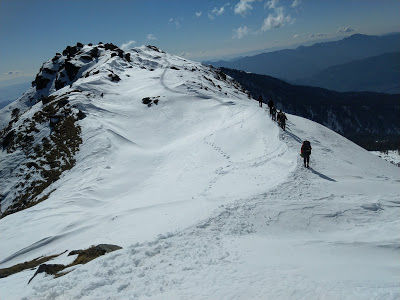 We were lagging a little behind the leading group of trekkers and time was running out to make the cut to reach the summit. We could see the summit right in front of us just a final push to the summit but we were advised by our guide to return. Our group along with Krupa were determined to reach the summit, so we continued and at around 02:00 pm after a grueling final climb reached the final summit. Me and Naresh just hugged each other to share the feeling of finally doing what we had sought before starting this trek. The wind was gushing, even standing straight was difficult for a long time. Even though the front view was blocked by a large group of black clouds, the view of Mt. Trishul was just magnificent. It was the fourth unforgettable moment of the trek.
A few minutes in our descent the cloud cover was almost over us and a few moments later it started snowing. It was really exciting and dangerous at the same time. I could not believe I was trekking during a snow fall. Everything was blurred, minimal vision but beautiful. We walked continuously for 3 hours straight to reach the Jhandi top reuniting with rest of the group.
The longest day was still far from ending as we had to reach Khorurai campsite for the night stay. Again 2-3 hours of descent through the forest, later part of it in the dark with just a head torch and avoiding slipping, but no fun without slipping even once though. Reached the camp site at around 06:30 pm.
The entire day was tiring and very very long. It definitely pushed me beyond my limits on many occasions. I was extremely happy since I managed to experience everything in a single day right from trekking in snow, reaching the Brahmatal top, trekking during snow fall and trekking through the forest in the dark.
Day 6 - Final adieu to Lohajung
Left for Kathgodam at 07:30 am taking with me one of the most enriching experience of my life, friends from all around India and a whole lot of memories. Hope I get such great thrilling and learning experience in future as well.