Svatma is a new boutique property in Tanjore that takes Tamil hospitality on a time-machine to show you a thing or two about the past. BY- KALPANA SUNDER
IMAGINE THIS: YOU ARE at a hotel that not only defies the modern concepts of hospitality, but goes back in time to bring you a long-forgetten way of life. Svatma—the luxury Tanjore hotel and resort in Tamil Nadu—aims to be a residence-style guesthouse rather than just another cookie-clutter hotel. In doing so, it attracts the most discerning travellers for its serene ambiance and personalised service.
This 38-room boutique property is set on a beautifully landscaped garden and surrounded by ancient neem and naga lingam trees. Inside, the living spaces are peppered with artefacts and echo with the chants of the vedas. The comfort you enjoy makes you think you're in an old Tamilian friend's house. Madan, the property manager, explains how this comes about, "There are no room numbers in the Heritage wing because we want to re-create the hospitality of a gracious Tamil home of yore.''
Tucked into a quiet street in the heart of the town, Svatma is the brainchild of couple Krithika and Sumanth Subrahmaniam, who, inspired by Tanjore's ancient grace, lovingly designed the property to give erstwhile 'Thanjavur', the melting pot of art, culture, dance, and music, and the old classical capital of Tamil Nadu, a fitting tribute. The property itself is over a hundred years old, and known to have been home to a local administrator and later a wealthy Brahmin family, before becoming decrepit and later being restored bythe Subrahmaniams.
BEHIND THE SCENES
Their commitment towards the preservation of Tamil heritage is outstanding; Krithika who's a danseuse and architect, tells me how they bought tons of old roof tiles and bricks, and period furniture to ensure an authentic restoration of the house. The property has no standard rooms: Each accommodation in the Heritage building, the main wing of the family residence, or the Millennium block, is unique. The Heritage wing has large rooms with high ceilings, wooden beams and polished floors, four-poster beds inset with coloured glass, linen fashioned out of silk sarees, hand-painted motifs by local artists, and large bathrooms with old motifs on walls and dressers.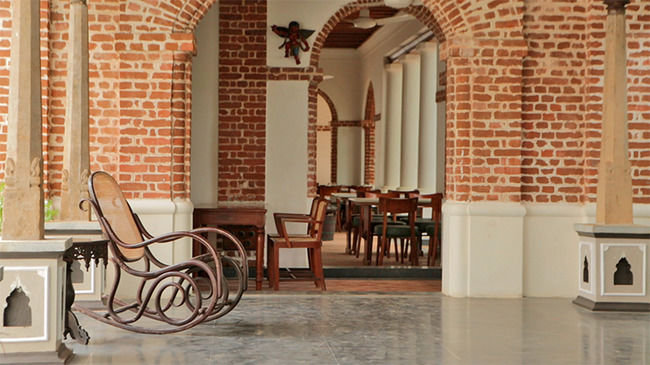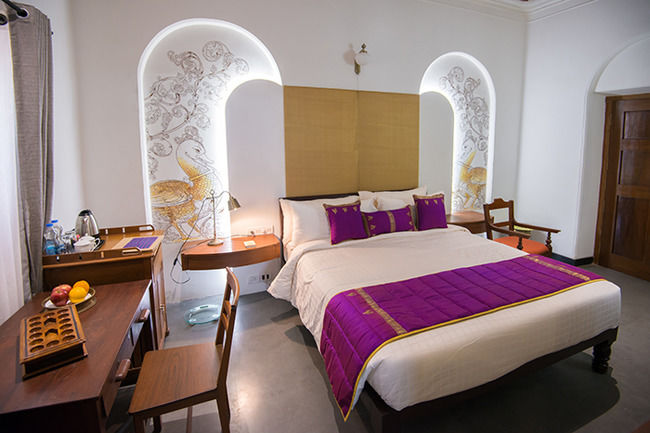 MINUTE DETAILING
Elements of Tamil art and architecture is fused seamlessly into every little aspect: napkin holders on tables, signboards, metallic villakus or traditional lamps fitted with bulbs. The water spouts from yali mouths like in temples, while different other temple motifs are adapted from photographs and used in screens, paintings, windows, cushions. Architectural drawings of Chola-era structures and religious verses from Tamil devotional poetry called Tevarams are inscribed on walls with their English meanings, and monochrome photographs add character to spaces. I enjoy the quirky touches too—rocking horses made of wood are incorporated as room dividers on the terrace while colourful images from Amar Chitra Katha are painted on the backs of wooden chairs in the café restaurant Palaharam. "I think of it as my fun way to introduce Indian culture to Westerners," says Krithika with a smile.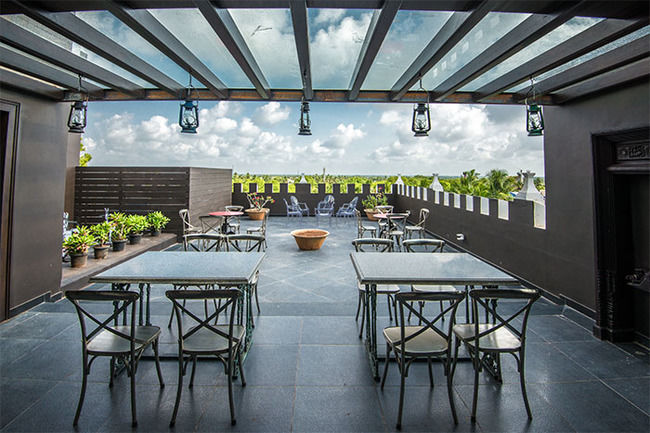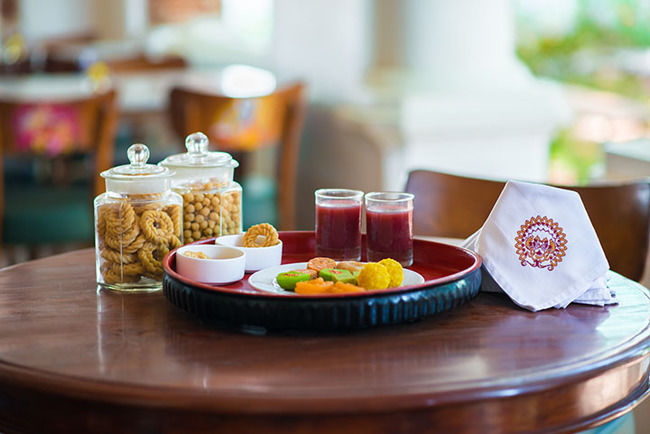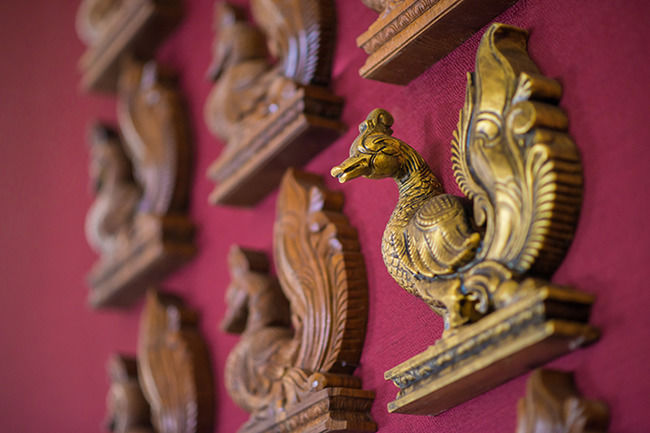 NATURE AND THE EXPERIENTIAL
Svatma can be a voyage of discovery, as one may choose from the various 'themed' stays that are based on cuisine, dance, temples, classical music or bronze casting, or a luxury wellness escape before you venture out to seek the wonders of Tanjore.
At the hotel, take a stroll under the old neem and naga lingam trees that watch over the tiled roofs, relax on the wooden benches near the babble of the water fountain, enjoy tea in the long verandahs, or browse through books including stacks of Amar Chitra Katha comics, and Tamil games like palankuzhi. There are little touches that reveal themselves to the discerning eye: Bowls with rock salt and green chillies are placed in corners of rooms (an Indian belief, said to ward off negative energy), locally sourced baskets for the bath essentials, and eco- friendly, woven folders for in-room stationary.
Come evening, the chants of a temple priest in the family puja room reverberate in the heritage wing, while a session on Vedic verses, with English explanations, are held in Gautama, the central hall. The Arogyam (gym and yoga centre) is staffed with experienced tutors who take sessions on simple meditative practices and traditional asanas, while the luxurious Ayurvedic spa, Soukyam has a variety of wonderful therapies such as Menmai full body massage.
GASTRONOMY
There are three restaurants for complete indulgence. At Palaharam, indulge in the tiffin treats, freshly brewed filter coffee, and European vegetarian food, or head over to Aharam for traditional meals. There's also a magical terrace bar appropriately called Nila (moon) that serves drinks under a star spangled sky
Gastronomically, the plated mini-meals are styled rather theatrically and cooked innovatively to leave one feeling light and comfortable. Expect ragi dosa, cocktail idlis set in glasses of sambar, keerai charu (lentil soup with drumstick extract), balls of creamy curd rice served with aubergine chutney. Chef Vignesh tells me that the kitchen also serves Carnatic and Maratha food which are closely connected to the history of Tanjore
But you can also use the opportunity to re-connect with your soul and carry back the tranquility caused by the throwback to a genteel era, when adherence to traditional ways of life made one healthy and happy. Svatma translates to 'one's own soul' and after my sojourn in Svatma, I do return to the urban jungle, feeling refreshed.
DETAILS
GET THERE: Fly Jet Airways from Chennai to Trichy. The resort is an hour's drive from Trichy and the resort will have a car pick you up.
STAY: Doubles start at Rs 16,000 per night in the Heritage and Millennium wings; breakfast complimentary.
The property also has a 250-seater hall flanked by green patios and lawns, suited for luxury weddings and ceremonies. svatma.in
VISIT: The Big Temple also called the Brihadeshwara Temple is a UNESCO World Heritage Site; the Thanjavur Palace Complex, and the Saraswathi Mahal Library. Visit Thiruvaiyar, the birthplace of musician saint Thyagaraja, and the famous Darasuram temple.
BUY: Local art and craft like Tanjore paintings, brass idols of gods and goddesses, the famous Tanjore dolls, veenas, woven baskets and silk sarees.
TO-DO LIST
¾ Visit the veena-makers of Tanjore and watch them carve out the instrument from the wood of jackfruit in the traditional way.
¾ Learn how local artists craft the traditional Tanjore painting, from embossing it with semi-precious stones to covering it with gold foil.
¾ Shop at the resort's own boutique, which has eco-friendly artistic art and craft personally curated by Krithika.