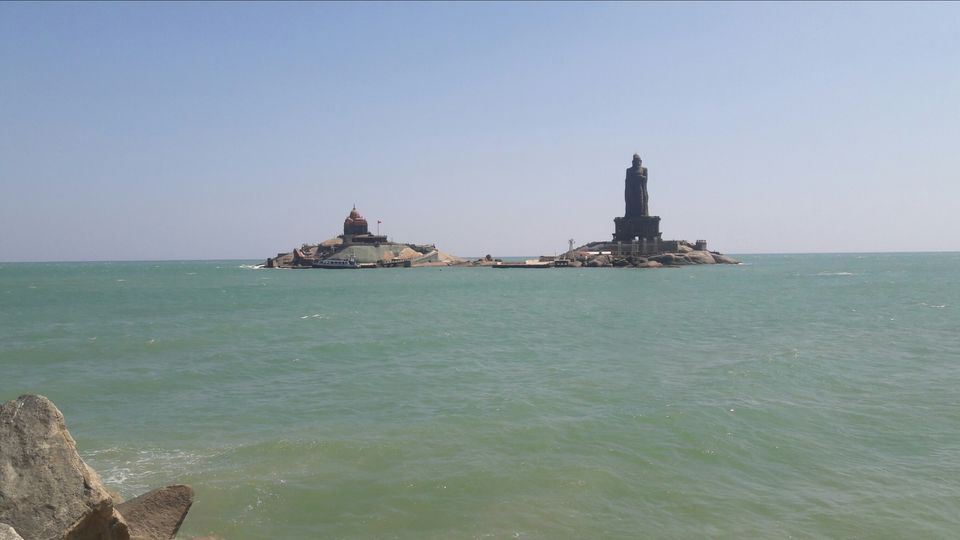 Cont... I bought the ticket for Rs-170 and catch the last train at 21:30hrs from Rameshwaram for my next destination Kanyakumari.
The ticket is for II class passenger and i knew it'll be difficult to grab a seat,i ran towards the platform and saw the train was actually standing for the last 10mins, i entered the first coach after the engine as this is my II coach, the full coach is filled up with no not locals but the north indian peoples as we came to see in Delhi or UP.  Somewhere at the last end of the coach i saw few tamil mens were gossiping & chit chating with their friends and i make my mind i need to make myself a seat over there. I moved towards them and down my rucksack from my shoulder to the seat, as soon as i kept down they told me in tamil "Poh-Poh" this seat is occupied by someone else who is outside for tea, i told them by my body language its ok i'm just keeping my rucksack and resting a bit once your friend will come back i'll give him his seat back. I asked for some water to drink by showing my hand as i dnt know tamil and i always try to mix with the locals. The people started asking me in tamil am i travelling single i told them yes, and this way i too become a part of their chit chatting and they told there was no one in this seat so i can relax. I was tired by the whole day trip and it is quite essential for me to have a seat for the next 9hrs journey.
And my train whistled to start for Kanyakumari. Again that adrenaline rushed through out my body as i know Pamban Bridge is coming. In the morning itself only i entered through Pamban Bridge and now at 21:45 i'm leaving Rameshwaram through Pamban. Now those tamil peoples became my friends so i didn't worry about my rucksack and came near the train main door to witness myself crossing the Pamban Bridge at night. Its pitch black outside, my train is moving slowly & slowly over the bridge. I can only see the white waves hitting the black rocks down near the railway bridge pillers. And i gave a goodnight flykiss to that moment as i can feel the strong breeze while crossing Pamban Bridge.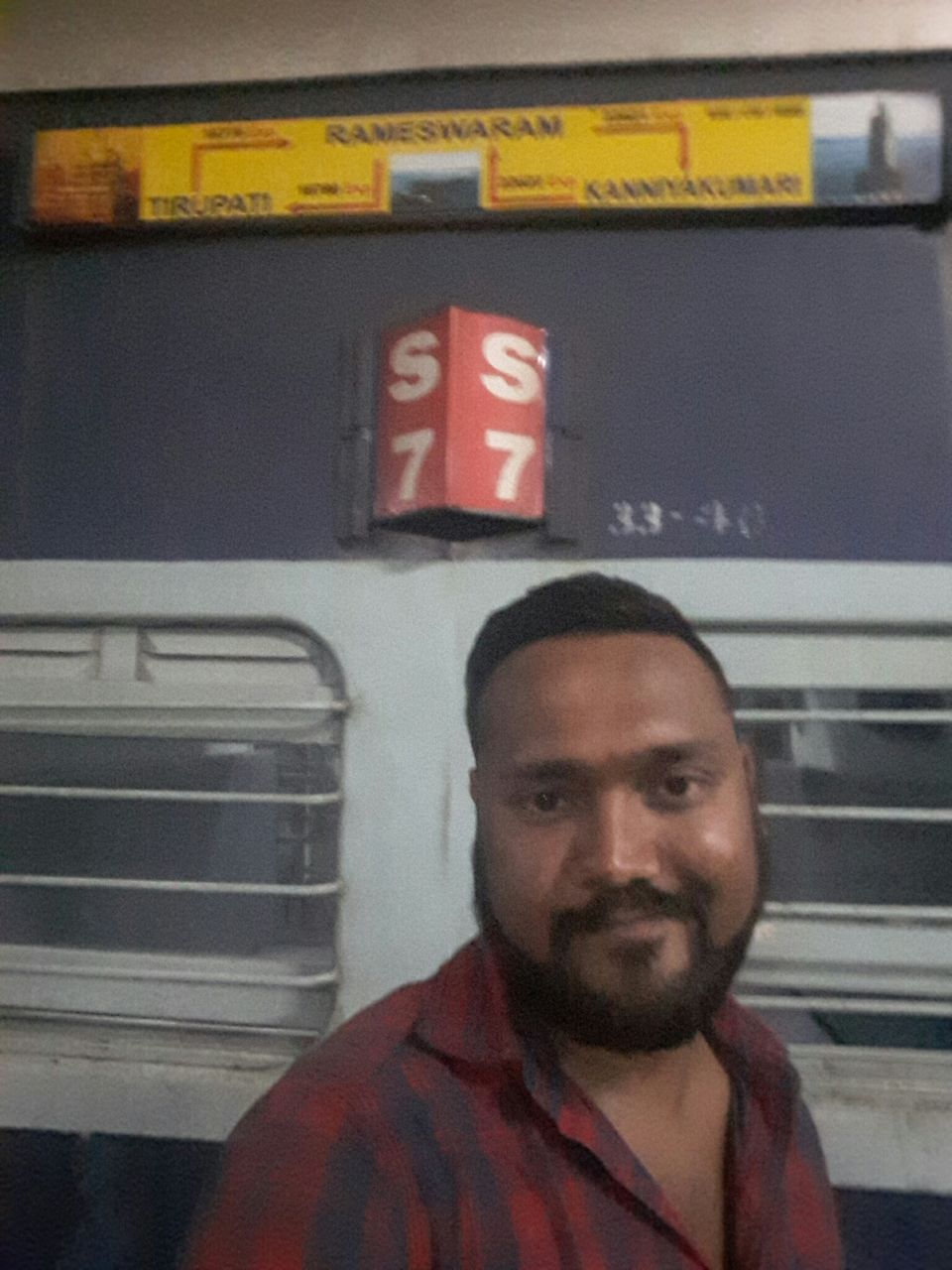 After few hours,those people told me i should sleep and yes my body need some sleep. So i climbed the upper berth where people used to keep luggages in II unreserved coaches. Its only made up of steel rod i took out my bed sheet and place my head on my rucksack and slept.
Around 04:30 am i woke up and i realised i have refueled my body by a long well sleep. Those tamil people is nomore there now as they bid bye-bye to me somewhere in the midnight when they deboarded at Tiruchirapalli (Trichii). I took out my jacket as it was cold outside. And i reached Kanyakumari within next half an hour.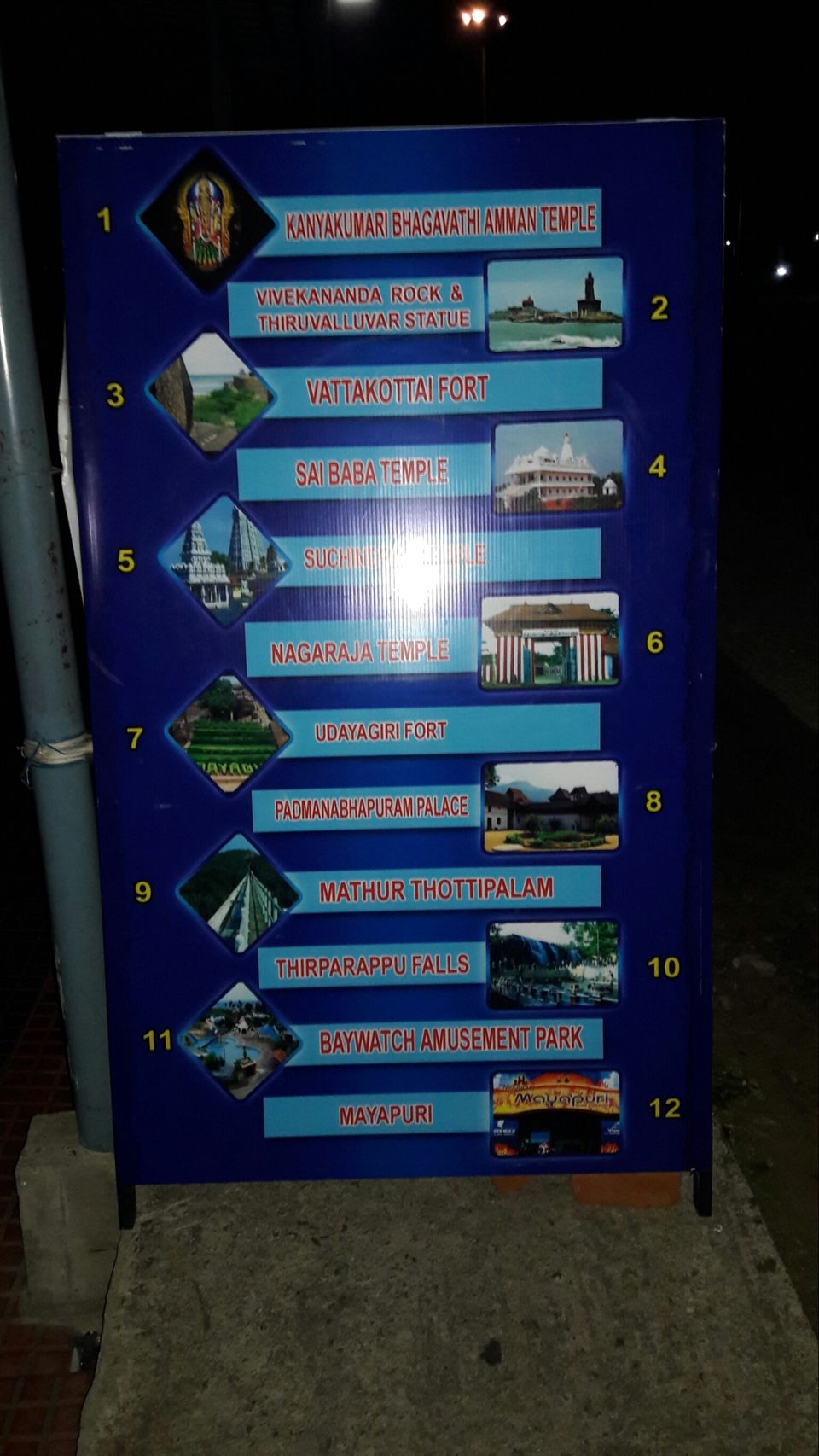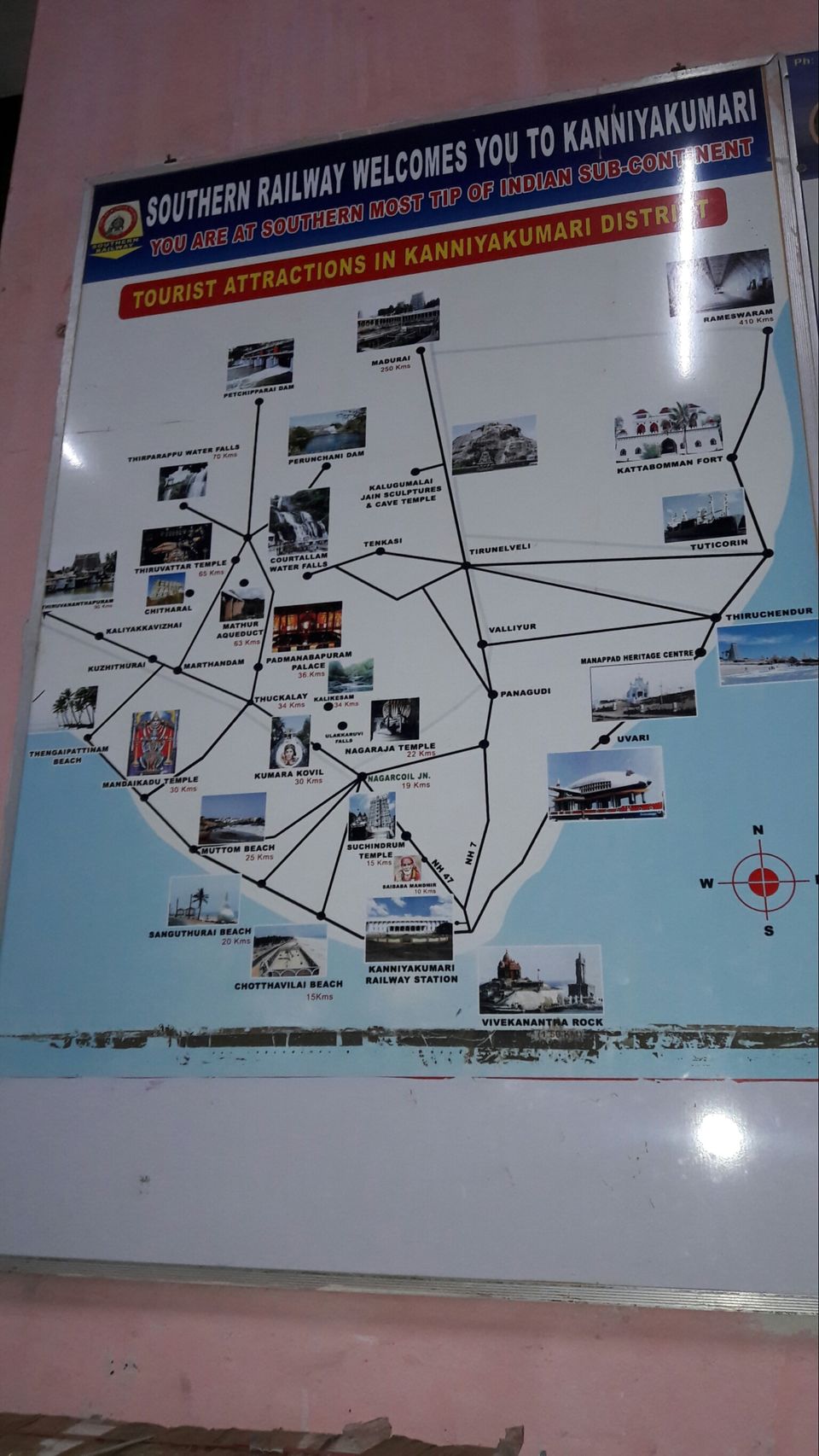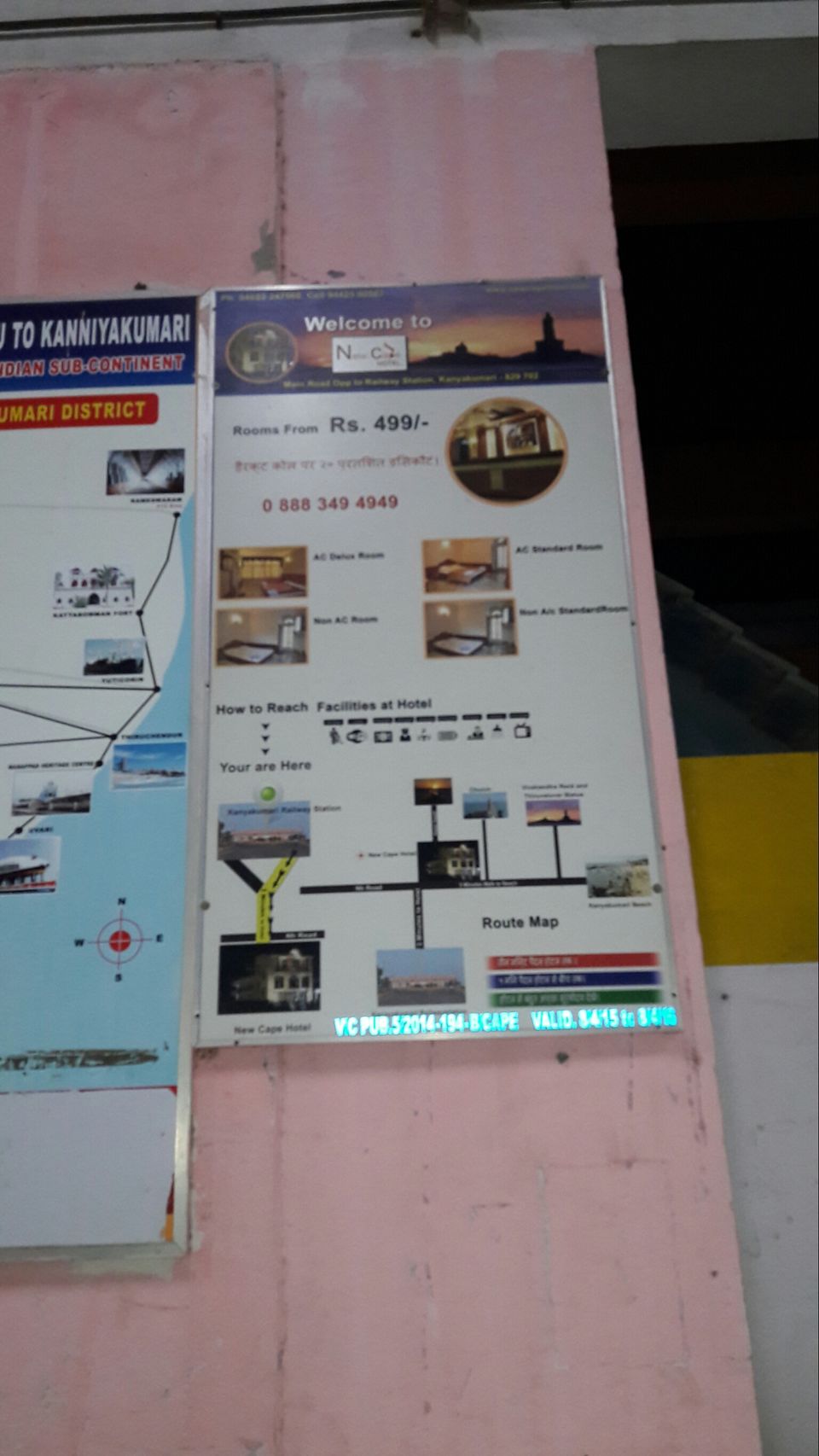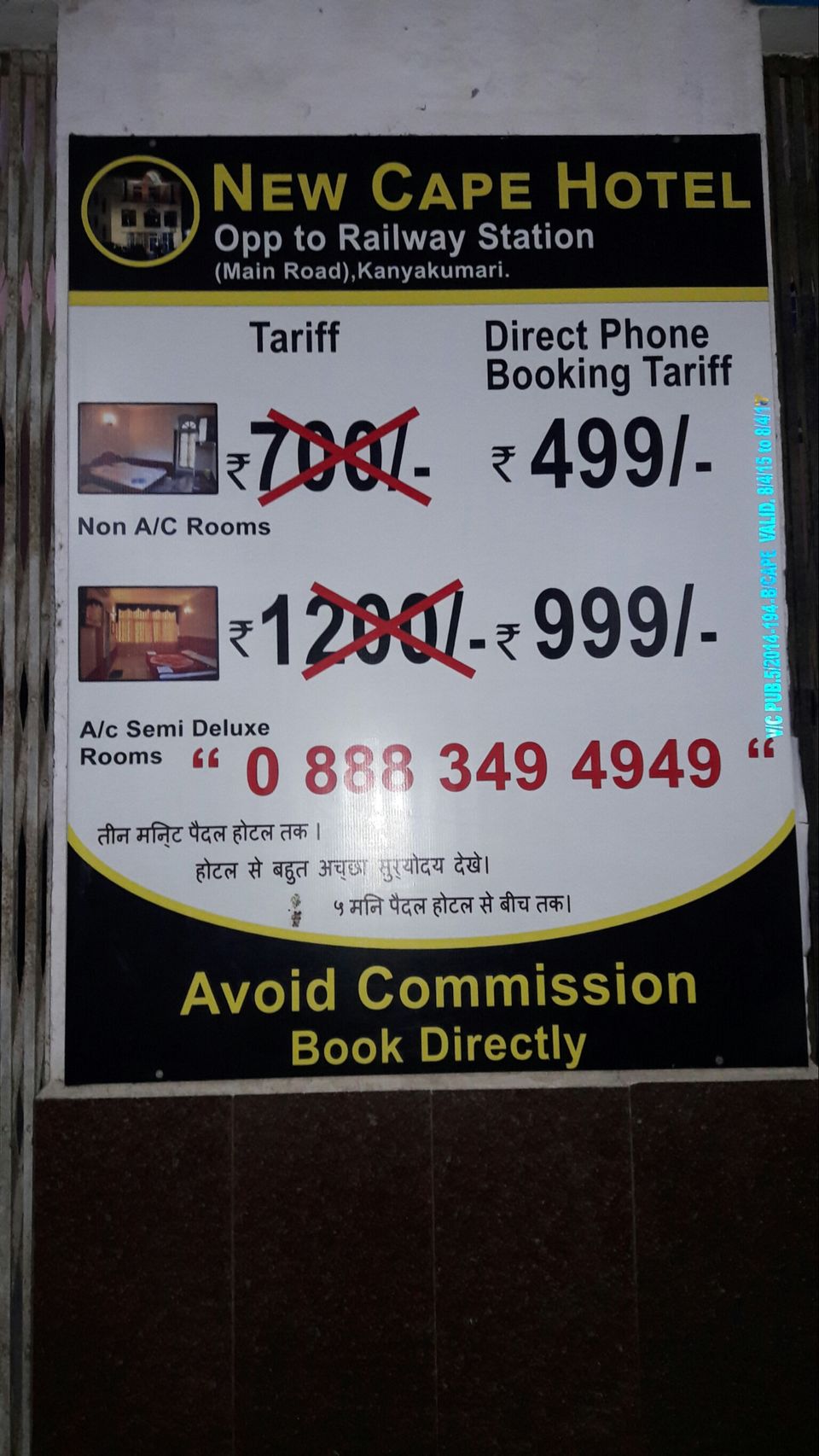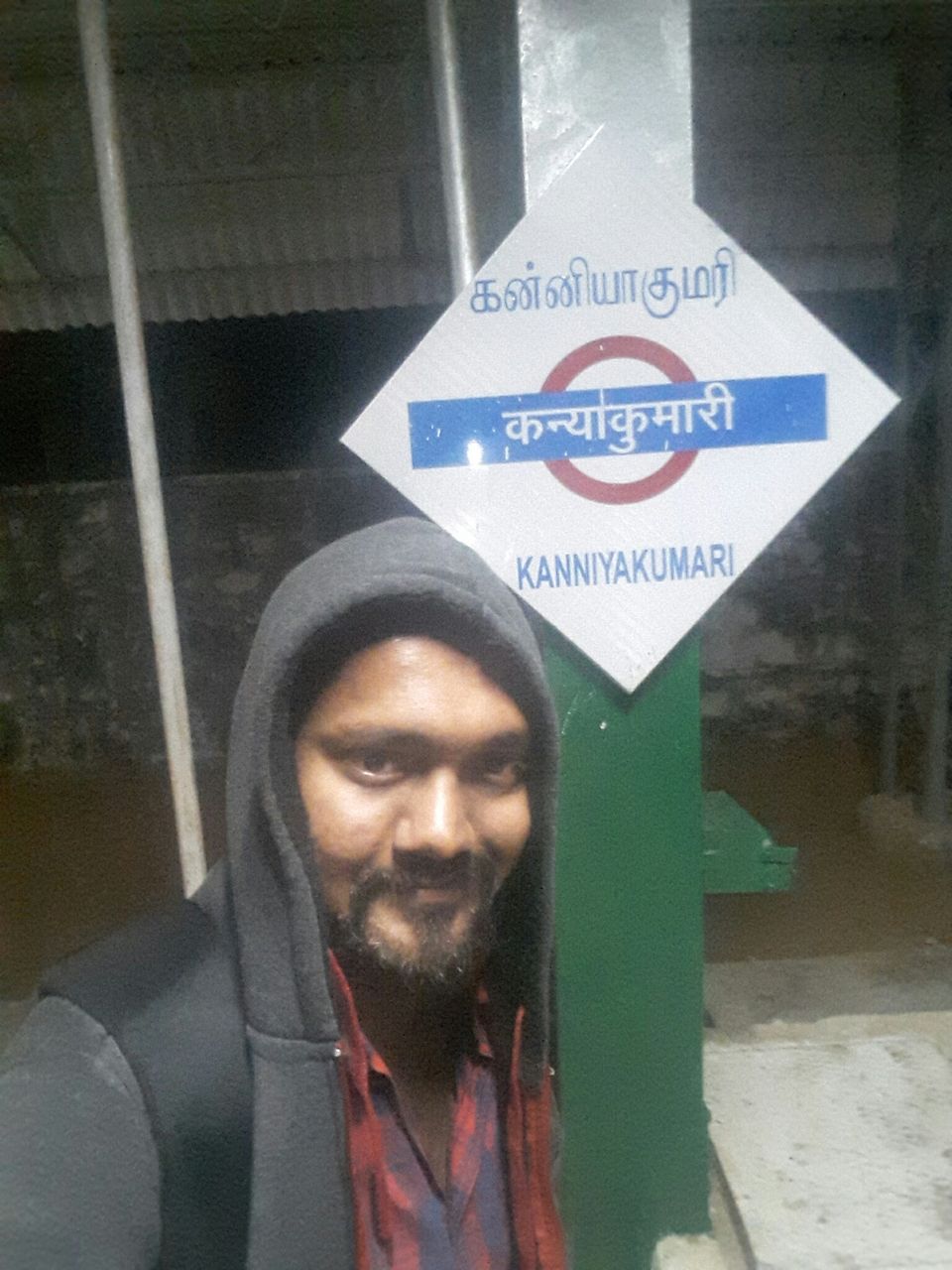 I saw many hotels advertisement near the station but the tariff doesn't suits my pocket. I know about railway IRCTC dormitory system as i stayed in many station all over India. So i directly headed towards the dormitory and asked for a dormitory but the tamil anna told me in english that dormitory is not available only AC Huts is available @ Rs- 140/24hrs and instantly i booked the same for myself and became tension free for the next 24hrs i:e; till next day 06:00am.
The room is appropriate for single person with AC  and one table but common washroom. I didn't have any issue with it, i put my mobile on charge and went outside the station road for a cup of tea, its 6'o clock still no sign of morning here. I had a perfect glass of tamil tea and came back to my room and rested a little.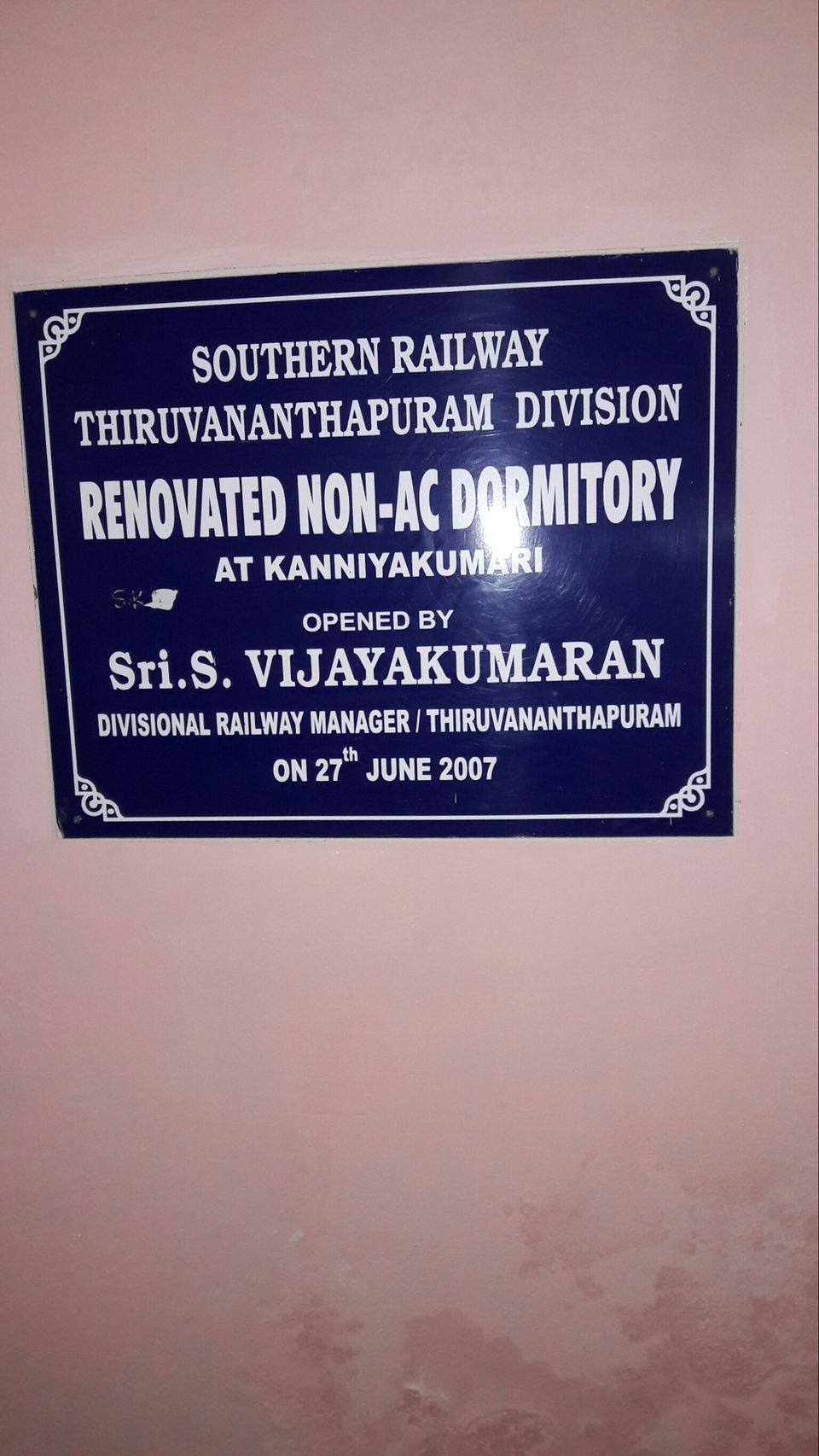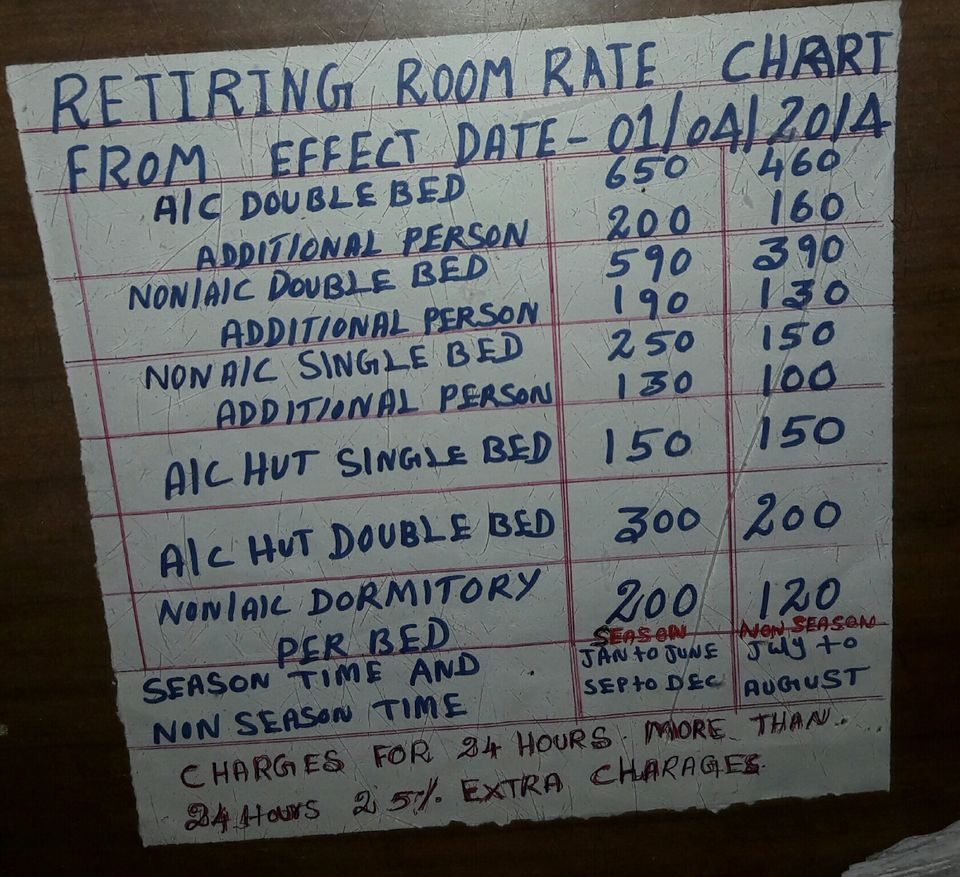 Around 09:00am i freshen up and get ready for my Kanyakumari trip. I asked the locals how far is the beach and Vivekananda Rock Memorial Ferry boat ticket counter and its only 2.5kms and again without taking any vehicles i started walking in the last place of India.
I entered a tamil restaurant where i had some idly & mendubada for my breakfast which is around Rs-50.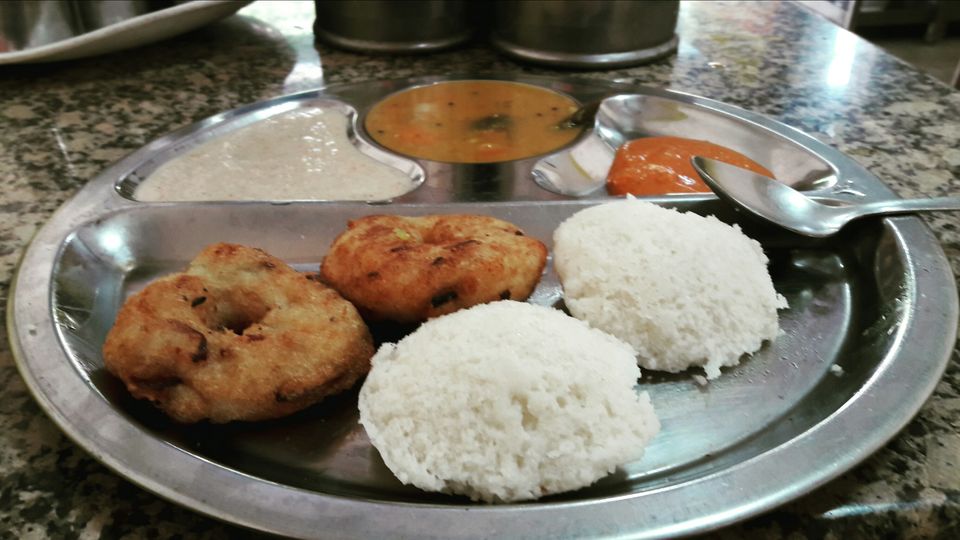 As i walk down towards the main bazaar i saw many foreigners roaming around,there are many small & posh hotels written sea view rooms. Many tours & travel agencies written daily trip to Kovalam, Munnar & Thekkady and instantly Kerala hit my mind and i asked the fellow travel agency person how much is Kovalam from here and he replied its 90kms which means 3hrs and it cost Rs-1500 for the trip, i acknowledged him and said Thank you.
Many small shops occupied half of the footpath    there selling stuffs.
I came near the Ferry Boat Ticket Counter and from here and  i can see the Indian Ocean. I went to the near by place known as Triveni Sangam where three Sea's meets Bay Of  Bengal from the East, Arabian Sea from the West & Indian Ocean. It is just opposite the Kanyakumari Temple. I went back to the ticket counter and bought my ticket at Rs-34 which is for both way journey.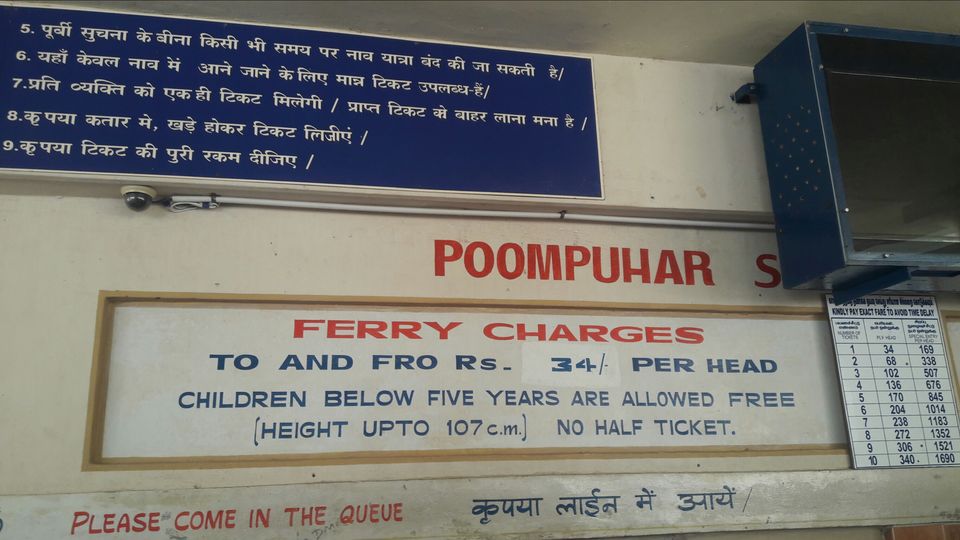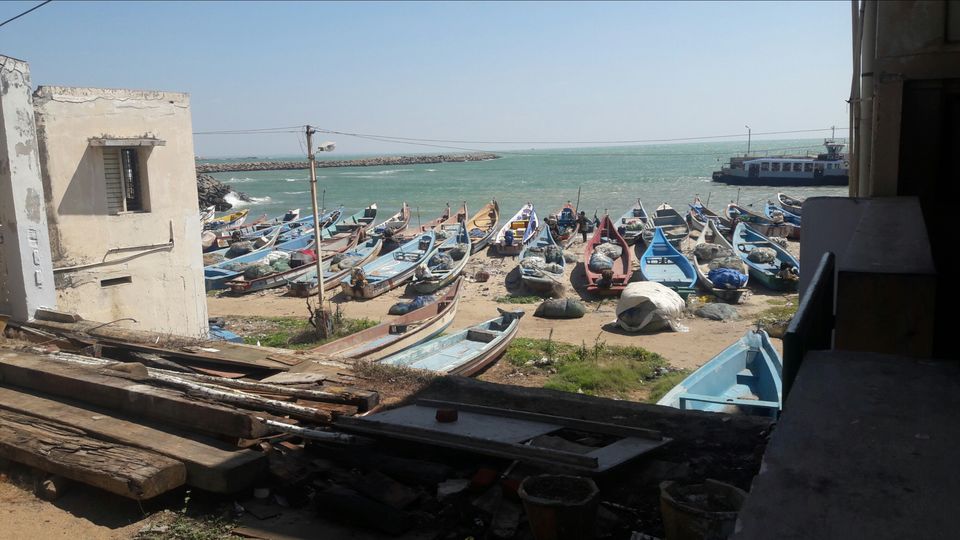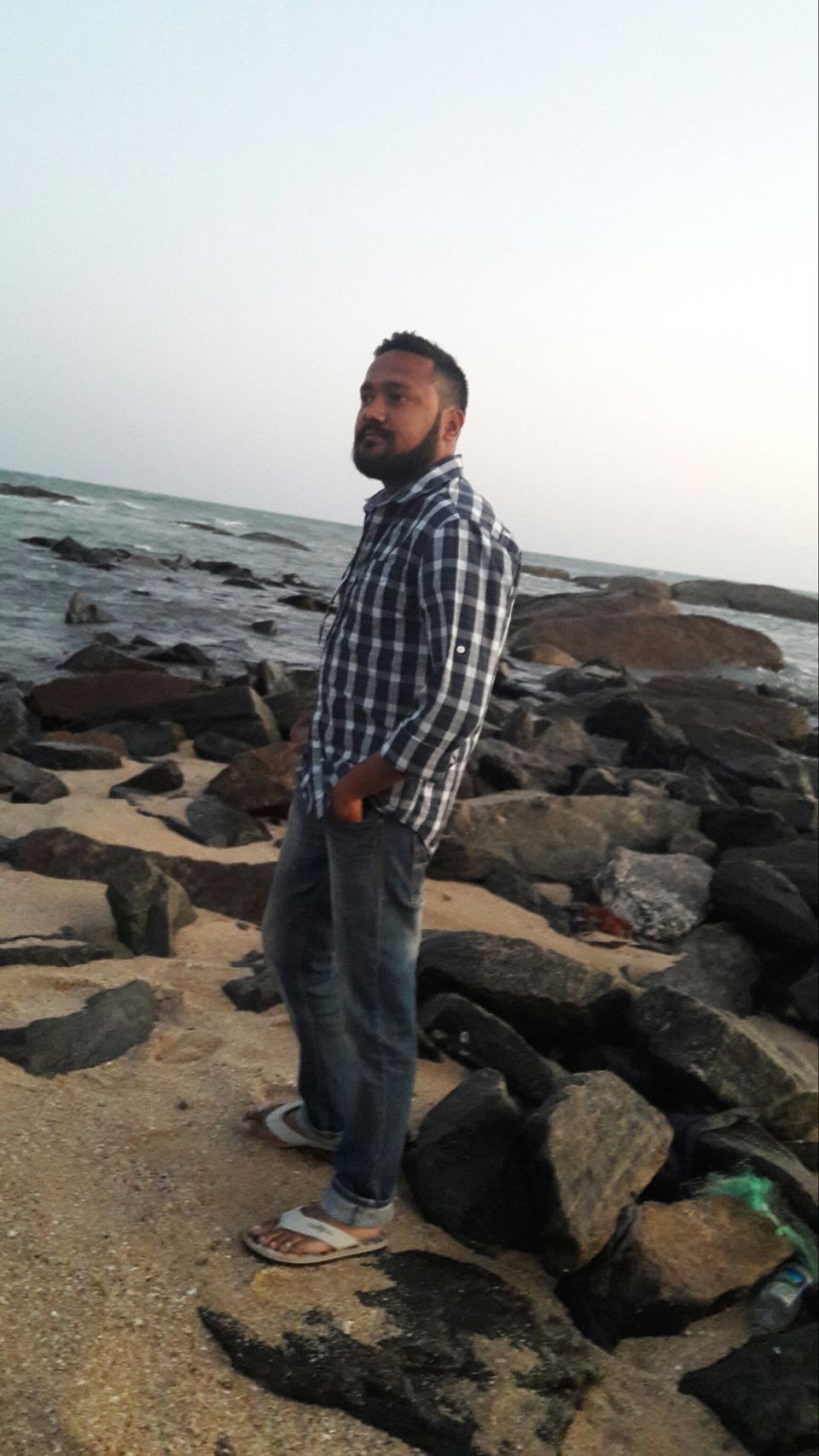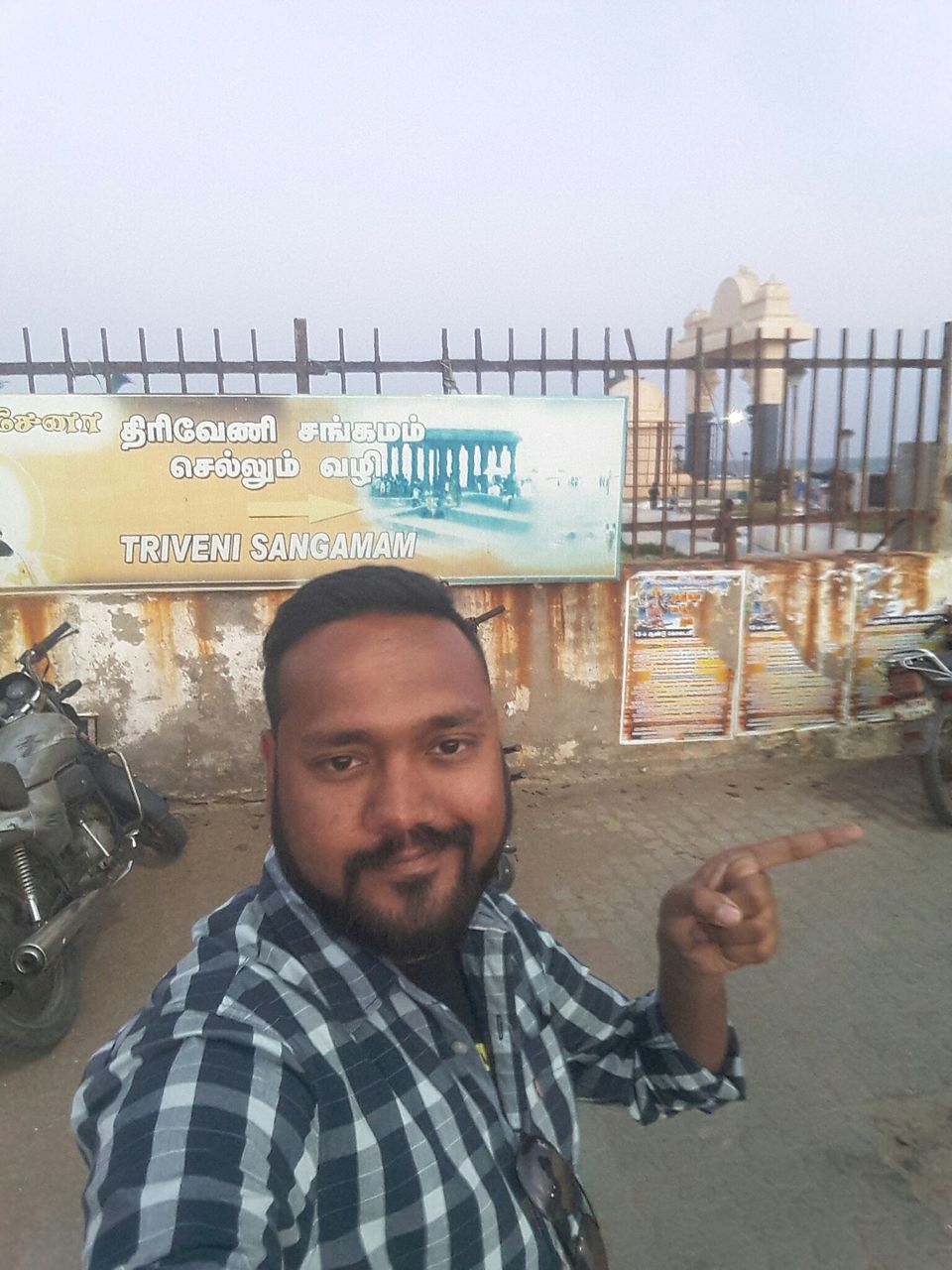 Its a long queue with lots of outside tourists like me. I boarded the Ferry/Vessel & wore a life jacket. The vessel starts its engine and its an amazing experience for me to be riding a ferry on the Indian Ocean which is vibrant all the time. I'm blessed to do such ride on both Arabian Sea in Mumbai and Bay Of Bengal in West Bengal. As the vessel moving forward i can see & hear the strong waves hitting the front part of the vessel, the water was also splashing on my faces and it is that too strong with winds in it.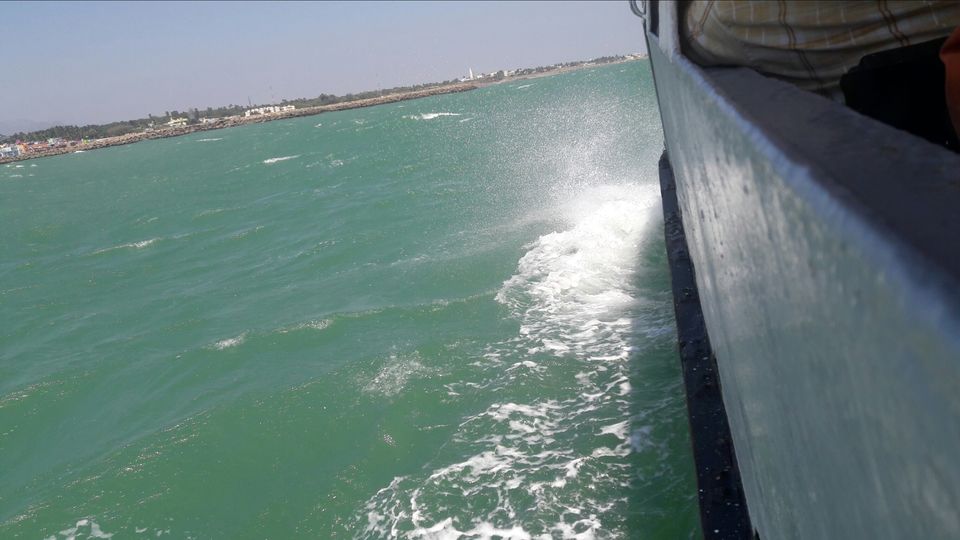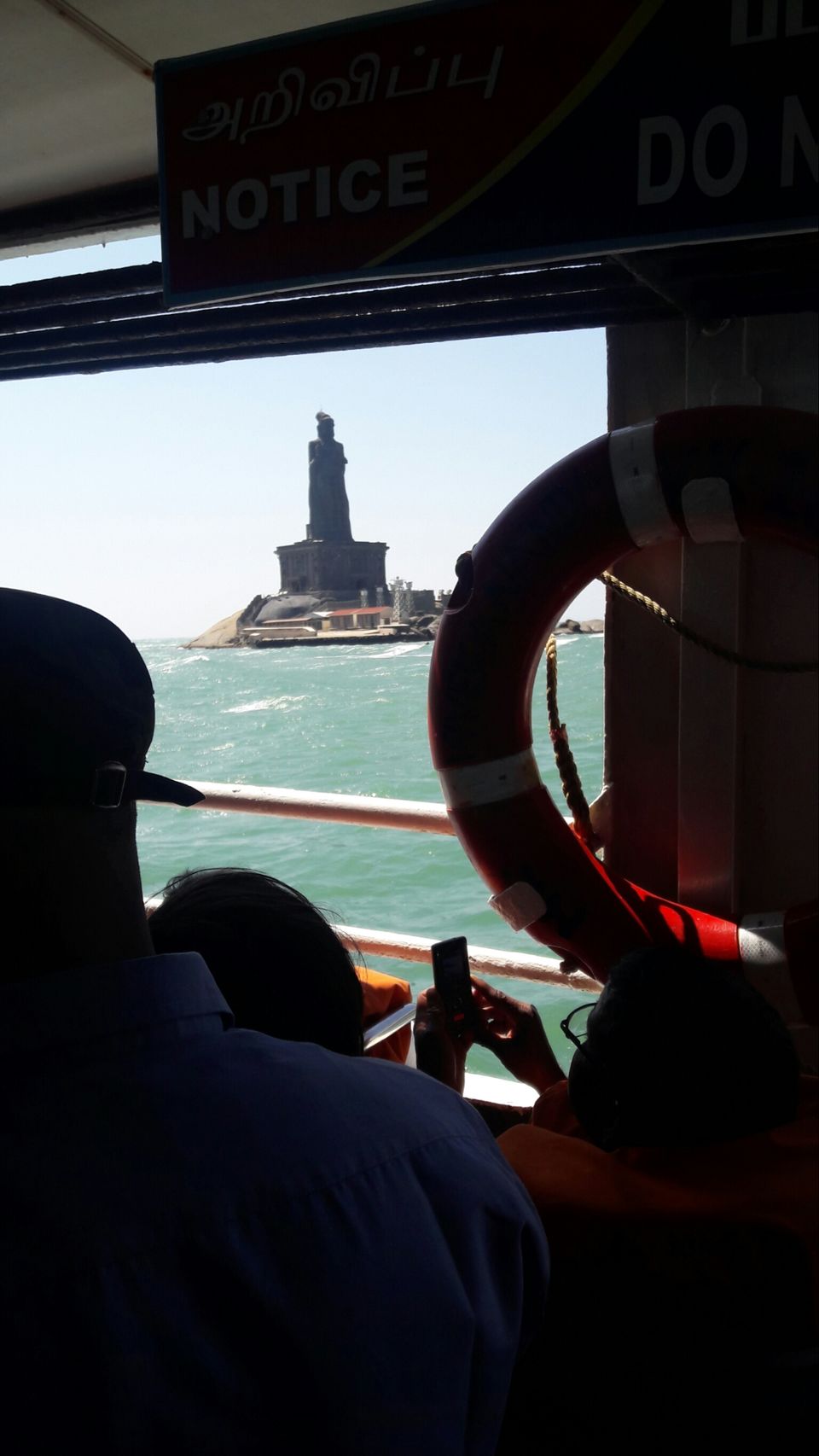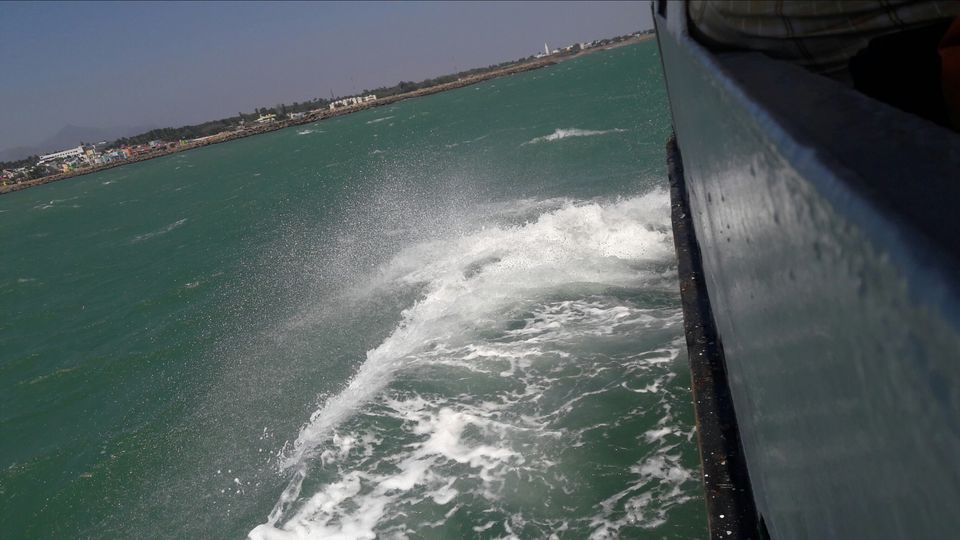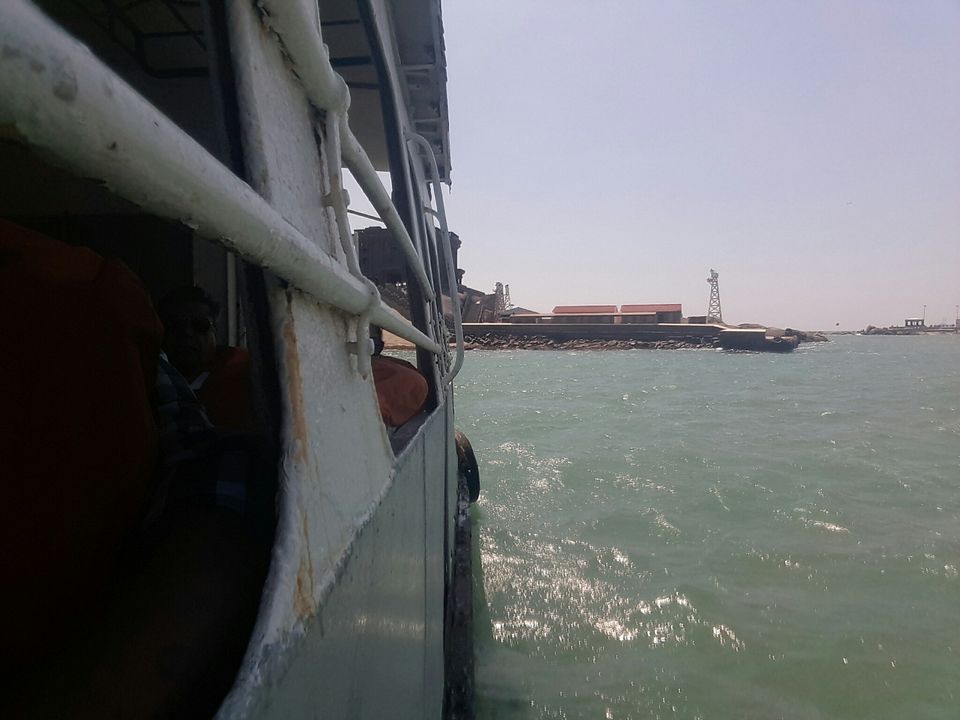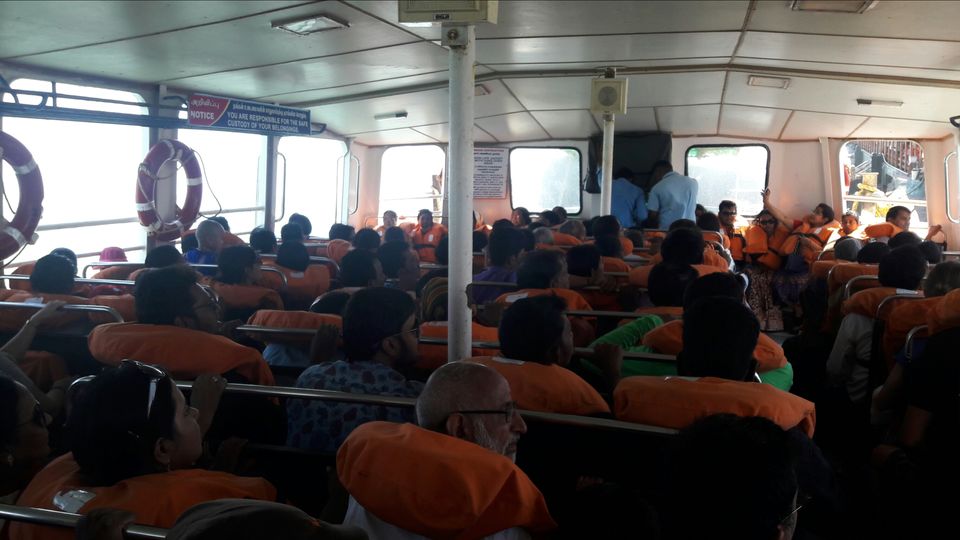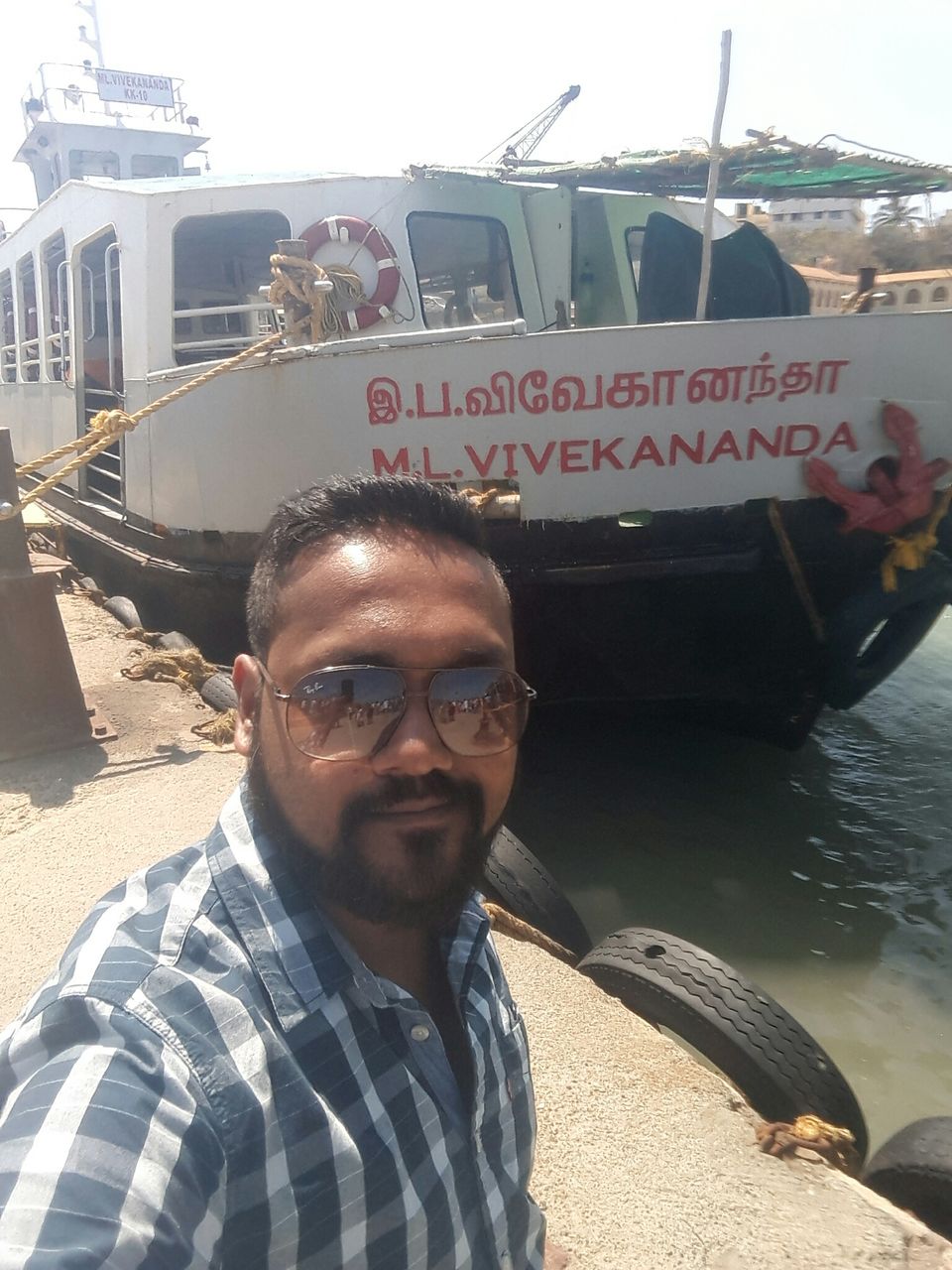 The 20mins journey ended and i reached Vivekananda Rock Memorial which is situated in the middle of the sea. Being a bengali its a time for a proud moment as this place belongs to Swami Vivekananda who is a bengali by birth. It is said that before going to chicago to address at the World Parliament Of Religions he came over here and meditate for 2days i:e; 25-27 Dec 1892.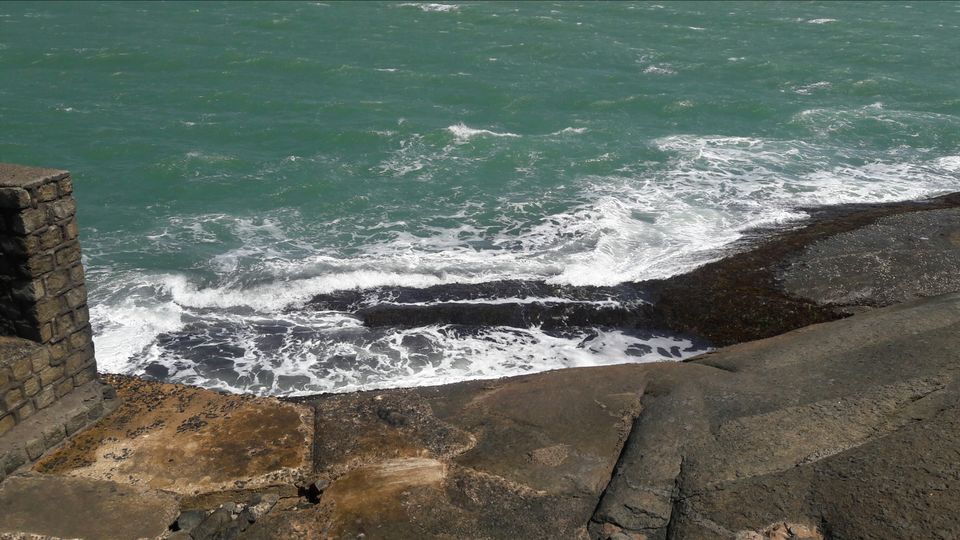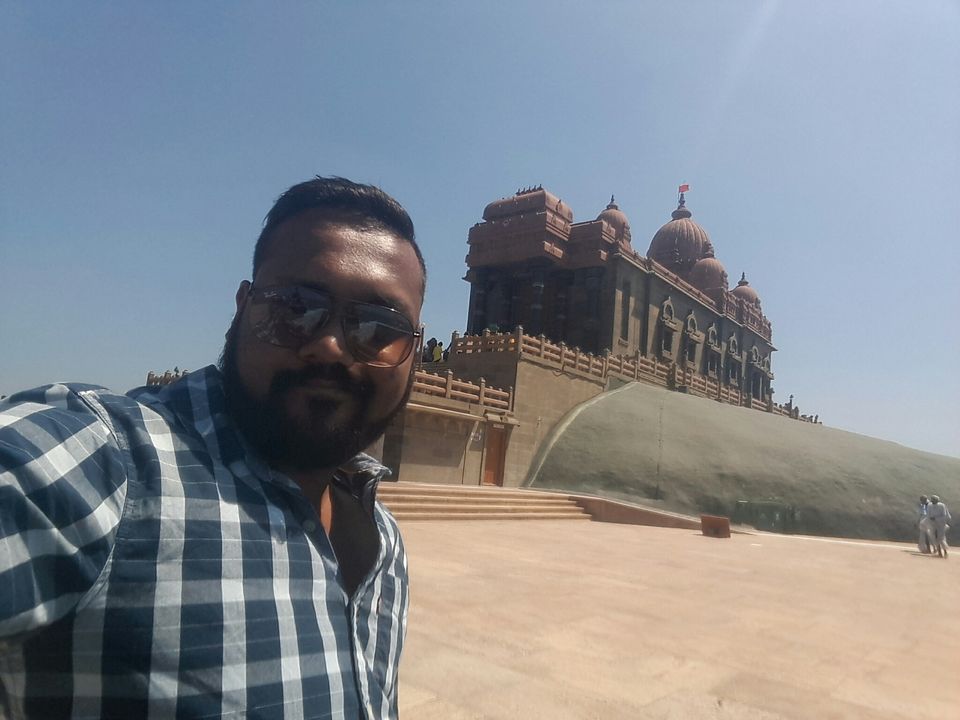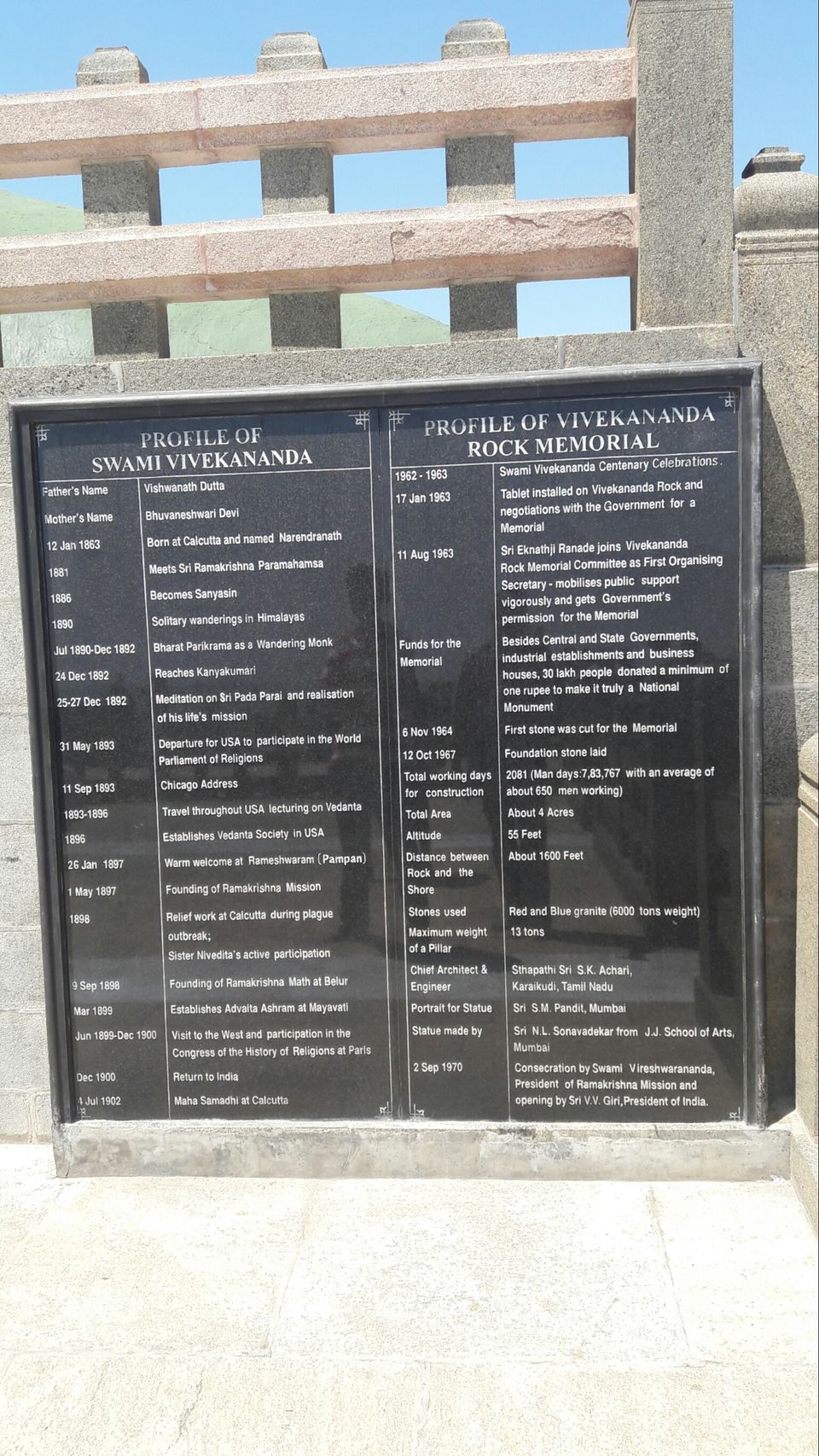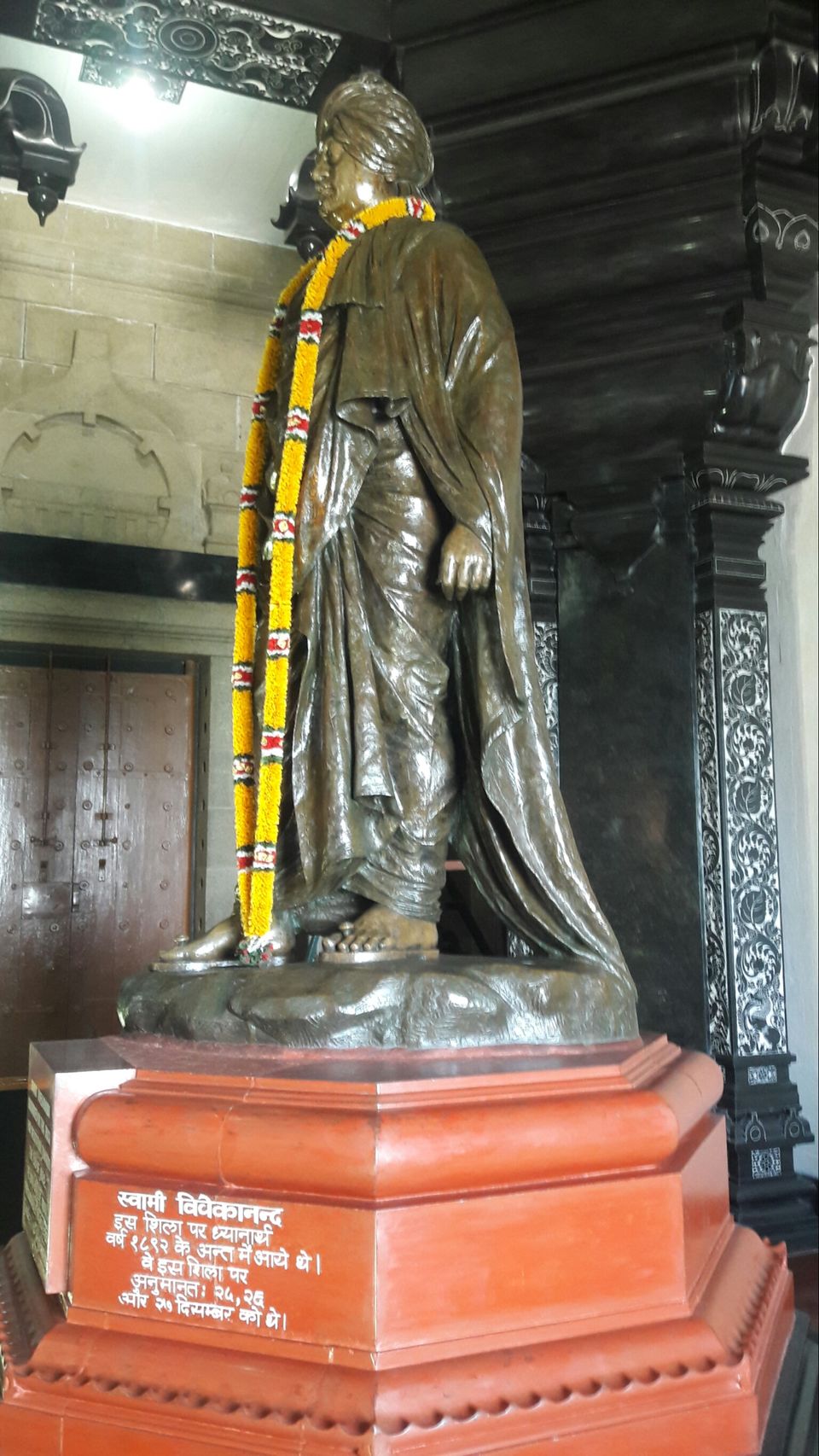 The Wind over here is so strong sometime that my feet cannot keep my body balance normal. I spend a good 3hrs almost here, did video from the entire angle i can reach. Next to it stands a giant 133 feet long statue of tamil poet named Thiruvalluvar.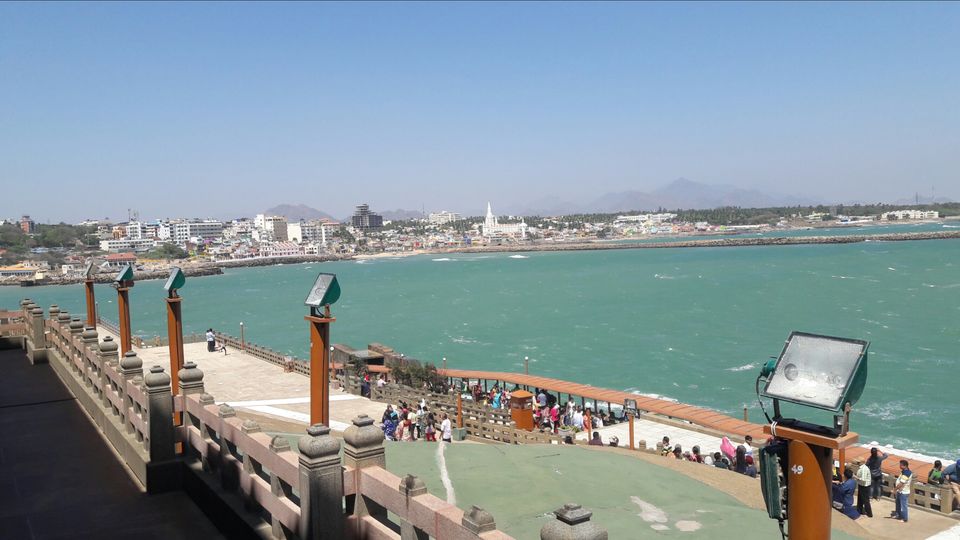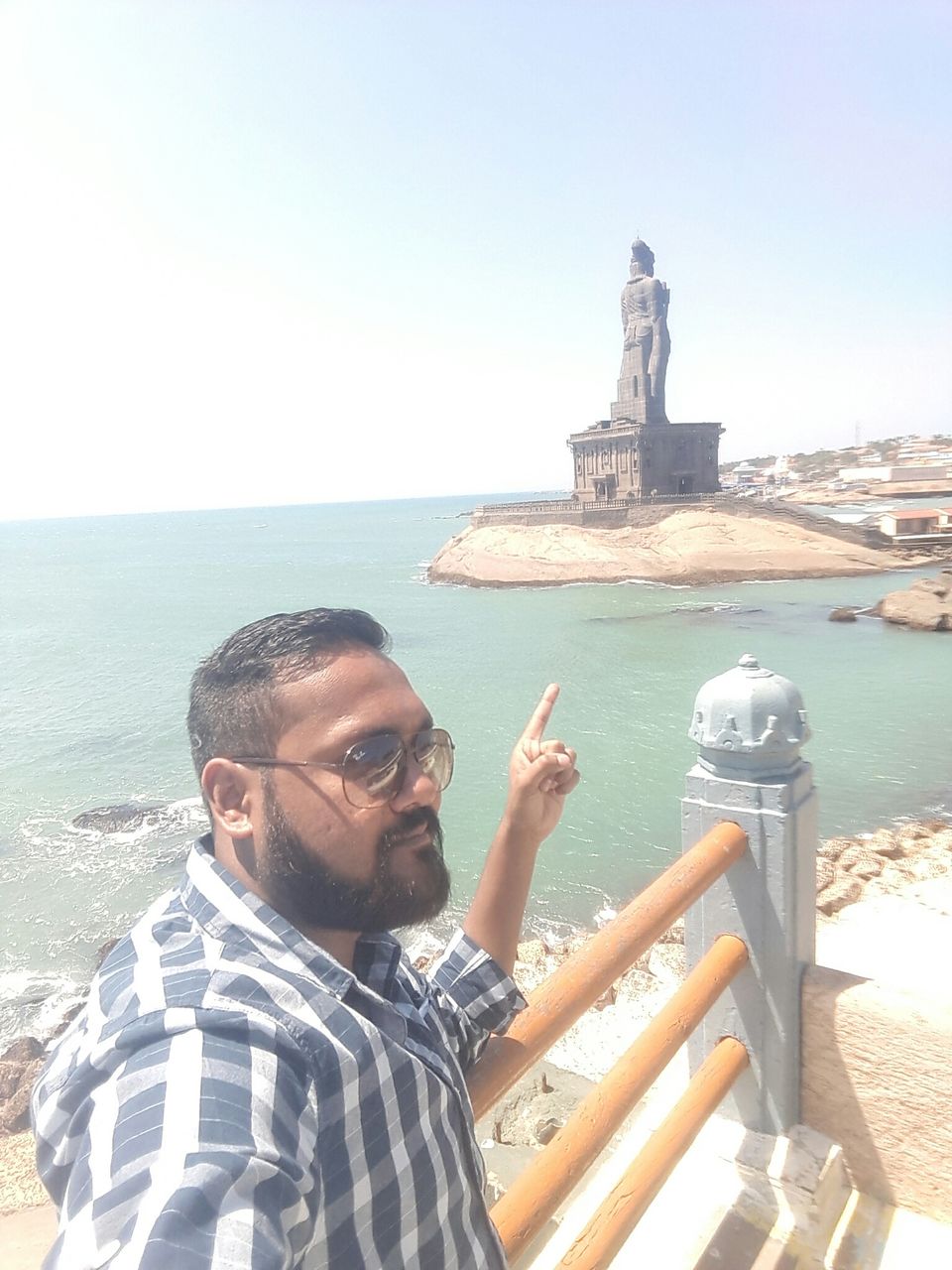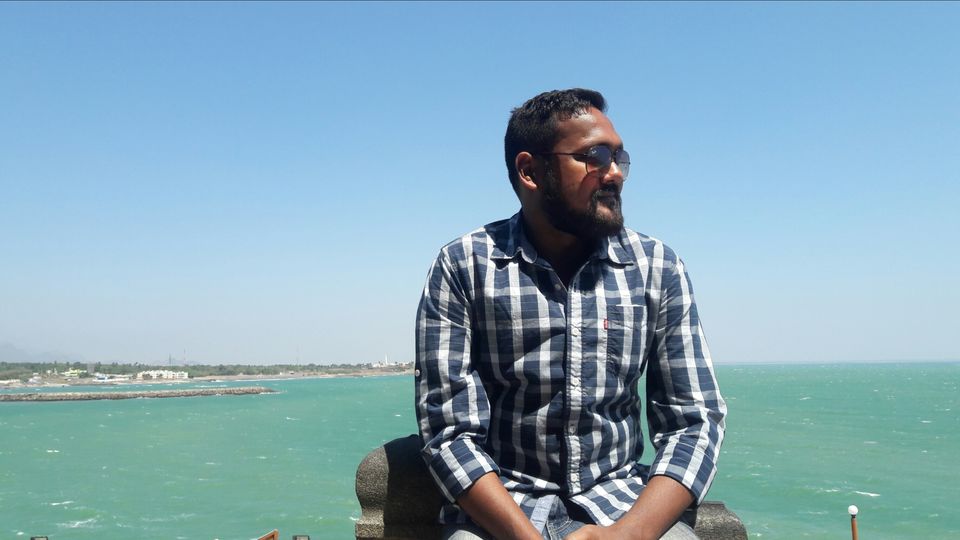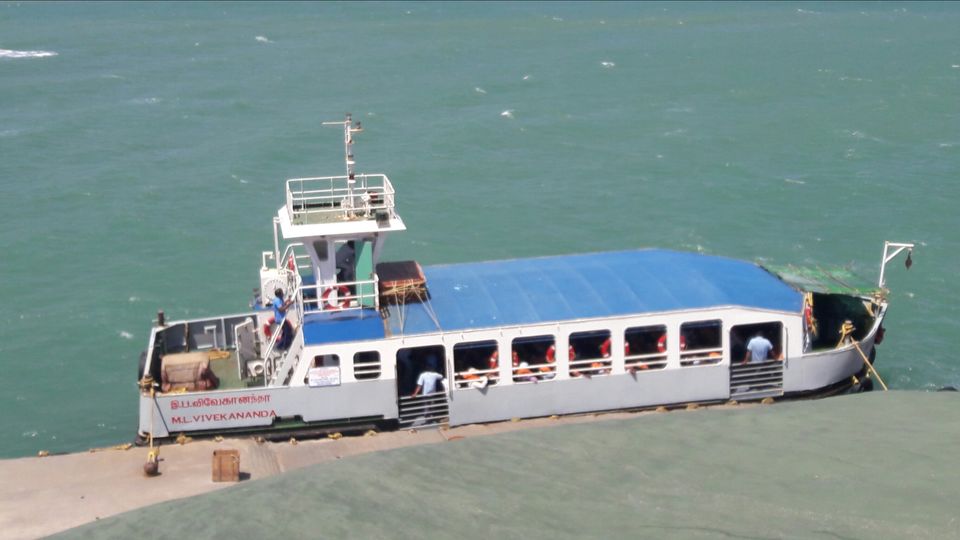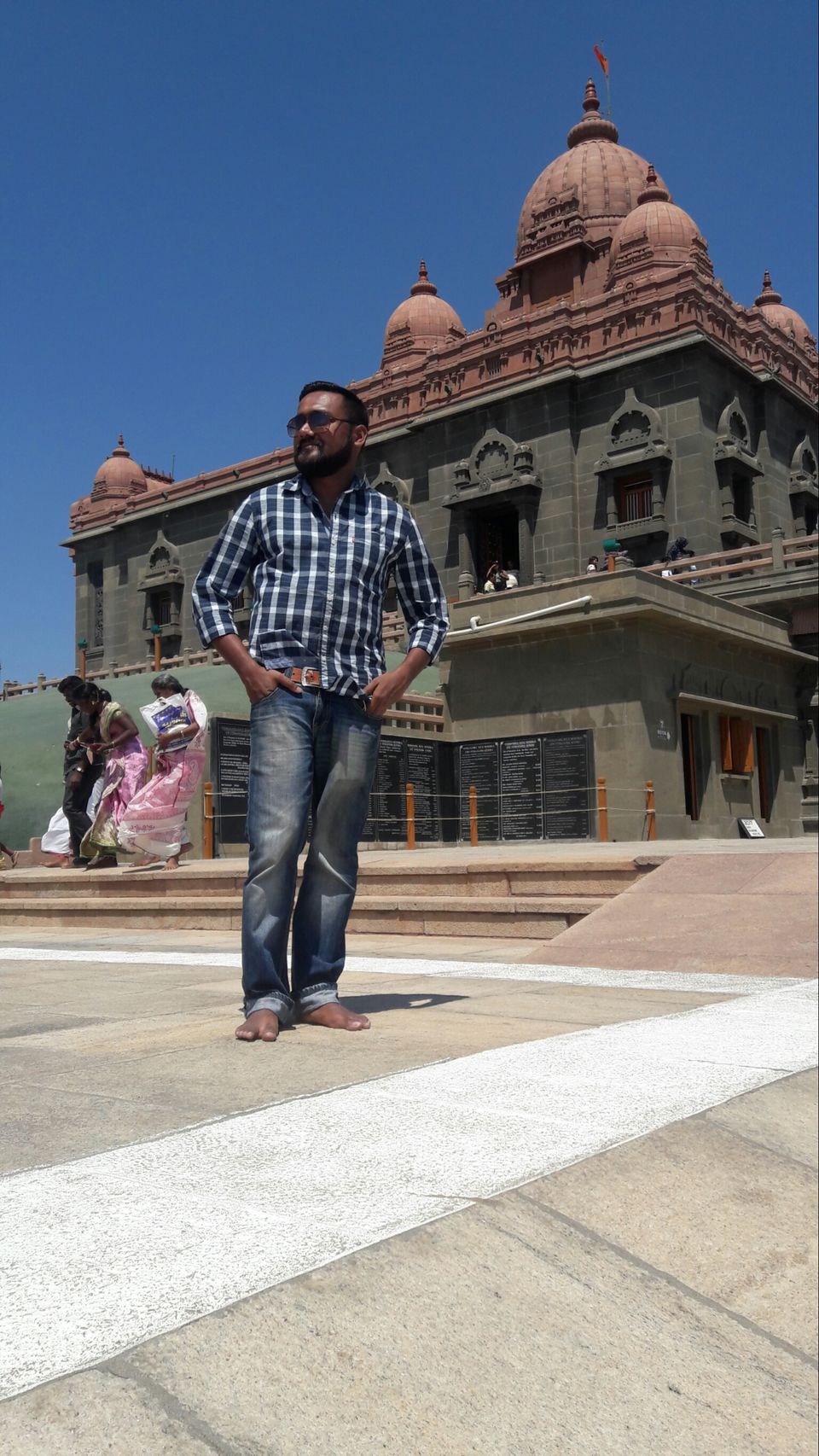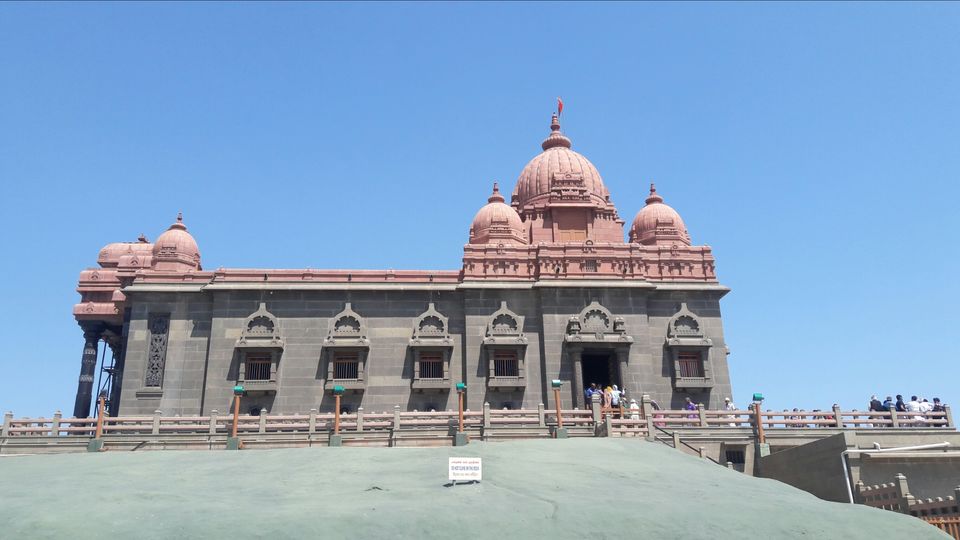 I boarded a different vessel and came back to the land area near the ticket counter. Its almost 14:00 hrs and i was hungry so i entered a near by restaurant which reads tamil meal ready @ Rs-70 .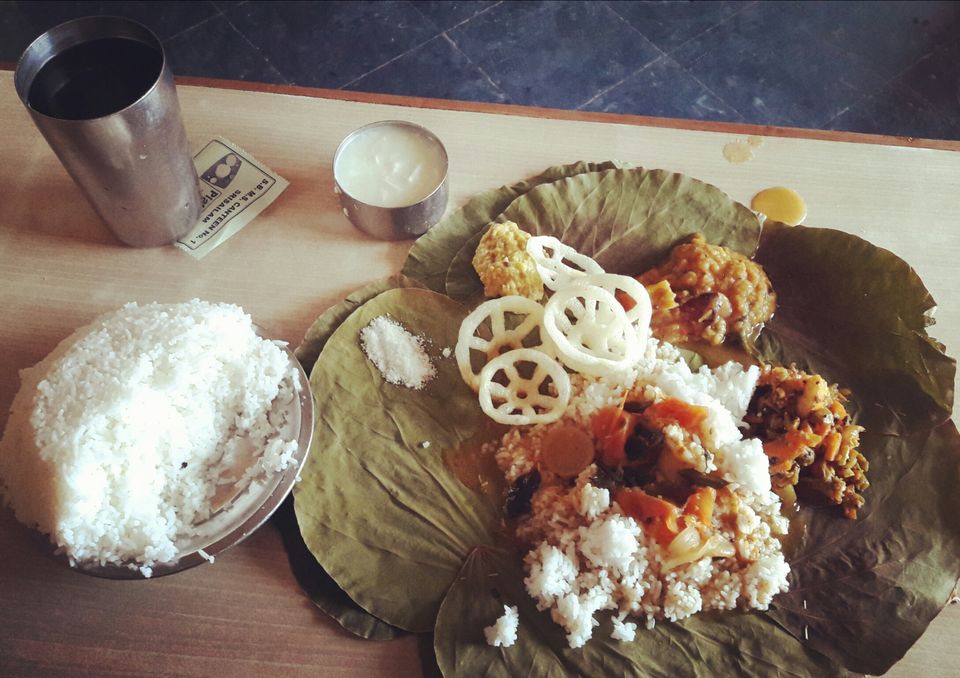 It was too hot and there was not much to see now so i came back to my room at station and change my clothes as it was wet due to hot- humid weather. I surfed internet about staying and transportation at Kovalam (Kerala) as i made my mind to move from here the next morning to Thiruvananthapuram or Trivandrum the capital of Kerala. I researched a little more and set an alarm around 18:00hrs to witness the famous sunset at Kanyakumari.
When i reach the Sangam area it was full with all the tourists ready with their Dsrl and Cameras to shoot the Sunset. I crossed the Gandhi Memorial and came near the sunrise tower. Kanyakumari is the only place in India from where Sun rises & sets everyday from the same place. And as the sun started setting for the day peoples around me clapping and saying Wow and yes it is really a wow moment. I too click pictures and went back to the Triveni Sangam and sat a little to feel that present moment again the sea water hits the shore and splashed springs of water on my faces.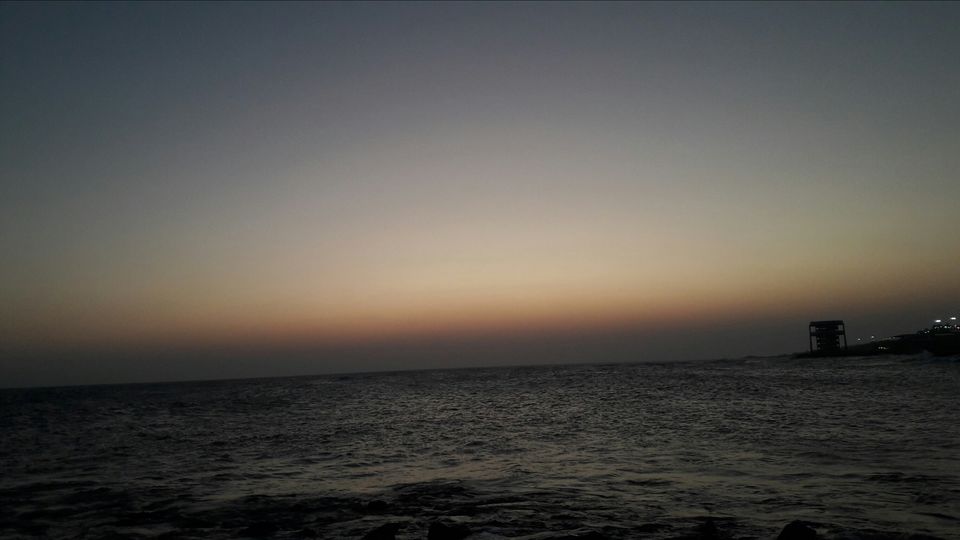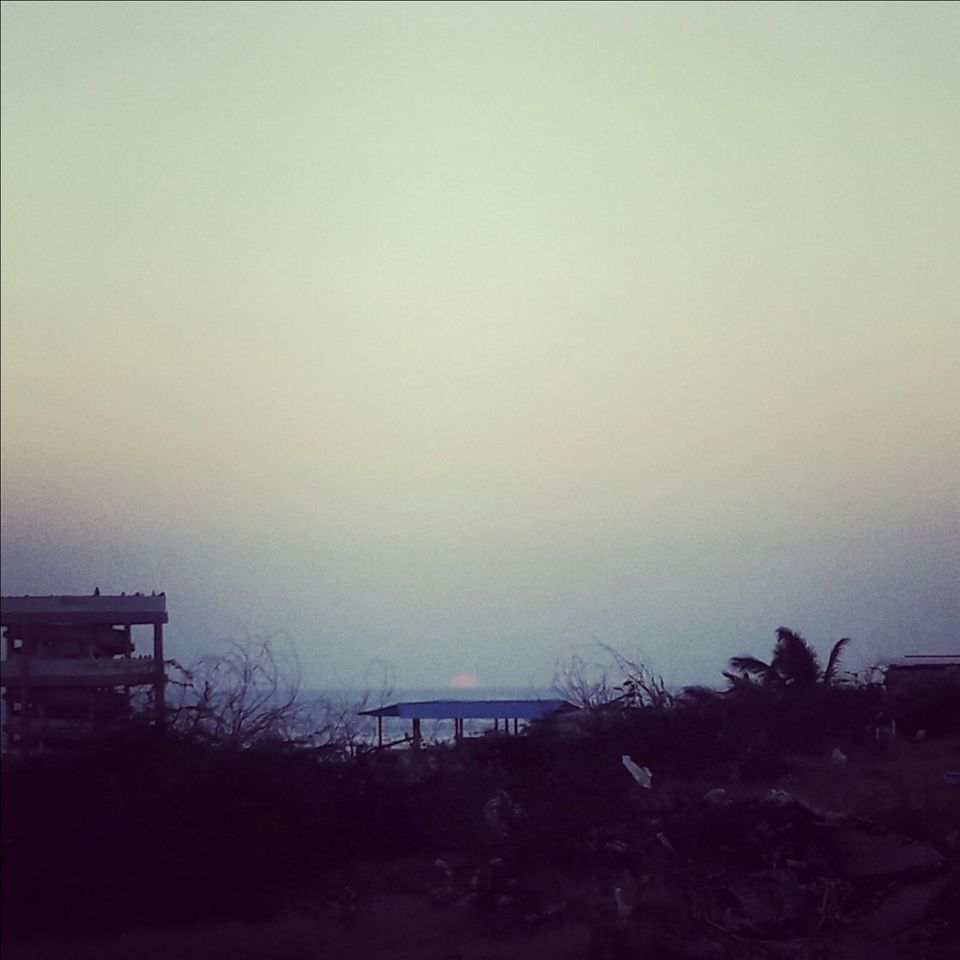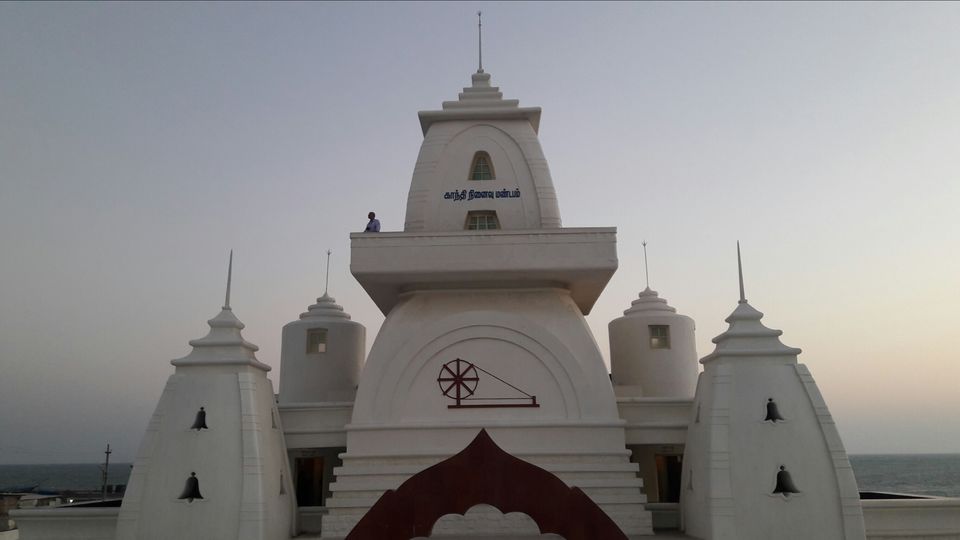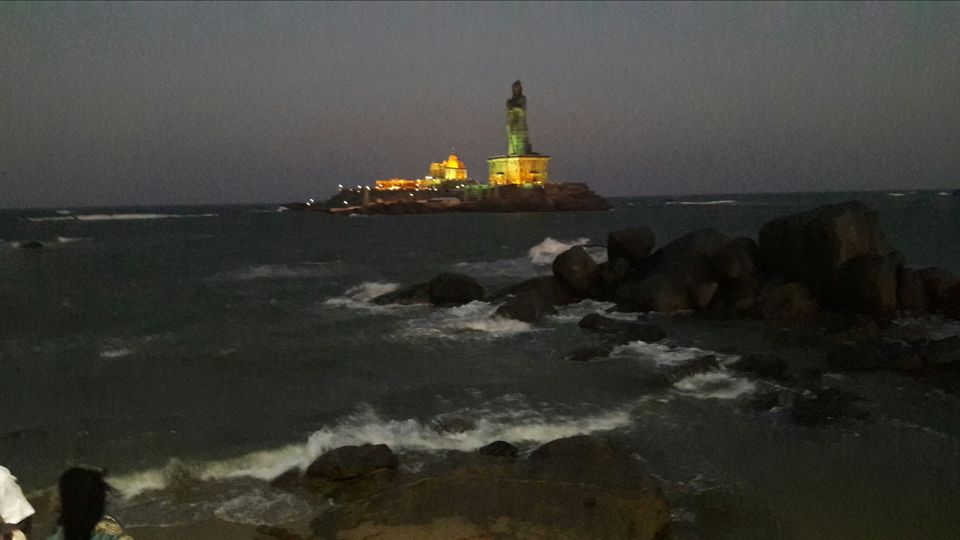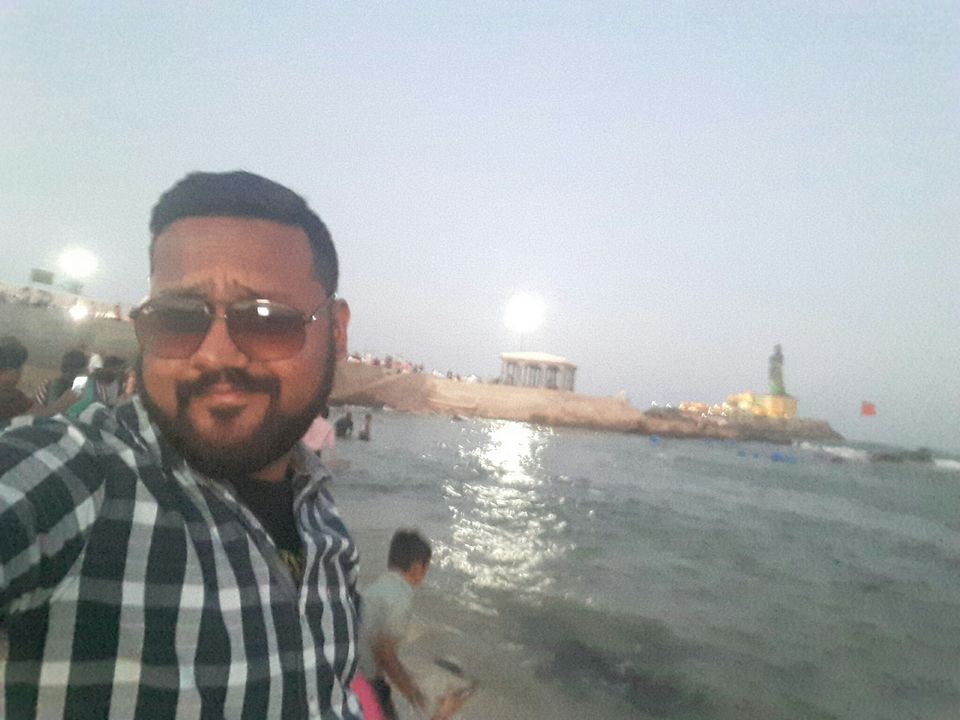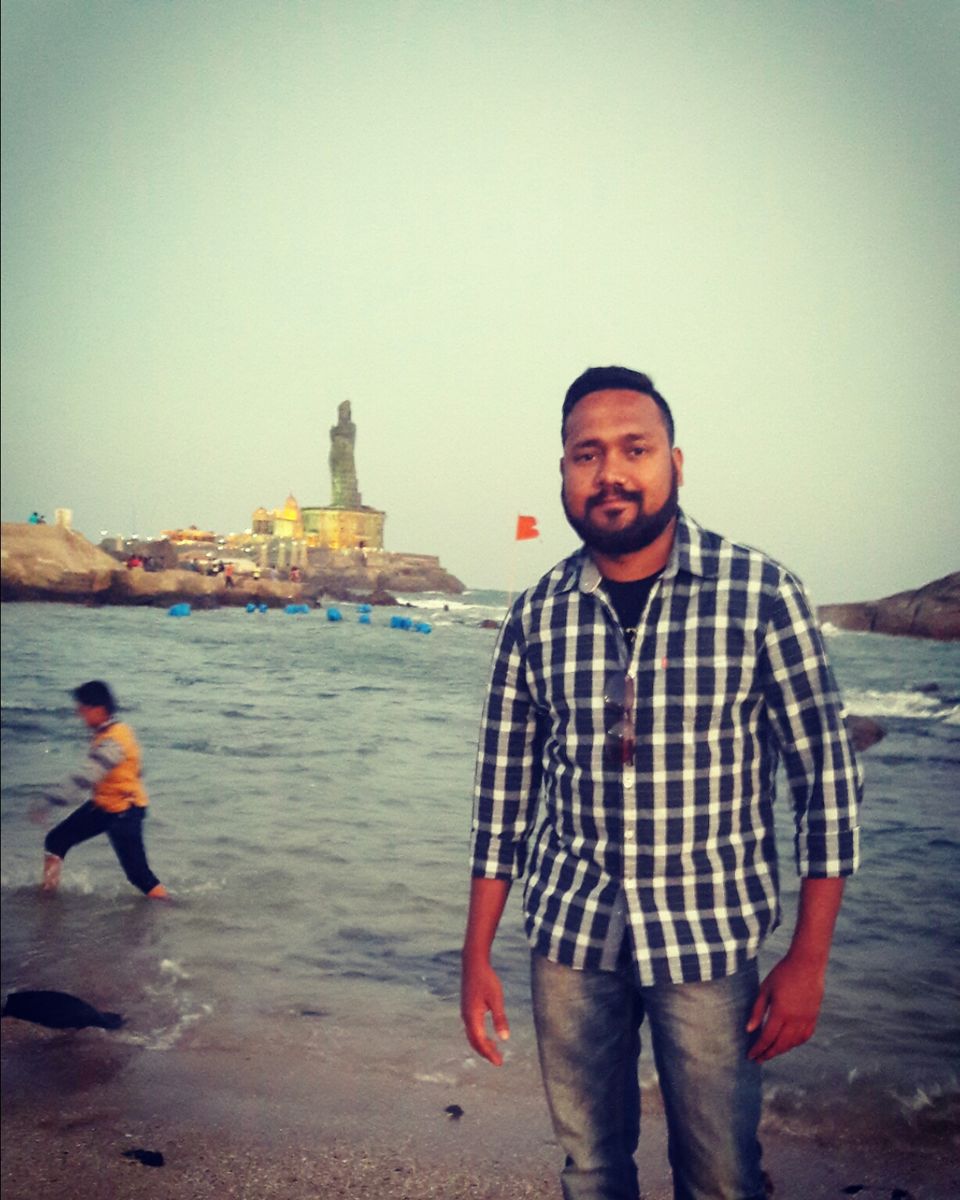 In the afternoon i didnt visited the Kanyakumari Temple due to hot weather, so i went to the temple now just opposite the Triveni Sangam. Men needs to visit the temple without shirt or nude body so i opened the shirt and kept it in my arms and entered the premise. The temple is black in colour with great art works.
In the afternoon i didnt visited the Kanyakumari Temple due to hot weather, so i went to the temple now just opposite the Triveni Sangam. Men needs to visit the temple without shirt or nude body so i opened the shirt and kept it in my arms and entered the premise. The temple is black in colour with great art works.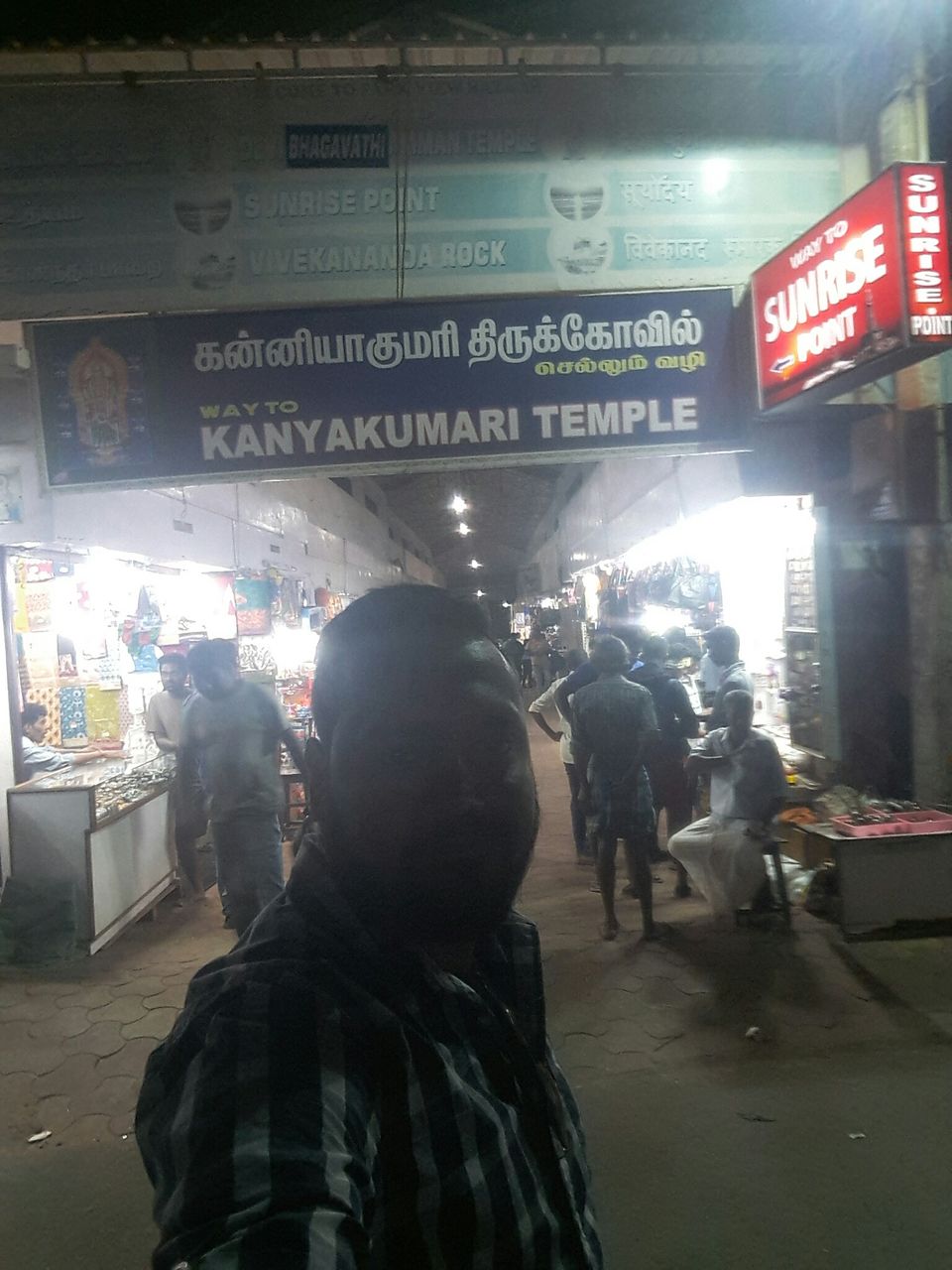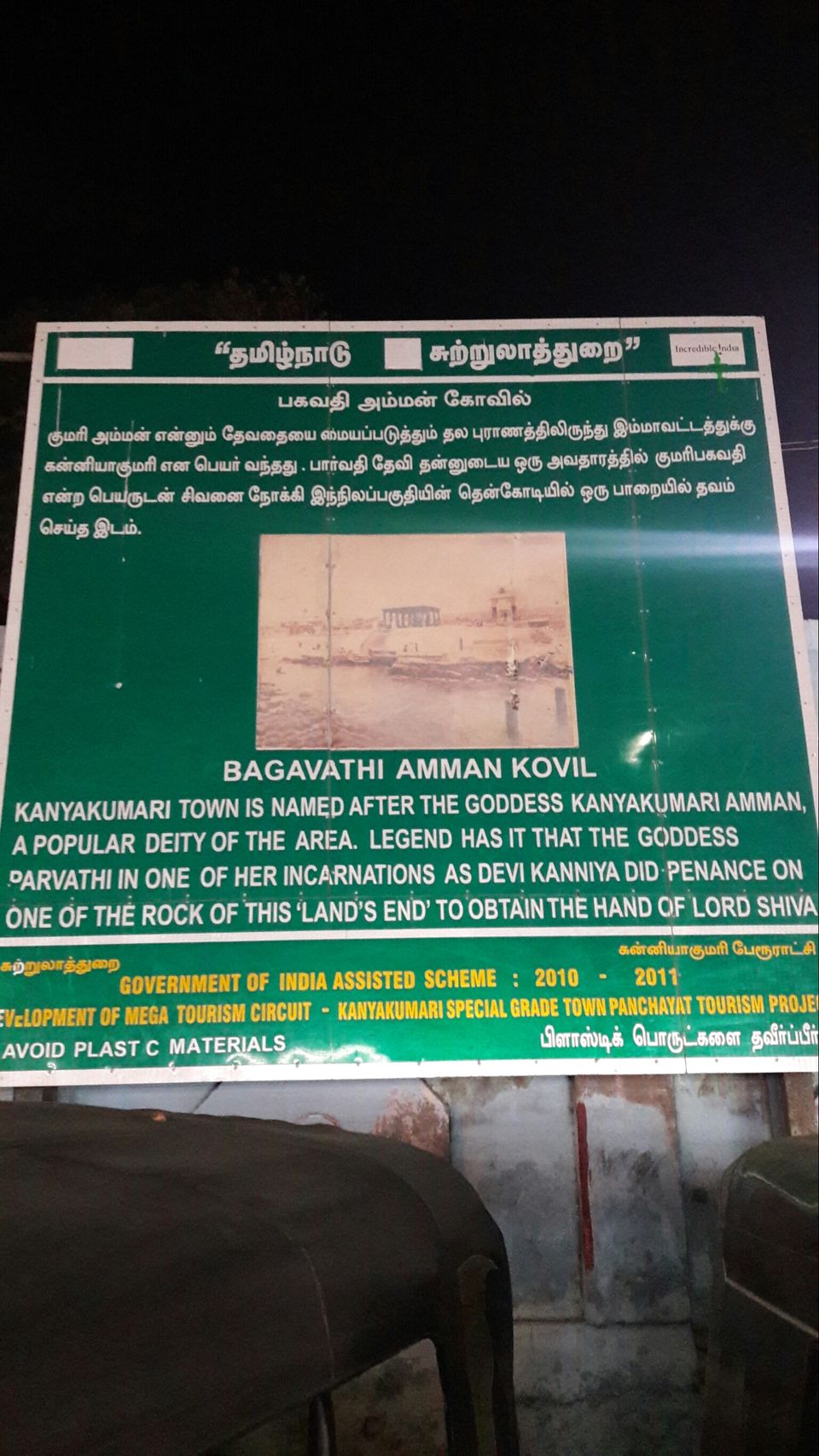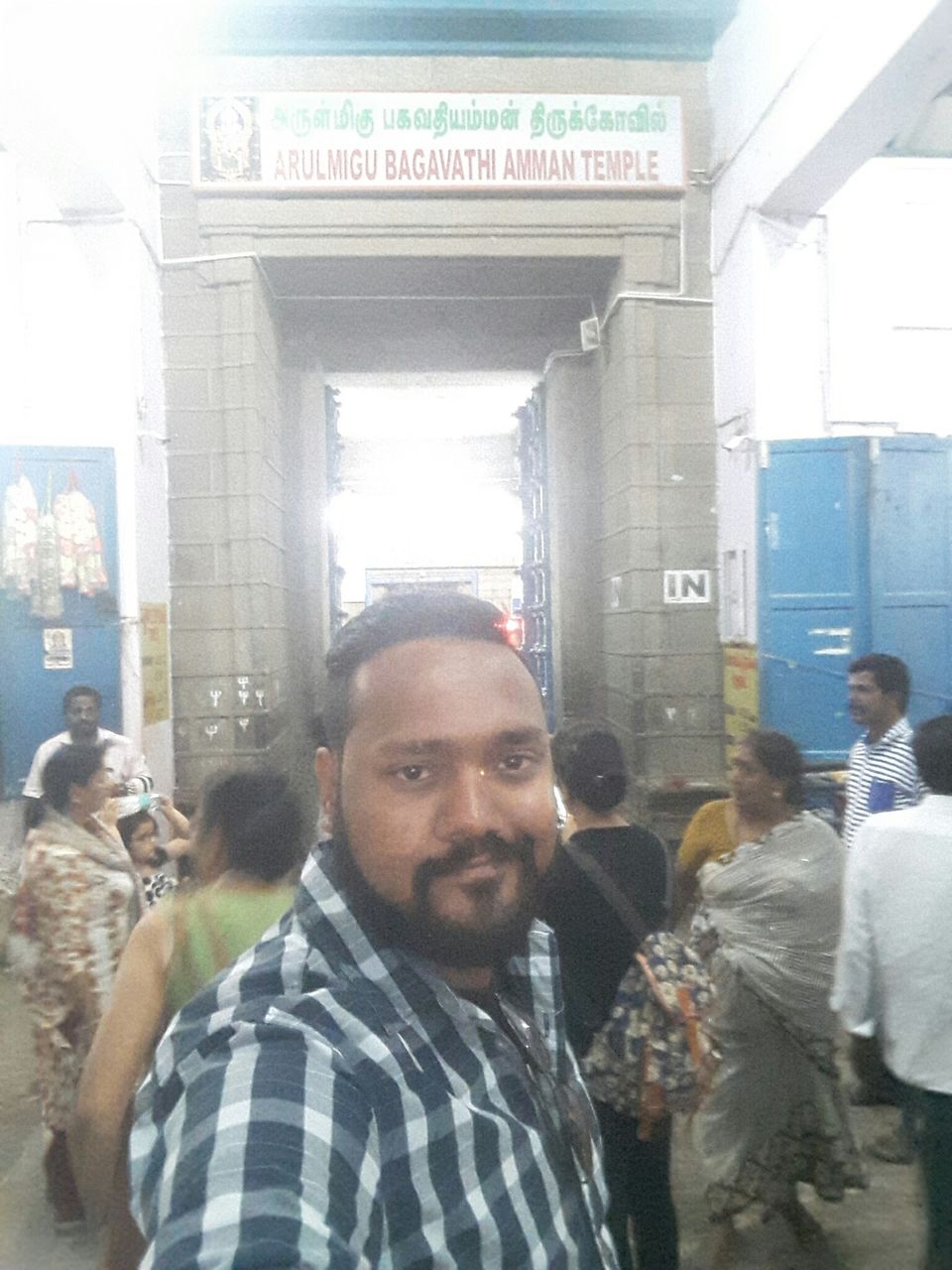 All done for the day, and its time for enquiring govt buses timing & fare for Trivandrum to chill at Kovalam beach surrounded by coconut trees. I started walking 3kms from the Kanyakumari Temple towards the city bus stand. I reached the bus depot and get to know the timing starting from morning 4am the Kerala govt buses that ply from Kanyakumari to Trivandrum.
While coming back to my room i eat at the same restaurant and set my alarm for morning 5:am to witness the famous Sunrise at Kanyakumari and slept.
I woke up by my mobile alarm and freshen up and checkout from my room. But its difficult to roam around with my rucksack so i planned  to keep it in the railway station cloak room @ Rs-15 and walked down the Triveni Sangam. The time i reach i saw just like yesterday evening it was full of Sunrise crowd. It was still night around 05:30 at that time. I get myself a front place to watch the Sunrise. Crowds are getting more & more time by time.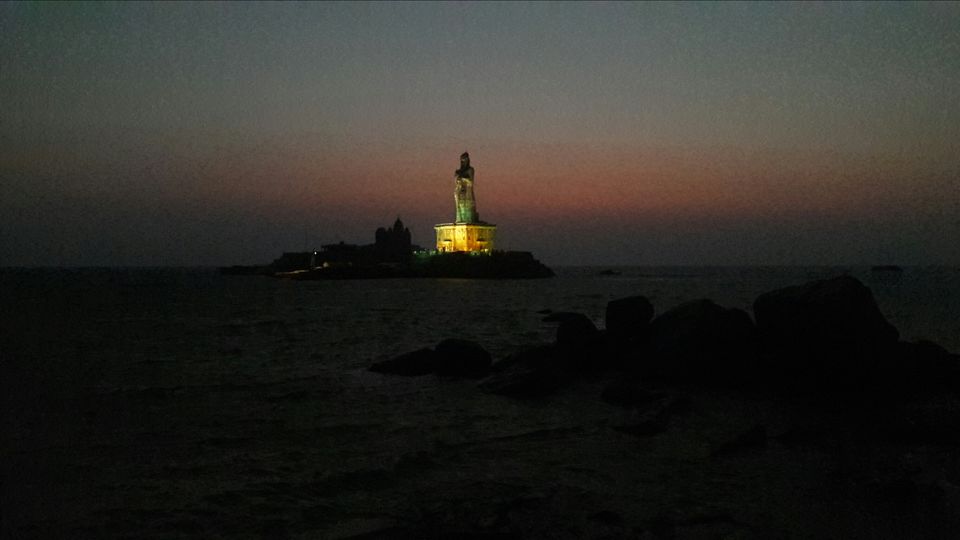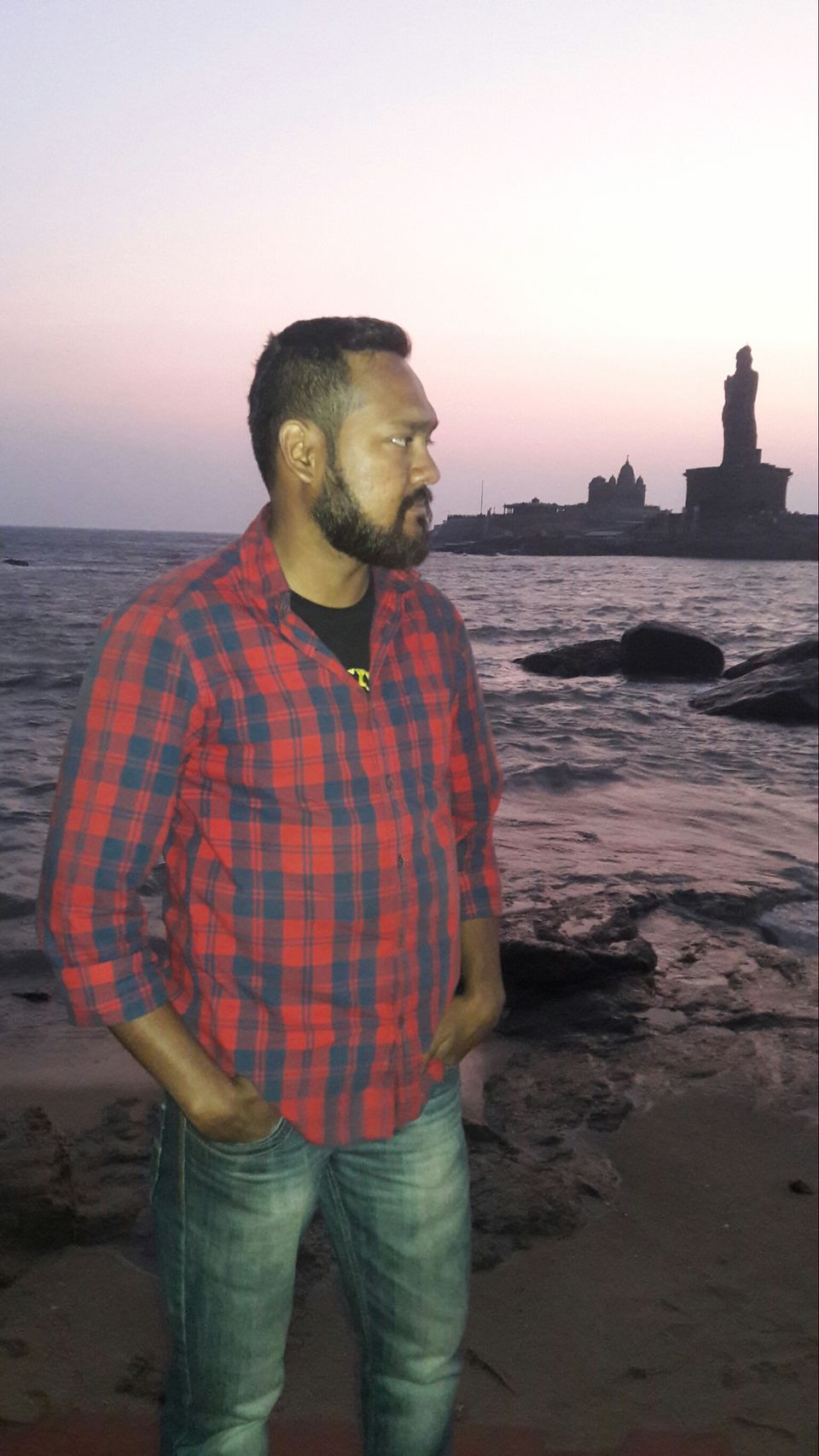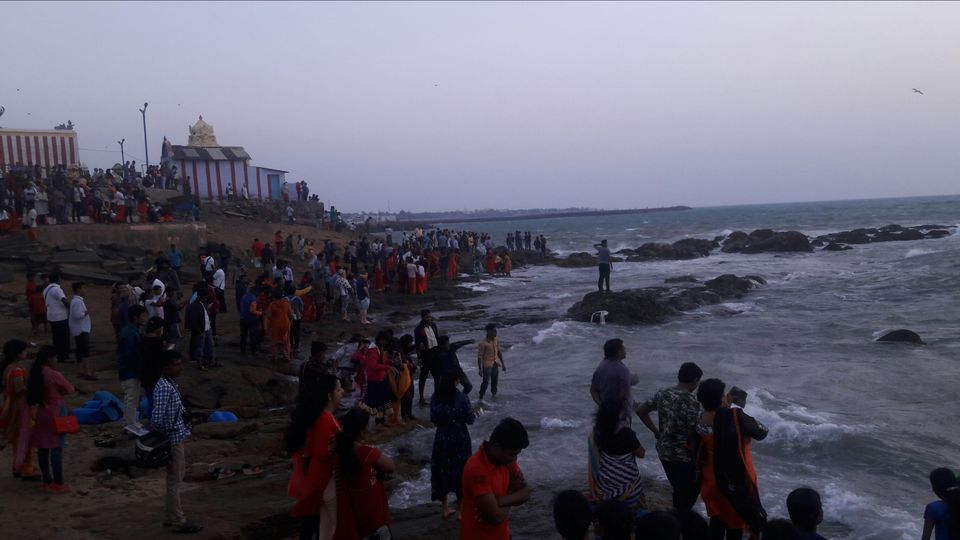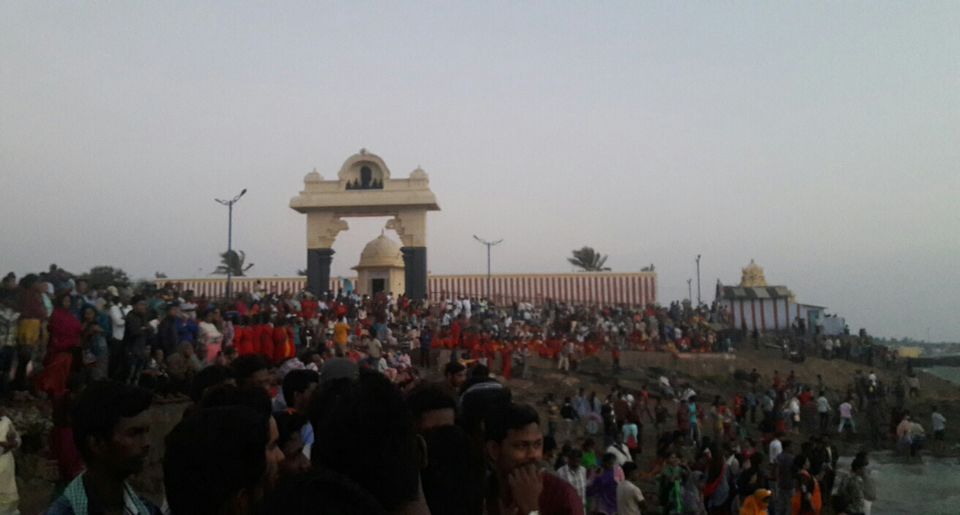 The Sun starts blooming slowly slowly for the day at the last point of India- Kanyakumari and i was overwhelmed by watching this beauty. I did full video of the Sunrise and also clicked some selfies. After Sun rises fully the crowd starts vanishing from there.
I came near one local beach side shops selling tea and idly bada and i had my breakfast over there at Rs-40 and bid a adios to Kanyakumari.
My next blog is all about Thiruvananthapuram/Truvandrum as i'm going to Kerala. Keep follow me for more interesting blogs.