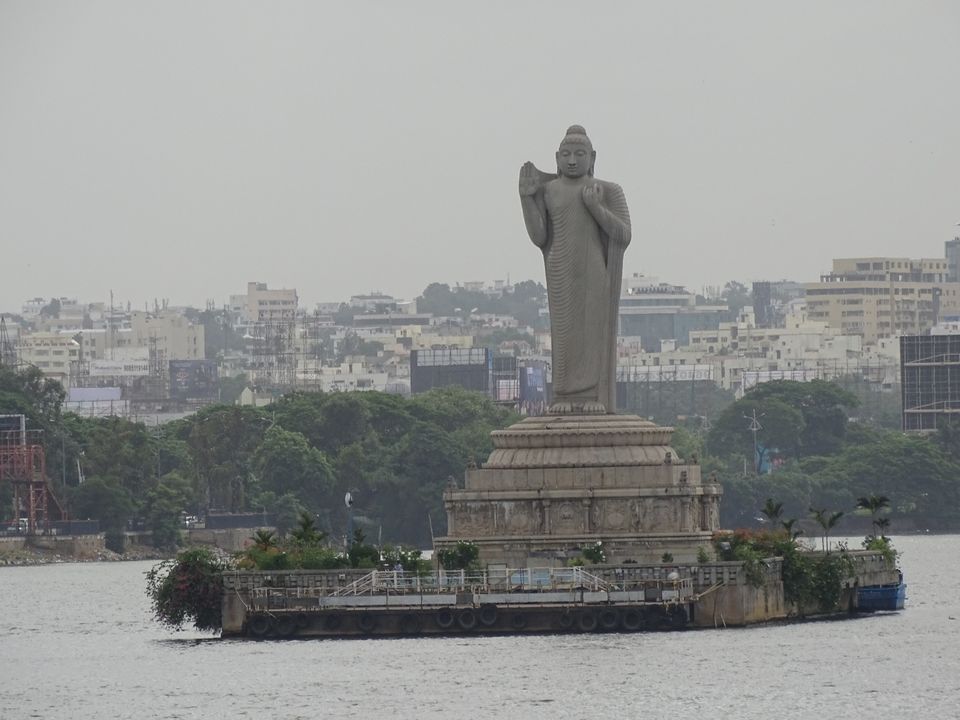 A Statue inspired by the Statue of Liberty and which took 5 years and 3 million US Dollars to erect it in the middle of Hussain Sagar Lake, Hyderabad. Don't you want to know more about this Statue, which is in your very own city, Hyderabad?
Every day the Statue of Budha mutely witnesses thousands and thousands of commuters mostly locals who pass by on the Tank Bund road even without throwing a cursory glance at it. Like I said in my earlier blog, the locals are the least interested to know the interesting titbits of their own city they live in. Today, I will unravel another interesting story behind the Budha Statue of Hussain Sagar Lake, Hyderabad.
It was once when the then Chief Minister of the United Andhra Pradesh, Sri N T Rama Rao went on a visit to the United States, that he was so impressed by the magnificent Statue of Liberty that he decided to erect one Statue in the Capital of Andhra Pradesh to make it a Tourist Capital of the World, so that it becomes a famous landmark of the City of Hyderabad. Finally, it was decided to erect Gautham Budha's Statue because it represented prosperity of culture and distinction of our heritage.
A mountain with a single granite rock in Nalgonda District was selected and given to the Sculptor Sri S M Ganapathy Sthapathi to chisel the rock into a single monolithic statue of 16 feet height and 350 tonne weight. On completion and erection, it became the world's tallest single monolithic statue of Gautham Budha.
The work on the structure began in the month of October 1985, and went on for five years. Hundreds of workers were engaged in this monolithic work. After the completion of the statue, it had to be brought to Hyderabad, and the roads were too narrow for the statue to be transported, and hence the roads were widened specially for this purpose. The statue had reached Hyderabad, and it was to be commissioned in the middle of Hussain Sagar Lake and it was here while the statue was being taken to the Lake, the statue tipped off and fell into the lake. The final part of erecting the Statue was riddled with problems and took the lives of 10 Engineers.
The Statue of Budha remained submerged deep in the waters of this lake for two long years. Removing it was a herculean task. Finally, it was successfully removed and erected on the 1st of December 1992.
Today, it's an iconic symbol of pride of Hyderabad.