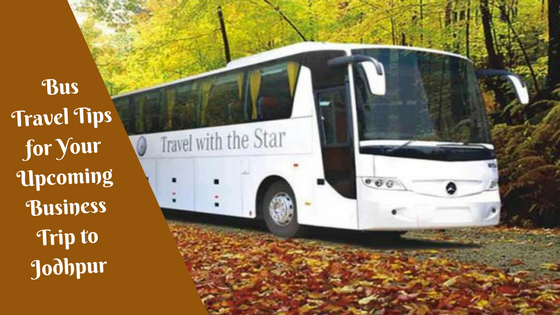 Bus travel is a great way to take up an adventurous journey. Apart from saving some serious cash on your travel, it is a fantastic way to explore more of a place and it is a convenient mode of transport. If you are planning to take up a bus trip to Jodhpur, there are wonderful opportunities to witness the scenic beauty of the place, the desert, and a lot more. Make sure you book some 5-star hotel rooms in Jodhpur for your stay. Check out these travel tips to make your bus travel a memorable experience.

1. Always dress up in layers
Traveller buses have a central cooling system, and thus there are high chances that it won't be as per your preference. Dressing up in layer would make it easier for you to adapt to the climate, as you can add or remove layers at wish. Secondly, while on the road, casual or comfortable clothing like tracks, tees or loose pants are highly recommended.
2. GPS to the rescue
While taking up a business trip to a new place you cannot risk being dropped at a place without having information about the area. No plans where to go and how to reach your conference venues in Jodhpur. However, if you have internet connectivity and GPS enabled to your device you could easily track your location and make further arrangements. Even if you have your travel planned, you could use the GOS to stay updated about your journey and travel route.

3. Take your entertainment with you
Not all buses have entertainment media installed in them. Also, you can't be sure if the content would be to your taste and liking. When planning on a long bus trip, no entertainment is the worst experience. However, having your personal entertainment arrangements could save the day. Always carry a book, earphones, music players or anything that suits your needs on a road trip. Also, don't forget to take along a portable power bank to make it through the journey.
4. Find yourself the best seat
A road trip to your event venues in Jodhpur for a business meeting would treat you with fabulous scenic views and delightful highlights of Rajasthan's culture. If you are an adventurous soul and love to admire nature, you better rush to find yourself a perfect window seat, or whatever seat you deem suitable. Last minute rush would leave no choice but to choose from the left out options.
5. Keeping your tummy satisfied
On long bus trips, bus drivers make occasional stops at gas stations and food joints. But, it might not be at your desired time or place. Thus, it is difficult to make a journey with a hungry body. Generally, for long trips, traveller companies permit their customers to carry some snack and eatables. So, it is recommended that you pack something up in your handbag rather than suffering through the travel.
6. Sleep through the journey
Bus journeys can be a little tiring. Thus, if you feel comfortable sleeping through the journey and have got a busy following day, you shall prefer to take the night bus to Jodhpur. Instead of spending your day traveling and also paying extra for a night stay at the five-star hotels in Jodhpur, Rajasthan this would be a better option to look at.

When taking up a trip, it is always advised that you keep a watch on your valuables. Also, ensure that you take measures to stay clean. Take along a sanitizer and some tissues, just in case you might need them. Jodhpur is a wonderful place to be at and to reach here by bus is a lifetime experience in itself. Find yourselves an amazing room and choose from the best hotels Jodhpur for your accommodation.