My travel Itinerary:
Day 1 – Siem Reap – Angkor National Museum & Pub Street
Day 2 – Siem Reap – Sun rise at Angkor Wat Temple, evening at Pub Street
Day 3 – Siem Reap to Phnom Penh by bus – Tuol Sleng Genocide museum & night market
Day 4 – Phnom Penh – visit to Royal Palace & city tour return to Siem Reap by bus
Day 5 – Siem Reap – visit to Silk Farm
Day 1
Yay! Finally I am here Siem Reap Airport, excited to explore this new land. My car was waiting at the airport to receive me. I had booked Memoire Siem Reap Hotel for my stay; cost per night including breakfast is $40. Rooms are clean and spacious. Hotel staff is very kind and helpful, they made me at ease by offering me a welcome drink and a cold towel upon arrival.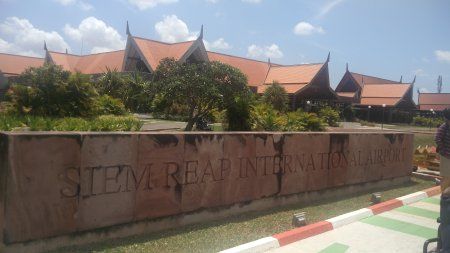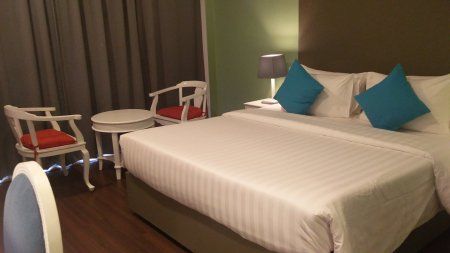 First stop, let's learn something about this land. What better place than a museum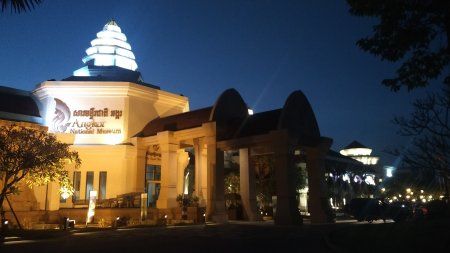 Angkor National Museum Entry fee is $12 and you need min 2 hours. Timings are: 8.30 am - 6.30 pm.
This museum is the best place to know about Angkor Wat & other temples, their history, how they were made & discovered. Also, see the 1000 Buddha 5 idols because the actual monastery is far from the city and you might not have the time to visit. Timings are: 8.30 am - 6.30 pm.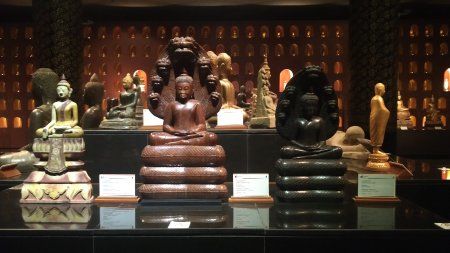 Day 2 - Temples
Ticket – One day ticket starts at $37 per person, they have 3 day & 1 week passes too.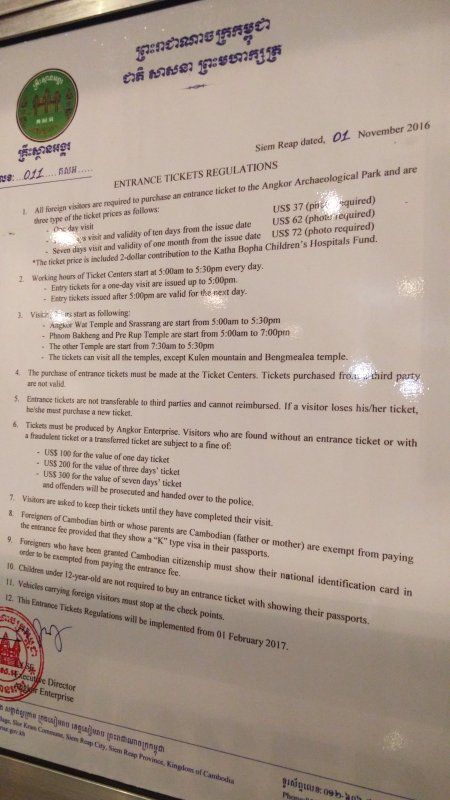 Imp:
•Carry hat/ cap, shades, sunscreen and water to keep you protected from sun and stay hydrated.
•Wear comfortable cotton clothes with comfortable footwear.
•TukTuk - All the temples are far from each other and you would need to commute from one to another via tuktuk. If you have booked a TukTuk for entire day, then ask him where and what time you would meet him for the next temple. My TukTuk driver didn't inform me where to meet next. I got so lost in admiring the temple I forgot the route, and exited from a different gate. I had to search for a new TukTuk to reach the next temple.
Angkor Wat – Biggest Hindu temple in the world!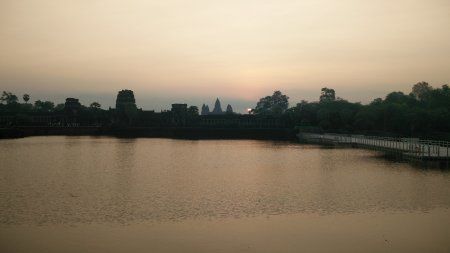 Sunrise!! It's pure Magic! You have to be here to see it for yourself. Sit near the water body at the entrance to see the magic unfold. Once the sun is up, move inside the temple to get a better view. Don't be shocked, you are not alone, you will see thousands of people armed with their cameras, mobile phones ready to shoot ;). Old world captured in million angles.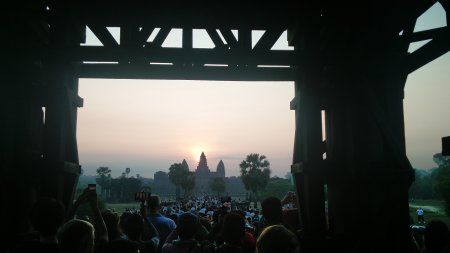 Being a Hindu myself, I felt very proud of its reach and influence on the world. There are many sculptures from the Mahabharata and the Ramayana in these temples. You can see Vishnu, Shiva, Rama and many others. The most interesting sculptures are the beautiful Apsara carvings, all decked up.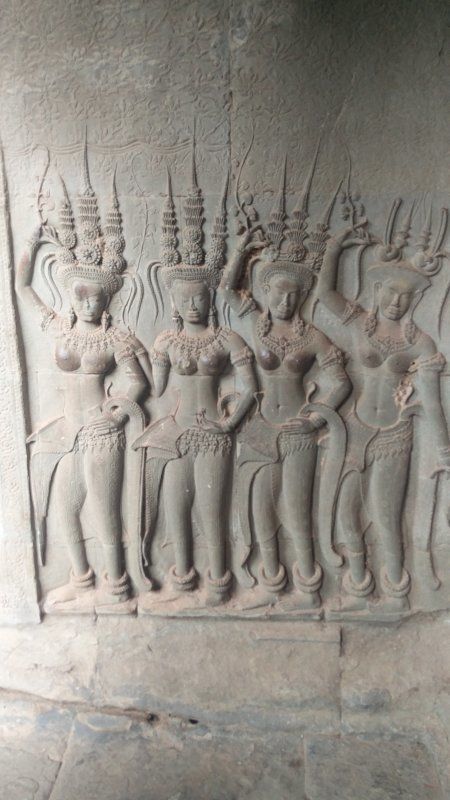 I was transported back in time! These temples were built in an era without automation or machinery. Makes one wonder, how much hard work has gone into building these magnificent temples. They have survived centuries to tell their tale.
Ta Phrom or Tomb Raider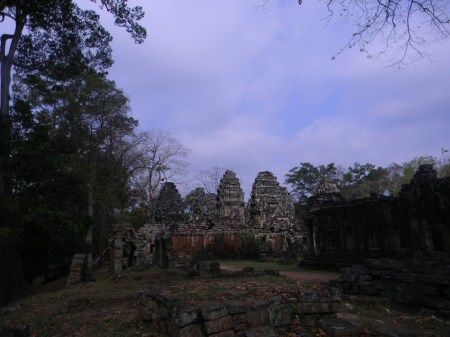 This temple is very beautiful, serene and picturesque. Even Hollywood is inspired by these temples; many movies are shot here, best known for Tomb Raider. If you haven't seen the movie, you would want to watch it. When you watch the movie, you will feel nostalgic. I was telling my family, I was here at this very place. There is a Buddha statue in middle of the temple, you can offer prayers.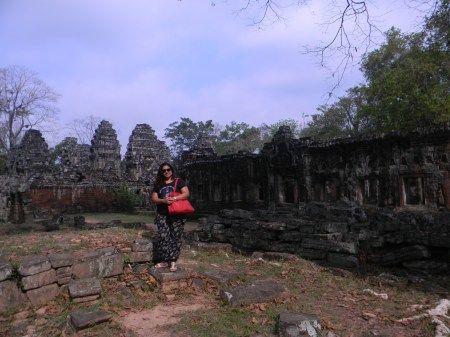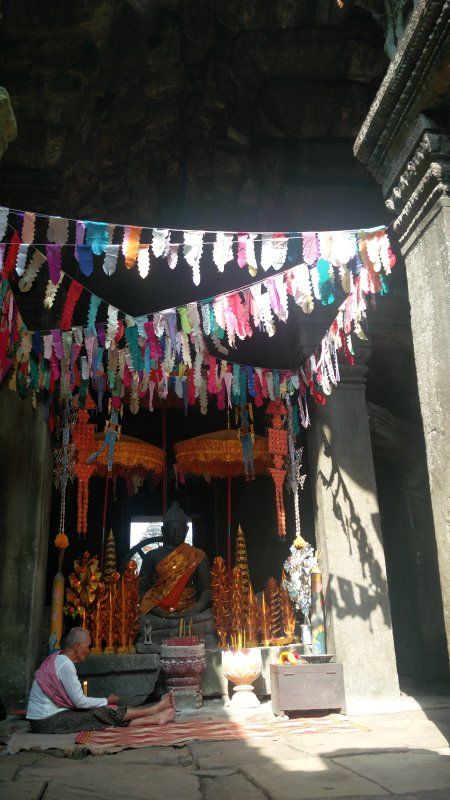 Bayon Temple - Smiling Faces temple is what I call it. I loved this one the most. It is just like me smiling always :) Happy faces, brings a smile on your face.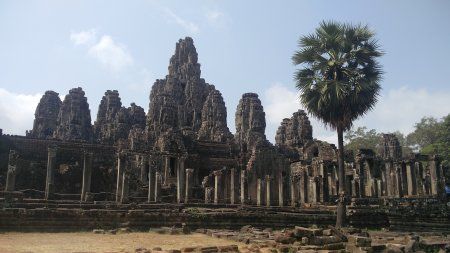 There are many other beautiful temples in this region, the 3 mentioned above are the most famous ones. You can cover these temples in a day, but if you really have the time and want to admire the beauty, you should take a 3 day pass. You can book yourself a guide too, they are very friendly and good photographers :)
Day 3 – Siem Reap to Phnom Penh
I travelled by Giant Ibis, very comfortable buses with free WiFi on board. I bought the ticket for $15 and they start from 7.30 am every day. They picked me up from my hotel. Travel time is 6 hours approx including the lunch (30 mins) and two (10mins) breaks. They also have night buses, you can save on the hotel cost. Night buses are at 10.30 & 11.30 pm, from both places.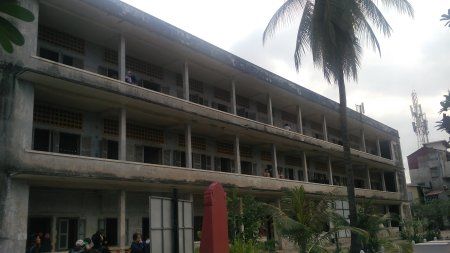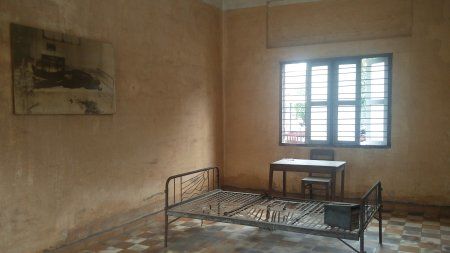 Tuol Sleng - Not for faint hearts. Be prepared, it is a genocide museum. Entry fee $6 with recordings. If you are brave go through the recordings and see the place, it was a school which was converted into torture house from 1975 - 1979. Timing - 7 am to 5.30 pm.
Later I went for a stroll and came across the Phnom Penh night market. It is a small market majorly for clothing. I had my dinner at the Riverside restaurant, tried Mexican burritos and pineapple margarita.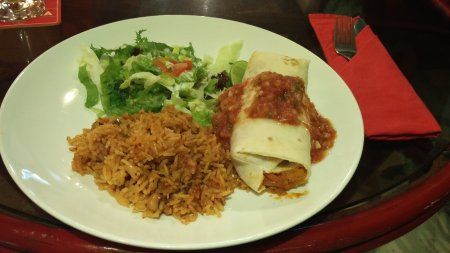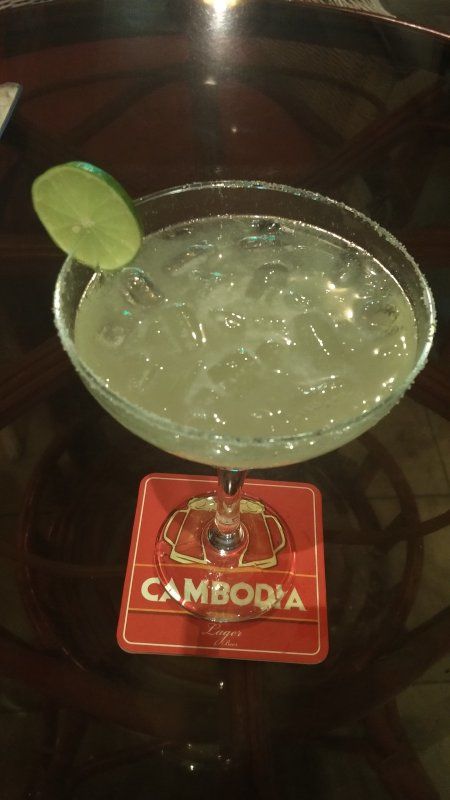 Day 4 – Royal palace
Timing – 8 to 11 am then 2 to 5 pm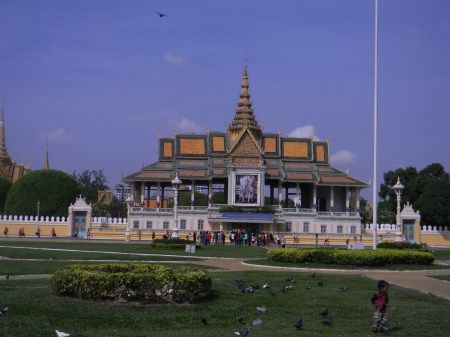 Royal Palace was closed for some ceremonies so I couldn't see it from inside ????. I did manage to take some pictures from outside. Next to it is a beautiful monastery which was also closed as the monks were performing rituals in the palace. Plan well and check the royal schedule. ????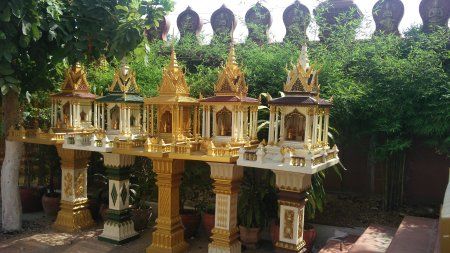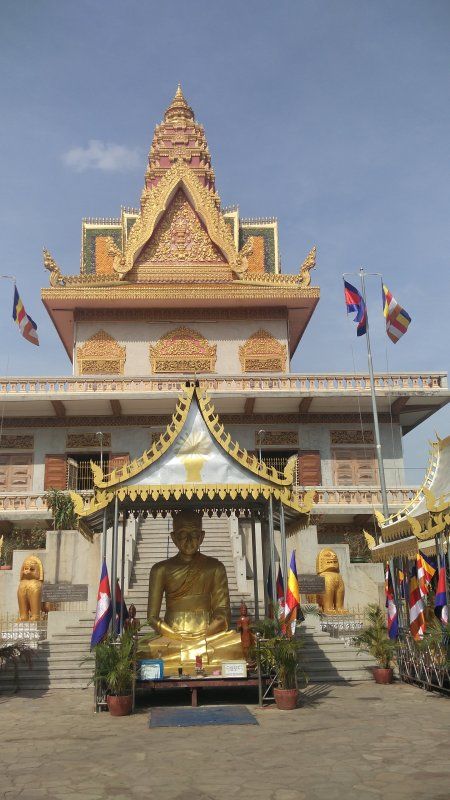 Took a TukTuk ride to go around the city for $10 and hour, driver was my guide and photographer :).
First halt was at French Memorial which was built for the Liberation day. It has Cambodia & France flags. Next was their Independence Memorial. French ruled Cambodia for 100 years. It has 5 levels with 20 dragons on each level commemorating 100 years rule.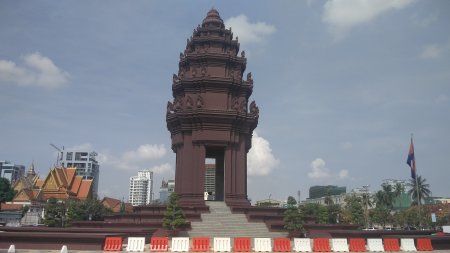 Next stop was the statue of Norodom Sihanouk, affectionately called by Cambodians as Samdech Euv #facepalm. He became their king at the age of 19 and later as their constitutional head in intervals righ up to 1990s. He had good relations with Vietnam, China and other countries. He settled in China after his retirement and was taken care of by the China PM.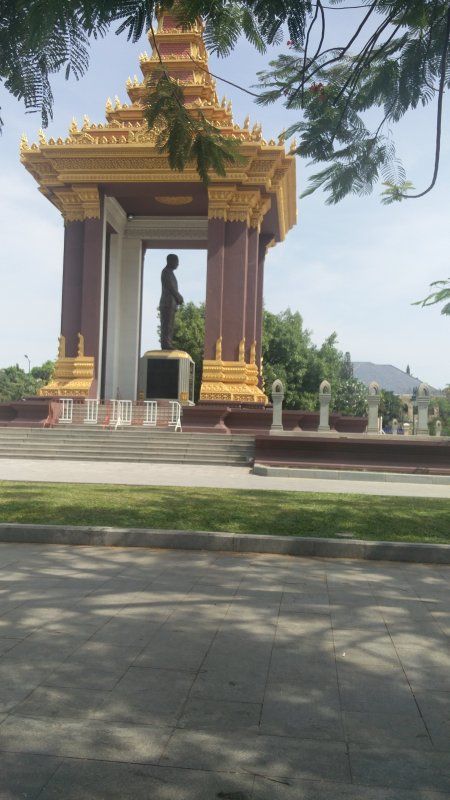 Then we went to a hill top from where you can see the Riverside and lake. It is called the Diamond Island as it is lit up at night. It is a park with many rides for kids. If you plan to go, make sure it's at night time. Last stop was a visit to Wat Phnom temple, entry fee is $1. It is a Buddha temple. Saw many people offering thin gold sheets in fire. I have seen it on Discovery Channel many times. My guide dropped me at my hotel. Freshened up and left for the bus to Siem Reap.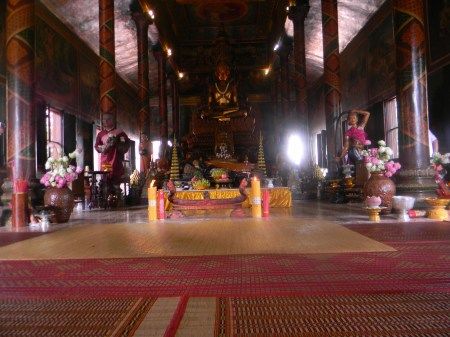 Reached Siem Reap in the evening. This is my last night in Cambodia, one last visit to Pub Street to pick up some gifts for my friends and family. In order to make my last night in this beautiful country memorable, I treat myself to my favorite food, pasta carbonara and a glass of mojito.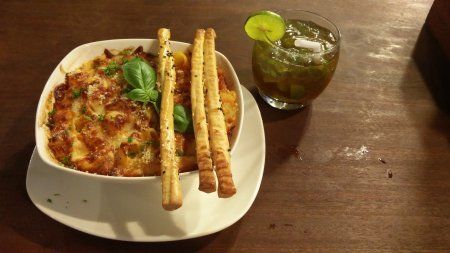 Day 5 – Silk Farm
I had my breakfast at the hotel and then headed for the Silk Farm. It is about 30 mins far from the city. Tuktuk ride to go and come back cost me $8, bargaining works ????
Free entry to Silk Farm, there are guides who will take you around the place and explain how the silk is made. They show you right from the small worms to large ones and then cocooning. They also have a store where they sell the best quality raw and pure silk. It's available in amazing colors and patterns. They have jackets, shirts, blouses, shawls, scarves and home decor as well.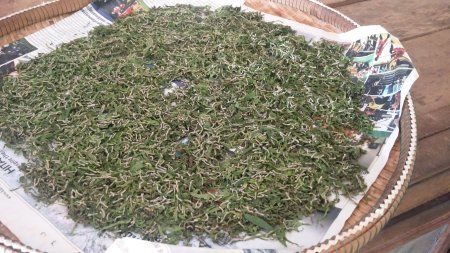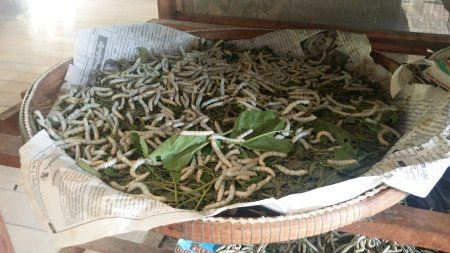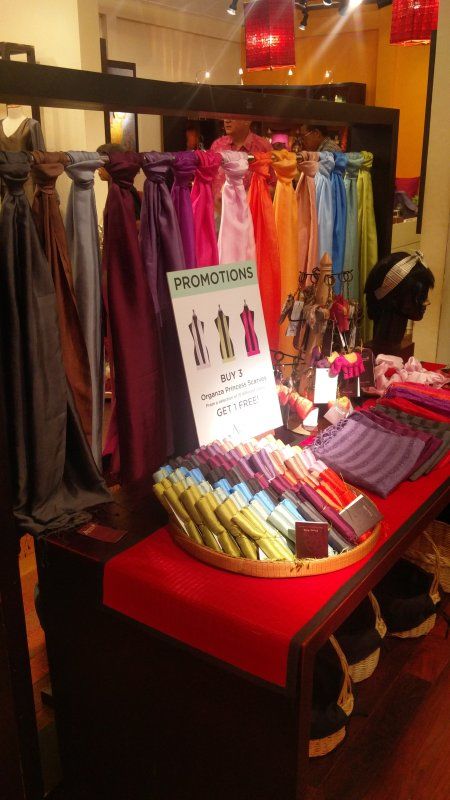 My wonderful holiday in this wonderland comes to an end. I hate goodbyes, cliche haha if you don't end something how would you start something new?
Few last minute thoughts from this trip:
Take a break, you deserve it. You must be wondering why I called it a hammock land when I didn't mention hammock up until now. Well, I saw something amazing. People in Cambodia are poor but they know how to enjoy life. When they are not working, they take a quick nap in their hammocks tied on the back side of TukTuk or on roadside as well. Lazing around under the shade of a tree.
How can any trip end without a mini heart attack? I finally realise that since my airlines are different from Cambodia to Singapore (SG) and then SG to Mumbai, I will have to cross the immigration, collect my bag go to a different terminal once again do the immigration, check in my luggage and clear security in only 1 hour.
Thank God it was Singapore airport, I was able to finish in 30 mins, thanks to people at the airport too, who allowed me to go ahead. J
P.S. You always learn something new on every trip. You can plan your trip at length but it is moments which go unplanned, make the trips memorable forever. Take your chances! Travel the world! Go Solo!!
Essentials
•VISA is on arrival for the listed countries; check it before you pack your bags. VISA – $30 + Passport size photo
•Currency – US$$ even TukTuk guys trade in US $ have enough denominations
•TukTuk – Is the best way to commute in the city, although you would need to bargain. It is usually very safe, but keep a tab on ur belongings since it's open.
•Shopping – You get all kind of stuff at Pub Street however, you need to bargain well.
•Beat the heat – As Cambodia is a tropical country, it is very humid and dry for most part of the year. Fresh fruits are available in plenty, they are delicious. Keep yourself hydrated at all times with fresh fruit juices and milkshakes. They are available for $1. You should definitely try the Passion fruit shake for instant energy, dragon fruit and mango milkshakes. Yumm!
•Food – Paradise for sea food lovers. Vegetarians don't worry, you get plenty of veg food here. Khmer cuisine (local food) offers fried rice & fried noodles, you can choose with egg or without. Vegetable curry made from coconut milk similar to Thai curry is also available served with plain rice. There are plenty of Indian restaurants as well. You can also try variety of cuisines from across the globe like Italian, Mexican which matches Indian taste. They offer quite a few veg options. If you have any specific dietary requirements like Jain, you may ask them to prepare accordingly. People here are very friendly and believe in hospitality, they will make sure you get what you want.
•Night Life – Pub Street comes alive at night. I loved the TukTuk bar which is like our gola wala with cocktails. Beer starts at 50 cents and cocktails at $1.50. Sit back relax and watch the world go by. You should also try delicious local street food and some desserts like banana chocolate pan cake, rice n coconut milk balls, ice cream rolls with fresh fruits.