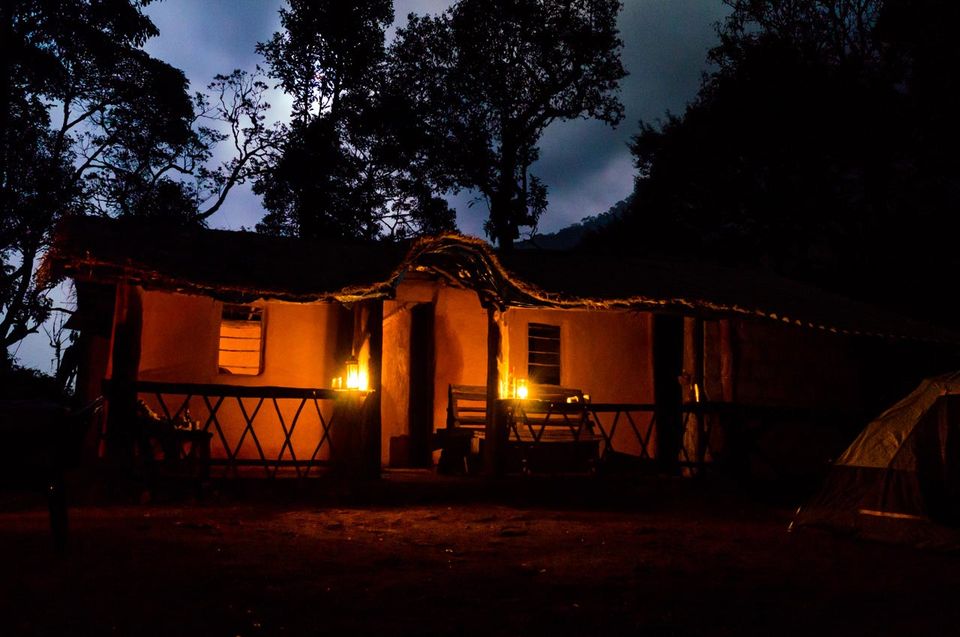 The Campsite is an eco-lodge situated inside the forest where one can get close to the wilderness offered by the western ghats that run along Wayanad district. Its situated approx. 30 kms from Kalpetta (the nearest town) and 15 kms from Meppadi (comparatively smaller town). The nearest point you could reach via your own mode of transport is Kalladi. From here on you would be taken up to our resort in a jeep, as the terrain is pure offroad ascend.
A heaven for avid bird watchers, you could also spot lots of flora & fauna including sambar deer, malabar squirrel, asian palm civet, porcupine and over 250+ bird species while enjoying the silence of the forest.
You can engage yourself in archery, fishing, or ball games at Campsite and in terms of adventure you could unwind at the nearby stream, trek to see Cave house and explore the forest.
There are attractive spots nearby which you could check out, while staying at the campsite - including Edakkal caves / Soochippara waterfalls / Chembra peak etc.
Star gazing is amazing at the campsite and for adventurous folks we have tents, sleeping bags and life jackets if you're the novice in swimming.
TREK DATES:
15th - 17th Sep 2017
Cost: 4250/-
(Exclusive of tax)
Book tickets/view itinerary: https://www.plantheunplanned.com/planned-treks/nature-walk-and-camping-at-wayanad/
DAY 0 - 15th Sep 2017
-Depart from Bangalore by 10:00 PM
DAY 1 - 16th Sep 2017
-Arrival at Kalladi ( pick up point for campsite )
-6 km off road Jeep ride
-Arrival at campsite and refreshments
-Explore the area, visit cave house and mud house.
-Lunch
-Trekking
-Dinner and Campfire
DAY 2 - 17th Sep 2017
-Breakfast
-Stream walk and take a dip at the natural pool
-Indoor/Outdoor Games( Carroms, Archery, Football, Batminton etc)
-Leave campsite
-Drive back to drop point by Jeep
Trek Level - Easy
INCLUSIONS
-Transportation to and fro from Bangalore
-Sharing basis accommodation in tents
-Food - 2 Breakfast - 1 Lunch - 1 Dinner
-Campfire
-Experience that you gain
EXCLUSIONS
-Any kind of insurance
-Personal Expense:( snacks, mineral water etc)
-Anything that's not included in the inclusions above.
To check the itinerary visit: www.plantheunplanned.com/planned-treks/nature-walk-and-camping-at-wayanad/
Cancellation Policy: www.plantheunplanned.com/refund-cancellation-policy/
Note:
1. Consumption of alcohol, intoxicants and smoking would not be tolerated during the entire course of the journey. Kindly co-operate with us to make the experience more fun.
2. Put Litter in its place, do not trash the mother earth.
3. In the case of traffic delays or breakdowns expect a few delay in reaching the destination.
For more info please feel free to get in touch with us on sayhello@plantheunplanned.com.
For faster communication: +91 9035182699, +91 9428909952