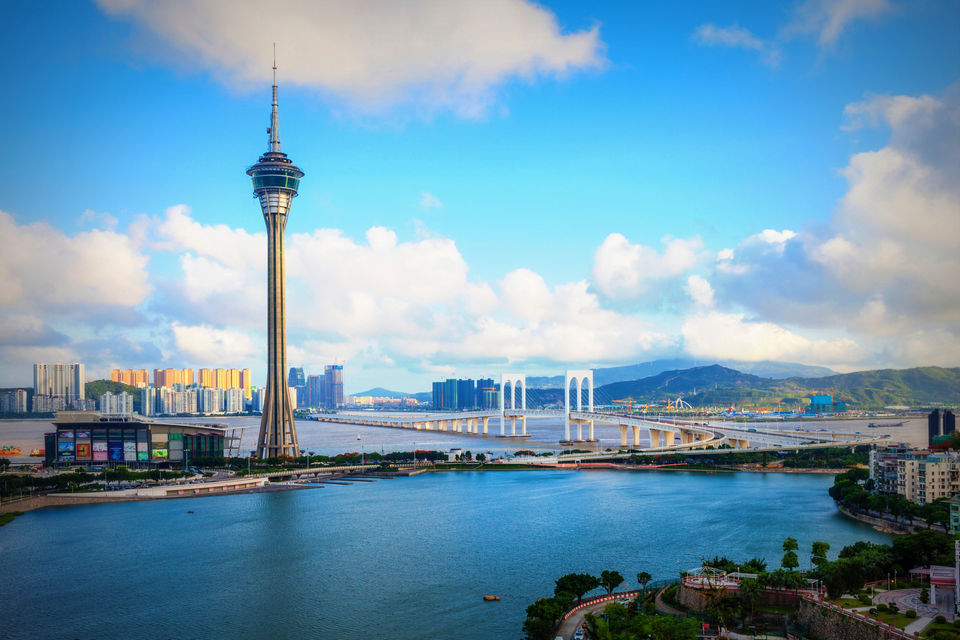 Asia's answer to Las Vegas, Macao is popular for its gigantic casinos, five-star hotels and the Grand Prix. But there is a lot more to see and do in this former Portuguese colony. It has the world's highest bungee jumping platform, tranquil beachy shores, UNESCO world heritage sites, delicious food, magnificent entertainment shows, and much more. That's why I have decided that my next vacation is surely going to be in this underrated gem.
My top 20 things that I love about Macao, rather my top 20 reasons to visit this insanely amazing resort city are:
#1 Up Up up and Dowwwwwnnnnnn….
An adrenaline junkie like me would love to travel to Macao because it holds the Guinness world record for the highest commercial bungee jump in the world. Leaping from a platform 764 feet above the ground and experiencing the ultimate free-fall would definitely be the "best ticking-off" something from my bucket list.
#2 It's all about money, honey!
Who wouldn't love some easy cash? The most successful gaming capital on earth, did you know Macao rakes in thrice the annual gambling income as Las Vegas? I would definitely love to try my luck in one of its 49 casinos. Who knows my strong beginner's luck helps me win a heavy amount!!
#3 For the "Awww, so romantic" experience
Venetian Hotel & Casino is the place where I can enjoy a gondola ride on an actual canal with flowing water- exactly like Venice. How cool is that!! The shopping mall inside the hotel is just like the city of Venice. It has smooth, cobblestone-streets, ceilings painted like afternoon sky and buildings exhibiting the Renaissance era.
#4 Strolling through Senado Square
Roaming around a new place filled with shops, monuments, restaurants, and my favorite, souvenir shops, is what I love the most about a vacation. The narrow, maze-like streets inside Senado Square allowing me to do window shopping, stopping by to try a local dish, and lingering at a café are exactly what I look forward to do.
#5 Beach, please!
Nothing beats a good beach day, and that's why lazing the day away on the sands of Hac Sa Beach is in my Macao itinerary. Relaxing and catching the sunset over the horizon will certainly be a worthwhile activity.
#6 For the animal lover in me
Seac Pai Van Park is the right place for every animal lover. This ecological park houses a pair of cuddly, giant pandas, who are an endangered species. Viewing them having fun in the pavilion, which mimics their ideal living conditions perfectly, would be a nice experience.
#7 For unique, entertaining shows
The entertainment hub offers so many exciting shows by going the extra mile. I would love to fill my entire day with different types of performances, especially the light show in the foyer of the Galaxy Hotel.
#8 Appreciating UNESCO World Heritage Sites
Along with the grandest casinos, I would also love to explore Macao's cultural aspect. The Historic Centre of Macao entered the UNESCO World Heritage list in 2005 displaying co-existence of two contrasting cultures- Chinese and Portuguese.
The Ruins of St. Paul along with Dom Pedro V Theatre, St. Lawrence's Church and Casa Garden are in my wish list.
#9 Yum Yumm Yummm…
Macao is the home to the world's first fusion cuisine, and this is a reason big enough for a foodie like me to go there. Relishing the signature dishes of Macanese cuisine, which are a mix of southern Chinese and Portuguese ingredients, is something I would absolutely love to do. Hunting for the most authentic street food in Taipa Village is what increases my excitement level.
#10 House of Dancing Water
This is the world's biggest water-based stage show that incorporates a 14 million litre pool to tell an epic love story. Can you even imagine the 'hugeness' of that? I can't, and that's why I would definitely watch that.
#11 La La La…
Being a music lover, the Live Music Association is definitely on my list. This underground music venue in Macau plays host to the brightest acts. The place is perfect for people like me who fancy swaying to folk music.
#12 Hiking up Guia Hill
Guia Fortress built on Guia Hill is located on the highest point of peninsular Macau. So, hiking to reach the top would definitely mean something. It features a chapel, an old military fort and the Guia Lighthouse. The view of Macao skyline from there would be awesome, I believe.
#13 Exploring traditional side
To do this, I have chosen Coloane Village which is a quaint pastel-hued village. Its old-world charm and cobblestone streets make me really curious to visit this photogenic place.
#14 Paying homage to Matzu at A-Ma Temple
This is the oldest Taoist temple in the whole of Macau. According to the legends, Macau got its name from the temple. I would like to pay homage to Matzu, the patron goddess of seafarers and fishermen, and pray for my safe journey!
#15 Knowing history
Macau has a number of historical and art museums along with special themed ones. I would love to visit the Grand Prix Museum and the Wine Museum, along with the Taipa Houses Museum in Taipa Village.
#16 For a quick reprieve
The urban parks of Macao will leave you refreshed when you are exhausted from exploring the crowded tourist spots. For some peace and solace, I would love to go to the Sun Yat Sen Park and Camoes Garden.
#17 When the night has come…
Macao is a beautiful symphony when the sky turns dark and the city lights up. Perfect for a night photography tour, the places I would like to capture in my camera are Wynn Hotel and Kun Iam Statue.
#18 Flower Power!
The reason why I will be travelling to Macao in June is that the city celebrates Macau Lotus Flower Festival in that month. Fawning over thousands of lotuses, especially at Carmel Garden, is what I will certainly include in my itinerary.
#19 Visiting Fisherman's Wharf
I love theme parks, and Macao's Fisherman's Wharf is an iconic attraction for sure. Along with offering a brilliant view of the waterfront, it also has a number of restaurants, shops and models of famous structures.
#20 Taking a step into past
Casa Do Mandarim is a direct link between modern-day Macau and its historical beginning. There is absolute silence inside the house except for the chirping of birds and running water. Taking a step into the distant past would be fun for someone like me who loves cultural heritage.
These fantastic 20 reasons really make me want to visit Macao. I am looking forward to travelling to this beautiful destination soon :)