Photography is not an easy task in minus 20 to minus 25 Degree Celcius. Sometimes, you have to wait for more than half an hour to get a good frame. But your co-trekkers may say "Let's Go Bro! Click Later" and "That Click Later" never comes again. Sometimes, you have to remove your gloves in chilly weather to take a good shot. Think like that you will not repeat this trek again, so click the pictures as much as possible.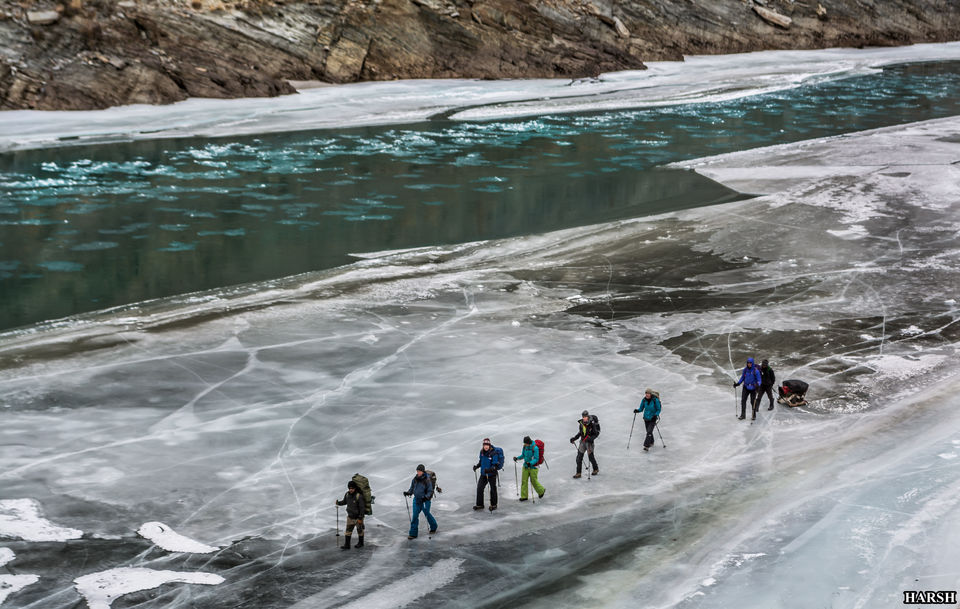 Here are some points which may be helpful while your trek :-Batteries :- Camera is not a big issue, the main thing is Battery. Carry atleast three batteries as there will be no network and no electricity during the trek. Batteries drain very fast in Chadar. In normal days, a battery gives 300-350 shots. But on Chadar, you can click only 100 shots with a full charge battery. When I was doing this trek in Jan-2016, I put the batteries in sleeping bag, before going to sleep. In day, to keep the Batteries warm, I clicked the pictures and remove the battery from the camera and put it back in my gloves. Whenever I wanted to click, I took out the battery from my gloves and then put the battery again in gloves after clicking .You can charge your batteries through Power Bank by using Portable Charger. Portable Charger for Camera Batteries is available in Market, I bought a portable Charger for Nikon D5200. For Digital Camera, use your zoom as little as possible. The motor that moves the lens uses power and use the flash only when necessary.In DSLR/Semi DSLR, use Single Focus Point Mode, Don't use Continous Focus, Auto Focus and 3D Focus Mode, unless necessary. These Modes consume more power than Single Focus Point Mode.Don't delete the Pictures from your camera. It also consumes Power.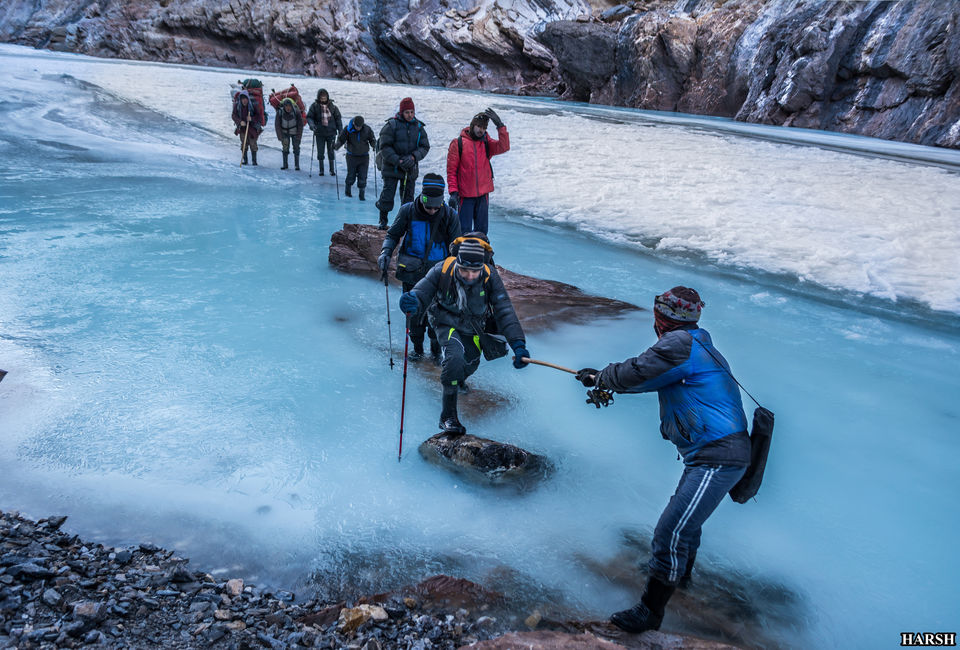 Don't Use Live View Mode / Turn off the LCD Display Screen : Live View or LCD Display Screen consume too much battery. Please use Viewfinder. Don't see you clicks again and again in LCD Screen, You can see your clicks once you reach home too. In case, you want to see the images, you can dim the brightness on your LCD screen or Go to Settings, turn on the "Preview for 2 Sec". This option will show the clicked image for 2 Secs and then automatically off your LCD display which will save the battery life.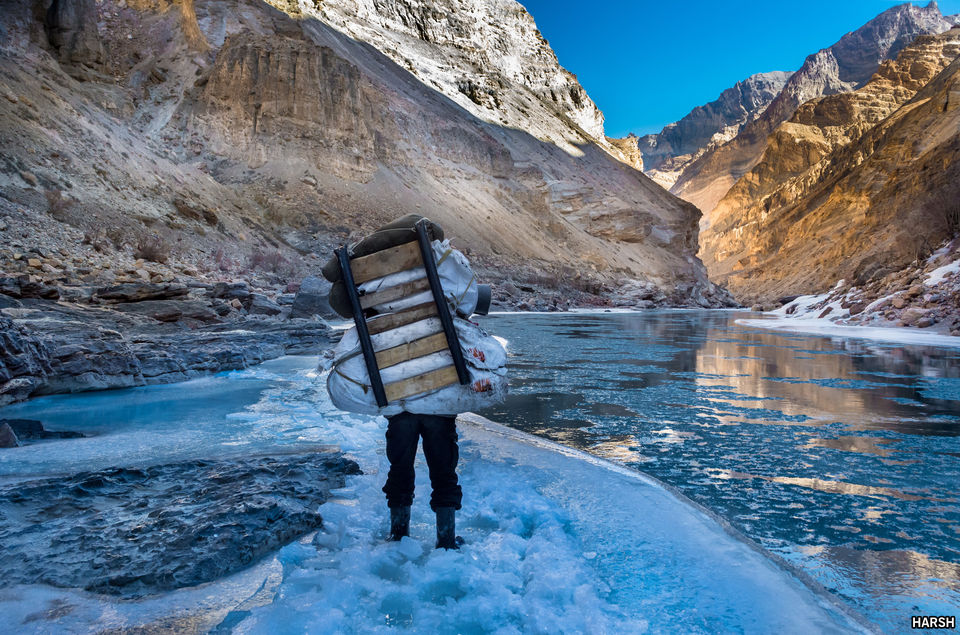 Carry Tripod and Night Photography is not Mandatory : Tripod is not mandatory unless you are going to click night shots (Stars and Milky Way). It is purely my personal opinion, Chadar is not for Night Photography. You can click Stars and Milky Way in other treks. Long Exposure can consume lots of battery life. In Long Expsoure, you can click only 20-30 shots with a full charge battery.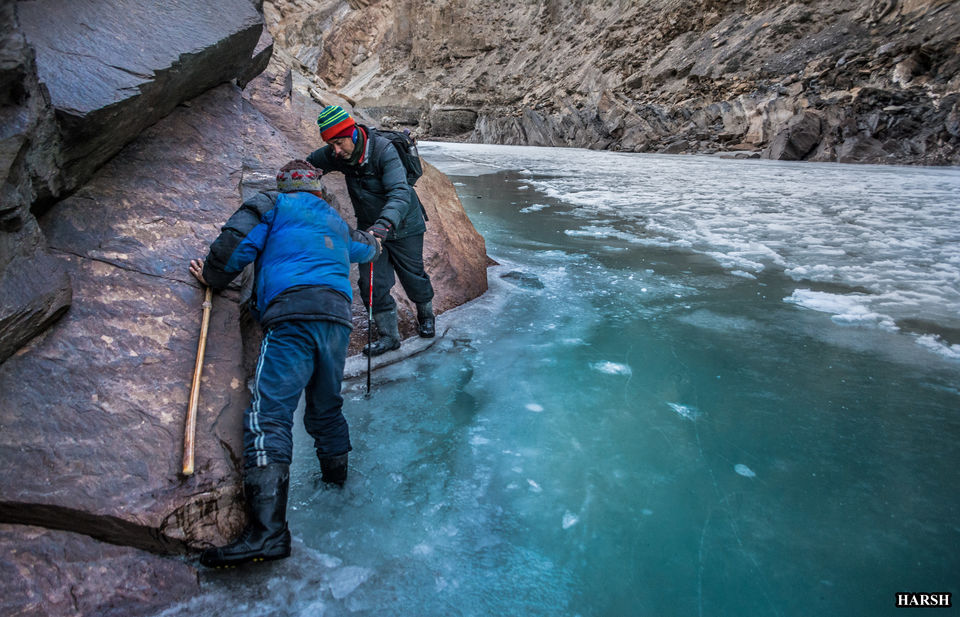 Telephoto(Zoom) Lens is not Required: There is no use of Telephoto Lens in Chadar, I carried my telephoto lens (55-300 MM) and that was my biggest miskate, I never used Zoom Lens during the trek. If you are carrying DSLR, 18-55 Kit Lens is sufficient. Don't detach your lens from camera during the trek. Once you detach your lens, Cold winds or fog may damage your Camera Sensor.
Satellite Phone is available in Nareak Village : If you wish to use the Satellite phone, you have to trek approx 3 Kms from the Nareak campsite to reach the Nareak Village as Satellite Phone is available in Nareak Village only.