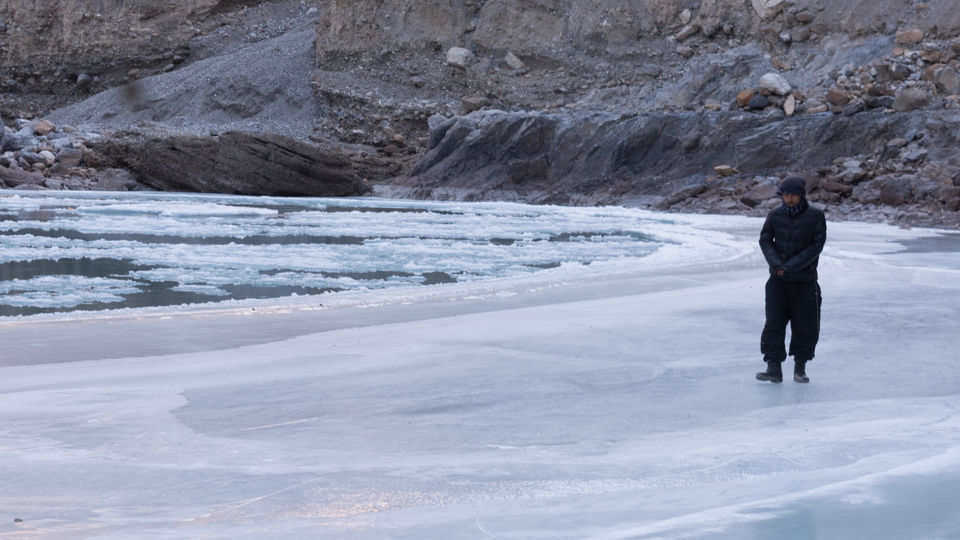 This blog is you quick reference guide to help you plan for Chadar Trek 2018. It helps you uncover aspects like "how to prepare","what to carry","essentials","what to expect","all you need to know about Chadar Trek". Any further queries, let our expert answer it for you.
FACTS ABOUT CHADAR TREK
CONDITION IN LEH : During winters you won't see much people(locals+tourist) in Leh. Due to less vegetation and tourism in winters, cost of living becomes high and local people find it better to stay out and find other sources of income. Still you will find few amazing ladakhis managing souvenir shops and restaurants.
ATM : There are sufficient ATMs in Leh,but we recommend your to carry cash since in winters all the services are delayed here.
FOOD: Food is not an issue during winters(unless you eat it slow :) , you can find plenty of options in the Mall Road, Leh Market serving Indian, Continental , Chinese, Tibetan and Ladakhi food. We recommend try some Thupa and Momos which are the speciality. There are two general stores too if you are looking to buy some groceries.
STAY :
During Trek: Organised campsites. Sleeping in double layer sleeping bags in a 2-4 sharing dome tents. There are identified campsites as per the Itinerary which are subjected to change as per climate and as suggested by our guide.
While in Leh: Sewage is a huge problem during winters as all the water pipelines get freeze, making hotel owner to shutdown during winters. Himalayan Adventure Trips have tie ups with 3 renowned Hotels which continue their operation in Winters for a comfortable warm stay.
ALTITUDE: 11400 ft
ACCLIMATISATION: Himalayan Adventure Trips mandates the first day as acclimation day with short acclimatisation walks/climbs and exercises. It is highly recommended for all trekkers not to exert on this day and follow the instructor guidelines. We understand you might have a tiring journey travelling from different parts of the globe but sleeping in not an option since it will not let your body acclimatise. Take a quick nap of 30 minutes and get ready to explore some of Leh this day.
COMMUNICATION: "Julley Ji" - say hello to people you see around and expect a warn welcome to Leh(second largest district of India). Chatting is not at all a problem in Leh, you will find people too friendly to talk in Hindi/English .
PREPARATION
The first thing you need to gear up for CHADAR TREK is your MENTAL STRENGTH.
Your mental strength is the only thing which can make you enjoy this Trek. "whatever it takes" should be the attitude of all trekkers aiming for Chadar Trek.
Trekkers should understand that they are going to experience an extreme climate conditions where temperatures gets down to -30 degree Celsius and shall be prepared to survive it, though we do our best to make you comfortable.This is not a usual trek where physical fitness is the only requirement or a picnic trek,however this trek requires a proper mental stability with physical fitness. You will be walking on a terrain you had never walked before, surviving temperature never felt before hence preparation shall be done like never done before.The memories you will be carrying from this trek will last for lifetime.
Trekkers should be :
A dreamer to witness one of the extreme survivable climate on Earth.
An adventurer to conquer the most adventurous trek of the world.
Willing to walk on frozen river while listening to cracking sounds of breaking and overlapping sheets of ice.
Trekkers shouldn't be:
Resistant to rules. Instructor commands you obey. Simple!!!
There just for fun, not serious or insane (People lose it at times)
One who is not prepared to survive in extreme winter conditions
One who doesn't believe that he can achieve things.
NOTE : Trekkers must follow the rules as guided by the Instructor and trek as a team as conditions can be severe sometimes.
Based on our survey with the people trekking with us during the years, physical fitness is much less then mental.
Mental Fitness : 90%
Physical Fitness : 60%
How you can stay tune this winter to get physically prepared for Chadar.
Practise should be start at least a month before your departure
3-5 km of running habit (3-4 times a week)
Practise walking with ~ 8 kg of bag on nearby trails/parks.(2-3 times a week-5km)
Breathing exercises
Climb stairs whenever possible
Maintain a min of 6-7 km walking per day.
Avoid Hot Water bath, get habitual to luke warm, room temp water.
Read more about preparation for Treks at Approaching the Mountains
WHY CHADAR TREK
Walking on a sheet of Ice can be the most memorable experience of your life.
A must do trek for all adventure lovers
A true Paradise and one and only kind of Trek on Earth.
One of the most intimidating, challenging and wildest walk on Earth.
Most uncertain trek with unusual campsites, slippery paths, vertical climbing, rapid changing weather.
ULTIMATE CHECKLIST FOR CHADAR
We urge you not to carry even 1 gram of anything else mentioned
Backpack (55-70 litres)
Gum Boots ( Choose size with woolen socks)
1 Winter Jacket
1 Fleece TShirt
2 Winter Trek pants
2 cotton t-shirts
2 pair of Thermals (full body)
UV Sunglasses
Hat/Cap Woolen(better to buy this from Leh)
Balaclava / Monkey Cap
Winter Trek Socks(Synthetic Woolen) - 2 Pairs
Woolen Socks (4 pairs)
Headlamp/LED torch
Optional Trekking pole
Toiletries
Hand Sanitizer
Two Water Bottles(Thermal)
Whistle - Recommended
Medicines - Any specific required
Dry Fruits
Garlic
HIMALAYAN ADVENTURE TRIP HIGHLIGHTS
duration Total Duration – 7 Nights / 8 Days
altitude Maximum Altitude – 3303 m/ 10900 ft
grade Grade – Challenging
season Best Season – January to feburary
grade Accommodation – Hotel/Guesthouse in Leh; Organized Campsite
grade Food – On trek – All meals included
grade Distance – 45 KM.
Day 1:Reporting day at Leh -1800m
Reporting - Acclimatisation - Orientation & Briefing of the trek - Trek Preparation & window shopping
Altitude 11,000 ft. Stay at Guest house
Attend a briefing session from our Senior Mountaineering Instructor - Manu Mahajan and meet our team,a sk any questions related to Leh, Chadar..do let us know in case you feel abnormal or left with any queries.Also m eet your guide and supporting staff here, get friendly with them.
Meet your trek mates with a small introductory round and get mingle(like not really), go for shopping together.
Session will be followed by a acclimation walk to a small ascent nearby.
Spend the rest of the day in the room itself to acclimatise to the high altitude.If you are feeling very tired and coming from a long journey we recommend you NOT to sleep more than 1 hr and recommend a power nap. Our body will not get acclimatise while sleeping. This is absolutely necessary and is most important for the days ahead.
Overnight stay in pre booked hotel
Sufficient time would be given for visiting market and nearby places
Day 2: Departing from Leh
Leh - Chilling - Tilat do - Tsomo Paldar (Drive/3-4 hrs & Trek1-2 hr)
Altitude Change : 11,000ft to 10,390ft.
Post breakfast, we take a beautiful drive through the beautiful scenery with your first views of the Indus river and later the Zanskar river at their confluence at Nimoo. From Nimoo you follow the Zanskar to the roadhead at Tilat Do. From here we cross the Zanskar and depending on the time available we camp on the other side of the river or we continue ahead a bit before setting up camp for the night. Stay at organised Camp Site.
Day 3: Tsomo Paldar - Tibb Cave (Trek 9-10 km. / 4-5 hours)
Altitude Change 10,390ft to 10,760ft.
We begin the day at 7:00 am with a cup of hot tea. After breakfast, we set off on the "Chadar" which will be our routine for the rest of the trek. Today, we will trek close to 10-12 kms depending on the fitness of the group. Though our objective would be to get to Gyalpo we could camp earlier also in case the going gets tough during the day. This is something that we would follow all through the trek where we would keep the itinerary flexible to accommodate the group depending on fitness levels.
Overnight Stay at Organised Camp Site.
Day 4: Tibb Cave - Neyrak (Trek 10-11 km. / 5-6 hours)
Post breakfast, we continue the walk through the gorges to the Nyerak village. Enroute we pass a large frozen waterfall which is gushing water during the non-winter season and is a stop point on our raftingtrips down the Zanskar river during the Aug-Sep period. Today we camp below the Nyerak village and one can go up to the village in the evening.
Overnight Stay at Organised Camp Site
Day 5: Neyrak - Tibb Cave (Trek 15-17 km. / 9 hours)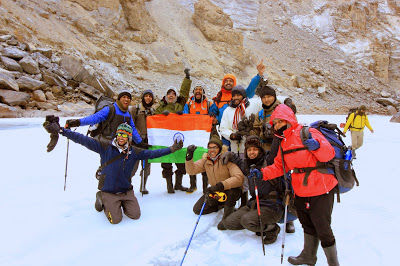 Altitude Change : 11,100ft to 10,760ft.
Post breakfast, we begin to retrace our steps on the return trek. Though we will be returning by the same route, a lot of the trail would have changed as the river changes by the hour during the season depending on the temperature and sunlight. So in most cases it will be like a different trail itself!! We camp overnight at the Tibb cave.
Overnight Stay at Organised Camp Sites
Day 6: Tibb Cave - Gyalpo (Trek 10-11 km. / 5-6 hours)
We retrace our steps to Gyalpo Camp Site witnessing some amazing natural ice slides on the way. By now you will become a pro to walk on Chadar, don't miss funny slides yet maintaining safety. Altitude Change : 10,760ft to 10,550ft.
Day 7: Gyalpo - TilatDo - Leh (Trek 10-11 km. / 4 hours)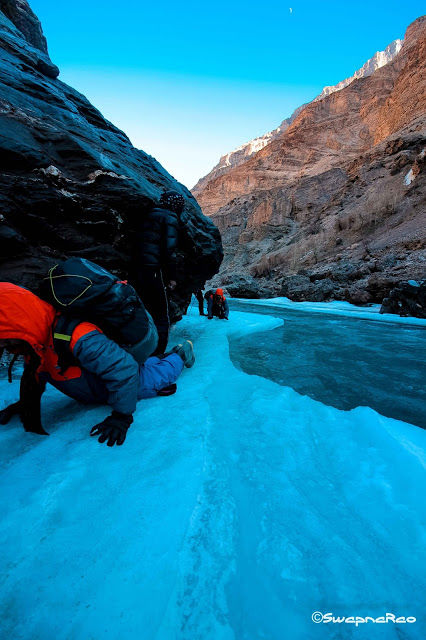 On this last stretch of your journey , take some memorable group pics to add to your Chadar Diaries and flaunt with your friends. There are a few natural slides , better you make use of them :) Altitude Change :10,550ft to 10,390ft to 11,000ft.
Overnight Stay in Pre Booked Hotel/Guest House.
Day 8: Checkout from Leh.
Certification Ceremony and talks with veteran trekker, high altitude instructors and doctors of India.
Greet your Guide, Staff members, Porters and say "Julley" to Leh.
Fly to your desired destination.
Contact at : info@himalayanadventuretrips.com +91 9654497932, +91 9999887619(whatsapp) Your Cheap Flights to Leh Any specific queries bothering your mind, post in comment section.. RISK & RESPOND
A potential risk is involved in this Trek which we try our best to minimise by our limited size of batches(max 12) and maintaining the ratio of 2:3 of staff member to trekkers. Himalayan Adventure Trips is build by certified guides,and trustful local staff member with safety at highest concern.
Army officials supports air lift for seriously injured trekkers and communication can be done with two satellite phone stations (Chilling & Neyrak)
Himalayan Adventure Trips arrange all your permissions required for this Trek well in advance to avoid any last minute issues.
Environment Fee: Effective from Jan 2016, and environment fee of @Rs 2050 is levied in Leh by Leh government officials.
WHY CHOOSE HIMALAYAN ADVENTURE TRIPS AS YOUR TRAVEL PARTNER FOR CHADAR TREK
7 years of experience with organising Chadar Trek
Nutritious Fresh prepared food at organised camps with skilled chef ,experienced for high altitude cooking.
Best Sleeping bags in order to meet extreme winter conditions
Hygienic Kitchen Tents and Dining Area.
Association with Leh Adventure Tourism and local staff.
Free Accidental Insurance of 1 Lacs