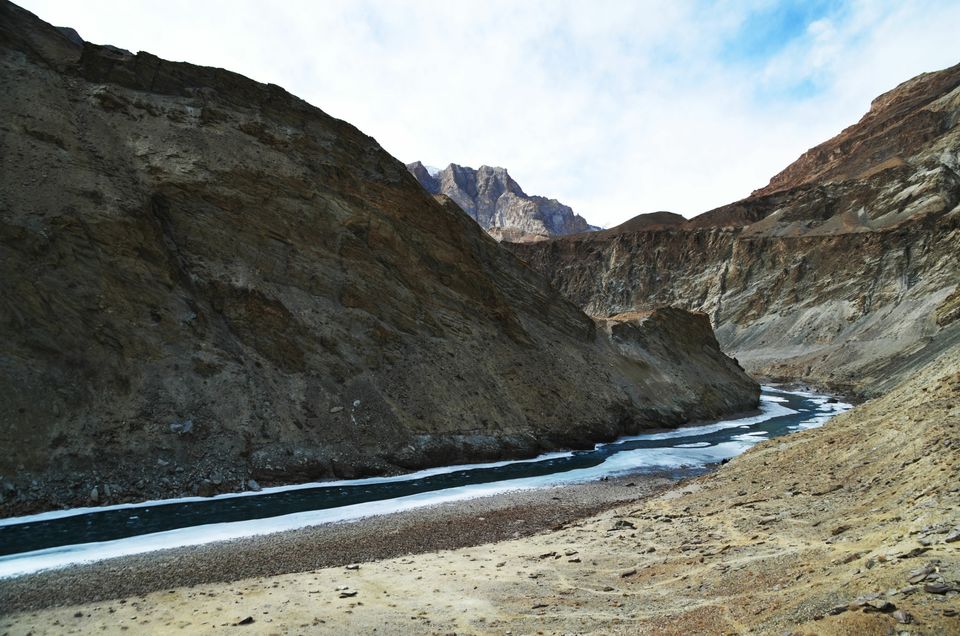 January-February are among the coldest months in India. While most people generally tend to stay indoors and stay warm by sipping cups of tea or gulping down whisky, there are some who head to perhaps the coldest part of India during this period. With temperatures which drop to sub -30 degrees in the nights, Chadar Trek draws some crazy people who want to experience what it feels like walking on top of a frozen river, the Zanskar.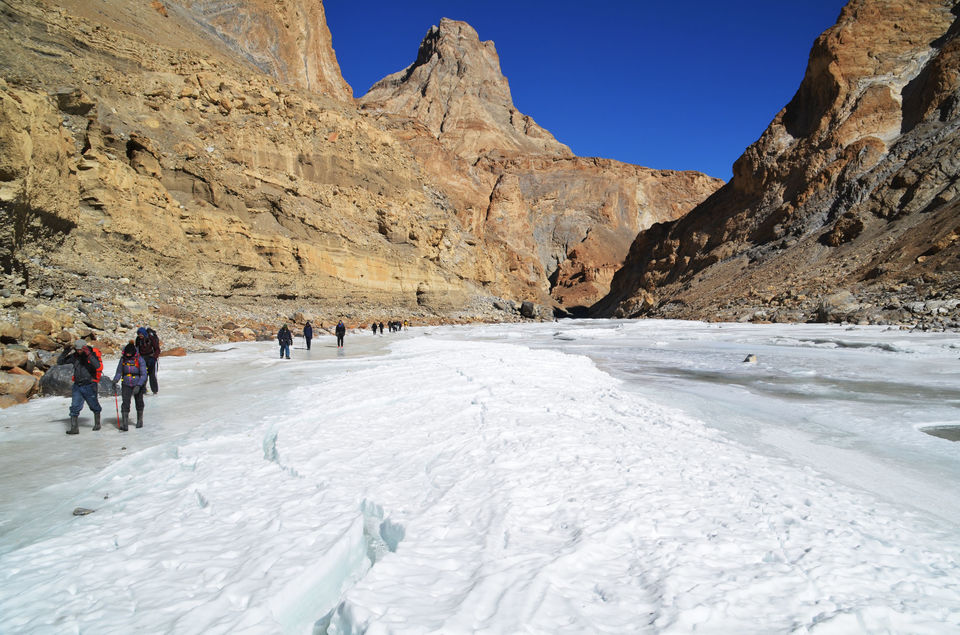 I had never been on a Himalayan trek before. So, I thought it would be fun to start with one of the most challenging ones. 2016, February it was. Two friends from college joined me on this trek. We reached Leh in the morning of Day 0 and caught up with our trek leader (Billoo Baba), co-leader (Gyatso) and the group. It was a good 23-member group with people from diverse backgrounds. While, the leaders were briefing us about the dos and don'ts while on the Chadar, I couldn't help but notice the magnificent Stok Kangri Peak at a distance standing tall and sturdy.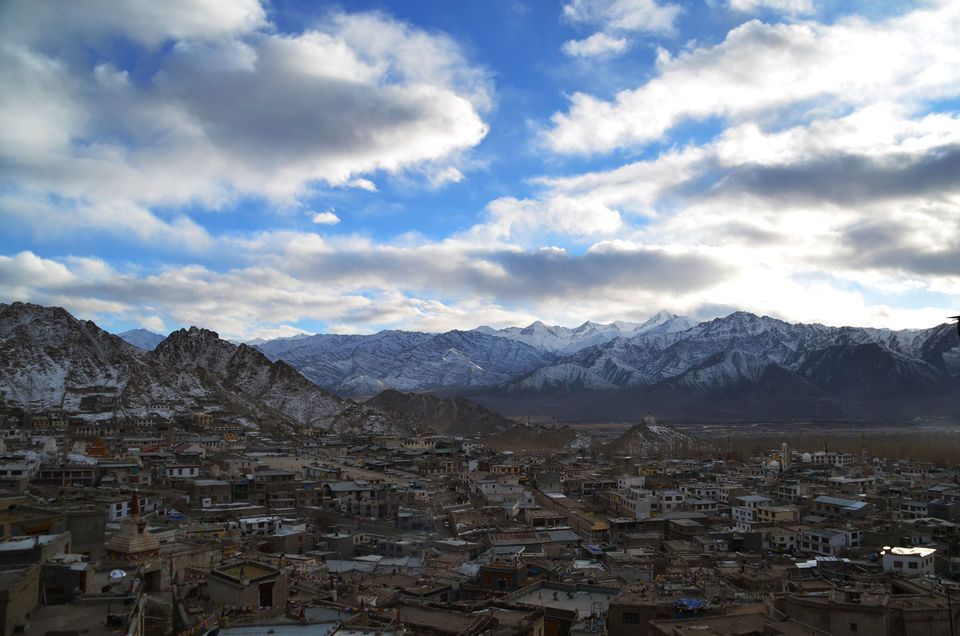 After lunch at a place called "Punjab Rasoi", which was a 5 minute walk from our Hotel (Hotel Palace View), we took off to the local market for some last minute shopping. Though it was evening, the streets wore a deserted look thanks to the winter. Around 90% hotels of Leh remain closed during this season. If you are looking for something to warm you up from inside, would suggest the "Godfather". ;)
Day 1 (Reaching Tilad Do)
En route to the starting point of the trek, we crossed the Nanak Hill and Nimu. Nimu is the confluence of Zankar and Indus rivers. The view is stunning as you see the tranquil blue Zankar merge into the moss green Indus reminding you of the classic Yin and Yang. This picture is most certainly a wallpaper click.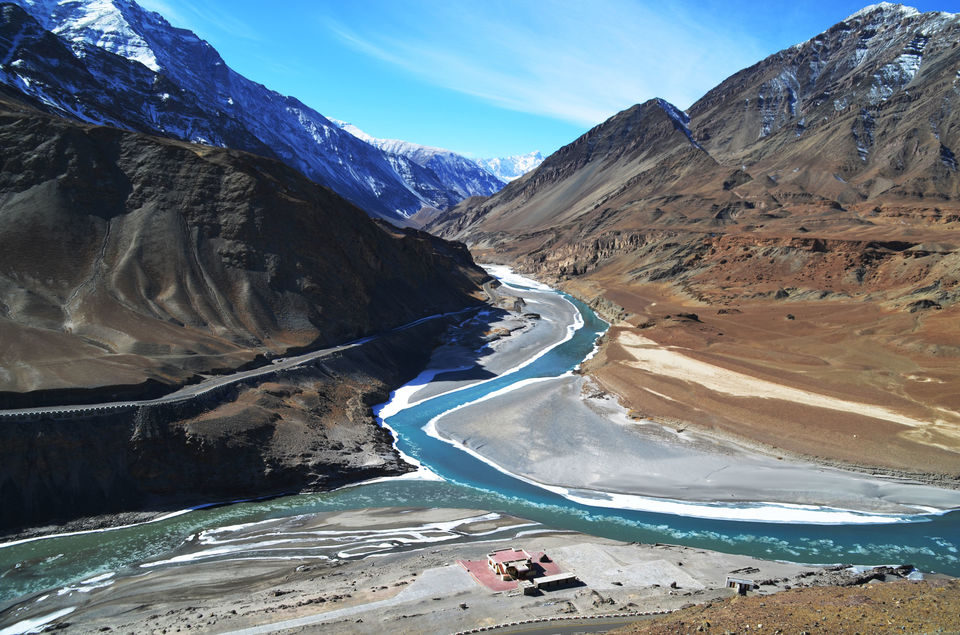 We continued along the snaked-roads towards Tilad Do. And this is where we first stepped onto the Chadar. Standing on ice, staring at the river between the mountains and beneath the pure blue sky instantly transports you to a parallel, happier and merrier world. We reached the campsite after walking a kilometer on the frozen river. While fellow trekkers were making themselves comfortable in their tents, I went on a hike onto a small hill behind the base camp and engaged myself in an interesting conversation with a Zanskari (the native people) guide. He spoke about the origins of the river, its tributaries and also was kind enough to give me a sip of the local drink called "Arak". Dinner was followed up a game of cards and crashing straight into the sleeping bags.
Day 2 (Reaching Shingra Koma)
We were woken up to a milk-less tea, called Kawa by the cheerful Sherpas. Breakfast at 7 30 and trek at 8 30. Today was quite a long walk. Around 10 kilometers on the frozen ice. Waltzing away on ice, one would have expected but the Zanskar had other plans in store for us. We reached a point where the Chadar was weak and the only option to go ahead was to climb onto the steep hill and join back on the course where ice was strong enough to hold us. This detour turned out quite an adventure but the Sherpas made it so simple for us. Walking on frozen ice between the mountains made it feel as if we were on a treasure hunt. By 2 pm, we reached the camp site. Bright sunshine greeted us there. Sitting on a rock and looking at the river bend around a mountain was a treat to sore eyes. In the evening, we played a game of Middle Monkey with a tin-can we found. Dinner was followed by bonfire, songs, dance and stories.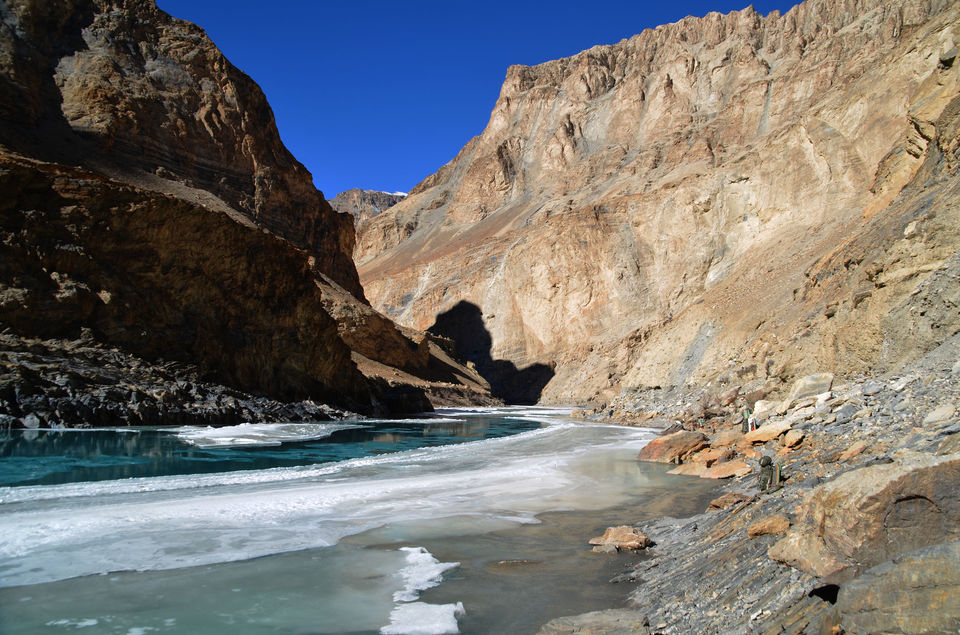 Day 3 (Reaching Somo)
The hardest part of this trek is dragging yourself out of your sleeping bags and getting ready for the trek. Today was supposed to be the longest part of the trek – a 15 km walk to Tibb. We headed out after breakfast at 8 30. An hour into the trek, we noticed a nose-shaped opening on a mountain on the other side of the river. A waterfall, which was frozen, descended from the structure. Gyatso, our co-trek leader has an interesting story behind this. It was about a Lama (monk) once upon a time, who out of curiosity, opened a box given to him by a Tibetan king as a solution to a drought being faced by people in the Lama's city, and a fish which jumped out from the box onto the mountain drilling a hole as it went resulting in a waterfall. Well it seemed interesting when he told it.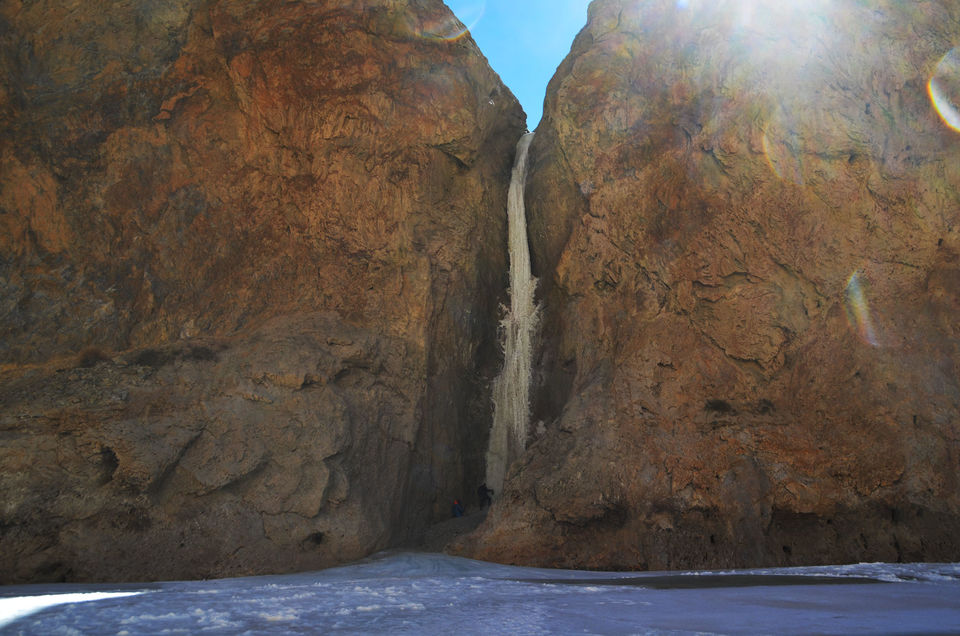 As we reached a place called Somo on the way to Tib, we saw some people returning back. They told that the Chadar was quite weak and they had to retreat. We set camp at Somo. Our leader Billoo told that they would check the route the next morning to see if going forward was feasible. The Zanskar River reacts to the slightest change of temperature, and constantly keeps repackaging itself. We climbed up a hill behind our campsite and could see a tributary joining the Zanskar River. The rock formations were spectacular. The evening sky, golden mountains and the bend of Zankar looked like a painting by a master-artist.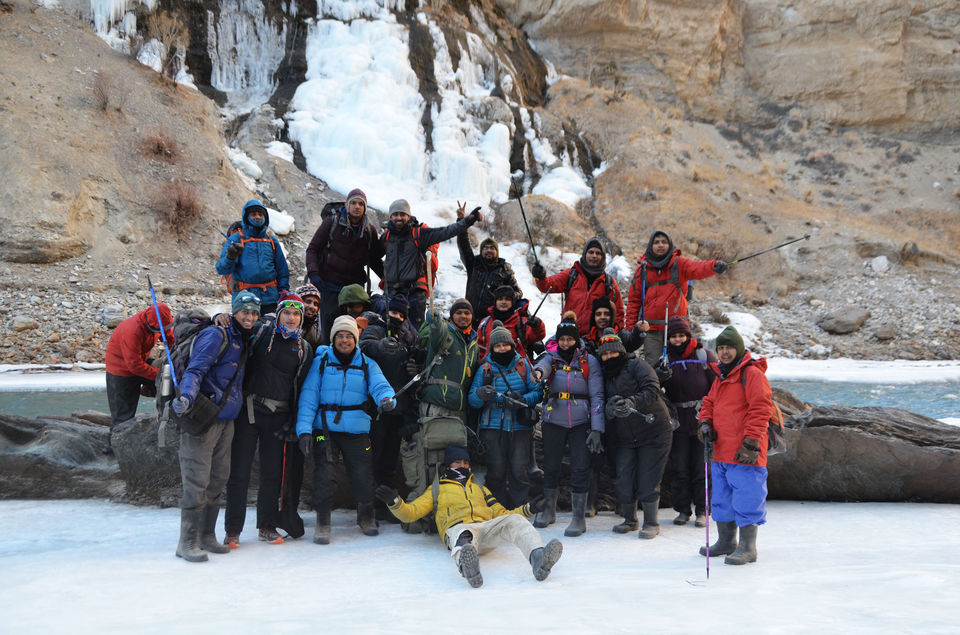 Day 4 (Exploring Somo Valley)
While the leaders headed out to check the route, most of the group preferred getting some extra sleep. I went to the kitchen where some Sherpas were preparing breakfast. Parathas. Very soon got into interesting conversations with them. I think conversations with the locals is the best part of any trip you take. A Sherpa told about his long-distance girlfriend in Hyderabad, while another told how they met Anil Kapoor, Akshay Kumar and Saif Ali Khan. One guy also told how tourists are fooled by the whole concept of Magnetic Hill near Leh. Candid boss.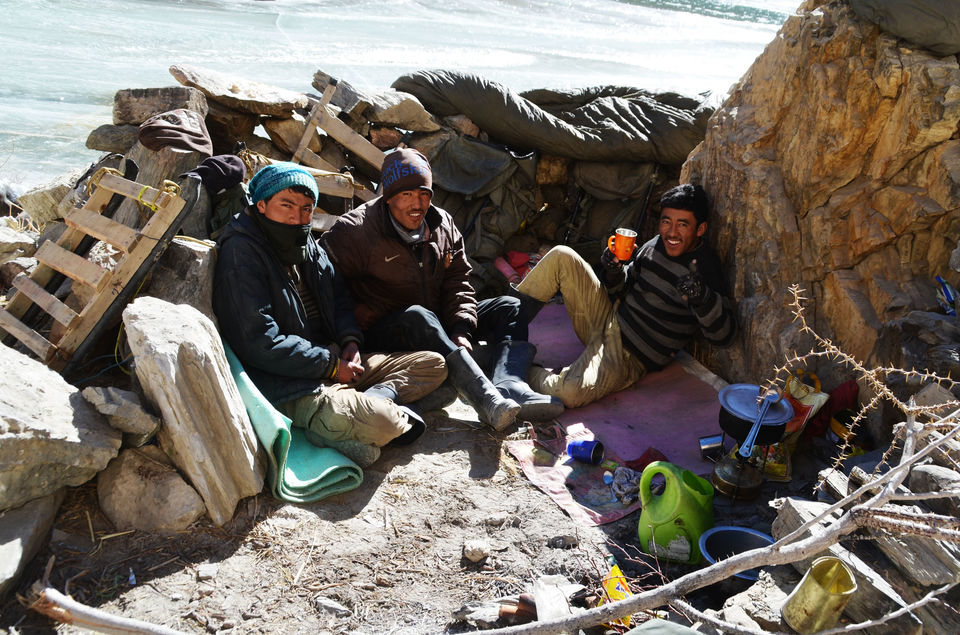 By breakfast the leaders came back and told that it wasn't safe going forward and we decided to explore the Somo valley for the day. The rocky terrain was fun to climb. The highlight was a 20 foot inclined rock, which we couldn't have summited without help from Gyatso. En route, streams and falls originating from the womb of the mountains was quite a sight. We returned to the camp site by around 5 pm. It was particularly cold that night. Billoo told it could be touching -30 degrees. After dinner, I went out and as I lay on a rock I saw the silhouette of the Himalayas form a giant crevice in the sky from where stars, constellations and planets looked down gracefully at me. I have never seen a sky more clearer, I have never seen the stars so many. What a night show.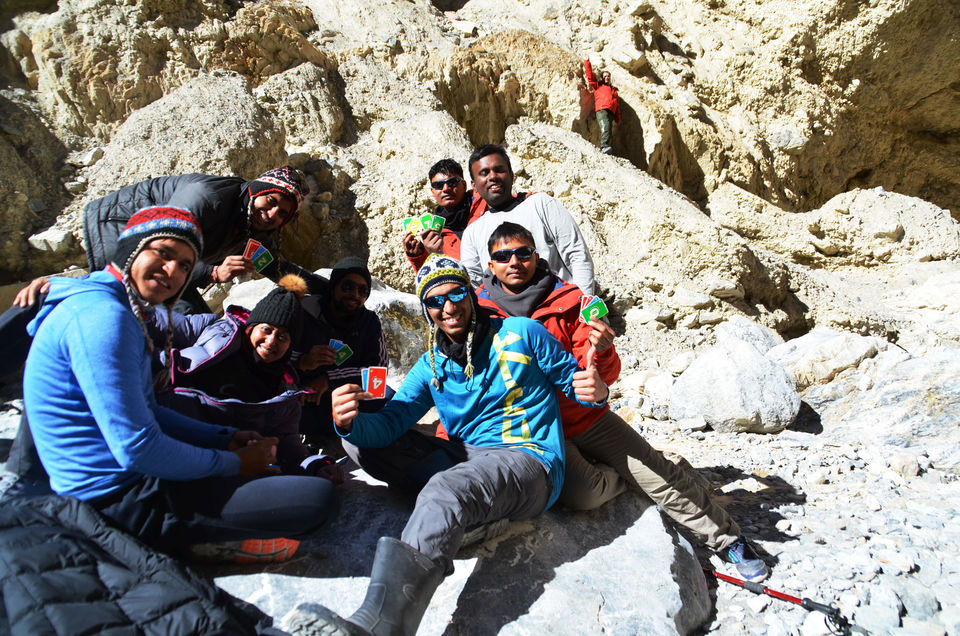 Day 5 (Reaching Shingra Koma)
Today was the day we started heading backwards. By now, we had gotten used to the cold and it did not seem to affect us much. One of the few things that keeps you going in such a harsh terrain is the cheerfulness of the Zanskaris. They are a great source of inspiration as they always manage a smile, even in the coldest of the temperatures. I think that's the only way one can survive in an unforgiving situation – be cheerful (feels philosophical actually)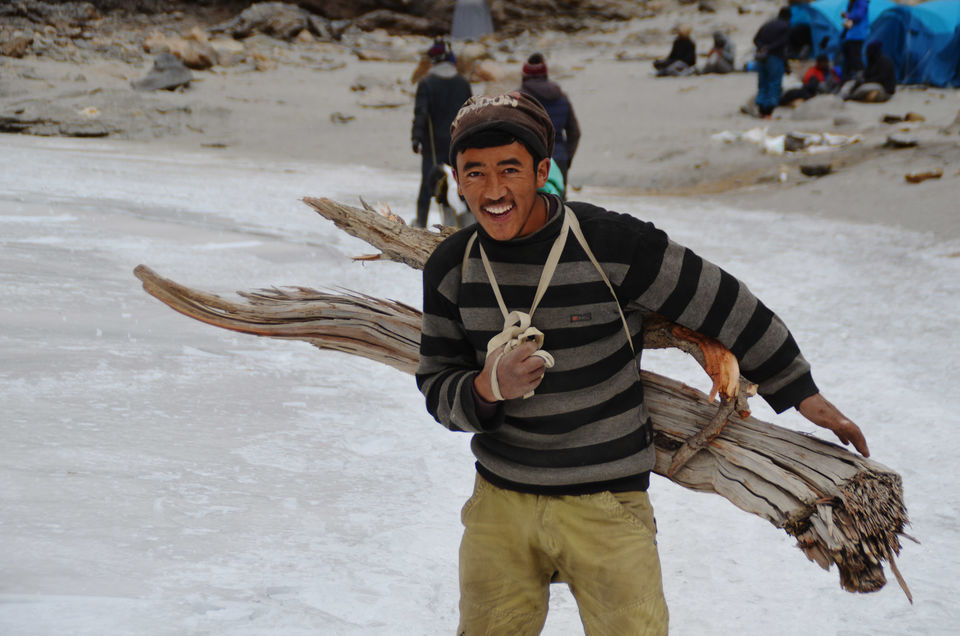 The fifth day was quite uneventful as the feeling of going back started sinking in. But, I tried my hand at pulling a sledge on the frozen river. It's quite fun and you end up slipping several times.
Day 6 (Reaching Leh)
As there was not a lot of distance to cover, all of us slept till pretty late on the sixth day. After a filling breakfast, we headed back to Tilad, where our van was waiting for us. We reached Leh at 4 pm and got to know that it was the annual Dosmo Chey festival. Streets were filled with shops and game parlors and people were having a fun time. We let our hair down as well. Post which, we crashed into an amazing hotel called the Mahey Retreat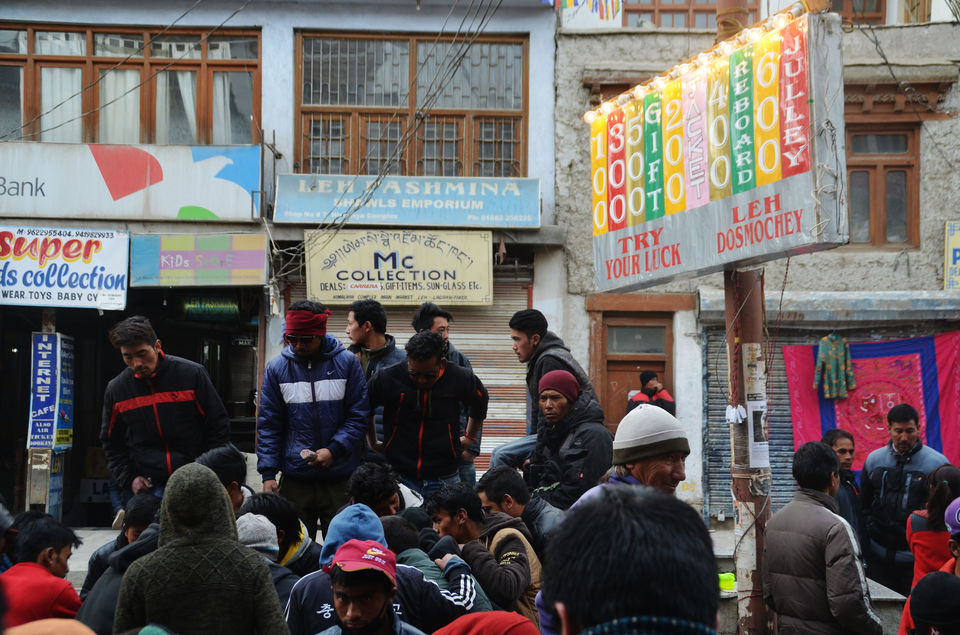 Day 7 (Khardung La)
The first time in seven days we woke up from underneath a blanket and not a sleeping bag. As we had an entire day at our disposal, we decided to go to the so-called "Highest Motor-able road in the world" – Khardung La. As you keep gaining altitude, you can see the brown road turn into white. Ice on the road makes it dangerously slippery. Once on top, you are advised not to spend more than half an hour outside your vehicle. We got into a chat with an Army Jawan, who informed us of an avalanche which claimed lives of some of the fellow Jawans at Siachen.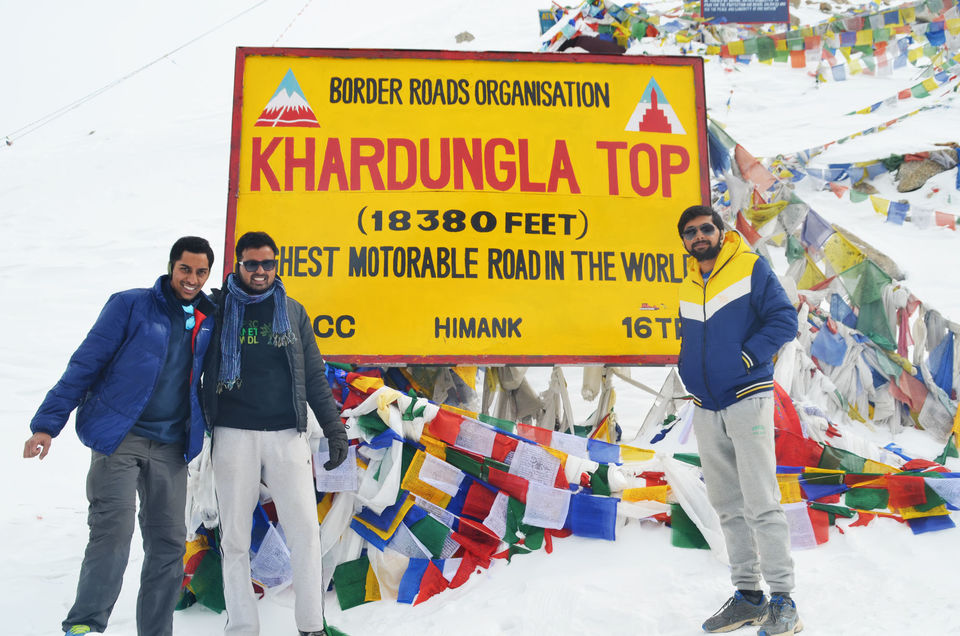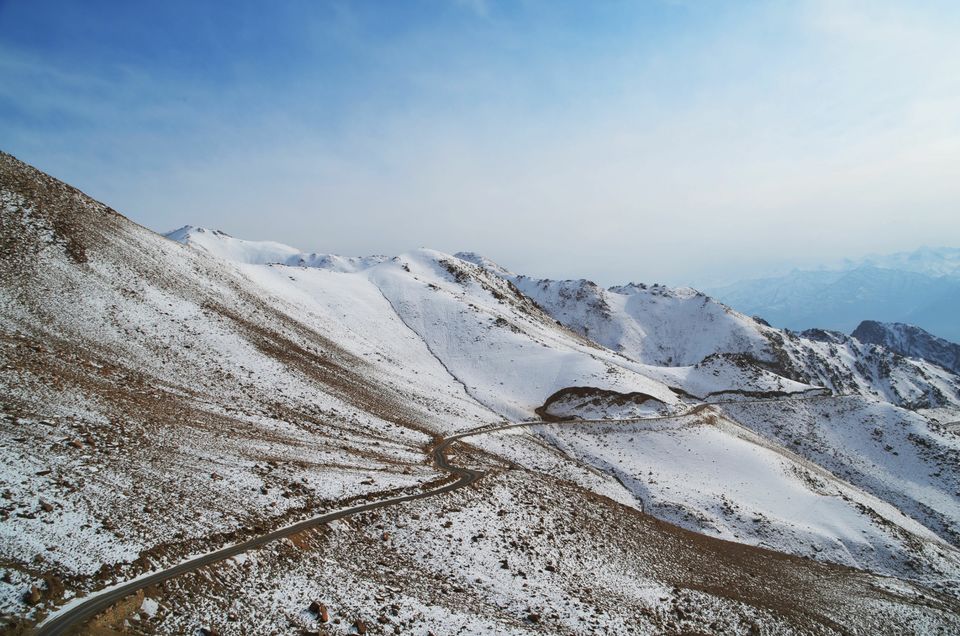 This was the last day of the trip. And like Hrithik said in the movie Zindagi Na Milegi Dobara, it was like that sad Doordarshan tune. From next day, it would be back to school and reality. But like a wise man once told me – don't be sad that it's over, be glad that it happened.
Chadar Trek is not physically very difficult on you. It doesn't include steep climbs or descents. But the thrill of walking on a frozen river with the constant sound of ice cracking is what you can look forward to. The trek is graded between moderate and difficult primarily because of the super cold temperatures. It is a good time to catch up with yourself as there is no network, no whatsapp, no facebook, no emails, no distraction. Just you and your journey in time.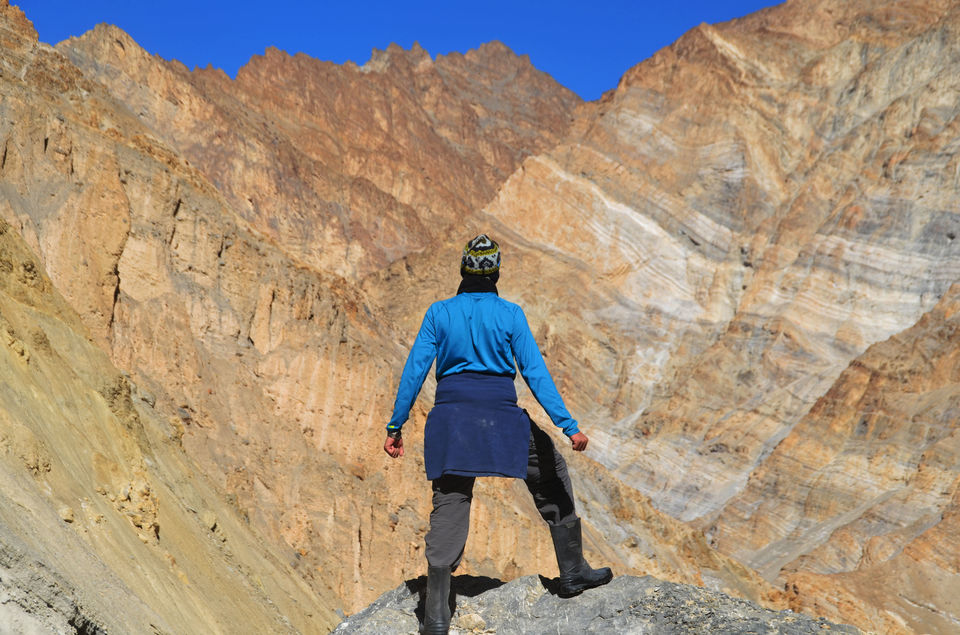 Suggestions:
Agency – I had a good experience with Trek The Himalayas; would recommend it to you
Number of layers of clothing – Ideally 4 to 5 (thermals are a must); No need of taking a raincoat
Headgear – Buy a woolen cap from the local market
Goggles – Must as sunrays reflect strongly off the ice
Walking Stick – Better to take one in the local market as walking on ice can get tricky (especially on the first two days)
Boots - Buy gumboots of "Columbus" or "Diamond" brand in the markets of Leh (those give you a firm grip on any kind of terrain)
Mobile – Safely dump it in your backpack as you won't get any signal once you start your trek
For more details, do reach out.