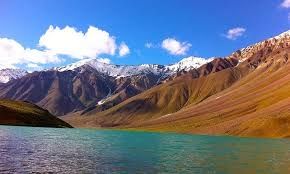 Chandrataal lake is the lake in Spiti part of Lahaul and Spiti valley of Himachal Pradesh.
As the name suggests , also known as Lake of the Moon.
Since a year I have been planning to go for camping there but due to some circumstances it was not happening..
Recently i came across a article that government as banned camping there to stop pollution..
https://timesofindia.indiatimes.com/travel/destinationso-more-camping-near-chandratal-lake-in-spiti/as70434345.cms
Its not exactly true..A week ago ,it was visited by people I know and they did camp near the lake.
To reach there,one has to take Rohtang pass from Manali  and stop at Batal. From there Chandrataal is a trek of few Kms.
I am saddened by this false news rumour..
Nevertheless, It is our duty as travellers to be responsible and sensitive towards our environment..  We have to stop polluting  the rich biodiversity of our world ..
Few weeks back,similar destructive news came about Mt.Everest.. It's so irresponsible of   people to be so selfish and be insensitive towards Mother Nature which actually provides us with all basic requirements to be alive..