PANGONG TSO TO TSO MORIRI

On the Way
Pangong Tso à Tso Moriri
Route:
Pangong Tso (Spangmik) – Man – Merak – Chusul – Nama – Kaksang La – Horala – Mahe – Sumdo – Kiagar Tso – Tso Moriri (Korzok)
Safarnama :
This write is about a journey which was a part of the vacation from which I am recently back.During the monsoon time (June-July-August) in India major tourist places witness less foot prints with some exceptions in the list. Out of these exceptions, there is one place which attracts people from all ages, profession and passion. This place is a major attraction for bikers, adventure enthusiast , photographers , young , old and most importantly Bollywood believers :). The name of the place is LADAKH.
So being part of this same cast :) we (me and my wife ) recently visited LADAKH , a piece of heaven on earth.
In entire Ladakh region every turn there is a surprise waiting for you . For people who believes in sight seeing ,in Ladakh you have to be on road ,you have to do road trips to satisfy your hunger for seeing places ,terrain .... In this trip we have visited mostly all major places of attraction of Ladakh region. This trip has gifted me with lots of memorable road trips. From my casket of experiences, I would like to mention about one road trip that was full of thrill and adventure, and most importantly the scenic beauty that we have experienced can't be described in words.This road trip was from Pangong Tso (Spangmik) to Tso-Moriri (Korzok).
Pangong does not require any introduction. Pangong Tso is well known for Bollywood movies starting from Dil se to Jab Tak hai jaan and yes 3 Idiots and lots more.Pangong is just picture perfect .Pangong can be reached from Leh in 5-6 hours.Later I will describe about Pangong in detail.This time let's discuss about the trip from Pangong to Tso-Moriri.
Let's give a brief introduction about the region first. These two high altitudes lakes Pangong 4,350m (14,270 ft) and Tso Moriri 4522 m (14,836 ft) are in Changthang valley of Ladakh. Changthang is situated at an altitude of 14,600 meters above sea level in Rushpo Valley, it is home to the Changpa nomads and stretches from Eastern Ladakh to approximately 1600 km east into Tibet. Tso Moriri is at one end of Changthang.
And one interesting thing about Pangong is it's 30% is in India and 70 % is in China. So LOC has passed through the lake.Distance from Pangong to Tso Moriri is about 360-380 Km. There are majorly two routes from Pangong to Tso Moriri. 5-6 years back there was no direct route from Pangong to Tso Moriri. People has to go to Tso-Moriri directly from Leh. Nobody was allowed to take the routes from Pangong to Tso-Moriri because of army regulations.But now these routes are opened and if you are an Indian national you need to have Inner line permit to travel in this route .So fasten your seat belt we are about to begin the ride through the most deadly roads of Ladakh.It will be 100 times more than a roller coaster ride of any amusement park.Let's start. Our first destination was Pangong.After reaching Pangong we have taken a one night halt at pangong camps which was pre-booked. So next day morning after bidding adieu to Pangong we started for Tso Moriri. We started around 9 am. The driver earlier have told us that road will be bumpy and lonely. And we should store adequate food and water for the road. As per the suggestion we have done the arrangements. So at 9 am we started our trip. The first 10 km of our ride was along the bank of Pangong. There was no road absolutely. The car was literally going up ,down ,left, right. It was fun :). I had opened the windows of the car and was enjoying the blue , sorry blue -green oh no deep blue actually all the colours of Pangong.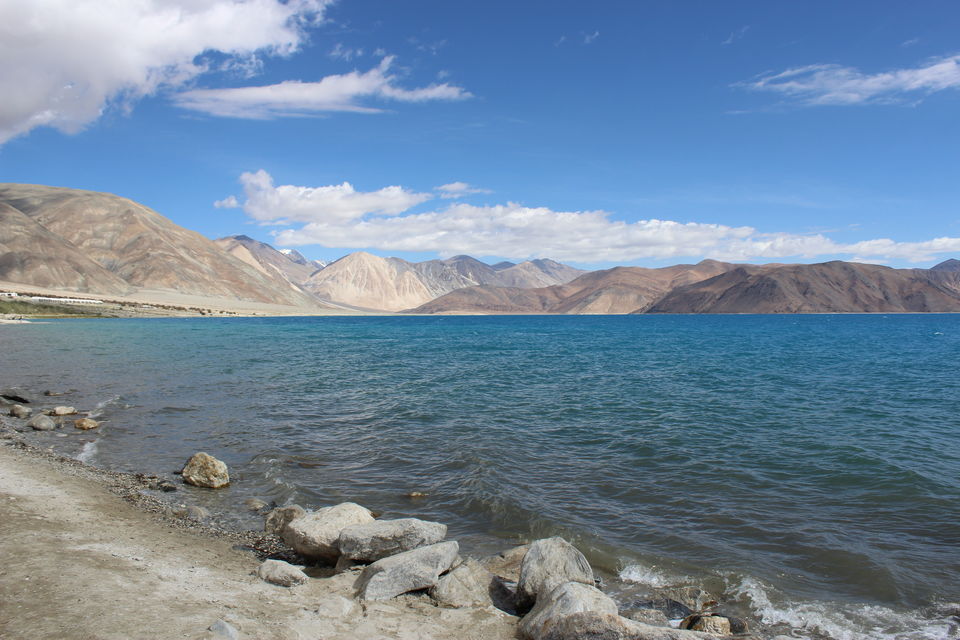 Pangong Lake
The path was full dusty and bumpy .The name of this 10 km stretch is MAN. So after travelling 10 kms along Pangong line we have taken a right diversion and from this point Pangong turn towards China.Before travelling to Leh I have researched a bit about this trip. So it was written in some blog you have to take Pangong lake road, so my expectations was a bit different type of lake road that we generally see in other mountains of India, but it was completely different. Till date this was the best scenic beauty that I have enjoyed from a lake road (Note : I have been to OOTY,KODAIKANAL,MT ABU,CHANGU,NAINITAL,SAATTAAL,YERCUD). Our next stop was MEHEK where we have to show our permit. One will be able to see the mountains of china in this entire stretch. After MEHEK now our next destination was CHUSHUL.The road was of same stature .Full of dust and bumps. Ideally speaking there was no road .On barren land our car was running towards its destination. In this entire stretch there is no milestone, no sign board, no road. Our car was following tyre marks of military truck on the pathway. By this time we have travelled almost 2 hours .In this entire journey we have seen only 2 cars going for the same destination .Not able to find a single biker on this road . Even though Ladakh is a biker's paradise ,there was no biker on this road. This actually explains how bad the road was. On this entire road there was no shop or camp. The route was cutting through the valley and mountains on the both sides. Left side was China and right side India.
If someone wants to travel in this area, then he should follow the electric poles or tyre prints of military truck. You can lost here if you don't know the road and turns.After travelling for 2 hours we were able to see one road side small joint. We had lemon tea there. The name of the joint was last hotel.Chushul is a small village in the Changthang valley.It is one of the five officially agreed Border Personnel Meeting point between Indian and Chinese army. After a short break we were back on road. On the way we visited famous Rezang La.Rezang La is a pass in Chushul valley. It was the site of the last stand of the 13 Kumaon, during the Sino-Indian war in 1962.We stopped to visit the war memorial at Rezang la.This area is very near to the Border. We again started our journey through the barren land.(One thing I like to mention in this entire trip if you are travelling through car please try to have a SUV ,very risky to travel on a low base care, you may get stuck at any times).Mountains were on both sides of the pathway.Seeing the beauty of these mountains I could only say
"All the birds have flown up and gone;A lonely cloud floats leisurely by.We never tire of looking at each other -Only the mountain and I." - Li Po (Famous Chinese Poet)
Our next destination was Chagga La. At Chagga La we aregister at ITPB check post and again started our journey. Here for the first time we were able to see pitch road.
After registration we were heading towards Mahe .Mountains were showing its different colour at each turn. It took us another 3 hours to reach Mahe.At Mahe we had lunch.From Mahe our next stop was Kyagar Tso , a blue water lake . Actually, at first sight of Kyagar Tso I thought we have reached Tso Moriri, but I was wrong. In this region we were able to see a bit of green and natural fauna. While driving through this region we came across wild horses, mountain deers . These horses were not tamed by anybody. This entire set, created by the almighty was picture perfect. This entire view has taken us to LALA land. But very soon we had a reality check, a military truck towing a Gujrat registration Scorpio. The condition of the Scorpio was very bad, looked like it has been rolled down from mountain. So that's why in this stretch of the trip you need expert driver. We drove for another 1.5 hours to get a glimpse of Tso Moriri. The lake is so beautiful that it can't be explained in words.This lake is covered by snowcapped mountains on all sides . It's beauty is pure. At the entrance of Tso Moriri we have to register once again at ITPB check post. And in another 10 mins from the check post we reached our lake view hotel. The view of Tso Moriri was mesmerising.