Char dham ( Four abodes) is a four ancient Hindu pilgrimage sites located in the Garwal region of the Indian state of Uttarakhand. It consists of Yamunotri, Gangotri, Kedarnath, and Badrinath. It is also referred to as Chota Char Dham. Chota Char Dham shrines are closed in winter due to snowfall and reopen for pilgrims with the advent of summer. Access to the pilgrimage is either from Haridwar, or Rishikesh, or from Dehradun.The tradition is to visit the sites in the following order:
1. Yamunotri, the source of the Yamuna River and the head of the goddess Yamuna.
2. Gangotri, the source of the Ganges (River Ganga) and head of the goddess Ganga.
3. Kedarnath, where a form of the Hindu god Shiva is venerated as one of the twelve jyotirling.
4. Badrinath, the seat of the Hindu god Vishnu in his aspect of Badrinarayan.
Being a solo traveller I need a fixed departure package tour and I have been looking for a reputed and trusted travel agency that organises package trip to visit chardham. Through online searching, I found GMVN ( Garwal Mondal Bikash Nigam, A Govt. of Uttarakhand Enterprise ) that organizes package tours to visit Chota Chardham ( gmvnl.in)
I booked this trip ( Tour No. 3) from Kolkata office of GMVN ( Can be booked through online also) a month prior. It was a 10 Nights and 11 Days Bus trip. Package cost was around 14K only for lodging and transportation. Food was own payment basis. Pick up and drop point was Bharat Bhumi Tourist Complex, GMVN, Rishikesh.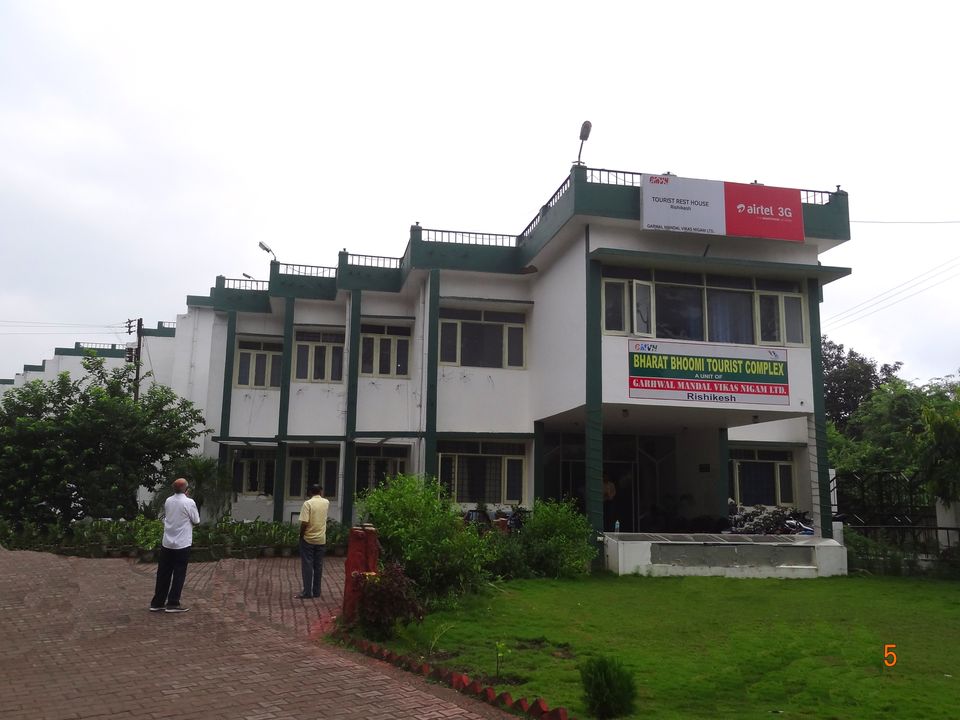 I boarded Doon Express from Howrah and get off the train at Haridwar. From Haridwar Railway station I booked a cab to reach Bharat Bhumi Complex, Rishikesh. I was allotted a room at the ground floor. After getting fresh I took lunch there. Food was delicious. In the afternoon I went for a solo sightseeing Laxmanjhula, Ramjhula etc. In evening our team manager met me at the GMVN lodge and brief the next days activities.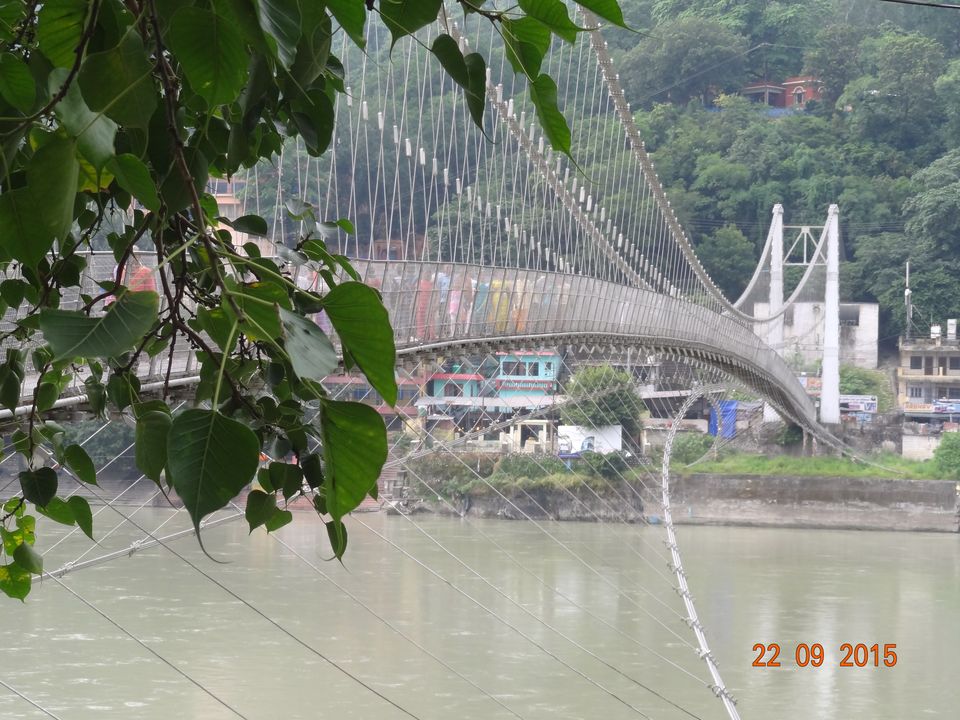 Day 1 : Rishikesh to Phoolchatti
Next morning around 7 am the bus started for Phoolchatti via Dehradun, Mussorie & Barkot. In the beginning of our journey registration of chardham yatra was made from Rishikesh Booking Counter.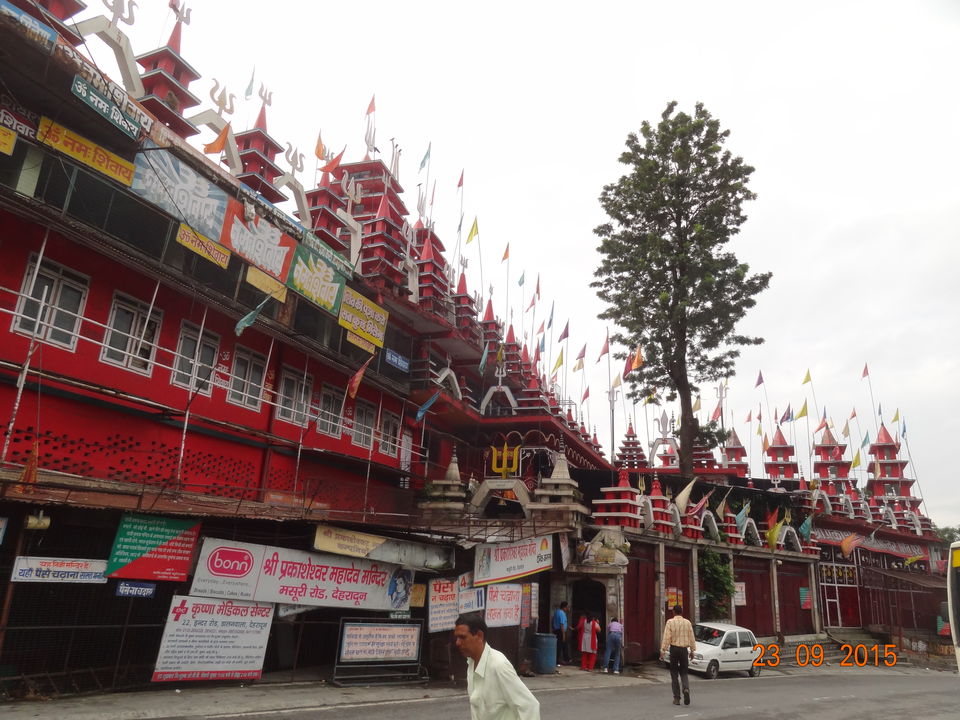 On the way we saw a beautiful shiv temple,Kempty waterfalls in Mussorie. We had a flat tyre around noon. We all had to stroll on the raod side amidst beautiful nature while the driver and his helper changed the tyre. Still it was a relief that he had a spare one.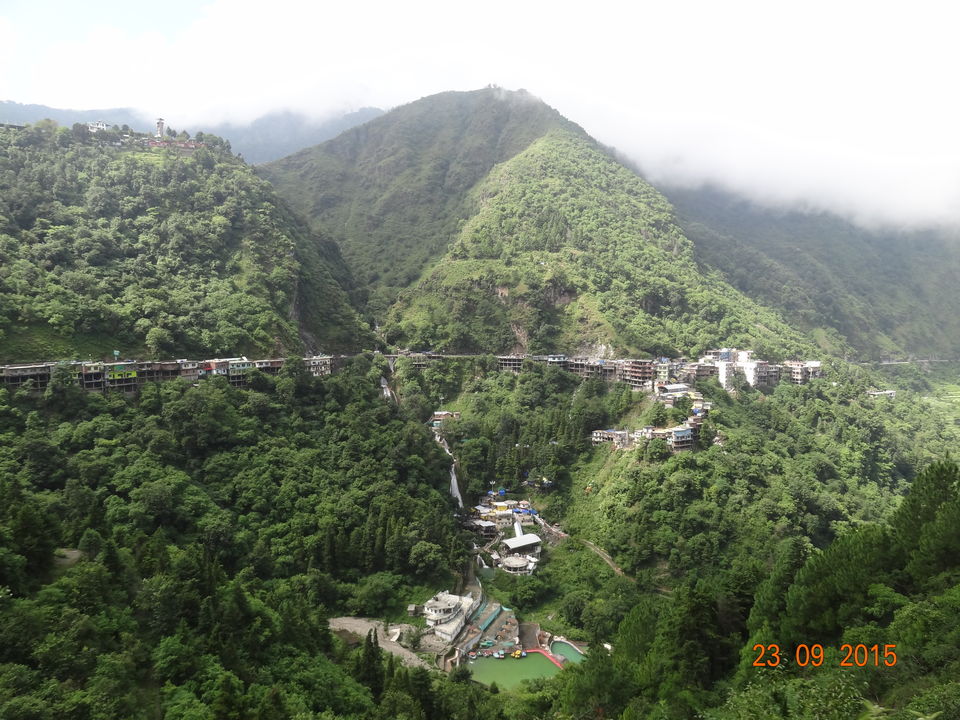 Around 2 p.m. we reached Barkot TRH and had lunch.
Barkot : 1,220 m
Barkot is a scenic place. After an hour break, we headed towards Phoolchatti, our last destination for that day .
Phoolchatti : 2561 M
We reched Phoolchatti TRH around 5 p.m. It is consists of a few small cottages in a valley surrounded by lush green lofty mountains on 3 sides.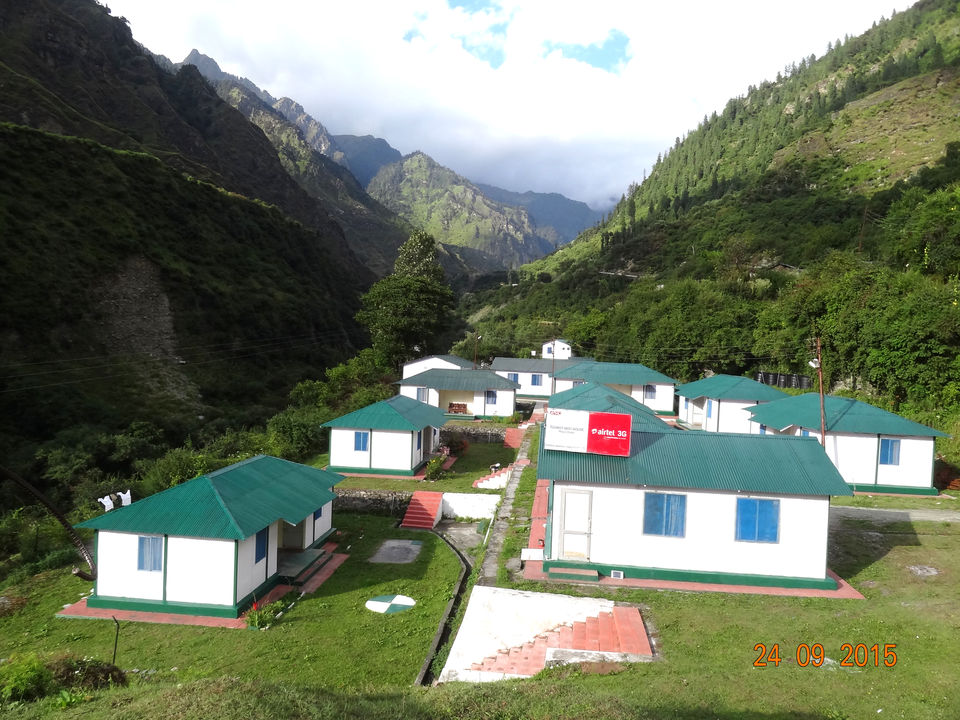 Rooms are very neat and clean, only one plug point was available for charging. Toilet was clean with geyser. Enough blanket/razai provided in each room.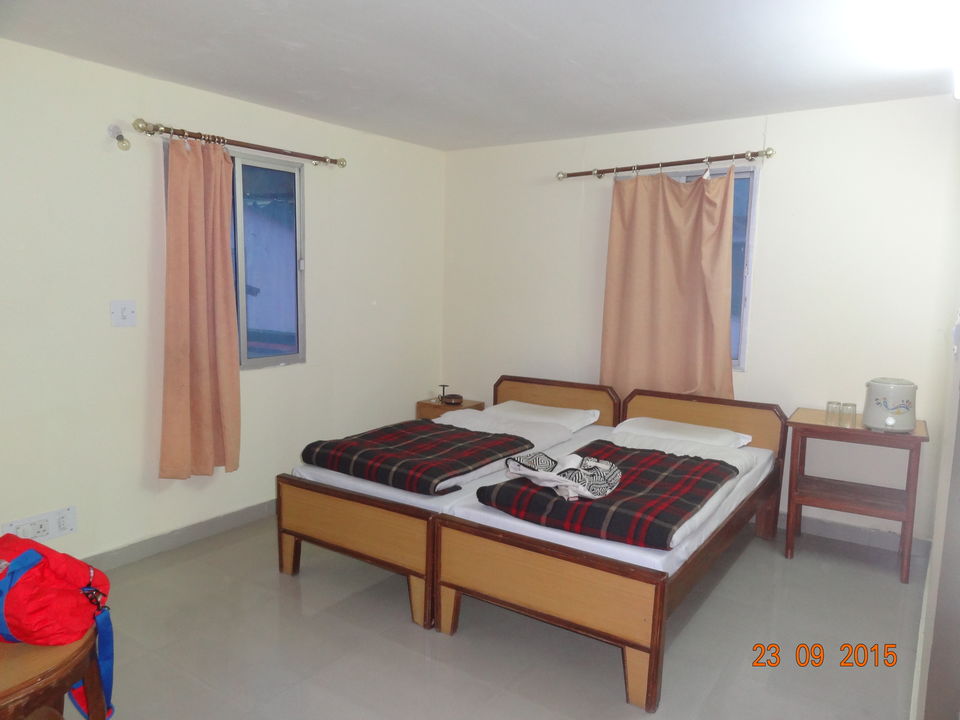 The evening was very cold. A bon fire was arranged and we all the travellers assembled surrounding the fire.We all introduced with each other there .The group consists of 5 couples, a family of 3 including a college girl, a team of 5 people and 4 solo traveller inlcuding me, our team Manager ( a young lad), Driver and his helper. All the travelllers were retired persons except one who was 55 years old, that college girl and me. They belong to different parts of India viz. North, south, West and East.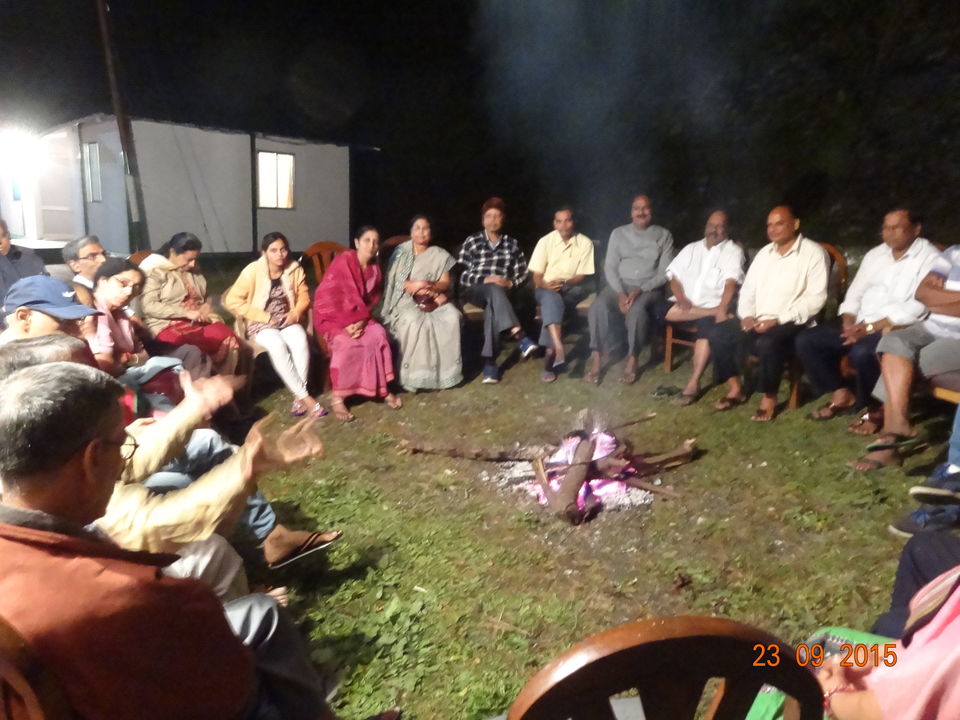 Around 8.30 p.m. dinner was served and after that I sleeped into bed.
Day 2 : Trek to Yamunotri via Janakichatti & Back
Next morning the bus dropped us at Janakichatti. Janaki chatti is further 3 km ahead of Phoolchatti.
Janakichatti : 2,650 m
Yamunotri trek starts from Jankichatti. From Jankichatti an approximate trek of 5 km to Yamunotri. It is a clear paved trail which is easily locatable even in the winter season. Entire trail has good fencing.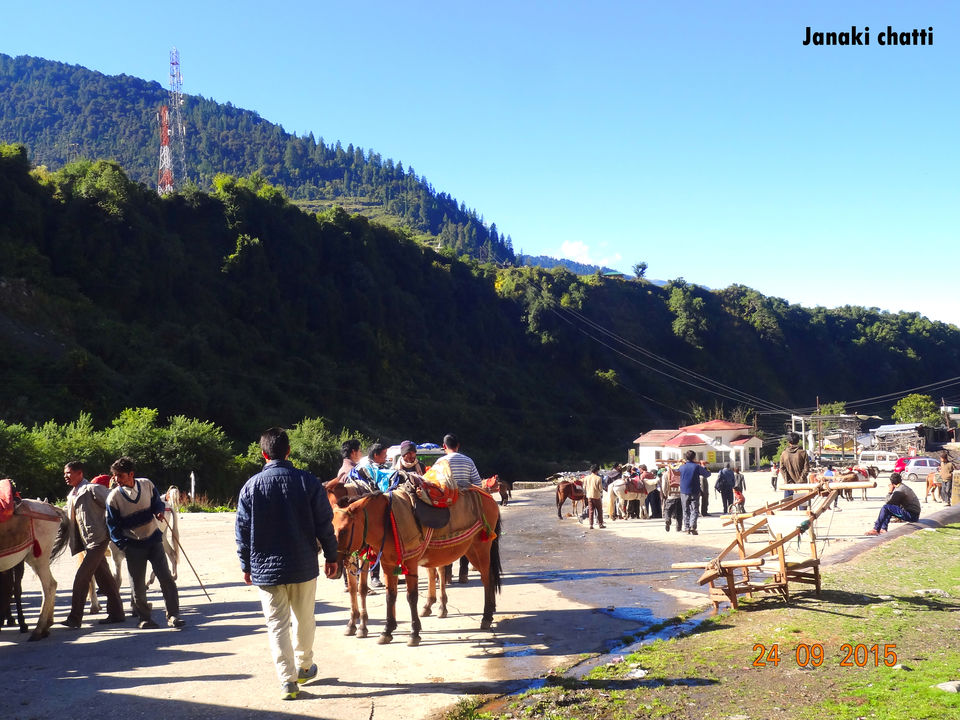 You can also travel through Dandi/Palki, Kandi & Mule/Ponies till Yamunotri which can be booked from a booking counter at Jankichatti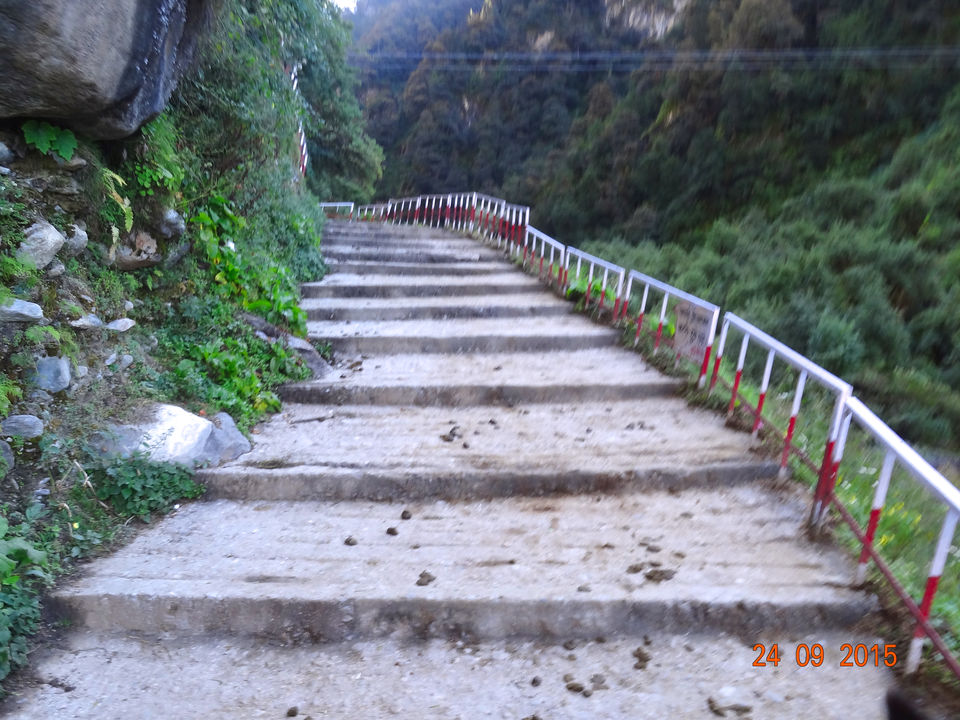 The trek to Yamunotri is not difficult although the route has some steeps. I opted for horse riding where as many of our group members even they were older than me went for trekking. On the way, there was a Ram Mandir and a Vairo devi temple.The path is full of natural beauty.Lofty mountains, greenery, here and there the sight of small water falls have created a breath taking view. River Yamuna flows below the mountains along the trek route.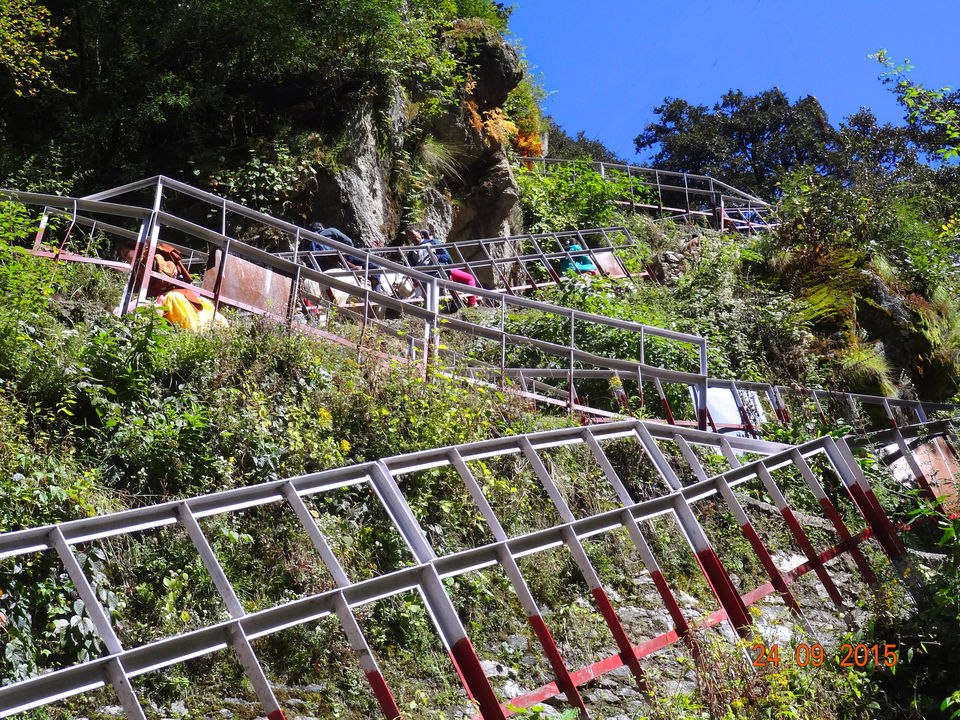 Yamunotri : 3,293 m
Yamunotri Temple lies in Uttarkashi district.The Darshan timing at the Yamunotri temple is from 06:30 am to 07:30 pm.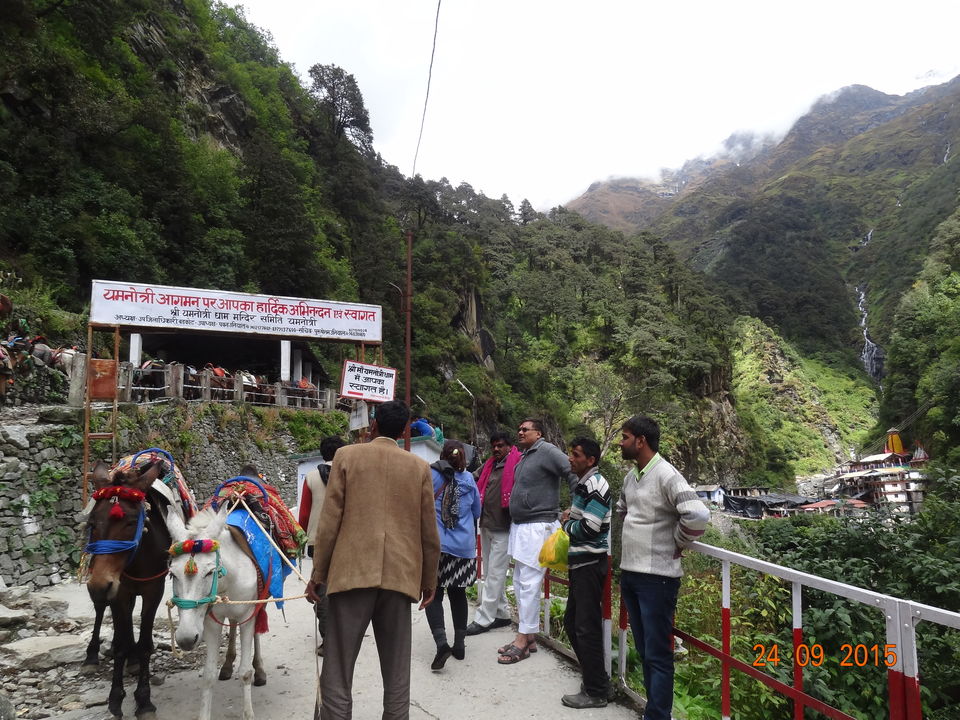 Around 11 a.m. reached Yamunotri. In the temple, Goddess Yamuna is in Black stone along with Laxmi and Maa Ganga. Photography is strictly prohibited. There is a Hanuman temple also. After offering puja, visit Hanuman temple, Divya shila, took some holy water in a small bottle from Surya Kund, clicked some photos also.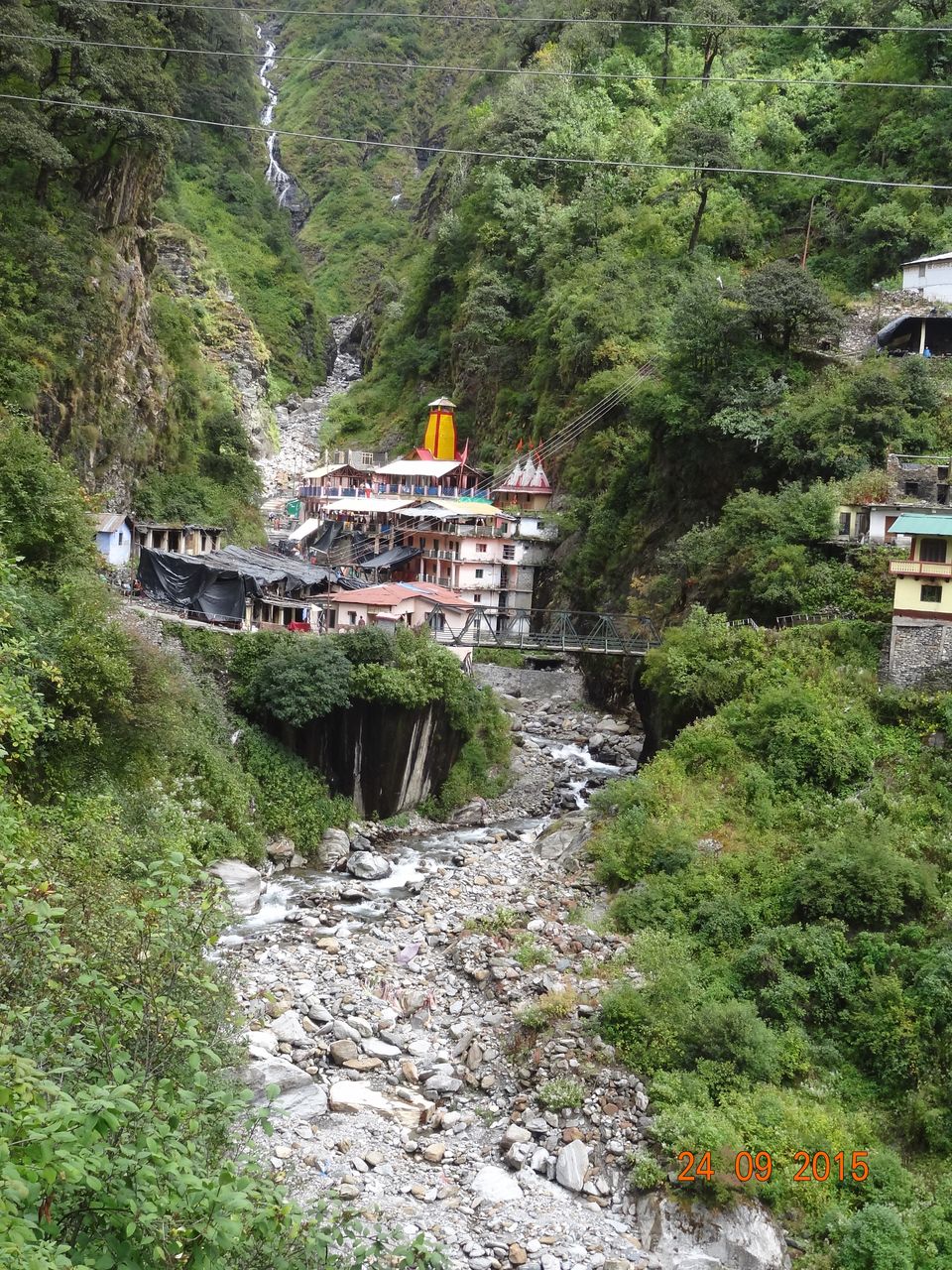 Surya Kund: There are a Number of thermal springs in the vicinity of the temple, which flows into numerous pools. The most important of these is Surya Kund.
Divya Shila: A rock pillar, worshipped before entering the Yamunotri Temple
After spending some time there, I started for going down. Horse dropped me at GMVN janakichatti. Rice, Dal and Aloo Jeera are very common food in Uttarakhand. We were directed to had our lunch at Jankichatti, GMVN TRH & stayed  there until all the members returned from Yamunotri. Around 4 p.m., bus started for Phoolchatti. We all are very tired after having early dinner retired to bed.
Day 3 : Journey to Himalayan Hamlet Harsil
Next morning  we hit the road again towards Harsil. Today we had to cover almost 250 km by bus. Journey was through scenic path amidst greeneries.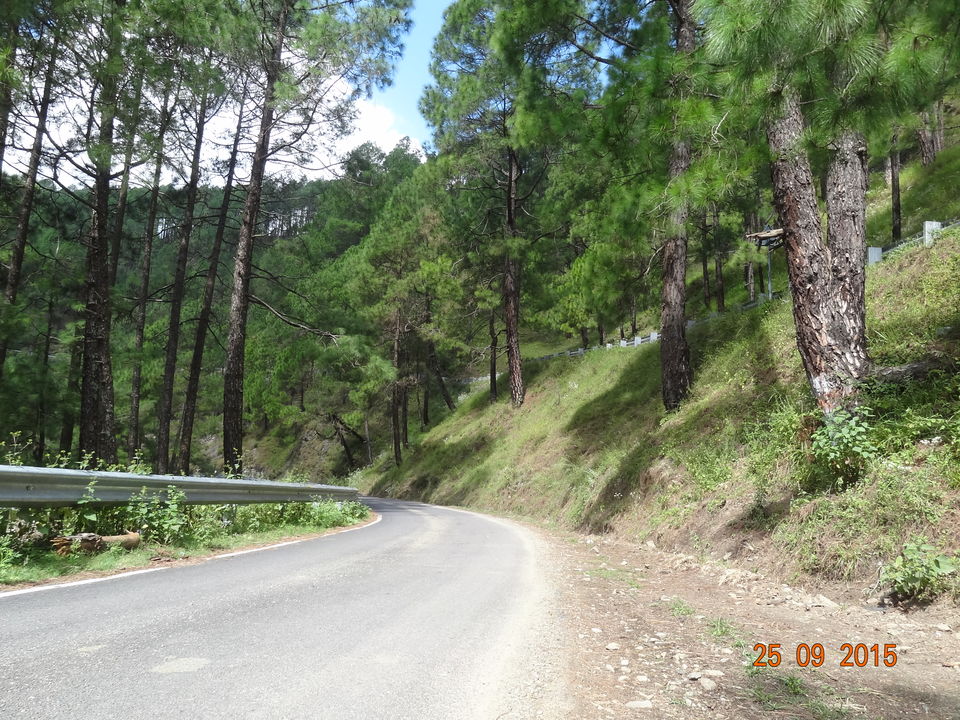 From Uttarkashi, Bhagirathi keeps us company all the way till Gongotri. The course of Bhagirathi through mountain gorge is spectacular.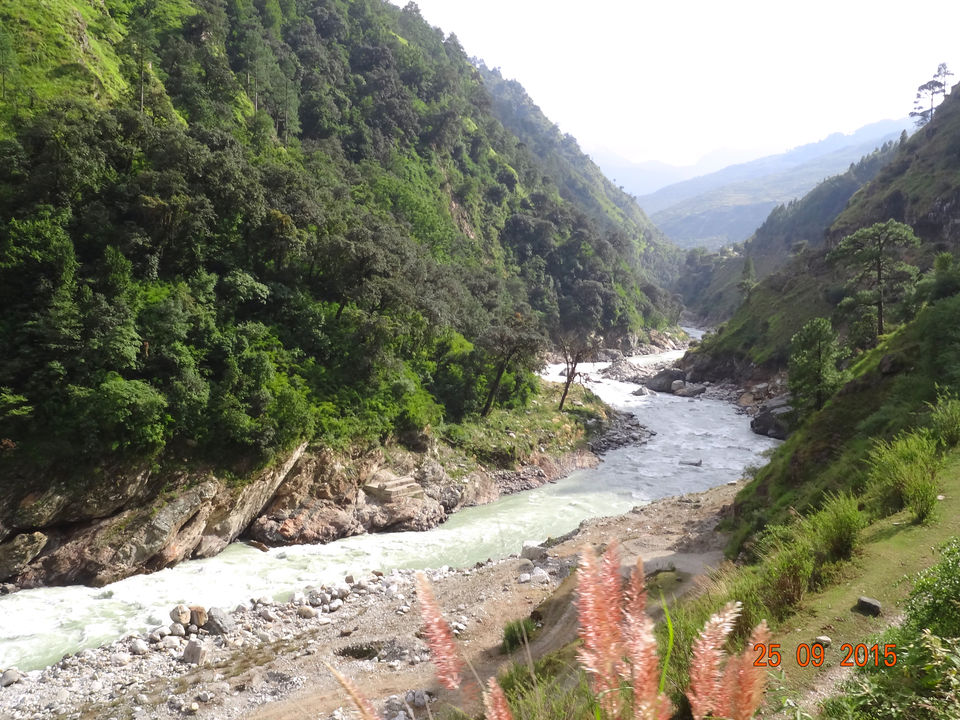 On the way we finished our lunch .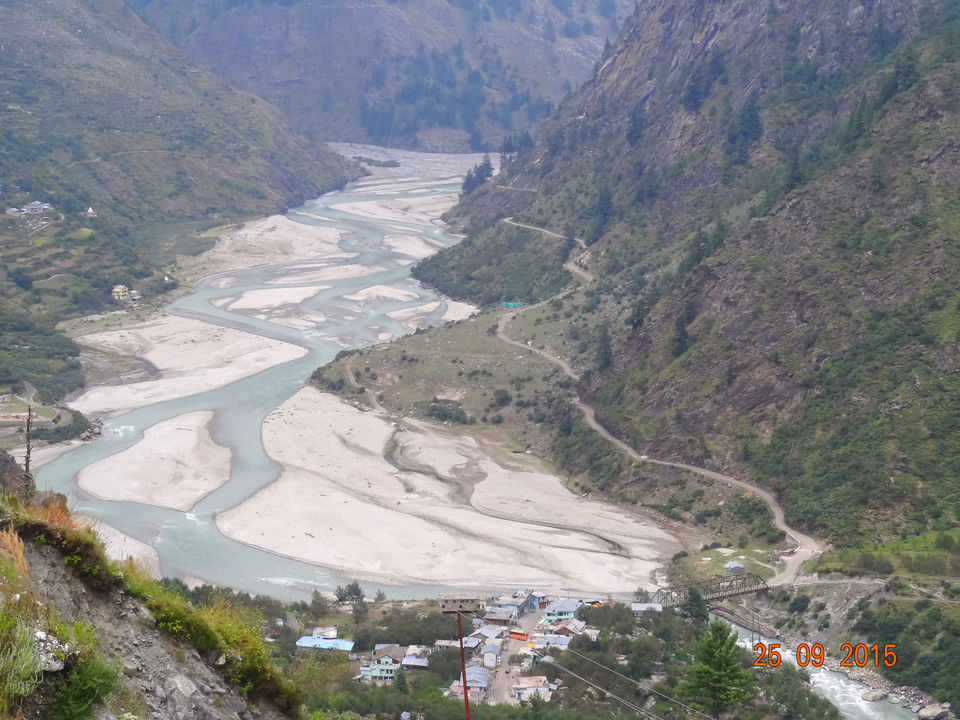 Harsil : 2,620 m
We reached Harsil bus standby 5 p.m., encircling the same valley endlessly for overnight stay. Harsil is a quaint little hamlet, surrounded by towering himalayan peaks. GMVN TRH is situated on the bank of river Bhagirathi, a few meter away from Bus stand, surrounded by snow caped mountains. Staffs brought our luggages all the way to TRH form bus stand for a price. Path was through the apple orchard. The trees are full of beautiful red apples .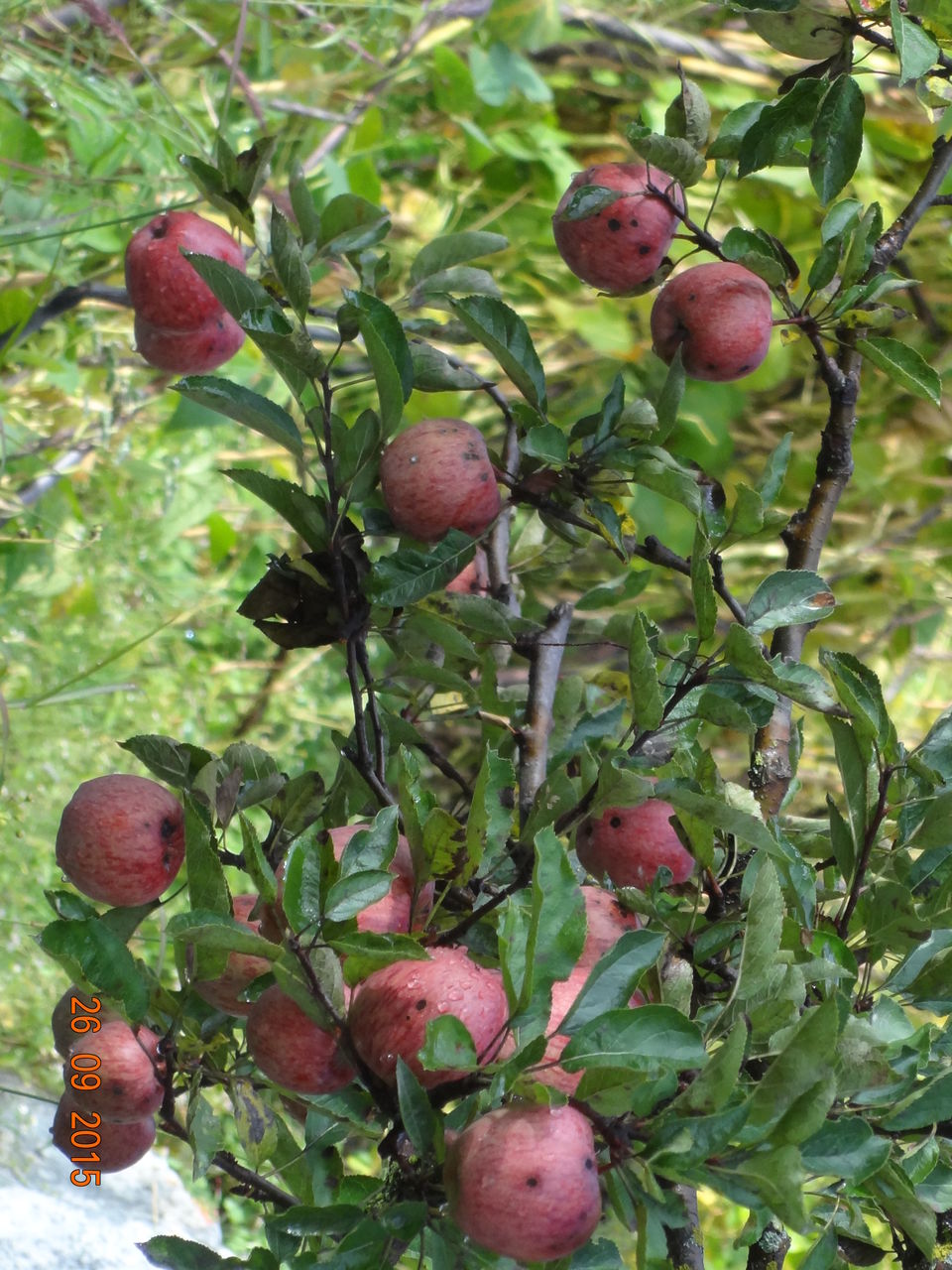 I was allotted a room on the upstair. Rooms are small but clean with basic amenities. River Bhagirathi is seen from many rooms of this TRH but my room was in the front side so I could not get a view of river Bhagirathi from room.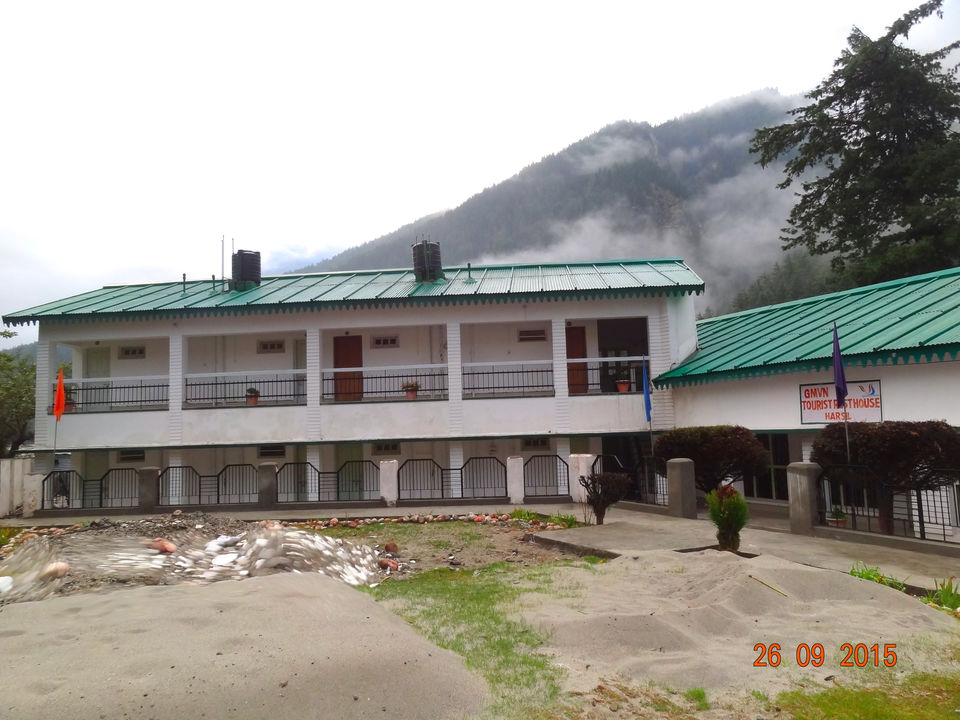 In the evening,  we all gathered in the large dining hall in the ground floor, had teas and snacks,exploring surroundings, then started drizzling. The temperature was very low. We had early dinner and went to bed. Night was shivering. It was raining all night in cats and dogs.
Day 4 : Visit to Gangotri and back to Uttarkashi
Gangotri : 3,415 m
Early morning when we woke up the weather was much better, Rain stopped although could not see any peaks due to cloud. After having breakfast with bread and fruit jam, we started for Gangotri. Although night was very cold and rainy, the day was sunny and pleasant. Around 9 a.m we reached at Gangotri Bus stand. Temple was few meter walking distance from there.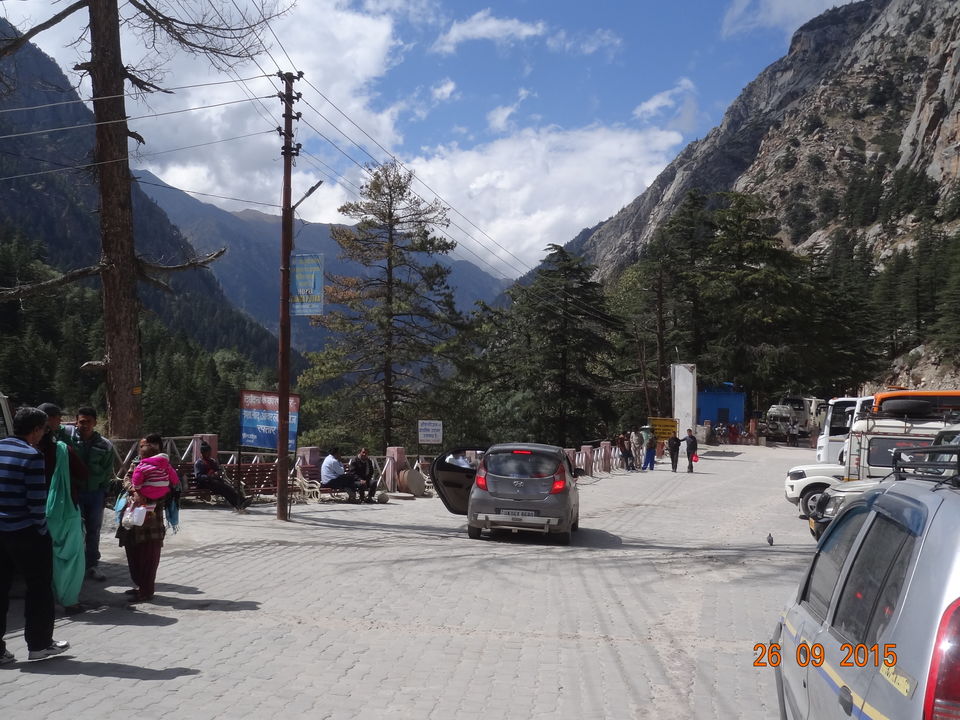 Entrance to shrine is through an arched gate. Then a narrow lane, lined up with small shops, restaurant, hotels on either side, take us to the main temple court yard.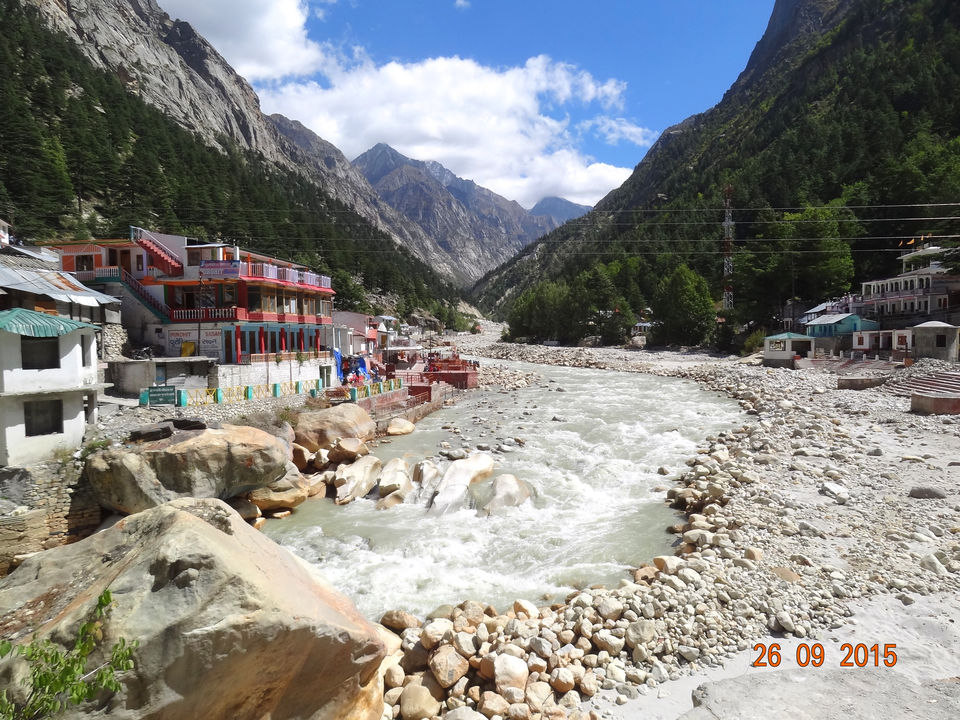 Gongotri temple, a picture of serenity, humble abode of Maa Ganga is situated on the left bank of river Bhagirathi. The temple is nestled amidst the beautiful surroundings of deodars and pines. It has large courtyard and elaborated ghats. Timings for darshan, pooja and other religious ceremonies is Morning: 6:15 am to 2:00 pm & Evening: 3:00 pm to 9:30 pm. The amazing mountain range of Himalayas and the flowing Bhagirathi by the side makes for a perfect setting to behold the life-giving, gentle yet powerful deity. The pilgrims are required to bath in the crystal clear waters of the pious river before visiting the main shrine. We sprang the holy water of the sacred river the Ganges, also called Bhagirathi at its origin, on head, took some holy water in a small container to bring back at home also.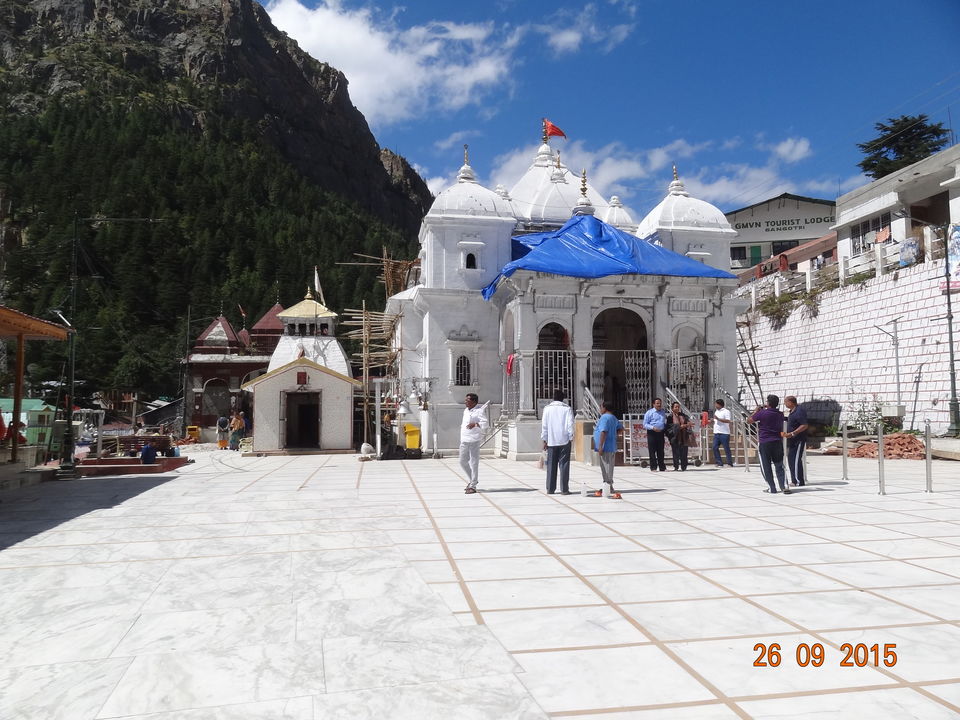 Performed Pooja on the bank of river Bhagirathi, visited the Gangotri temple also, after that relax for some time in the lovely surroundings, exploring nearby other small temples, Bhagirathi shila, Ganesh temple. Towards bus stand, there is Surya Kund & Gouri Kund.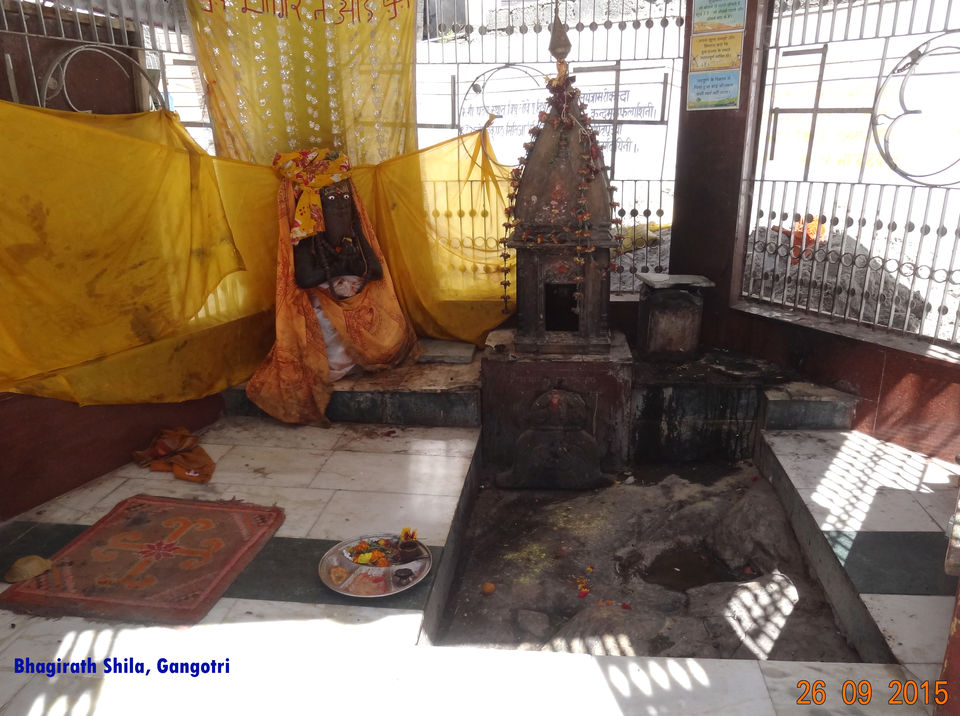 I have go down few steps towards river and found those small waterfalls knows as Surya kund & Gouri Kund.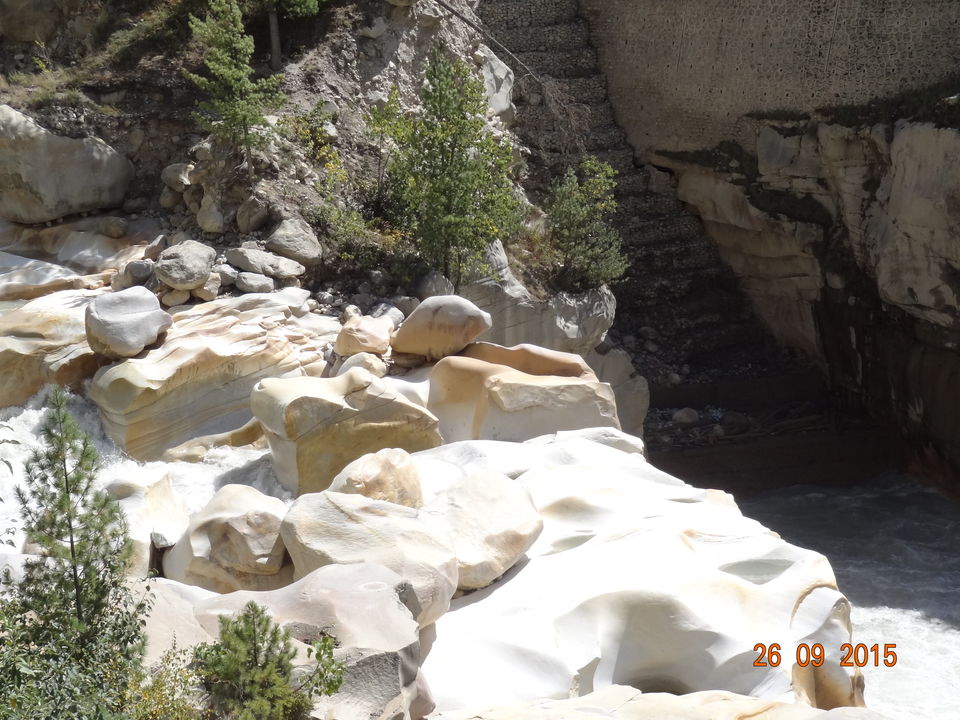 Another place to visit was Pandav Guha. It is almost 1.5 km from Gangotri temple. So none of us went there.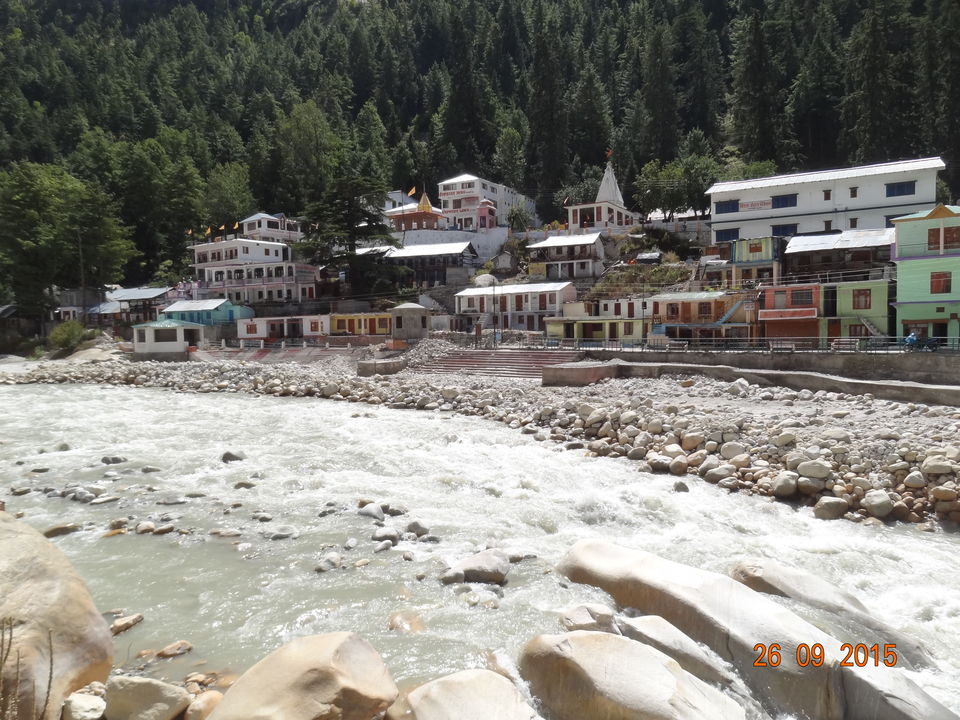 After having lunch from a road side hotel we started for Uttarkasi. On the way some 10 km downstream from Gangotri, near the point where Jadh Ganga (also called Jhanvi River) merges with Bhagirathi, lies the temple of Bhairon Nath.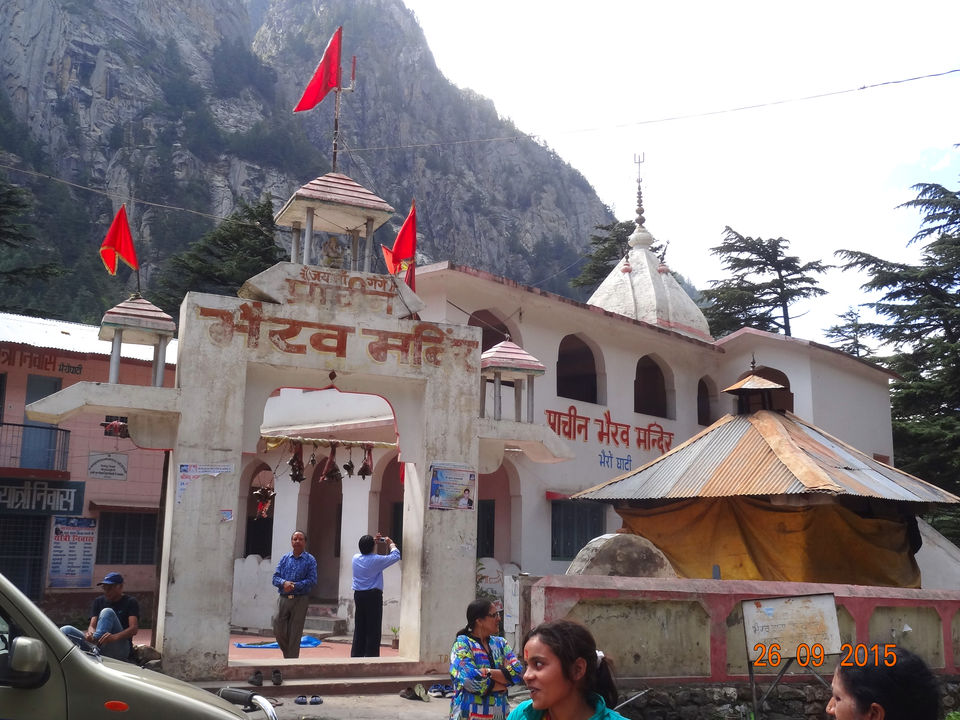 As per a legend, Bhairon Nath was chosen by Lord Shiva as the protector of the region. And every visit to the Gangotri temple should be followed by a visit to the temple of Bhairon. There is another temple on the way - Kalpa Kedar Temple.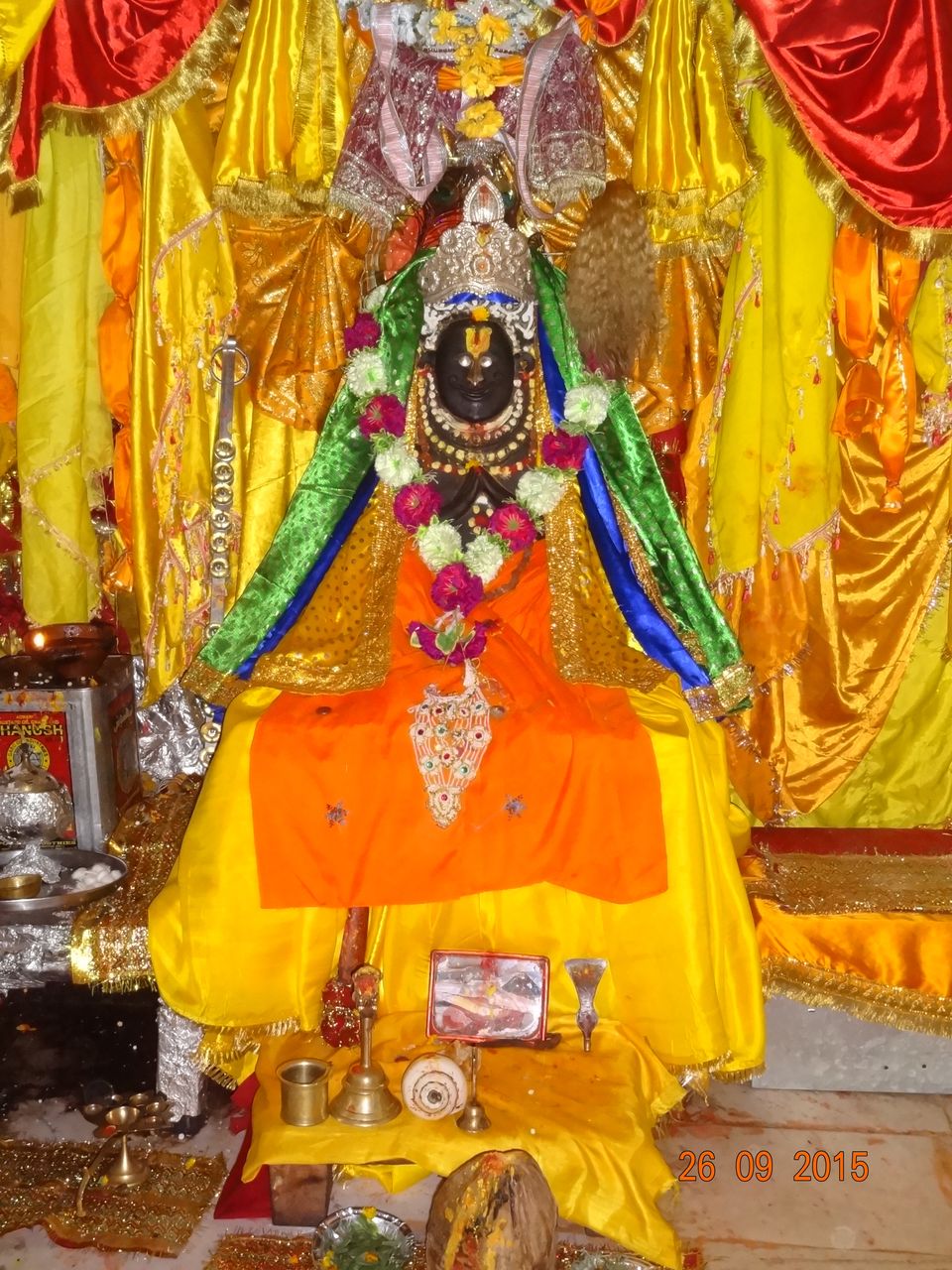 Afternoon reached Uttarkashi, on arrival check into the GMVN, Uttarkashi TRH. It was raining cats and dogs then. Rain continued till late night.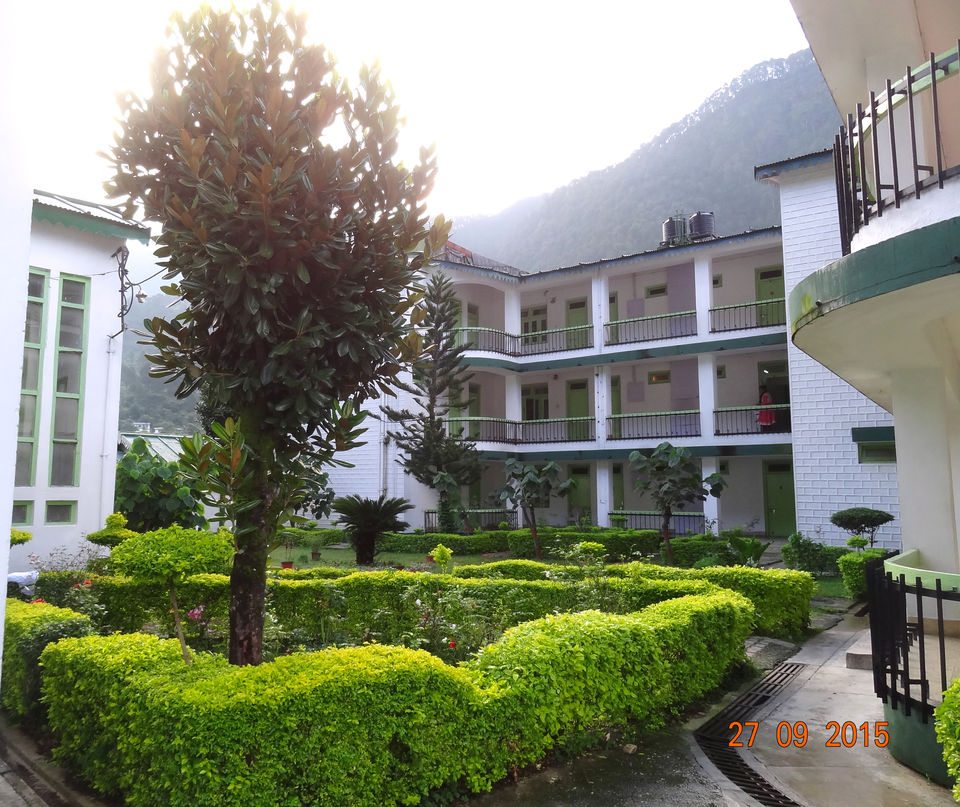 Day 5 : Journey to Rudraprayag
Uttarkasi : 1,158 m
Next morning we visited famous Lord Bishwanath Temple of Uttarkasi.It was walking distance from GMVN TRH. There was a Shakti temple in the compound. Post breakfast hit the road again.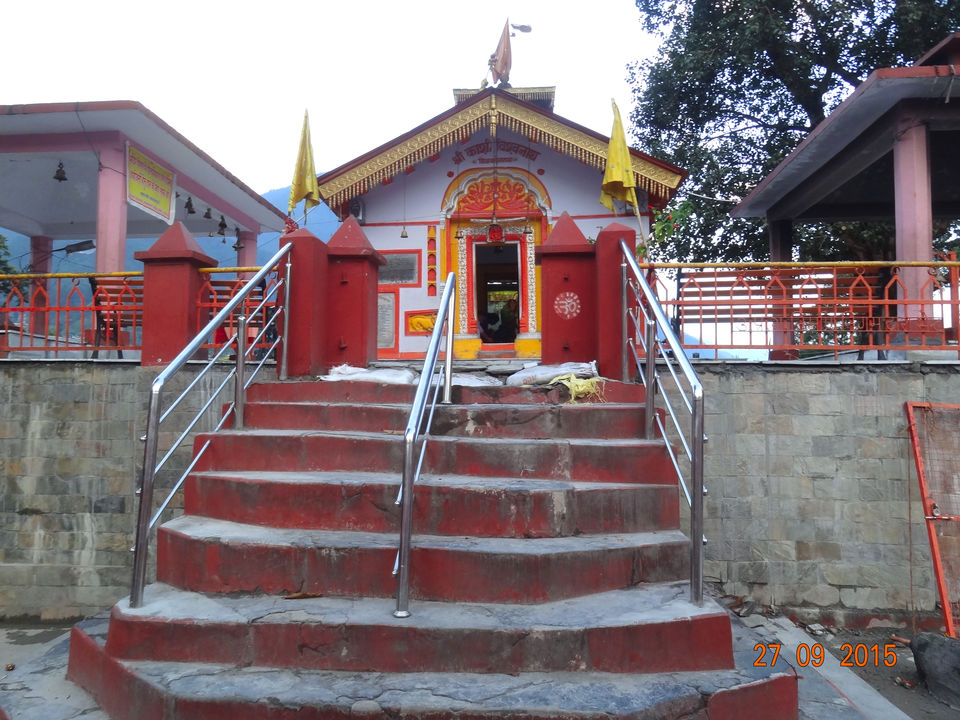 Enroute visit huge and beautiful Tehri Dam and had lunch and reached Rudraprayag TRH by 5 p.m. for night halt.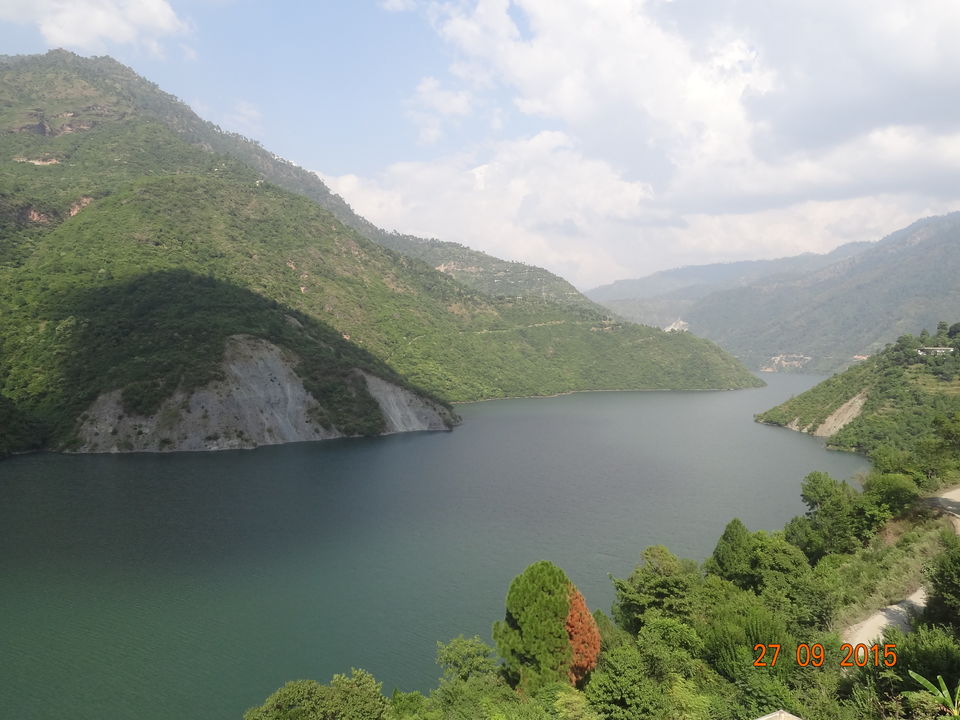 Rudraprayag is the sacred confluence of two rivers, Alkananda coming from Badrinath and Mandakini coming from Kedarnath. Rudraprayag TRH, GMVN is situated just opposite to the confluence. I was very fortunate that day. I got a room overlooking the confluence. After checked in the TRH, I went to visit the confluence and took some holy water of the confluence.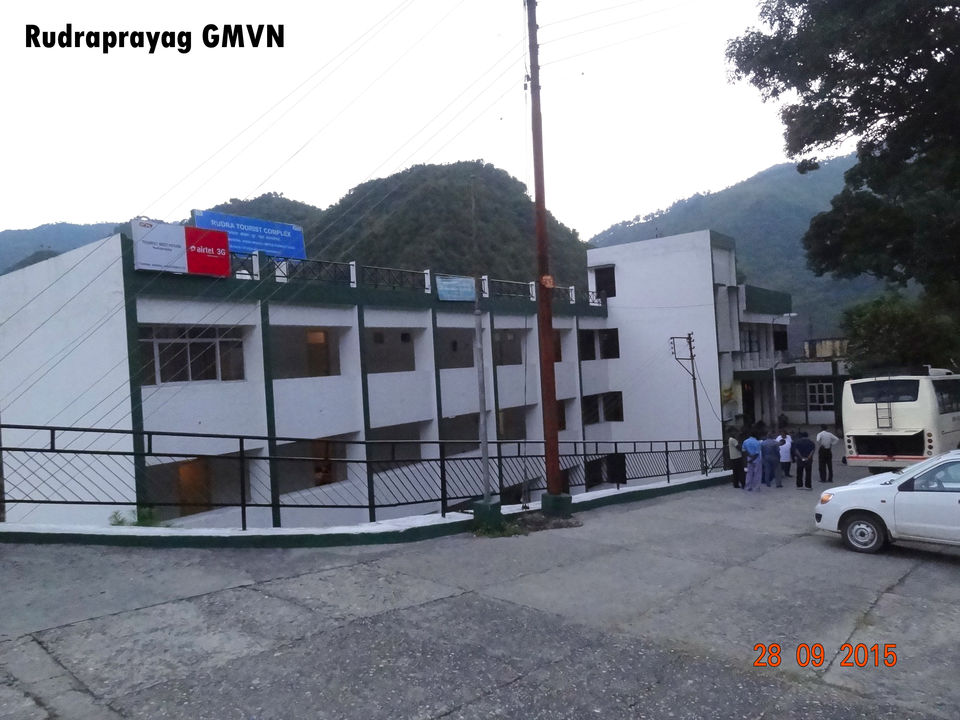 Rudraprayag TRH provides delux acommodation and food was delicious.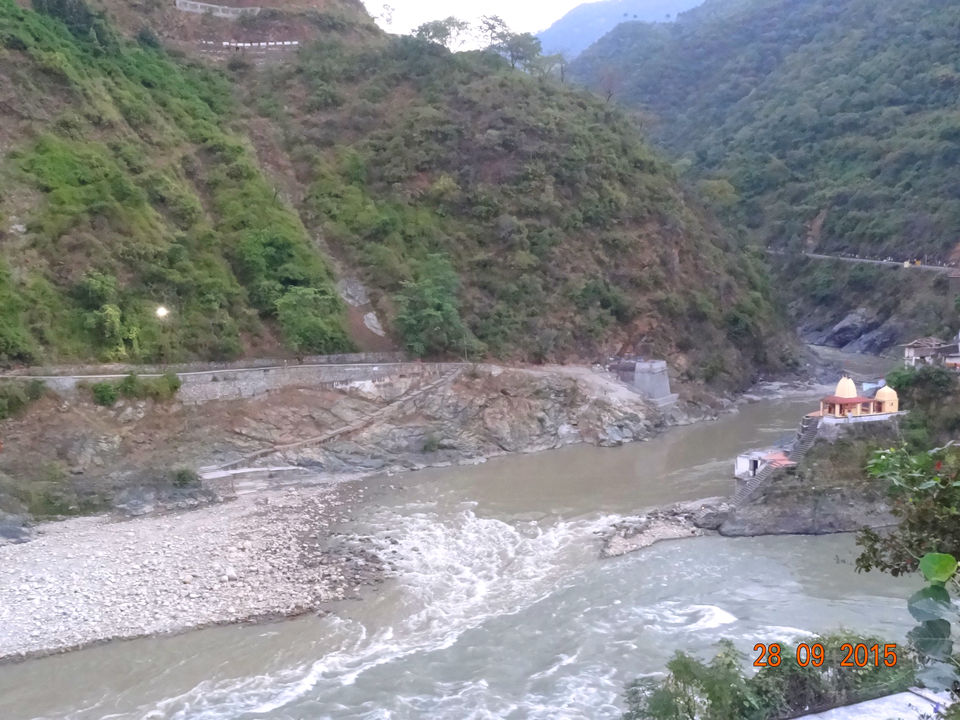 Day 6 : Fly to Kedarnath
Phata : 1,500 m
In the morning, we hit the road again. After sometime, the bus started to move along the windy mountain road while admired the beautiful sight of snow caped Kedar peak and Chowkhamba. All of us were busy to capture the best picture of it. We reached Phata from where all the heli services were being operated for Kedarnath . Those who booked their tickets in advance, were dropped at their respective heli pad. That year new road was just formed after flash flood. But everyone was availing chauper services to visit Kedarnath.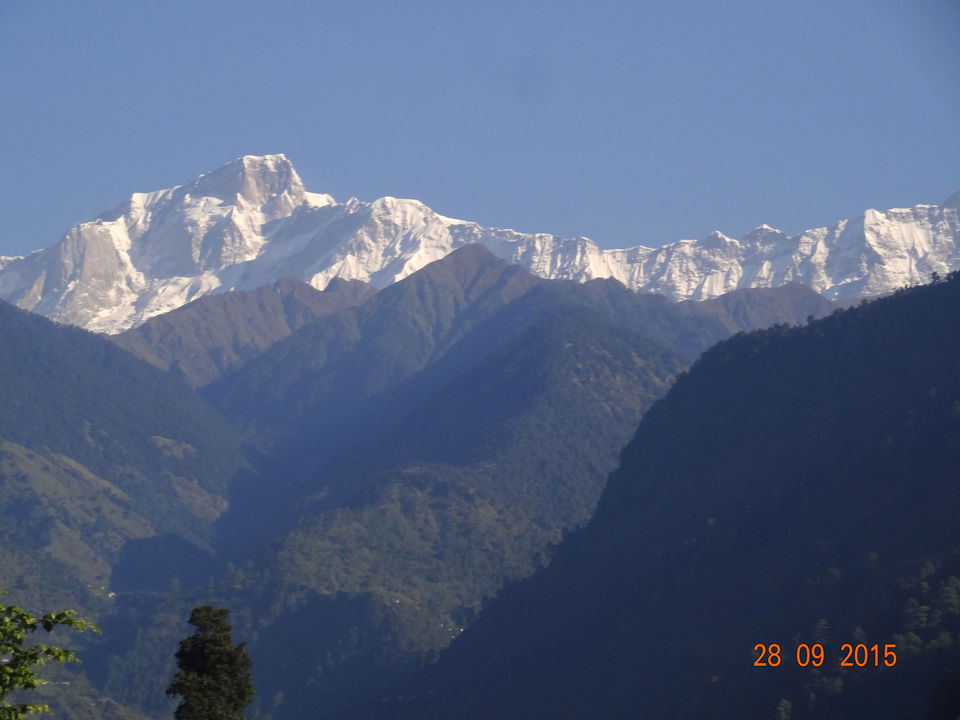 We reached our helipad ground by 9 a.m. The place was over crowded. We all were waiting outside. Manager informed us that It would take much time almost 4 hours to get the boarding passes.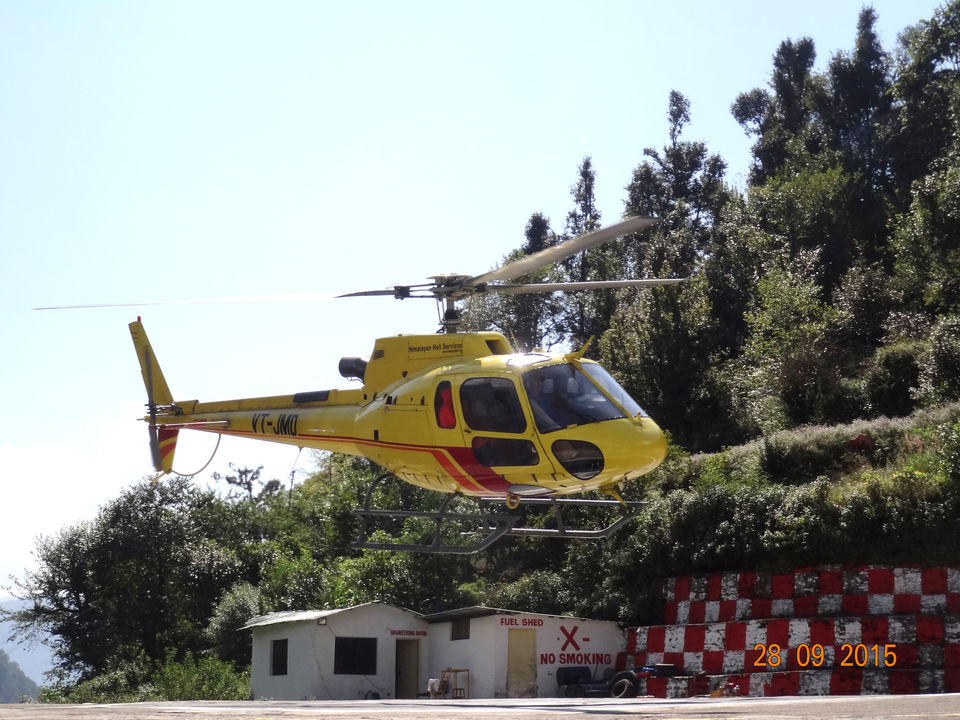 As our return was on the next day, we were issued our boarding passes around 2 p.m. My turn came around 3 p.m.along with other 3 co passengers. It will take only 5 to 10 minutes to reach Kedarnath Helipad. The view from the Air was awesome. Entire newly built trek route was visible. But no trekker as well as horse were there.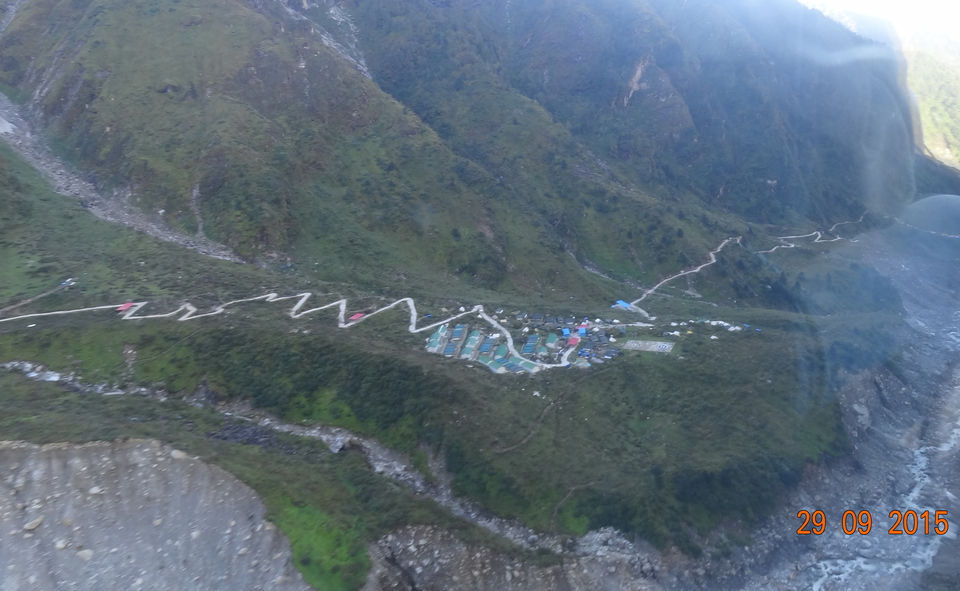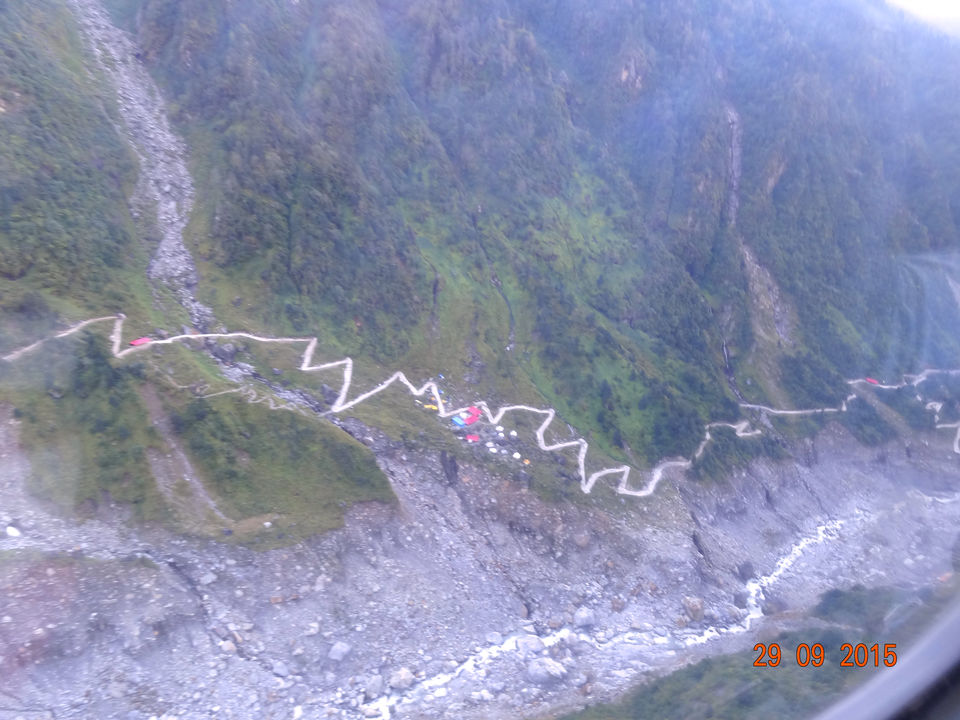 Kedarnath : 3,584 m
The temple is situated on a barren stretch of land on the source of river Mandakini on the backdrop of majestic Kedarnath range. The place was amazing. It felt like in the heaven. Kedarnath is one of the 12 Jyotir lingams and it is the most important temple among the Pancha Kedars. It is in the unusual form of pyramidal in shape.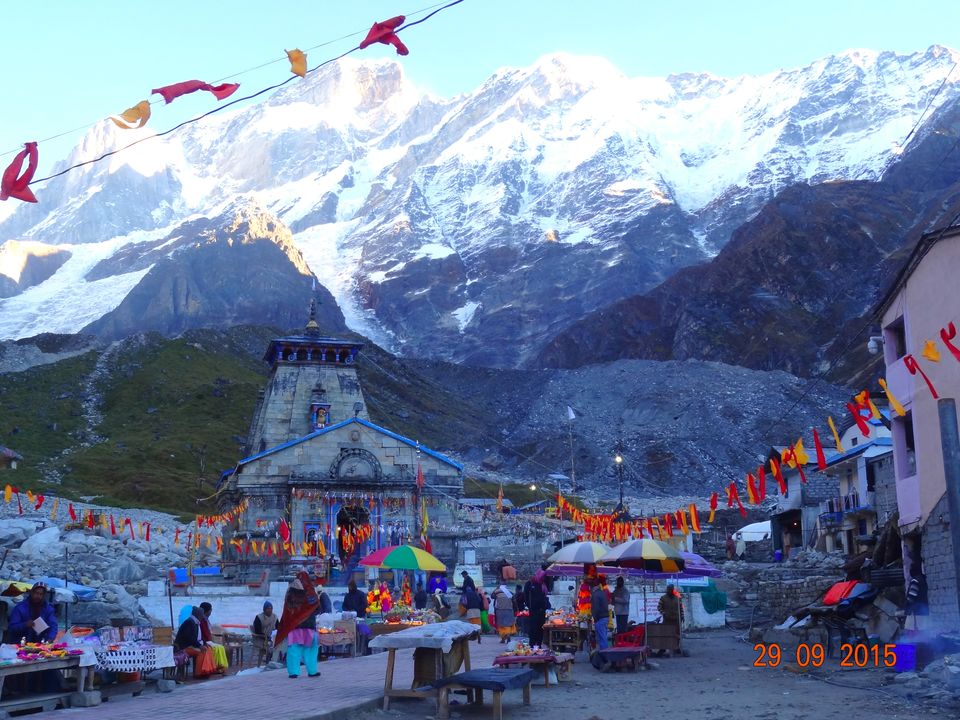 As soon as we landed at the helipad, we readily equipped ourselves with worm clothes as the temperature was very low. A pujari brahmin meet us and took us to offer puja inside the temple. We bought puja thali and follow him. There was a huge crowd inside but I could manage to touch the lingam. After darshan & puja, when we came outside, it was started drizzling then.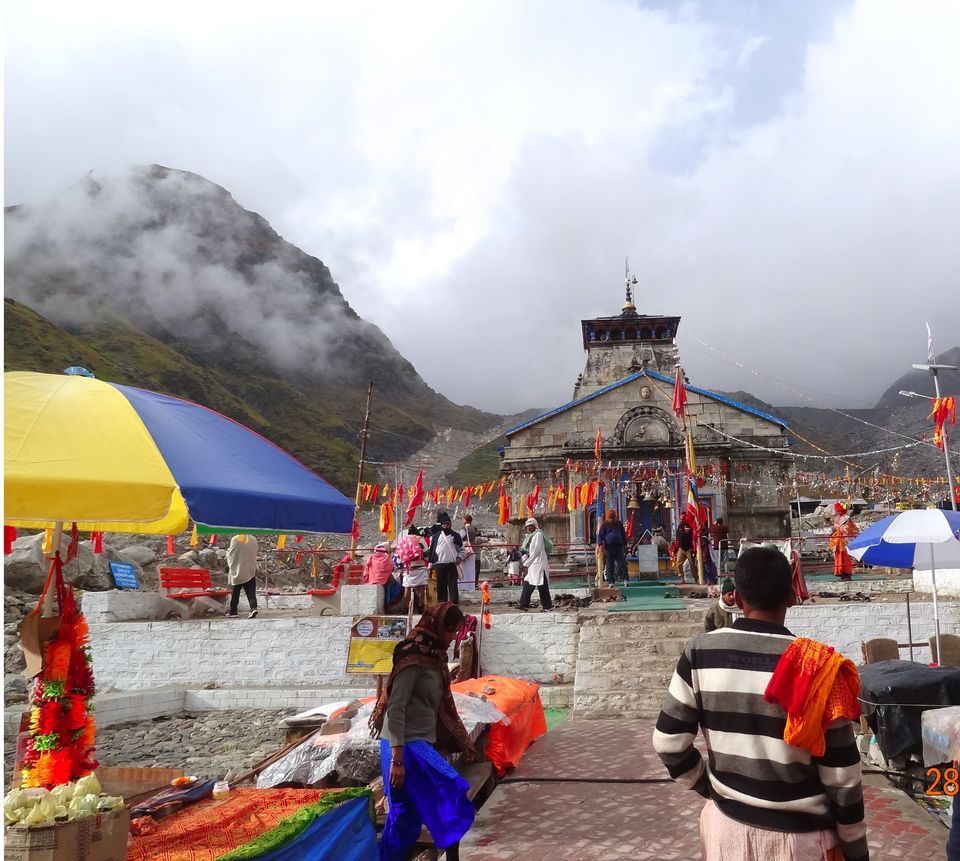 We wait for some time in the lounge besides helipad . Some of us went for GMVN lodge at Kedarnath. It is a few kilometer away from the temple and some of us including me decided to stay at Tent colony near the temple.
This tent colony has been prepared by NIM (Nehru Institute for Mountaineering )for providing accommodation to the tourist during chardham season. Each tent is spacious enough for 10 people to stay. This tents provides cozy bedding along with sleeping bag.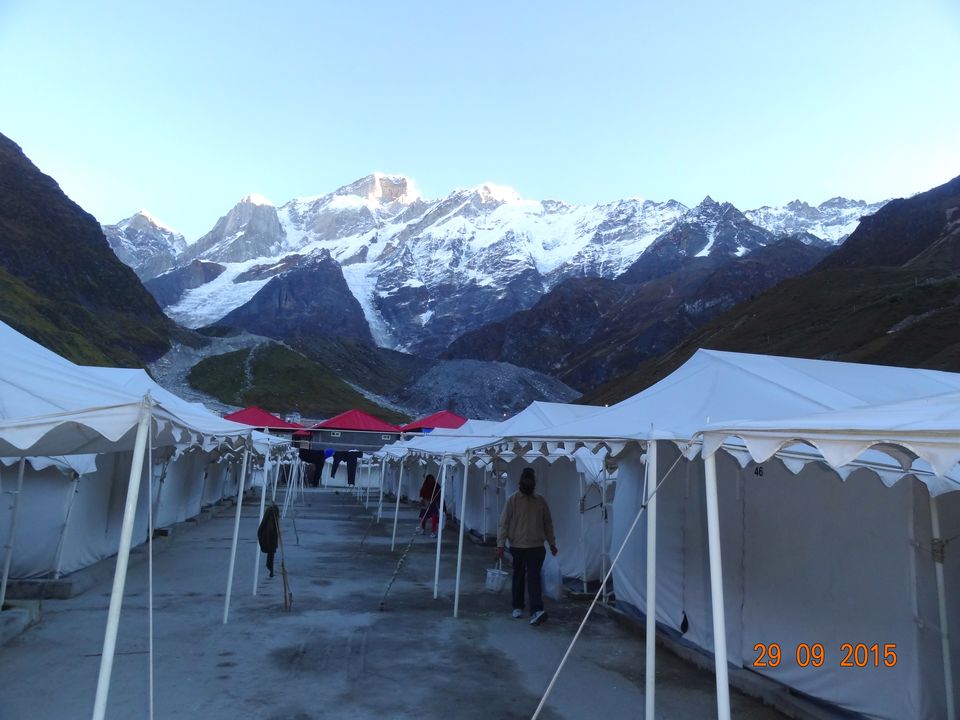 In the evening we went to the temple once again for evening arati darshan. The sight was magical, instead of running minus temperature the temple was over crowded by tourists .There was a huge canteen near the lounge. We took dinner and sleeped into the sleeping bag.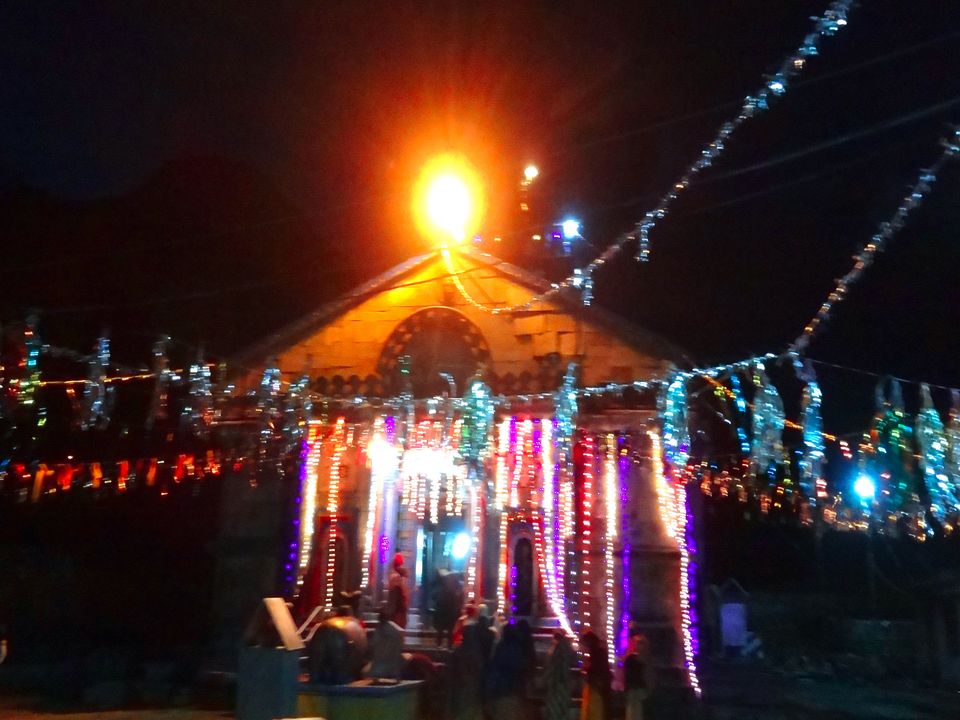 Day 7 : Kedarnath to Gauchar via Guptakashi
Next morning, once again visited the jyotir lingam inside the temple and came back to helipad for return journey to Phata.
Guptakashi : 1,319 m
On the way to Gauchar, we visited Viswanath temple along with Ardhanariswar temple at Guptakashi.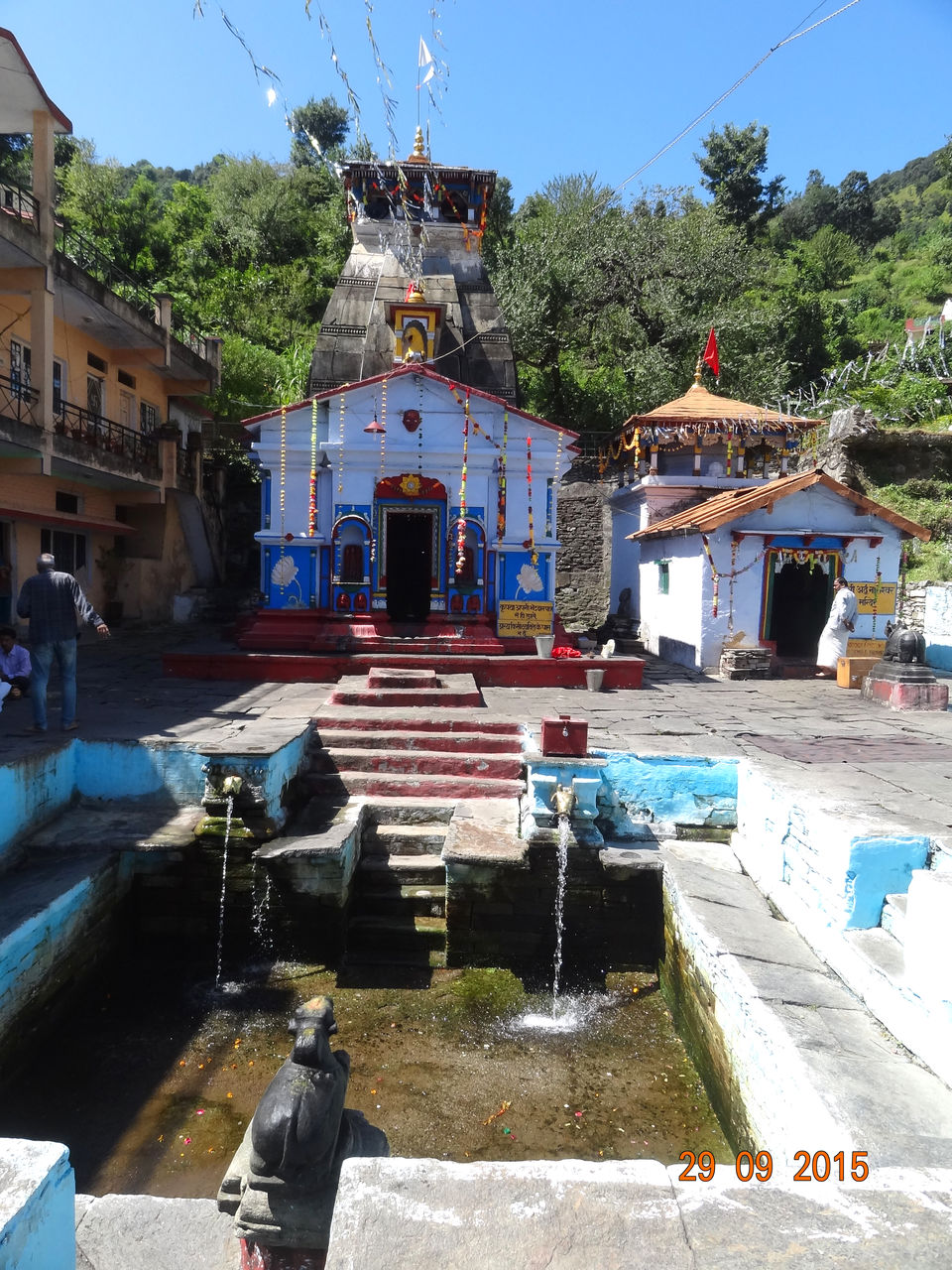 In the courtyard of the temple, there is Manikarnik Kund where two streams of the Ganga and Yamuna meet. After Lunch at Guptakasi, we started for Gauchar. In the afternoon we reached at Gauchar TRH, GMVN.
Day 8 : Journey to Badrinath via Joshimath
Gauchar : 800 m
Next morning we started our journey again. On the way. we had breakfast at Pipolkoti TRH, GMVN and continue our journey.On the way we passed Karnaprayag - the confluence of river Alkananda an river Pindari, then Nandaprayag - The confluence of river Alkananda and river Nandakini.
Joshimath : 1,875 m
During lunch time we reached Joshimath. It is a famous pilgrimage site. It is considered to be one of the most sacred places by Hindus who believes that Badrinath (The God Vishnu) resides here in winter. We visited Narsimha Temple. The deity of the temple is the fourth incarnation of Lord Vishnu in the form of half Lion and half Man. We had lunch from road side dhaba near the temple and proceeded towards Badrinath. We crossed another confluence Bishnuprayag - where Alkananda meets with Dhauli Ganga and JAYPEE's HEP(Hydro Electro Plant).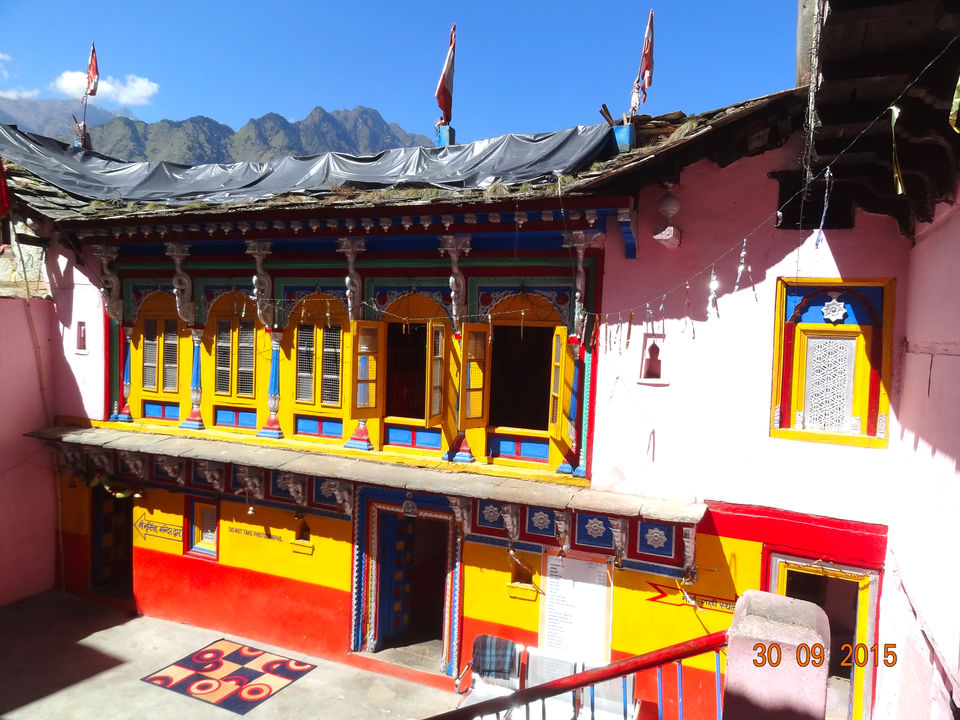 We reached Badrinath TRH by the evening. After Checked - in, we  went to visit the Badrinath Temple.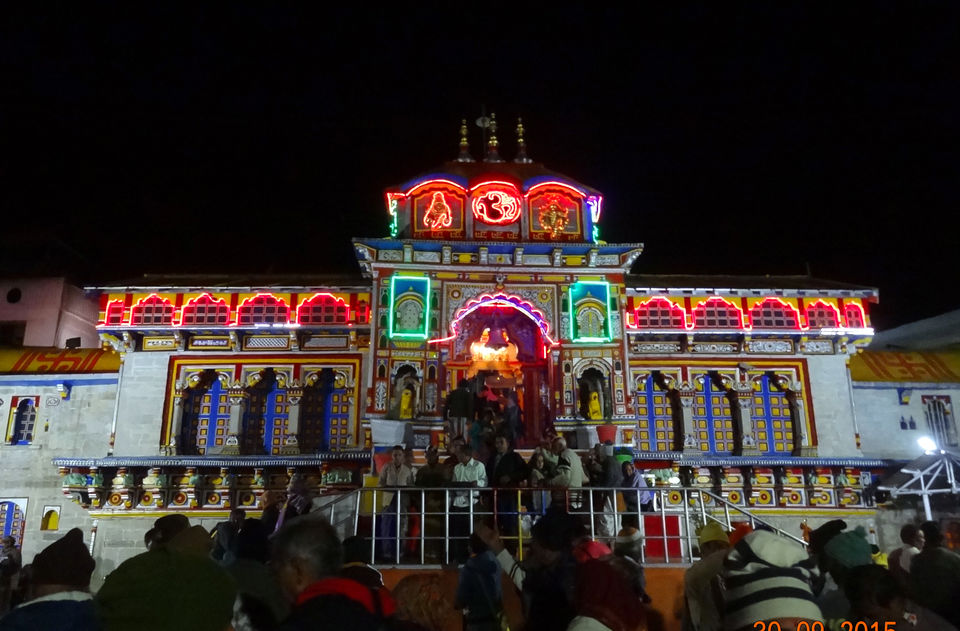 Badrinath : 3,300 m
It is located on the bank of river Alkananda, the holy town is named after the Bdrinath temple dedicated to Lord Vishnu. We saw evening arati, spend some time and came back to Lodge as temperature was very low. After dinner retired to bed.
D 9 : Journey to Mana Village and then Kalpeswar TRH
In the morning went to the temple with puja thali. After standing almost 2 hours in the long queue completed Darshan ceremony by 8.30 a.m. The temple was looking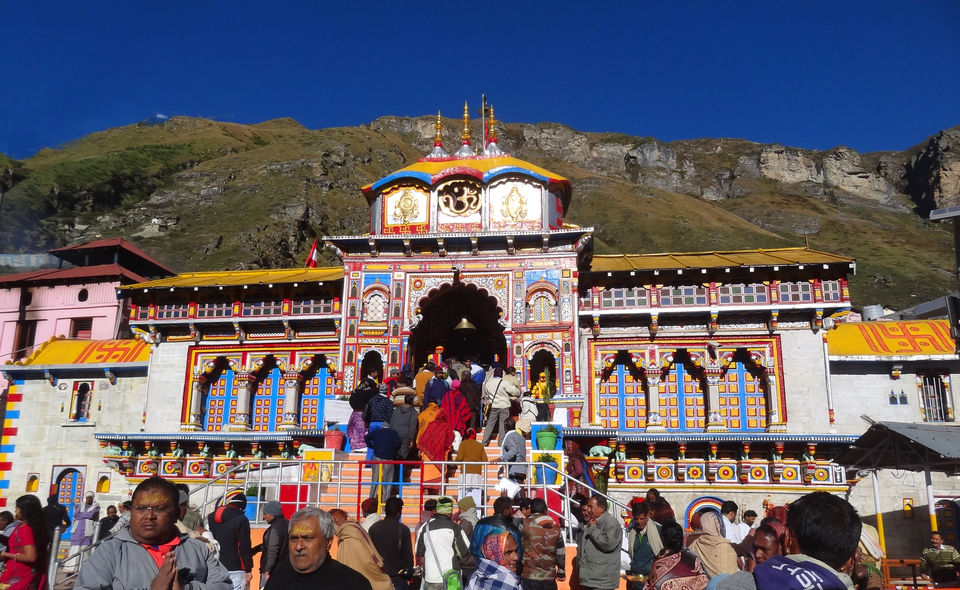 awesome on the falling of first rays of the Sun. Visited the Pancha shilas near Tapta Kund ,took the holy water of river Alkananda and came back to TRH. GMVN TRH is situated just in front of Mt. Neelkanta on Nar Hill, opposite the temple is Narayan Hill and others are Kuber Hills.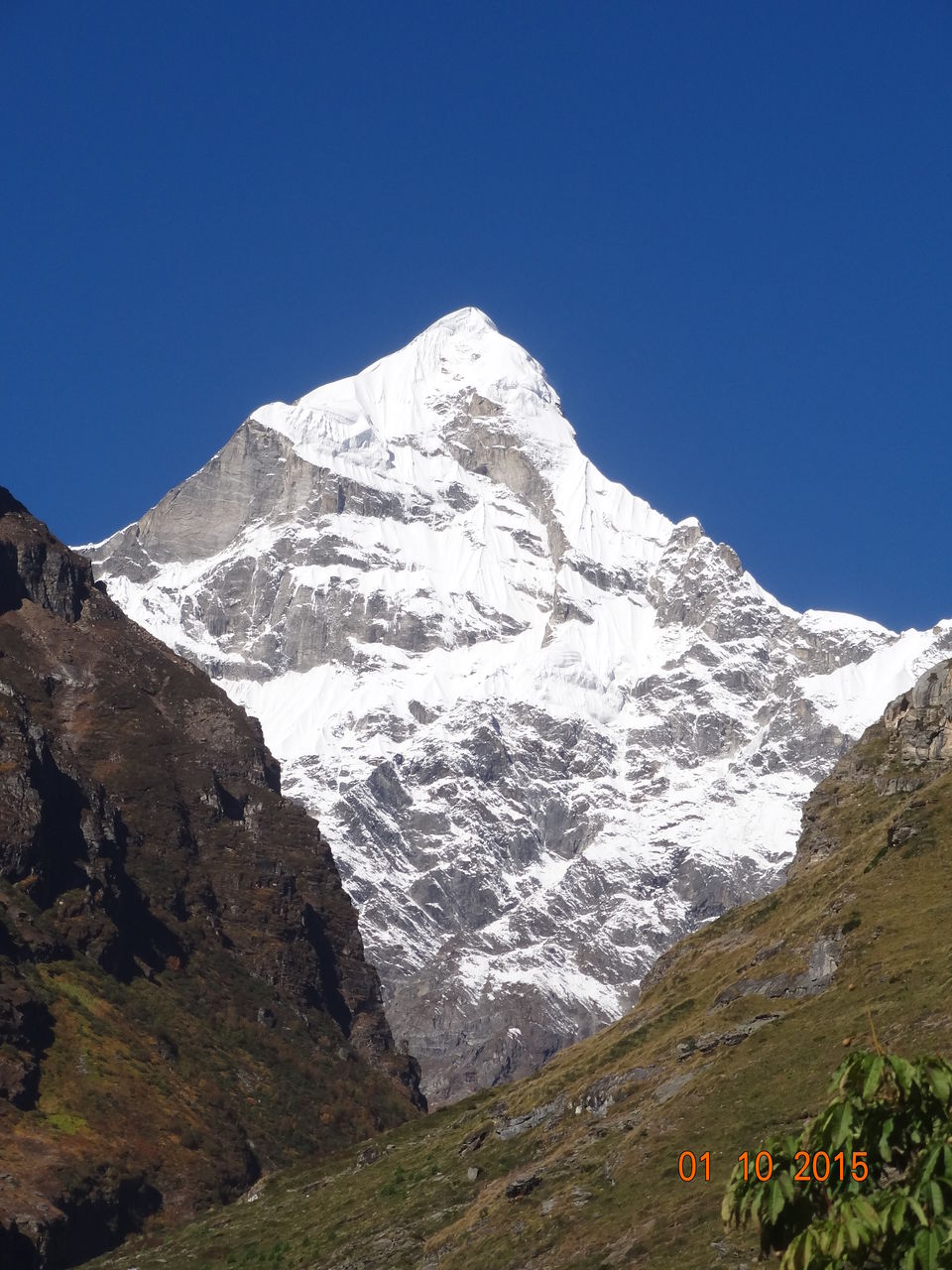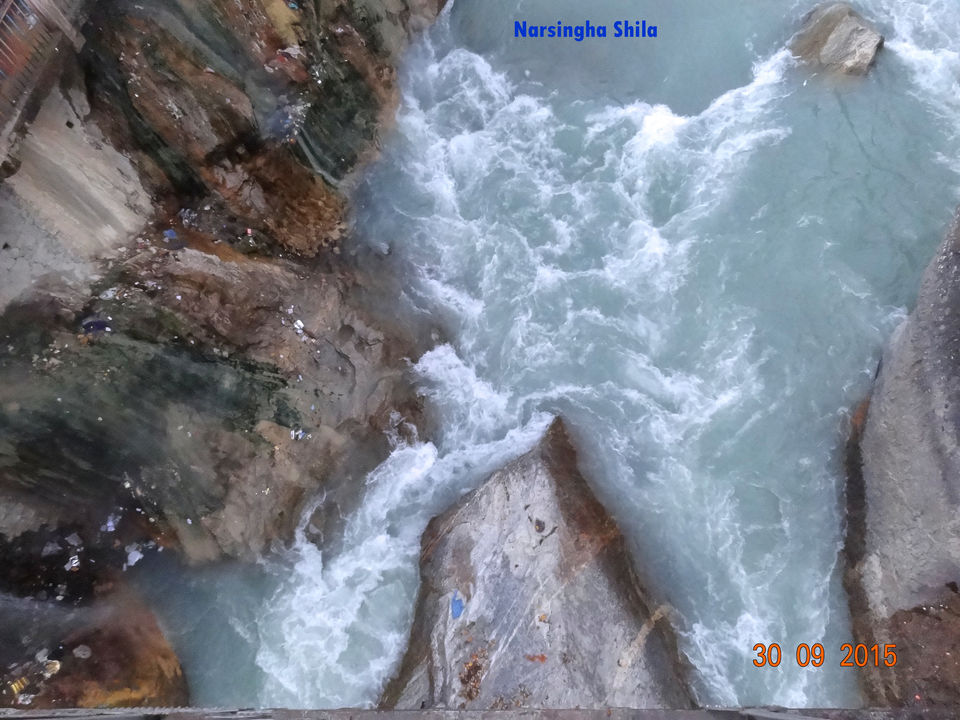 After having breakfast we started for Mana village.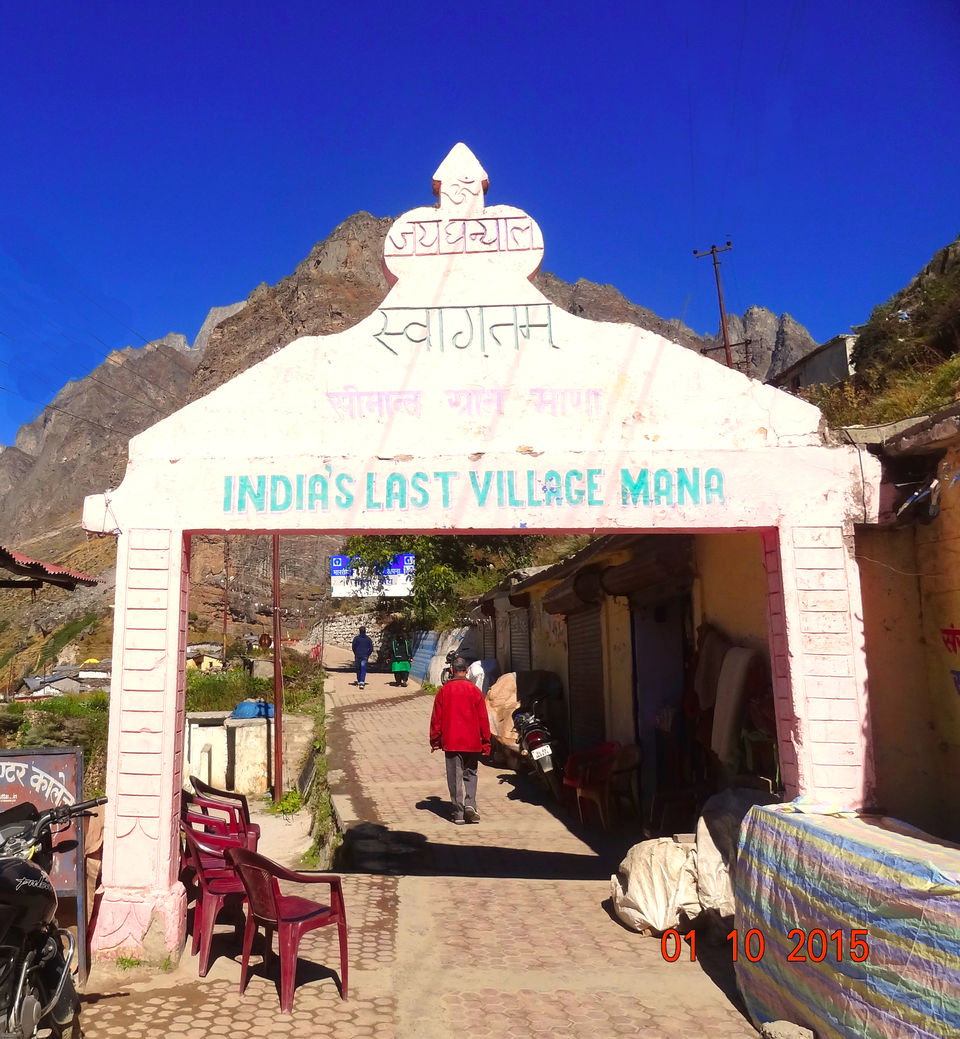 Mana village : 3,200 m
Mana is the last village of India, Uttarakhand. It is 4 km from Badrinath and located on the bank of river Saraswati. Visiting mana village is a wonderful and adventurous experinece.There are many places to visit in Mana village.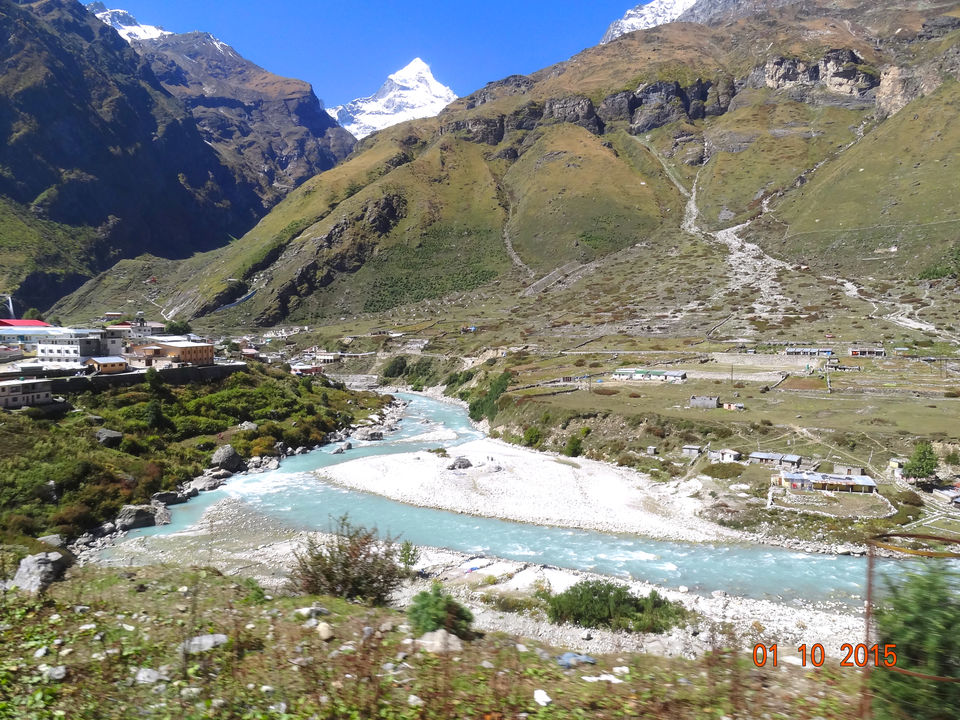 Vyasa gufa - this is the place where great hindu sage Ved Vyasa wrote the 4 Vedas, Basudhara waterfall - it consists of 5 to 6 km trek so we did not try for this.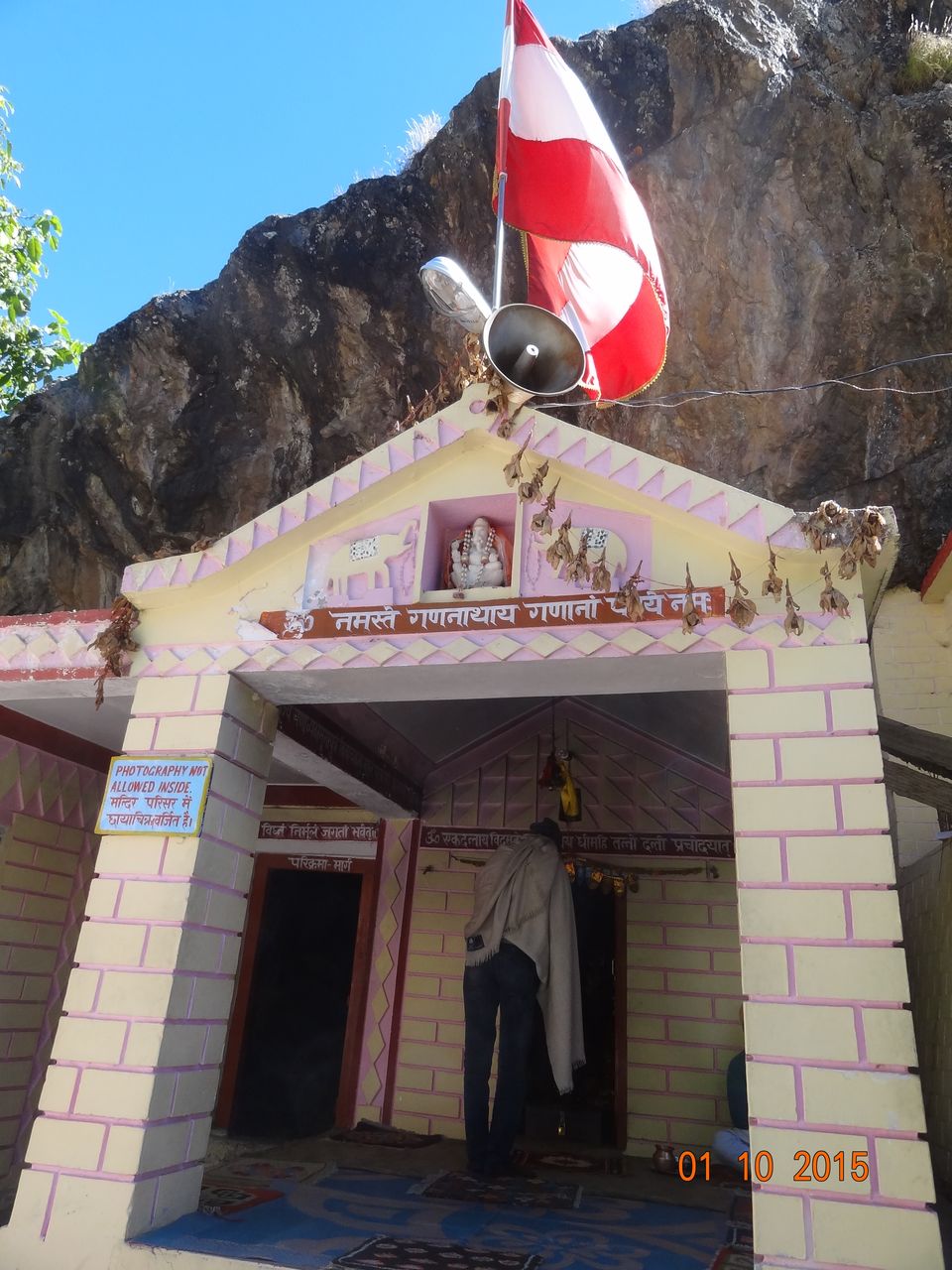 Ganesha Gufa - it is the place where Lord Ganesha penned down the epic Mahabharata as direcehed by Veda Vyasa, Kesav Prayag - Confluence of River Alkananda and Saraswati River.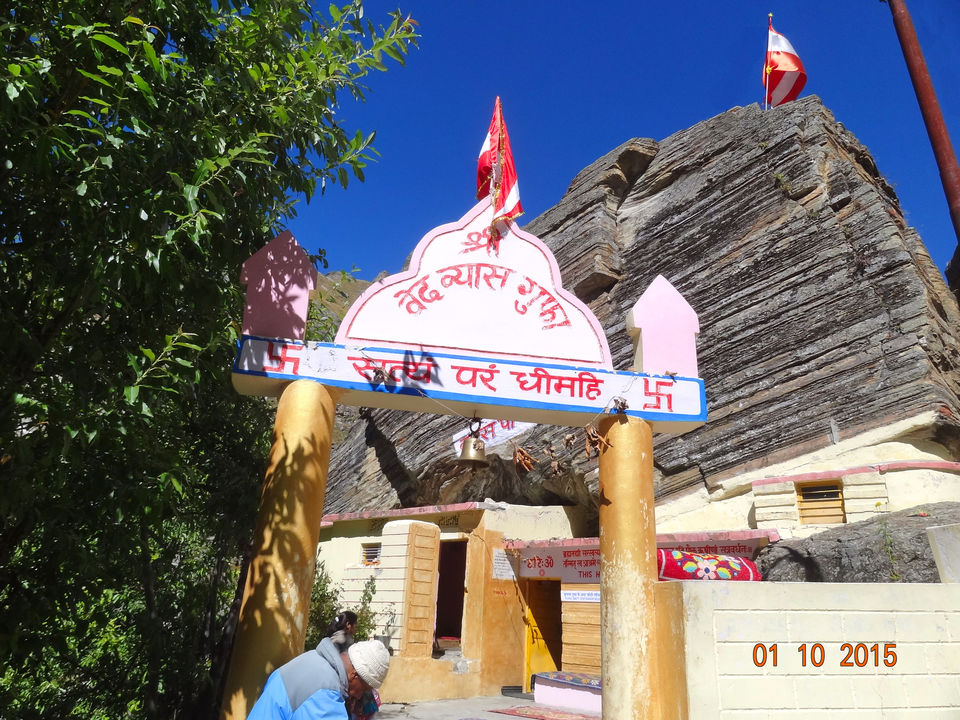 Bheem pul - one of the bridges that made by mightiest Pandava Bheem. Take a cup of hot tea in the India's last tea stall.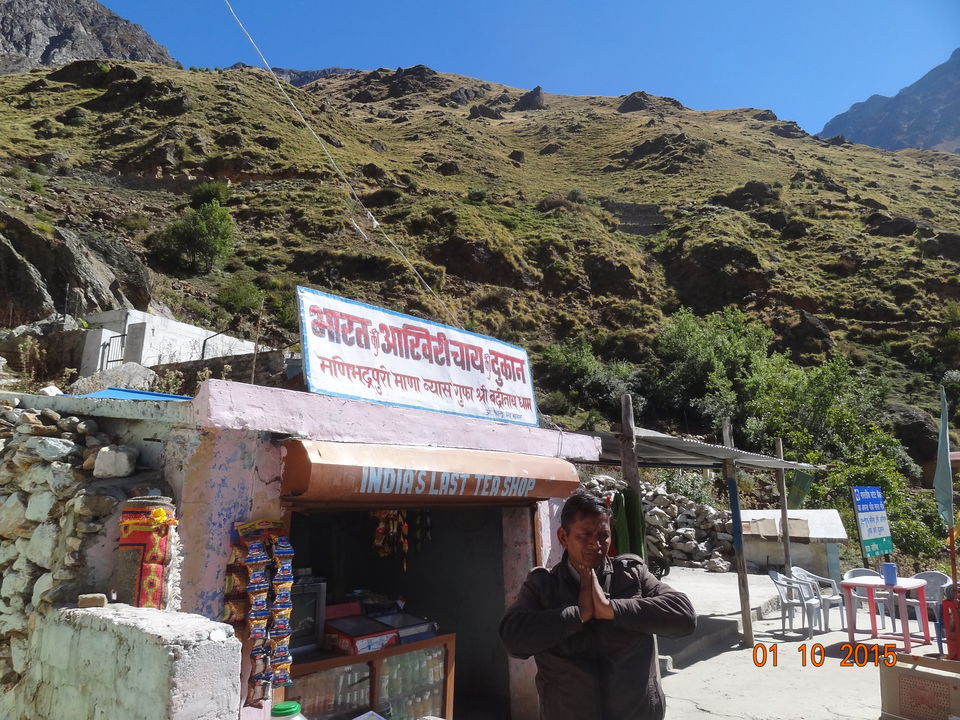 There is a cave where a sadhu Baba lives and gives blessings to every one.
In the evening reached Kalpeswar TRH, GMVN. On the first floor rooms were allotted. It is situated on the bank of River Alkananda in amidst of greenery.
Day 10 : Kalpeswar TRH to Rishikesh
Next morning we woke up around 7 a.m., had our breakfast and started for Rishikesh. On the way we visited Vashishta Gufa, spend some time in the ashram and around 2 p.m. reached Bharat Bhumi Tourist Complex. Funished my lunch and  booked a cab for Haridwar and caught the train for my return journey to Kolkata.