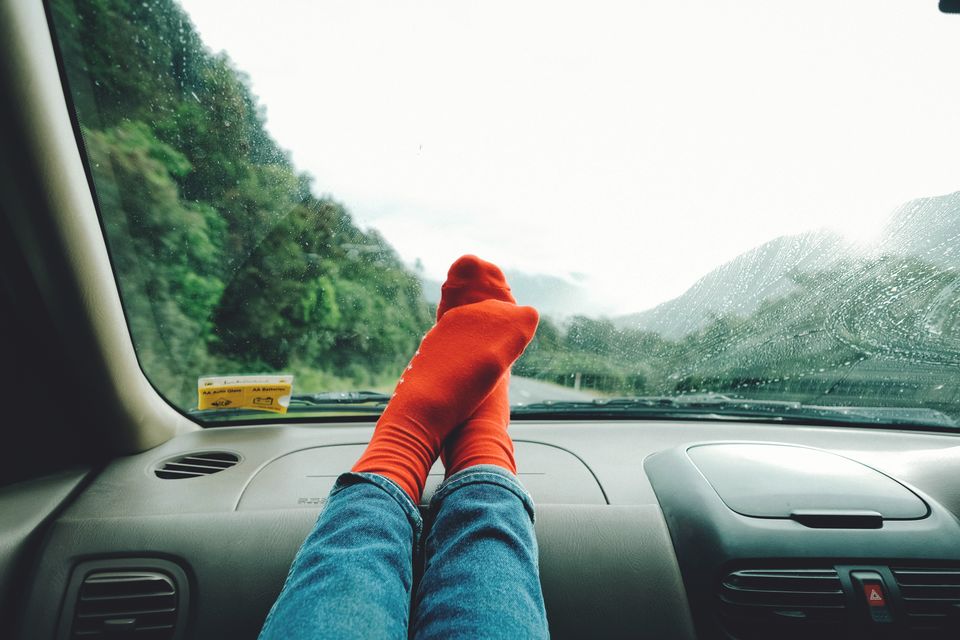 There's something about road trips that makes the surliest of adults perk up like little kids who have just been offered candy. It's an amazing experience to load up your car, put on your fave travel playlist and feel the wind in your hair as you drive down gorgeous vista-lined roads towards an equally beautiful destination. With sun-drenched vineyards, bare desert highways, sea-flavoured coastal driveways and weaving mountain roads, Australia is perfect for an adventurous road trip with attractions that'll force you to take (too many) pit stops in-between.
If you've been spending hours trying to get the best flight tickets on a budget, Scoot is the answer to all your needs. A low-cost Singapore based airline, Scoot has a flying network to over 60 destinations in Asia, Australia and Europe and offers stellar service. For those hoping to survive a flight without kids screaming down the plane, their ScootinSilence zone has a silent cabin and roomy seats for an uninterrupted snooze. Along with a good dose of fun and games, they also serve up delicious meals such as Madras curry with basmati rice. With budget-friendly regular flights from India to Australia, you'll be hard-pressed to find a better and more fun alternative than Scoot.

This road trip, lose yourself in lush vineyards, try some local cuisine at a highway restaurant or simply close your eyes to the warmth of the sun and the wind in your hair. So pack your bags, book your tickets on board Scoot and rent a car to hit the roads for a wholesome adventure.
Sydney to Hunter Valley road trip
After a snoozy ride aboard the Sydney-bound Scoot flight, you can hop off bright-eyed and raring to hit the road to Australia's oldest wine region, Hunter Valley. Hunter Valley is for people with a taste for the finer things in life. With over 150 wineries and several wine-tasting tours, your palate will be able to tell between an elegant Chardonnay and a fruit-infused Verdelho.
M1 is the shortest way to get there and is replete with views of rolling green vineyards under sunny blue skies.
If you're chasing the buttery sunlight, then you might make it in time for the free Pelican feeding session at 3.30 pm at The Entrance. Grab a quick lunch by the lake or take a gander at the milk and cheese factories there.
If your idea of a scenic ride is mountain vistas, then zoom down Tourist Route 33 which takes you by the soaring mountains of Wollombi. With dense forests on both sides of the road, roll down your window and stick your head out to let the breeze play with your hair.
Top experiences in Hunter Valley:
► Get a glass of bubbles at Tyrrell's in Pokolbin, the oldest vineyard at Hunter Valley.

►Tempus Two is where you should be if you want the quaint cellar door experience.
► Watch blushing grapes ripen under the sun at Krinklewood organic vineyard set against the stunning backdrop of Brokenback Range.
► The Muse restaurant is where you should stop for a slice of fine dining with a contemporary Australian menu to please your palate with a delightfully airy ambience.
► Be an early bird for a hot air balloon ride with a bird's eye view of the verdant valleys below.
► Don't forget to pair the perfect wine with some smelly cheese.
Route: 3 hours 16 minutes ride on the M1 from Sydney to Hunter Valley without stops
Perth to Margaret River and Pemberton road trip
Load your playlist with tracks for this epic road trip from Perth to Margaret River and Pemberton on the winding motorways of scenic South-West Australia. Drive down to the heritage town of Jarrahdale via South Western Highway to stretch your legs on a picturesque walking trail. Further down, the Serpentine Falls will welcome you with its glittering water attractions.
The Bibbulmun Track passes through Dellingup with colourful wildflowers on both sides of the road. Reach Collie with a packed lunch basket for a picnic near the Collie river and some kayaking.
The silent roads towards Bridgetown will fill you with calm and a quick stop here will introduce you to delicate orchids and kangaroo paws. Bridgetown is a quaint historic town perfect for a stroll and a piping hot snack from the bakery. Bask in the glory of 600-year-old jarrah trees and stop at Truffle and Wine Co for a delicious spread and a golden bottle of truffle oil.
Lose yourself in Pemberton's huge Karri forests or spend a good hour fishing for rainbow trout. Hit the gas towards Margaret River region which is a smorgasbord of wine, food and gorgeous beaches. Get pleasantly tipsy on several glasses of Chardonnay or Cabernet and sun yourself on the fine sand of its beaches. And there you have it, a road trip well done.
Top experiences in Margaret River region:
► Gape at the stalactite and stalagmite formations in Lake Cave with lighting lending it a surreal look.
► Get a bottle of red from the 120 wineries there or go on a wine-tasting tour.
► Walk down the 2 km long jetty surrounded by turquoise waters. Wave to sting rays at Hamelin Bay.
► Stroll through the town to sample cheese from their many cheese factories and gorge on organic gourmet food at various cafes and restaurants.
Route: 5 hours 8 minutes via State Route 2 and National Route 1 without stops
From Melbourne via Great Ocean Road trip
The Great Ocean road trip triumphs over all Aussie road trips because of the way explosive waves crash beside winding roads and dramatic cliffs tower over golden bays. Imposing rock formations line the road and jaw-dropping panoramic coastal views pleasure your eyes. And that's not even all of what the Great Ocean road trip has on offer. There's good reason as to why the BBC has dubbed the Great Ocean drive as a "a road trip toward holiday Nirvana". Since you'll want to delve into the temperate forests, beaches and waterfalls on the way and coo at a cuddly koala, it is advisable to take two to three days for this trip.
Feel a cool spray of water on your face at the cascading Erskine Falls and scoop your jaw off the ground at the Twelve Apostles on Day One. Gigantic limestone formations stand near roaring waves after the original coastline got eroded. Watch the sunlight drip off these massive formations with the music of the sea. Stop for the night at the town of Apollo Bay where you can interact with many road-trippers and backpackers passing through.
After a hearty breakfast, follow the Great Ocean Road towards the verdant rainforest of the Otway National Park. Walk on the world's longest and tallest treetop canopy walk or zip line to get your adrenaline pumping. Drive on to Warrnambool to witness blue whales and their young splashing around in the water.
Continue towards Port Fairy to Tower Hill State Game Reserve to look at kangaroos, emus, waterbirds and furry koalas gnawing at bark. Bring the day to an end by dining on regional fare in Port Fairy under the sparkling night sky.
Top attractions down the Great Ocean Road:
► Wade or swim in the gushing Erskine Falls or Triplet Falls, both of which dot the route.
► Feel giddy whilst walking down the world's tallest treetop canopy walk at Otway Fly Treetop.
► Look upon the impressive Twelve Apostles.
► Visit Tower Hill State Game Reserve to wave at kangaroos and koalas.
► The best part? Stare transfixed at the glittering coastal views on your drive.
Route: 9.5 hours down the 664 km Great Ocean Road without stops.
From Gold Coast to Fraser Island
It's best to keep a week in hand for this exquisite road trip which winds right beside the bewitching coastline. There are a number of stunning beaches and islands that you'll pass by which will make you want to pull your swimsuit out and cannonball into the deliciously cool water.
Gold Coast a beautiful metropolitan by the beach has enough to keep you distracted for days. Visit the Currumbin Wildlife Sanctuary to feed lorikeet, befriend a cuddly koala and watch the entrancing dance of Yugambeh aboriginal dancers to get a taste of the rich aboriginal culture in the Gold Coast.
It's a two-hour drive down to Glass House Mountains which have a wealth of walking trails, abseiling spots and incredible viewpoints. Around 11 volcanic peaks rise abruptly from the coastal plain of Sunshine Coast to make up the Glass House Mountains. Take the Glass House Mountains Lookout Circuit hike for sweeping views of Brisbane and Moreton Island.
A stop at Steve Irwin and family's Australia Zoo will give you a chance to hobnob with Australia's native kangaroos, koalas, Tasmanian devils and Irwin's favourite, crocodiles. Drive down the charming back roads to spot lush farms growing pineapples, strawberries, avocados and macadamias. Make sure you pick up some fresh farm jam for people back home.
Noosa, a stunning surf destination replete with fine sandy beaches, colourful bays, cute cafes, forests and the Noosa River Everglades will make you want to postpone your tickets. Glide down the Noosa River Everglades in a canoe, one of the two Everglade ecosystems in the world. Watch the forests come alive with the chirping of over forty percent of the country's bird species.
After getting your fill of Noosa, drive down towards River Heads where you can take a ferry to the world's largest sand island, Fraser's Island. A nature lover's paradise, Fraser Island has sweeping green rainforests, freshwater lakes and creeks as well as golden stretches of sand dunes.
Head to Central Station, a place which portrays its history of timber logging days in 1920. Set amidst a lush rainforest, the trails here lead up to the serene Wanggoolba Creek and Basin Lake. Take a dip in the blue waters of Lake McKenzie which is fringed by fine sand. Sit by Champagne Pools to watch the waves crash and froth over rocks or take a photo by the Maheno wreck.
Top experiences on the Gold Coast - Fraser Island route:

► Visit Sea World, a oceanographic theme park in Gold Coast which affords you a glimpse of fantastic marine animals and polar bears.
► If thrill is what you're looking for, it's what you'll get at the hair-raising rides in Warner Bro's Movie World and Wet and Wild.

► Go abseiling down stern rock faces which will make you scream your lungs off during the 164 foot drop at the Glass House Mountains.
► Make sure you stop by Bistro C on Noosa Main Beach for a sunny brunch by the roaring waves.
► Interact with the Butchulla indigenous people to hear the fascinating story behind The Cathedrals, cliffs of coloured sands, which were apparently stained when Gods brushed against them.
► Wander up to Eli Creek with water so pure, it's been filtered by sand for over 100 years.
Route: Take the route via M1 to River Heads where you must board a ferry to Fraser Island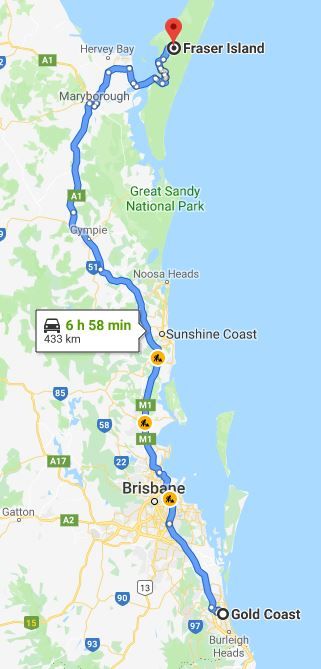 Choose from any of these four diverse and incredible road trips for an adventure of a lifetime. Feel the smooth road whirring beneath the wheels of your car and tick some whimsical desires off your list. But before that, book your tickets via Scoot for a diverting ride to Australia. Make sure to keep tabs on their Flyscoot Facebook and Twitter pages to avail of hefty discounts on flights!
What was your best road trip experience? Tell us about it in the comments below!
Are you a traveller with a flair for writing? Jot down your travel experiences here!