Come monsoon western ghats turn into a wonderland , incessant rains rendering the mountains lush green and landscapes that soothe the eyes and fill the soul. Take a road trip to some of the best parts of the western ghats to experience the thrill of driving through the winding roads in rain, into the mist. Imagine, if you will, chasing the monsoon
Monsoon is the best season to travel, if you love the rain, and what better place than Malnad - its lush forests, greener than ever hill ranges, misty peaks, delectable authentic food - It has it all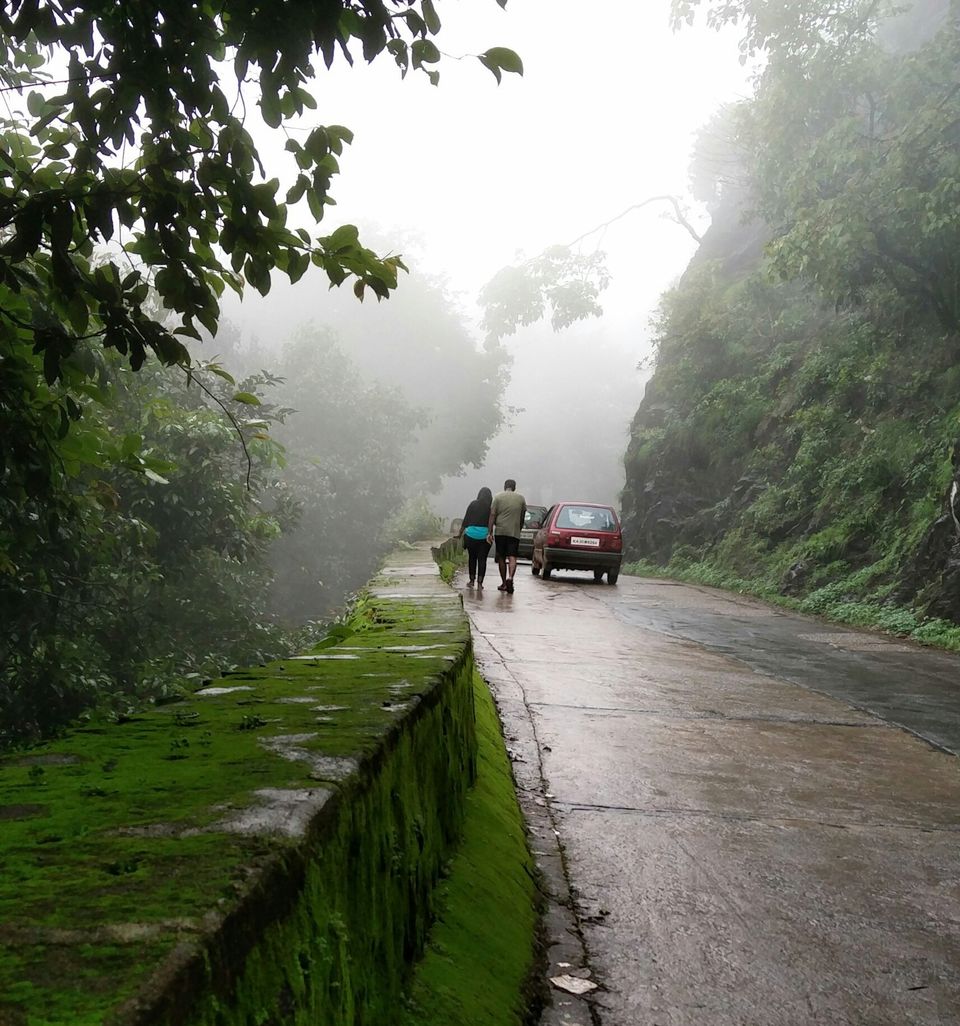 Agumbe in Thirthahalli Taluk of Malnad region, sometimes called the 'cherapunji of the south' lies in the UNESCO World Heritage Site. Only 55 km from Arabian sea Agumbe is known for the spectacular view of sunset which brings in large number of tourists during summers. There certainly is a different feel to this place during monsoon. Walking in the hills with cool breeze in the hair, drizzle splashing off the face put us in the mood for some tea and hot pakodas. Mist clouded the valley and a veil of thick clouds covered the peaks as the sun set into oblivion.
Somewhere between Thirthahalli and Agumbe is the Kundadri hill. Steep, narrow winding roads uphill take you to the top where a Jain temple is situated. Driving on these roads in the evening with less visibility owing to rain and fog was an adventure in itself. A small pond next to the temple makes the hill top picturesque. Views from atop are spectacular I heard but was masked by thick fog that engulfed the valley.
Another interesting place is Kuppalli, 5 kms from Thirthahalli , the birthplace of Rashtra Kavi Kuvempu. 250 yr old childhood home of the poet has been reconstructed without compromising the authenticity and is now a museum open to public. Walking through the corridors took us down the memory lane. Some of the earlier pictures of the poet himself and other veterans was a visual treat.
Kavishaila, very close to the museum and atop a small hill is where Kuvempu spent time writing and discussing with other literary figures. Surrounded by nothing but nature this place tells us where the poet drew inspiration from. The Stonehenge like structures are fairly recent.
Mullaiyanagiri and Baba Budangiri are popular peaks in the western ghats, former being the highest peak in Karnataka. Although these peaks are trekkers' paradise in winters you ought to experience the fun of driving (riding likewise) through these ranges in monsoon with greenery everywhere, as far as your eyes behold.
Baba Budangiri is known for its shrine that is of religious importance to both Muslims and Hindus. Traffic here gets difficult during Muslim festivals in which case you can turn around at Jhari falls. Mountains look magical with all the mist around and you can barely tell the time of the day.
Road ends at some point near the peak of Mullaiyanagiri where the stairway begins. Not too far from top but strong winds, needle like raindrops in the face, thick mist that practically blocks the view can make it difficult to climb but the whole adventure is worth it.