Most of us might be having Northern Lights in our bucket list...We too had this dream and with God's blessings we got the opportunity to see the amazing dancing Lights !!!
We had completed half of our trip; Almost losing hopes for Northern lights. For good visibility of Northern lights it's very important to have clear sky and the aurora forecast should by moderate to high .
We were keeping track over this but never had the opportunity of the above factors complimenting each other .It was Day 6 of our trip and that night we saw that the forecast was showing the moderate visibility with timing of 11.30 pm to 12 pm . We were still not sure of the weather as everyone knows its very unpredictable; We just thought we will keep an eye on it .My friends saw light green streak from the window of the motor-home and that was the time when we decided to chase the northern lights.
We were in the Höfn,Iceland campsite at the time and we had to go out of the city where we can't see the street lights..We just closed our bedding and layered ourselves with warm clothes and just rushed to chase it asap. We drove out of the Town and parked in fields.
And here we see the Northern Lights!!!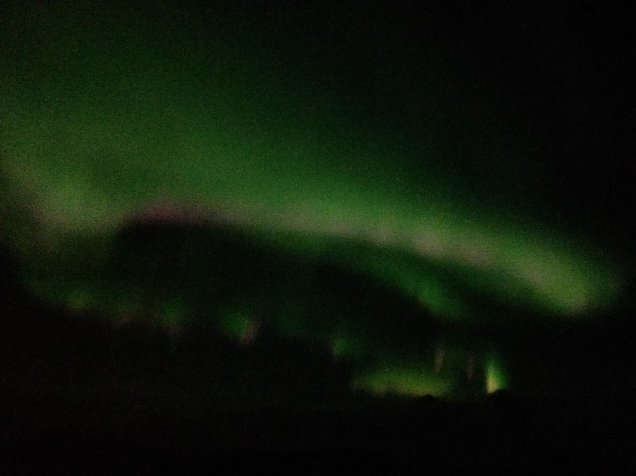 I know the pictures are blur as I dint had any tripod to capture it .I Just wanted to live the moment and enjoy the dancing lights!!! My friend has shot clear picture of the same in his Tripod.
What to do while chasing the Northern Lights ?
1.Get out of the Town where you will not see any city lights .

2.Just go to the Dark Place.
3.Make sure the sky is clear.
4.Capture the moment .
5.Know your camera before your trip .
6.A tripod and long exposure as said by my friend is required to photograph the Northern Lights.(Please do check the Northern Lights Photography too)
 What all Applications/website to check for chasing the Northern Lights ?
It is important to check the direction and strength to chase and view the Northern lights. Below few links and app may help you.
1.Please download "My Aurora Forecast" which tells the visibility of the Aurora Borealis as per the location. Also it tells the strength of the visibility. (Low, Moderate, High ) 
2. Please check the weather Forecast from the given link - here.