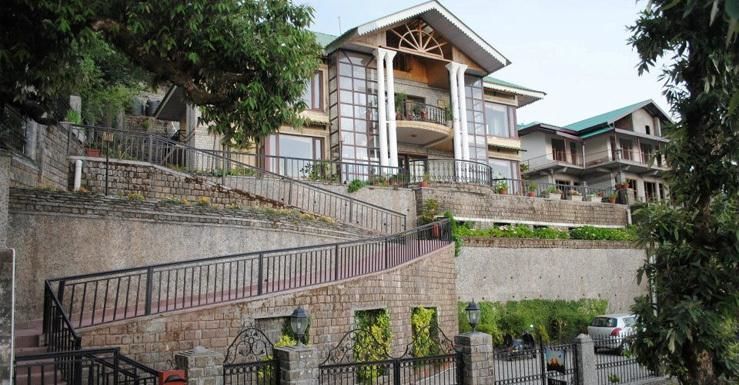 Wish to escape the city, and the frenzy synonymous with New Year celebrations? But are you also resisting spending a fortune on a full-blown holiday? If you find yourself nodding vehemently and can relate to this dilemma, don't be in dismay! I've stumbled upon a luxurious villa hiding in the tiny Tibetan town of McLeod Ganj, and it will blow your mind. And guess what? This one is super cheap!
Ideal for
Owing to the beautiful sprawling rooms of this serene resort, it is perfect for larger groups and families. But if you want to spend some alone time with your special someone, away from the maddening crowds, this would be an ideal option for that too.
About the property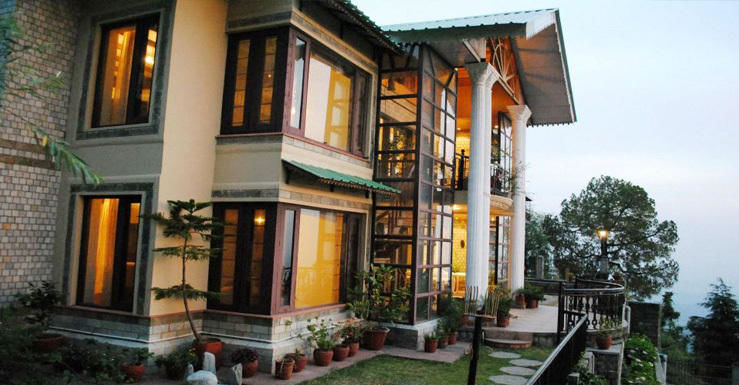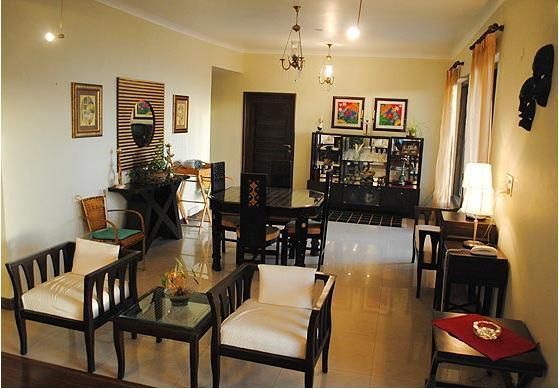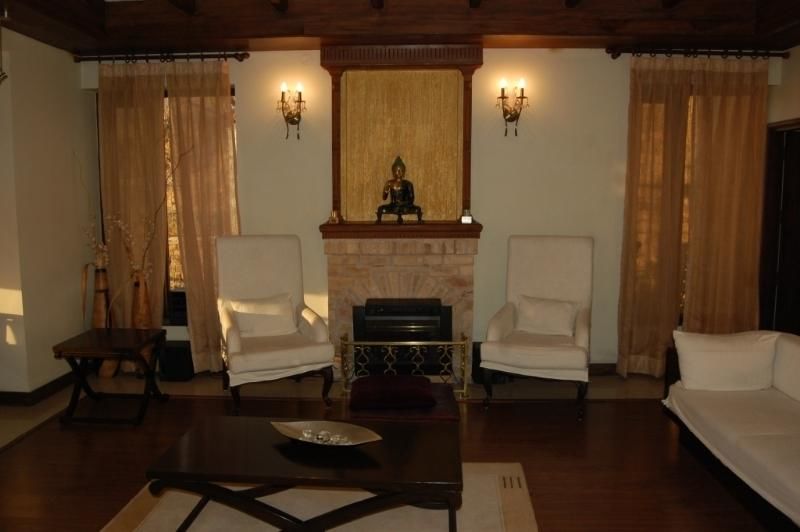 This gorgeous villa is centrally-located and is a stone's throw away from the vibrant McLeod Ganj market, bustling with people, brightly-lit bars and cosy restaurants. Despite that, it sits in a secluded spot on a quiet mountain, surrounded by the stillness of thick forests. The charming brick-walled property exudes warm, homey vibes and has a beautiful garden that boasts of some breathtaking views of the Dhauladhar mountains.
As soon as you enter the cosy villa, you're greeted by gorgeous glazed wooden doors and windows, and laminated wooden flooring in the living area. This serves as a common space for all rooms here. Adding to the snugness of the place is a lovely fireplace where a fire crackles comfortingly. So let yourself get carried away by the romance and old world charm of this home away from home.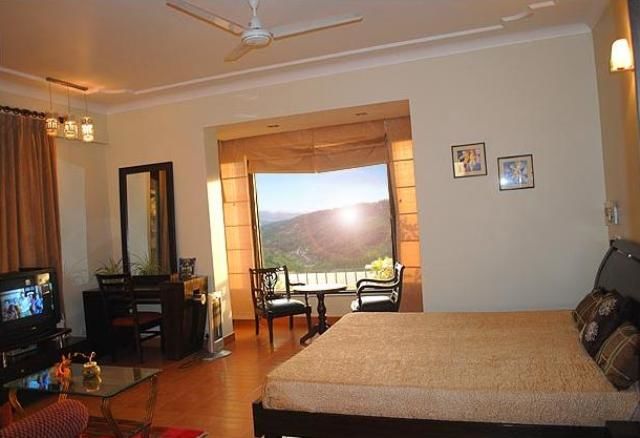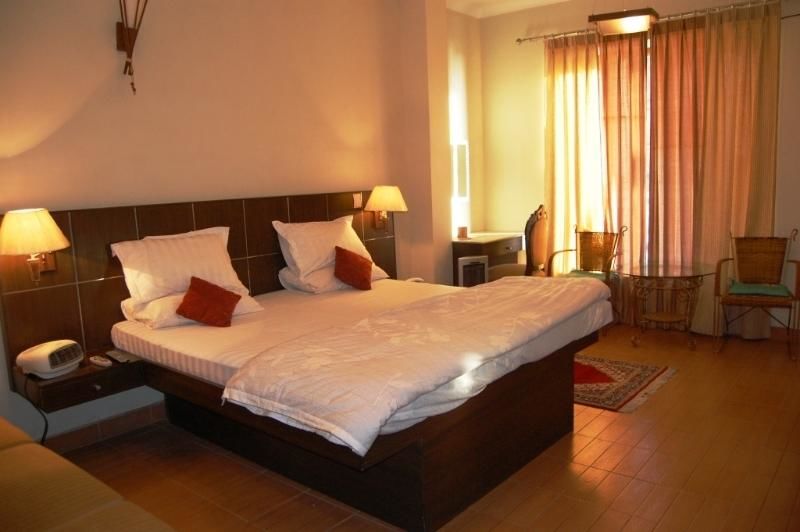 The property has three types of rooms: The master bedroom, super deluxe room and deluxe room. A maximum of two children are allowed to stay in the master bedroom and super deluxe rooms, while a maximum of one child can stay in the deluxe room along with adults. Children under the age of six years can stay for free in all rooms, provided they choose to use the existing bedding. However, if your kids are older, you can ask for an extra bed (available at the additional cost of ₹750). All rooms are designed in an elegant way, equipped with stylish furnishings and modern facilities.
Food
The food may be the best part of your stay in this homey villa. Nothing beats sitting inside a cosy room, drinking sweet tea and gorging on piping hot food, while you gaze into infinity. Pick from delicious pastas to comforting hot paranthas. Just make sure you let the friendly staff know what you're craving and they'll whip up a delicious meal for you!
Cost
The starting cost is only ₹3,600 for two. You have to pay an additional cost of ₹350 per person, per night for breakfast and ₹600 per person, per night for lunch/dinner.
Best time to go
Since Mcleod Ganj experiences extremely pleasant summers, with temperatures hovering between 18 to 20 degrees, the months between September and June are a great time to visit. But nothing beats the chill of winter with temperatures plummeting to anything from one to three degrees from December to January. If you're lucky you could also witness snow around this time!
What to do around here and the property
Unwind and soak up the sun
This villa is perfect for a couple of days of relaxation. Curl up with a book and unwind, while you soak in the natural beauty all around. However, if you find it hard to sit still and want to explore the town, there's so much to do! The villa also has some cool packages to offer – a devi darshan around Dharamsala, which includes a visit to temples at Chintpurni, Jwalamukhi, Kangra Devi, and Chamunda Devi. Four of these temples comprise the four Shakti Peethas. These ancient holy places have existed since the time of the Ramayana and are vital to Hindu mythology and faith.
Experience the serenity and spiritual vibes
The Dalai Lama Monastery Complex is a five-minute walk from the villa. If you're in McLeod Ganj and don't visit this, you're missing out on a lot. This peaceful temple complex comprises of the Dalai Lama Temple as well as the Tibetan Museum. Open to all and with a free entry, visitors are welcome to check out the complex. And don't forget to browse through the little shops and stands selling souvenirs such as Tibetan prayer books and t-shirts. Go there for the spiritual vibes!
Break into a sweat for the breathtaking view!
If you're an outdoorsy person and are up for a challenge, make sure you do the Triund trek. This one may take anywhere from two to four hours, depending on your pace and ultimately your fitness level. Although the majority of the trek is fairly easy, the last 2km are steep and a bit of a challenge. But the view on top is worth every bit of the effort. Start early because it tends to get dark around 6pm in winter, unless you plan to camp at the top. You may experience snow on the way, so make sure your footwear has good grip!
Marvel at mesmerising murals
This is another temple popular with the pilgrims. The Kalachakra Temple contains some spellbinding murals of the Kalachakra, also known as the 'Wheel of Time', and is the name of one of the Buddhist deities representing certain aspects of an enlightened mind. If you're lucky, you could even chance upon monks standing outside the temple, chanting fervently and in unison.
Getting there
Delhi is the closest metro city to McLeod Ganj and the road distance between the two is 488km, and takes anywhere between nine-and-a-half to 12 hours.
By air: You can fly from Delhi to Gaggal, the closest airport to McLeod Ganj (located at a distance of only 10km from nearby Dharamshala). There are two daily flights — Air India and SpiceJet. From here you can either take a bus to the resort or hire a cab.
By road: There are many direct buses from Delhi to McLeod Ganj. All buses, including HRTC buses, usually leave for McLeod Ganj from Majnu Ka Tila in Delhi. Alternatively, you could book a bus that goes to Dharamshala and then take a local cab from there to McLeod Ganj. This should take you around 20 minutes.
By train: There are more than 10 trains running daily from Delhi to Pathankot Railway Station, situated approximately 90km away from McLeod Ganj, which is the closest broad gauge railhead serving those headed to McLeod Ganj. From here you can travel by bus or rent a private cab.
Have you spent New Year's Eve shacked up in a homey villa, away from the city's madness? Share with Tripoto right here.
Frequent searches leading to this page:-
weekend getaway ideas near me, weekend getaway ideas for couples, weekend getaway ideas for couples near me, weekend vacation ideas for couples