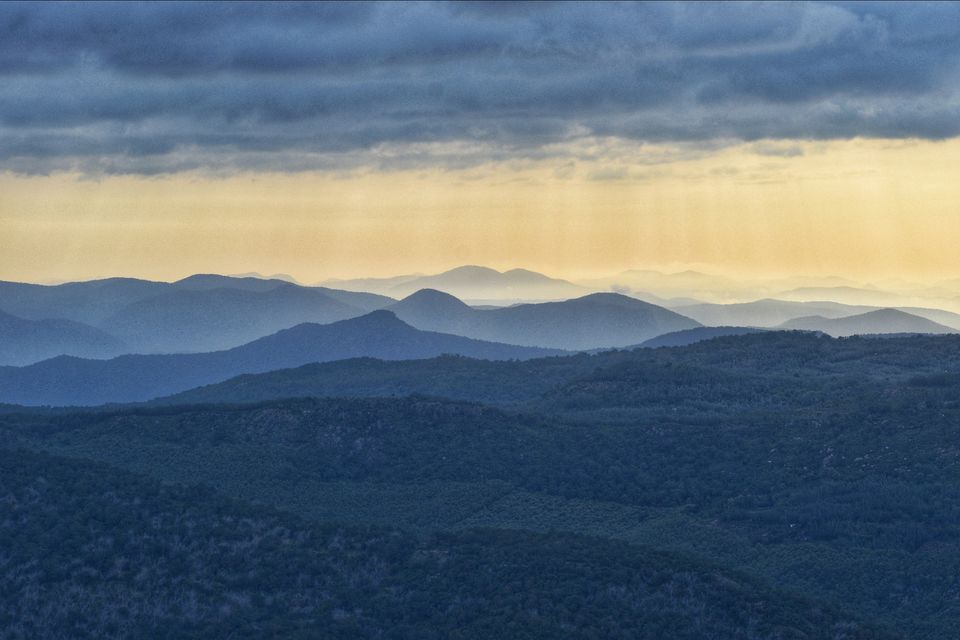 PROLOGUE
                 I, along with three other friends visited this beautiful hill station Yercaud recently. I am a Central Government Officer posted in Chennai. My plan is to cover most of the nearby tourist places before I get transferred to some other state. This is one of such places. I have already booked all the hotels before hand and we have travelled in my car.
                   We started at around 8AM and had some breaks for food etc. Knowing that Salem to Yercaud route has 20 Hairpin bends, I decided to go via Salem even though there is a shorter route available. And I was not disappointed. The drive from Salem was very enjoyable with good views all around. We reached Yercaud by 3PM and checked in to our rooms. We had late lunch at Hotel Saravana Bhavan which was nearby and started exploring the place. We visited Lady's seat, Gent's seat and Children's seat view points which are all next to each other. You can take your vehicle up to the viewpoint by paying an entry fee for the vehicle. They charged us for the camera also. The viewpoints offer a great view. We were unable to visit another place that day because it was almost dark by that time. So we had dinner and retired to our respective rooms. We stayed at OYO- Royal Gardens. The place was decent. We booked two double sharing rooms for one day for 2485/-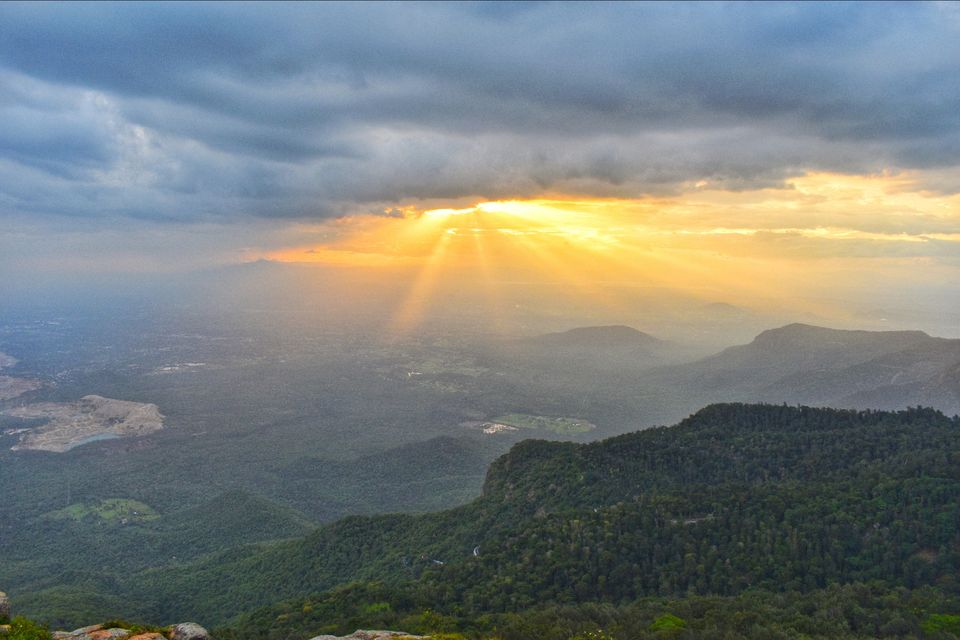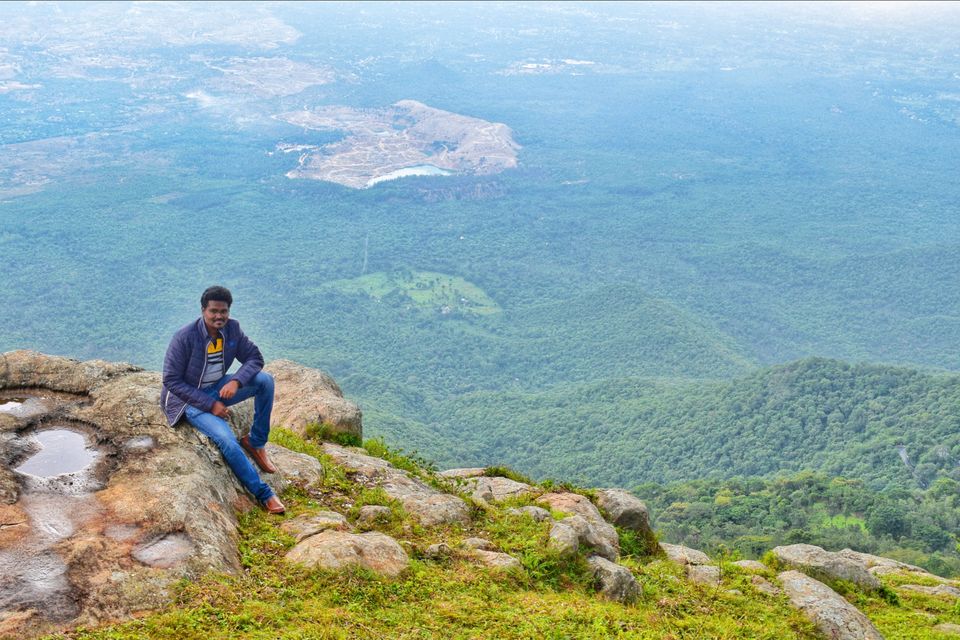 This day, first thing on our list was 32km loop road which takes you through some calm and serene places, some villages and some viewpoints. We woke up at 5AM to catch the view of sunrise from Manjakuttai View point which is on the loop road itself. The view offers a series of hills sprawling at a distance, which are surrounded by fog and is was amazing to say the least. We could not see the sun on the Horizon due to clouds, but we surely enjoyed the view. From the viewpoint, the hill which we were on has a downward slope. There was a fence and an open door which says "Do not enter" , but that didn't stop us from crossing it. There was another fence at the end of the slope which is quiet some distance away and we went up to that point.
                    We continued our journey on the loop road. We came across Cauvery Peaks Estate, which grows coffee plantations and processes it to make coffee. They offer a guided tour into the estate at 472/- per person in our own vehicle. We didn't find it interesting and skipped that part. They have a nice coffee shop with neatly laid tables. It was so pleasant to sit there amid the greenery and sip your favorite cup of coffee. After that we resumed our journey and stopped for pictures wherever we find a good spot with parking place for our car.
                   Our next stop is Karadiyur Viewpoint, which is the best viewpoint I have seen in Yercaud in my opinion. To reach this viewpoint, we have to take diversion onto a gravel road from the main road and travel for approximately 1 km. They were still developing the place. There was newly laid grass lawn and some other things at that time. And to our happiness, there were no one at the viewpoint other than the four of us. The view from there is simply breathtaking. I will let the pictures do the talking. I highly recommend everyone to visit this place.
                  Then we went to Tipperary View point which was just okay, there was nothing special about that. You have to trek a little to reach the viewpoint. This is a good place for a nice picnic for  a large group.
                    After that we had lunch and went to Kiliyur waterfalls. There was not much water at that time and it was an average experience. You can bath in the water if you want. To reach the waterfalls, you have to climb down many steps and I don't recommend elderly people to visit it.
                 With this, our Yercaud chapter got closed and we started our journey to Kolli Hills. The place is famous for it's 70 hairpin bends. The road really tests the driving skills of everyone. On the way up there was not even any space beside the road to stop and marvel at the views that were on offer. I got to click one picture. It was simply majestic to say the least. We reached our hotel by late evening and our troubles started from here. One of my friends got some medical complication and we had to cut short our journey and go to Salem in the midnight. But that is for another story.
                      I would like to add that in Kolli Hills area, there is one Government Upgraded Primary Health Centre at Semmedu which has Doctor on duty 24X7. The Doctor who was on duty when we visited was well Qualified Post Graduate in Medicine. Even though we went there at midnight, she was very patient(no pun intended :P) and helpful. The PHC has equipment like ECG machine etc, so if you need any medical assistance in that area, you can visit that.
Chennai➡️Yercaud➡️kolli hills➡️Chennai
Three days all inclusive trip cost by car per person - 3,500/-
You can just visit Yercaud for two days and the trip cost comes down to less than 3,000/- per person.
With this, I will conclude my beautiful vacation in Yercaud.