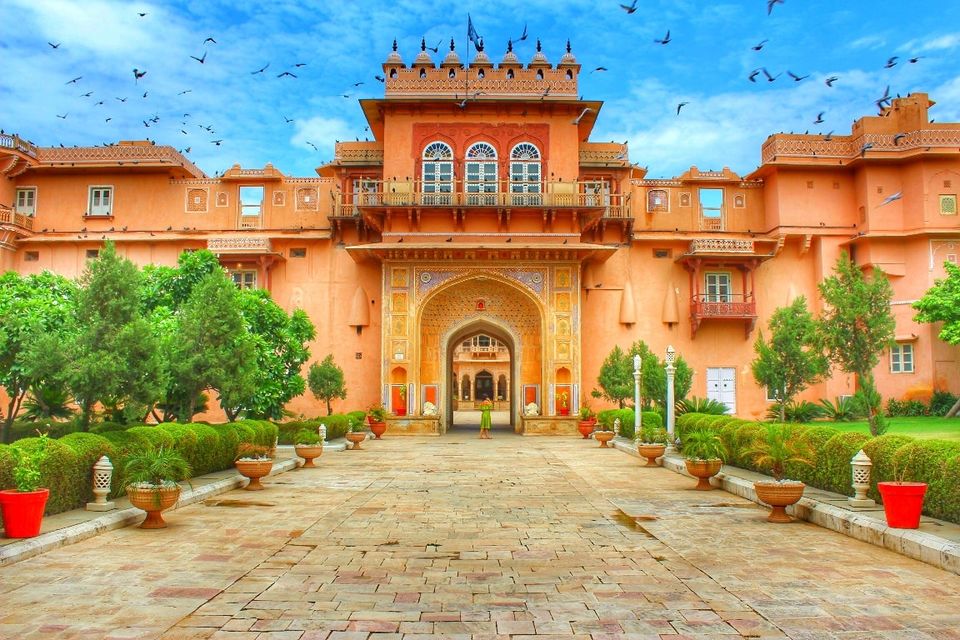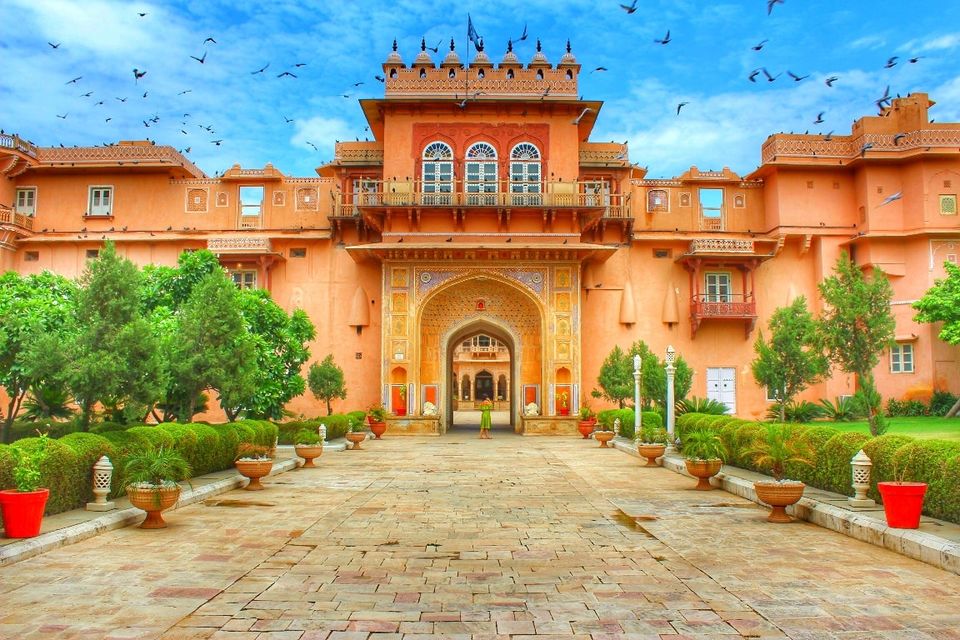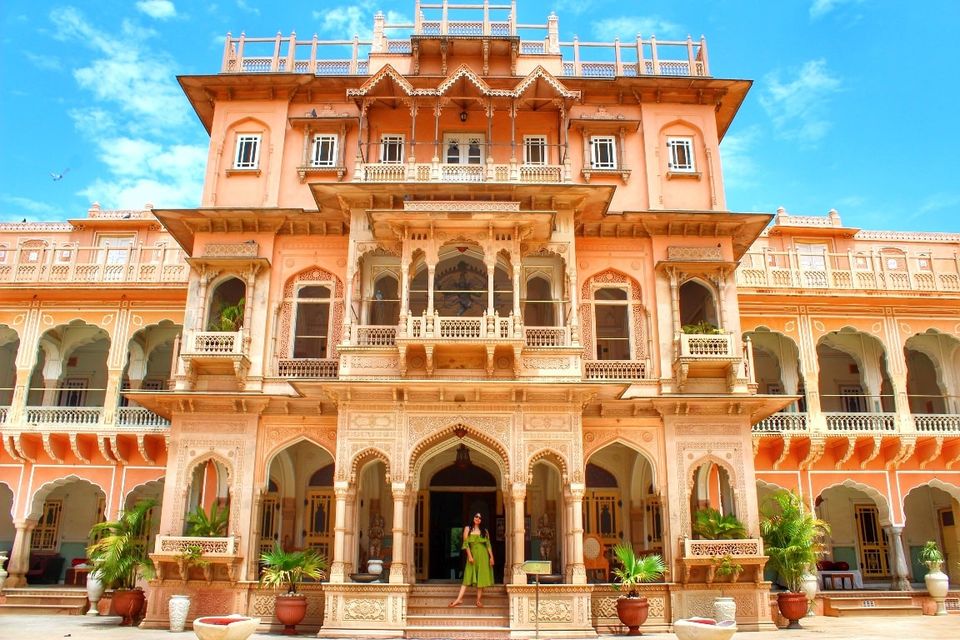 Rajasthan the state of havelis and palaces has numerous historic structures. Each of them has its own story to tell. Today we are taking you to Chomu Palace, 33 Kilometres from the capital city Jaipur. Chomu derived from the word "Chaumuh", meaning surrounded from four faces, the reason for this historic castle been named Chomu Palace (or Chaumuh Palace). This place is protected by 10 feet tall and 6 metre thick walls from all the sides. Built in a vastu-friendly design, this 300 years old castle is now transformed into a luxury hotel with modern amenities. The historic charm and the splendid beauty of this monument is kept alive. It displays the antiques and the lineage of the royal family which used this palace as residence in the older time.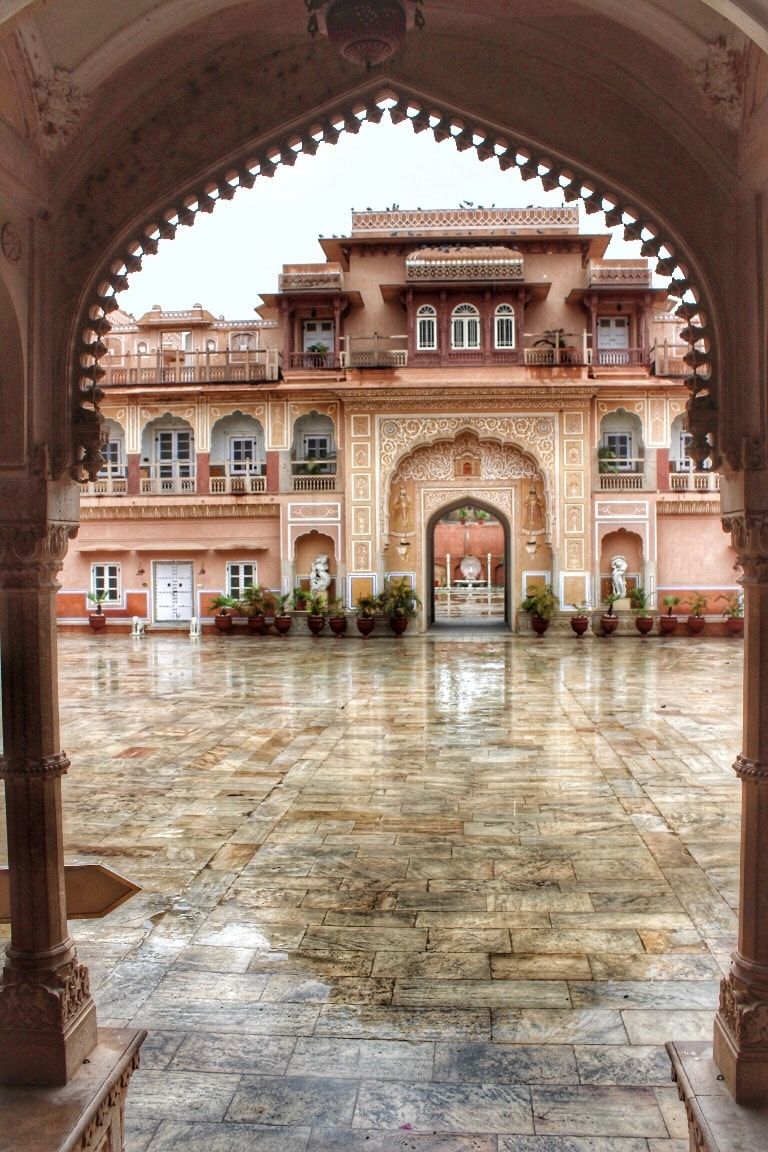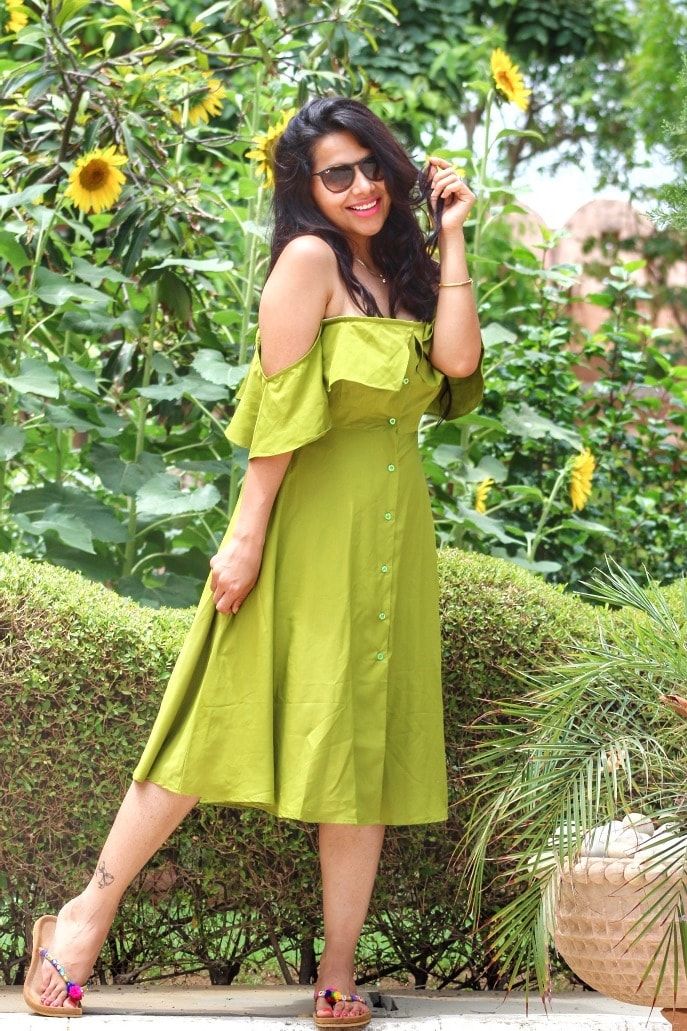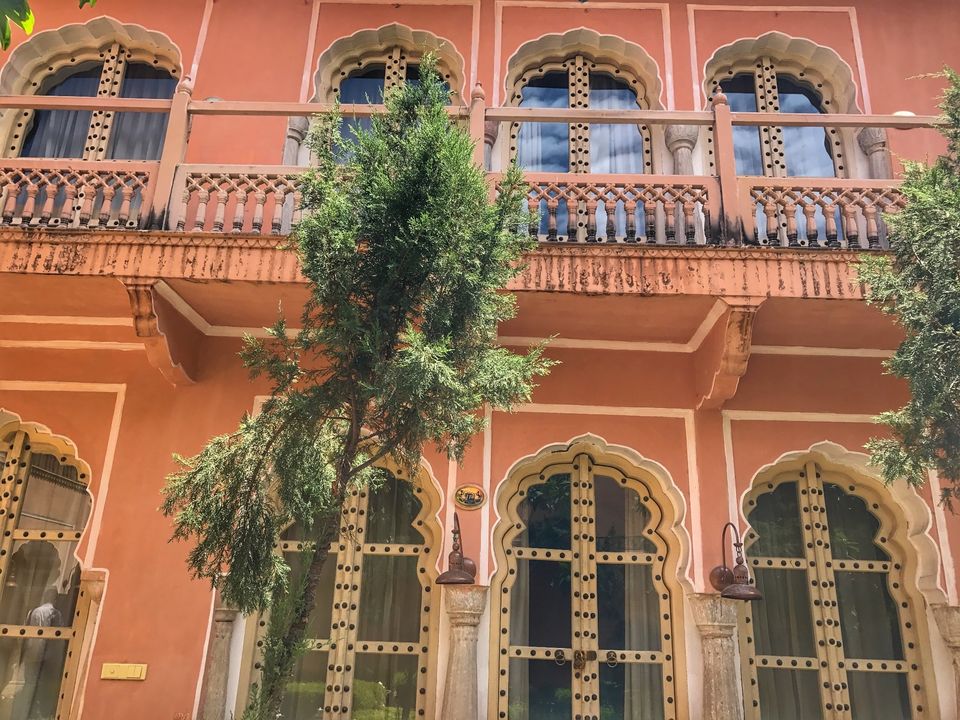 It's my second time at this palace but its beauty still has the same inducing effect on me as it had when i visited it for the first time. This authentic royal palace also attracts the film-makers and from various parts of country. Many films/TV serials have been shot at this place. In fact, I myself was inspired to visit this palace when I noticed it in the movie "Bhool Bhulaiya".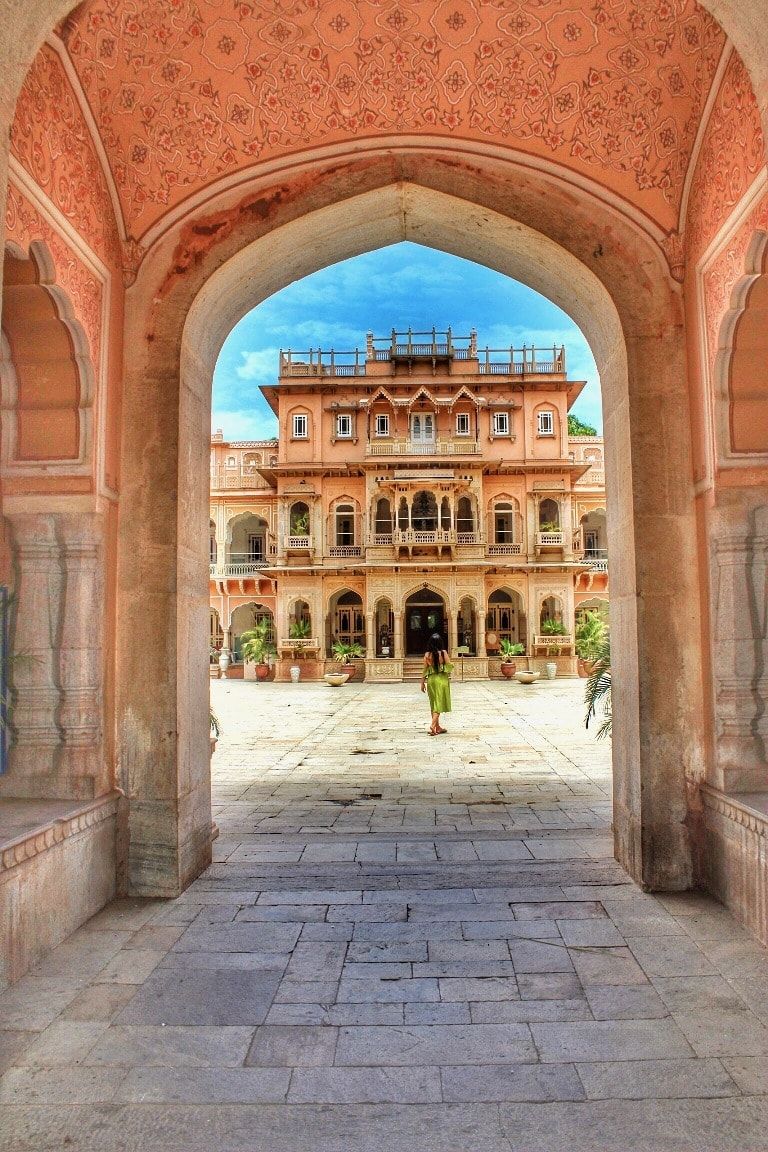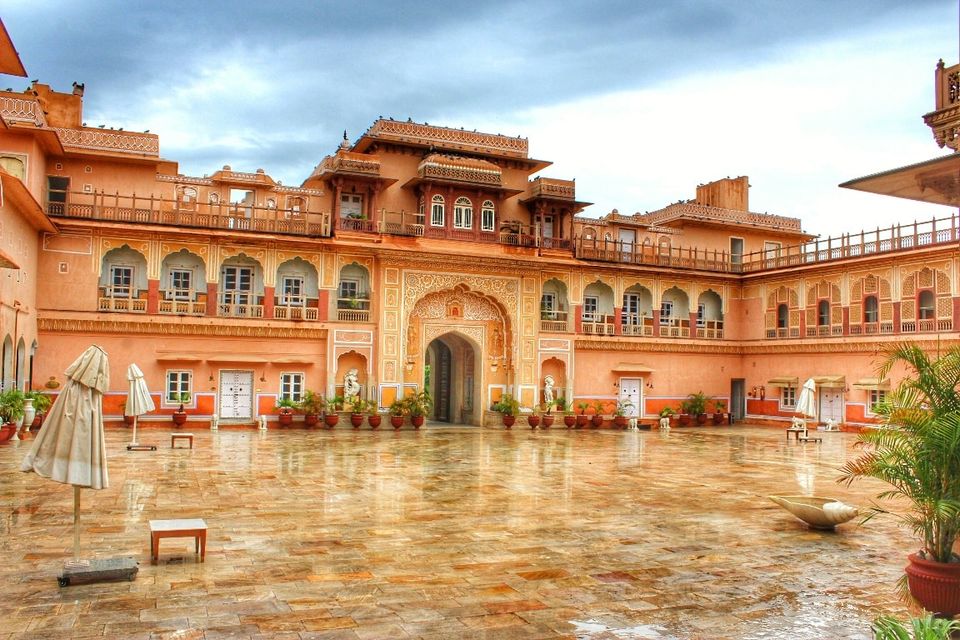 Interesting Fact: Some movies like Bol Bachchan (2012), Gulaal (2009), Bhool Bhulaiya (2007) and TV serial "Jhansi ki Raani (2009-2011)" were shot in this ancient monument.
The Room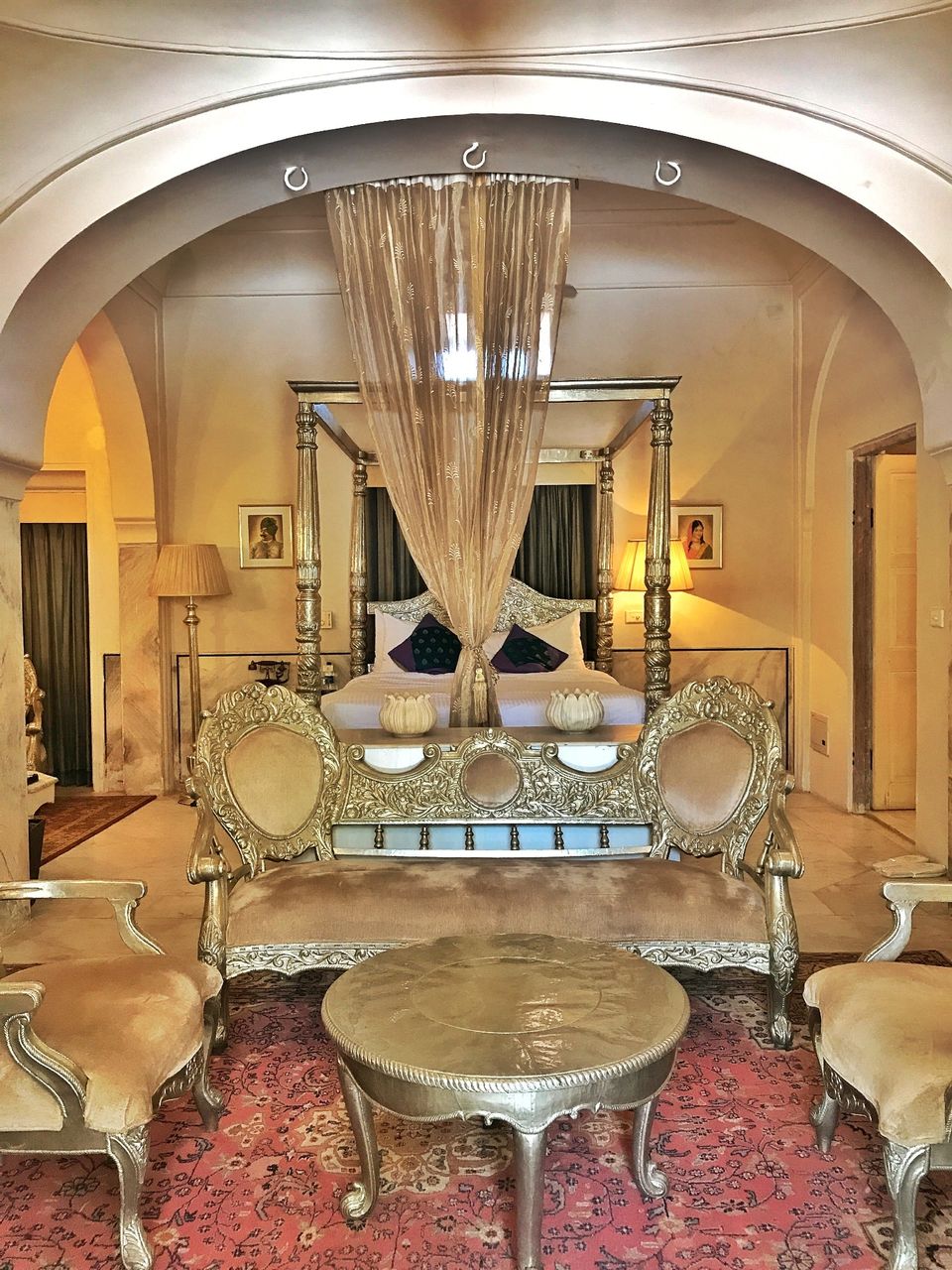 The palace has a total of 70 rooms grouped under the categories the Palace Room (DBL), Royal Suite, Historic Suite, Maharani Suite and Maharaja Suite. We stayed in the Maharaja Suit. Remarkably crafted, makes you feel like a king. It has a four-poster bed made of silver and beautifully carved silver furniture.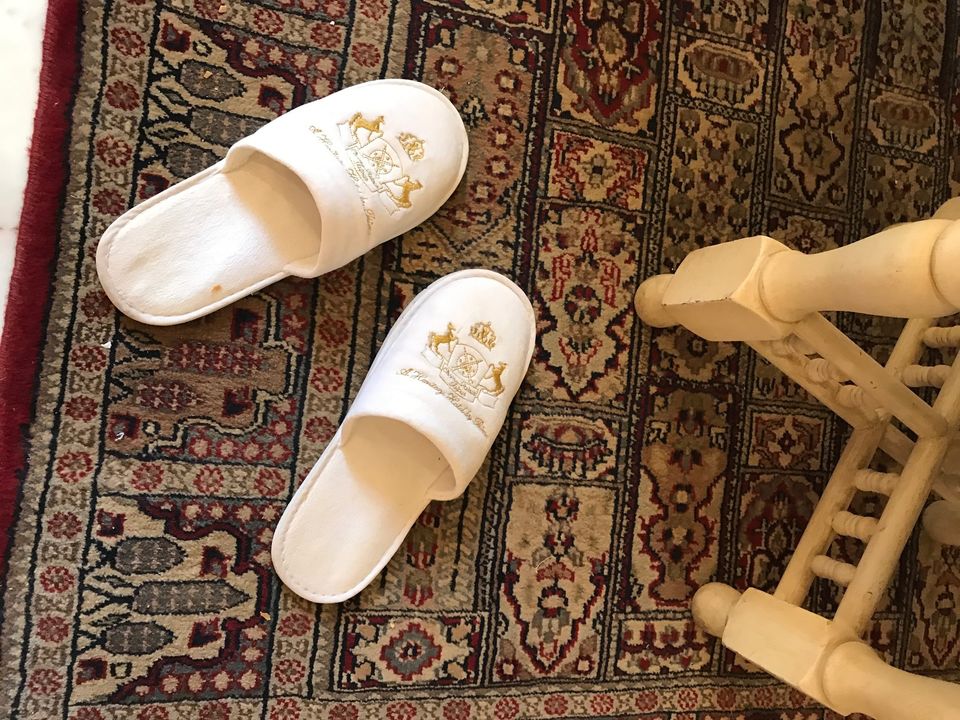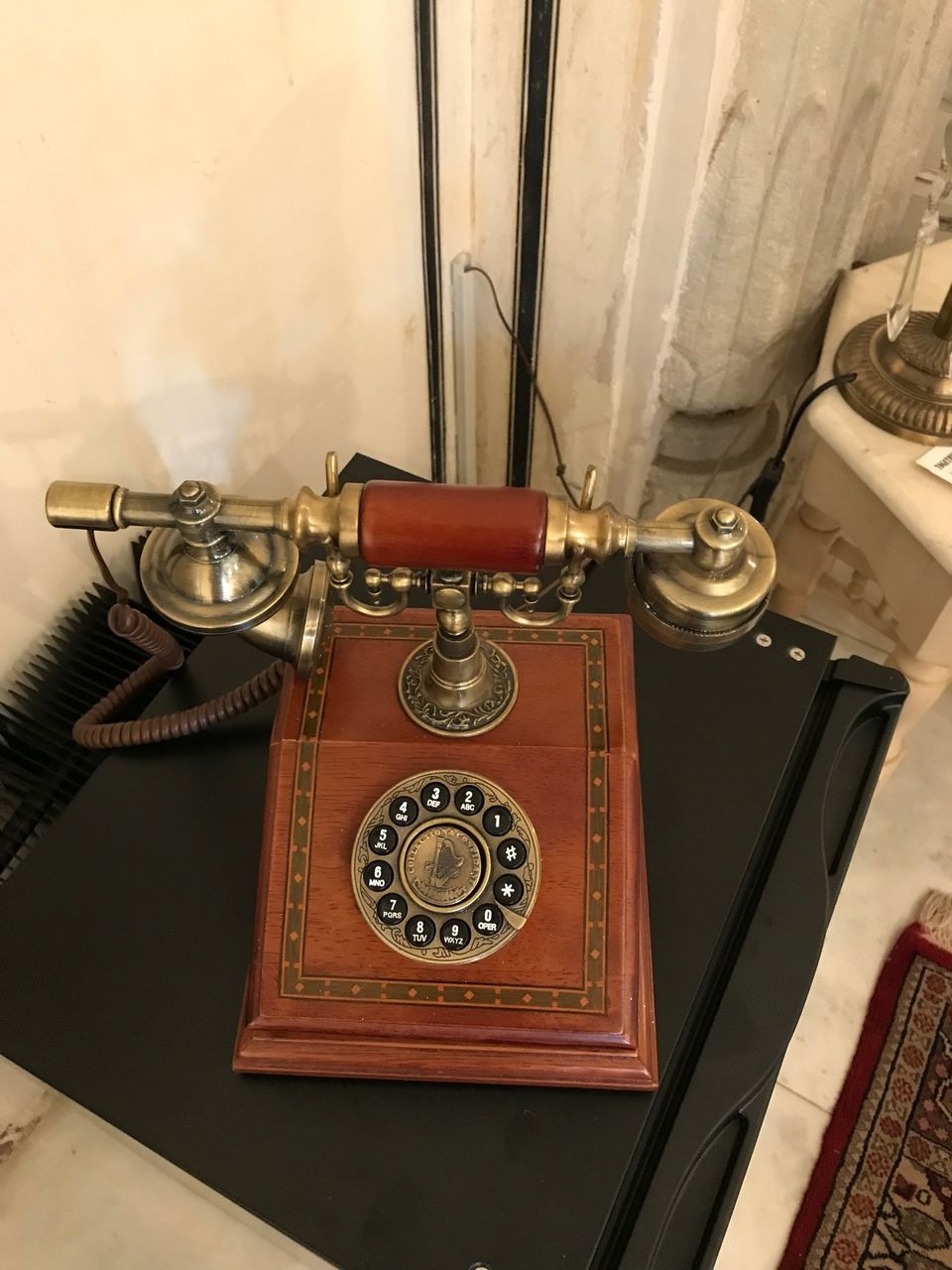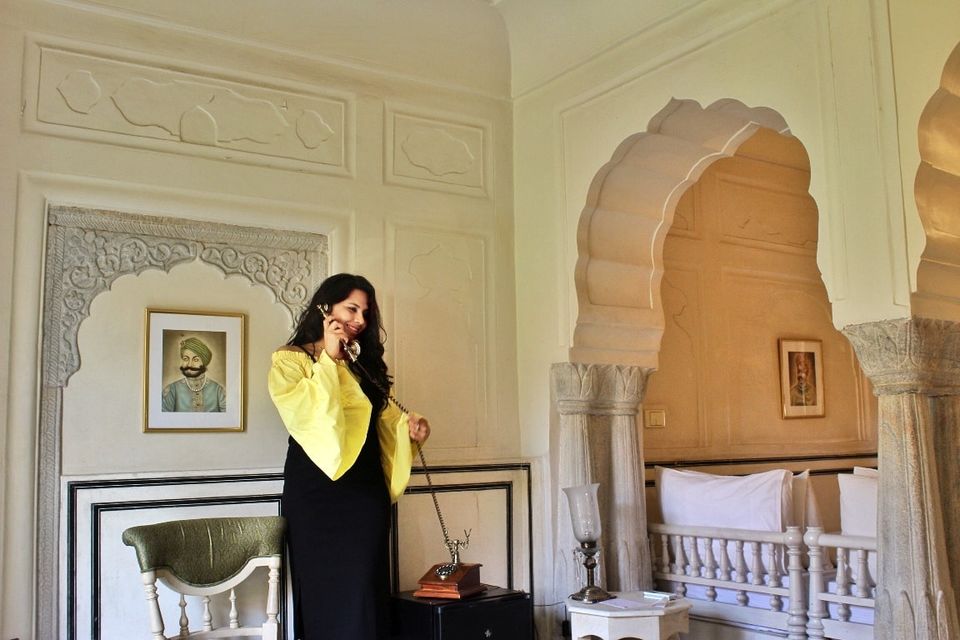 TRING! TRING! Sound of the antique telephone is a throwback to olden days. The artifacts inside the suit takes you back to the remnant royal era. The air-conditioned suite is superbly done up richness and splendor of Rajasthani culture with modern amenities like mini-bar, direct-dial telephone, television and tea/coffee maker.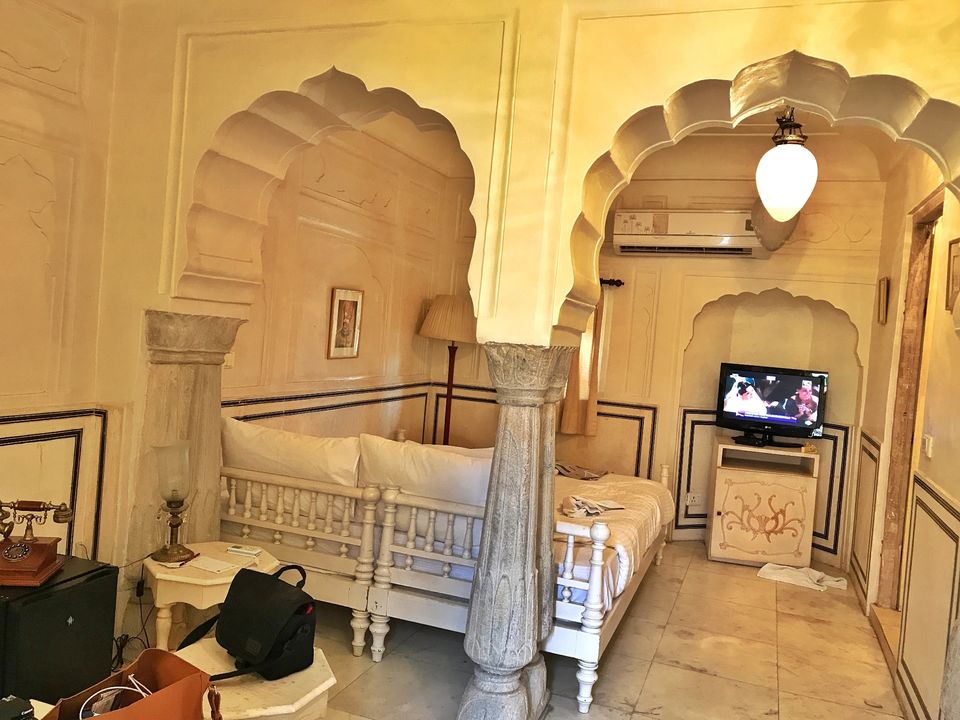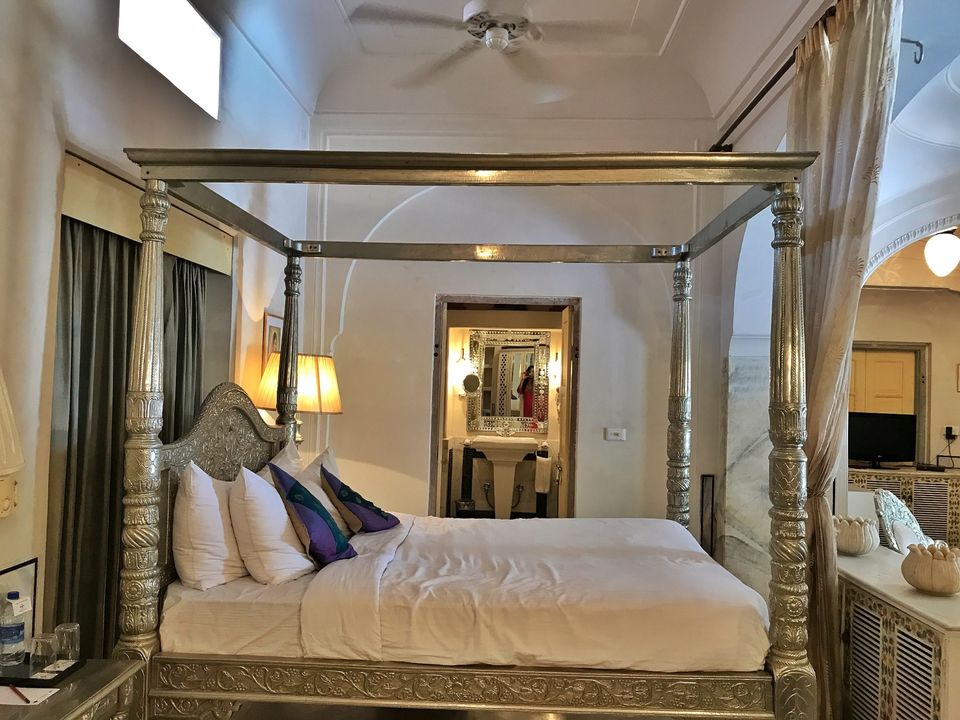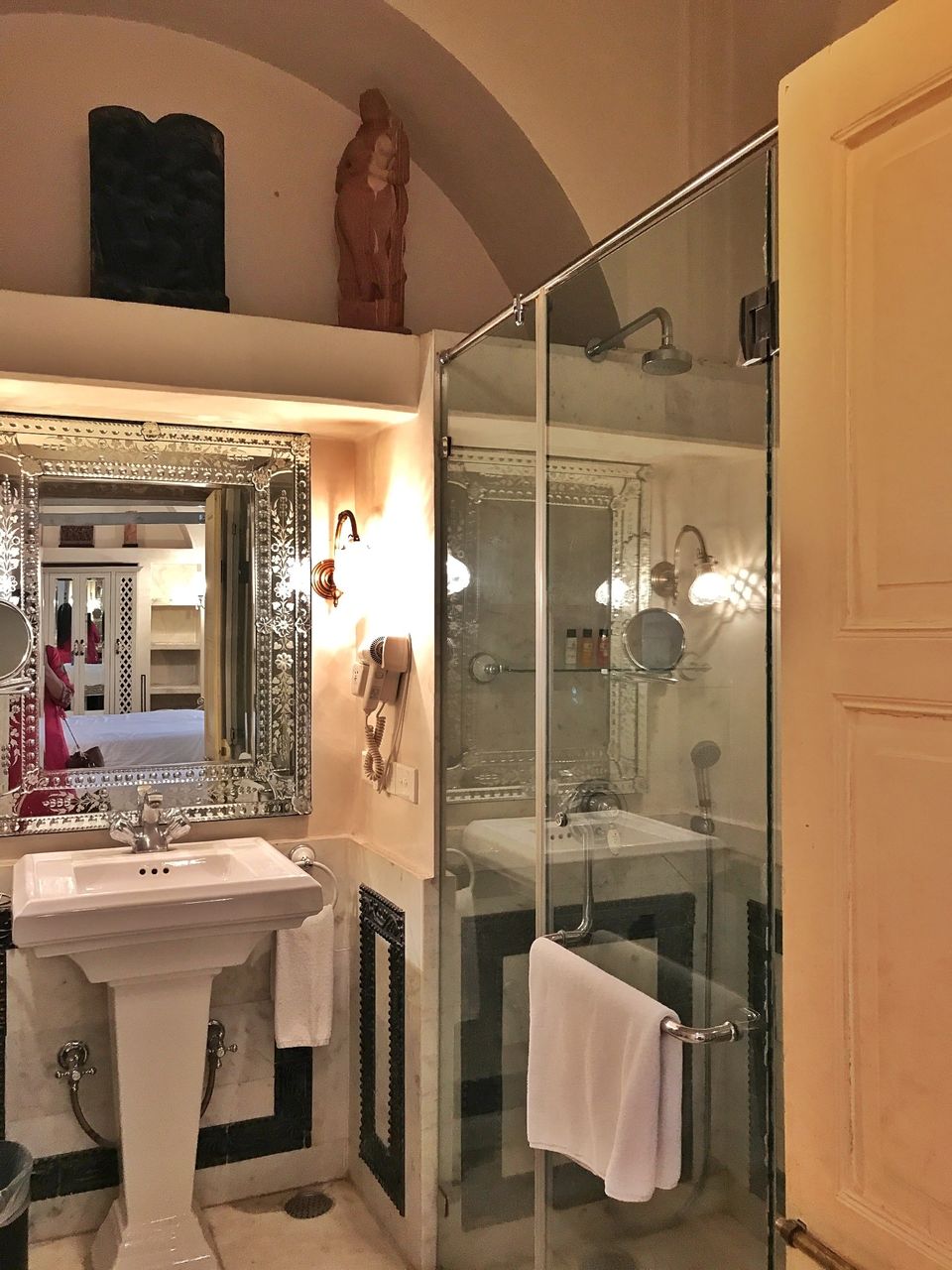 With 24-hour facilities such as housekeeping, room service, laundry, doctor-on-call and car parking the management staff ensures you are having a good time at this palace.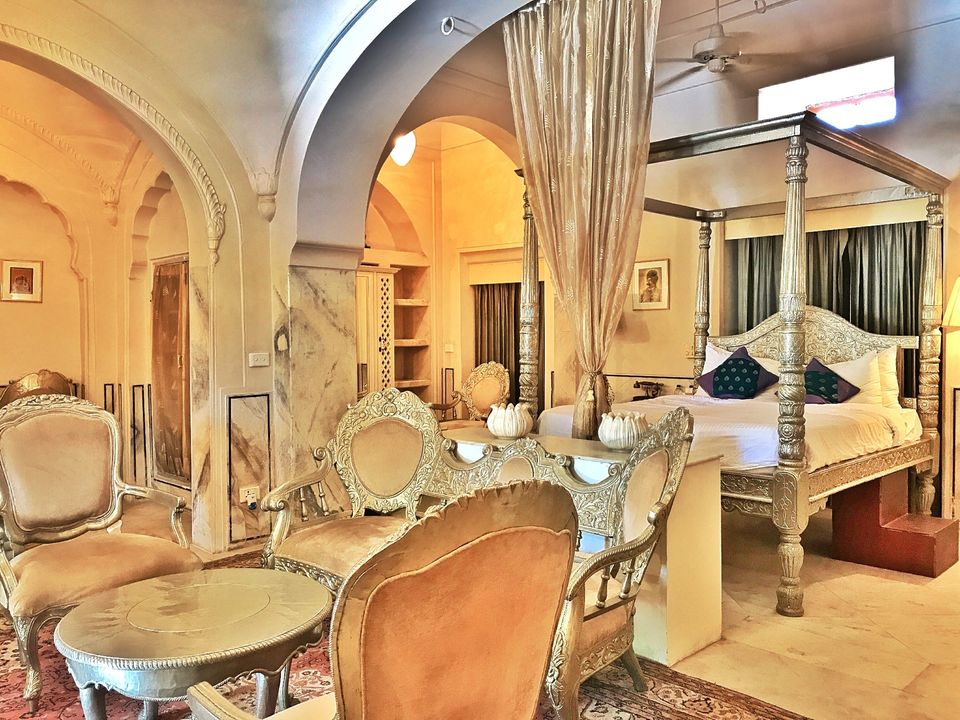 The Food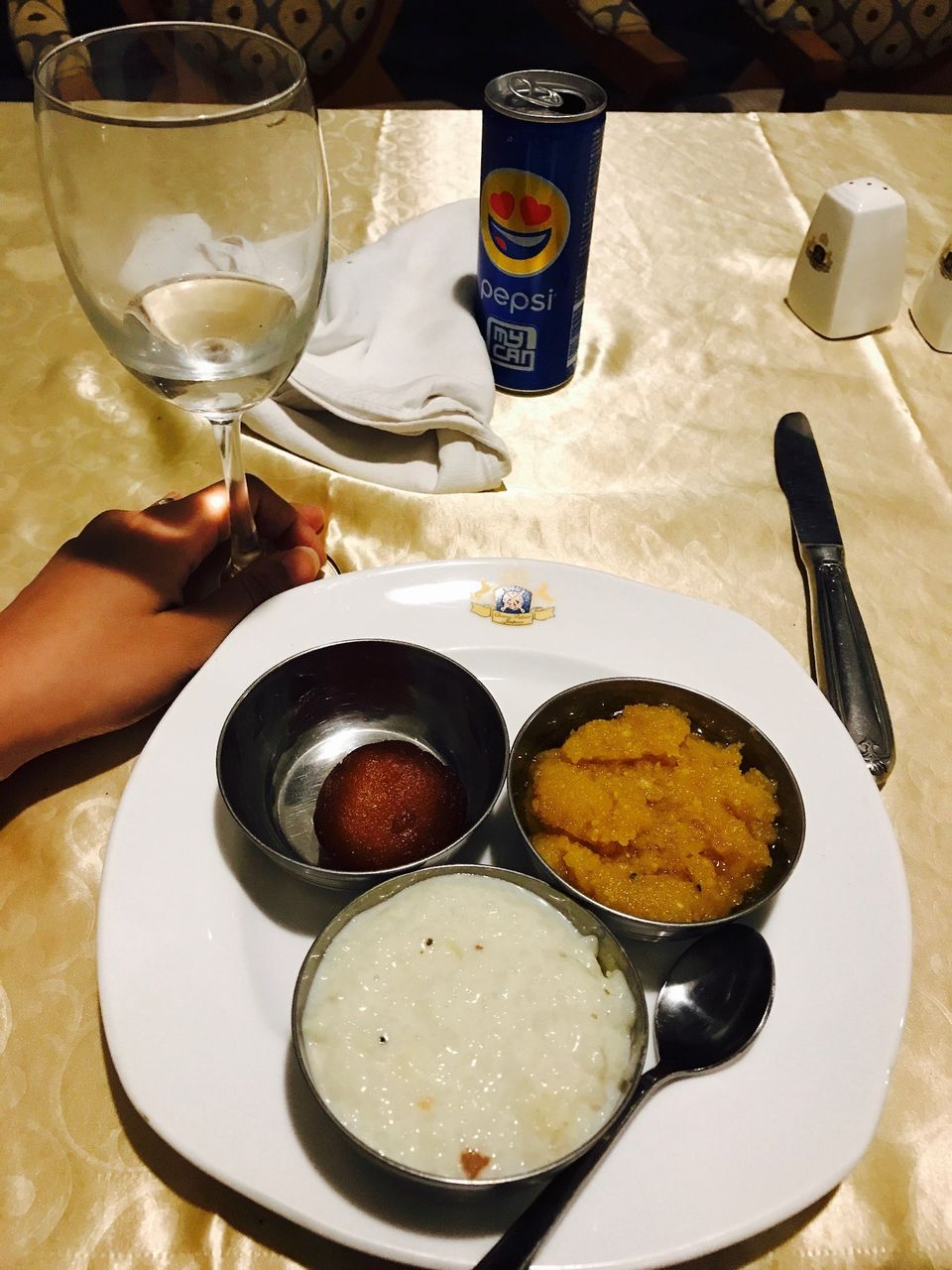 The royal Darbar Hall, multi-cuisine restaurant with nice clean cutlery, serves variety of exquisite delicacies which are prepared from in house freshly grown organic vegetables.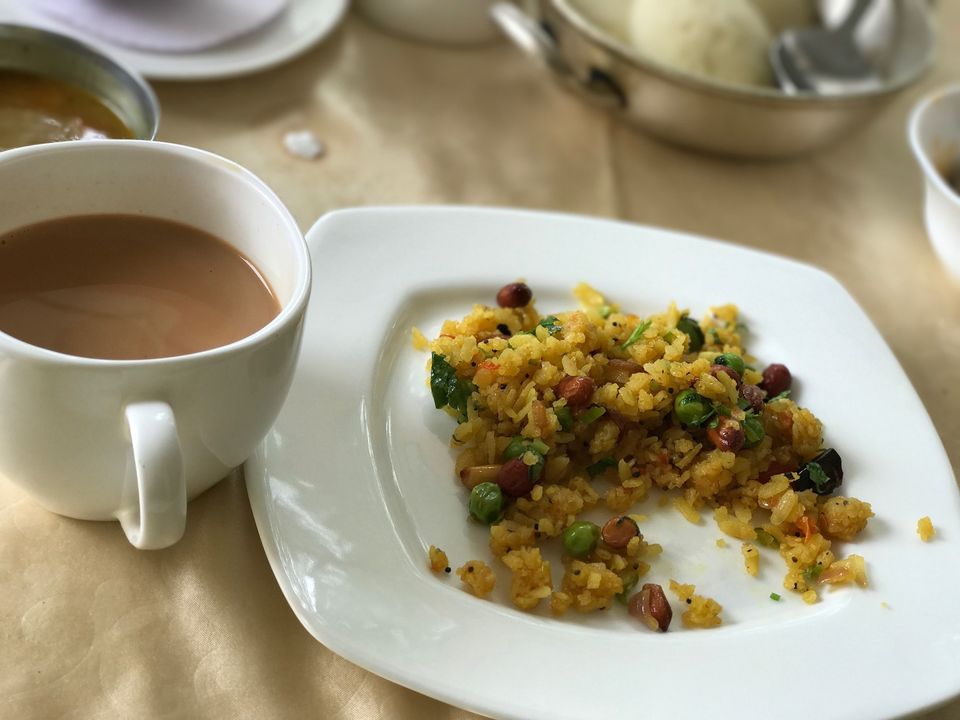 We enjoyed our Rajasthani Thali consisting of traditional Dal, Batti, Churma with amazing "Dahi Mein Aloo" and Lehsun Ki Chutney, Ker Sangri and delicious Ghewar and Badam Ka Halwa and many more tasty items.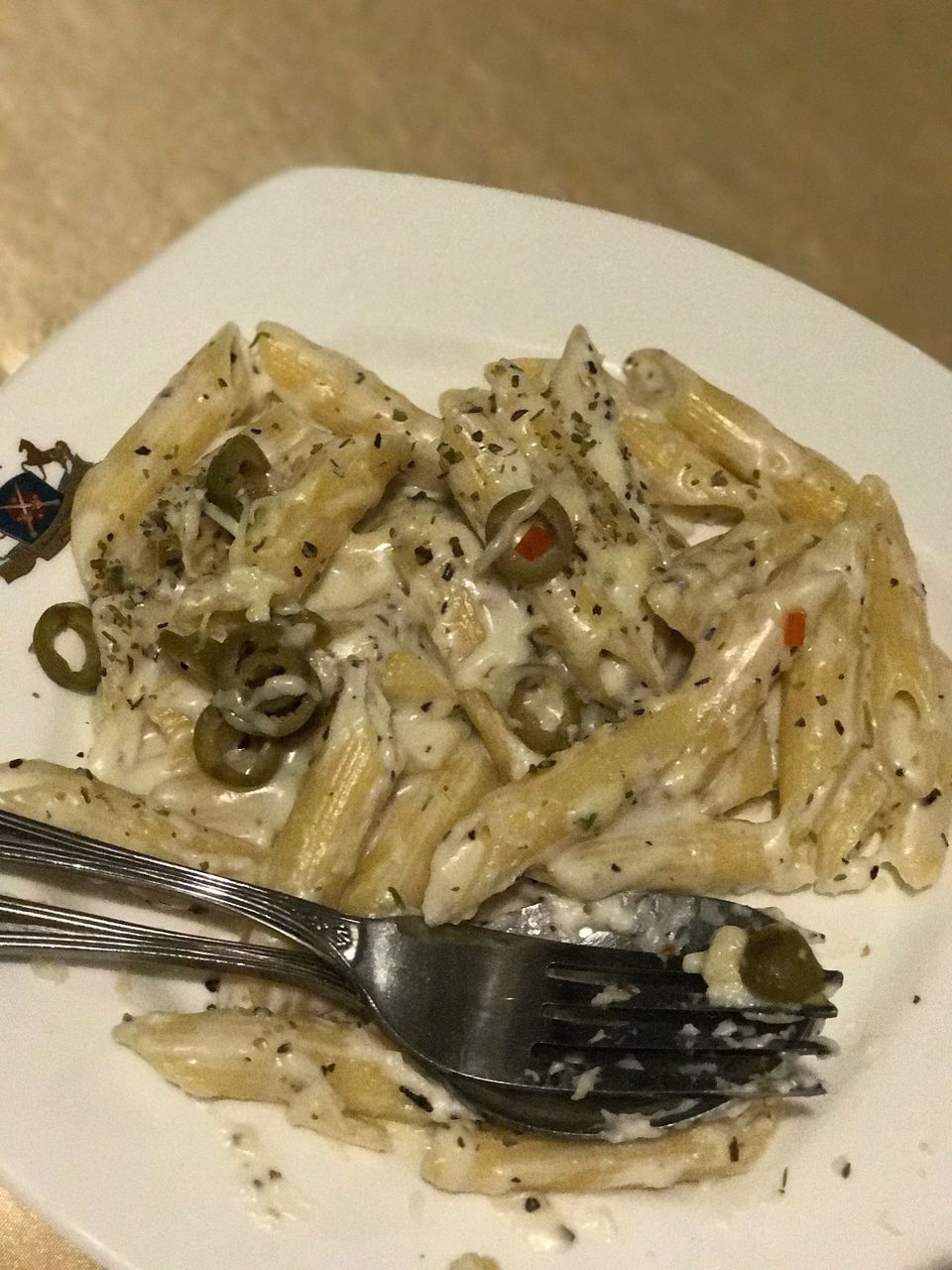 Must Try: Mawa Kachaori
Meanwhile having food was noticing the walls of Darbar Hall. I loved the intricate marble carvings on the walls.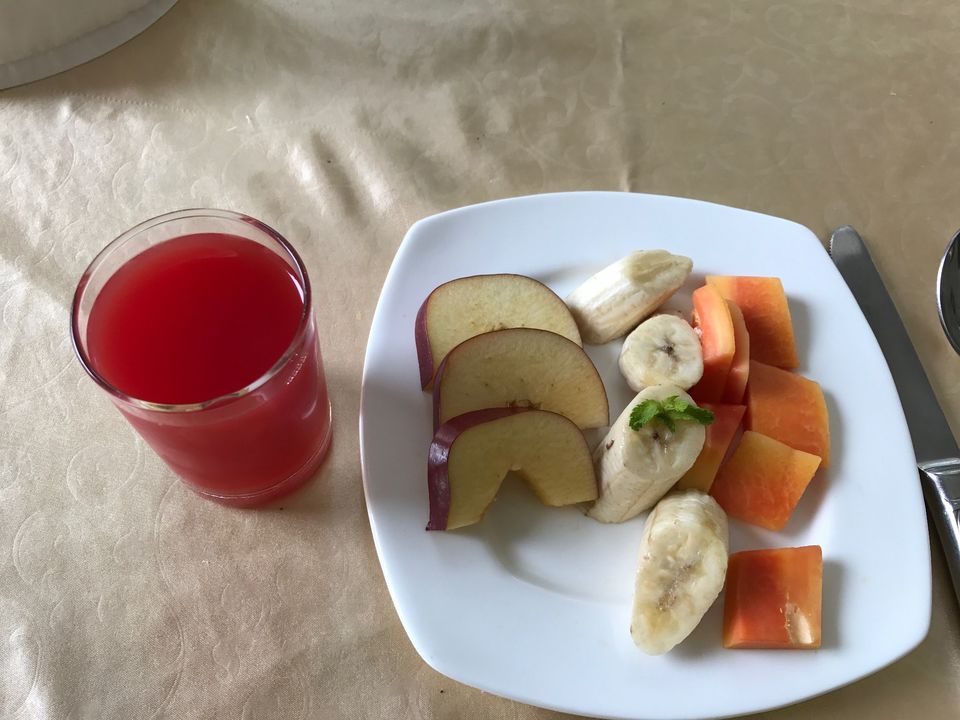 Activities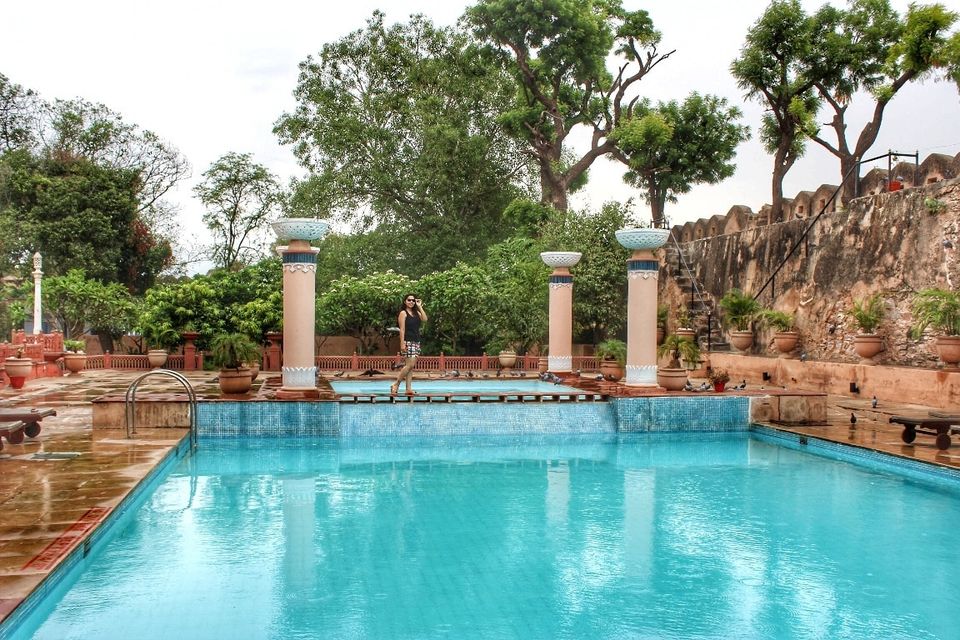 To keep you entertained, the palace staff organises a display the heritage of Rajasthan with folk music and dance in the courtyard. One can also choose to spend time at Sheesh Mahal that offers a range of delectable spirits, wines and cocktails.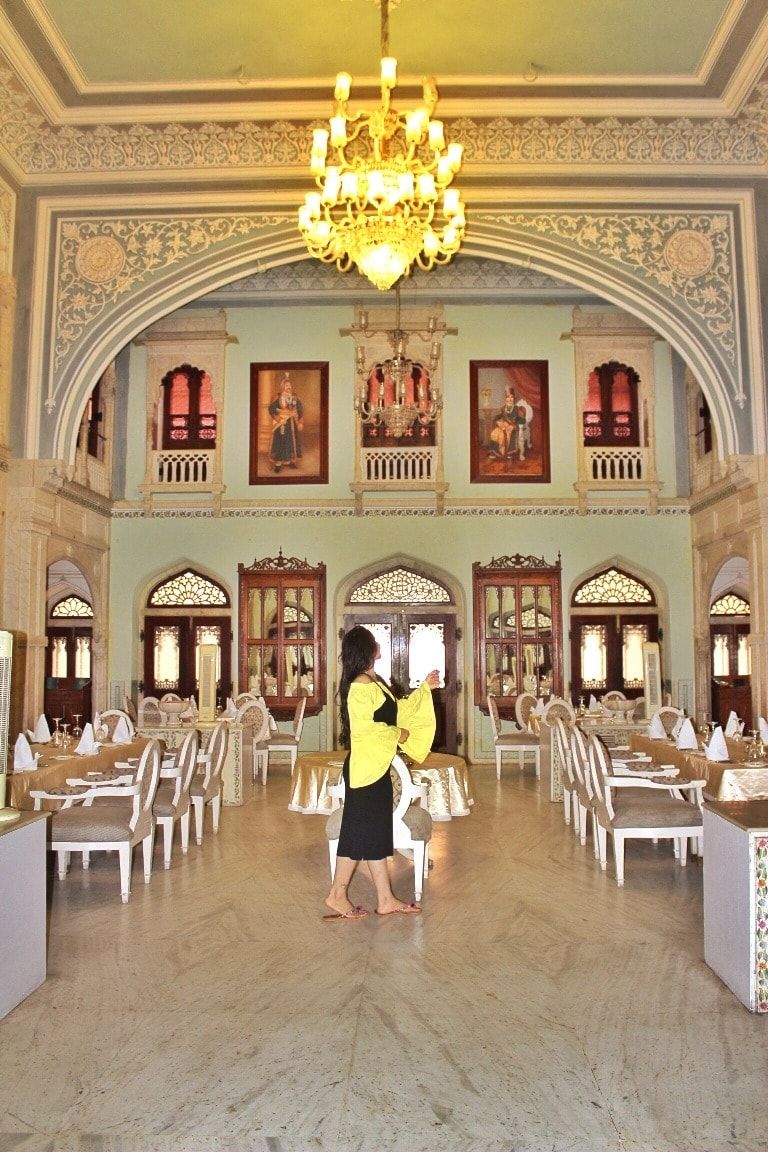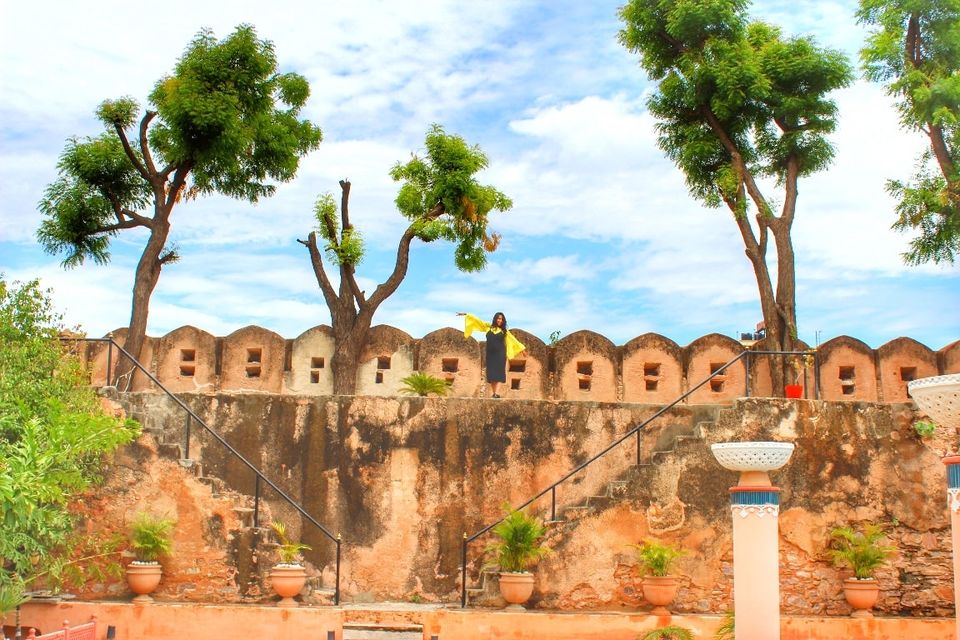 You can play Snooker and Table Tennis in the backyard of the Palace. We enjoyed few sets of Table Tennis, some staff members also accompanied us.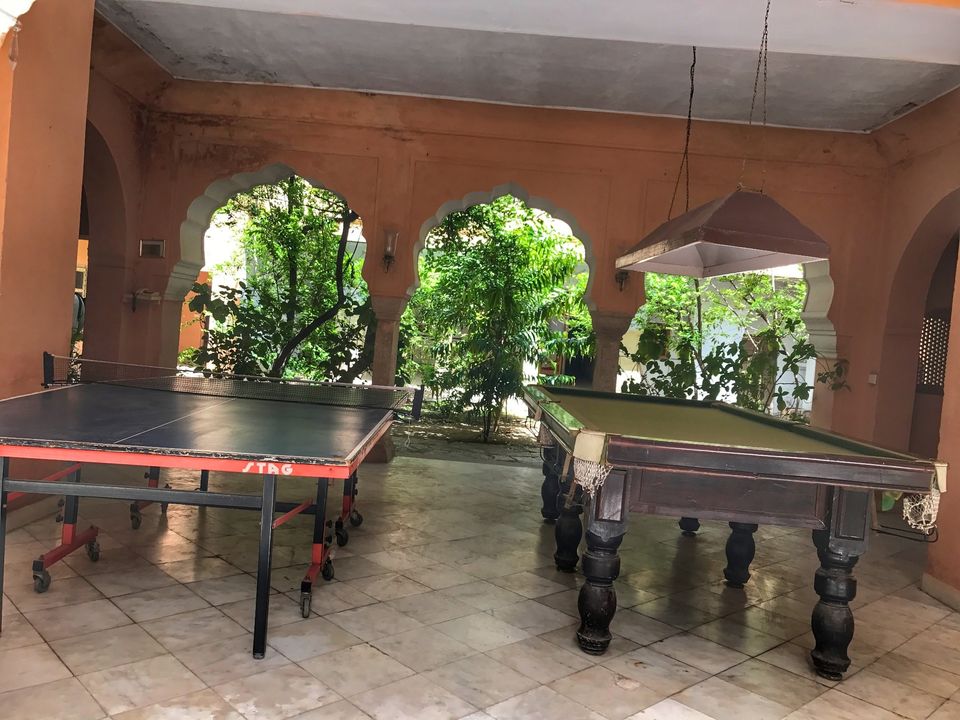 We also visited Veer Hanumanji Temple (Samod Balaji Temple) 14 kilometres from Chomu Palace. It is the most ancient religious place in Rajasthan. Some other famous temples like Kahtu Shyamji, Salasar Balaji and Jeen Mata Temple are also in the near-by region of Chomu Palace.
It was a peaceful and classy stay at Chomu Palace, Jaipur.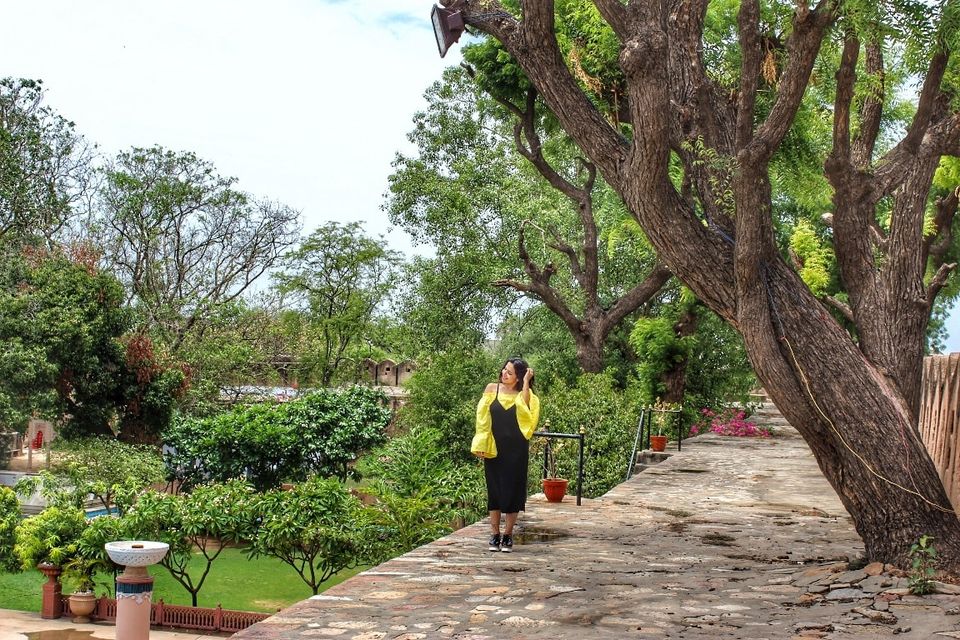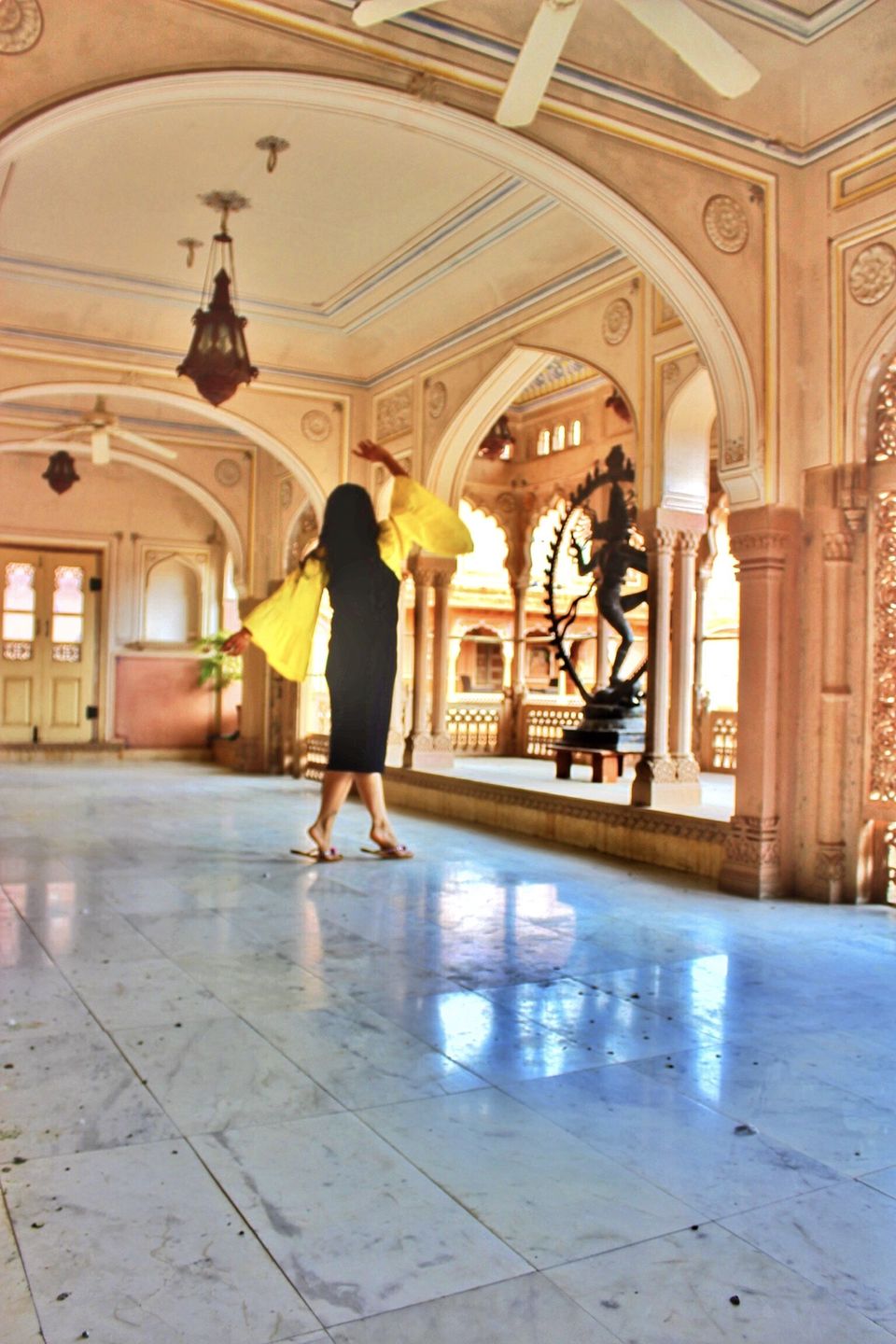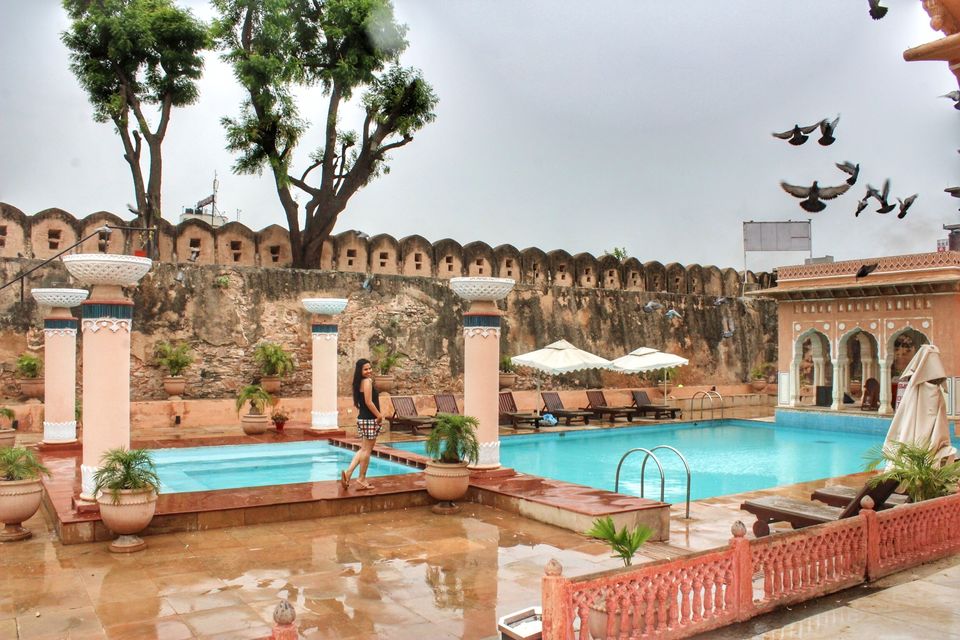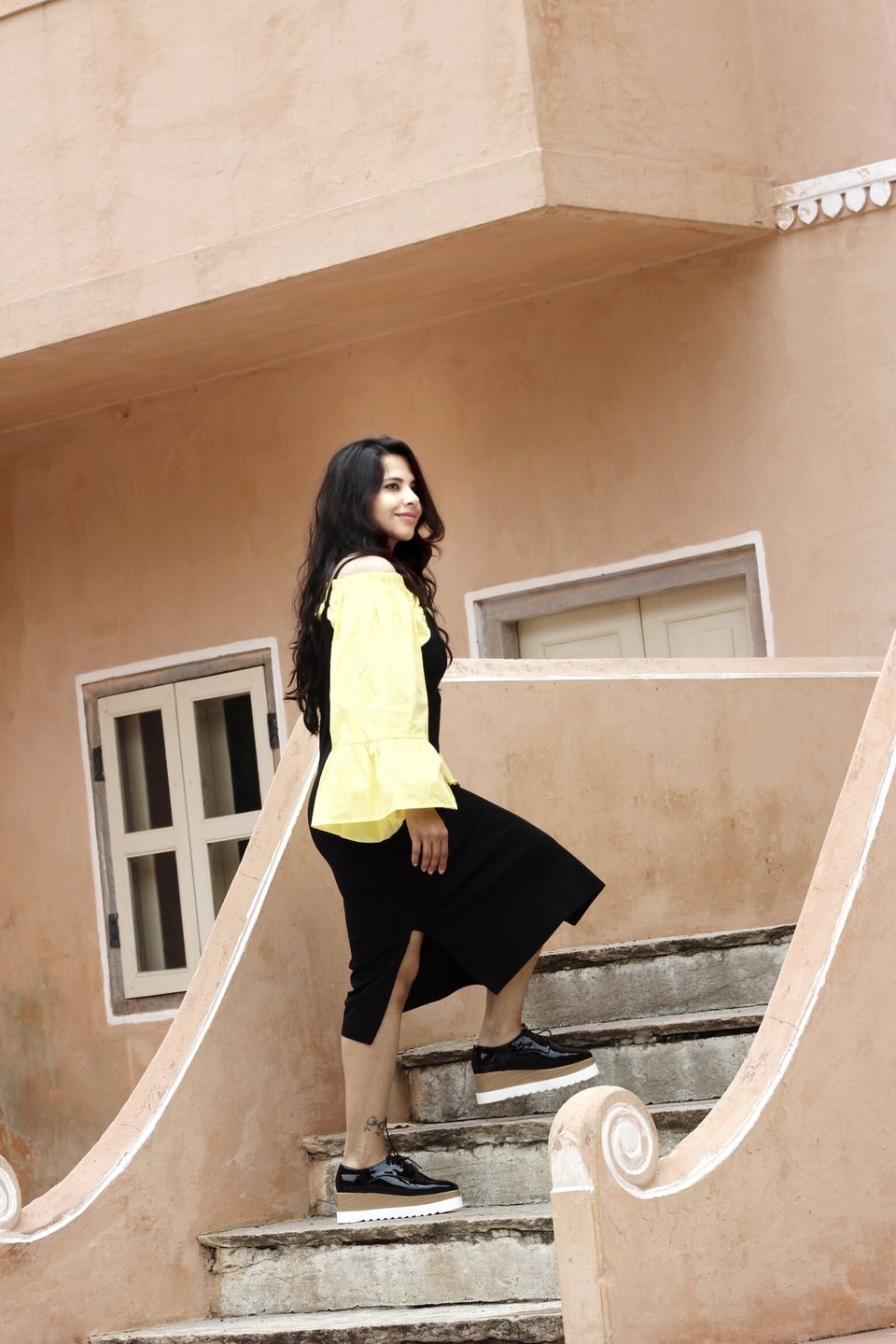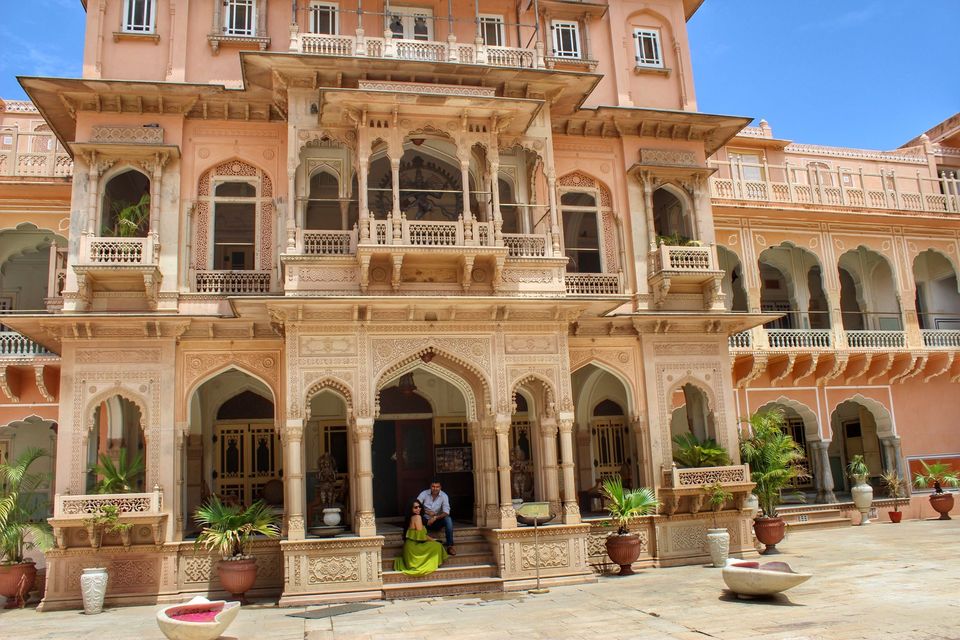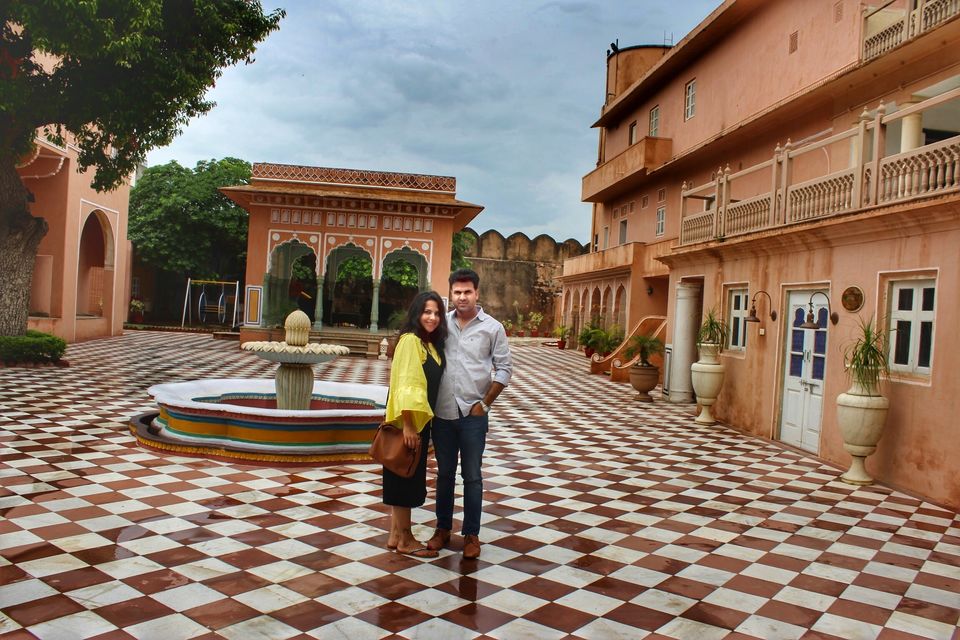 More Information
Hotel: Hotel Chomu Palace
Location: Hotel Chomu Palace, Chomu, District Jaipur (Rajasthan), India – 303702
Phone: +91-1423-300300
Accommodation: 5 Star
Price Range: starts from Rs.6,000 per night
Read more on Travel, Fashion and Lifestyle at my blog - The Indian Salad. I also share pictures and other interesting stuffs on Instagram, Twitter, Pinterest, Google+ and Tumblr.