There are several choices of tow able campers: travel trailers, fifth wheel campers, toy haulers, hybrid campers and pop up or tent campers. The camper that best suits you will vary from person to person. Here are several things to consider when choosing your camper:
Tow Vehicle
Depending on the kind of tow vehicle you have will help to determine whether you can pull a fifth wheel camper or if you must buy a bumper pull camper. One of the first things that you really have to take a look at is how much weight can your tow vehicle pull. Once you have determined this, it may eliminate many campers and help to narrow your decision.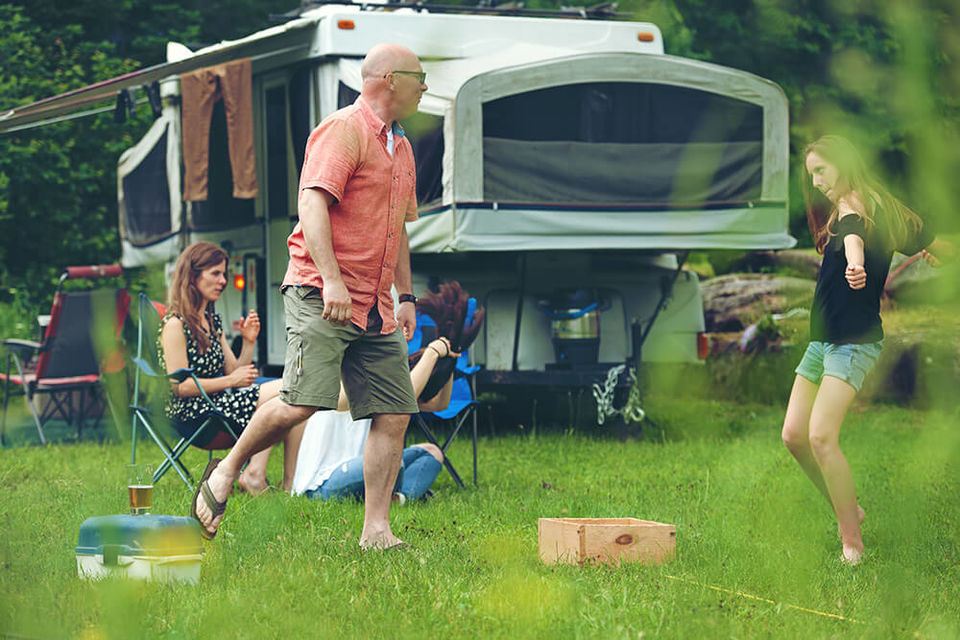 Remember that the dry weight of the camper does not include any water or cargo weight. If you are going to haul water, keep in mind that water weighs 8lbs per gallon. That can really add up quickly! When possible, fill your fresh water tank at your camping location. Also dump your waste water tanks at your camp ground if they offer that service. With water weight and cargo weight, you can expect to add an addition 500-800lbs to the dry weight of your camper. Allow for that extra weight when figuring the total weight of the campers you are considering.
Budget
Campers will vary in price from a several hundred dollars for older or fixer-upper campers to almost $100,000 for the cream of the crop campers. Price will be affected by the camper's age, brand and size. Shop around on the internet and see what kind of campers are selling in your price range. Make sure that the amount that you have budgeted is going to get you the kind of camper you are looking for.
You should set a reasonable spending budget. If you are paying cash, know what the maximum amount of money that you want to spend. Remember that you will also have taxes and insurance costs on top of the actual cost of the camper so keep that in mind. If you are going to finance, know how much money you can comfortably afford each month. Once you have set your budget, stick with it. It will make you feel better about your purchase after everything is said and done.
Size
Campers come in many lengths. The longer the camper, the more it will weigh. The more slide out rooms there are, the more the camper will weigh. Keep your maximum tow weight in mind when considering size.
If you visit certain camp sites, make sure that the camper that you choose is not too big for your favorite places.
Sleeping Capacity
Make sure that you consider the average number of people that will be sleeping in the camper on a regular camping trip. Don't worry about the people that "might" go with you every once-in-awhile. They usually don't end up going very often.
Most campers have a master bed, some type of sleeper sofa or jackknife sofa and if it has a booth dinette, the dinette can be converted to a sleeping area. With more families camping together, bunkhouses campers are becoming very popular.
Amenities
Campers come with many options and features. Most campers are normally equipped with: refrigerator, microwave, and stove, water hookup with water pump, hot water heater, Bathroom in a Camper, shower, sink, stereo, stabilizer jacks, awning, propane tanks, furnace and air-conditioner.
Some of the other features that are common are: outside cook station, outside shower (hot & cold water), outside speakers, power jacks and awning, enclosed underbelly, spare tire and carrier, outside ladder (to roof) to name a few.