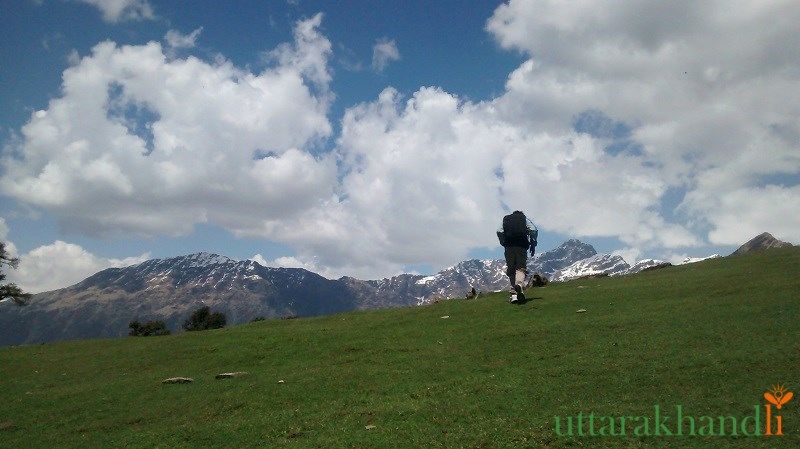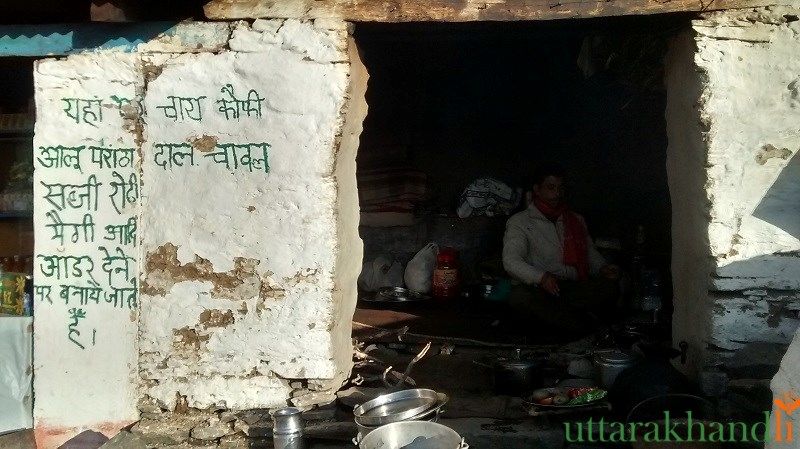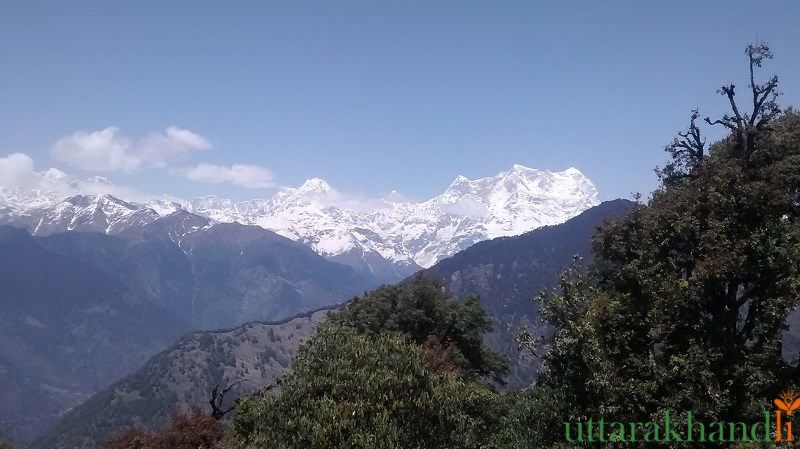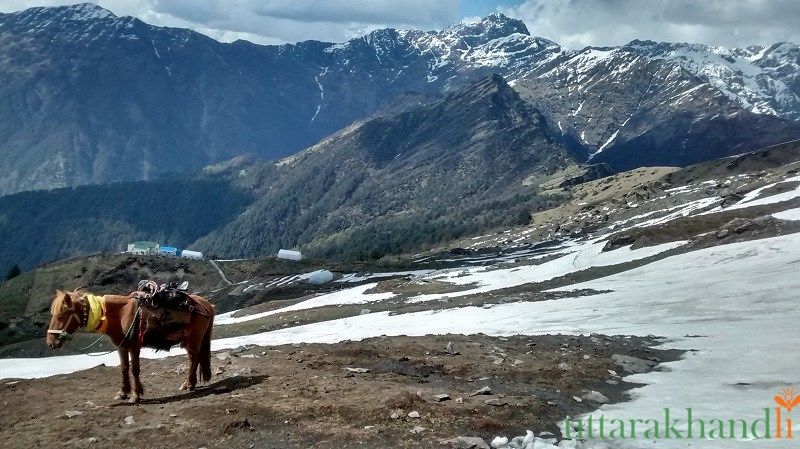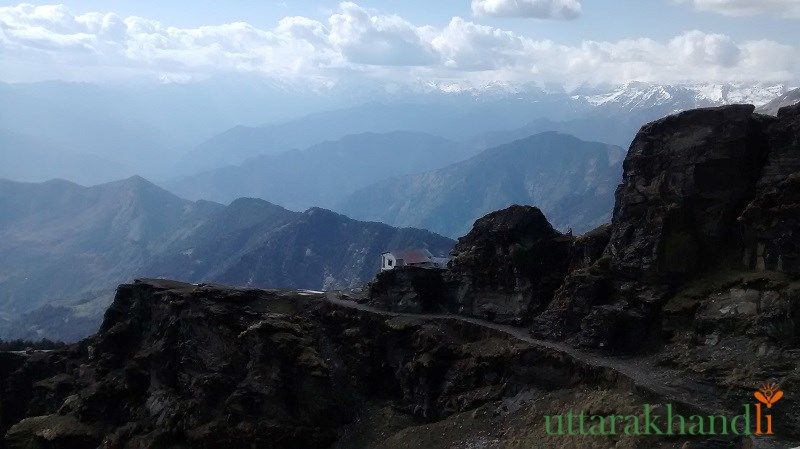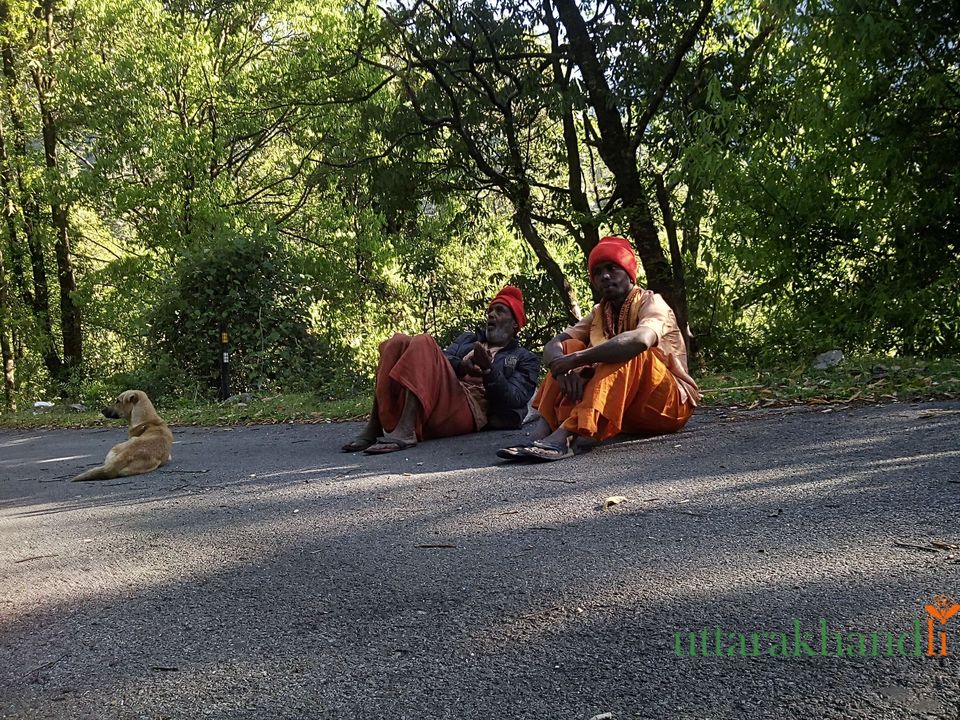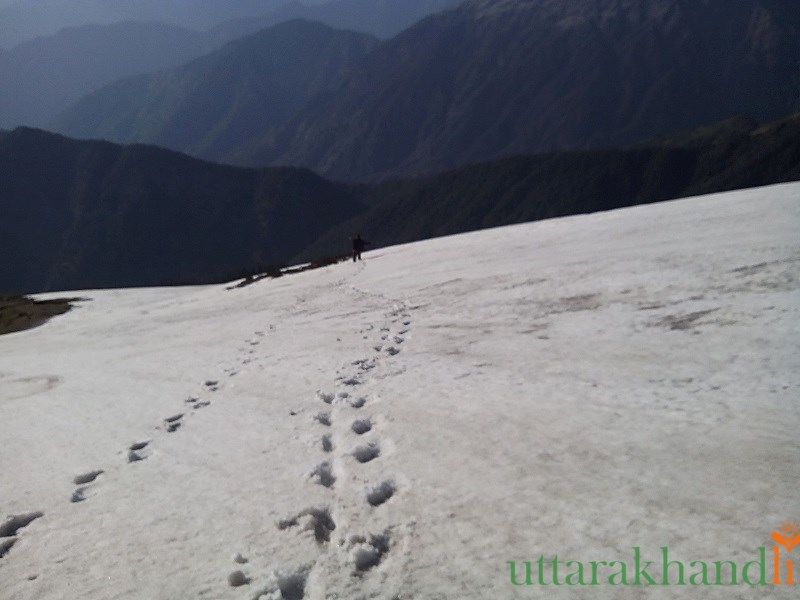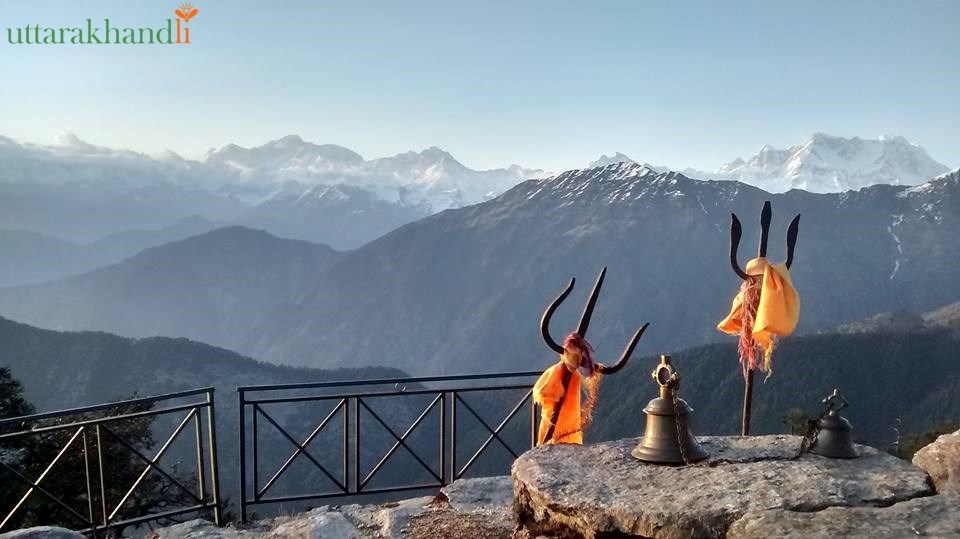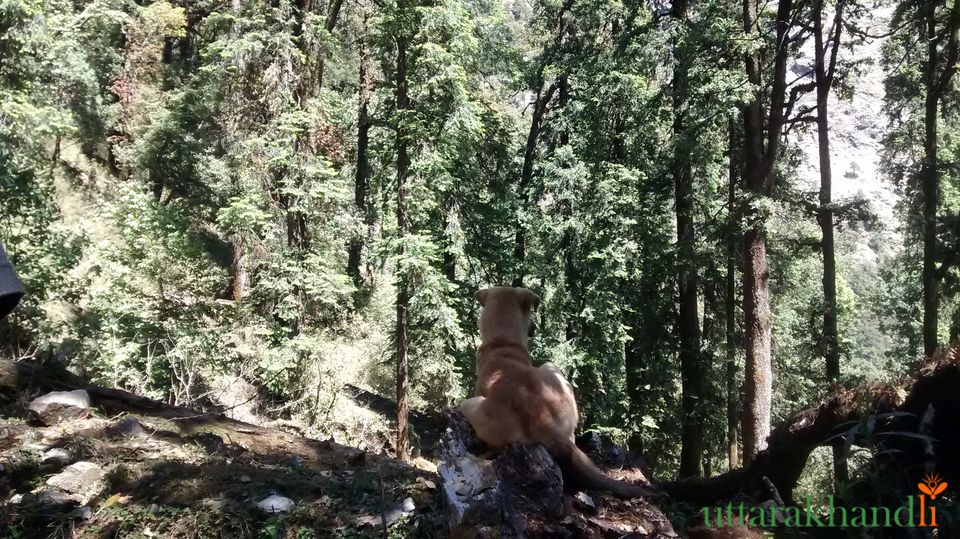 C:"Bloody Bawari ditched us at the last moment, what is the plan now?"
A: "You guys decide, I am okay either way".
The planning had been going on for months for a road trip to Tungnath, Uttrakhand. Chinu had gone through every Instagram post ever posted about Chandrashila-Deoriya taal trek. He had even gotten into touch with recent visitors, asking them about the weather conditions. 
Our friend, Bawari,  when told his ambitious plans of conquering the hills to his Parents (Just a day before we were supposed to leave). They out-rightly rejected it. "What have you ever achieved in your life that we would let you go on this stupid-risky-trek!!!" He was not coming. We had to decide whether we should drop Bawari or the plan. 
We took the first cab from Nainital to Bhowali. The next Bus was from Bhowali to Ranikhet. I love to travel in public transport. You get to see things that you wouldn't otherwise. There was a young lad who was going from Dwarhat all the way to Ranikhet for an eye test and then the cold war between Kumauni/Gharwali cab walas. It was dawn when we reached Mandal. A small village 26 km from Chopta. We rented a room in a guesthouse playing the student card (which we were) at 300.
There was this sublime quietness to the village, a brook was flowing by. It was a picture perfect village. The kind they used to show in Congress Promotional Ads. We strolled around the place, packed Maggie (which was still legal), ate the puri aloo which we had packed from home. 
Next day at 6.30, we were on the road to get a lift to Chopta. We pleaded for half an hour; the traffic was scarce, none of which was interested in giving us a lift. The only bus scheduled was at 2:30 P.M. We decided to take a shortcut(trek) which would take us directly to Chopta. It was about 18 km. Initially, we were full of energy, beautiful forest, rivulets at a distance, occasionally the road would show up, and we would raise our thumbs for the lift.  We met two Sadhus, who were doing Char Dham Yatra on foot. No luggage just stick in their hand. And I totally forgot there was a dog too, who was following us from Mandal. We were offering him small crunches of biscuits and a promise to feed him well when we reach Chopta. It was 6kms from Chopta when we were utterly exhausted and hungry.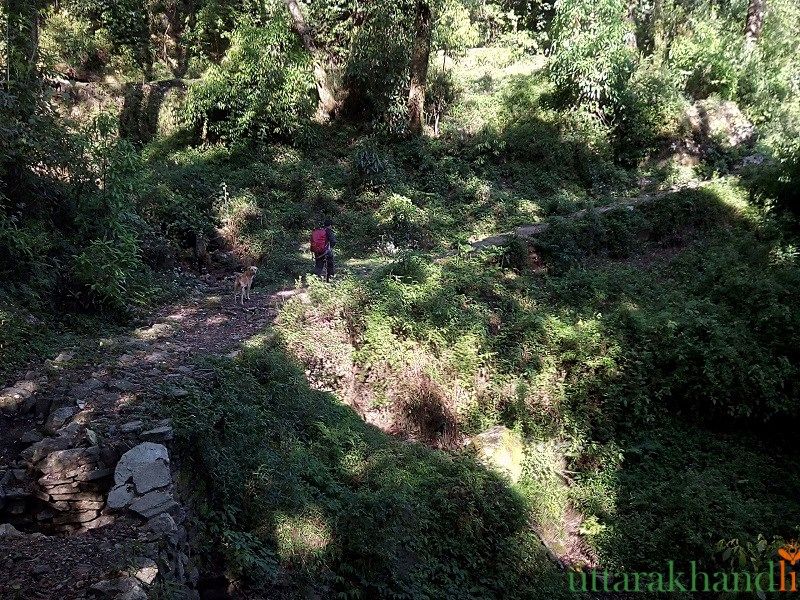 The cars weren't stopping. It was them that a gang of foreign tourists showed up on their motorbikes.We almost blocked their way. The young man asked us to wait for a traveller bus in which "Ramesh" was coming who would give us a lift. The traveller did show up but it didn't stop. It was then when we started shouting "RAMESH!!" "RAMESH". After which a puzzled driver stopped. We were relieved, and at the same time felt sympathetic for the dog who had accompanied us all this while. We left him hanging.  When we reached Chopta at 2 P.M. We played the student card again. 
We were climbing again. This time on a cemented pathway. The sight of the Himalayas was inspiring. We saw many people returning midway. I don't blame them. It was steep, and air is thin at 4000ft above sea level. We reached Tungnath with few halts in between sipping onto our energy drink (Jaljeera). It was here that we met a guy from Rishikesh who was trekking alone, his friends had long given up. We ended up having a conversation about the way excessive traffic is killing the hills.He later gave us a bottle of an old monk as a parting gift.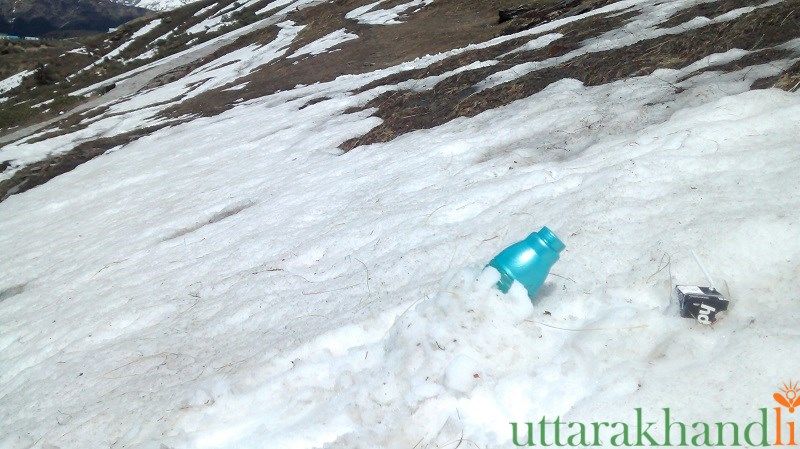 Chandrashila was yet to be conquered. It was covered in snow. We had no gear, no pointy shoes. There were no traces of any trail. We climbed. It was an adventure. The view from the top was more than worth it. Let's just say any words, I put in here, would fail to express the beauty of it.  It was something else.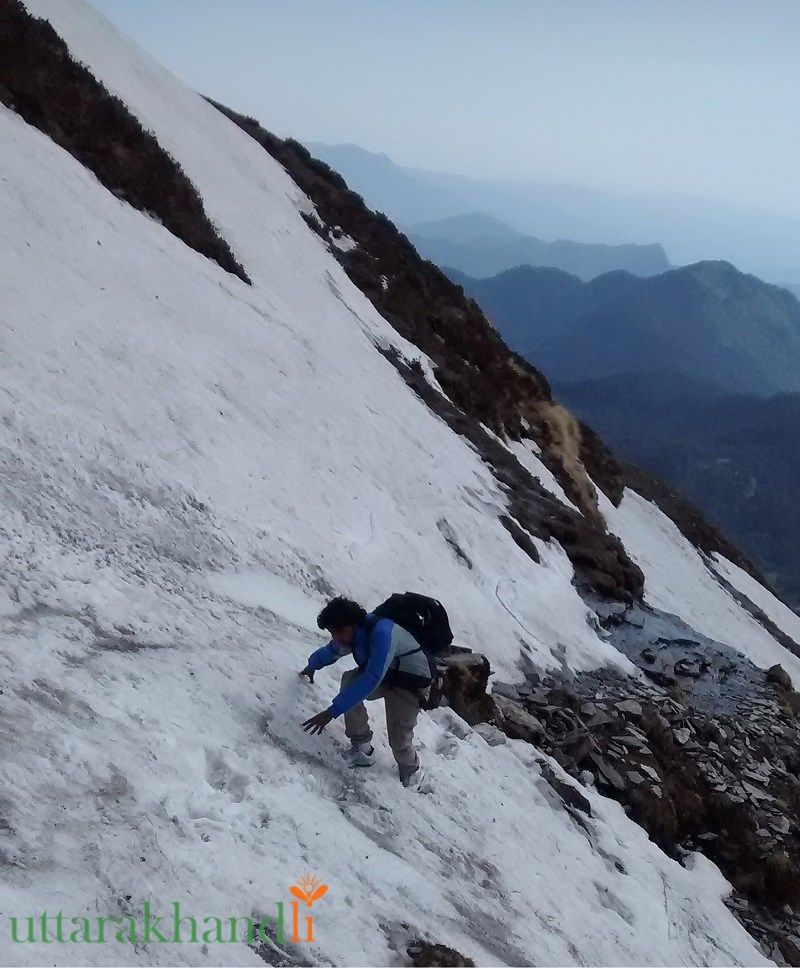 We then came back to Tungnath, we had our tea, watched the sunset going down the Chaukhamba range. It was spectacular. When we descended, the feeling was not that of having conquered a peak. It was rather a humbling experience.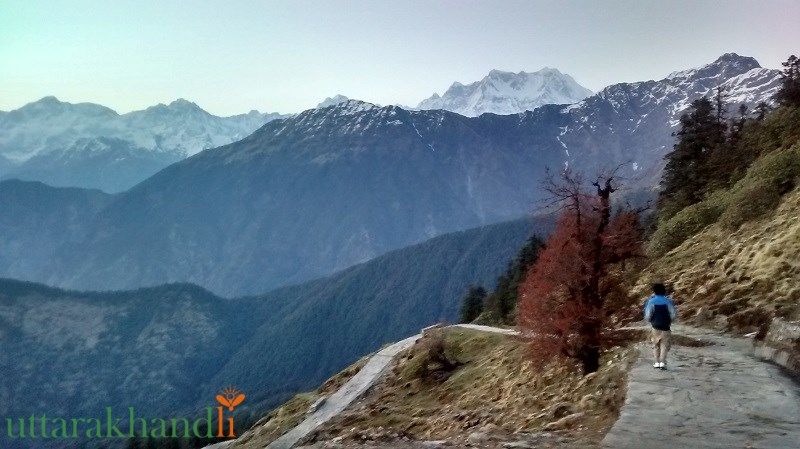 It was late night, one of us was sipping old monk like Al Pachino from the God Father Movie. The next morning at 6:00 we were on the road again waiting for the bus that comes around 4.00 PM at Chopta. We had to reach Sari village for Deoriya Tal trek. A short-cut was suggested which would cut our journey by half. This time, we took our breakfast along. The trek downhill was pure magic. It was that kind of landscape where Lord Of The Rings could be shot.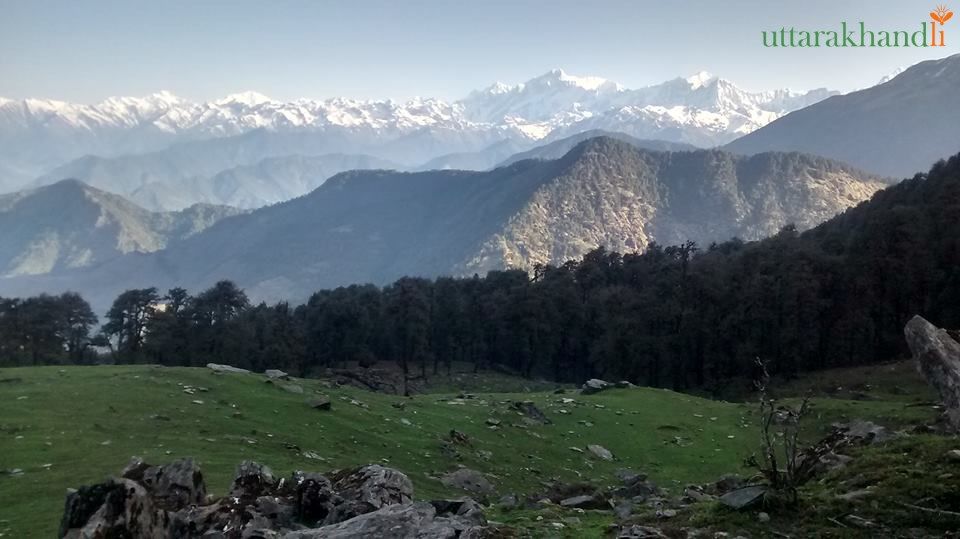 Two-three hours down the trek we found a group of young Bengalis in a Traveller Bus. We asked for a lift and then we still had a 3km walk to Sari Village. We got the room pretty cheap for 200 bucks. Bawari wasn't being missed. We had our brunch i.e. Alu ka Paratha with bhang ki chatni. Then we were on the trail again. The trek to Rohini bugyal was filled with changing terrains, its up and down. Our Guide was running while we were catching our breaths. It took us a couple of hours to reach Rohini Bugyal where we first prepared and then enjoyed our Maggie in a cup. Cuppa Noodles for poor people. The view was mesmerizing.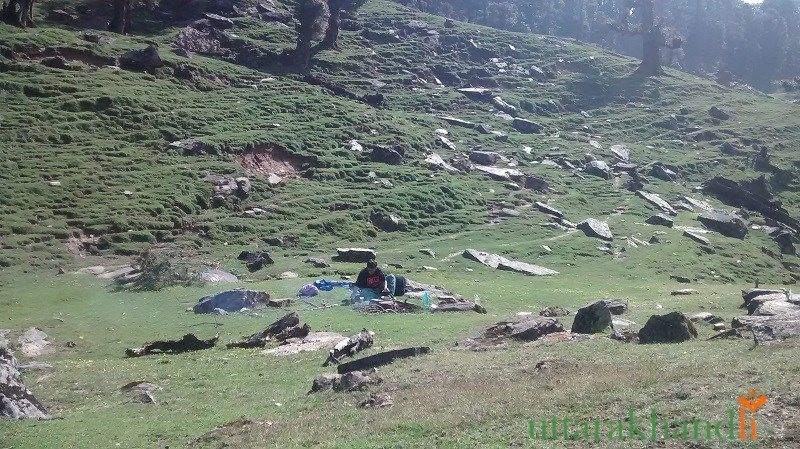 The way back to Sari village was spent in searching for a local vegetable. We had a family dinner under the stars. Next day our host woke us up for our bus to Ukhimath that left at 6:30. We had trekked more than 55 km in the last two days. The steep climb was never easy. The bag we took was not a trekking bag; we realised that later. There were countless moments of irritation. We had to interchange many buses again on our way to Gumkhal. Travelling is often romanticized as being free, running wild, escaping the mainstream. It is not. It's work. It's tough work. But for those of us who I like to call wonder junkies. It's an addiction. You get high on the Himalayas. Pun intended.You are doomed for life . You can't resist them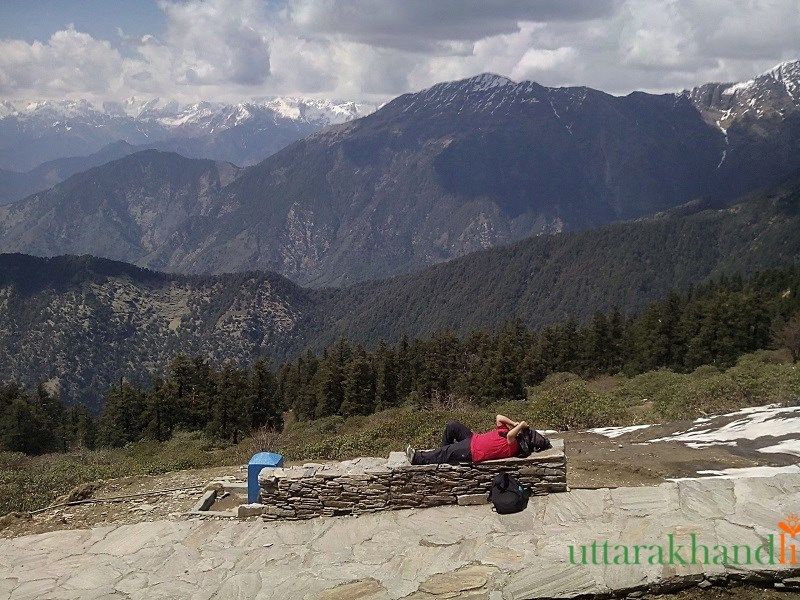 .
                                              NOTE: For Budget People( True Adventurers \m/) it took us about Rs 2300 for this trip (combined).
                                              For More Interesting Stuff: You can follow us on our Facebook Page  or Visit our Website.