Unplanned trips are the best ones and Chopta was one of those trips. It was a Friday morning when we (me and my friends) decided that we are leaving for Uttrakhand in the evening. It was a short weekend trip. As we were six friends, we hired an Innova and by 8 PM we were on our way to the "Mini Switzerland of Uttarakhand - Chopta".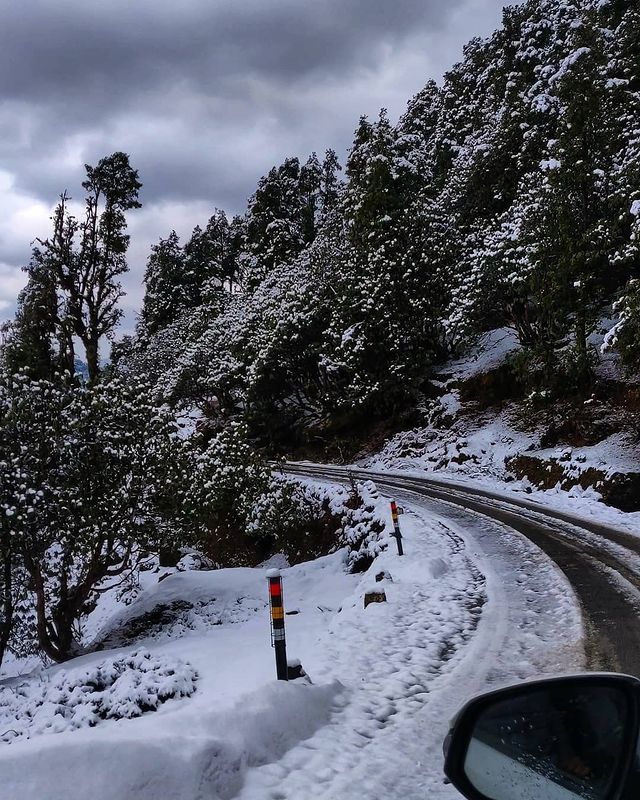 Chopta is a small region of meadows and an evergreen forest area, a part of Kedarnath wildlife sanctuary located in Uttarakhand state. It is a picturesque hamlet that is still not much explored by travelers. It is the base for trekking to Tungnath, the third temple of Panch Kedar which lies 3.5 kilometers away.
We crossed Rishikesh around midnight. As the Chaar-Dhaam project was in full swing, the roads were not in a good condition at that time. We would have gone around 60-70 km from Rishikesh when we came across a landslide. It was 2 in the morning. We had no other choice but to wait for it to clear. Since it was the end of February, it got cold outside. As soon as we came out of the cab, we were hit by a freshening cool breeze. Oh Man! that was so refreshing. A group of people was sitting around a fire. I spent some time with them and then came back to the cab to take a nap. It took a few hours for the workers to clear the road.
We reached Srinagar around 8:30 AM and as there were no plans to explore the place, we bypassed the town. The views were already good but as soon as we left Srinagar, the landscape started to look even better. The best part was that there was no dust in the air. On our left was the Alaknanda river and in the front were the beautiful mountains. Everything was looking so beautiful and peaceful. After crossing the Alaknanda river, we found a beautiful spot on the bank of the Mandakini river and decided to take a break.
I found a rock and sat on it; removed my floaters and dipped my feet in the water. The moment my feet touched water, chills ran through my nerves. The water was freezing. But after being seated like that for around 15 seconds, it started to feel good. Everything was so soothing, cool breeze, the sound of the flowing river, and the amazing view of those snow-capped peaks. We clicked some good pictures over there. After spending around 45 mins, we left for our destination - Chopta. It was still 1.5 hrs away.
Now comes the best part. As soon as we started climbing for Chopta, the roads got narrower and the views became Incredible. Clouds had taken over the skies. The road was covered by trees on both sides. After some time we started to witness the snow. We all were so excited. As we were enjoying the beauty of the place, we didn't realize when we reached our destination. We stepped out of the cab and that was it, happiness was reflecting on everyone's faces. It was a small market area. Apart from a few structures, there wasn't much over there. The trek to Tungnath starts here. With the dark cloudy skies and trees on the sides, it gave us a different kind of calmness. As we hadn't made any bookings in advance, we started to look for some accommodation. We checked a couple of guest houses. None of them looked good, so we decided to go down a km and check the camps we had seen on our way. We had our lunch at a Dhaba in the market. We came down and finalized a camp. It was located at one of the best locations I can say. The entire campsite was covered in snow. Behind the camp was the forest area.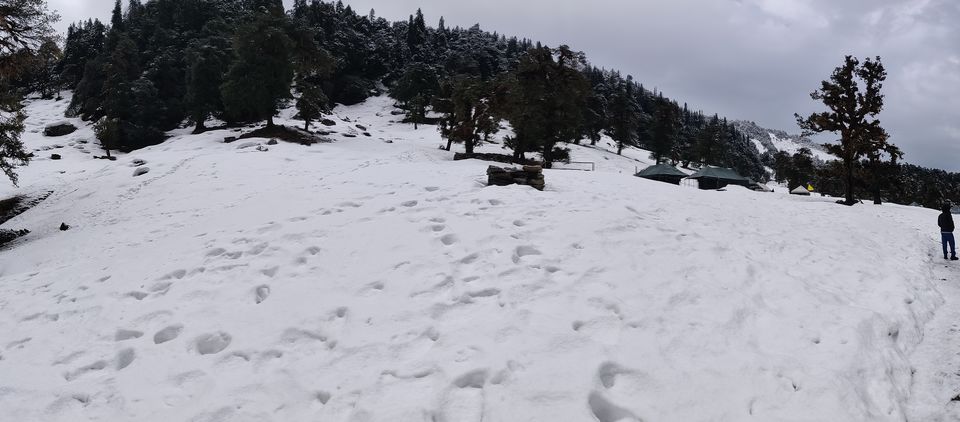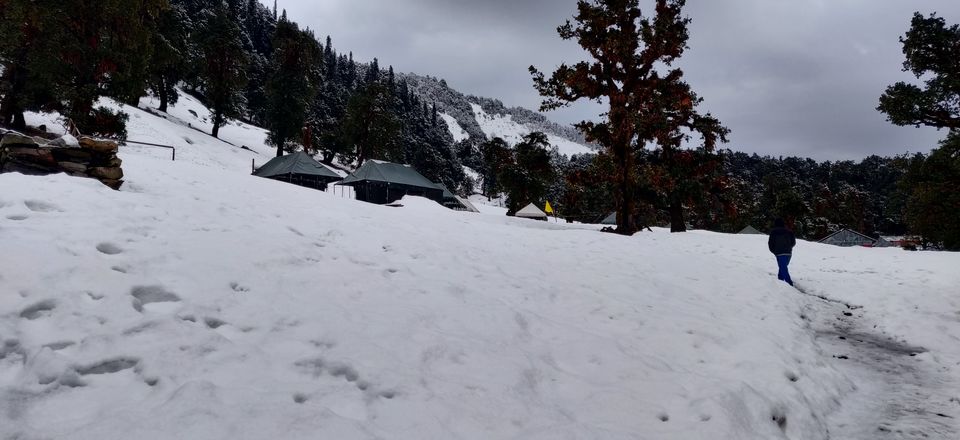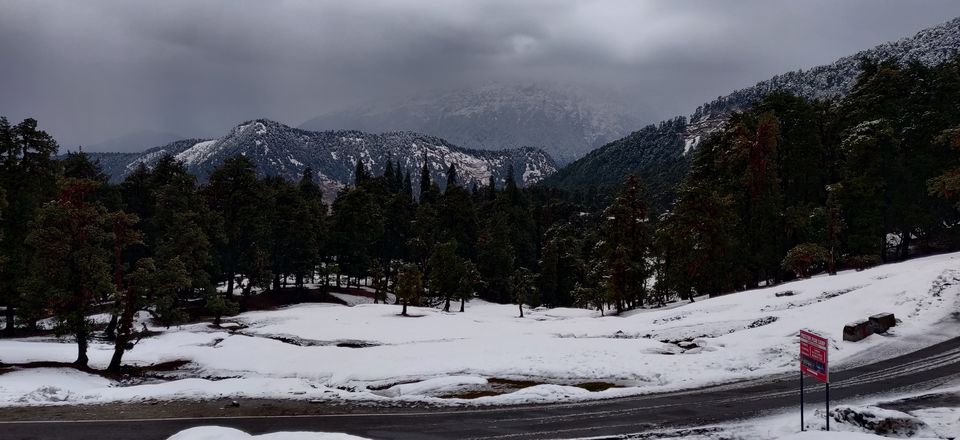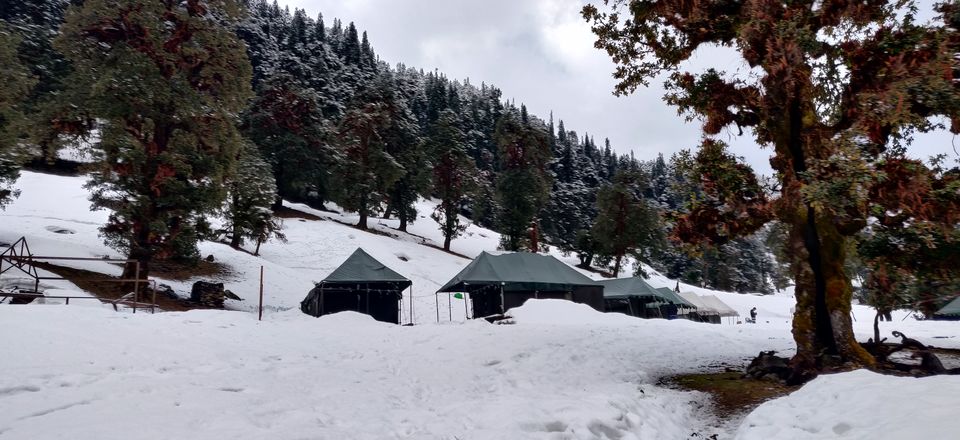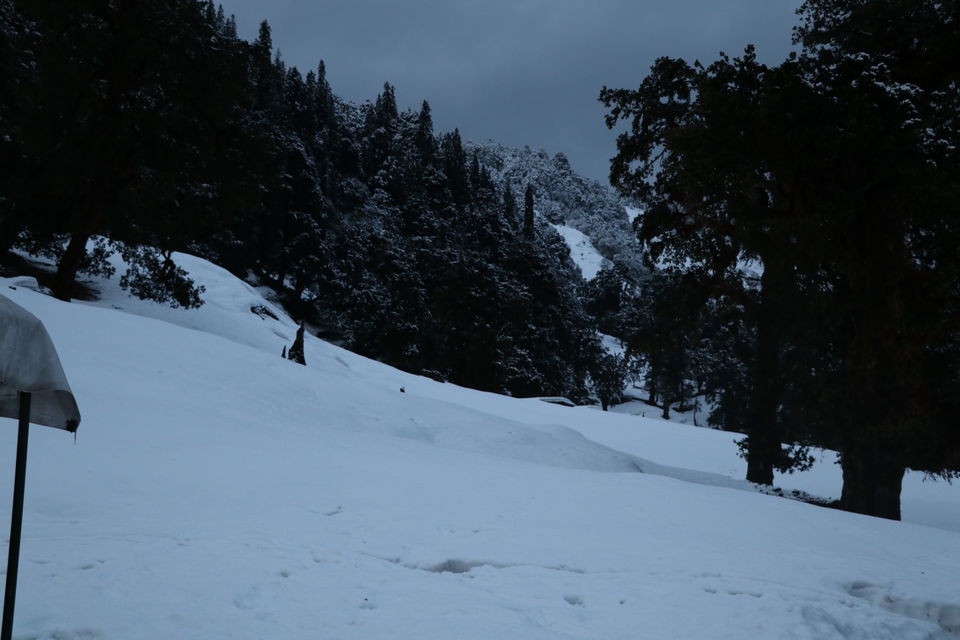 Upon checking in, we were welcomed by some tea and snacks. It was drizzling a little and soon the droplets converted into snowflakes and it started snowing. It was the second time I got a chance to see a snowfall like this. Nature was at its best.
It was 1°C outside. The entire scenery was breathtaking. I have seen snow before, have enjoyed playing snowball fights and making a snowman. But seeing it actually fall from the sky, was something truly magical. We Played in the snow. Took out our cameras and tried to capture each and every moment we could. Soon we went inside. Time passed quickly and it was night. It was still snowing outside. Everyone was so tired that no one had the energy to go out for dinner, so the owner sent it to our tents. Dal, rice, mix-veg, chapatis, and salad, it was a simple yet delicious meal. I enjoyed it.
In the morning, when we went outside, we were stunned to see the magic of nature. Who could have thought that there might be soft cotton candies falling from the sky which would have the capacity to cover the entire surface in white? We were awestruck by how the snow looks so beautiful. The only colors visible were grey and white. The snow was about half a meter deep on the ground. It was one of the most beautiful landscapes we have ever seen, truly "the Mini Switzerland of Uttarakhand".