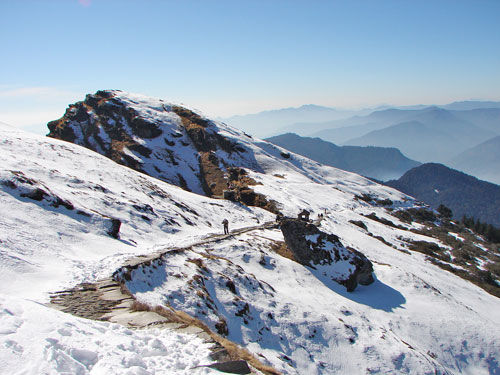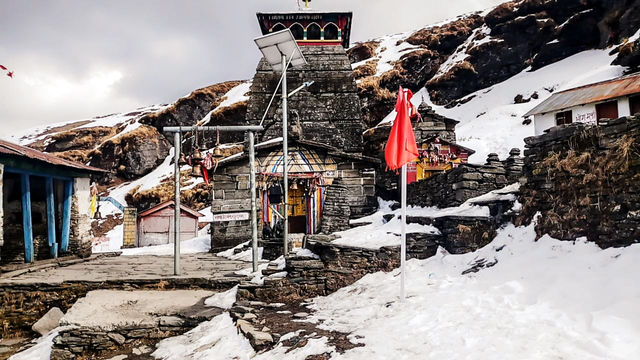 Nothing can be compared to the feeling which you get while standing at the summit of this divine peak and seeing the sun rising in front of you. We are talking about the one of the most frequent trek in the state of Uttrakhand.Chandrashila which means 'Moon Rock' is a majestic peak in the Garwhal region of Uttrakhand. It has an elevation of 4000 meters. This trek is famous for its splendid panoramic views from the summit and also for the temple which falls 1.5 kms before the peak. This temple is known as Tungnath. It is the highest shrine Of Lord Shiva who is one of the principal divine beings in the religion of Hinduism.The base camp for this trek is Chopta. This trek can be attempted throughout the year but sometimes you can face some difficulties in winters specially in the month of January and February because of heavy snowfall as the trail gets covered with snow.This peak offers the panoramic views of the Majestic mountains like Chaukhamba, Mt. Trishul and Nanda Devi. This place is best suited for those who want a break from their hectic life. This place can refresh your mind and soul as it provides you the divine slice of peace. Also this trip can be made even better if a day is added in the itinerary.DeoriaTal is a lake and an off-beat camping and trekking site. Usually Chandrashila summit is considered to be incomplete if DeoriaTal is not included in the trip.DeaoriaTal is an ethereal lake which is covered by the snow clad peaks and is situated at a 3 kms ascending trek from its base camp. The starting or initial point for DeoriaTal is Sari village.Overall it can be considered for this trek that a bad day in this trek can still be a better day somewhere else.
*Are you planning to go to Chandrashilla - Chopta Trek?
*Trying to compare the prices of different trip organizing companies?
*Want To know more about this trek and want to be the master of your own trip?
Go read this blog further here: Chopta-Tungnath-Chandrashila Trek

You can Also Check out my Instagram Travel Page here : The_Itchy_Travel_Feet

and get the in-depth information about this trek like, Best time to Visit, Tour Itinerary, Things to keep in mind before starting the trek, and How to hire locals for the trek and get an ultimate experience for the trek.
Here are some picture of Chandrashila Trek from my last trip.