Natsukaashii (adj): of small thing that brings you suddenly, joyously back to fond memories not with a wistful longing for what's past, but with an appreciation of the good times. That's precisely how I feel about my recent escapade to Japan, the land of the rising sun along with my dearest father.

If I had to describe this mystically magnificent place in two words it would be a perfect amalgamation of being harmoniously tranquil. One might think of Tokyo of being an electronic gizmo city, with phosphorescent neon lights juxtaposed with the famous Shibuya Koosaten, which is the busiest pedestrian crossing in the world. While, I do not conflict with the aforementioned at all, there is a lot more to know and see if one digs deeper and eulogize the beauty of this panoramic eastern haven. It is an unblemished medley of its ancient past and frighteningly futuristic technological advances.
We landed in Tokyo and were greeted by the warmth and hospitality of the radiant hotel receptionists on a befitting October afternoon. The weather was crisp with a little bit of nip in the air and one could witness the serenity of the peaceful habitat. Once we were settled, we decided to stroll around aimlessly in the vicinity of Shibuya to acquaint ourselves with the local turf and immerse ourselves in everything Tokyo. Quaint cafes, busy restaurants with the city's youth at their finest pouring over text messages and glued to their devices like never before was our current view. Inordinately tanned women with blonde hair, bright flashy clothes and ridiculously high heels seemed like the everyday norm for these Japanese millennial.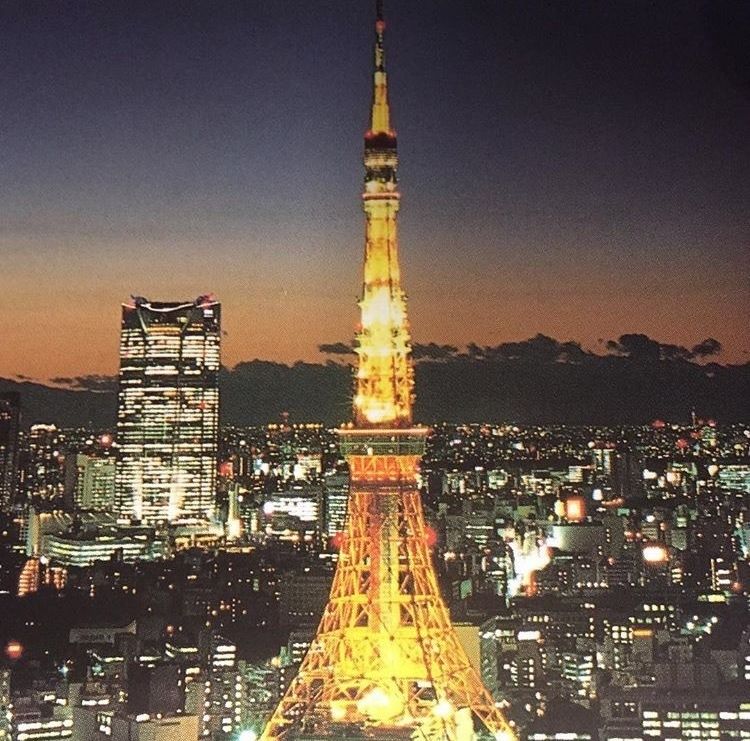 One thing that really caught my eye amongst several other never-seen before nuances was the way the food was presented. It was amazing to see the food presentation on the show windows of almost every restaurant we passed by. These food models are replicas made with durable synthetic and restaurants display them so that potential customers could see at a glance as to what's on the menu. The whole process of creating this food art requires talented craftsmanship and is believed to be quite cumbersome to produce desired accuracy and depiction of the real food. 
As we paved our way through the crowded streets, we came across the real statue of Hachi; after which the movie was made and based on an abandoned dog that was found by a professor played by none other than Richard Gere. Right after, we boarded the train to see the much-acclaimed Tokyo Tower inspired by the Eiffel in Paris located in the district of Minato, close to Roppongi Hills. We transported ourselves all the way to the top and could view the entire city from an aerial angle. There were a lot of similarities between the tower and the skyline of Manhattan on a cloudy evening with sparkling lights, skyscrapers and bustling traffic as we looked below.
Fatigued by an all day venture, we decided to wind up with a few cocktails and aperitifs at the Le 52, New York Bar at the Park Hyatt Hotel where the film, "Lost in Translation" was shot. That's where Bob and Charlotte from the movie met for the first time. Buzzing with loud laughter, overflowing champagne and perfectly synchronized live jazz, was all that we needed after a long hiatus. Tall ceilings, vibrant contemporary art enveloped on all four sides topped with a sophisticated bar was an ideal way to retire for the night. This place was nothing short of being as rambunctious as any bar on Park Avenue in the big apple.
We were woken up by the ear-splitting, incessant bouts by our alarm clock since we were scheduled to visit the much talked about Tsukiji Fish Market, which is the largest wholesale market in the world. Tourists would cue up to witness the biggest auction and experience a never seen before market that was as boisterous as this one in the narrow lanes of Tokyo. It was quite a sight and it made perfect sense to grab our big cup of Joe at a nearby local café. As one would expect, table manners are very stringent in this part of the world and one always has to wait to be seated instead of just grabbing the first seat that crosses your eye.
A quick trivia that I learnt was about the use of chopsticks, which comes with its own set of rules. Never point them, never pierce your food with the same and always remember to lay them on the chopstick rest while chewing. And yes, never ever cross the two. On the other hand, it would be deficient on my part, if I unintentionally forget to mention about the obsession of vending machines that offers customers a multitude of convenient buys right from beer, raw eggs, pizza and even toiletries. I was pretty blown away by this level of available serviceability.
We proceeded to spend our entire day at Ginza that is an upmarket area for the finest shopping with flagship headquarters for many big stores, fine dining restaurants and entertainment. Due to its immaculate lay out, it is known as the pedestrian's paradise and many locals along with tourists would throng the neon-lit area to stroll around and window shop in their free time. One of the most interesting landmark buildings was that of Mikimoto who had invented the cultured pearls in early 19 th century. It looked like a perfectly structured high-rise straight out of a postcard. As we walked along, we spotted unique art galleries in dozens, most of which were open for public viewing. We ended our day by walking around the Yoyogi Park, which is kind of like the central park of Tokyo. My father was very pleased to show off his famous headstand and before we knew he was encompassed by a beeline of passerby's.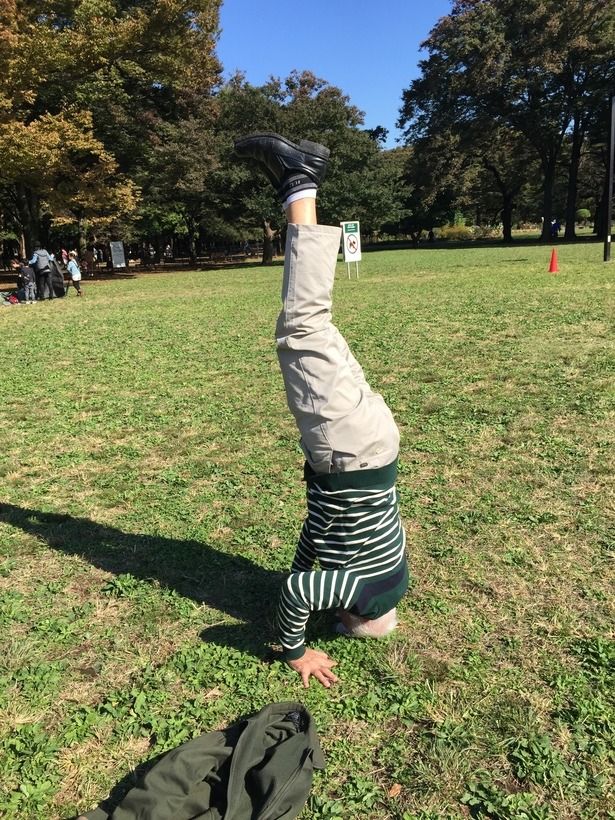 The next day, we headed to Japan's very own land of ten thousand shrines and geishas; Kyoto. We took the bullet train, which had a speed of about 400kms per hour, and it took us approximately 2 hours to reach our destination. On our way, we were fortunate to get a close glimpse of the perfectly shaped volcano, Mount Fuji, which is the country's tallest peak at about 3776 meters. In winters, its peak is entirely snow capped which is an even greater visual retreat.
As we arrived in Kyoto, our only regret was not seeing the iconic cherry blossoms, which are primarily present anytime between early February and Mid May. During such times, most of the streets are seasoned through the magnificent tunnel of flowering trees. Well, perhaps we will have to leave certain things until next time! Not visiting Kyoto is like going to China and not traveling to Shanghai and we would have really missed out on it. We happened to be staying at a hotel that was right opposite the Imperial Palace, which was the primary residence of the Emperor of Japan and has been restored a number of times ever since its inception in 1869.
By now, the sun was out and it was a perfect day to explore this beautiful place. One of the most recommended spots to visit while in Kyoto was the world-renowned Arashiyama Bamboo forest. Walking into this extensive grove was like venturing into another world altogether. Thick green bamboo stocks standing in perfect concordance with the rays of the beautiful sun penetrating through each of them was simply beautiful. Some tourists prefer to visit this forest at night since it is illuminated and one can do justice to the photographs they take but only to some extent. As we headed back from this nature haven, we looked forward to walking through the Gion area, which is flooded with local stores, and spotting a Kimono clad Geisha is a common sight. A visit to Kyoto is unaccomplished if one doesn't watch the traditional Japanese show namely Bon-Odori and Kabuki which was absolutely stellar in every manner. It was amazing to watch the dancers put together a show with much aplomb. This was followed by a local cup of hot tea where spectators are supposed to be sitting on the jute mat laid on the ground with shoes off. We hit the sack by 11pm and couldn't wait to venture onto our next expedition, which were the famous Kinkakuji temple followed by the Fushi-Inari.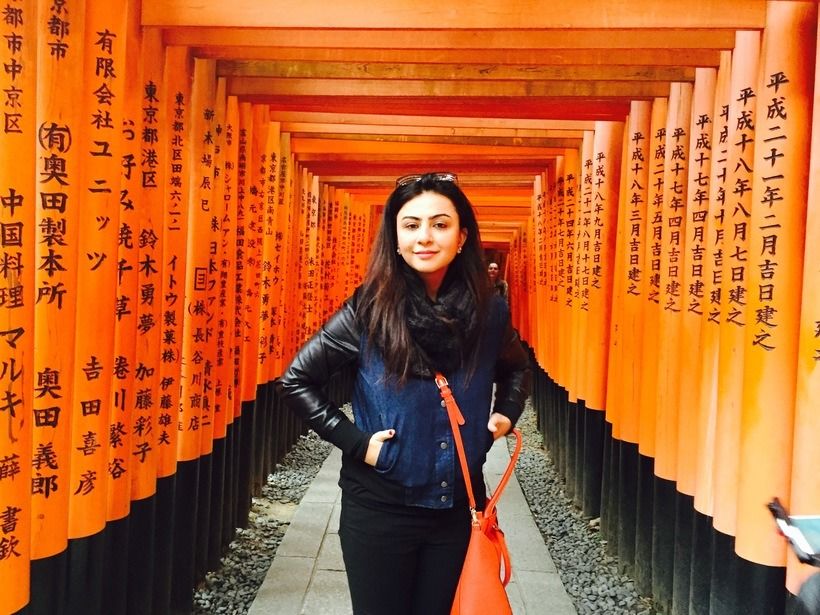 It was incredible to wake up to a traditional Japanese style breakfast that was painstakingly well put together. The main dish was fire lit underneath to keep it warm and everything was laid down with precision. With the entire day scheduled to sojourn the famous temples and shrines, it was sure going to be one holy day. We started with Fushi-Inari that comprised of seemingly endless arcades of about 5000 vermillion torii gates. We were so taken aback by its innate beauty that we couldn't stop glaring at the entire complex structure that consisted of five shrines sprawling across the wooden slopes. This magical, unending shrine is dedicated to the god of rice and sake in the 8 th century. The walk around the upper miniature shrines made for a delightful eerie stroll in the late afternoon.
It was almost 3pm by now and it would have been a shame to depart Kyoto without visiting the glorious golden pavilion- Kinkakuji. The gold leaf adorned building was converted into a Zen temple and was rebuilt in 1955. The temples garden was a scenic delight, and also had a charming teahouse known as "The Sekka Tei" adjacent to it. Even though it was pouring at that time, it would have been a shame to miss this World Heritage site.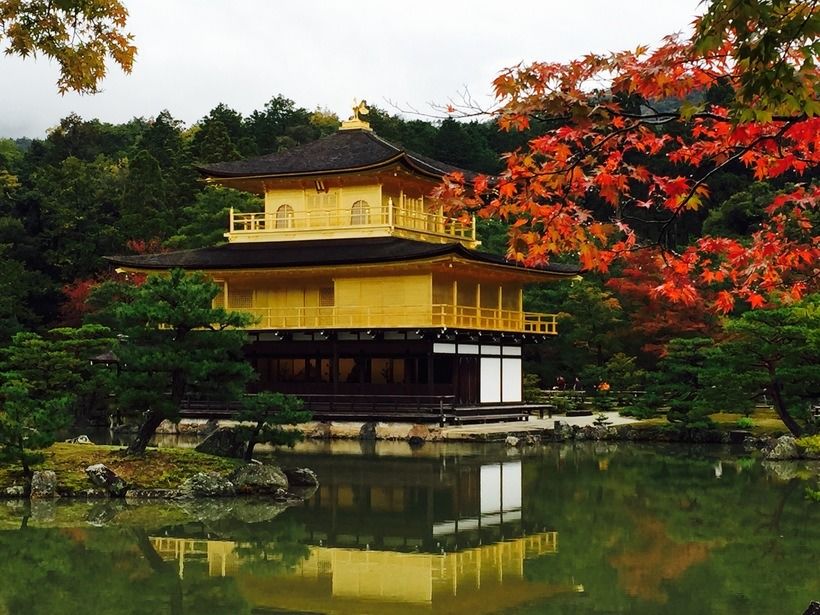 Just like any other trip, it's always hard to leave especially when one has accumulated a powerhouse of incredible memories. We ended our stay by visiting the Soka Gakai Headquarters in Shinjuku and were amazed by the Buddhist's extended hospitality and warmth. As we entered the main building, it was fascinating to see all members chanting in perfect unison. Astounded by such obligingness, we quietly left this mystical place for the airport with a wealth of lifetime of great memoirs. With that being said, I haven't been everywhere, but its surely on my list.
This post is hosted on the Huffington Post's Contributor platform. Contributors control their own work and post freely to our site. If you need to flag this entry as abusive, send us an email.
This post was originally published on Huffington Post.