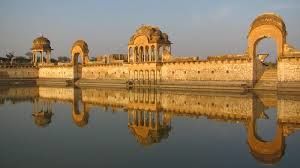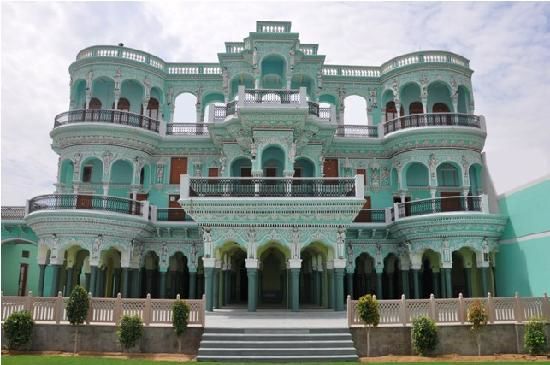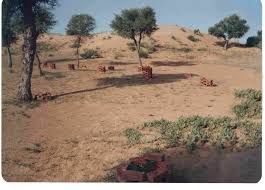 What can be more appealing than a pleasant drive? With yellow golden fields unfolding on both sides of the road till the earth meets the sky. Your vehicle seeming to move effortlessly down the slightly tipsy-topsy road. You know the kind you witness in video games. If you have encountered graphs of trigonometric functions or played 'Hill climb racing', you know exactly what I mean.
That's how you reach Churu, Rajasthan via Delhi. A perfect weekend getaway. Where after pleasures of the countryside, royalty awaits. Malji-ka-kamra is a century old mansion (Haveli) restored into a 4-star hotel and is a must stay. Perhaps, because it's the only stay option in Churu. Though it lives up to one's expectations to the fullest, especially in winters when finger-licking food is served around a bonfire.
The heritage feel the hotel has to it is intensified when cultural shows are held in the evening. The evenings here are colourful, ethnic and lighted up. A perfect way to savour culture and food while having a great time with friends and family. But then if you have always dreamed of experiencing a royal meal, you can always have it arranged among the sand dunes or at Sethani ka johra( a beautiful water reservoir).
Daytime spent at this place is equally enganging. Churu is also knows as Gateway to Thar Desert. This means that you shouldn't miss out on a desert safari which believe me is going to be as thrilling as an adventure park ride. This jeep safari amongst the sand dunes might turn out to be the best part of their stay at Churu for most people and it's totally worth it. The sunset at the dunes isn't one to be missed. Then there are local villages to visit and time to know about how farming is done in a region where rainfall is inadequate. Buy some organic vegetables too maybe. Back at the hotel, there's a heritage walk to be taken. To have a look at all those Havelis, their architecture and paintings adorned to their walls. Walk through the local streets; explore handicraft and local chef specials as you make your way down the market lanes. This turns out all the more exciting if you have that one member with a DSLR in your entourage.
Summing up, Churu would be fun for those with a knack of driving. Or photography. It also beholds lovers of art, heritage, architecture, culture or just food. If you are one of these people or just another traveller who wants a weekend get away with friends or family. Well, time to set Google maps to Churu. Happy travelling.