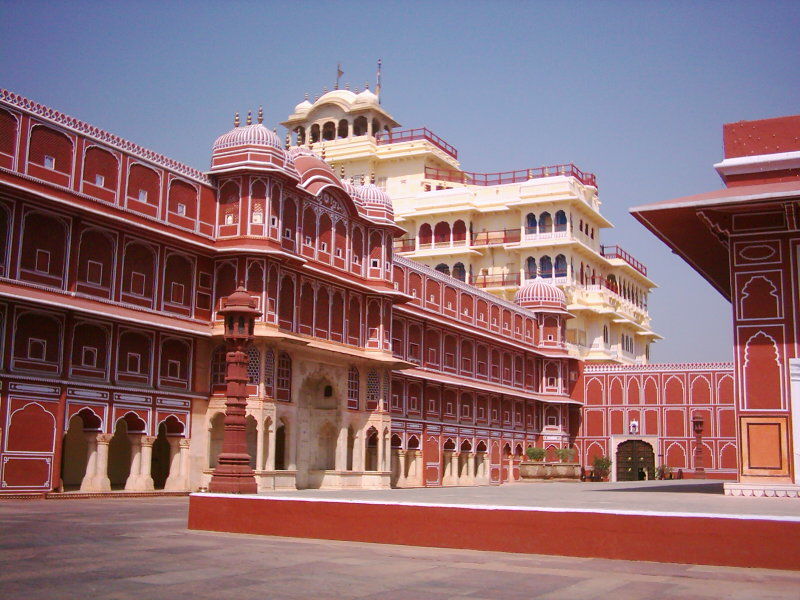 City Palace Jaipur: A Royal Grandeur
Jaipur City Palace is situated right in the heart of the city, just next to Jantar Mantar. After exploring the magnanimous beauty of Jantar Mantar instruments, we walked to explore the royal history of Jaipur at its City Palace. It is a complex of palaces out of which only few (Mubarak Mahal & Diwan-i-Aam) are open to the public as royal family still resides in a part of the Palace (Chandra Mahal)
Palace also house two museums which display the artifacts and paintings from the royal family of Jaipur.
Mubarak Mahal
As soon as you enter through the main gate, you see Mubarak Mahal right in front of you on a citadel. It is a stunning palace complex built symmetrically with an amalgamation of Rajput, Mughal and European architecture. There is a museum inside (photography not allowed) with a fine repository of old coins, textiles, weapons and other artifacts of Jaipur royal family. However, best part is the beautiful carving and stone work on the walls of this palace.
Stone carving on the walls of Mubarak Mahal is intricate and detailed
A new museum (named as Friends of the Museum) has also been opened in the same compound which displays the painting & photography from the Jaipur Court. There is also a souvenir shop in this museum from where you can buy some unique items and paintings. To the right of Mubarak Mahal, you will find entry gate to Diwan-i-Aam and Chandra Mahal.
Entry Gate to Diwan-i-Aam and Chandra Mahal
Diwan-i-Aam
As you cross through this gate, white marble gives way to red stone. Diwan-i-Aam, the hall of public audience comes right in front of you while Chandra Mahal stands tall on your right side with huge walls painted all in red. Diwan-i-Aam also has on display two large silver urns which are recorded in Guinness Book for being the world's largest sterling silver vessels.
Diwan – i – Aam: Stunning beauty wrapped in red
Diwan – i – Aam: An inside view
A gate in the complex gives way to the residence of Jaipur's Royal family and this is out of bound for tourists.
Gate to the private area of the royal family residence
Chandra Mahal
Certainly, you can not enter through this gate unless you are a VIP, but there is another gate which leads to the courtyard from where you can have a view of Chandra Mahal. You can get exclusive access to private rooms in the Chandra Mahal, with a personal guide through a special ticket priced at INR 2000. And as you cross through this gate, colour now changes from red to yellow.
Chandra Mahal: View from the back courtyard
As you exit from the Palace complex, you also see Bhaggi Khana which has old carriages on display. You can also visit famous Govind Devji Temple (dedicated to Lord Krishna) which is also a part of the Palace complex.
More pictures from inside the Jaipur City Palace
Rifles at display inside Diwan-i-Aam
City Palace walls wrapped in red
Corridors of Chandra Mahal
Jaipur City Palace Ticket & Timings
Opens from 9:30 AM to 5:00 PM (Ticket ranges from INR 100 to 2000 depending your scope of visit to Museum and Chandra Mahal Private Rooms). Palace opens at night from 6:30 PM to 8:30 PM with ticket price being at INR 450.
Happy Exploration !!