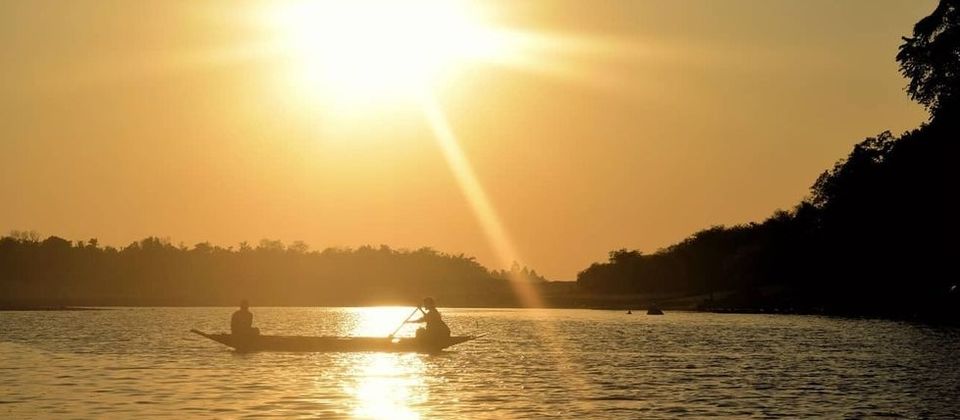 Dawki is a small border town along the India Bangladesh Border in Meghalaya. The town is a hot spot for trade between the two nations but in reality, has a lovely fairyland enclosed within. Close to the cleanest village of Asia - Mawlynnong, I managed a magical visit to this place. The magic truly lies in the gorgeous river that flows out here. Popularly referred to as the Dawki river, its actual name is Umngot River. The river is where the fairyland lies.
The Umngot River is considered as one of the cleanest rivers in India. One look at it and you will agree that it definitely is. Not just the cleanest but one stunning river. A natural divide between Jhantia and Khasi hills, this river flows into Bangladesh through Dawki. They say that on a good day, the water of Dawki river is so clear that the boats floating on it, look as if they are on a crystal glass surface. A lot of these pictures can be accessed on the internet. Having seen some of those, I really wanted to see this for myself.
Even though I have seen pictures, seeing something this beautiful in reality was just a different feeling. It really felt too good to be true. The green of the river shone under the sun and was only accentuated by the colorful boats that lined its shore. The only way I wanted to ensure that I was not dreaming.
was to rush down to the river and touch it!
Stunning, beautiful and unbelievable! The island was full of round pebbles that I had seen earlier in the Dawki riverbed. What made the whole scenario amazing was that they were in beautiful colors. I checked with the boatman on how did these land here. He said - They were always there! Now, if that is not magic, then I really do not know what is it.
📍 Dawki, Meghalaya / December 2019
Photos shot on Nikon D3300 (Lens 18-55mm)