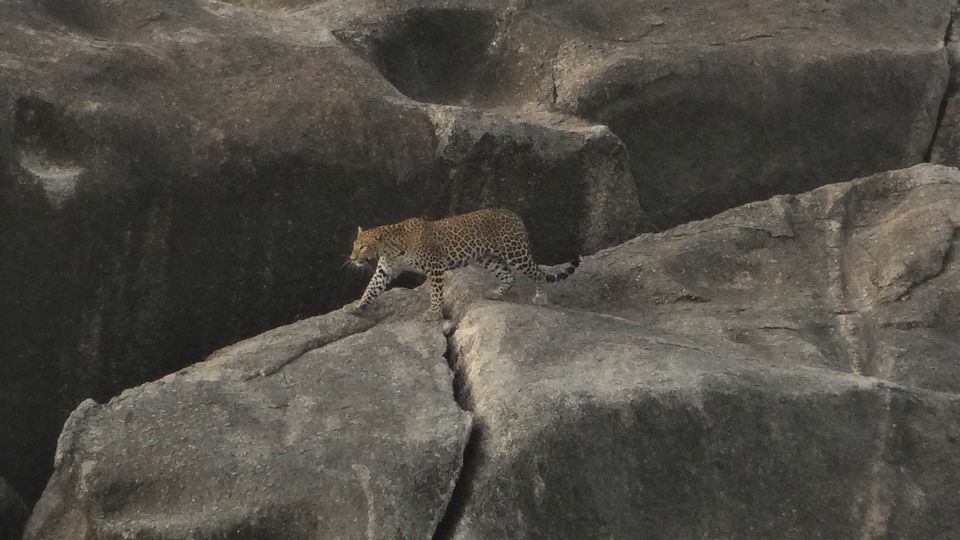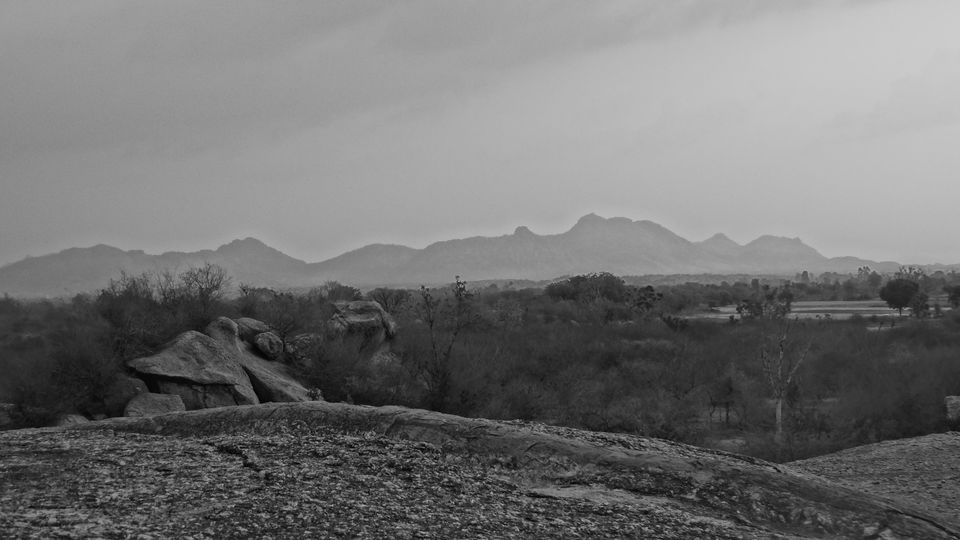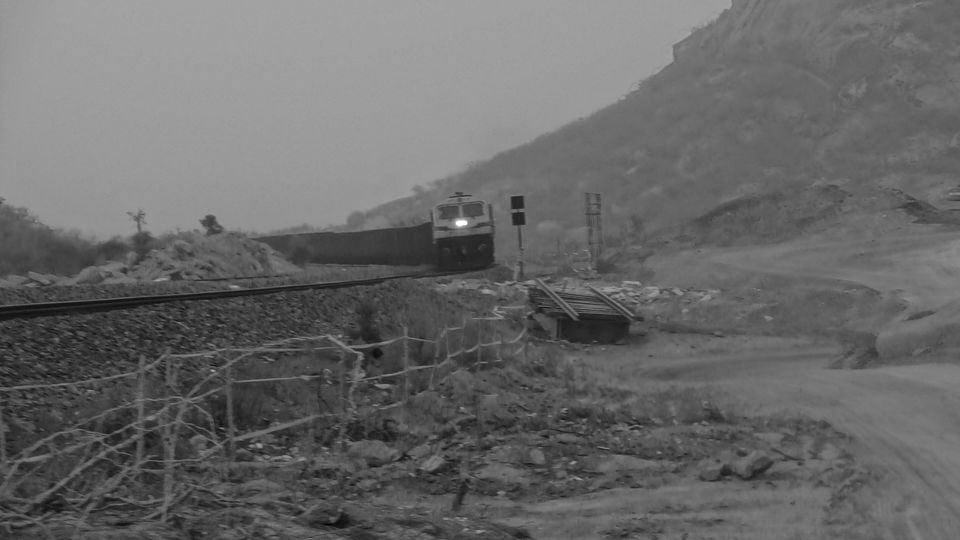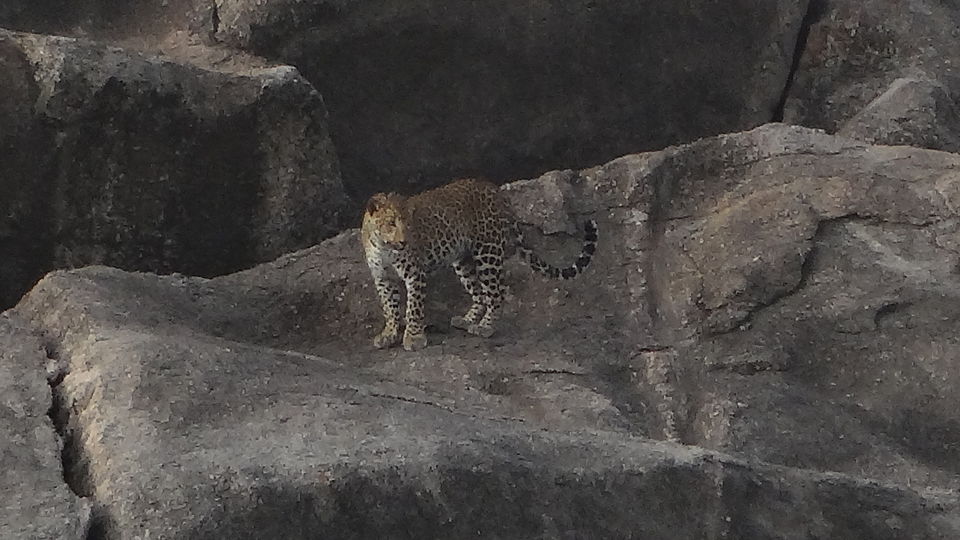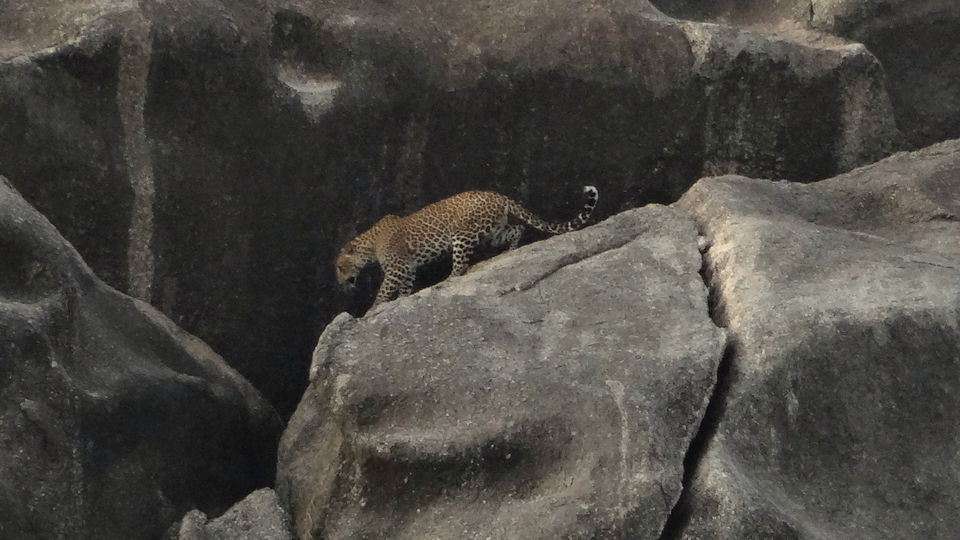 Ever since I was back from Ranthambhore, I was itching to get back to the wild. And a perfect opportunity came along the way, to visit this little known place in Rajasthan, called Bera which is said to be host to quite a few leopards. It's safe to say that the village is not in the radar yet, because we did face some difficulty in getting directions to what the Rajasthani folks call "Beda". It's a quaint little village situated slightly closer to Jodhpur and not too far from Ahmedabad either by road. We took 5 hours (with sufficient breaks in between) to reach Bera.
At first impression, Bera is rocky, barren and brown. There are rocky terrains all around you, and sometimes these rocks take interesting shapes, as if they are a stage for some animal's performance. We were hosted at Bera at Leopard's Lair resort. It's a beautiful property, belonging to a Thakur. Neatly kept, well maintained old style rooms delighted us. One word of caution was electricity (as is the case in every small town). But that apart, a lovely place. I felt as if I had been transported to another universe.
Safari – Day 1 evening: 
We reached Bera on Friday noon and were treated to delicious lunch of gatte ki sabzi, hot rotis, dal, rice and gulab jamun. Post which we freshened up and geared up to face some heat and dust in the safari. At 5.30 we were allotted a jeep we would travel in. We were driven across the muddy dusty streets to an area with hillocks around. The jeep parked itself facing one hillock. And then we were staring. Not being used to such a safari before, we were bewildered on why weren't we driven around? Why were we staring at a hill? Why weren't we going elsewhere? To top it all, vehicles like noisy tractors, bikes and even cycles with their bells tinkling passed us casually. In fact we were getting the expressions of "yet another set of intruders" by the villagers. Normally in a safari, one is not allowed to disturb animals.. so then what was this? Post the evening excursion, our jeep cruised into another rocky terrain where other jeeps had halted. It was almost night. The stars shone brightly in a crystal clear sky. The evening breeze started calming our nerves down. Someone in the other jeep had got powerful night beams which were being thrown on a hillock, to be able to spot the leopard. Alas.. the cat had other plans. After 3 hours of slight frustration and unease, we returned back to our hotel. Some amazing food served in a windy, open air atmosphere, along with chilled aam ras, calmed us down a bit, and lead us to a content sleep.
Safari – Day 2, morning/evening:
The second day started off in excitement as we woke up with great anticipation. The morning was cool, in fact chilled even. We made our way into another hilly area of the village. This time, our jeep stopped ahead of a small hillock. To our surprise, we were asked to disembark and climb up the little hill. We did as told, given that there were other fellow safari passengers doing the same. As we reached on the top, a vision of beauty greeted our eyes. We could see some soothing landscapes from this height. And a tiny hillock right opposite, approximately 200 meters, which had a tiny temple in the stone carved hill. "That's where the leopard was last spotted", we were informed by a few fellow travelers. As we enjoyed the calm breeze, lazying on the rock, we also realized, that Bera was no ordinary safari which kept driving you around in cars. Bera was about understanding co-existence of animals with humans. Here, the co-existence was so strong, that we could confidently climb on the rock opposite to the hill (home to the leopard) and all we had to do was sit quietly and pray that the animal decides to give us its darshan :). This realization made me calmer. Because if patience was the leopard's primary requirement, there was nothing one could do to debate it. Instead, we started enjoying the sun, the nature and the places around us.
After 3 hours of yet another futile wait, we moved back to our hotels. On the way, we stopped in a local dhaba to have hot chai in kullad. Sigh.. the taste of real India, as one would say. (I don't drink tea, but am capturing my fellow traveler's sentiments). Amusingly, they have the tradition of breaking the kullad after completion of the tea. Couldn't figure out the reason why!
Post our yummy lunch of ganthiya Ka sabzi, dal, rice, roti, chaas and again a dose of aam ras, we caught up on some much needed sleep. At 5.30, again we left for yet another chance to spot the cat. Time was running out.. but as they say.. you cannot give any guarantee in wildlife. It's all a matter of luck and chance. This time we went back to the same hillock we had visited the first time. But we were prepared. We smiled at the villagers who passed us by and even forced one of them to let us pose with their tractor! Post this, our kind guide cum driver, Natwarlal decided to take us around the Bera area. We saw a few more hillocks and leopard caves. But these were quite close to a railway line and also, there was a new track being constructed in the area. There was heavy machinery and a lot of noise. We were told that this area had many leopards being spotted earlier. But now with the work, it was difficult to spot even one.
After an amazing tour of the place, meeting a kind Sardarji who let us pose with a huge crane, we came back to the hotel, to be treated to authentic dal baati and churma dinner. Sigh. We had to make the most out of it, considering the next day was our last safari. And as Natwarlal told us, "It's your last safari tomorrow? I promise you, you will see the leopard", we had some faint hope to clutch on to.
Day 3: The last safari:
It was a nervous moment for all of us.. our last safari.. and not one cat spotted. But I guess, most of us had made peace with ourselves and decided to be happy, even if we were disappointed then. We were taken to the same hillock which needed us to get off the vehicles. Our favourite place :) But there was something different about the atmosphere today. Everyone was quite. The wind had died down. Completely. Today the Thakur uncle had accompanied us and set up his two tripods.. one for recording footage and another for clicking pictures. We settled ourselves behind him. I kept zooming into the temple cave imagining the leopard there, and tweaking my camera settings accordingly. I wanted to be prepared for any eventuality. Anyway, what did I have to lose? After 40-45 minutes of calm nothingness, someone behind shouted, "Tail!! Look up there, there's a tail of the leopard!!". Oh yes, we saw the tail. And in a second, emerged the majestic animal. I prayed that my camera put in all energy it had, to capture this moment for me. But luckily enough, the leopard (who must have been amused at sights of 2 legged creatures jumping up and down on seeing him) who felt like a celebrity, decided to come down to show us his moves. A sub-adult leopard, he made his way through the rocks with seeming ease and in fact speed. My camera zoomed in and followed his movements, and captured quite a few. Some around me had binoculars glued to their eyes and kept exclaiming "oh wow! wonderful! magical!" while the rest kept firing gun shots with their heavy weight cameras. trrrr trrrrrr trrrrr came the multiple clicks sounds.. the photographers were having a field day I guess. The leopard in between, settled on a nice small triangular rock to observe us. It looked around bored, contemplated a bit and then decided to walk towards the famed temple roof. Within a few swift strides, it had reached the roof. It meandered over it for a few seconds, before deciding that it had enough of this fashion show. With one swift look, it jumped into the nearby trees, to take another cave (a lot of caves in this area were interlinked) to go to a quieter, solitary destination (hopefully!).
As this sighting ended, a mini celebration broke out on our hillock. Thakur uncle came over to us, to tell us, how his passion for leopards, has brought him to this hillock, daily, morning and evening. He has several recordings of the leopard sightings and his son has clicked not less than 50,000 pics of this feline creature. We voiced our amusement at the wonderful coexistence of humans and animals at Bera. And came to know that Thakur encouraged villagers to let leopards feed on domesticated animals. They were asked not to harm the animal and let him take the bait. In return, whenever a cattle was lost, Thakur paid villagers in cash to compensate. Every year, he spends almost a lakh and a half on ensuring the leopards get their feed and villagers don't suffer losses. Another advantage being, the kills get reported to Thakur, which helps him take visitors for spotting, thus boosting tourism in the region. Win-Win and how?
After a nice treat of chai from Thakur uncle, we opened up madness. Some crazy pics in our jeep, some mad celebrations followed. Everyone wanted to laugh, recollect those 10-15 precious minutes. I profusely kept thanking my camera for managing to capture what was a once in a lifetime moment!
When I came back to narrate about the sightings to my colleagues and friends, almost everywhere I encountered the question.. "But how did you step out of the car? Why were you on the rock? Didn't you get scared?". The truth was, it never occurred to us to get scared. And that was the beauty of coexistence in Bera. It left you fearless, compassionate and more confident than ever before.
Having grown up in a city like Mumbai, where leopard sightings are associated with terror, where requests for cages, tranquilizers are so rampant, this experience came as a pleasant surprise and a true eye opener. It was indeed possible to live in harmony with such animals.. all that was required was some effort.. which people like Thakur uncle were willing to do. It's the most amazing side of India I have ever seen.
And of course, as in all trips, this one was indeed about making new friends, going mad, learning how to not hold yourself back and experiencing magical moments like never before!
Cheers to the lovely leopards of Bera :)