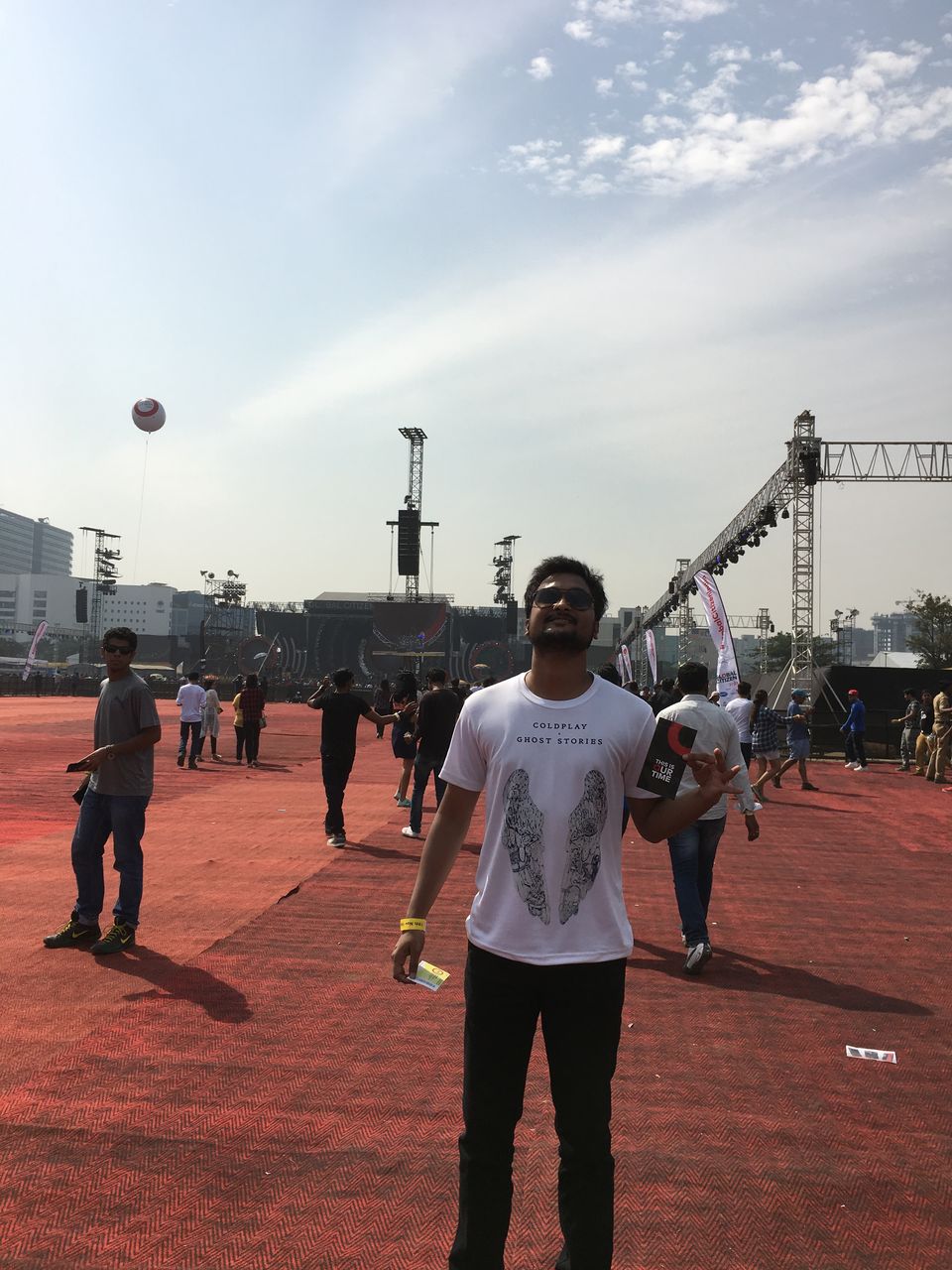 The top right field, asks me to input a number in the section "trip cost". It was indeed, ZERO.
An estimated 80,000 people attended Global Citizen India on Nov. 19, catching a glimpse of famous dignitaries, Bollywood actors and established musicians on one enormous stage.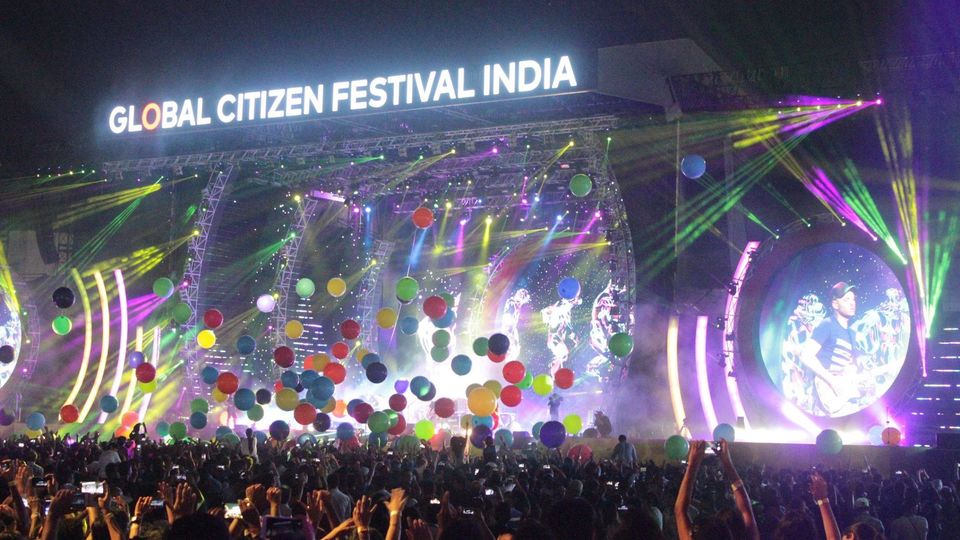 Magic
Like most of you I had never won an online/offline lucky draw competition ever in my life. Dejected so many times, I lost faith in the draws, and considered them rigged, which they very well are till some extent.
But I could leave no stone unturned when I heard Coldplay was going to visit Mumbai on 19th Nov, 2016. Often I told my friends, if Coldplay were to visit the remotest part of India and the ticket costed me a fortune, I'd still go.
It turned out I didn't have to pay a dime for my travels, stay and of course the concert itself. Read below how I orchestrated this craziness.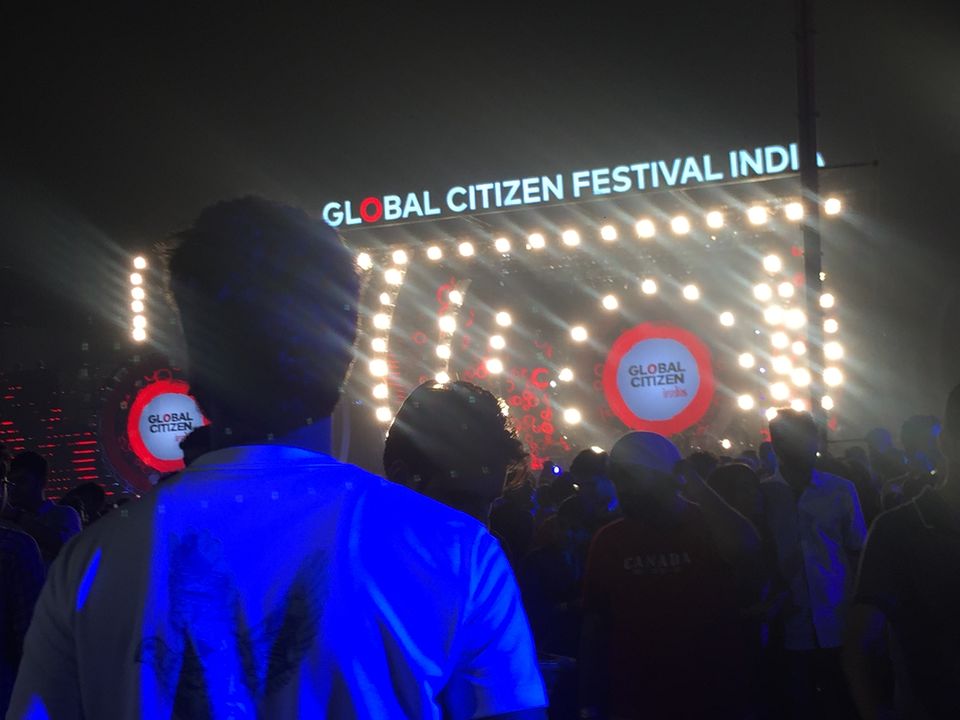 Take Action
Global Citizen festival, declared the passes were up for grabs, for free. Only catch, you'd have to complete a few online tasks like filling out petitions, write e-mails to world leaders (not actually write, use their template), tweet & share photos with the necessary hashtags.
Quality education, Gender equality, Clean water and Sanitation were their Sustainable Development Goals (SDGs).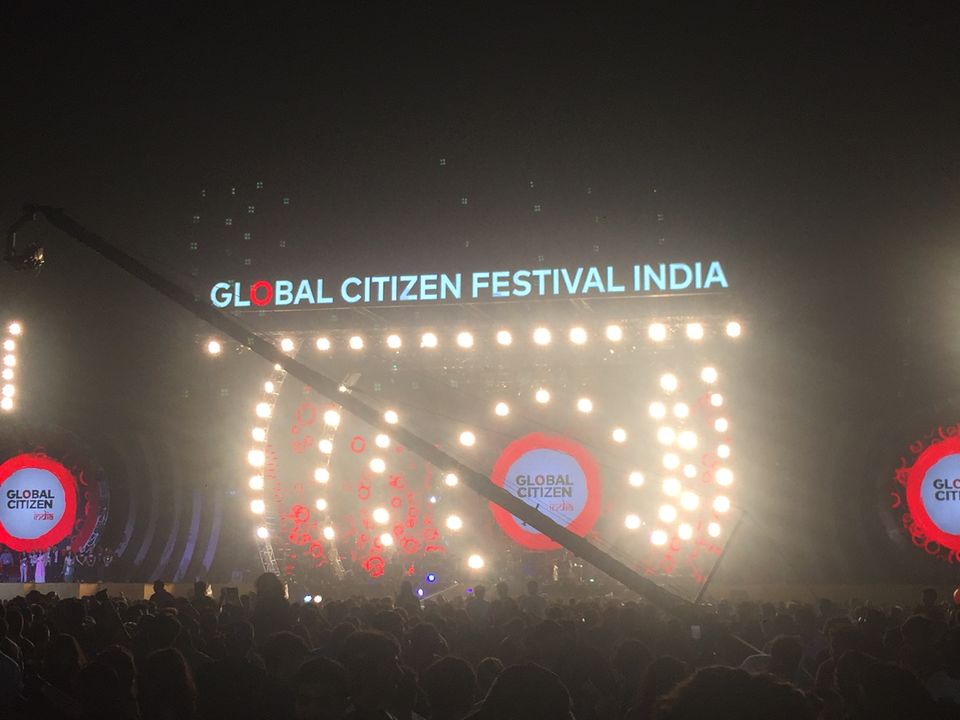 My friend entered the draw and won 2 Yellow Zone passes in the first round!! I couldn't believe her luck. I was going to see Coldplay! While the event was 2 months away, I decided to use all the email ids I had to my disposal to work my way into winning more.
As chance would have it, I won 2 more Yellow Zone & multiple Green Zone tickets, in the subsequent draws.
Like me, others too had won and we flaunted this victory on social media. It was then when we became GODS.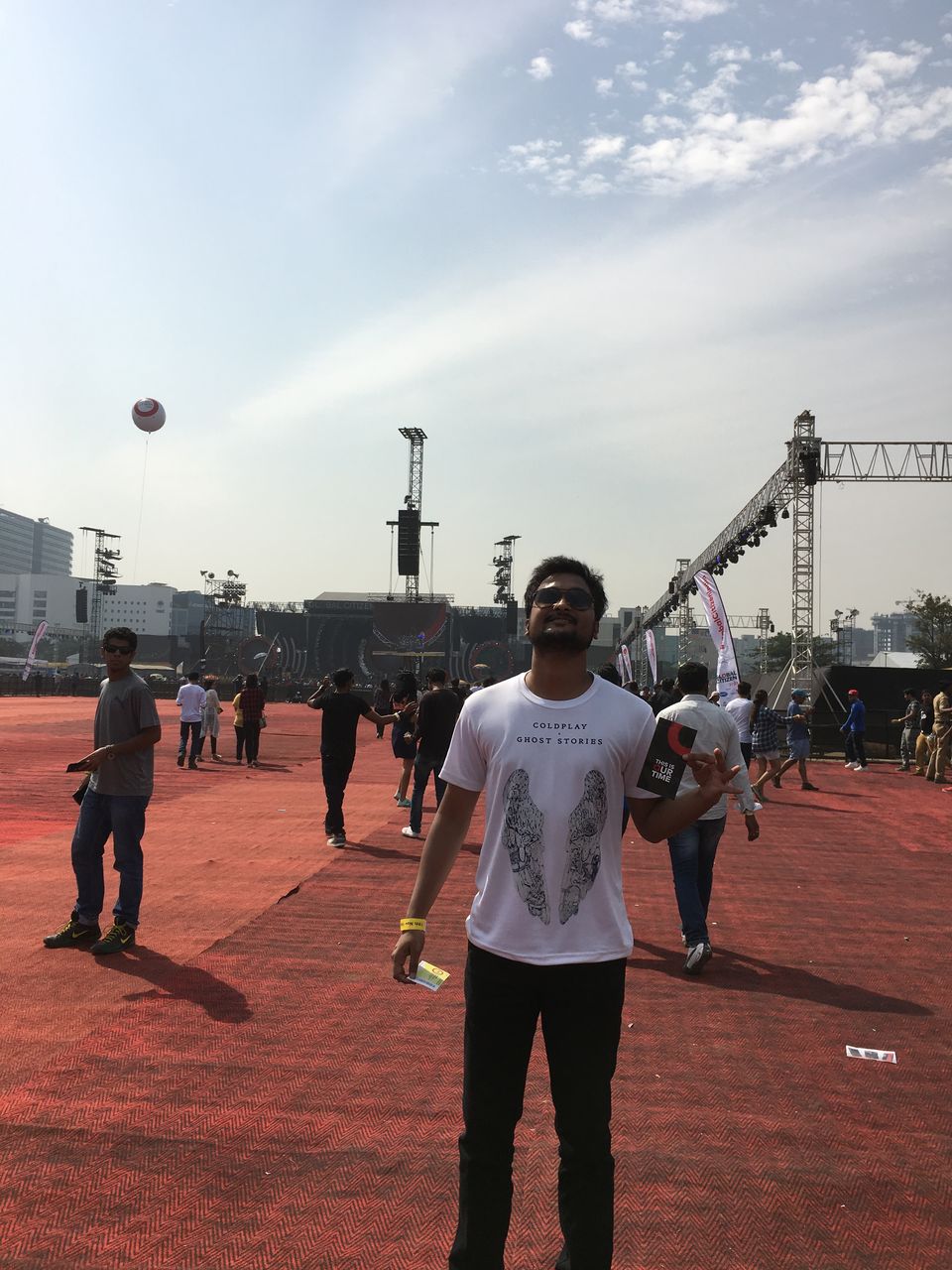 The "other folder" of my facebook messenger was flooding by the hour by instant messages of complete strangers, mostly girls from all over the county, persuading me to sell off the tickets. I kept the extra Yellow Zone passes for myself and sold off the Green Zone to the strangers. A girl literally called me her God & coaxed me into giving the passes to her. It was madness in October.
With free money made, I booked flight tickets to Mumbai, and return, from Pune. Yes, a roadtrip was planned after the concert to Lonavla, Mahabaleshwar. You can read about that in one of my other trips.
I even designed a custom made Coldplay T-shirt & had it printed just the day before my departure. I of course had other T shirts at my disposal but I wanted to stand away from the crowd. It just had to be unique.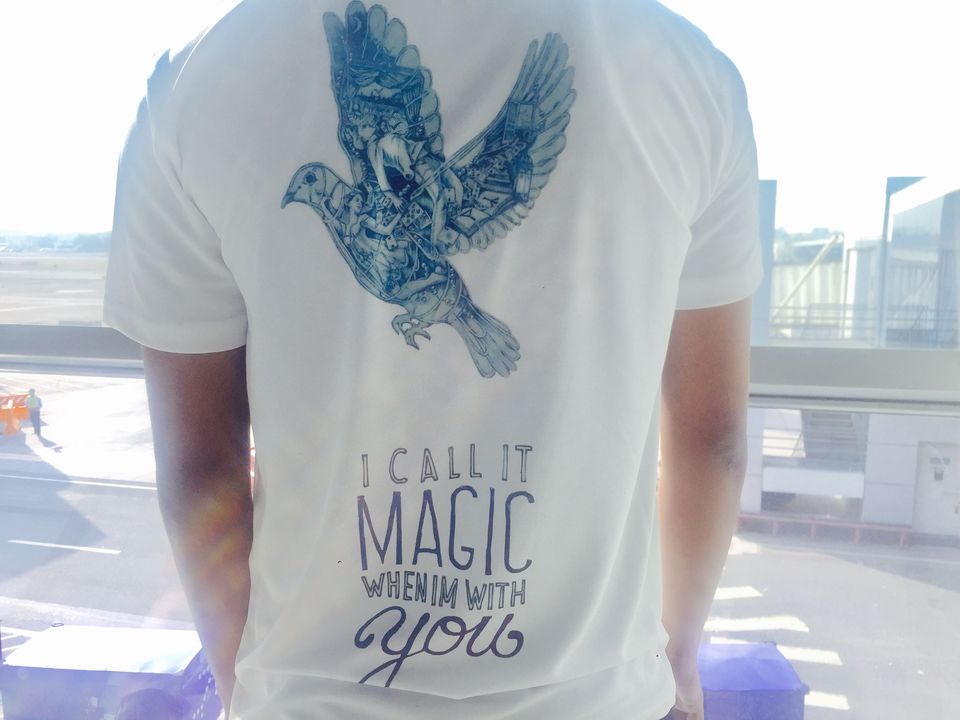 We reached the hotel we had pre-booked (nothing fancy), changed, and Uber'ed to the venue.
It was insane! The queue was almost a kilometer long & would move at a snail's pace. The crowd was amazing though ;) It's Mumbai after all !
The event duration was about 6-7 hours & this was going to be a long haul.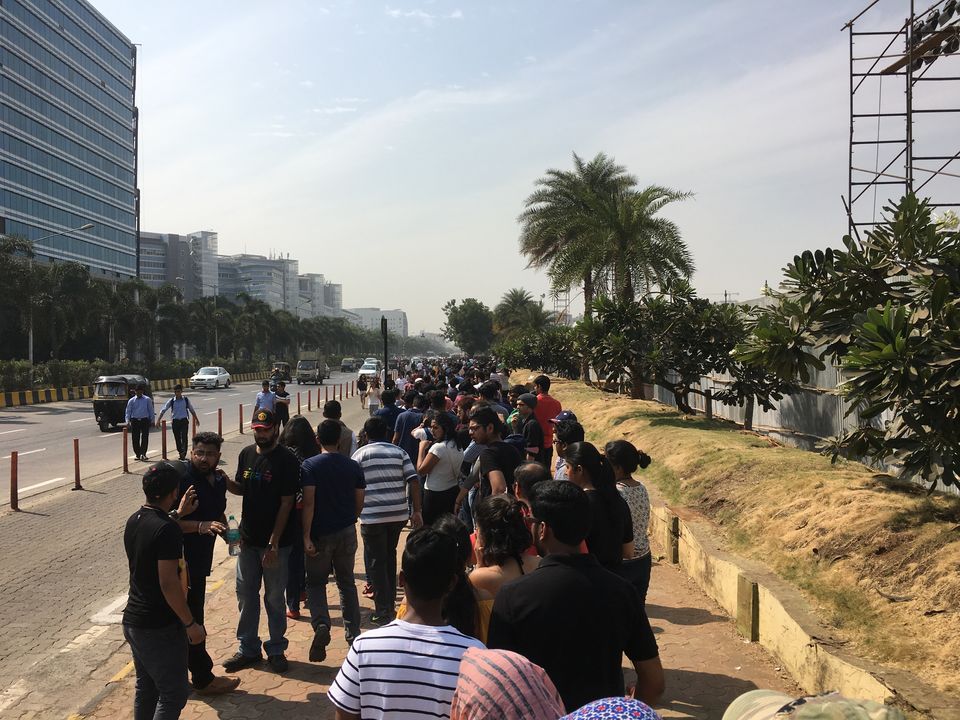 I was even interviewed shortly by an NDTV reporter here. Yes, it was aired as my office colleagues, informed the same back in Delhi. I managed to get the video from their official website later.
The dream was just turning to reality & the way it unfolded was nothing short of a miracle.
Silver Zone (paid) was in parallel to the Yellow and had barricades in between. But they had the same viewing angle as of us.
Cost of Silver Zone Passes: Rs 20,000 /-
This meant all 4 of us were virtually paying nothing, for what would've otherwise set us back by 80 grand!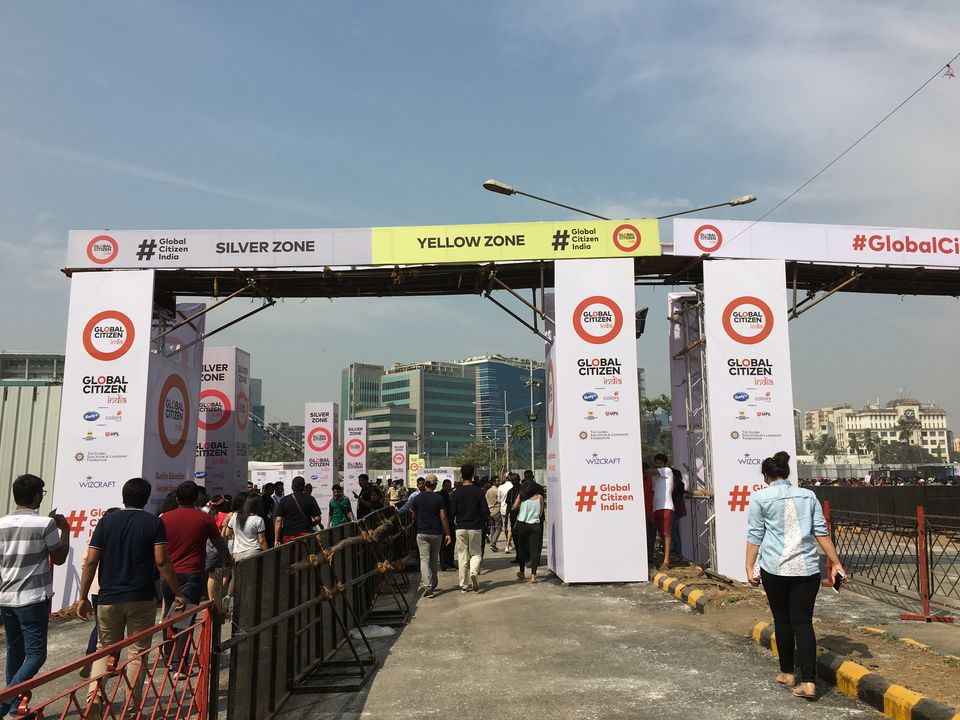 In the right hand side of the picture, you can see the entry for the Green Zone. If we were in Bandra, they were in Kurla :D
I almost fell bad for those guys. Chris Martin (and other artists), appeared a dot to them. I guess most of them watched him on the huge flat-screens installed in all the zones.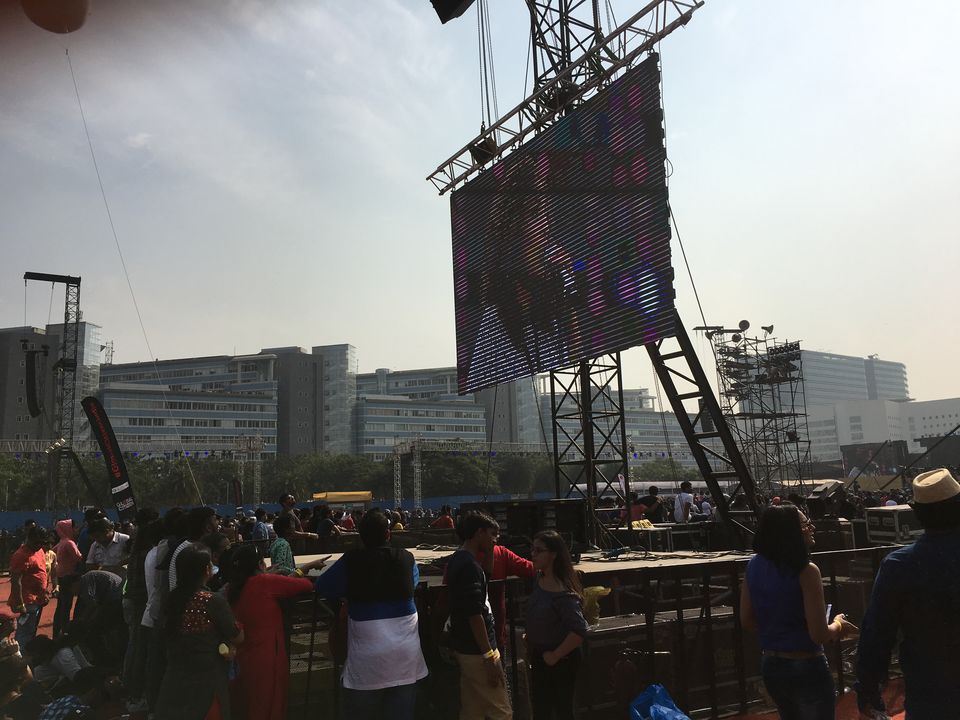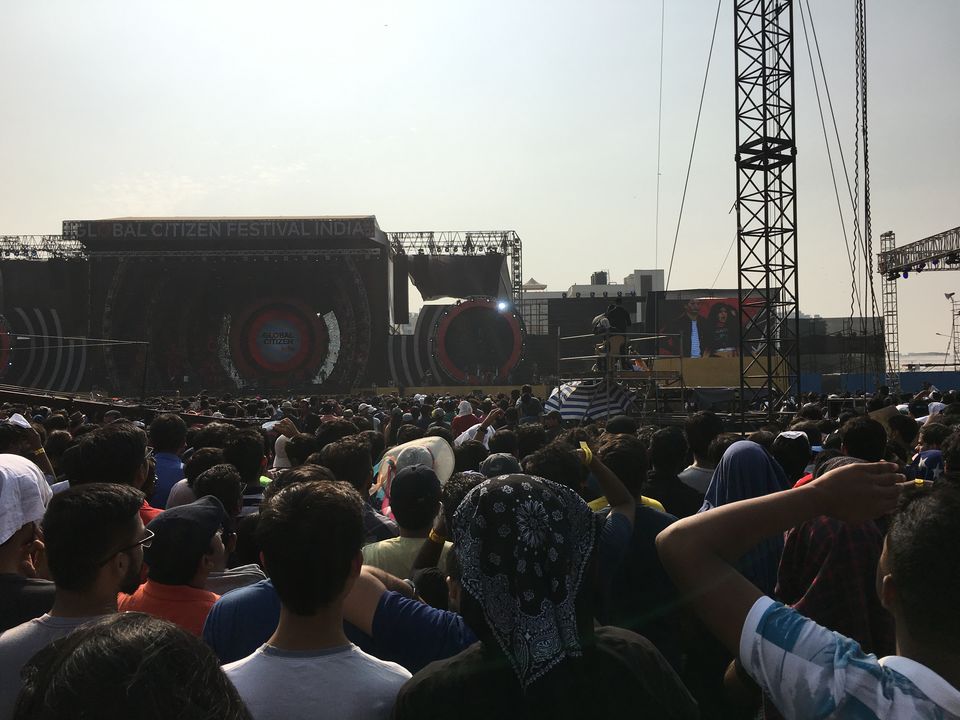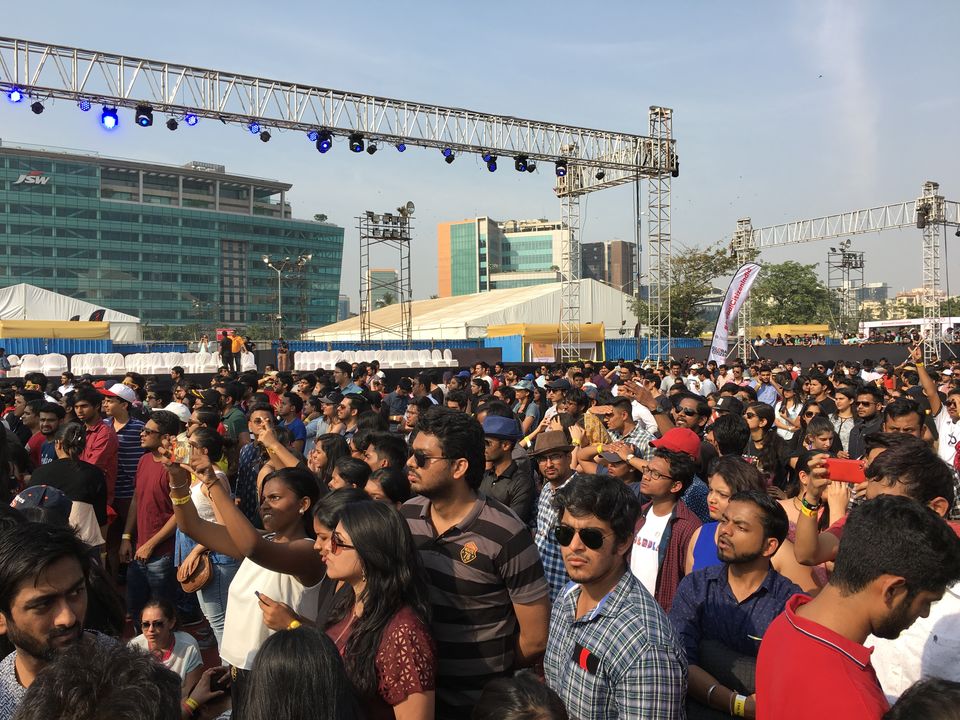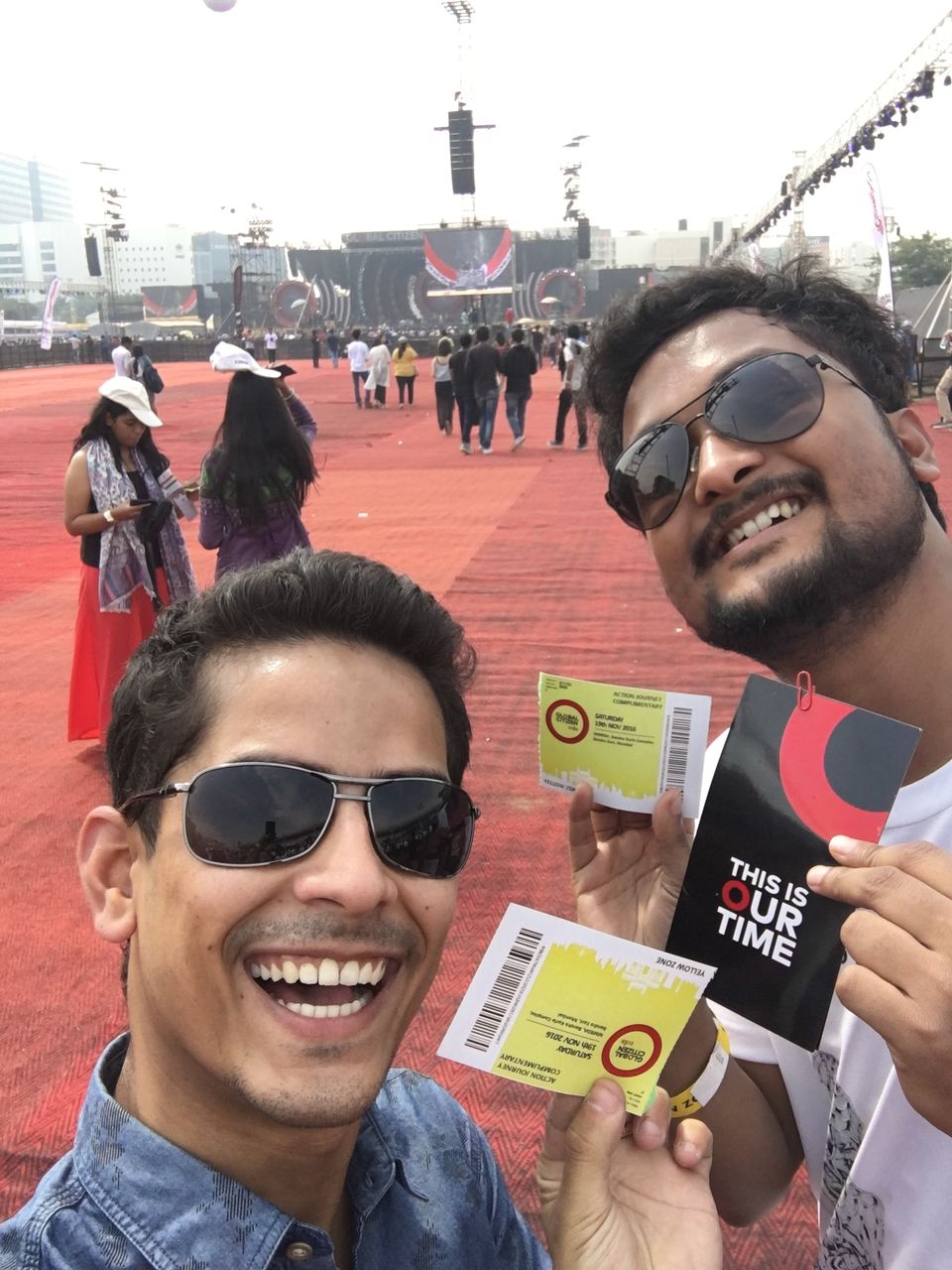 In between budgetary pledges and policy announcements by both government and public institutions, the first ever Global Citizen Festival to be held in Asia was easily the biggest music festival produced in India. Bollywood music composers such as Shankar Ehsaan Loy, Arijit Singh and actor-singer Farhan Akhtar gave the crowd their favorite radio hits, and there were even a few actors like veteran Amitabh Bachchan, Sonakshi Sinha and Shraddha Kapoor picking up the mic to take on a rare role as singers, choosing not to turn to the traditional choreographed, lip-synced style of performances.
The sun was staring right at us. A few girls fainted as the day progressed. Water was free at the event and was even thrown towards the crowd at regular intervals.
I didn't care much for the Bollywood drama. In particular I liked the performances of Farhan Akhtar with Big B & A.R. Rahman.
Evening kicked in.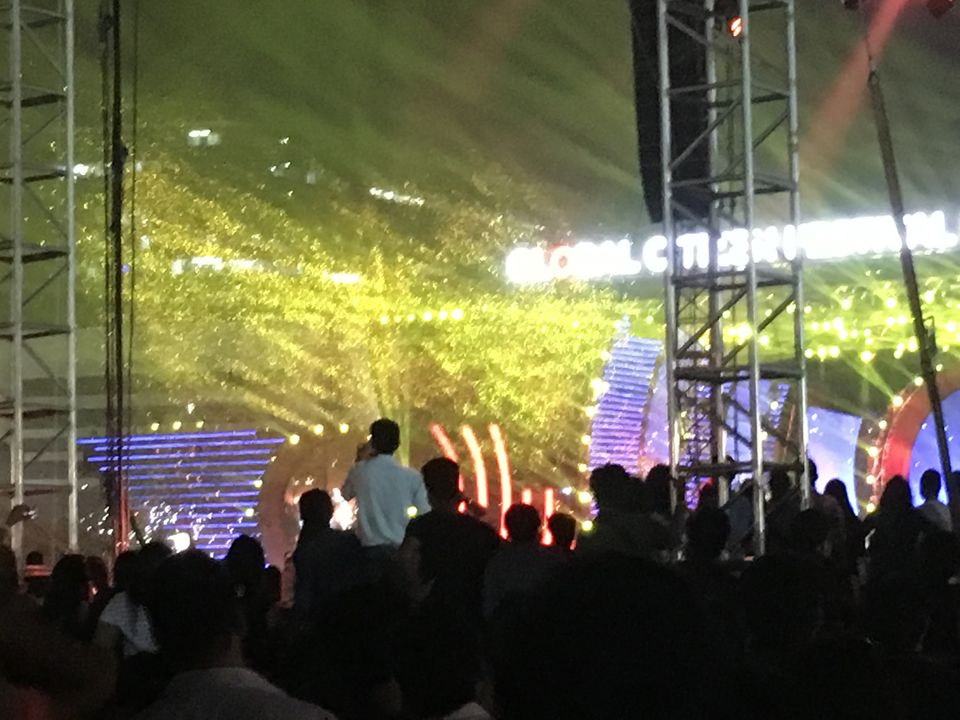 Gig by International Artists:
Demi Lovato
In a 20-minute set that made her the first international performer on stage at Global Citizen Festival India, the global pop star kicked butt with songs like "Confident," "Heart Attack," "For You" and "Stone Cold" before closing off with a song that the crowds finally seemed to recognize, "Cool for the Summer".
The Vamps
British pop rockers the Vamps too had a 20-minute slot, although well into the evening to get the youngest voices in the thousands-strong crowd to sing along to "Oh Cecilia (Breaking My Heart)" and "Can We Dance," stage antics and all. I hadn't heard them earlier but really enjoyed their music and now I have a few of their songs in my playlist!
Jay Z
Jay Z came, saw and conquered. The set kicked off with a local flavor, rapping verses off "Bounce" to the Rahman-composed 1998 hit "Chaiyya Chaiyya" and Punjabi MC's "Mundian to Bach Ke." Jay looked amazed as hell at the crowd that may not have known all his words, but raised their phone flashlights and their voices to the choruses of "Drunk in Love" and "Empire State of Mind." He threw in lightning fast versions of "N-----s in Paris" and "99 Problems," but made sure got the full effect of his classic and fresh material, "Holy Grail" and "Big Pimpin'.
The crowd had reacted amazingly to the rap sequence. & even Jay-Z must've been surprised to see the response. He really lit up the atmosphere. A drone captured the image from above & displayed in on the gigantic screens. It appeared, stars had fallen!
All the gigs were up, but one. The performance for which everyone was jostling with each other for the best spot. But before that there was a live online video feed straight from PMO. Our very own PM gave a 10-15 minute speech. The crowds were anxiously waiting for Coldplay but none of them boo'ed our Mr Modi Ji. Demonitization had kicked in barely 10 days ago then & he had the country's full support. Without further ado, he gave way for the 20 year pop-rock band, COLDPLAY!!
Coldplay
An endless stretch of people ahead of Chris Martin, Will Champion, Jonny Buckland and Guy Berryman, Coldplay also seemed overwhelmed to start off, but gave India everything they craved-- from dazzling evergreens such as "God Put a Smile Upon Your Face," "Yellow" and "The Scientist" to the dance-y "Paradise," "Hymn for the Weekend" and "A Sky Full of Stars."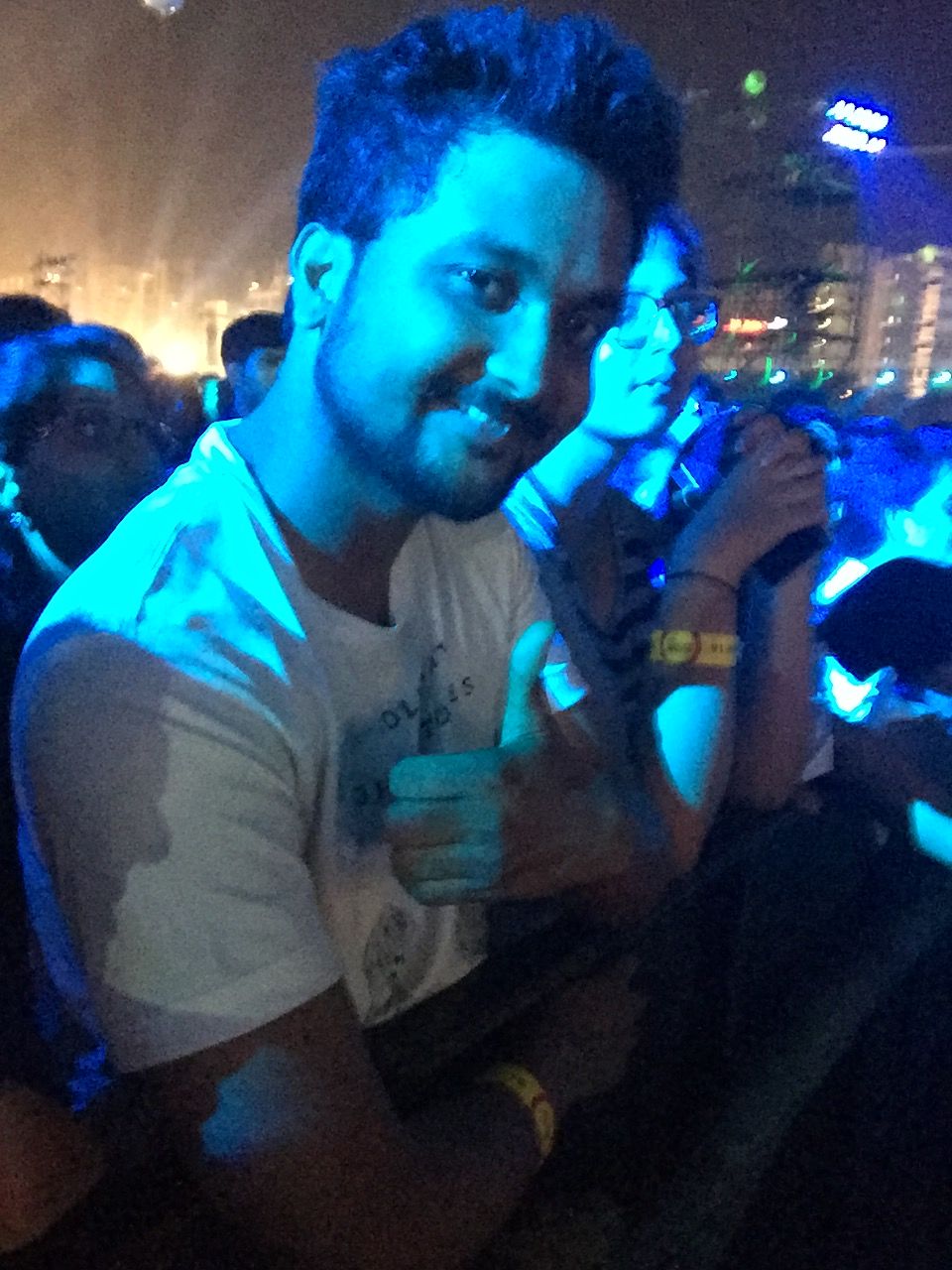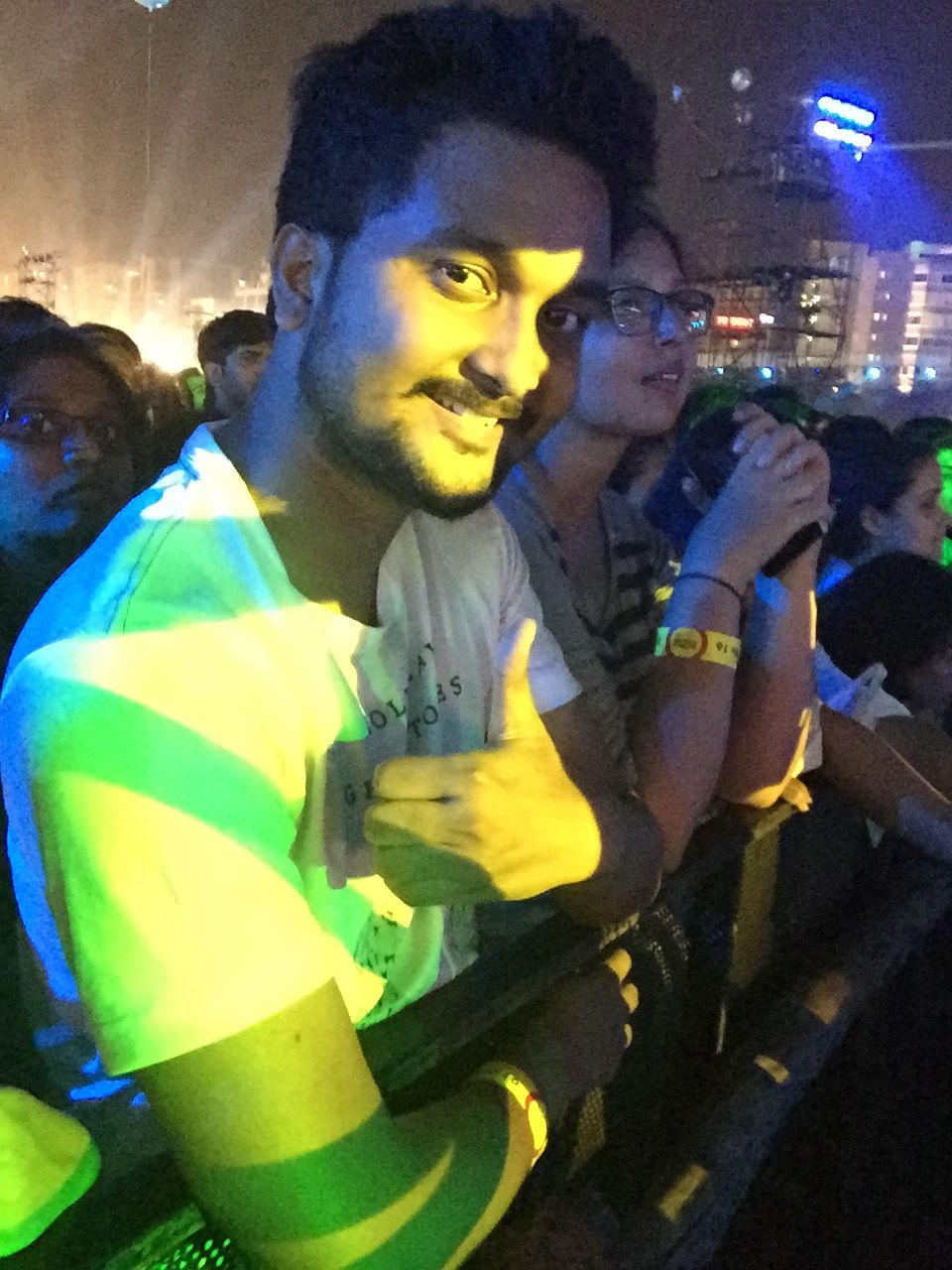 People nearby me had tears rolling, when Chris sang, "Magic" or "Viva La Vida". With countless other hits, Chris also collaborated with our very own desi maestro, A.R. Rahman and tried his luck with Hindi, singing "Vande Mataram". I believe that was the moment he won the hearts of the neutrals, who were neither fans nor anti, but were here just to avail the free passes. (Me too lol :D, but hey! I am a die hard fan). He performed a full set lasting about 90 minutes wherein he also sang "Channa Mereya".
The girls went super crazy hearing hindi lyrics from the rockstar, since the language was obviously not known to him.
The moment was electrifying. The hair at the back of my neck stood up & I'm not even exaggerating. They were magical and they give in their everything in lighting up Mumbai and giving us the best night of our lives. Well, at least for me.!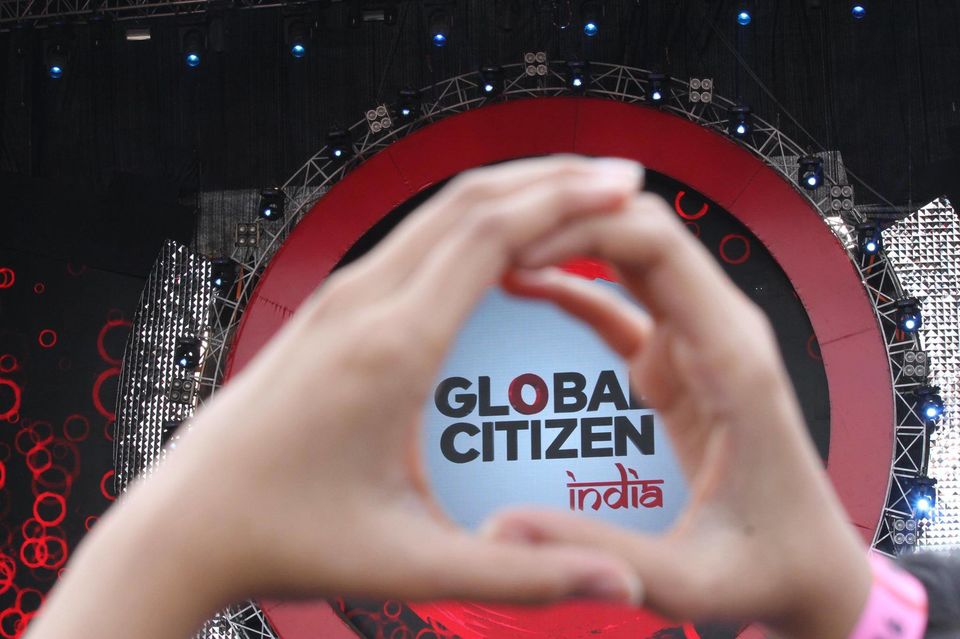 The concert concluded and everyone went home, but not us. We had a road trip planned to Mahabaleshwar.
The trip had just begun.
What's the lesson learnt here?
"Agar kisi cheez ko dil se chaaho to puri kayanat usey tumse milane ki koshish mein lag jaati hai."
"When you really desire something from the heart and soul, all the universe conspires you to achieve it"
-Paulo Coelho, the Alchemist