Bastar District of Chhattisgarh state in central India is known as the land of tribes. About 70% of the total population of Bastar comprises tribals, which is 26.76% of the total tribal population of Chhattisgarh. The major tribes of the Bastar region are the Gond, Abhuj Maria, Bhatra Bhatra are divided into Sub Cast San Bhatra, Pit Bhatra, Amnit Bhatra Amnit Hold Highest Status, Halbaa, Dhurvaa, Muria and Bison Horn Maria. The Gonds of Bastar are one of the most famous tribes in India, known for their unique Ghotul system of marriages.
Gonds are also the largest tribal group of central India in terms of population. A large number of Bastar tribals are still living in deep forests and avoid mixing with outsiders in order to protect their own unique culture. The tribes of Bastar are also known for their colorful festivals and arts and crafts. The Bastar Dussehra is the most famous festival of the region. The landscape of Bastar is full of the green lush mountains with plenty of Waterfalls.
Chitrakoot Waterfall is the widest waterfall in Asia. The tribals of Bastar were also among the earliest to work with metal and have expertise in making beautiful figurines of tribal gods, votive animals, oil lamps, carts and animals.
Known for it natural beauty, Bastar is famous for its cascading waterfalls.
Teerathgarh waterfall is among the five major waterfalls of Chattisgarh.
Visitors enjoying a stroll against the backdrop of Mahendri Ghumri waterfall.
Chitrakoot, referred to as Asia's Niagara is the largest waterfall in India.
Tribal men posing for the camera. They are a friendly and jovial lot who are industrious and diligent.
Female traders coming from many miles to trade and to socialise.
Female traders keep under shade in the vegetable market, all the while giggling and feigning shyness.
Female vegetable vendors joyfully posing for the photograph.
A young girl carrying and indulging her crying brother.
An air of intimacy hangs around the adivasi couple sitting at the entrance of their modest hut.
Two tribal men going about their business but looking troubled. Perhaps my request for a photograph is to blame.
Local women spread out beneath the tall trees and collect drinking water.
A local woman working arduously.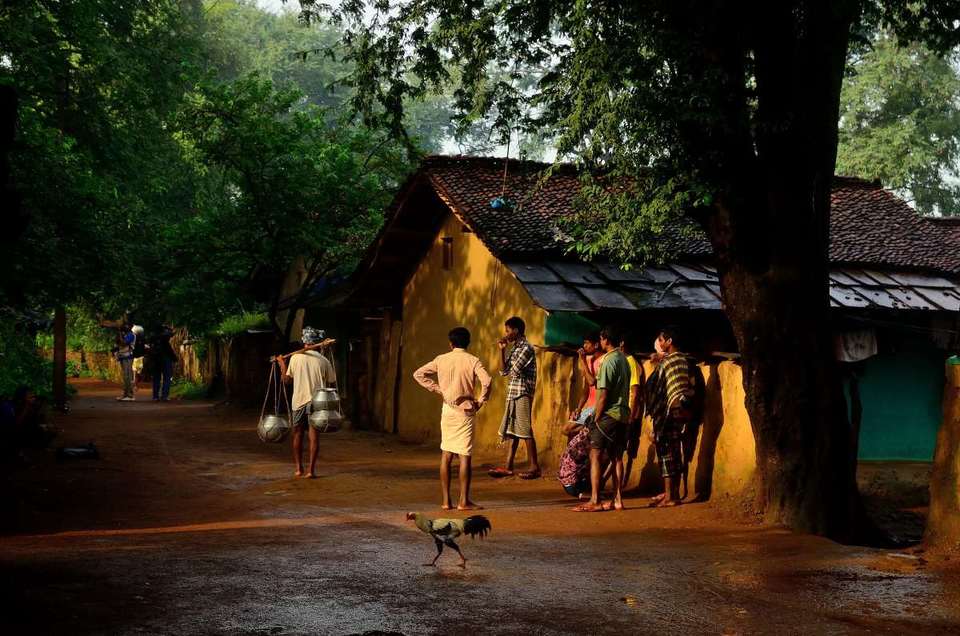 A group of local men soaking in the morning sunlight after pouring rains.
A local woman carrying drinking water towards her home as the early morning mist clings in the background.
A cattle herder taking his livestock towards the grazing fields. He had a long day ahead.
Young boys cycling and enjoying all the while as rain drenched air whizzes past them.
A woman slightly smiles while her daughter-in-law peeks intimidatingly.
A young girl adjusts her notebook towards the shaft of light that filters in through the window. Electricity is a distant dream.
Years and experiences etched in her face as she decisively sits and confidently poses for the camera.
A pundit worshiping the age old lingam after making a tick, fragrant paste of sandalwood.
Famous Bastar Dussehra, a 75-day unique festival has nothing to do with Lord Rama's triumphant return to Ayodhya but it's all about nature and Devi Ma Danteshwari, the presiding deity of Bastar.
The festival brings a great deal of ardour and enthusiasm among locals, irrespective of their caste. All presiding deities from chota mandirs around Bastar travel to district headquarters of Jagdalpur. A four-wheel chariot decked with flowers, the phool-rath, is pulled from the second to seventh day. Earlier, the king would sit on the chariot wearing a turban of flowers, but today, the chariot carries only the holy umbrella of goddess Danteshwari.
Unique rituals more than 500-year-old festival, celebrated with all pomp and show, cuts across caste and creed, creating bonhomie between people from various castes and tribes in the region.
On the 10th day of victory or Vijayadashami, an eight-wheel chariot makes an inner circuit, and on the 12th day, a thanksgiving ceremony is organized to celebrate the conclusion of the festival, offering prayers to Devi Kancha
The hum of life seems to never cease as people go by their lives, making slight yet significant ripples across the ocean of time in their own way.
This post was originally published on Life Through My Lens.