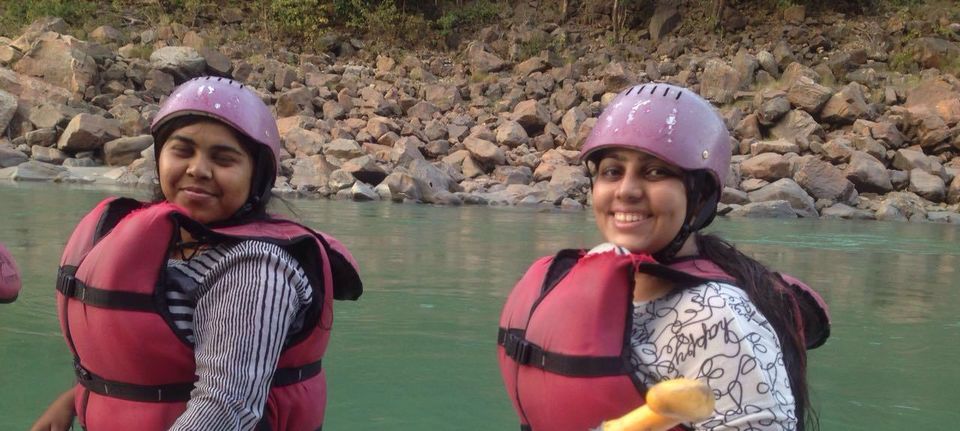 Rivers always fascinated me but I could never get too close to one. When I was younger I had almost drowned in an amusement park's pool. I always wanted to learn to swim but then I never could. I had been in Rishikesh for over 3 days now, walking around exploring the awesome cafes and renowned places like Beatles Ashram. Attending the evening Ganga Aarti and looking at the river from Lakshman Jhula everyday was a must. Looking at the rafts coming from far I always wondered if I'd be able to do it? It was my last day in Rishikesh and I finally decided to go for Rafting and quickly made the arrangements.
As we reached Shivpuri, the starting point for rafting, I could feel my heartbeat go faster. Within a few minutes we were standing on the river bank with our life jackets on and holding paddles in one hand as the guide strictly instructed us for the journey. The moment he asked me to get on the Raft, I felt like I would get a heart attack. The raft started moving as we started paddling. Then came the first rapid and my only focus was not to fall into the river. The raft was jumping up and down and a big splash of water came on us. Even though I was scared, I actually liked the touch of that cold water. We crossed the next three rapids and the guide asked us to jump into the water for body surfing. My reaction was What the HELL am I going to do now? I sat on the edge with my legs dangling off the raft. The guide noticed that I could not gather the courage to jump and he pushed me. I went down into the water and came up. I was floating in Ganga, looking at the blue sky thinking to myself "If I can do this, I can definitely get over a guy". I thanked the guide because if he hadn't pushed me I would have never felt the way I did.
By the time we reached Lakshman Jhula, it was dark and we paddled from beneath the bridge which was now glowing with colorful lights. While getting down from the raft I had a feeling of achievement. I conquered a fear that I thought I never could.