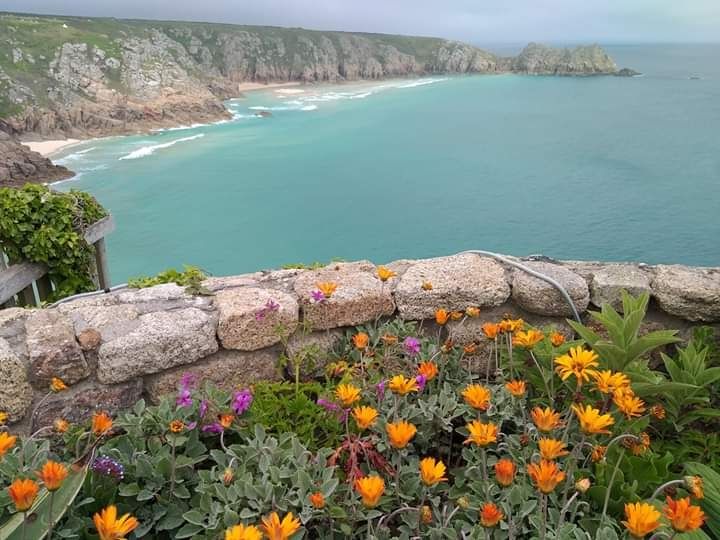 Cornwall is the most beautiful coastline in UK. I am short of words to describe it's beauty.
It has turquoise blue sea waters, white sandy beaches, caves and coves, rugged coastal paths, hills covered with carpet of flowers in spring overlooking the vast expanse of water and heritage castles. It's nature at its best!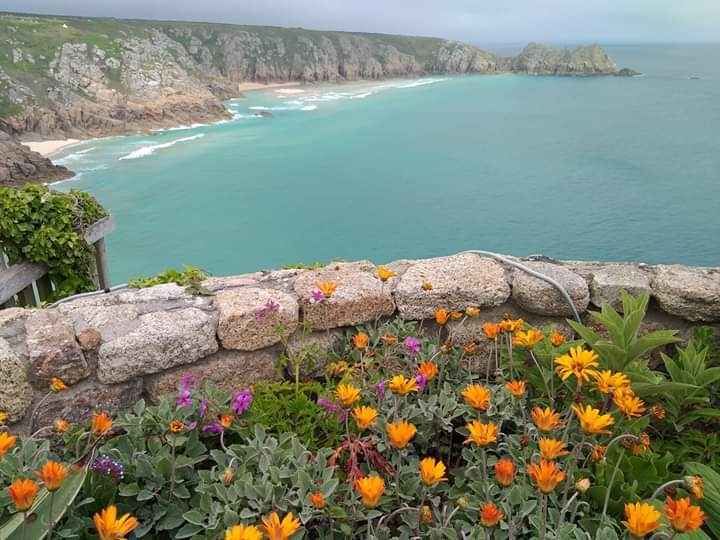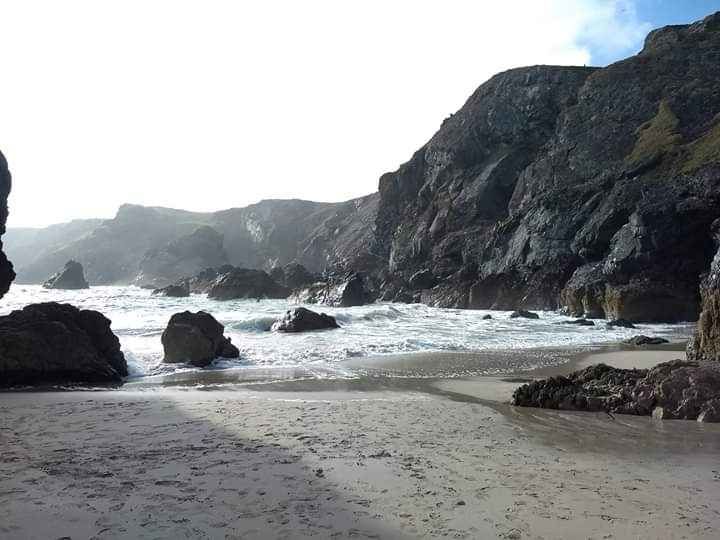 It was also our first stay in a Caravan Holiday Park. Enjoyed it, especially the kids as they had many activities of their interest.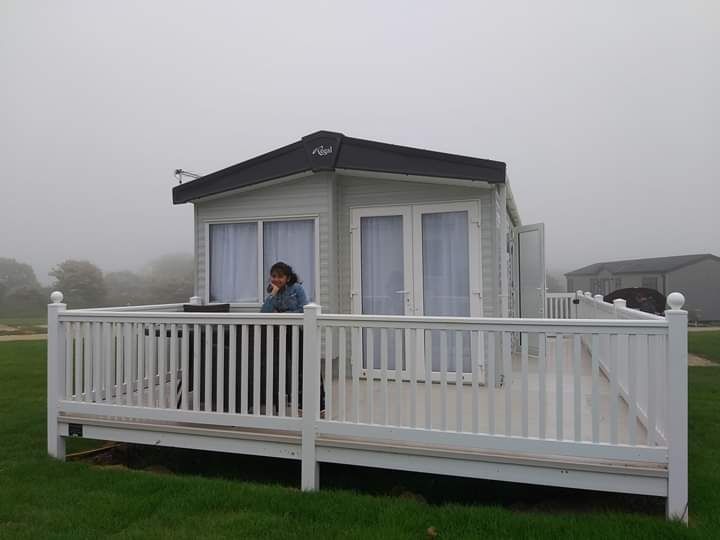 Weather has to be good to fully enjoy Cornwall's beauty. We were not that lucky so had to re-plan our day as per weather forecast. Another disappointment was closure of Tintagel castle during our visit for some restoration works. Our holiday park was in #Newquay which was a very convenient location to travel in all directions. Originally we had planned to cover south coast on day one, west and few places on north side on day two and the east on day three. But we had to change our plan at the last minute as per the weather. So our itinerary goes like this -
1. Land's End : Situated in the #Penwith peninsula, it is the most south-westerly point of mainland England. It is tall cliff which overlooks the Atlantic ocean. When we reached Land's end, the sky was overcast, it was drizzling and foggy. We had to wait for while for the clouds to clear to be able to see the rocky cliffs carved out by waves of ocean and the #Longships lighthouse. You can see the #Seven Stones Reef in the distance which is infamous for the numerous shipwrecks it has caused over the last few centuries. There are walking paths on the cliff which you can explore. It also has couple of cafes, shops and entertainment for kids here. There is no entry ticket to visit this site but you need to pay for parking.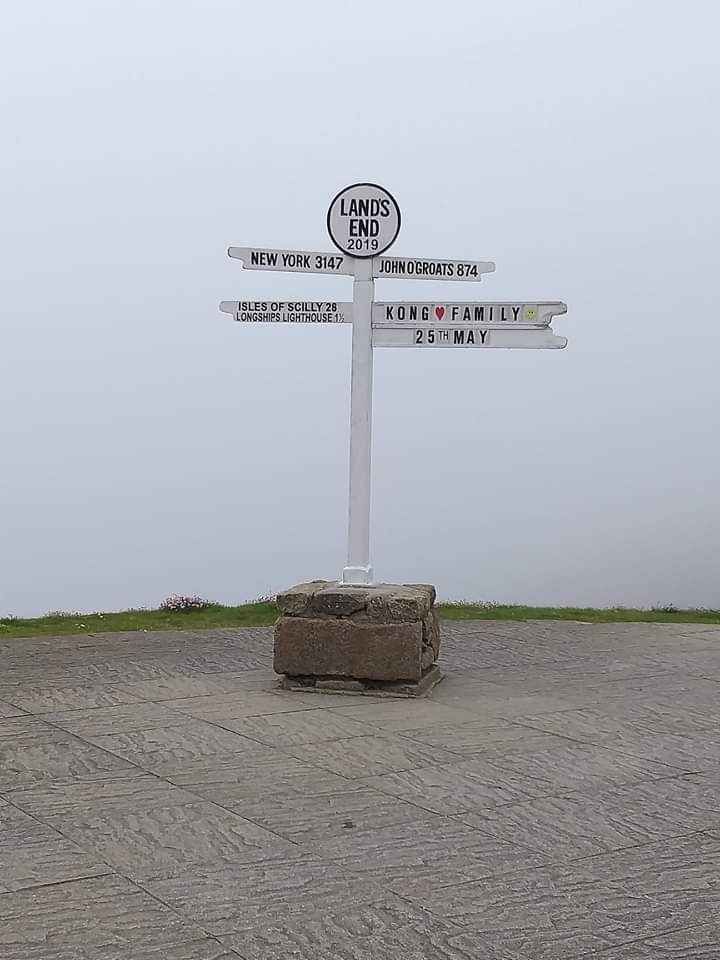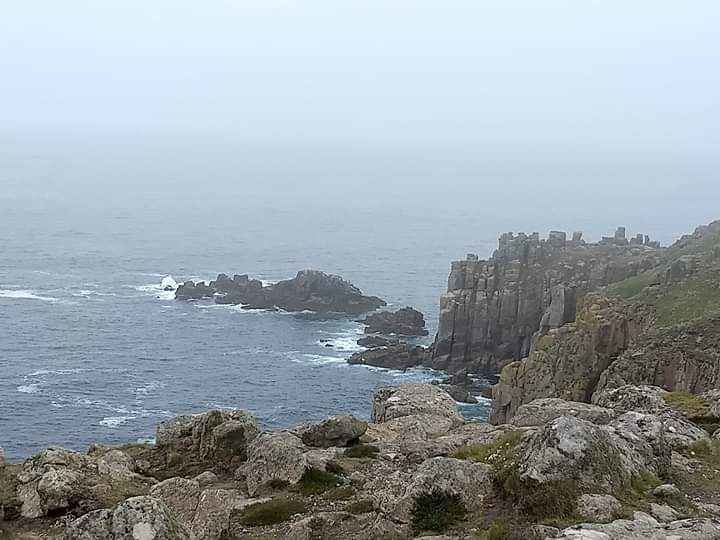 2. Minack theatre : (Minack from Cornish "#meynek" meaning a stony or rocky place) : This beautiful amphitheatre is situated on the rocky granite cliffs overlooking white sandy beach of Porthcurno and the #Atlantic ocean. The overall setting of this theatre is so unique with the stage on the edge of cliff, arched walls, semicircular steps for seating, colourful gardens across the area, views of turquoise blue water and white sandy beaches of #Porthcurno and #PednVounder.
One must include a visit to Minack theatre in Cornwall itinerary but check the calender for events and shows before planning, as entry for general visitors may be closed during that time. We were little unlucky as we couldn't go down all the way to the stage which you normally can, due to an ongoing rehearsal of a play. There is no advance booking for general entry tickets and they can be purchased at the site. But if you want to watch a play there, book your tickets days in advance.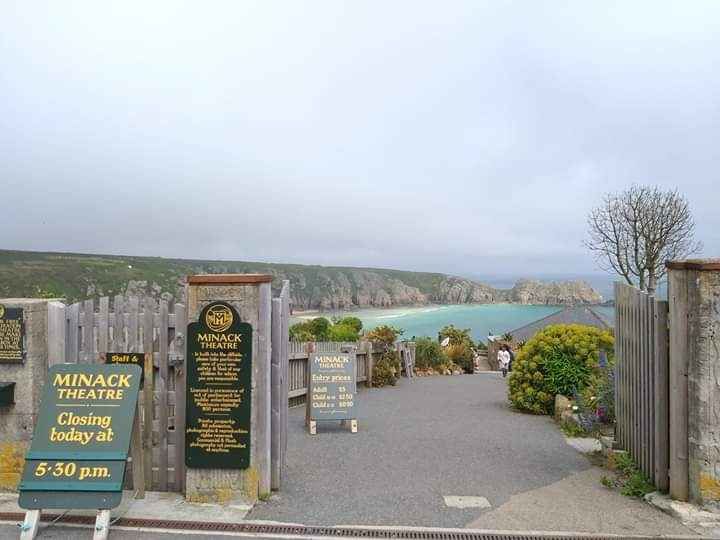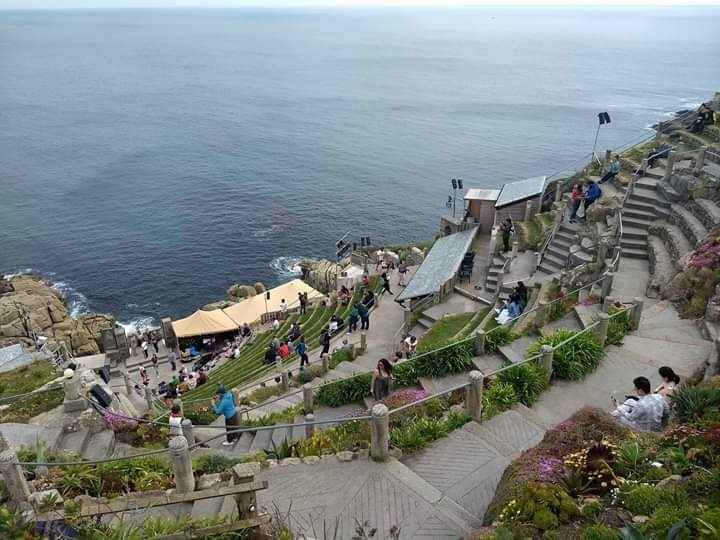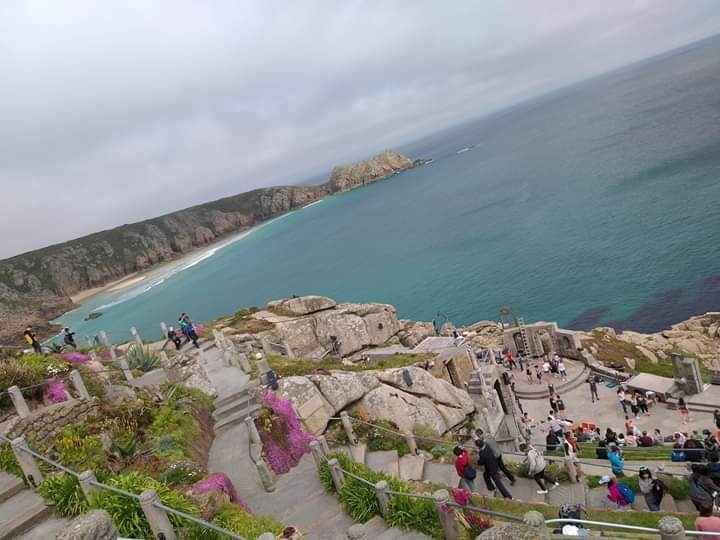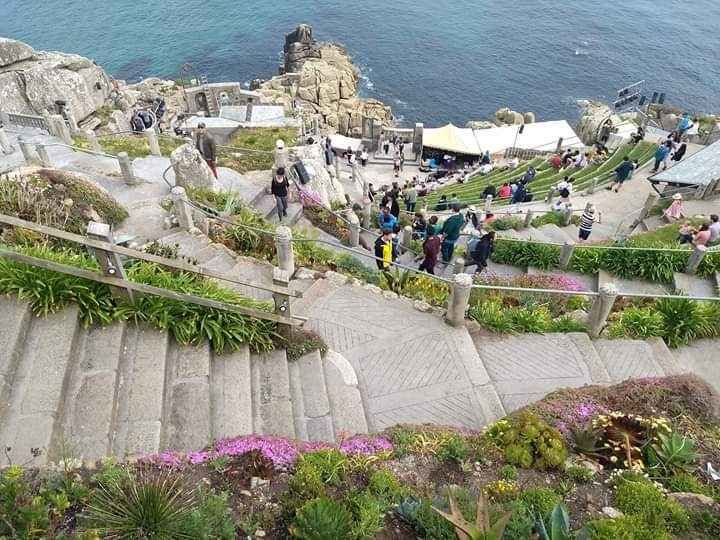 3. Porthcurno beach : This beach is on the south coast of Cornwall, at the foothills of Minack theatre. It has a separate car park and there are couple of nice cafes opposite the car park. It has blue turquoise water and the white sand beach. I had seen amazing photos of neighbouring #PednVounder beach on Instagram so wanted to see it with my own eyes. It is adjacent to Porthcurno beach and the two are separated by a cliff.
To reach Pedn beach you have to cross the cliff and then descend down to the beach, which seems to be adventurous. We did not go all the way down due to lack of time but me and my friend enjoyed a nice trek to the top of cliff while our kids were busy playing on the beach. From the top, we admired the views of both Porthcurno and Pedn vounder beaches...which were breathtaking.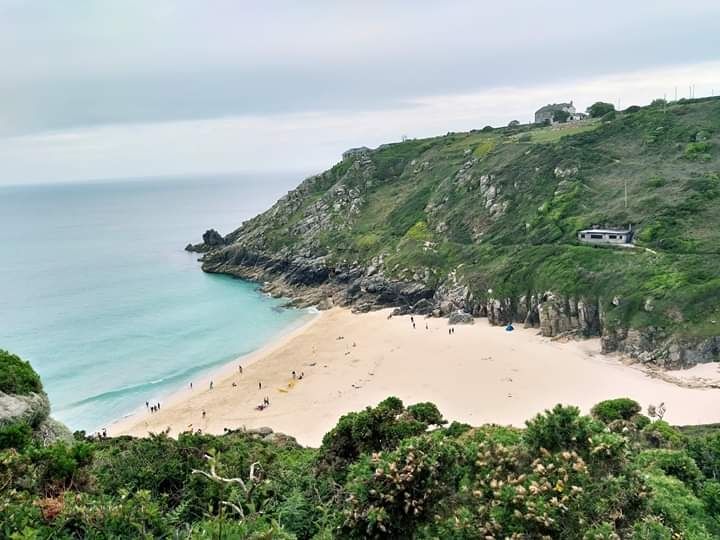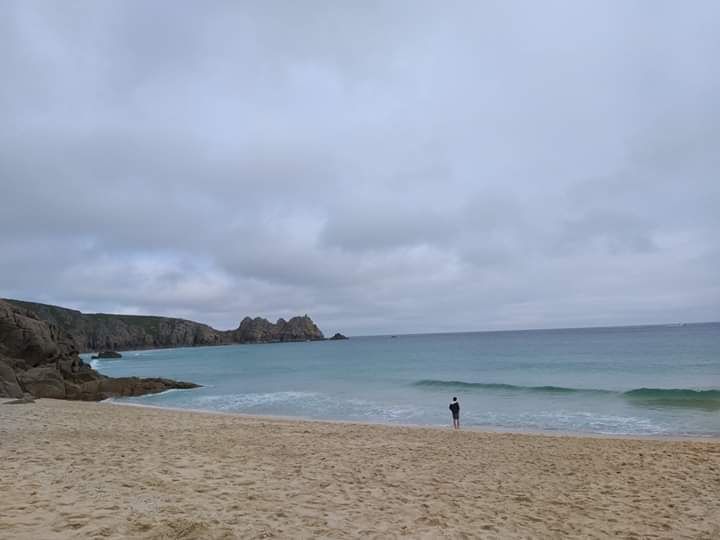 4. St. Ives : This is a famous harbour town in Cornwall. From the harbour you can see many small fishing boats bobbing in water, a nice beach and lighthouse nearby and seagulls all around. The area near the waterfront has many restaurants and bars which makes this place very lively. If interested in Arts, you can visit Tate's modern art gallery here. If you park your car in #Trenwith long stay car park, you can get a beautiful birds-eye view of the town and the harbour from there.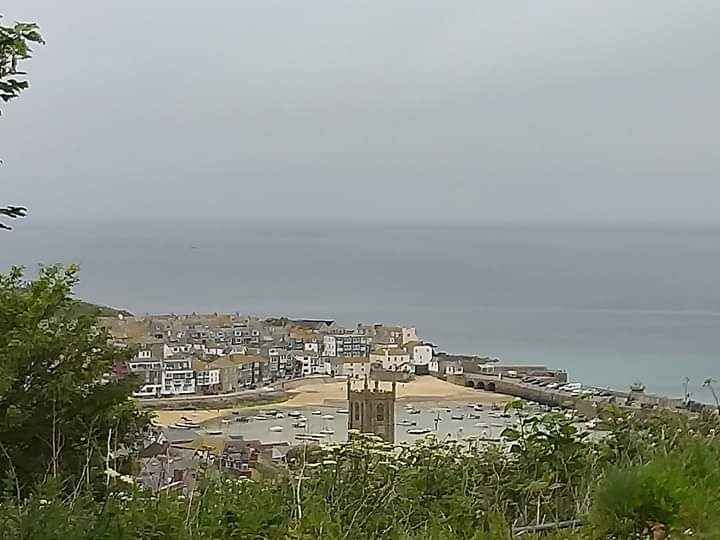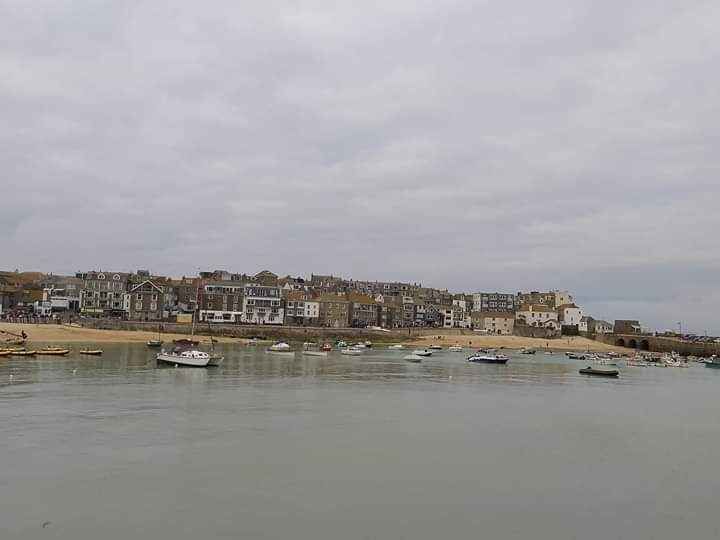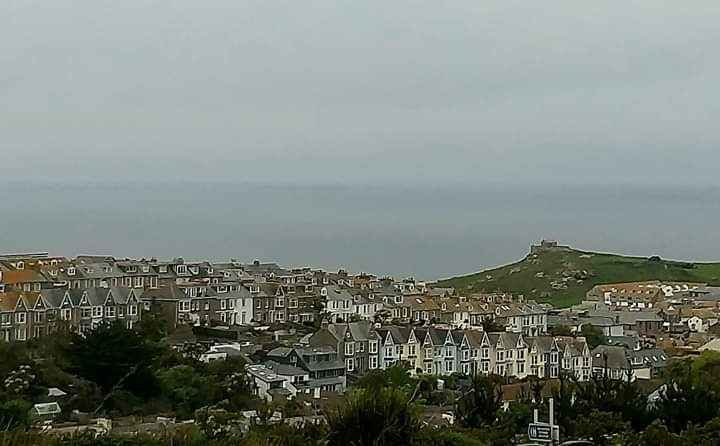 1. Towan beach, Newquay : #Newquay is one of the most visited town in Cornwall for the Towan beach. This beautiful golden sand beach is at the heart of Newquay, and is popular with amateur surfers and swimmers. It is lying at the bottom of a sloping hill and is eaily accessible. Cliff top promenade has many shops renting beach/surfing equipment as well as cafes and icecream shops.
There is a #BlueReef Aquarium for kids to enjoy. The main attraction here was "#TheIsland", huge rock cropped out on the beach, surrounded by water at high tide and creatd a sea pool at low tide. It is connected to the mainland by a 90ft high suspension footbridge dating back to 1902. There is an impressive house on the top of this island which was formerly residence of scientist Oliver Lodge. The sight of this island, supension bridge and waves spalshing between these cliffs with golden sand at the backdrop was astonishing.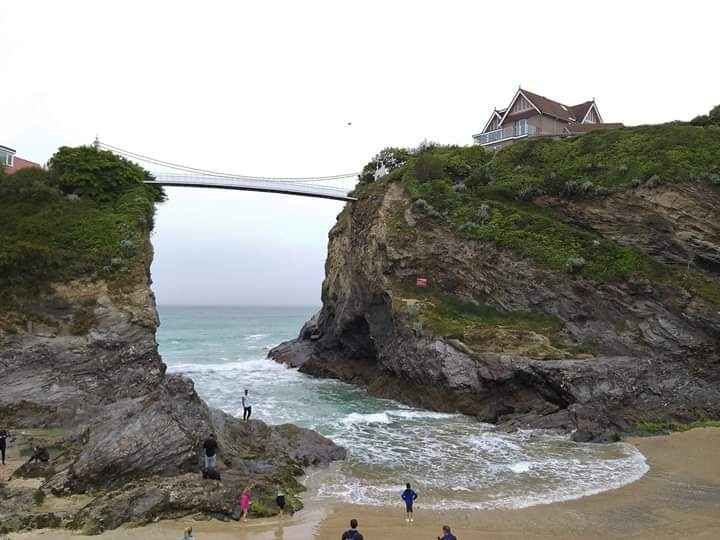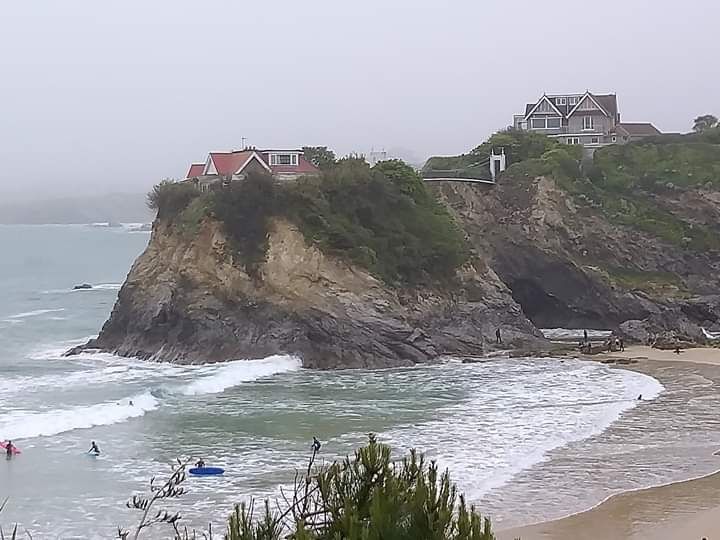 2. St Michael's Mount : It's a small tidal island in Mount's bay which is joined to #Marazion town by a causeway accessible during low tide. When we reached this place, it was high tide and the island was surrounded by water. Boats were plying from Marazion beach to the island. After taking a stroll along the beautiful promenade of Marazion, we had a delicious 'Sunday Roast' lunch at a nearby restaurant.
As soon as we came out of the restaurant, we were amazed to see that the water had receded exposing the stone causeway. Boats were anchored and people were walking on this causeway to reach the mount. If you want to see this amazing nature's wonder while sipping a drink or having food, visit the beachside restaurant "Godolphin Arms" for best views; but make sure to book a table in advance. There is a medieval castle, church and sub-tropical garden on the island. We were short of time (had to visit Kynance cove before high side) so skipped the visit to castle. There is nice play area for kids on Marazion beach. You can spend a full day at Marazion beach and St. Michael's mount. Check the timings of tides before visiting this place so you can see the magical mount during high and low tide.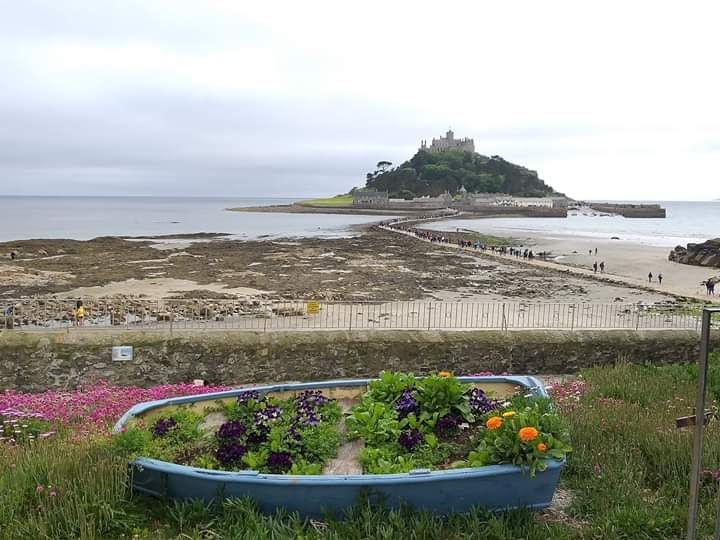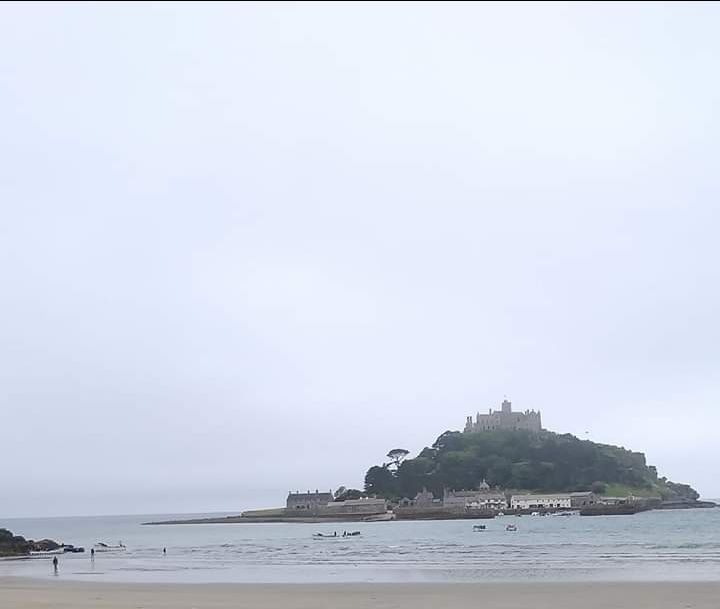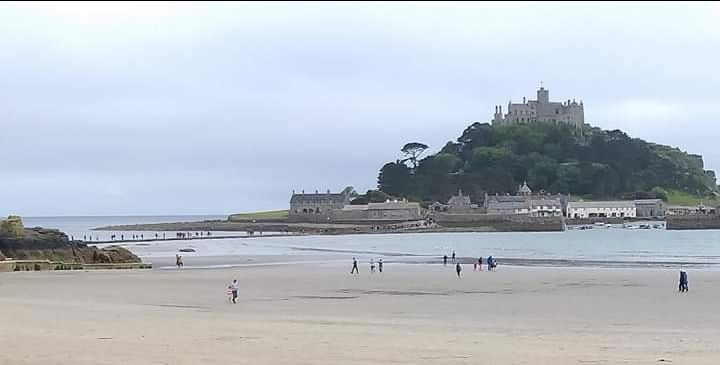 3. Kynance Cove, Lizard peninsula : This was the surprise gem of our trip. Whole setting of Kynance cove was so dramatic....nestled in cliffs of #Lizard peninsula, with super soft white sand, huge rock stacks stading on the sands, numerous caves carved out from the cliffs by the sheer force of water, splashing waves of turquoise sea. No wonder it is one of the most photographed place in Cornwall. When we parked our car and looked down from the edge of the cliff, the sight of white sand beach and the dark red and green serpentine rocks took away our breath. We walked down a steep path from the car park to reach the beach and view from each stage of the path was stunning.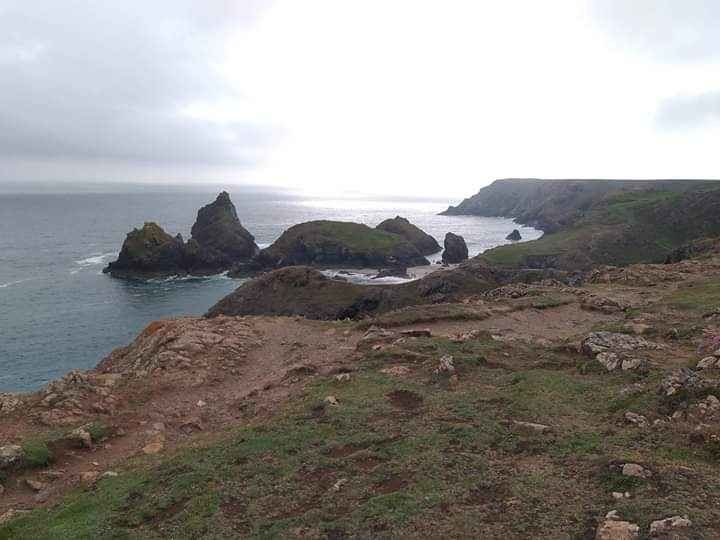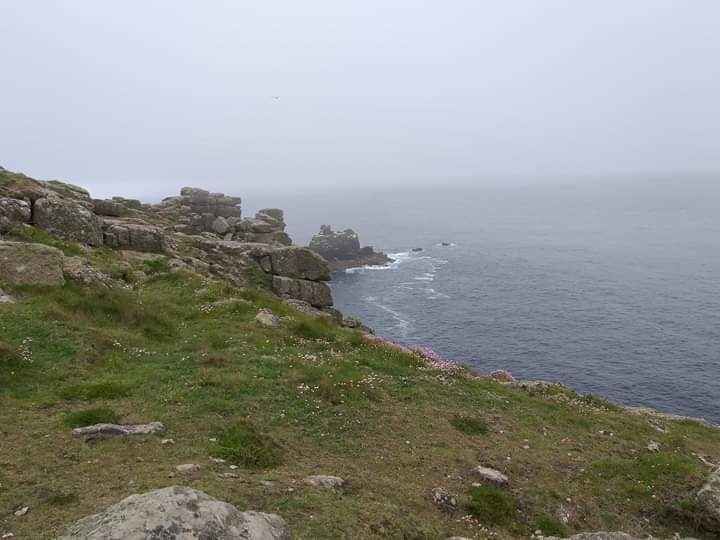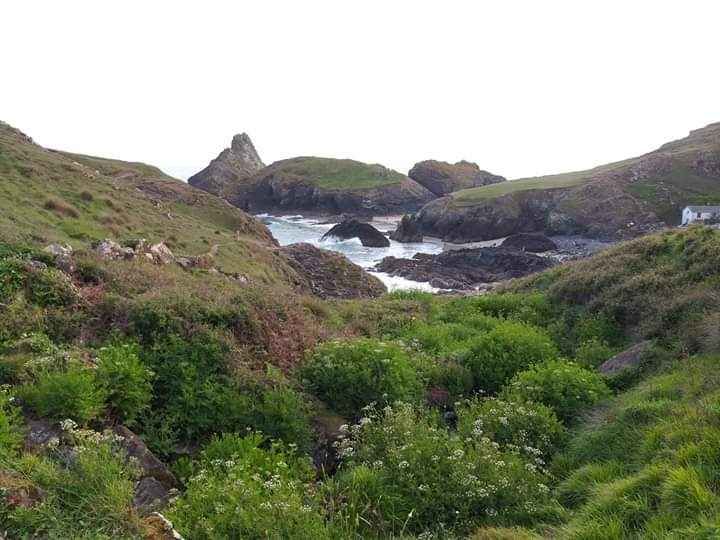 The beach was so soft and beautiful, with rock stacks surrounded by the sand adding up to its beauty. There are huge beach caves which get totally cut off during high tide. Make sure you visit this place during low tide as the beach and caves are accessible only then. Otherwise you will have to be content with a very limited view from the cliff adjecant to the car park.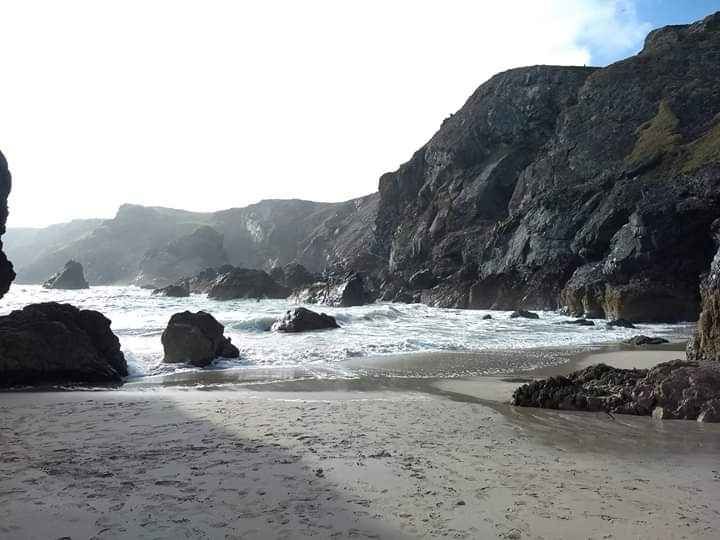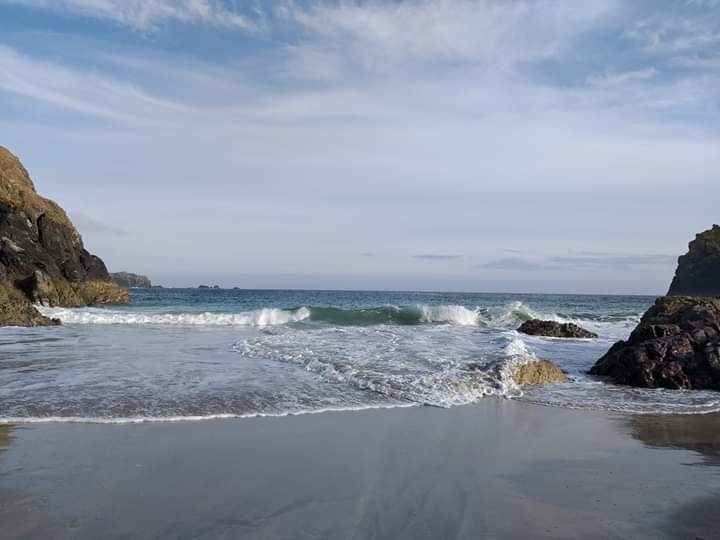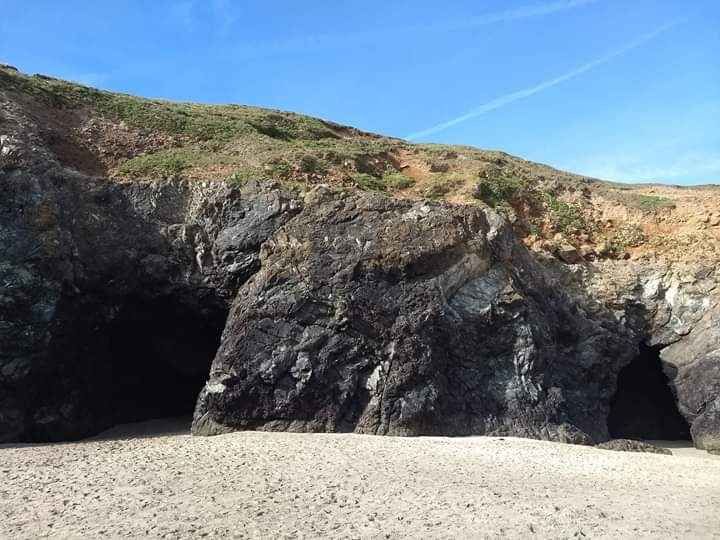 Lost Gardens Of Heligan : This is Britain's most famous 200 acres of secret garden, that was lost for decades amongst weeds, rediscovered in 1990 and restored to its glory. It has a beautiful Woodland walk. including trees, plants and exotic flowers from around the world. The ponds & lakes, farmlands including wildlife makes this a very pleasant walk. The sculptures of #Giant'sHead, #MudMaid and #GreyLady are interesting.. Highlight of the garden is a 100 ft long Burmese rope bridge, swaying above large-leafed ferns and tropical jungle plants.
You can cross the bridge on foot but due to a limit on number of people on the bridge at one time, there is a long wait in a queue to cross bridge. There were many activities for the kids including tattoo, drawing, wild-life related arts & craft and games, and the kids thoroughly enjoyed it. There are few onsite cafes and ice cream shops to satisfy the hunger pangs. Their shop near the ticket center sells variety of potted plants.
You may want to pop-in there if you are interested in expanding your garden. You can definately spend more than half-a-day here. One word of caution on the approach road to this park - Sometimes satnav misguides you as you get closer to the park and takes you through very narrow roads (barely enough for one car) without any passing spaces. If there is an approaching car, the only option is for one of you to reverse for a considerable distance. Things can get a bit tricky if there are cars behind you or in front as the whole bunch has to move. It happened with us as well as couple of our friends even with different satnavs. So, be watchful if you hit such a road.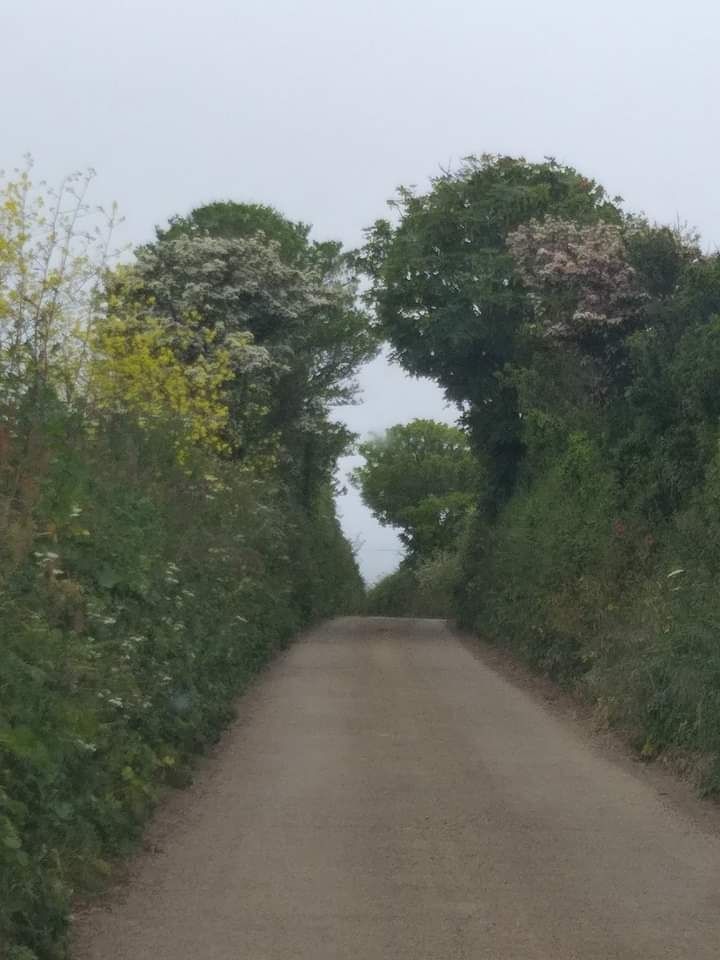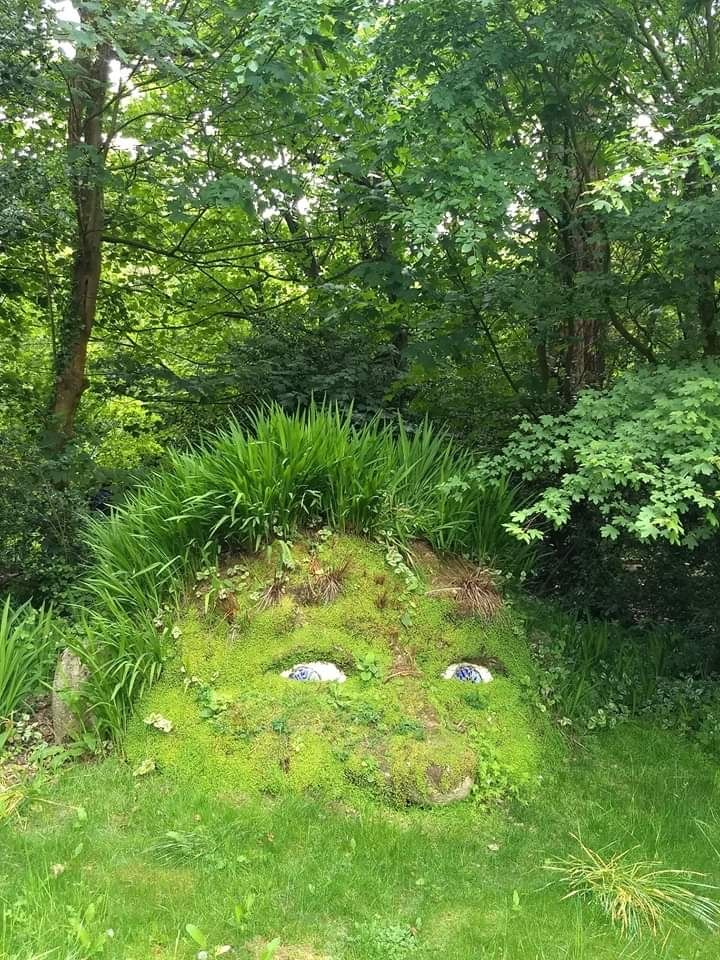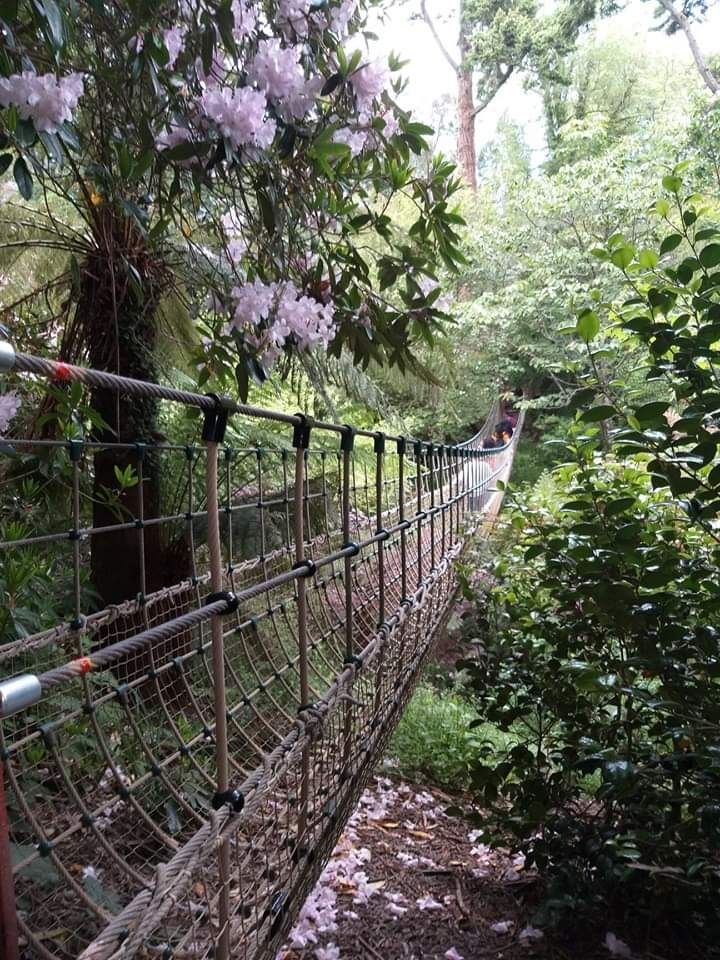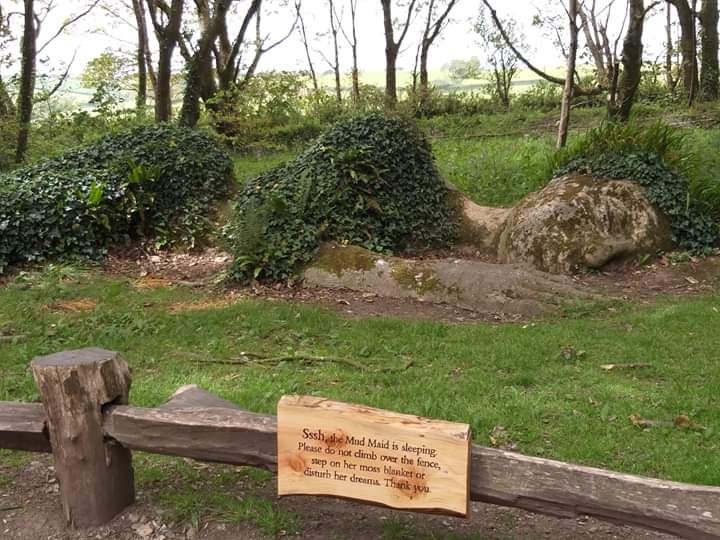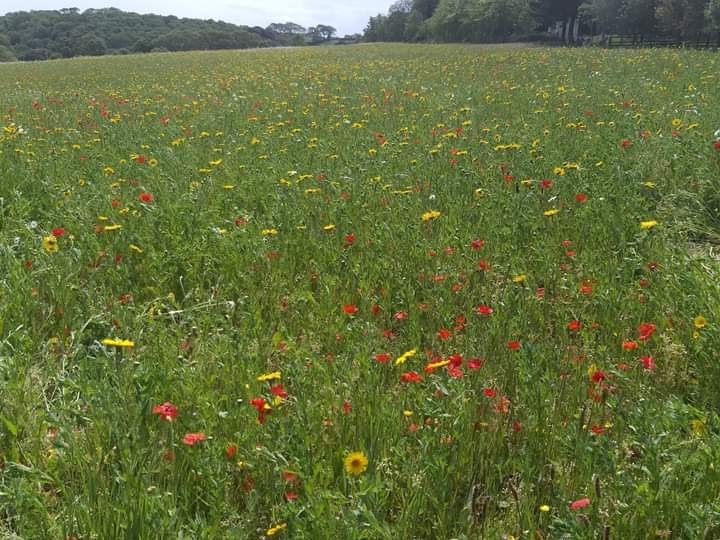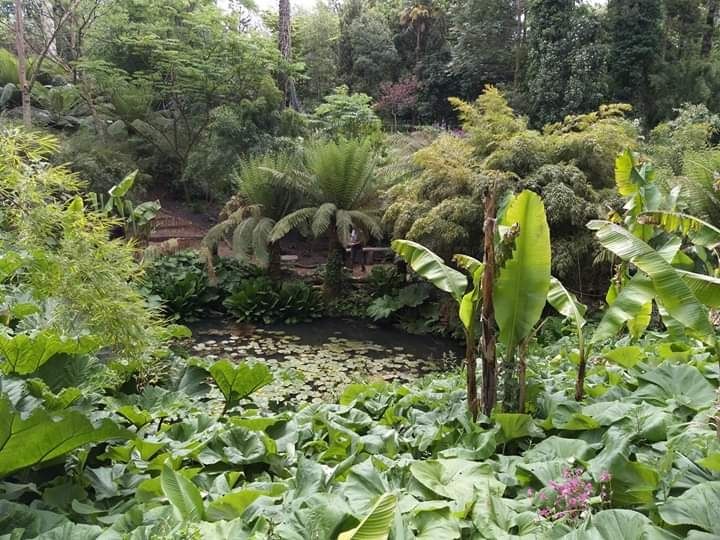 #Villages : We had planned to visit cute little villages of #Fowey, #Polperro and #Looe on our way back home but due to inclement weather, we had to skip those.
#Food : When one thinks of Cornwall, the first food item that one thinks of is the Cornish Pasty. But Cornwall is also famous for cream tea with scones, icecreams and seafood. Cream teas that we had in cafes near Minack theatre and Marazion beach were delicious.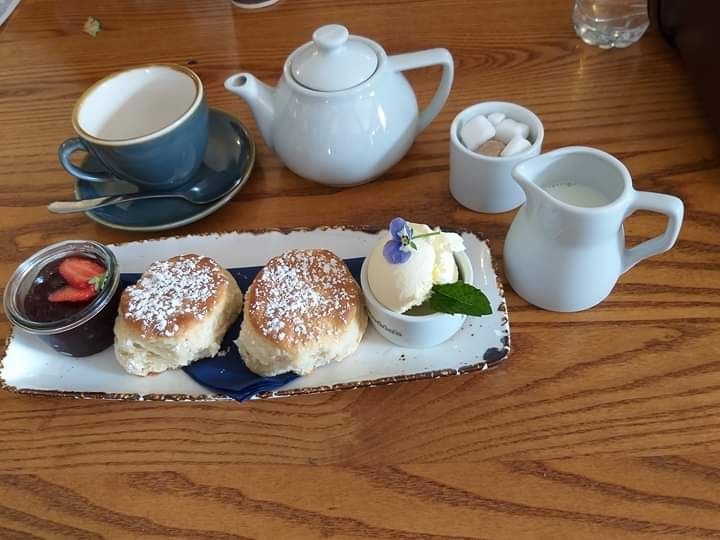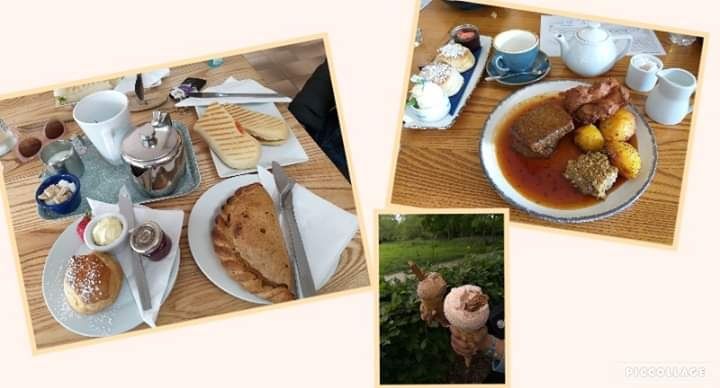 Overall, we had a fantastic trip to a place which offers so much to see and do. There are still many places (like Bedruthan steps, Tintagel castle, Padstow, Port Issac etc.) in Cornwall which we are yet to explore including it's many caravan and camping parks which we hope to cover someday.