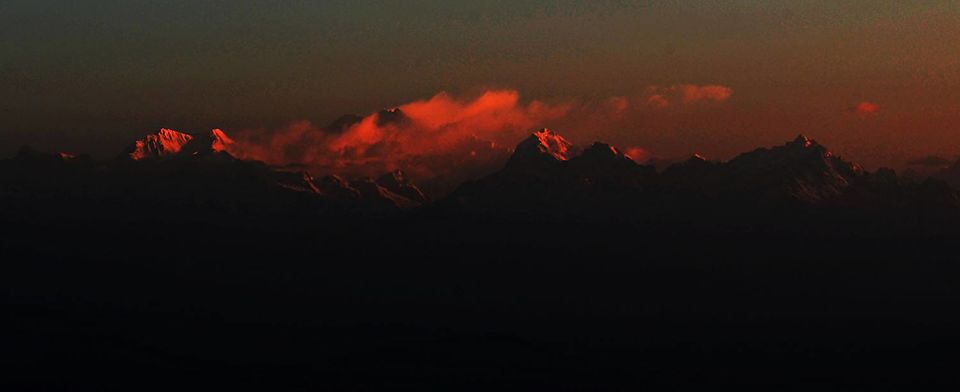 "And above all, watch with glittering eyes the whole world around you because the greatest secrets are always hidden in the most unlikely places. Those who don't believe in magic will never find it."
― Roald Dahl
You may have visited Darjeeling once,twice,thrice; maybe 10 times and more. But have you ever heard of this place, this tiny little hamlet called Dabaipani before? Well, as it turns out this hidden gem is just 19kms from the famous hill station of Darjeeling and you have to be there to believe it; this place offers one of the most breathtaking panoramic views of the Kanchenjungha and other adjoining peaks from this part of India. So lets just cut straight to the point, how did I come to know about this place? Well, obviously while searching through the internet and one Mr. Anirudhha Das of a wonderful startup site called www.bhramonik.com helped me get the booking of a simple and wonderful homestay at Dabaipani, details of which I will get to later.
How to reach: Get down at New Jalpaiguri railway station or Bagdogra airport and hire a cab (make sure its a Bolero/Scorpio/Sumo etc and not any hatchback) to Dabaipani for Rs.3000. If the cabbie has not heard of Dabaipani , tell him to take you to Jorebunglow; leave the road to Darjeeling, take a right and head towards 3rd mile. Then once you reach 3rd mile, take a narrow lane to your left and its just 3kms of tortuous downhill adventurous ride from there through the jungle to Dabaipani. You will come across a leopard breeding site on the way. Alternatively , you can just ask the owner of your homestay to arrange for a pickup from NJP station or Bagdogra airport. I am sharing the contact details of the driver who took us there till Dabaipani in his Tata Sumo and also for sight seeing from there. He is a very jovial person and a competent driver. Being a native of Dabaipani village he knows the area like the back of his hand.
Mr. Norbu : 8509141114
Where to stay: There are only a couple of homestays at Dabaipani as it is not yet a popular name among the tourists. One is the Tholung Moila homestay run by Mr. Biren Rai and his family. It is located a little higher than the other home stay which is run by Mr. Kabiraj Rai and his family. Both the homestays are very homely and are run by very cordial people. You can either contact them directly or you can get the bookings done through www.bhramonik.com. We went during the month of April when we were charged Rs.1200 per head per day inclusive of all meals. But tariff may vary seasonally.
Mr. Biren Rai: 9641452718
Mr. Aniruddha Das, (Head of Bookings,'BHRAMONIK) : 7477750111
Our experience at Tholung Moila homestay: While you should not expect anything fancy in these homestays, I must say the warmth of these people makes your stay very special and comfortable. The open air porch in front of the Tholung Moila homestay offers you a breathtaking panoramic view of the Kanchenjungha in the morning while the lights from the city of Darjeeling makes it a spectacular view in the evening. The honest try by Mrs. Rai to set up a barbeque in the evening made partly semi cooked, partly burnt chicken palatable in that wilderness. They also have chickens, puppies, a cow and a well maintained huge kitchen garden at their backyard which was basically on the steps in the hills. The food was homely , in ample quantity and the vegetables fresh from the kitchen garden. The temperature dipped down at night and also there were intermittent showers which made us cover ourselves in 2-3 layers of blankets. A bottle of rum will also help you beat the chill. Another special mentionworthy experience was taking an open shower in ice cold water in the morning in front of the majestic Himalayas. It felt like all the baggages of our daily urban life were washed away. Mr. Biren Rai will tell you a lot of tales from his village and he will also be your guide through the jungles of Dabaipani. A personality of a kind, Mr. Rai does not leave any stone unturned to make sure his guests are having a gala time. Overall we had an enthralling and rustic experience in Tholung Moila Homestay which left us rejuvenated.
Things to do: Honestly speaking, once you are in Dabaipani , you don't need to wander around much because there ain't any place around which will give you a better view of the Himalayas than this place. But , the wayfarer in us led us to the nearby jungle trails which was another adventure in itself. Make sure you carry proper footwears, umbrellas and enough water before you venture into one of these trails. You can find a variety of birds, exotic flowers and orchids, deers, sambars , barking deers, foxes, wild boars etc and if you are (un)lucky enough you might even come across wild bears ( stories of which Mr. Rai will often tell you throughout the hike). You can also take a trip to Chatakpur, Tinchuley , Takdah tea estate, Jorepokhri and around from Dabaipani. Roads to all these places are not amazing , sometimes they don't even exist but the surrounding natural beauty will make you ignore the bumpy rides. But make sure your vehicle is a SUV with good strong tyres.
Checklist before you travel to Dabaipani: A good pair of trekking shoes, mosquito repellants, umbrellas, raincoats, torch, enough winter wear and an adventure seeking mind.
Go visit this place and experience the tranquillity first hand before more articles like these make it a crowded tourist destination. It's a refreshing change from the busy streets and crowded mall of Darjeeling. Check out the photos if you are looking for any more inspiration.