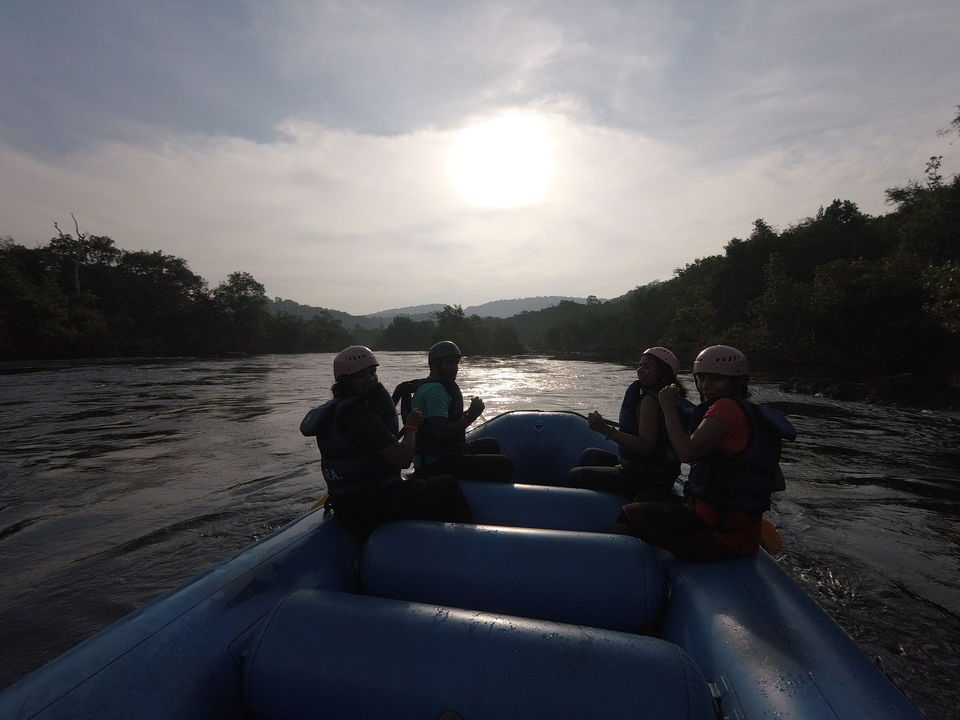 We live in a wonderful world and it has lot to offer – Beauty Charm and Adventure. There is no end to adventures that nature offers us, if only we can seek them with open heart and mind. And yes one fine day My companion for life My Husband asked me out loud – Hey!! Let's go an adventure!! What say? And the very next moment we planned a trip to DANDELI.
We boarded a train from Bangalore city junction to Alnavar junction – RaniChenamma Express. It was an overnight journey. The pre-booked cab have taken us to Magenta resort Dandeli – a home for next 3 days, around 35 kms away from Alnavar.
We were greeted well by resort staff and checked into our lake View cottage. We freshened up took yummy breakfast, and I must admit the food in Magenta resort is delicious enough to appeal to our taste buds.
We started with water activities that were free from Resort like we went for Kayaking, zipline, coracle boat ride, Burma bridge, archery, gun shooting, it was exciting and left us longing for more of adventure.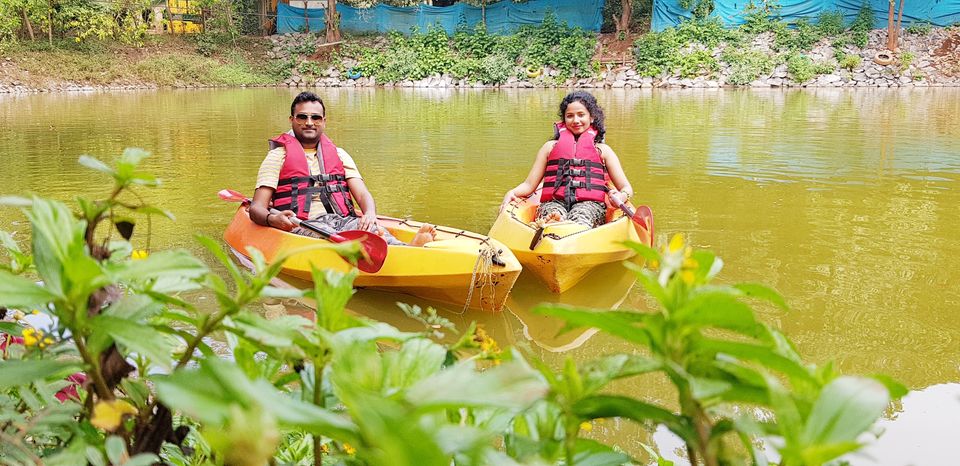 And then came the real adventure sport, DANDELI is famous for KALI RIVER RAFTING.
We had options –
Rs 500 short rafting through just one rapid, Rs 1350 per head for long duration rafting covering 9.5 kms – 12 to 15 rapids, Rs 1500 for vehicle to reach the starting point of rafting 1500 rs for videos and photos.
I would recommend doing the long duration rafting which we have opted for.
We looked at each other with a spark in eyes and excitement in our heart and then another excited set of words – Oh darling!! Let's be adventurous and float over the river through the woods.
As we decided and booked the long duration rafting – a thrilling sensation filled us from head to toe. we were a group of five, two other ladies joined us from our resort and one trainer. The boat has capacity of around 10 people.
Our trainer was Mahesh having an experience of 15 years in rafting he told us that he will give commands and we need to act accordingly like "all forward, all backward, get down get back and many more", he provided us with a knowledge about safety measures.
We both sat front and as we embarked on our journey, the first look of rapid and adrenaline rush went down through our spine, we were totally drenched in seconds, the fun laughter continued and we got along with Kali river so well, the lush green vegetation surrounding the river the chirping of birds the flowing water sound and a setting sun, no view and experience could be more exhilarating.
It took 2.5 to 3 hours to complete the rafting.
We were so thrilled that we didn't wanted to come out but yes we shouldn't cry because its over rather smile that it just happened.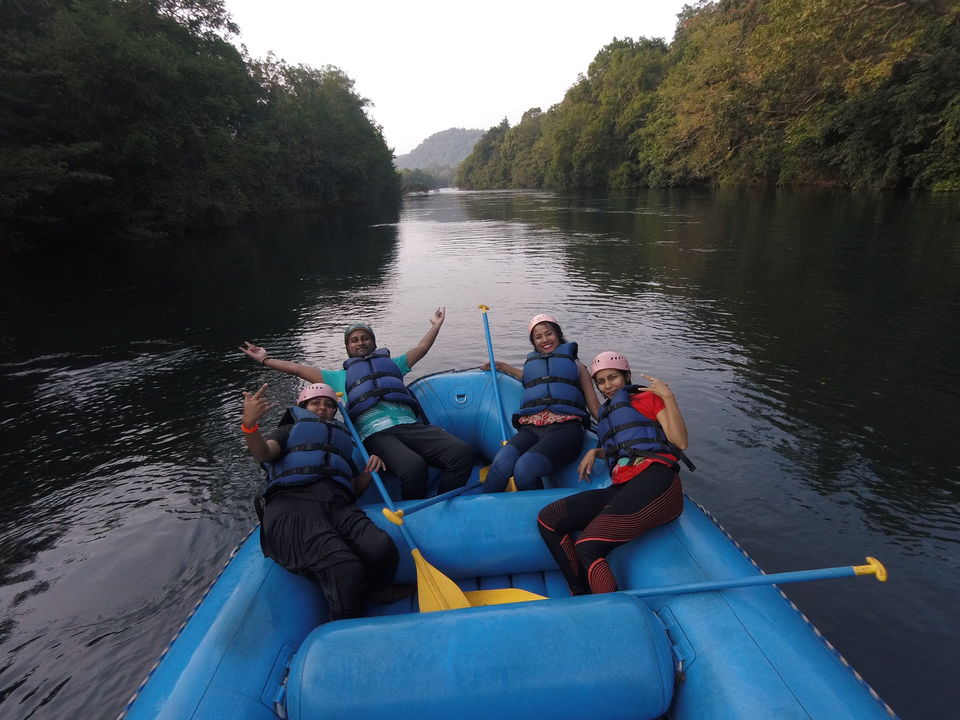 We returned to our resort took coffee and got ready for Bonfire, good music good crowd the warmth of bonfire was fulfilling we danced to our heart's content and had dinner.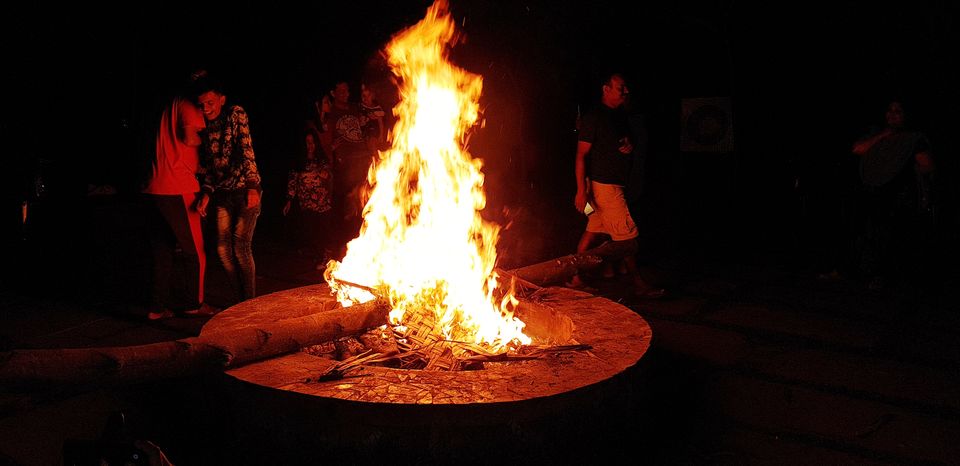 The first day of the trip was in the name of adventure.
Next day we went for open jeep safari at Kali tiger reserve at 4:30 AM in the morning, it was 25 Kms away from our place , tickets were booked at first come first server basis we got our tickets at 5:30 AM for Rs 450 per head the jeep had a capacity of 6 people and we started at 6 AM ,it was icy chilling weather , the reserve is famous for Black panthers tigers and variety of birds. We could spot Brahminy White Kite, kingfisher, Deers, Elephants and Sambha Deers, but the weather didn't disappoint us, we had spent around half an hour at a viewpoint and could hear sweet voices of Indian iora.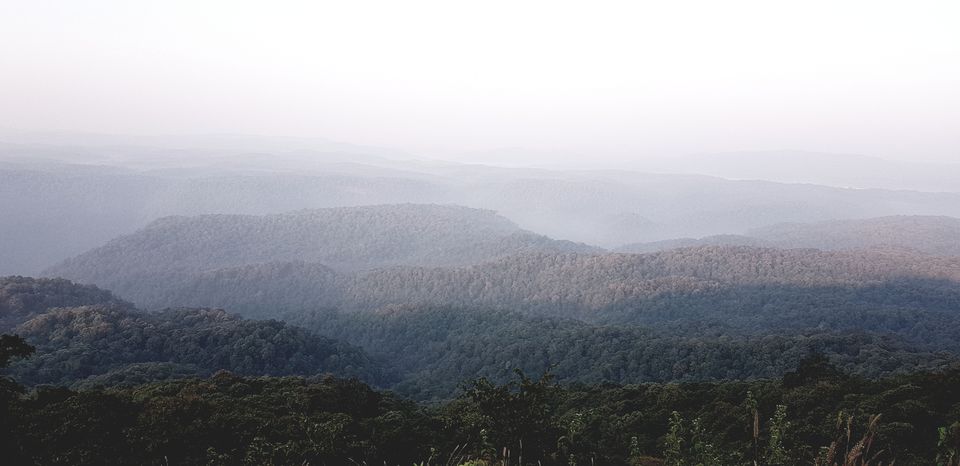 We went back had breakfast and headed for sightseeing, the first spot was Syntheri rocks, it is located in dense Dandeli wild life sanctuary and we got lucky to spot two wild dogs, first we thought it is wolf or fox but then were corrected by cab driver, the wild dogs don't looks like stray dogs at all. Syntheri rocks are monolithic granite structure and river Kaneri flows through it,it is eroded by the river and has caves like structure, the river flowing through rocks has small fall kind of texture.
Due to lots of mishaps with people trying swimming there, going to rocks near the water is restricted now. We came down to 200 to 250 steps and then climb back, it was beautiful sight indeed.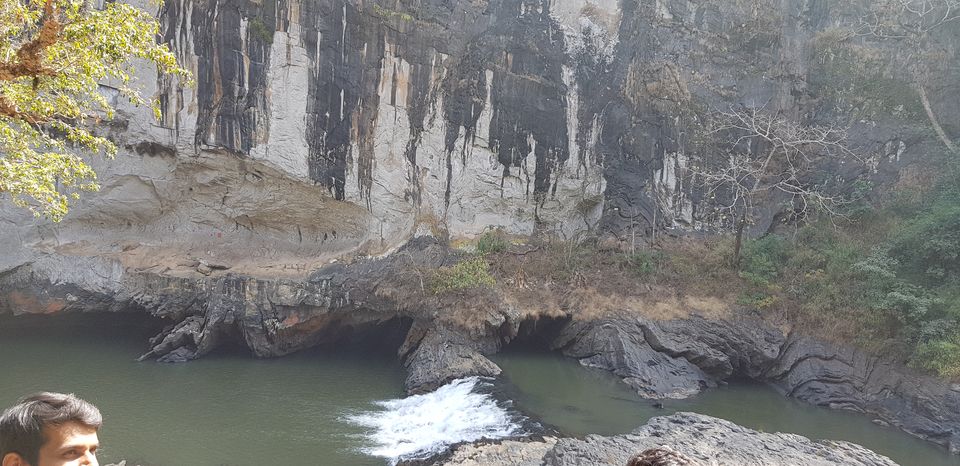 Later we headed for backwaters it is like a picnic spot clicked some good pictures and then headed for Sykespoint.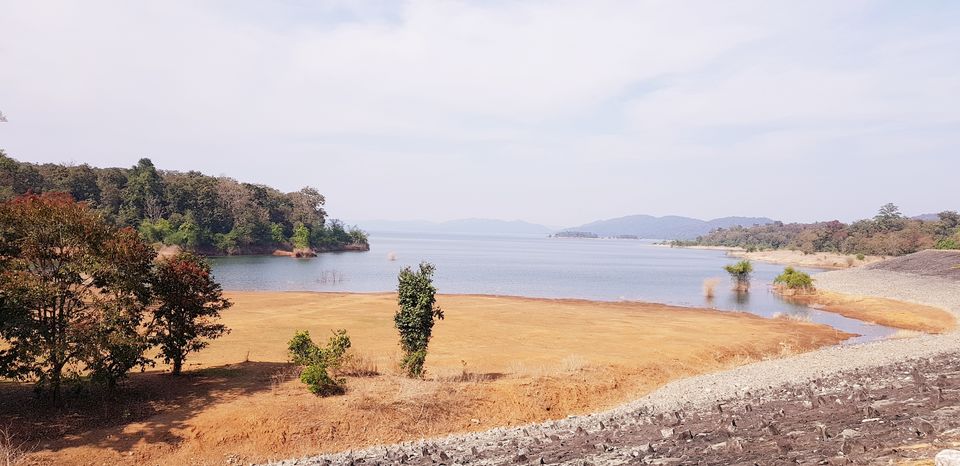 Sykespoint is at a distance of 24 Kms from Dandeli.It offers beautiful views of deep valleys and dense forest covering the hills , a loveliest view of Nagzari River and river Kali confluence. It is famous for beautiful sunset and giant Hornbills. They have Nagzari Power house of Kali project located at bottom of the hills. Karnataka Power Corportaion ltd. operates this power station.
Due to this project photography and video recordings are strictly prohibited. Even getting permissions to visit this place is mostly unlikely. Luckily through our resort manager we managed to get the permission.
We need to have Karnataka Government ID Proof, after all the verification the entry to Sykespoint was granted.
As the weather was clear and sunny we have experienced the best sunset till date together, we got doubly lucky as after the sunset we could hear chirping voice and looked down and spotted a giant Hornbill and then a group of Malabar Pied Hornbill flying.
This was very joyful experience.
We headed for resort enjoyed bonfire and happy meal.
The third day, we got up at 6 am to get ready for nature walk and bird watching activity.
As we went to the balcony of our cottage we could spot a Pond heron and we were smiling at each other and singing "Agaaz ye hai to anjaam hoga haseen"(if the start is beautiful the ends going to be even nicer). We started at 7 am and went inside the jungle and then near to Kali river, we could spot many beautiful birds like: Pond Heron, Egret, Brahminy Kite, Kingfisher, Common Iora, Common Tailorbird, Purple Sunbird, White Cheeked Barbet and few more colorful birds but can't recall the name.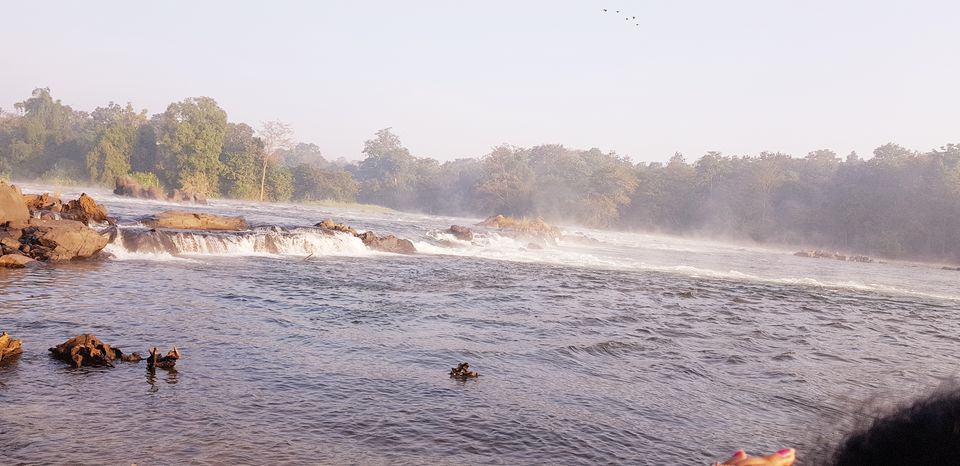 After returning back we got ready for a drive to Yellapur to see Magod and Shirale waterfalls.
Magod waterfalls was lovely, the tourist were few as I think it is not much known to people, it was worth the visit, but yes would have been a better sight in monsoon.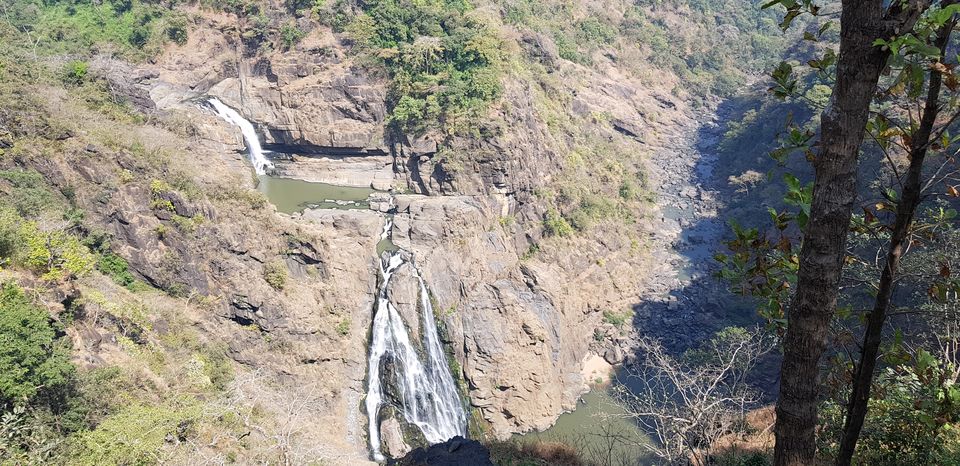 We left for Shirale falls and it was long and tedious trek , the crowd was mostly few local people. The entire round trek was around 8.5 km, full of greenery and adventurous route. This was the last point we covered we couldn't go to Sathodi falls and Vibhuti falls due to lack of time. We returned to Alnavar junction to catch out train back to Bangalore.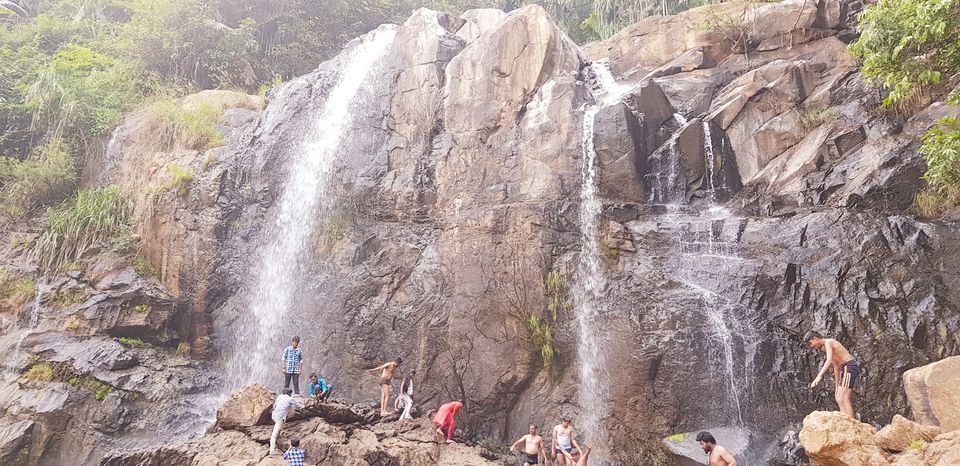 This trip was happening exciting and thrilling one, loved it to the core.
Plan for this trip and explore,Happy Traveling :)