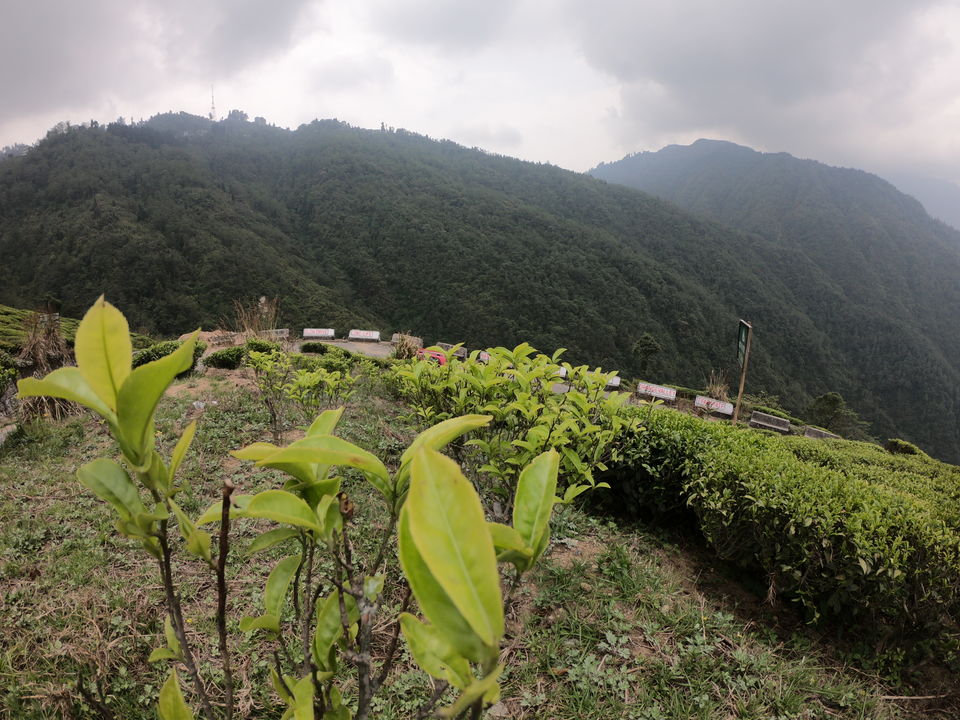 Despite having born and brought up in Kolkata - I had never been to Darjeeling - until April, this year (2018). I planned the tour only a month in advance.As a result, did not get railway reservation on the desired dates. Hence, had to curtail our itinerary to only 4 days (by the 5th day we were back home again). I and one of my cousin brothers, Subha embarked on this tour.
Journey began from our home, Kolkata. We boarded a NBSTC (North Bengal State Transport Corporation) non-A.C semi-sleeper bus from the Esplanade bus depot,Kolkata. The bus started for Siliguri around 6.30 pm in the evening.
[Note - Our train (HWH-NJP Special) got cancelled on the date of our journey due to some unknown reasons - had to book seats in this bus online, few hours before the journey]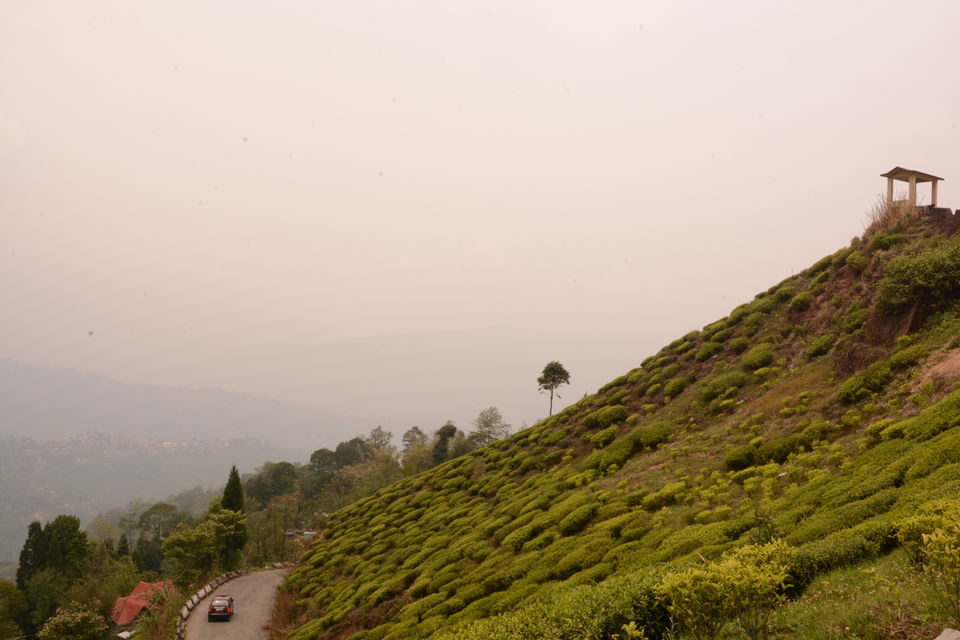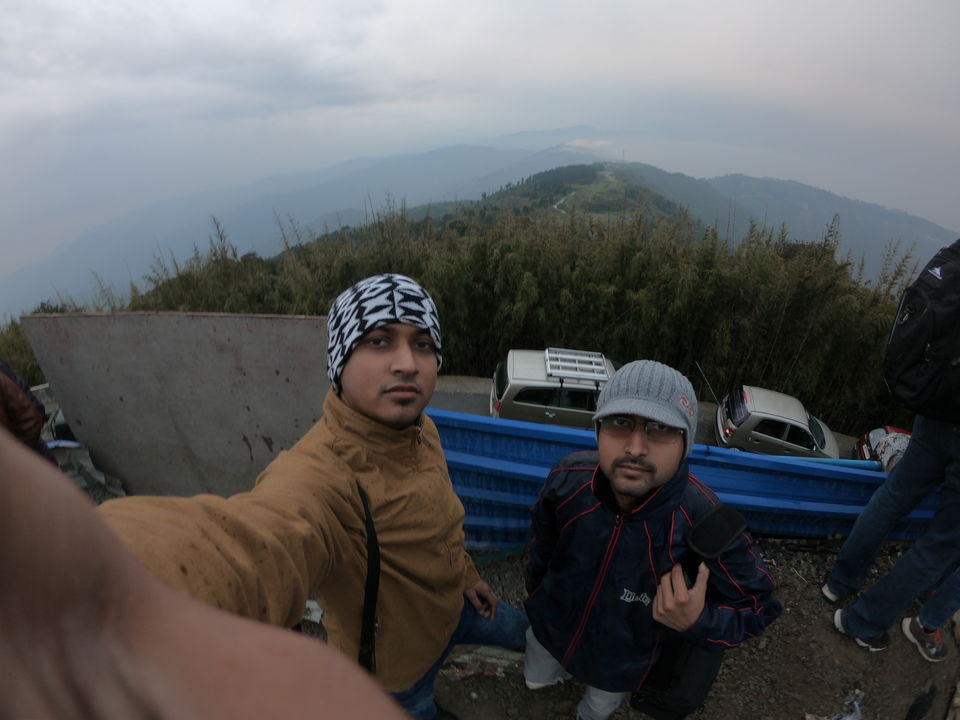 Day 2
Next day around 10.30 AM, we reached Siliguri bus stand - 2 hrs after the scheduled time of arrival.
[Note - Ticket cost per head for this bus journey (~560 kms) was Rs421/-]
We checked in at Hotel Vishal - a budget hotel at 1 min walking distance from the bus stand. In the next one and half hours, we got refreshed, had some food in the restaurant and got our phones fully charged. Around 12.00 pm, we checked out and headed towards the nearby Taxi stand.
[Note - Both shared and private taxis for Darjeeling and Sikkim are available here. Shared car fare to Darjeeling was Rs150/- per head; while depending on the type of car, rate of private taxis varied between Rs 2200 to 3500, roughly]
We opted for a shared Tata Sumo at Rs150/- per head. Had to wait for 30 mins before other seats were filled up.
It took us around 4 hrs (with one halt mid-way at a humble eatery) to reach Darjeeling. We got down at the Gandhi Road Police point near the Clubside taxi stand. This is one of the two taxi stands in Darjeeling, the other being the Chauk Bazar taxi stand.
From here (Clubside taxi stand), we walked about 7-8 min, crossing the famous Darjeeling Mall and reached Bhanu Bhawan. Then walking slight uphill with the view of St. Anthony's Church on the right, and Darjeeling Gymkhana Club on the left - we reached our hotel, ie Darjeeling Tourist Lodge (DTL) run by West Bengal Tourist Development corporation (WBTDC).
Situated in a quaint location, near the ancient but gracious St. Andrews Church, DTL is perfect for budget travelers who want to spend their vacation away from the dins and bustles of the town centre. Our rooms in the annex building was large and tidy with basic amenities.It cost us around Rs1600/- plus tax (note, rate may vary with season) per night - and I do believe it was a fair deal. The chance to view the snow-clad peak of Kanchenjungha from DTL's rear garden was icing on the cake.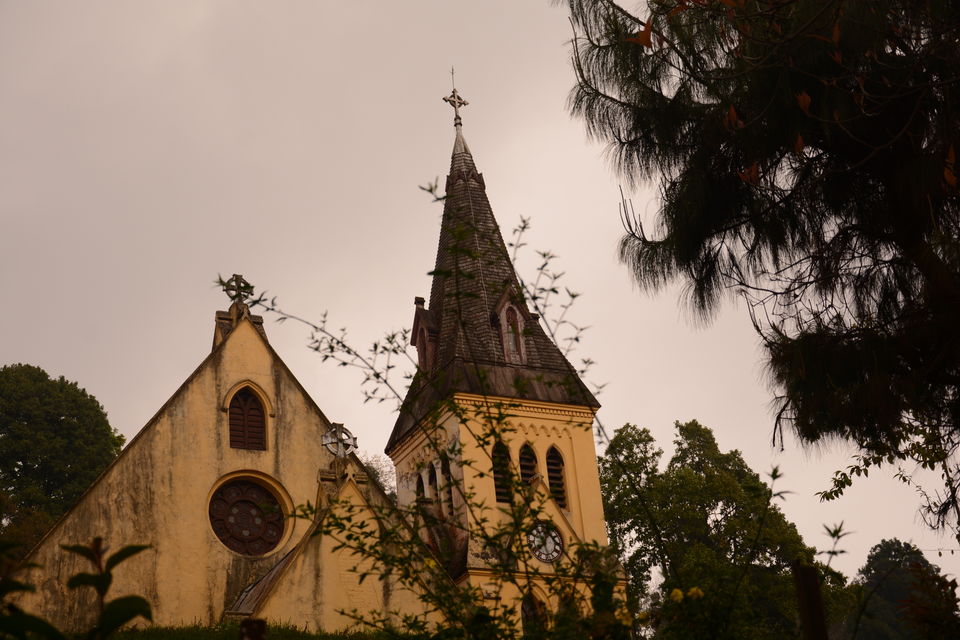 That evening we stayed indoors - bit tired from the journey. Went to the rear garden and relaxed there for sometime. Had delicious egg pakoras and Darjeeling tea in our room and planning for the tour ahead.
DAY 3
The next day post-breakfast (had some snacks we stocked earlier) we started early around 8.00 am for our customized half day tour. We reserved a private taxi (Hyundai Santro) for Rs2500/- from the nearby Clubside Taxi Stand and began our journey. Our driver-cum-guide for the day - Mr. Som was very polite and cooperative throughout. You can reach him at 9083355721.
The weather was not sunny; in fact it started drizzling shortly after. Though rain was short-lived, the weather remained gloomy throughout that day.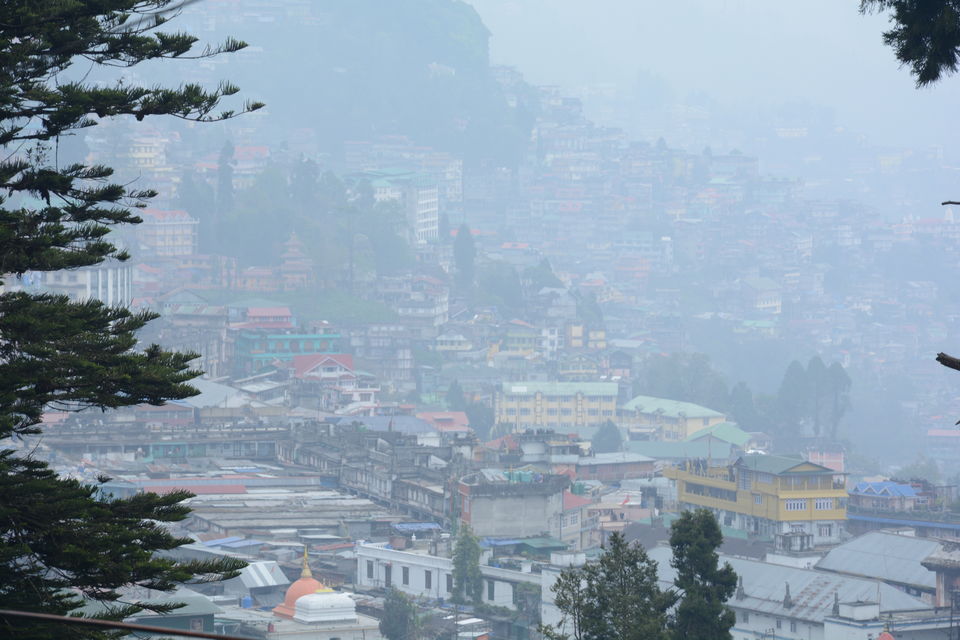 Our first stop was at the Japanese Temple and Peace Pagoda, located on the slopes of Jalapahar Hills, few km off Darjeeling town centre.
The ambiance was really very peaceful here and the huge milky white Pagoda looked splendid amidst alpine vegetation on the hill slopes.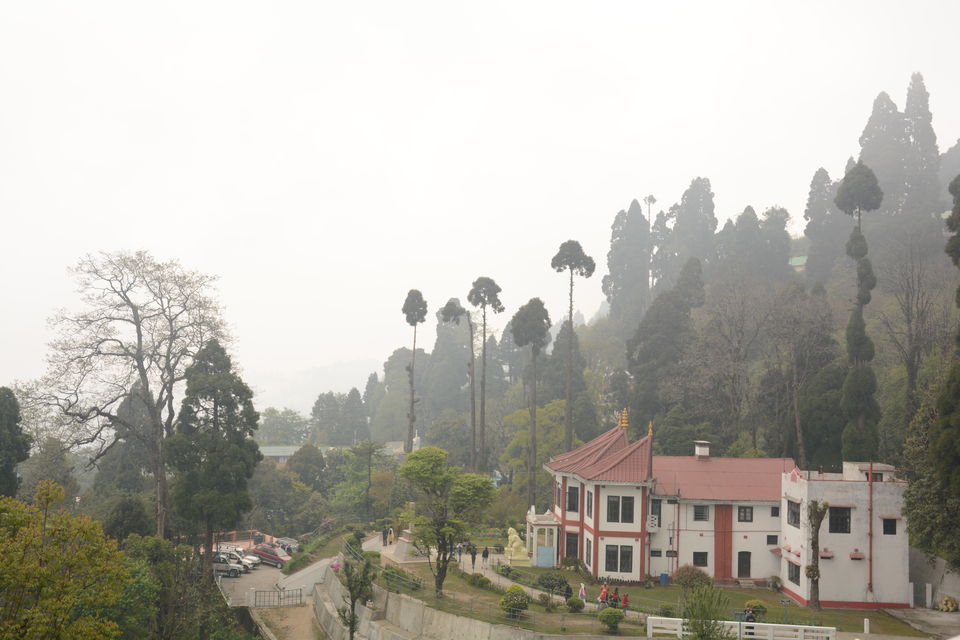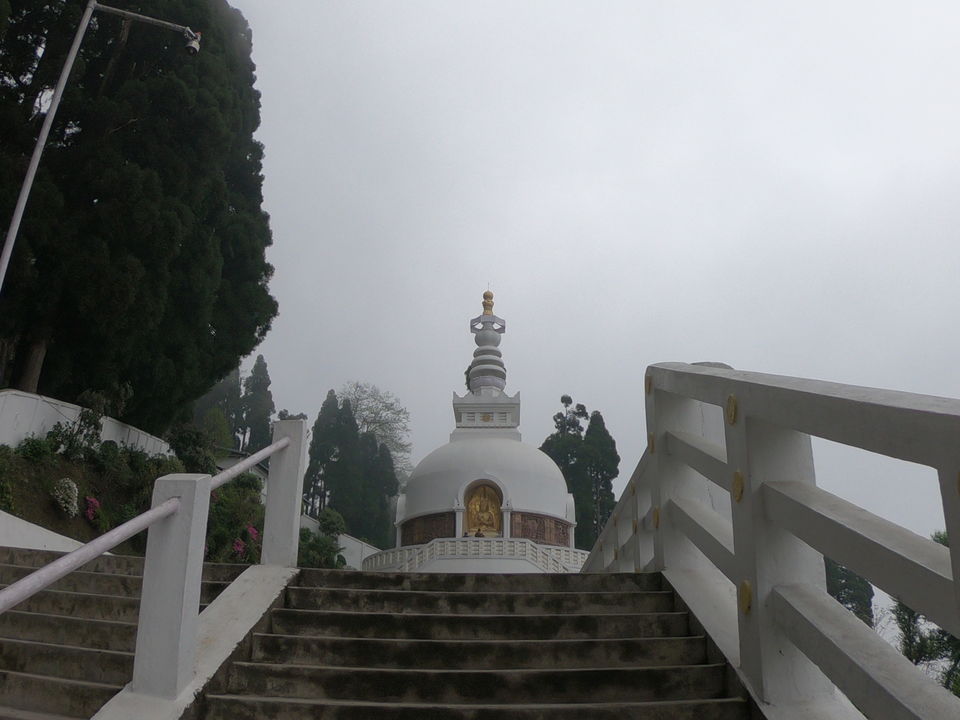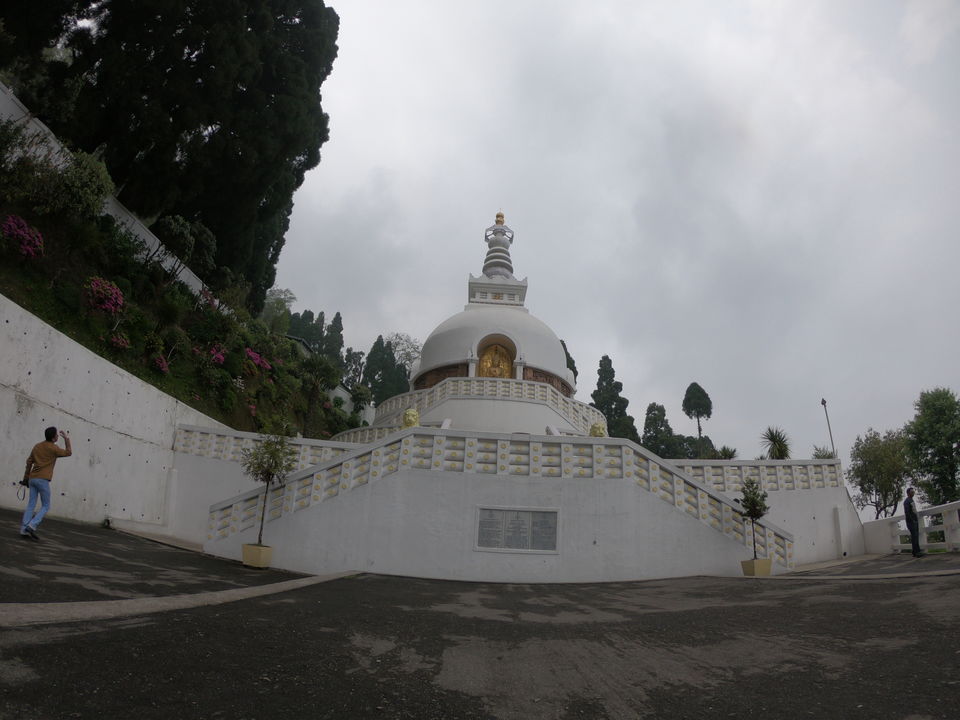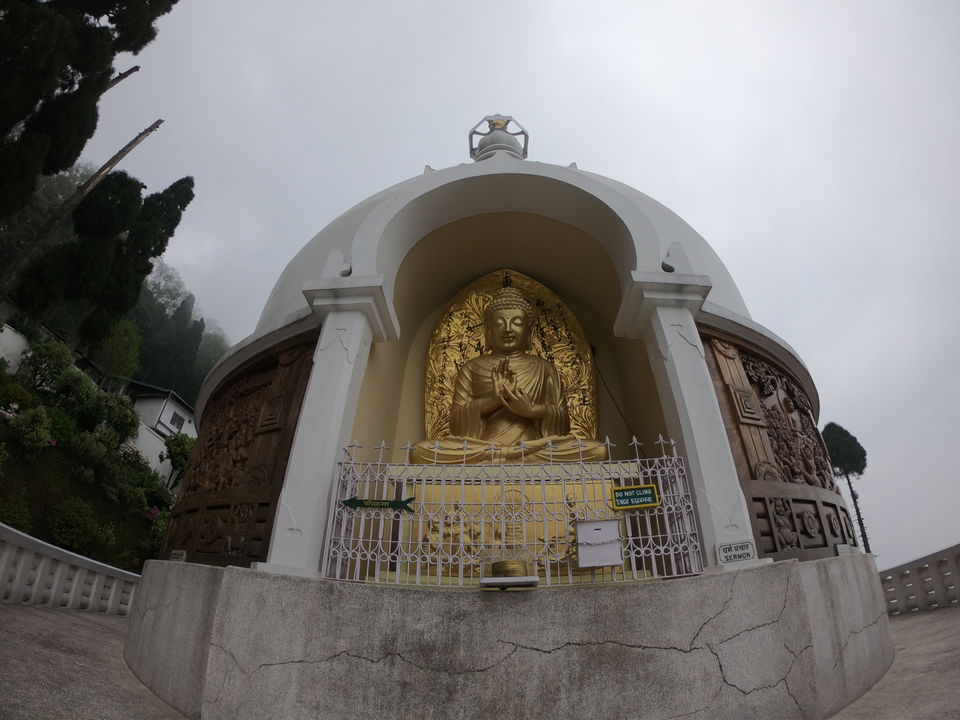 After spending about half an hour here, we started for the Dali Monastery (actually, Druk Sangag Choling Monastery situated at Dali).
An unassuming structure from the road below, Dali Monastery will surpass your expectations once you climb a few stairs to reach the main complex. It really is an exquisite architectural paradigm with awe-inspiring intricate decorations and contrasting colors. It is a photographer's delight. Once you climb up, you also get a magnificent view of the serpentine roads beside the valley below. In the complex, you would find little novice monks busy reading in their classrooms or scampering within the complex with such glee on their face, which is hard to miss.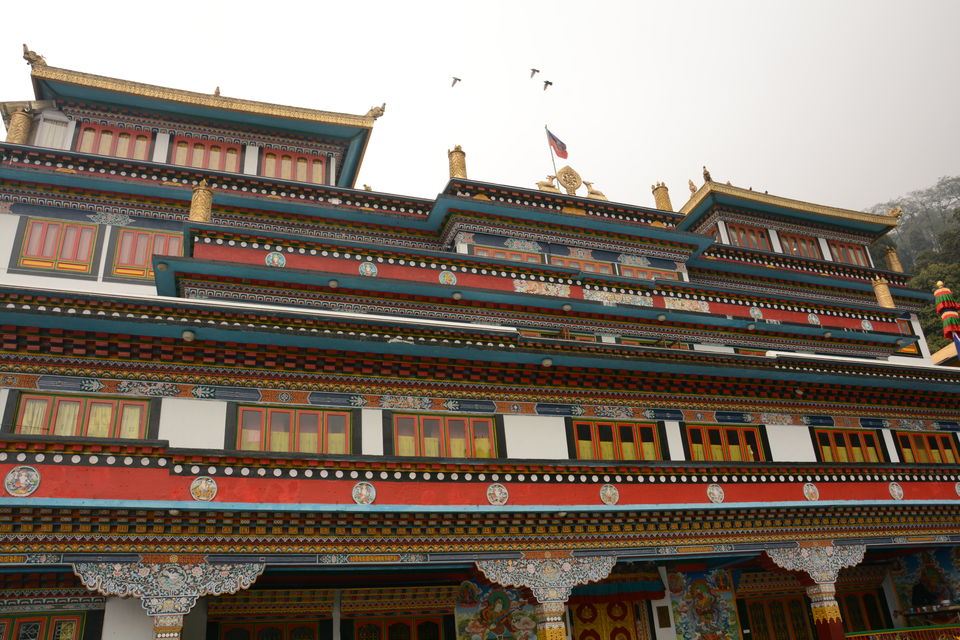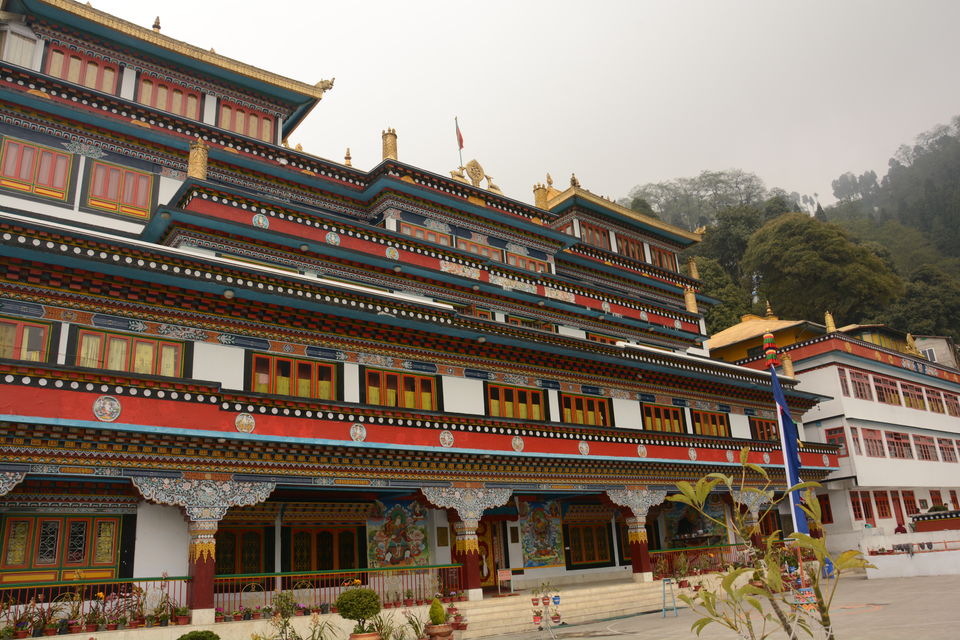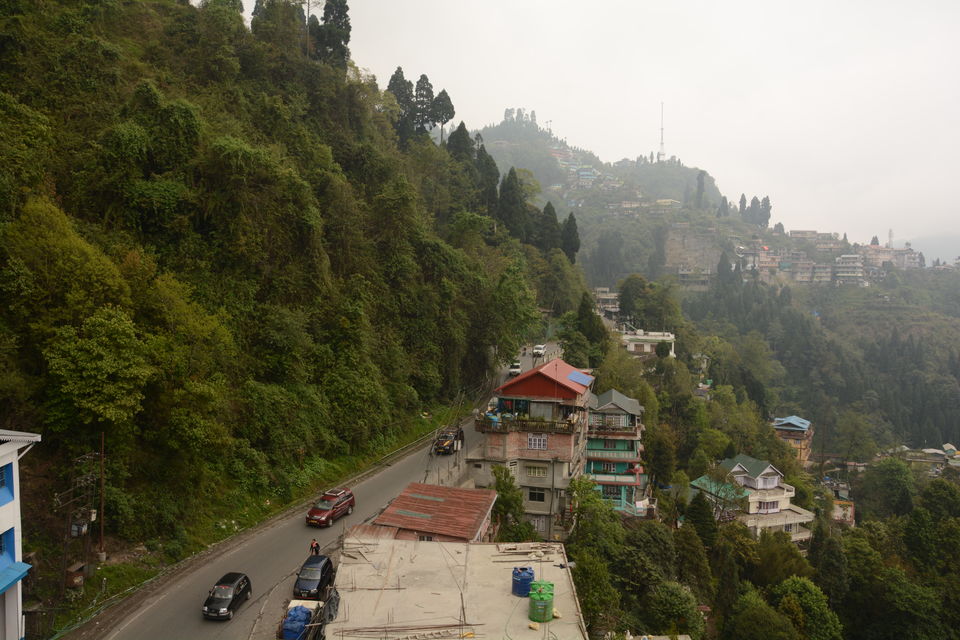 Our next destination was Barbotey Rock Garden. Here we found the road descending into the valley within a short time, complimented by some sharp bends and steep slopes. The view of the distant valley was to die for.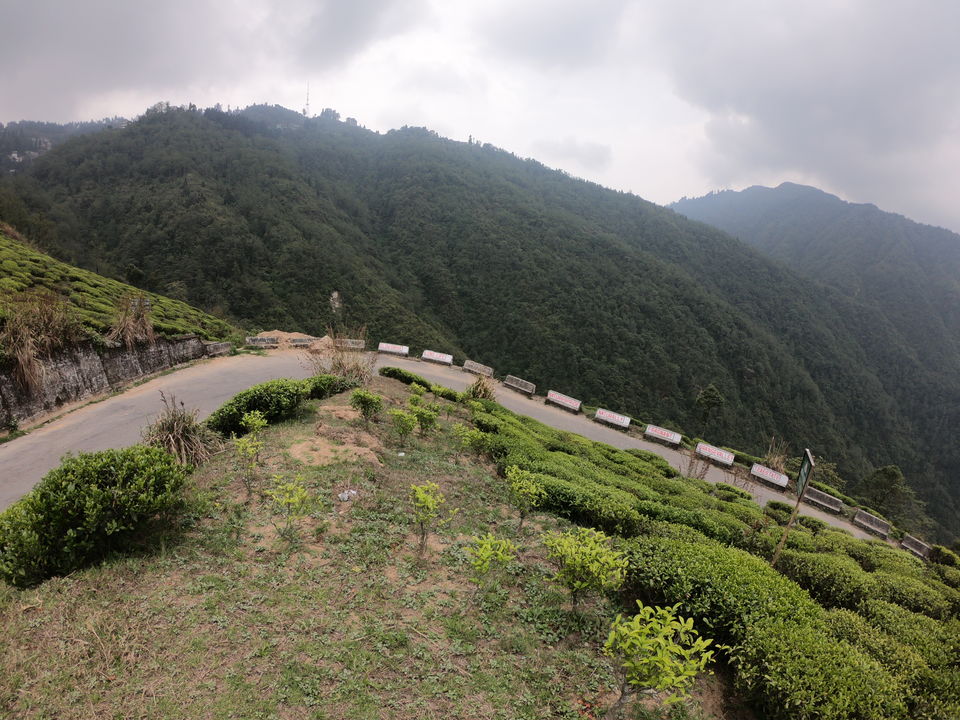 Enroute to the Rock Garden, we halted at the Orange Valley Tea Garden - previously known as Bloomfield. Make sure you halt at this beautiful juncture amidst tea plantations on both sides of the road - all along the hilly slopes.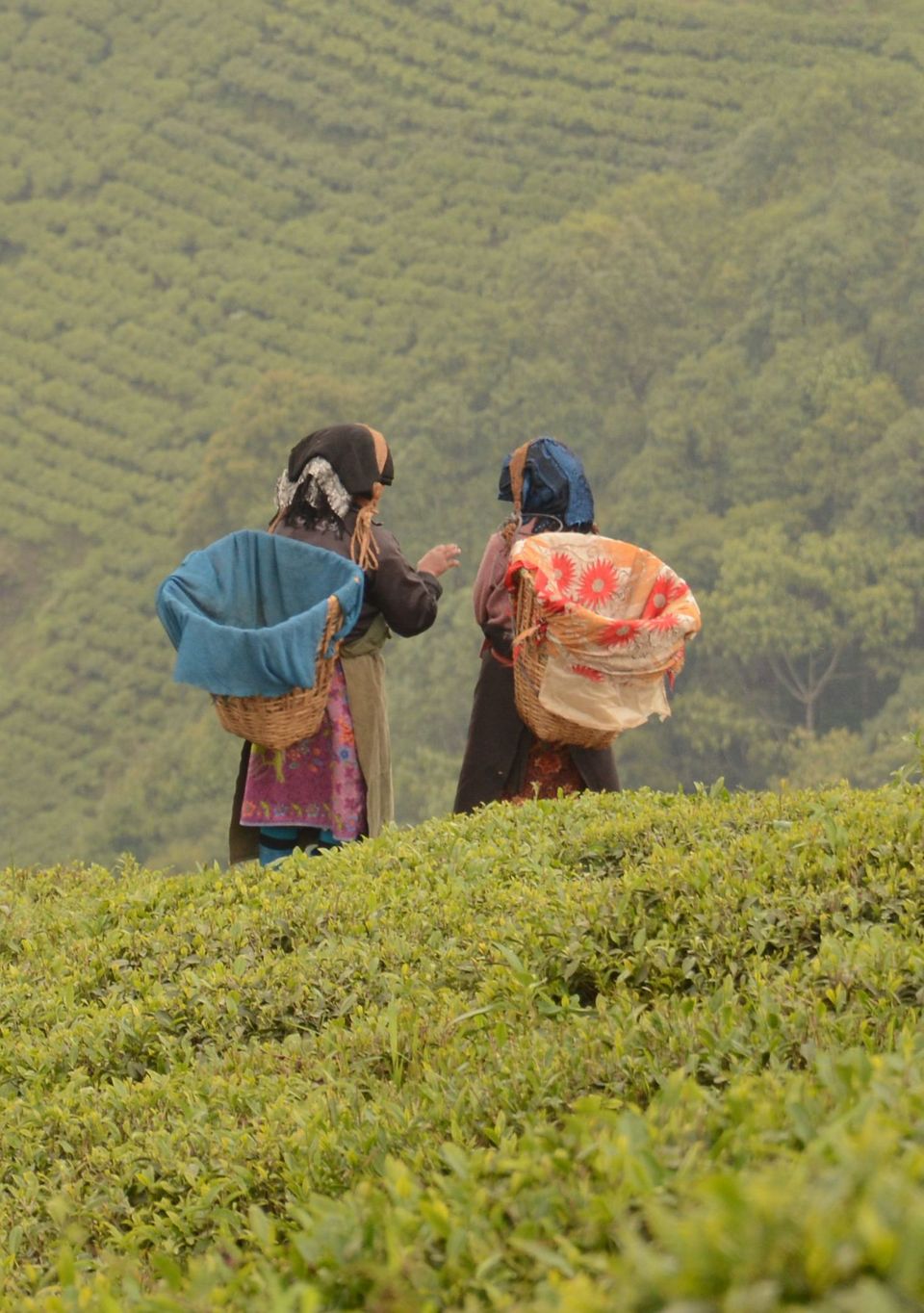 Passing through these breathtaking views of tea gardens, we reached Barbotey Rock Garden - latest addition to the list of places-to-visit in and around Darjeeling. It is a multi-level garden with man-made walkways, bridges and sitting spaces - centering the Chunnu Summer Falls. Also, myriad flowers throughout the garden are feast for the eyes. It's perfect for a family day-out and picnic.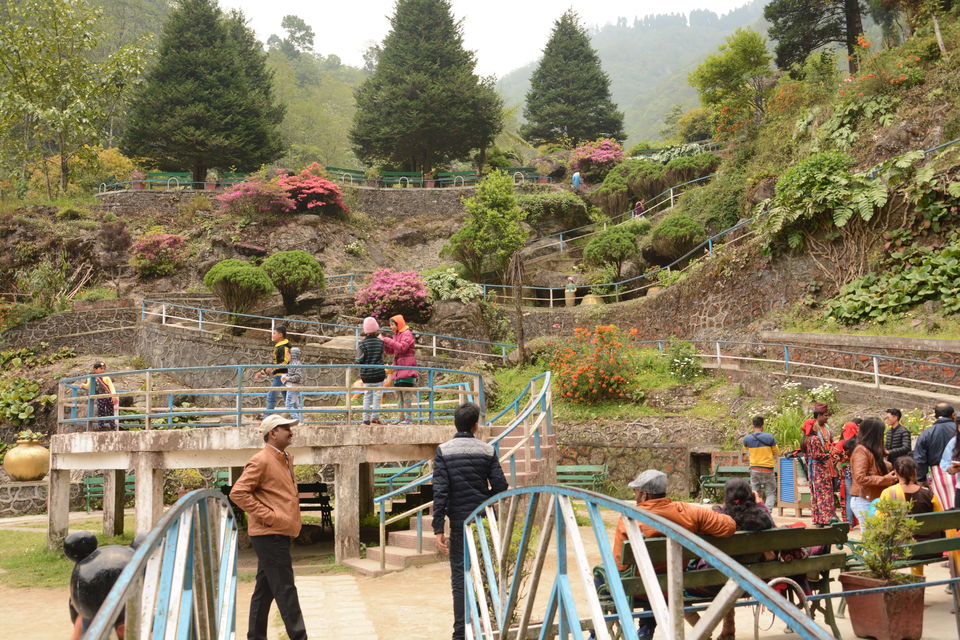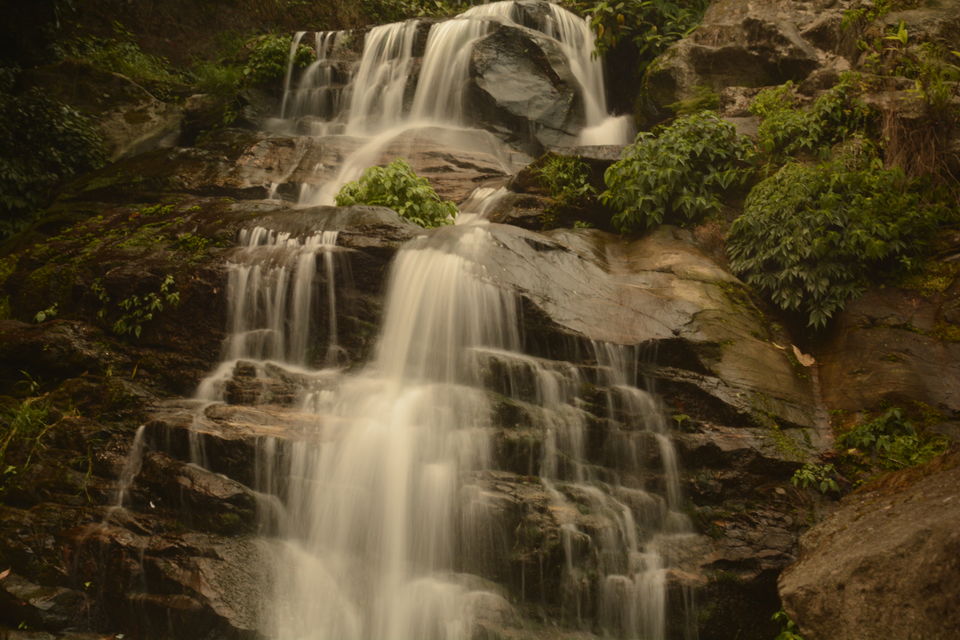 Getting a few shots of the waterfalls at different levels - and spending around one and half hours , we again started for our next destination - the Tibetan Refugee Self-Help centre.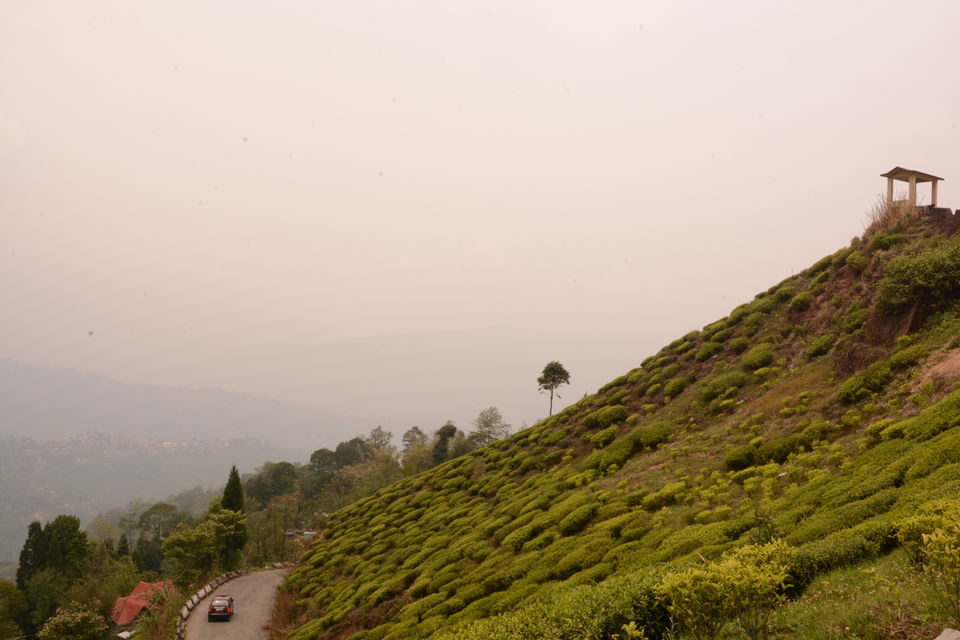 On the way, we stopped for a brief period near the picturesque St. Joseph's School North Point - which has often been rated as one of India's best boarding schools. The architecture of the school was a splendid one. A bollywood film called 'Yaariyan' (2014) used this school as one of its filming locations.
[Note - St. Paul's School in Darjeeling is more popular among bollywood cine-lovers; it being the filming location for films like 'Main Hoon Naa' (2004) , 'Barfi' (2012).]
Again, on the way we stopped to visit the Tenzing and Gombu Rocks. Named after the legendary Sherpa Tenzing Norgay and his nephew Nawang Gombu (also a daredevil Sherpa) - these are two huge natural rocks standing opposite to each other. Of these two, the Tenzing Rock rises almost vertically - far below from the road - that side, being used by professional climbers usually. Both the rocks are maintained and used by Himalayan Mountaineering Institute (HMI), Darjeeling for rock climbing training purposes.
We reached the Tibetan Refugee Self-Help centre - located at the Hill Side, Lebong Cart Road, few minutes later. It was built by the Tibetan refugees who came to India following the Dalai Lama, during his escape from Tibet. Here, you will find Tibetan men and women busy weaving textiles or creating beautiful handicrafts - in different sections of the centre. There is also a photo gallery in the complex depicting the history of the Tibetans in India. We witnessed how, as a close-knit community, they evolved over time to become self-sustaining - that too without any state-of-the-art facilities. Their success, to me is a great paradigm of sheer hard work and persistence.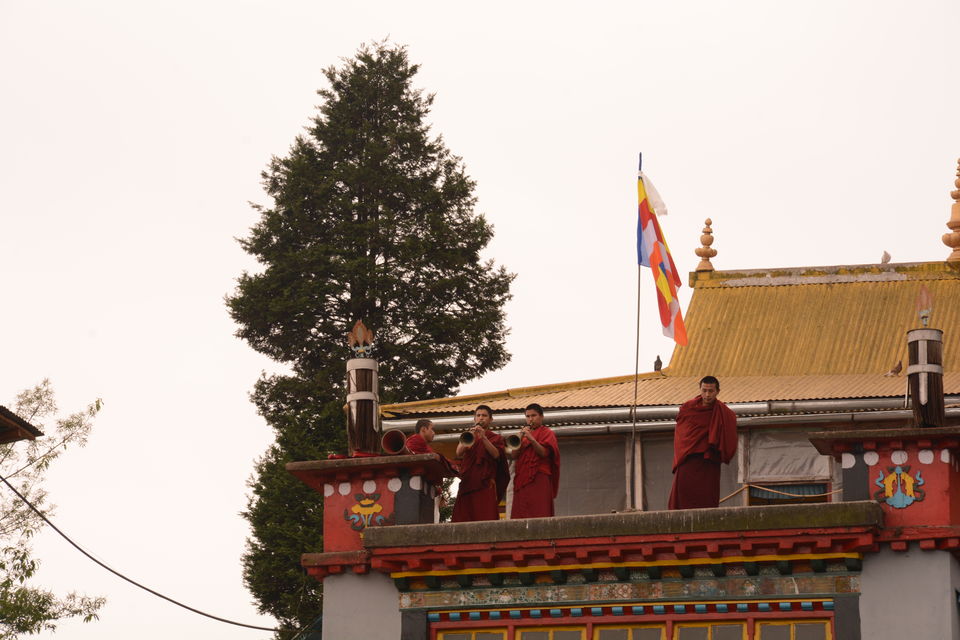 Visit to the refugee centre concluded our half-day tour and from there we drove back to our hotel.
Later that day, we went to the Darjeeling Mall - spending the evening there.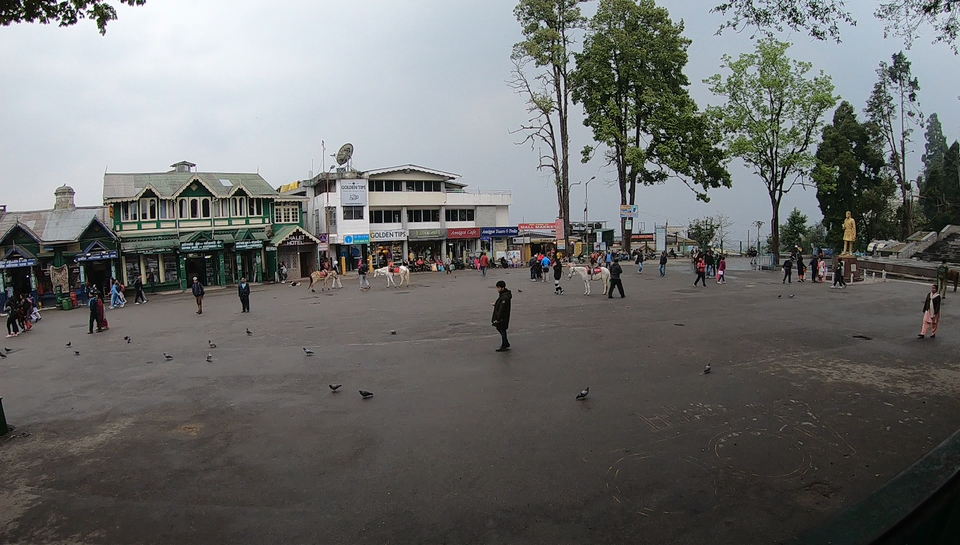 In the late evening, we decided to pay a visit to the Mahakal Temple - situated slight uphill from the road to Mall. One has to hike a pretty good elevation (though not that difficult and can be covered within 5-7 mins) to reach this temple. Situated at the hill summit, surrounded by alpine vegetation and infested by monkeys - this place was really thrilling.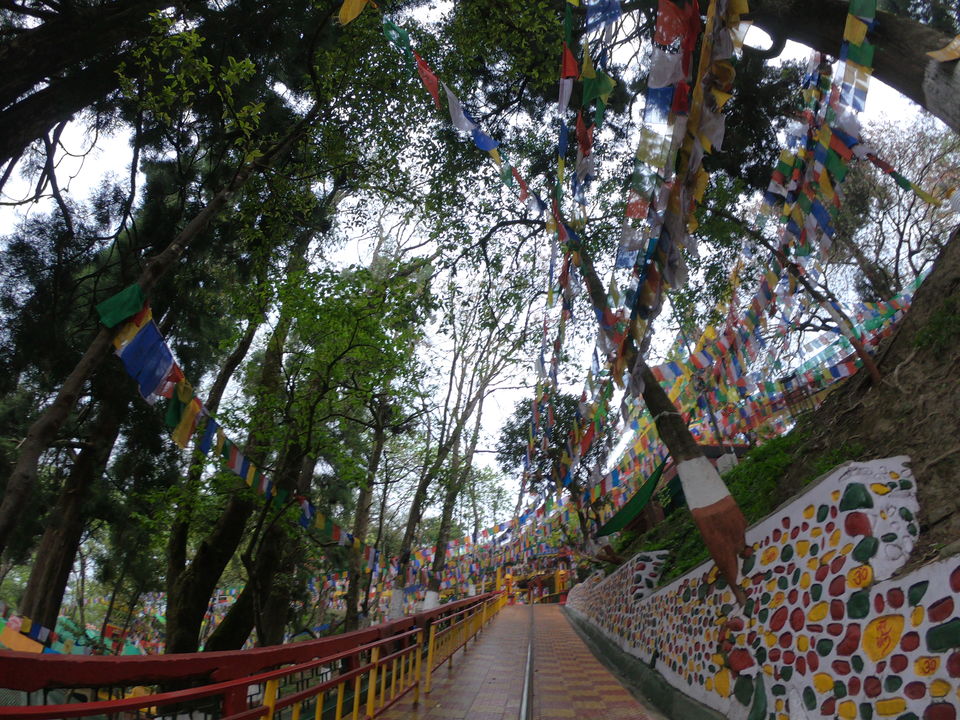 [Note - It is advisable not to carry any food or other valuables openly when visiting the Mahakal Temple - the monkeys here (and so many of them) have a reputation of being good snatchers of the said items :) :) ]
However, the temple must be on your to-visit list. It is really the ambiance and the view from this hill top, that makes it so special.
I have never seen so many prayer flags at single sight in my entire life ever !! It seemed to be a riot of colors once I reached the main entrance of the Mahakal Temple.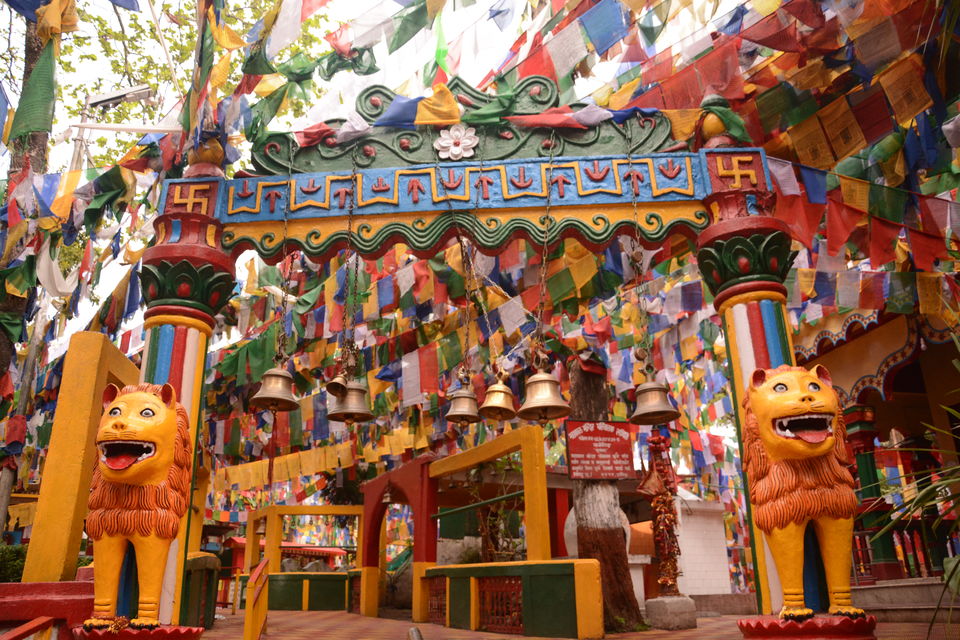 Entering through the main entrance, we noticed more than one small shrines dedicated to the Hindu Gods and Goddesses. Also, noticeable was one milky white Buddhist Stupa - a peaceful co-existence !!
Around the end of the Mahakal temple is the Observatory Hill. As the name suggests, this location on the hill top is used as a view point. From here you can get an ethereal view of the mighty Himalayan peaks, including the legendary Kanchenjunga; of course if you are that lucky !!! Both the Mahakal temple and the Observatory hill are open to public daily from sunrise to sunset. We had to descend from the Mahakal temple prematurely as it started raining and headed back to our hotel.
DAY 4
The weather in Darjeeling remained cloudy next day too, as we had been experiencing for the last 2 days. However we were excited about our upcoming activities that day. Firstly, the Joyride in a steam engine-hauled train of Darjeeling Himalayan Railway (DHR) - popularly called as the toy train and secondly, mountain biking.
At about 8: 15 in the morning, we started for Darjeeling railway station. It was around 20 minutes walk from our hotel. We chose to ride on a first class compartment in the steam engine hauled train which cost us around Rs 1300/- per head. The train started from Darjeeling at 9:40 a.m. At once we were greeted by loud and very shrill honking of the engine. The train really had fascinating interiors, though our focus was on the scenes outside - as we crisscrossed through busy streets of Darjeeling town.
Note that, if you expect mind boggling mountain views or traveling through numerous tunnels or bridges in this DHR Joyride, you would be disheartened. This ride is very different. Here we found joy observing the daily life of the local people. Little children going to school, people queuing up for Pujas in temple high up in the hills, morning chit-chat among the shopkeepers and customers, the beautiful architecture of the houses or the wild flowers along the walls of the street.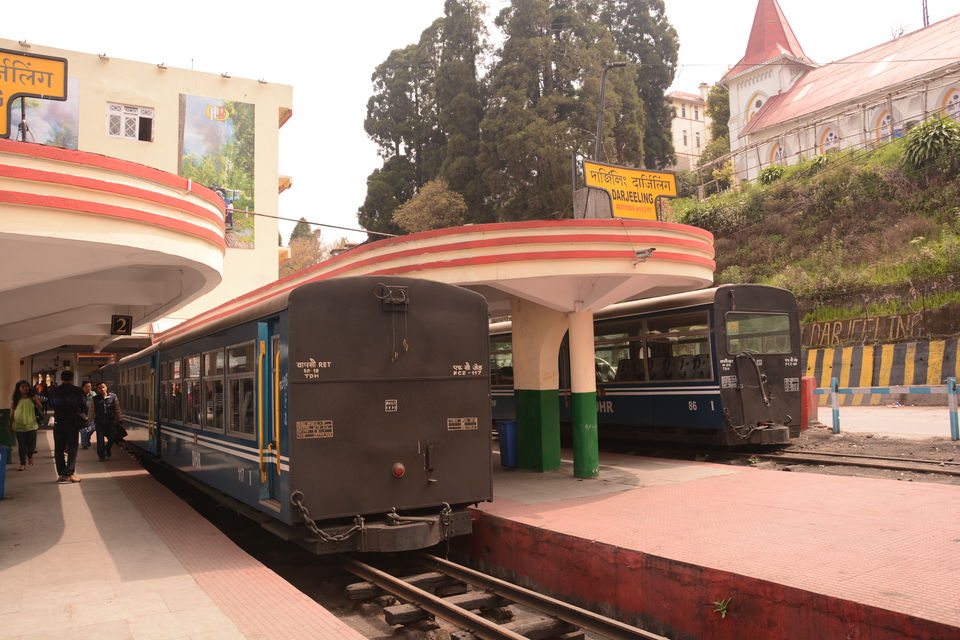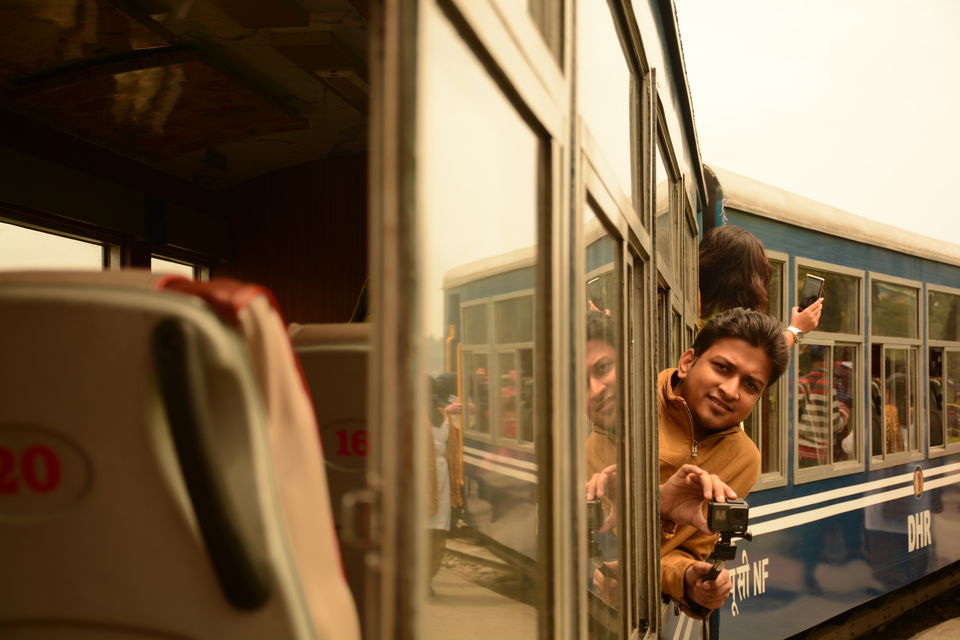 Half an hour later after starting from Darjeeling station, our train gave a halt at Batasia Loop for 10 mins. On a sunny day (we were never that lucky!! ), one can have a splendid view of the Darjeeling town with the Himalayan peaks at the background. You would also find here, the awe-inspiring Gorkha War Memorial amidst a neatly maintained garden.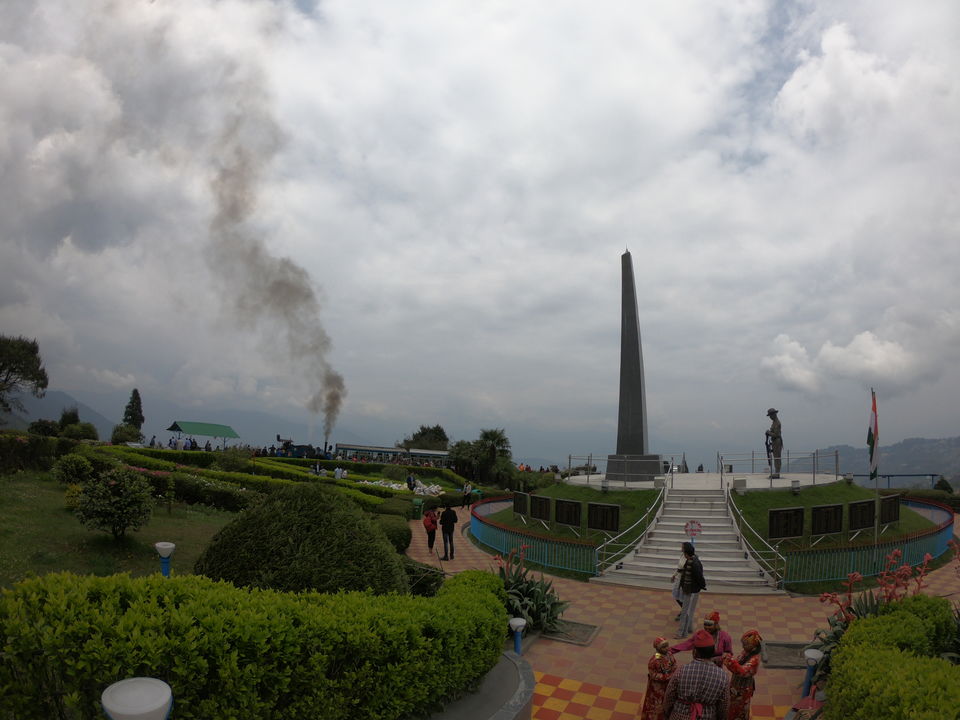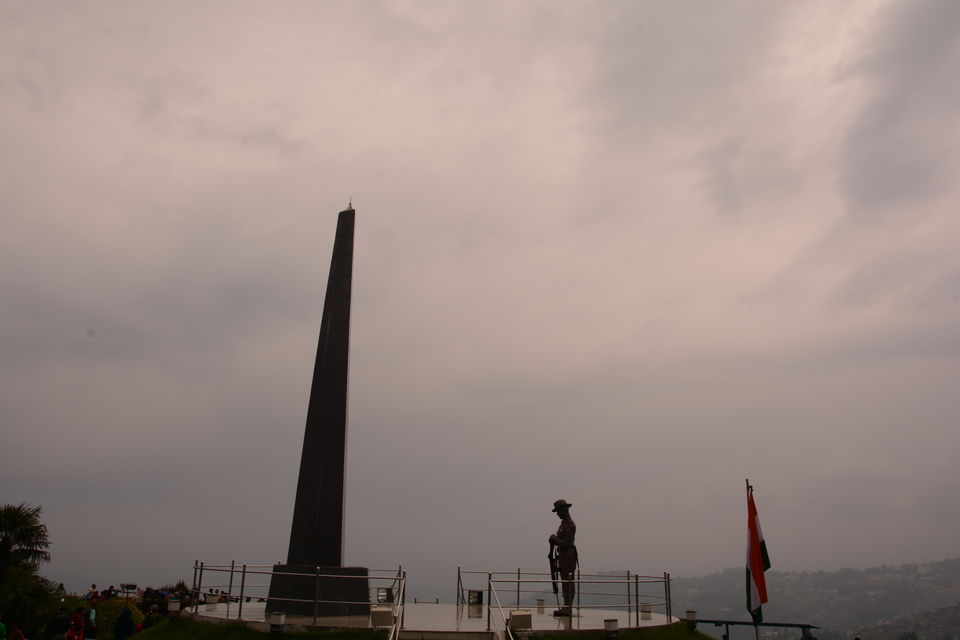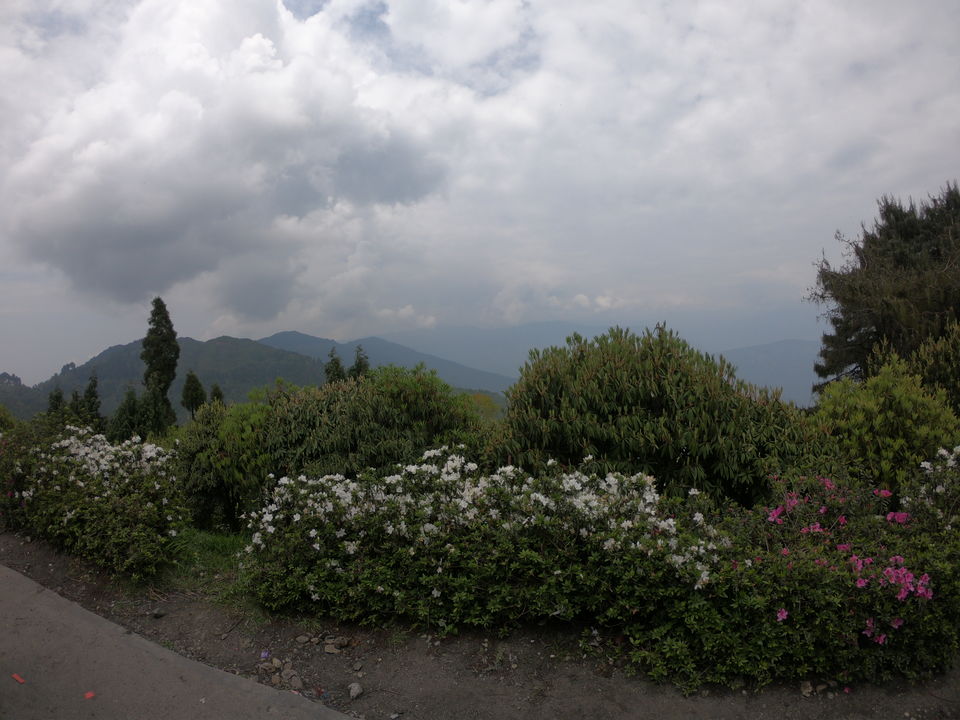 Next, the train started for Ghum - where we halted for around 30 mins. Ghum, situated at 7407 ft asl, is the highest railway station in India.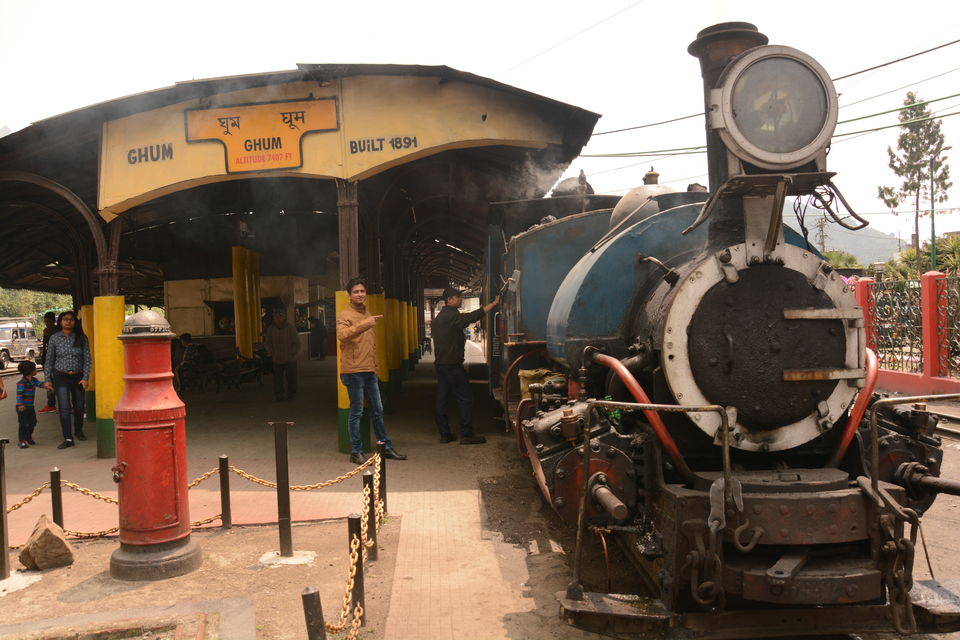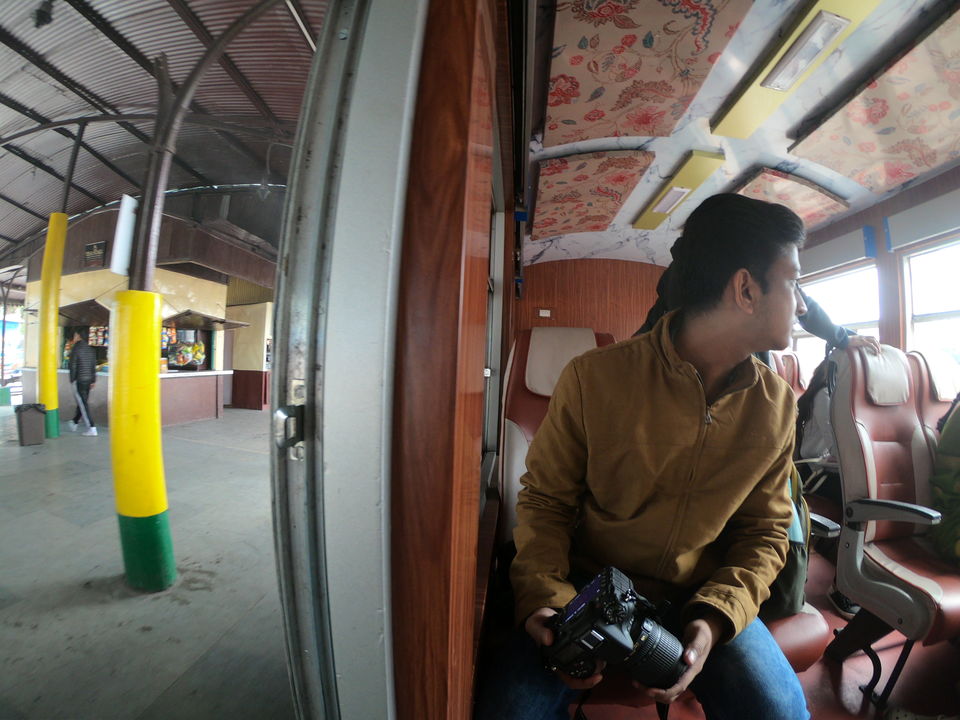 Here we revisited the history of DHR at the DHR Ghum museum. It is really a must-see for history-lovers. We found some adorable school kids here, who were there for an excursion. Could not help but capturing these cute kids :)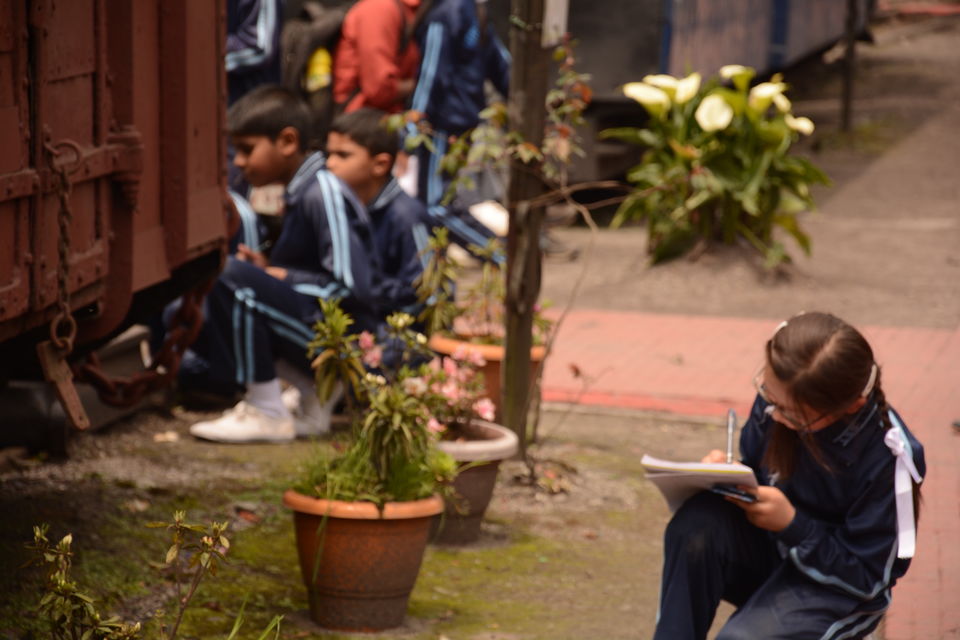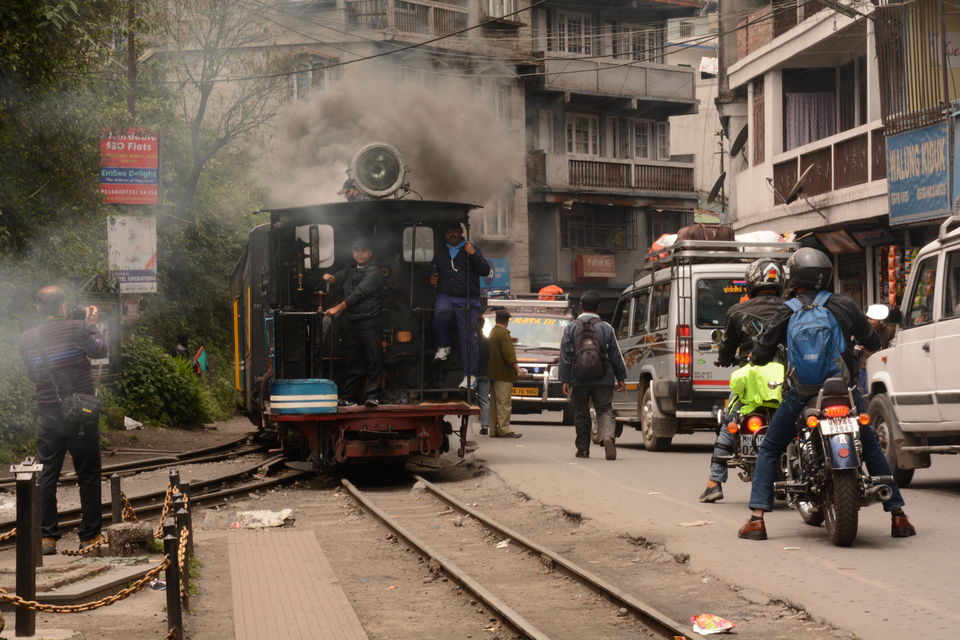 Note that, both the entry fees of Batasia Loop and Ghum Museum were included in our Joyride fare.
After exploring the DHR museum at Ghum we again boarded our toy train for the return journey to Darjeeling station. Around 11.30 in the morning we reached Darjeeling.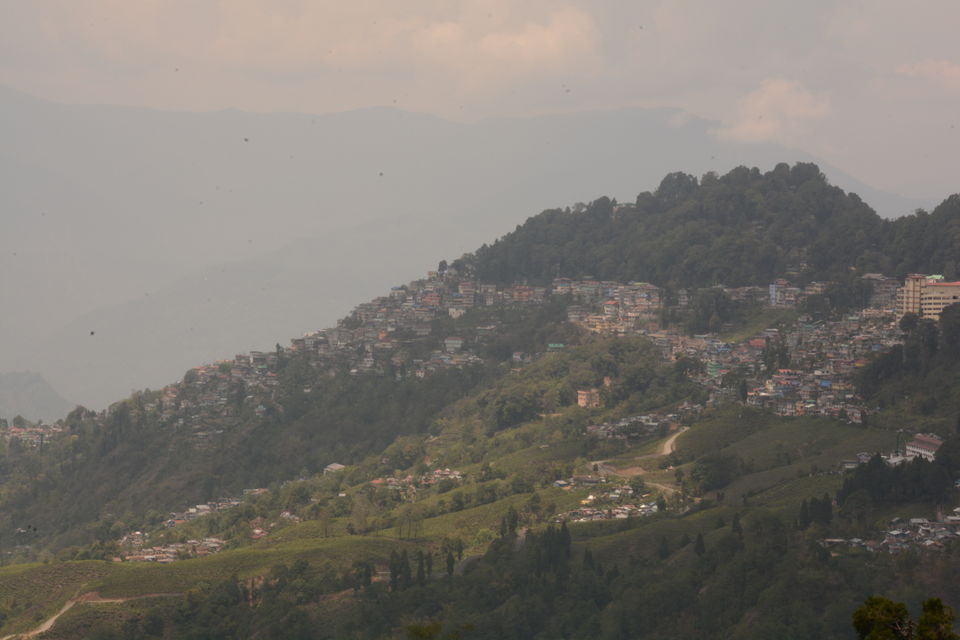 Getting down at Darjeeling station, we gave ourselves a break to soak in the beauty of the town in front of us. Not for long though... our maiden mountain biking experience was soon to be materialized !! So, we rushed to 'Adventures Unlimited', located near the mall. Gautam ji of Adventures Unlimited, had already taken care of all our requirements beforehand, especially, the mountain bikes which should be chosen based on ones height. Accordingly, we chose two bikes for the day, at Rs850/- and Rs950/-.
On reaching Adventures Unlimited we were greeted warmly by Amit ji - who was very cooperative, amicable, ever-smiling throughout our biking trip. From making us understanding our route map to actually demonstrating us gear controls and elaborating safety precautions - he was really very helpful. He also doubles up as biking tour guide. However, we did not opt for tour guide - so were extra-keen on knowing more from Amit about handling unforeseen emergencies.
We planned to go up to the Senchal Lake Sanctuary. But returned back after biking up to Alubari, ~4 kms from the Mall. Firstly, it was already 3.00 pm and we were famished. Secondly, this was our maiden mountain biking experience - cycling on the steep slopes of the hills really drained us physically. Nevertheless, we did really enjoy the experience. Here is a sneak peak of our biking (while we were riding downhill from Alubari towards the Mall) :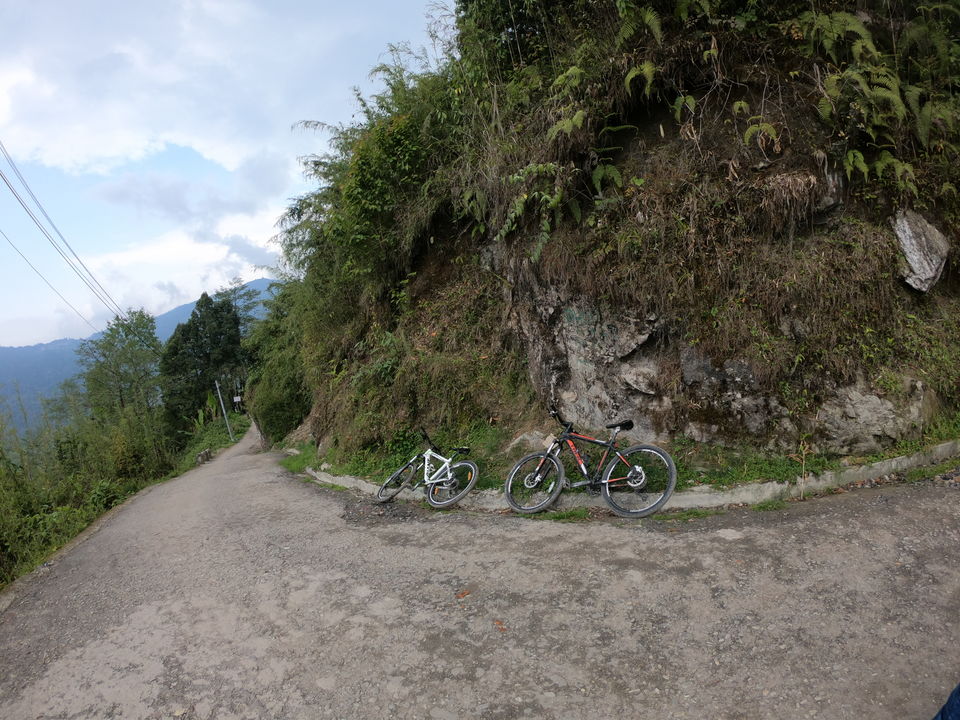 Post biking, we literally ran (really we were so famished !!) to a budget restaurant near the Clubside Taxi Stand. The humble egg-curry rice seemed the most satisfying meal ever :)
Later that evening, we spent our time strolling around the mall, visiting the local market and buying some memorabilia.
Today, we wake up to the alarm at 3.00 AM. Got ready in a jiffy, and by 3.30 AM was on our way to the Police Chowk taxi stand near Gandhi Road.
Yes, we were to visit the Tiger Hill to have THE inexplicable view of the sunrise over the Kanchenjungha peak (or as we thought ...).
We got inside a shared Tata Sumo (Rs 200/- per head) to set for Tiger Hill. We came to know that our car would halt at two other locations while returning back from Tiger Hill. These were - Batasia Loop and Dali Monastery. Though we visited both the places earlier - to me, visiting such beauties twice was a bonus for us.
Our car started for Tiger Hill at 4.00 AM. The road to Tiger Hill is an adventurous one - with numerous bends and very steep slopes. Also in the pitch dark we were able to see only as far as the headlight of our car reached. But...the weather turned bad as we approached Tiger Hill. Soon it started raining. With black clouds hovering in front us, sighting of Kanchenjungha was a distant dream - let alone the sunlit Himalyan peaks.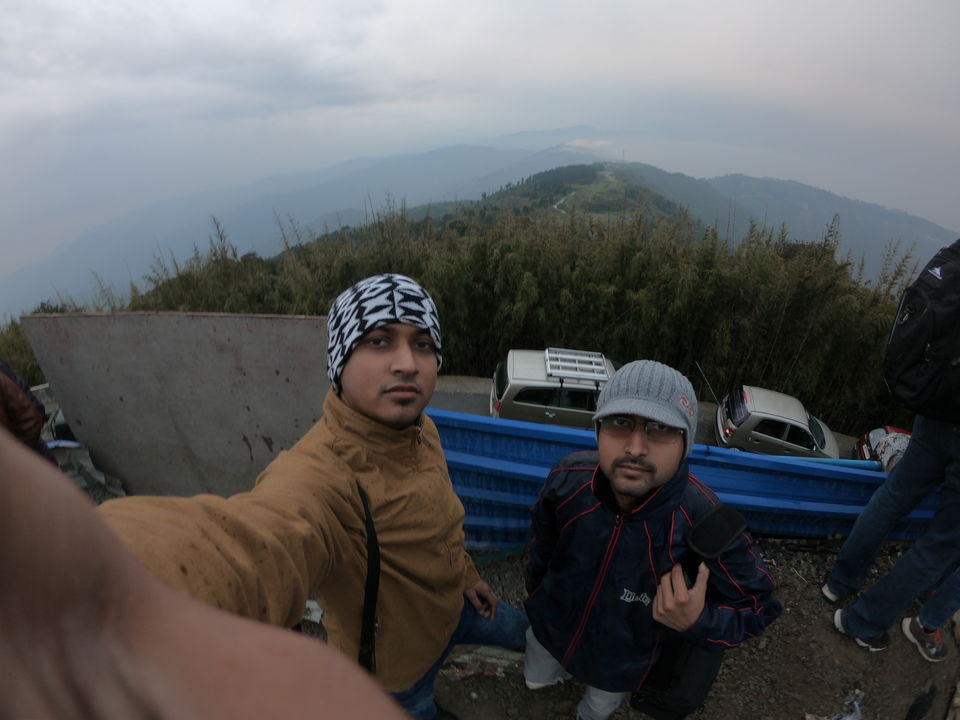 After waiting for an hour we returned to our car with a heavy heart. We got stuck in a traffic jam, returning from Tiger Hill. Well, I got enough time to get down of the car, walk some distance with the cold breeze hitting me on the face and captured some photos in the forest beside the Senchal Road.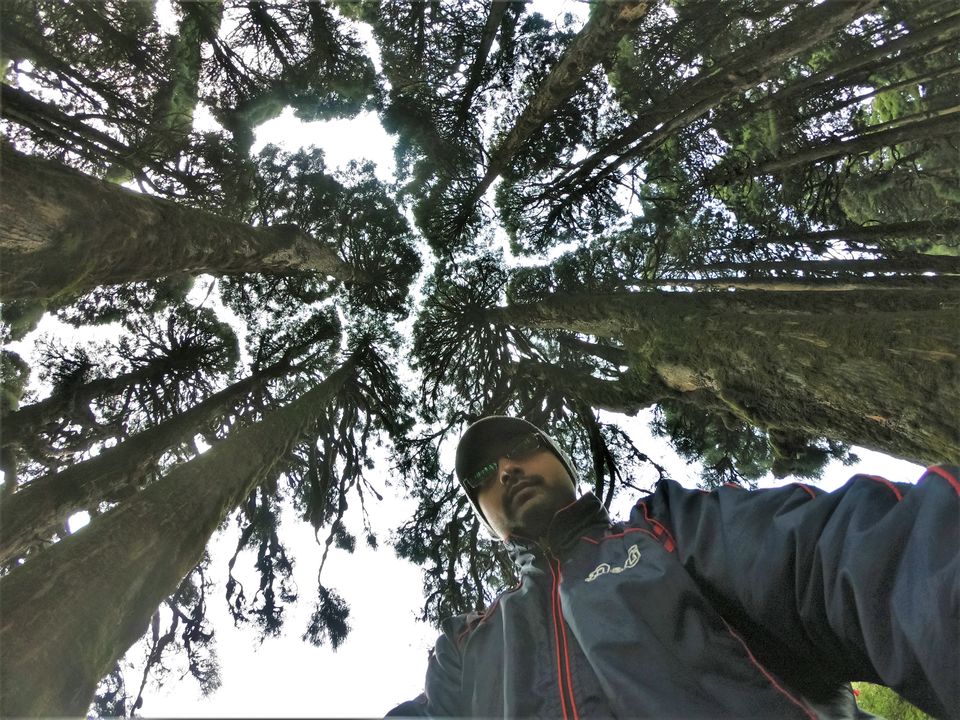 We returned to our hotel around 8.30 in the morning - after visiting the Batasia Loop and the Dali Monastery again. We checked out around 12 pm and started our journey back to home.
If I have to describe our short trip, I would say - we spent four of our best weekdays ever (Tues-Fri) in Darjeeling.
Lastly, I leave you with one of my favorite images of the entire tour. The cute and innocent smiles of the school going kids really made my day !!!!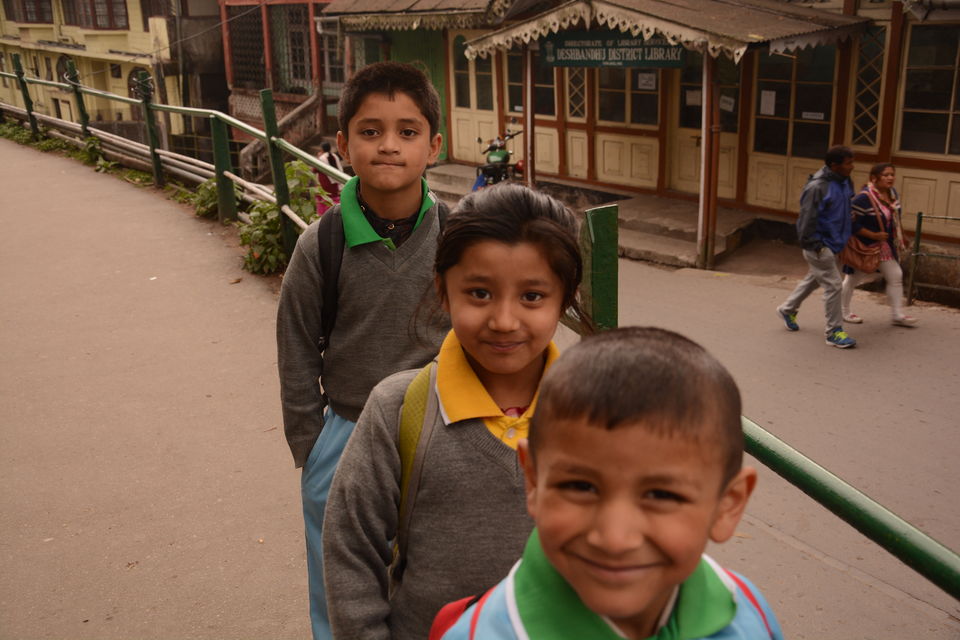 [You may follow or mail me at the following :-
fb - @indrarupsaha
instagram - @indrarupsaha
mail id- indrarup86saha@gmail.com]