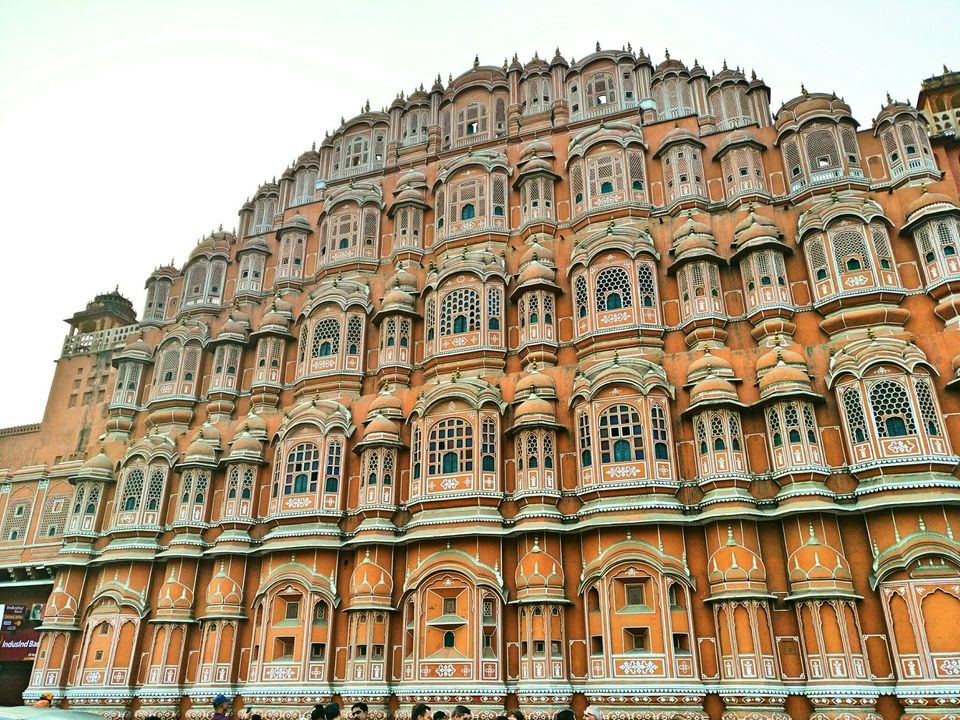 I have always wanted to travel solo, but like every other plan it never materialized. Several factors led to what I would call an unexpected trip to Jaipur. The Pink city was never in my primary list of anticipated travel destinations in India. It was a mere result of a friend being the catalyst that sparked the solo traveler in me to visit Jaipur instead of Rishikesh or Hampi.
First day of the travel was nothing but packing up, catching a local train to Bandra Terminus to catch the super fast train to Jaipur. The journey was boring and uneventful till the train reached Vadodara at 11pm. From there a huge group of people boarded the train, they were an extended family baraat, going to attend wedding in Jaipur. The group were full of kids that reminded me of the pack of wolf cubs from the animated movie Hotel Transylvania, equally naughty and energetic. A sign that the night in the train would be a long sleepless one but also with fun, and it indeed was!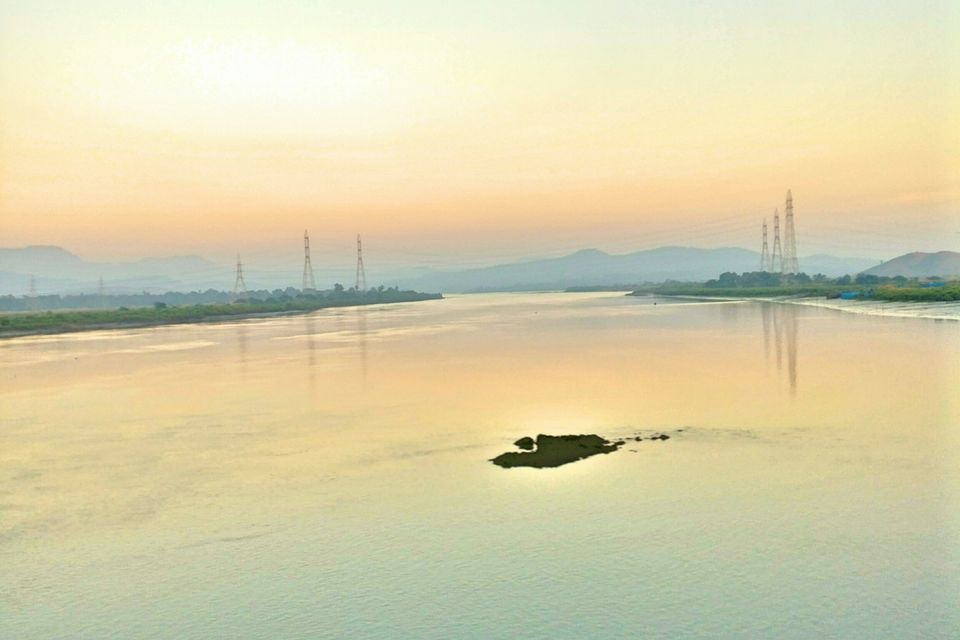 Sawai Madhopur, Pitstop early morning during the train journey for some much needed onion fritters and  hot chai. Finally the train reached Jaipur station by  around 12pm and before I made my way to Zostel, I made sure I had  some famous kachori Jaipur had to offer. After getting settled in my dormitory in Jaipur Zostel, i decided to take a stroll around the Pink city, and visit few nearby places.
Setting the GPS, I started walking towards the City Palace, but somehow ended up staring at the front gates of Jantar Mantar. I was anyway planning to visit it later, so I took tickets, walked into the park and yeah, it was kind of fun, the astrological structures were awesome though I didn't understand much about them anyway, guess astrology is not my cup of tea, unless it involves Prof. Trelawney or Firenze in the context. But it's an awesome place for those who wanna take countless selfies with complex looking architecture 😅
Next stop was to City Palace, where I preferred to take a audio tour, because I didn't want to end up being ignorant about the historical significance of the place and I didn't wanna listen to all the blabbering the guides were shouting at their foreign customers. City palace was an interesting place completely worth the hour I spent exploring it.
I took an eRickshaw back to hostel, and there I met Yasmin from Malaysia who was in the same dormitory as mine. In the evening, we decided to go to Chokhi Dhani along with her friend, Karina. Chokhi Dhani has an authentic rajasthani village setup, plus it gives you a feel that you are visiting a desert fair. We ended up watching puppet shows, dance performances and finally us performing the impossible feat of finishing a royal rajasthani thali, a feast fit for kings, and waiter kept on showering us with unlimited kulfi and jalebi, even after profusely refusing them. But they were really yummy, so no hard feelings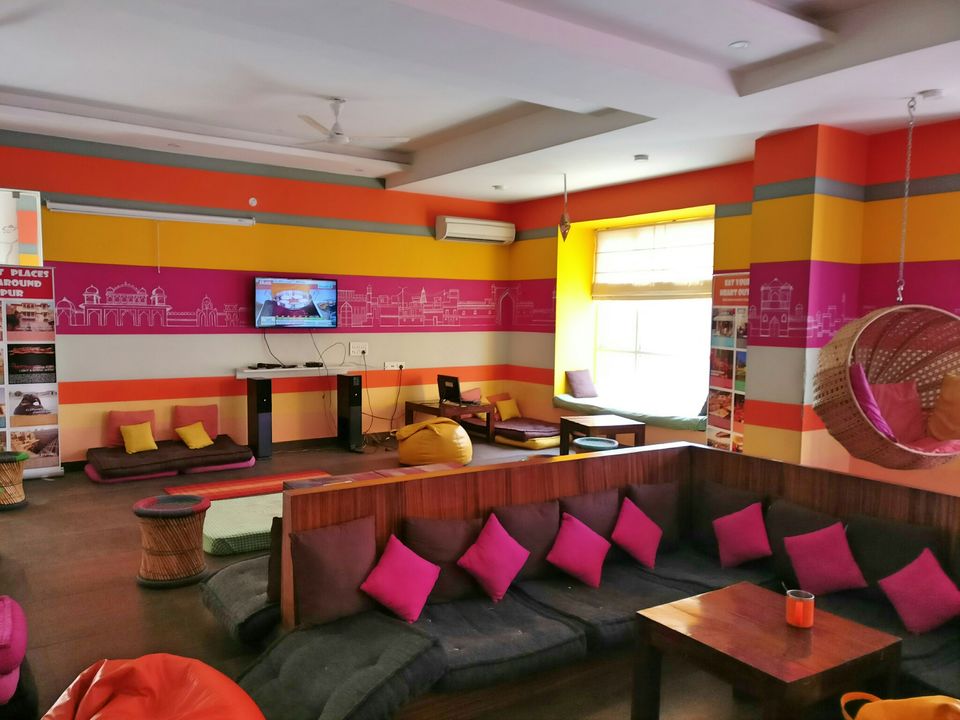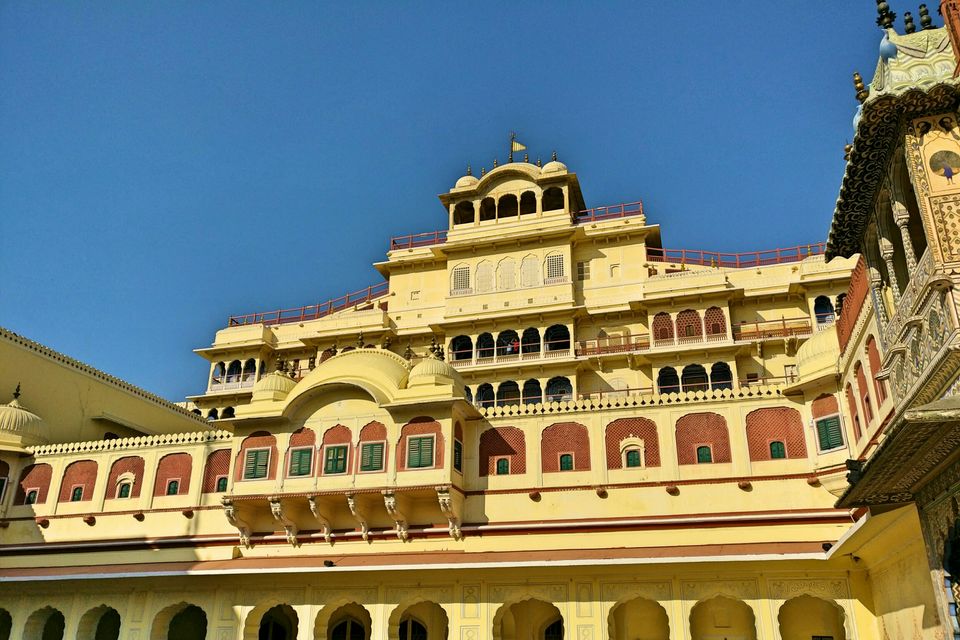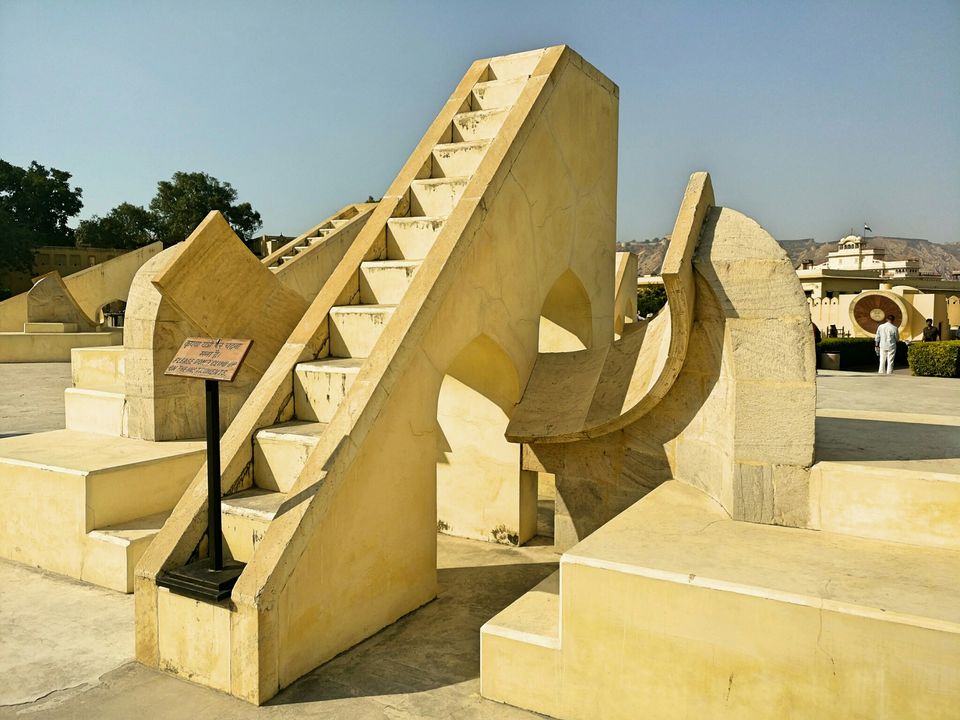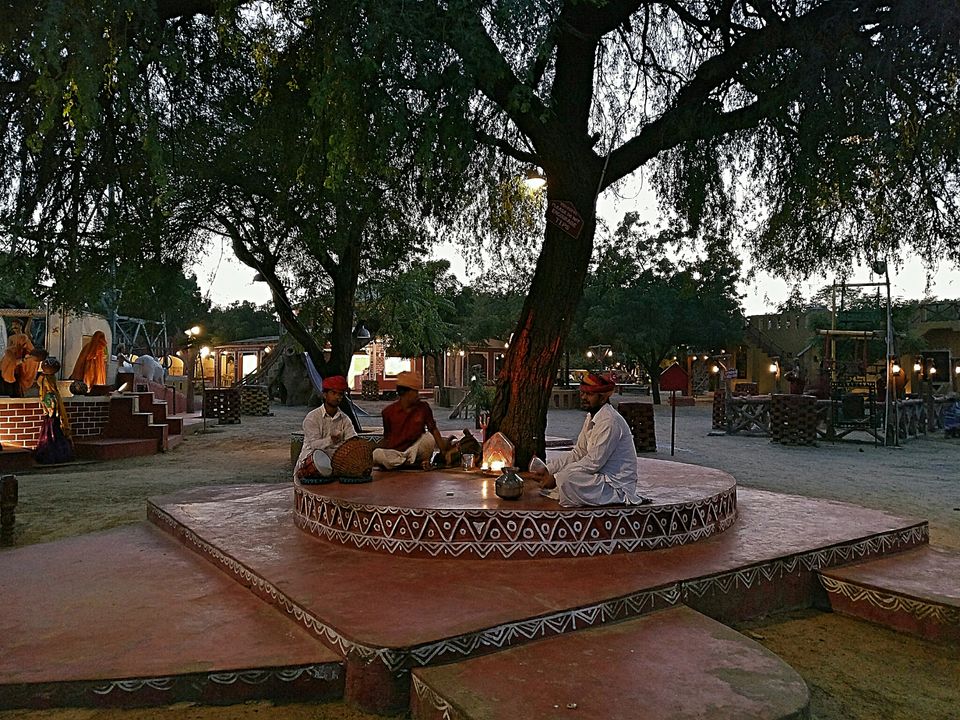 Plans for watching sunrise on a mountain top went for a toss as I woke up next day at 9. I got ready, caught a local ac bus to Amer Fort. Best way to travel in any city, but make sure you get down at the right stop. Climbed all the way through the cobbled pathway to the fort, while clicking pics of elephants carrying tourists and evading guides and hawkers. Amer Fort is one of the most beautiful forts that I have visited and it was fun exploring every nook and corner of it. The CCD at Amer Fort has one of the most beautiful view, so sat for some time enjoying the view and the hazelnut cappuccino.
While I sat having my brunch, I heard about the tunnels that lead to the Jaigarh Fort, so that's where I headed next, found the small entrance to the tunnel, and off to next Fort.
After a considerable amount of climb, I reached Jaigarh, the view from the fort when you look below, the cool breeze even when the sun was directly overhead and the elaborate courtyards made the climb worth it! Plus saw some really big cannons, did few shopping and took the walk back down.
Back at Zostel, I found two guys clueless about what to do in the evening, so decided to go for an evening show of Dear Zindagi at Raj Mandir with them. The theatre lobby resembled the grandeur of a palace or taken from the sets of Harry Potter or Om Shanti Om. Uncomfortable seats with crappy legroom coupled with noisy aunties in the front row didn't stop me from enjoying the movie. So the day ended on a filmy note.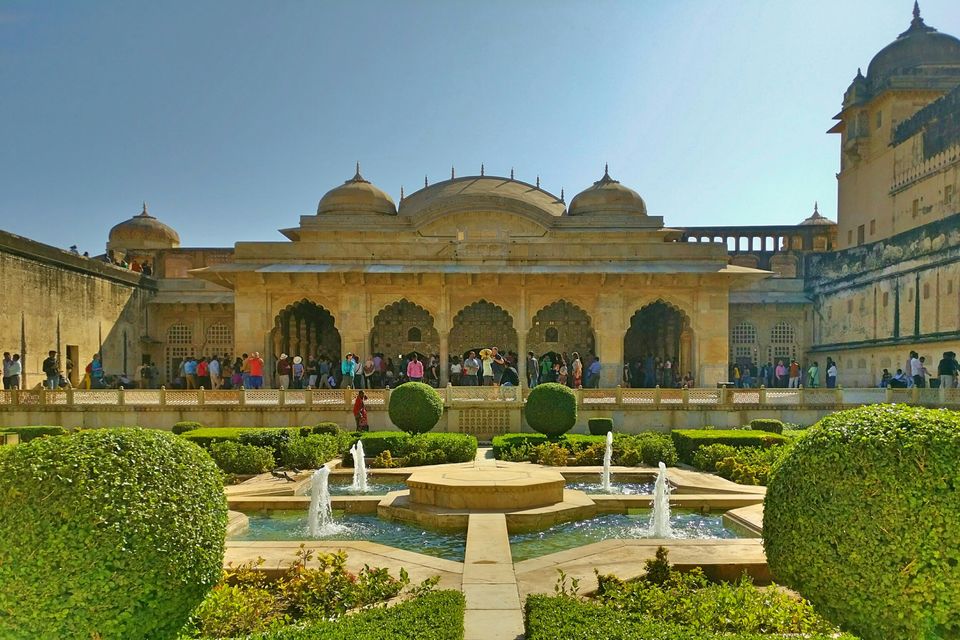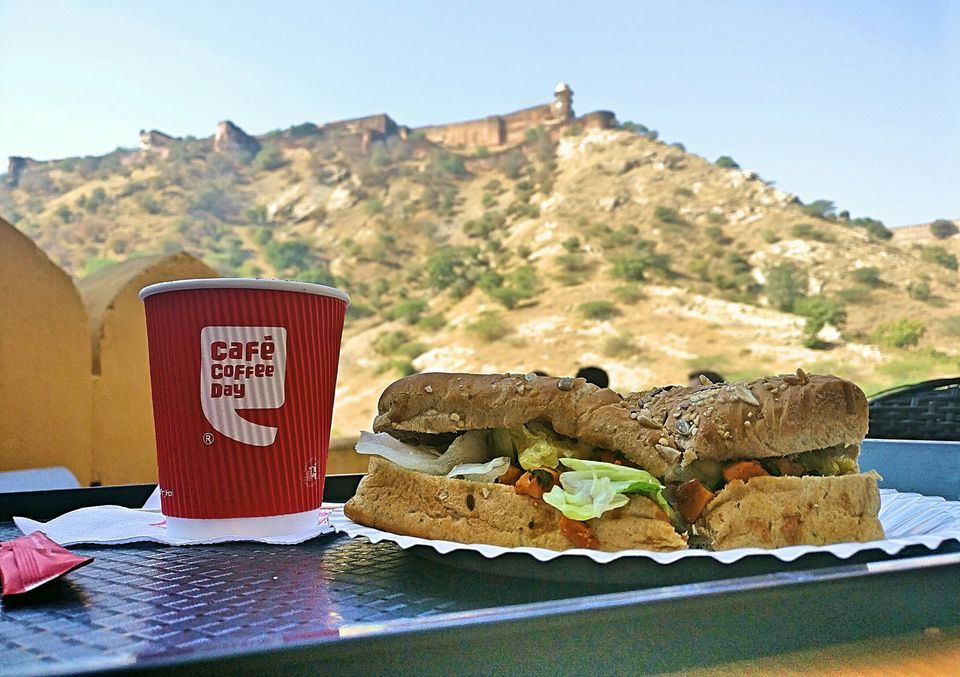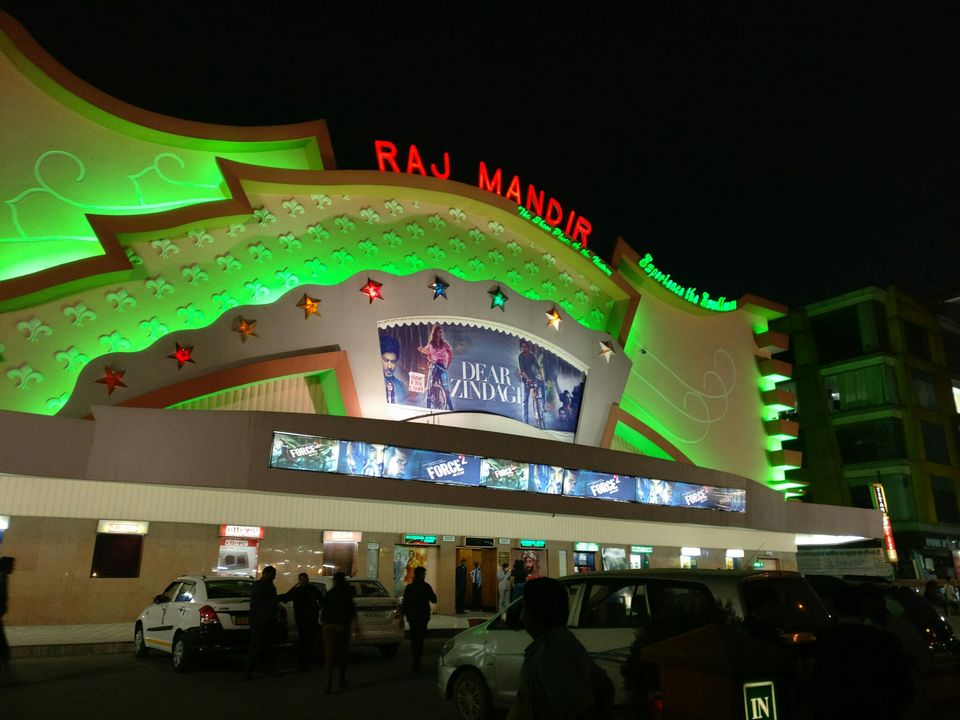 This was the bonus day, after touching all the major tourist spots, today was the day to hit the streets. Caught a bus and on the way got down near Jal Mahal, for a bit of a morning walk. After a considerable walk, I caught a bus to take me towards Albert Hall Museum. Since I was hungry and the bus had a beautiful lady conductor, I decided to go further ahead than my intended stop so that I could go to Sanjay Omelette. The menu was full of interesting egg dishes, and I decided to go for a simple cheese omelette and some masala boiled eggs. Those were some of the most tastiest eggs I have had in a long time. And this outlet is a sure visit for all egg lovers!
After my awesome brunch, I went on to visit the Albert Hall Museum, which had on display artifacts from different ruling eras of Northern India and references to some famous world history. Without deciding about next destination, I took a stroll through the Maharajas College garden, went on to the Johari Bazaar and Bapu Bazaar.
After the long walk I stopped at Lakshmi Mishthan Bandhar for some lunch and bought some Paneer Ghevar, a sweet famous in Rajasthan to take back home. So the tiring day came to an end as I reached early back at the hostel, and spent the evening at the common room, reading, interacting with other travelers. Past few days strolling around the city had made me realize why the old city was still called the Pink City, it has still preserved its pink walled structures and along with it, it's hospitality and heritage.
As I took the cab back to airport at 3 am, I was already missing Zostel and the Pink City. I was sure I had left a part of me behind, as I carried many sweet memories and friendship with me back home.
Eagerly awaiting my next solo trip...
P. S. Well I did leave a part of me behind when I realized back home I couldn't find my flip-flops anywhere in my bags.