Altitude gain - 8280 ft (2524 m) to 8956 ft (2730 m)
When I woke up today morning, I had no intention to get out of my sleeping bag. I had tried a sleeping bag couple of years back when I went to Antargange with friends. But this one was very different. It was so soft and yet felt so warm in the night. Later I came to know that it can handle temperature upto -10 degrees. That's incredible and I am sure it's very useful for winter treks (need to plan a winter trek to try it out :))
6AM black tea, 7AM breakfast and 8 AM march out. This was what our schedule was today. And mind you, these guys follow it to the mark. Following a set schedule does help in many ways. Especially for trek operators, it helps in managing the campsite since they have to pack up everything, load it onto the mules, proceed to the next site and reach before us so that we get everything ready when we arrive. Once our breakfast was done, the guides showed us how to roll our sleeping bags and unpitch our tents. All of us lent them a helping hand but I guess we ended up making it more difficult for them :) I guess we need some more practice :)
Since the distance to be covered was not much today, we were a bit relaxed. It was approximately 6-7 kms but was full of ascent. So it was going to be tiring. But the views were getting better everyday. We crossed this bridge so you can imagine what the trail must have been!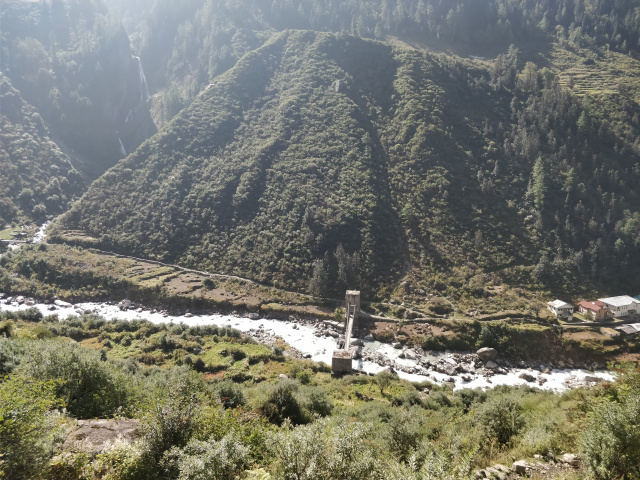 We took a short break at around 12.30 PM for lunch at a small dhaba. We had taken packed lunch during morning. So we had that. Some of the trekkers also bought omelette, maggi etc. from the dhaba. After getting our batteries recharged, we proceeded. But before reaching the dhaba, we came across a traffic jam. Yes, that's right. A jam! Have a look for yourself :)
Since we were trekking in the month of September-October which falls in autumn, it was more green. This same trail in winters and early summers is totally covered in snow. That would be a totally different kind of experience all together! We finally reached the Kalkatiyadhar campsite and we still had the whole evening left. I sat down soaking in the views that I had just witnessed on the way. Words fall short to describe them. I had captured them in my phone so that whenever I feel like going back, I can browse through them :)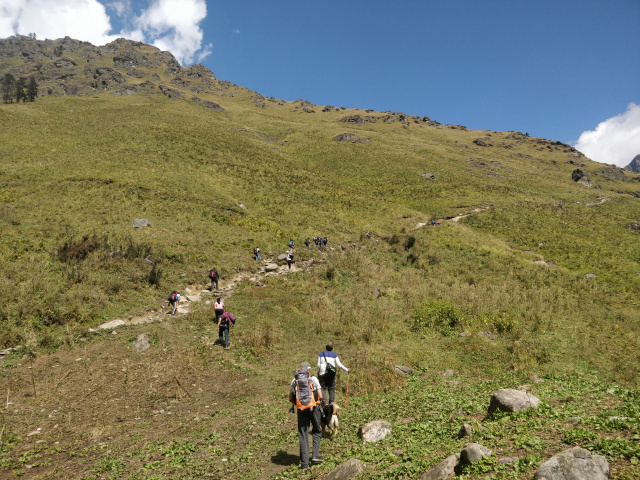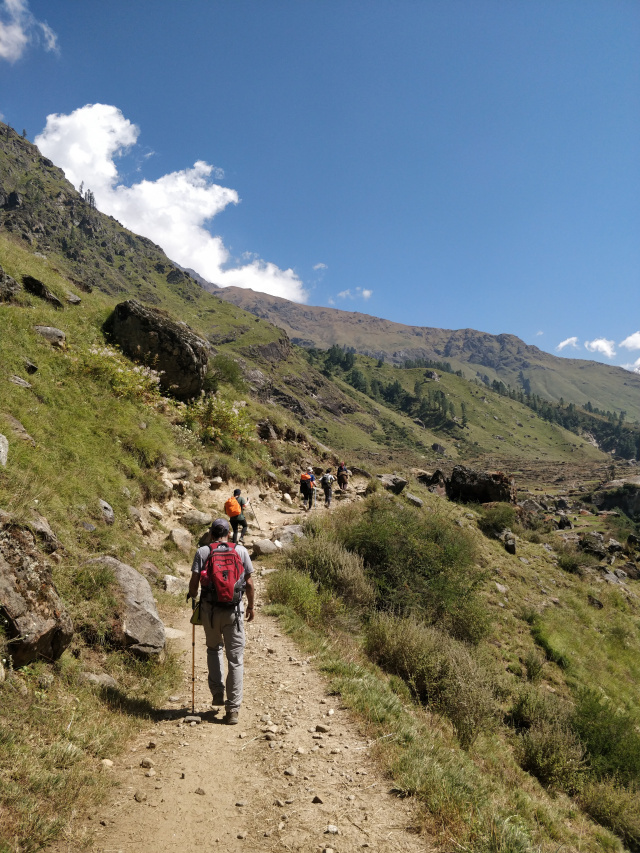 Since we had some leisure time today, Prahlad made us all play some games. It was fun playing with unknown people. After that, the food started to flow. Chai, pasta, dinner and dessert :) These guys definitely know how to pamper you in the mountains.
For more pics check this link